Last Updated on April 29, 2023 by Teemu Suomala
Best Overall – Fender Deluxe Hanging Guitar Stand
Stability
Portability
Quality
Value For Money
Summary
The Fender Deluxe Hanging Guitar Stand is a basic tripod with an uncomplicated design that just works!

While surprisingly cheap to buy, the overall quality of this stand is fantastic. It's well put together, super reliable, and won't damage your nitro-finished guitars either.

Your Flying V will be stable, safe, and happy.

The best guitar stand for Flying V-shaped guitars and the price is spot-on too.
Check Today's Price on
*Consider all links in this post to be affiliate links. If you purchase, at no additional cost to you, we may earn a small commission. It helps us to keep the lights on, thanks! 🙂
---
The Next Best
Compare: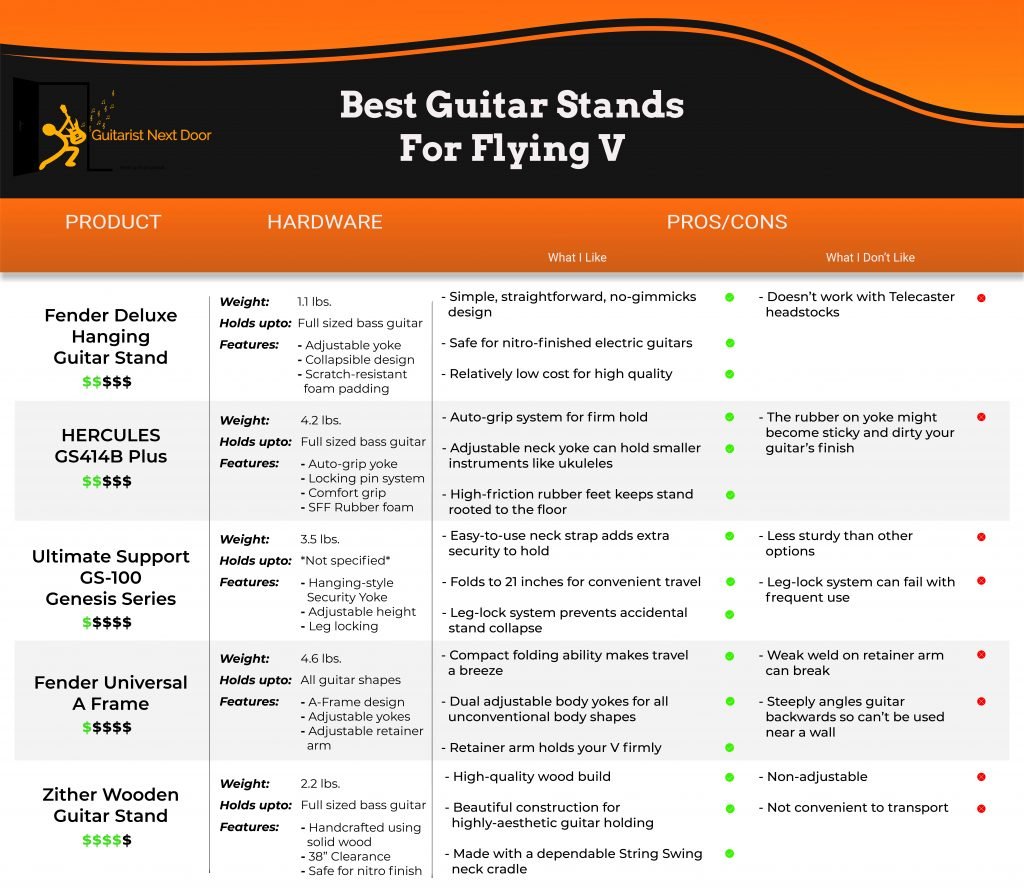 ---
Players of V-shaped guitars know that it can be a huge pain trying to find a great stand for your axe…
We made this article to help you out! To keep your axe safe and sound when you're not rocking out, take a look at our list of the best guitar stands for Flying V-shaped guitars.
Let's first look at these fine stands, and at the end of the post, you can find the FAQ section that helps you to make the best choice possible.
Who crafted this post:
Author: Tommy Tompkins
Playing guitar since 2004. Primarily an acoustic guitarist who plays and writes traditional American folk music, with a background in melodic metal and a solid foundation as a bassist.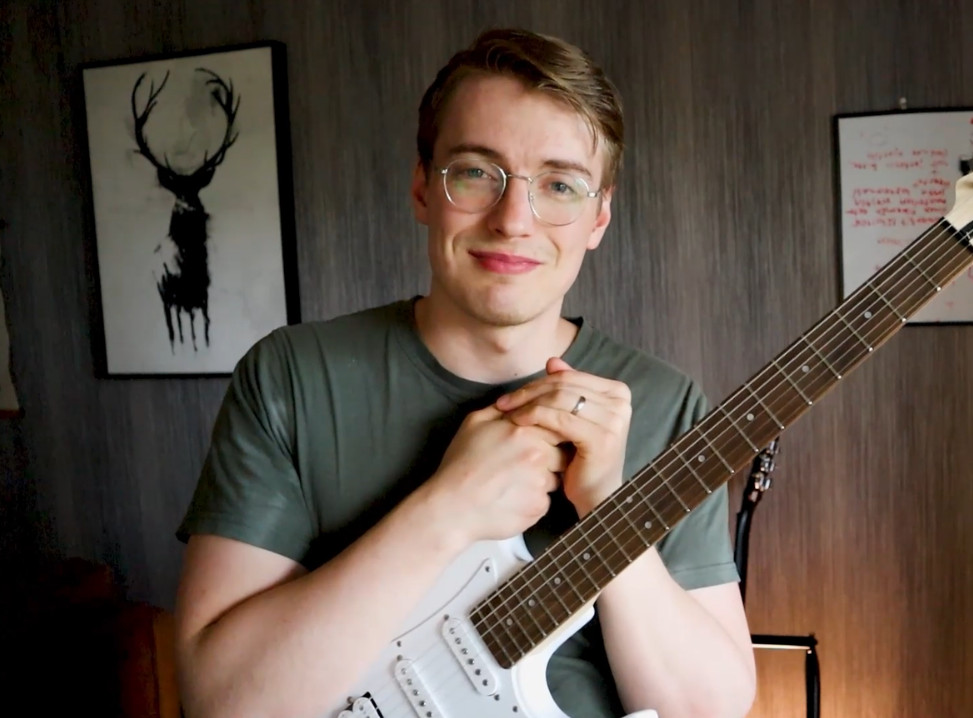 Editing & Research: Teemu Suomala
Playing guitar since 2009. Mainly focused on electric guitars, although jamming with acoustics too. Has played dozens and dozens of different guitars through different amps and pedals over the years. That's why he started this blog in January 2020 and started sharing his experience. Has produced content for several large guitar websites, such as Songsterr, Musicnotes, GuitarGuitar, and Ultimate Guitar.
---
Our Favorite Music Store in The World!
Why?
– Excellent Customer Service (4.7/5 Trustpilot Score)
– Fast & Free Shipping
– Gear is Inspected, Tested, & Ready to Play When it Arrives to You (We love this)
– Fair Prices
Visit Sweetwater:
Best Guitar Stands for Flying V
Best Overall- Fender Deluxe Hanging Guitar Stand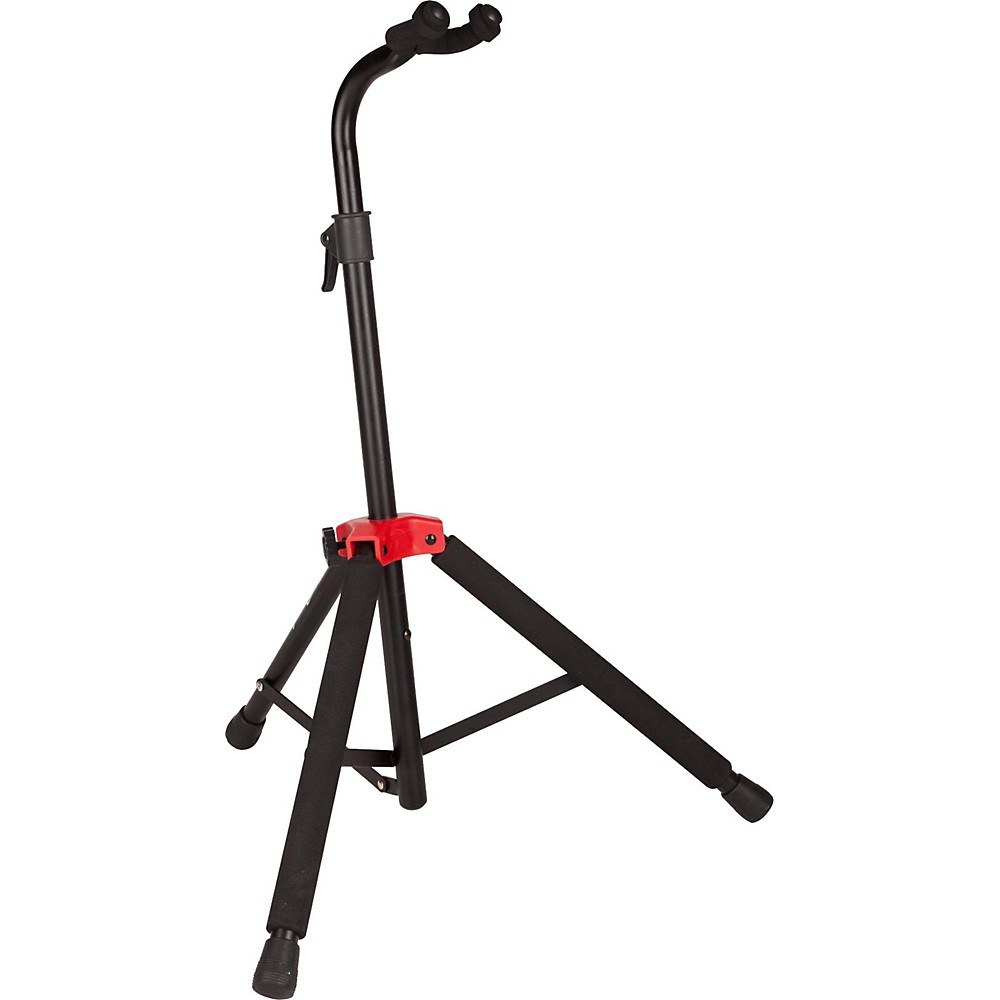 Stability
The Fender Deluxe Hanging Guitar Stand offers great stability, ease of use, and a sleek design for holding your Flying V steady. Its adjustable height lets you hang a wide variety of guitars, including acoustics, basses, Gibson Flying Vs, and more. However, it somewhat ironically can't grip a Telecaster headstock.
Its adjustable height lets you hang a wide variety of guitars, including acoustics, basses, Gibson Flying Vs, and more. However, it somewhat ironically can't grip a Telecaster headstock.
Aside from that small oversight, it does its job really well. The foam of the yoke is soft yet strong, and its feet anchor it to the floor with a tight grip.
Quality
This is your basic neck yoke model. There are fewer added features, which means less that can go wrong. In my book, that's great.
It's got the added bonus of being nitrocellulose-safe, unlike many other guitar stands in this category. Considering that most Gibson Flying Vs are nitro-finished, this is a super important quality that makes it one of the best Flying V guitar stands on the market.
It has no weak points and isn't prone to breaking, so you'll get good long use out of it.
Summary
Pros
Simple, straightforward, no gimmicks design
Safe for nitrocellulose-finished electric guitars
Relatively low cost for high quality
Cons
Doesn't work with Telecaster headstocks
While surprisingly cheap to buy, the overall quality of this stand is fantastic. It's well put together, super reliable, and won't damage your nitro-finished guitars.
Your Flying V will be stable, safe, and happy, so I highly recommend it if you're looking for a simple hanging stand.
Check Price on:
---
Most Secure – Hercules GS414B PLUS Guitar Stand

Stability
Hercules is a trusted name in guitar stands, and this GS414B Plus is one of the most secure ways to keep your Flying V safe. Upgraded AGS Auto-grip system closes shut when you set your guitar in the yoke, giving you extra reliability with no added effort.
Its legs are really strong and stable, with a smartly-designed footprint and gripping rubber feet for optimal steadiness.
Quality
Hercules is, in my opinion, usually the way to go when your top concern is your guitar's safety. They're stout and durable and will last a long time.
The only problem with this guitar stand is that the rubber on the yoke, for some very odd reason, sometimes becomes sticky after a while. It's the kind of rubber-degradation stickiness that is impossible to make clean, so if this happens you're stuck with it.
While it won't damage a typical guitar finish, it is annoying, and you might have to frequently wipe down your guitar neck after keeping it in this stand.
Summary
Pros
Auto-grip system clamps guitar neck in place for firm hold
Adjustable neck yoke can hold smaller instruments like ukuleles
High-friction rubber feet keeps stand rooted to the floor
Cons
The rubber on yoke can become sticky and dirty your guitar's finish (uncommon, but can happen)
If you can overlook the chance for sticky factor, this is a great stand-in all other ways. It'll hold just about any stringed instrument, making it a multi-instrumentalists dream.
Though it's a bit pricey, you're paying for quality you can trust to keep your V-shaped guitar safe and sound.
Check Price on:
---
Best Budget – Ultimate Support GS-100 Genesis Series Guitar Stand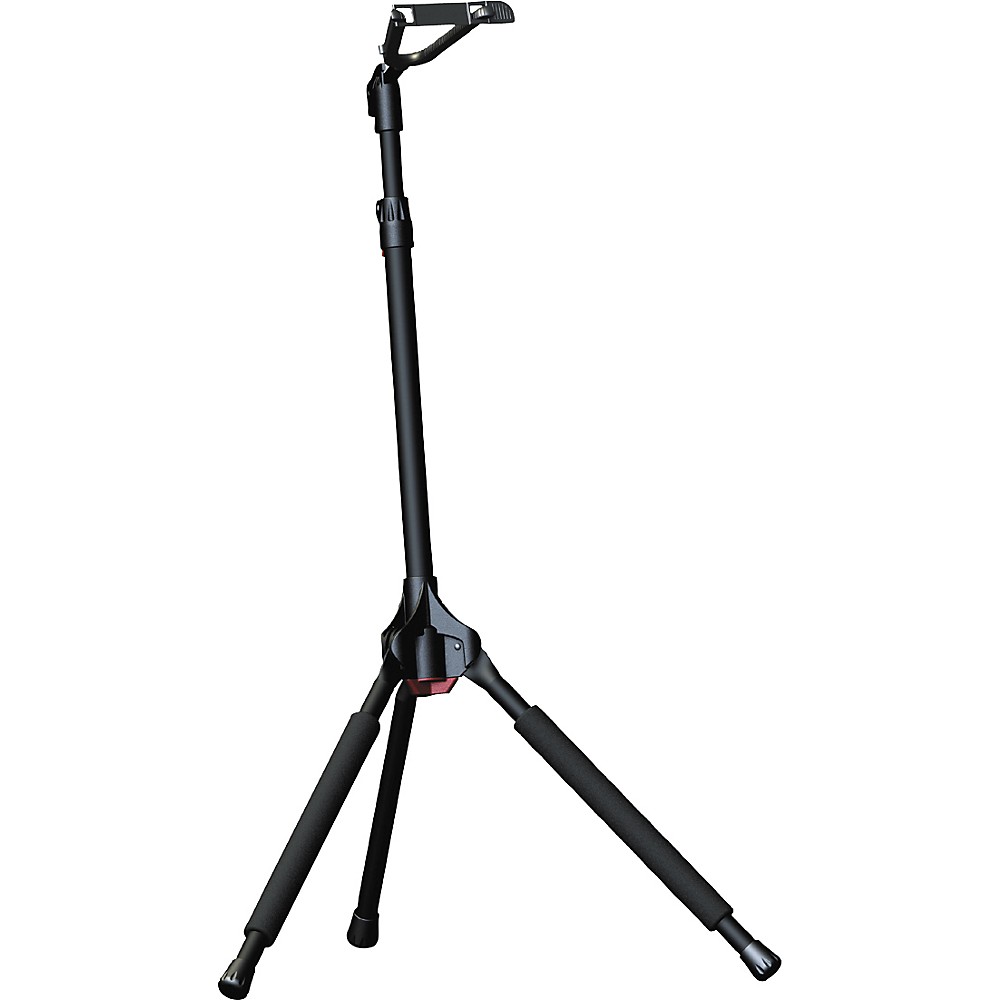 Stability
In most ways, this GS-100 from Ultimate Support is a great stand. It's got a stable tripod bass, a non-slip neck yoke, and strong rubber feet that prevent sliding on the floor.
Holding your Flying V is as simple as setting the neck into the cradle. Then, you can clip the yoke strap into place to ensure your guitar won't lean out.
It's height-adjustable to hold all sorts of body shapes, even acoustics and electric basses. The footprint, while not being too wide, is just enough to keep a reliable balance while your guitar is in place.
Quality
Materials-wise, I like this stand a lot. The rubber and feet are wear-resistant as are the foam pads on the legs. Plus, it's designed to fold to 21 inches so it's easy to take on the road. But, it has a longevity issue. There's some problem with the leg-lock system that causes it to start leaning to the side after a while.
This probably won't happen instantly, meaning your V isn't likely to crash to the floor all of a sudden, but it's still concerning.
If you want a stand to last for years and years, this might not be the way to go.
Summary
Pros
Easy-to-use neck strap adds extra security to hold
Folds to 21 inches for convenient travel
Leg-lock system prevents accidental stand collapse
Cons
Less resilient than other options
Leg-lock system can fail with frequent use
This is our low-cost choice, coming in considerably less expensive than the other stands. But, with the cut in price comes a drop in quality, so you might find yourself having to buy a replacement before too long.
Still, it's one of the most compact and should last a fair amount of time, so if you want an affordable neck-yoke stand for your Gibson V, this is a great choice.
Check Price on:
---
Most Portable – Fender Universal A Frame Electric Stand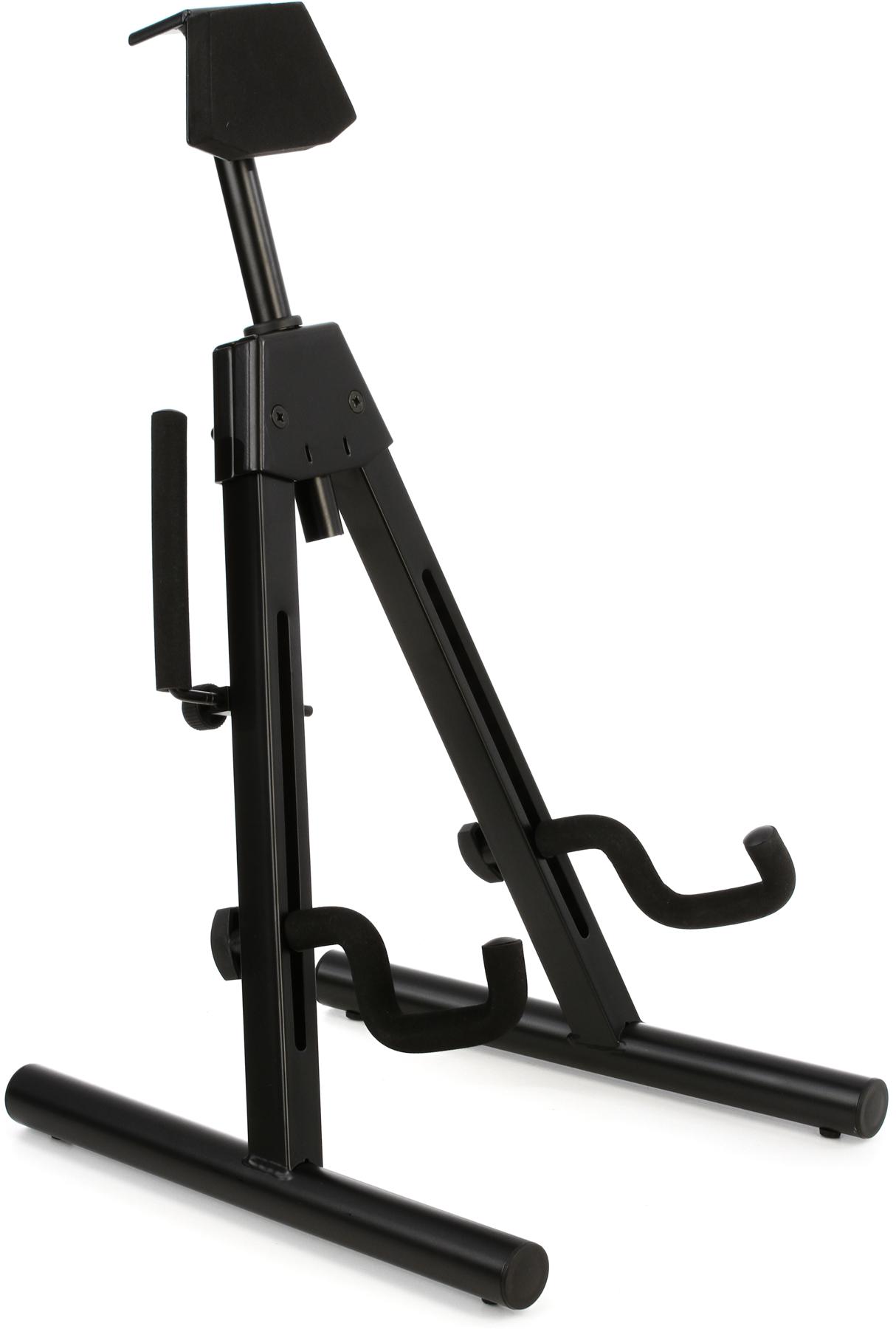 Stability
I find most stands that rely solely on body yokes for support untrustworthy, but this Fender Universal A-frame breaks the mold. It does this by utilizing a retainer arm that slides over the side of your guitar's body. This acts as a kind of clamp to keep your guitar securely in place.
Using height-adjustable yokes, you can change the positioning of this stand to fit just about any guitar shape, Flying Vs most definitely included.
Though its angle looks a bit extreme, it's balanced in a way to prevent your guitar from tipping over. The only issue with this is that you have to keep it a couple feet from the wall to keep your headstock clear.
Quality
Like most Fender products, this stand is built to a high degree of quality. The frame is strong and so is its yoke padding.
It's got two small problems though. One, the neck support foam can become detached, so you might need to glue it back on—not a huge issue.
If you're not careful with it, the retainer arm can snap off due to a weak weld. As long as you don't kick it or drop it, it should be fine, but it does require a bit of care.
Summary
Pros
Compact folding ability makes travel a breeze
Adjustable body yokes for all unconventional body shapes
Addition of retainer arm holds your V firmly in place
Cons
Weak weld on the retainer arm can break
Steeply angles guitar backwards so can't be used near a wall
I've never seen a stand quite like this one before, and I really like the way it holds your guitar using a retainer arm. The adjustable yokes and neck support are super versatile, so any untraditional electric guitar you have should fit just fine.
As long as you treat it right, it will last for a long time, so I'd say it's certainly worth the cost.
Check Price on:
---
Best Looking – Zither Wooden Guitar Stand
Stability
Zither's Wooden Guitar Stand is a beautiful way to showcase your Flying V. It sports a slender neck anchored into a wide platform in a well-balanced design.
To hold your guitar, the Zither uses a top-quality String Swing neck yoke with a rubberized grip to provide flawless support.
The only drawback is that it might not work well on thick carpet. I'd be careful about using it on anything but hard floors, though thin carpet should probably be ok.
Quality
The build of this stand is all high-quality hardwood. It's strong and won't crack under the weight of your guitar. It's not exactly the kind of stand you'd wanna throw in the back of the tour van though. Strong as the wood may be, it wouldn't last long under a half-stack.
It makes a great addition to a studio or any room of the house where you want to proudly display your V-shaped guitar.
Do be aware that though it's advertised as safe for nitro-finishes, it's smart to keep the yoke wrapped with cloth because this type of rubber can still damage that type of guitar.
Summary
Pros
High-quality wood build
Beautiful construction for highly-aesthetic guitar holding
Made with a dependable String Swing neck cradle
Cons
Non-adjustable
Not convenient to transport
Though it may lack a bit in practicality and versatility, this Zither stand is the best looking way to show off your Flying V. Not for the traveling musician, this is much better suited for the stay-at-home jam master.
By far the most expensive stand on this list, you'll be best off with this stand if you have a taste for elegance and regality in your guitar displays.
---
Verdict
I'm one to always value function over form. While the Zither Wooden Guitar Stand is sure beautiful, I want the option to take my stands with me, so I'm awarding this one last place. It's a great stand for a homebody but doesn't fulfill my desire for flexibility.
Now, the Hercules is a great stand, but I don't want to deal with that sticky rubber! It was almost first place here, but the Fender Hanging Guitar Stand surpassed it by just a notch.
I like everything about the Fender Hanging Guitar. It works great, looks good, and is even nitro-finish safe. In my opinion, it is the prime choice for the best guitar stand for Flying V electric guitars.
---
Buyer's Guide – FAQ
What Makes a Great Guitar Stand for a Flying V?
With their oddly-angled bodies (they look beautiful tho), V-shaped guitars can be practically impossible to set on the body yokes of stands for conventional electrics.
That's why I think great stands for the Flying V shape are those with neck yokes.
You'll want to choose a stand that is safe for nitro-finishes, as most Gibson Flying Vs are nitrocellulose-finished. Otherwise, be sure to wrap the contact points with the cloth. This is another reason I like hanging style stands—less contact with the guitar means fewer places that can get damaged.
Now, the fit is one thing, but security is a whole other. There are some stands that will do the basics of holding your guitar but with such an unstable balance that it seems like a light breeze could knock them sideways.
You want to find a guitar stand that is stable and secure. It should give you peace of mind when you set your guitar on it. To trust your precious V to a stand it needs to be steady, with a grip that won't slip and a balance that won't fail.
Along with this, Flying V stands—any stand for that matter—should be dependably built. If they're rickety and weak, you won't get much use out of them. You want a long-lasting stand that will keep your guitar firmly in its grasp for years.
Will These Stands Hold Other Guitar Shapes?
In my opinion, the best part of all of these stands is that they work with a wide variety of guitar body shapes. Most of them are neck-yoke style, which means any standard sized guitar will fit just as well as your V.
The ones that use body yokes are adaptable to pretty much any body shape, from Explorers to Razorbacks to your traditional Spanish-style bodies. So, yes. If you find any of these stands to be supremely trustworthy and well-built, you can order more than one if you'd like to use it for your other electric guitars.
If you're interested in a multi-guitar stand, check out our recommendations here.
---
Conclusion on Best Guitar Stands for Flying V
Choosing the best guitar stand for Flying V guitars is super important for players of these fine instruments. It can be hard knowing which will do the trick, so we've reviewed the best to be had to make your life a little easier.
I'd trust any guitar I own to these stands and believe you can confidently entrust your prized axes to them without further thought.
I hope that this guide helped you to choose the stand for you. If you have any questions, leave a comment down below and feel free to share this post too.
I wish you all the best and keep rocking!
You might also like:
We are sorry that this post was not useful for you!
Let us improve this post!
Tell us how we can improve this post?