Last Updated on April 29, 2023 by Teemu Suomala
Best Overall – Fender Deluxe Hanging Guitar Stand
Stability
Portability
Quality
Value For Money
Summary
The Fender Deluxe Hanging Guitar Stand is a basic tripod with an uncomplicated design that just works!

Surprisingly cheap to buy and still, the overall quality of this stand is fantastic. It's well put together, super reliable, and won't damage your nitro-finished guitars either.

Your Explorer will be stable, safe, and happy. At home, studio, or stage.

The best guitar stand for Gibson Explorer and the price is spot-on too.
Check Today's Price on
*Consider all links in this post to be affiliate links. If you purchase, at no additional cost to you, we may earn a small commission. It helps us to keep the lights on, thanks! 🙂
---
---
When you look at the body of your Explorer electric guitar, with its offset design and atypical angles, you might think only the most niche of stands would be able to hold this strangely shaped axe.
It is true that not every common stand will support this odd Gibson model, but we've taken a look at hundreds of options to bring you the top 5 best guitar stands for Gibson Explorer.
Let's first look at these fine stands, and at the end of the post, you can find the FAQ section that helps you to make the best choice possible.
Find our picks for the best Gibson Electric guitars here.
Who crafted this post:
Author: Tommy Tompkins
Playing guitar since 2004. Primarily an acoustic guitarist who plays and writes traditional American folk music, with a background in melodic metal and a solid foundation as a bassist.
Hide The Rambling▲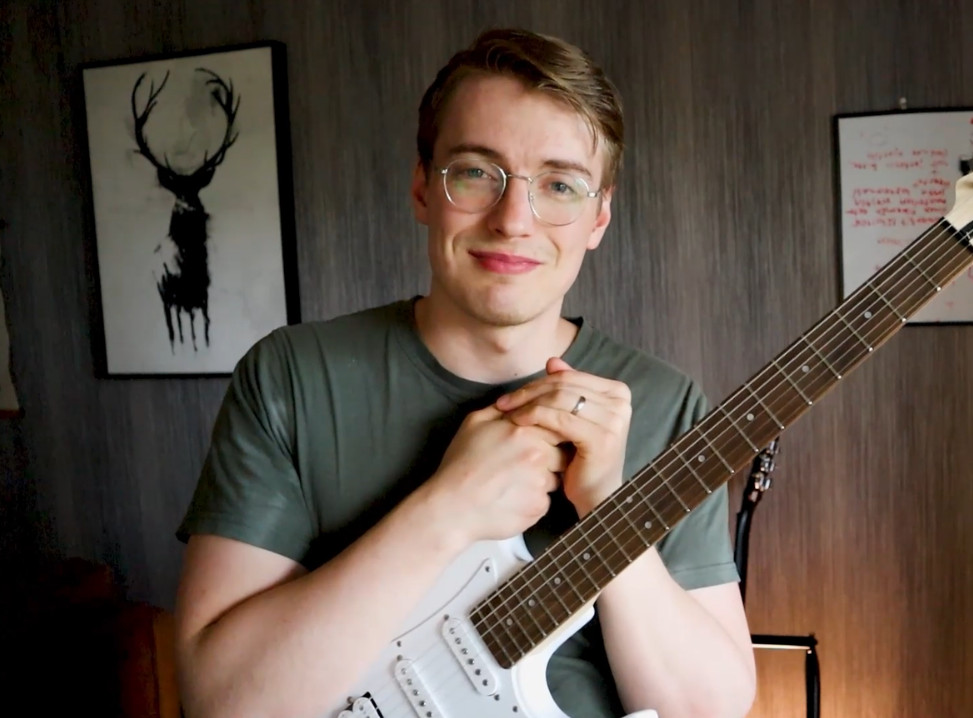 Editing & Research: Teemu Suomala
I first grabbed the guitar in 2009. I started this website in January 2020 because I couldn't do window installation anymore due to my health problems. I love guitars and have played dozens and dozens of different guitars through different amps and pedals over the years, and also, building a website interested me, so I decided to just go for it! I got lucky and managed to get awesome people to help me with my website.
I also got lucky because I have you visiting my website right now. Thank you. I do all this for you guys. If you have any recommendations, tips, or feedback, just leave a comment, I would love to chat with you. I have also been fortunate to produce content for several large guitar websites, such as Songsterr, Musicnotes, GuitarGuitar, and Ultimate Guitar.
I spend my spare time exercising and hanging out with my wife and crazy dog (I guess that went the right way…).
Hide The Rambling▲
Every one of these guitar stands is here based on extensive research and decades of combined guitar experience of me (Tommy) and Teemu.
---
Our Favorite Music Store in The World!
Why?
– Excellent Customer Service (4.7/5 Trustpilot Score)
– Fast & Free Shipping
– Gear is Inspected, Tested, & Ready to Play When it Arrives to You (We love this)
– Fair Prices
Visit Sweetwater:
Best Guitar Stands for Gibson Explorers
Best Overall – Fender Deluxe Hanging Guitar Stand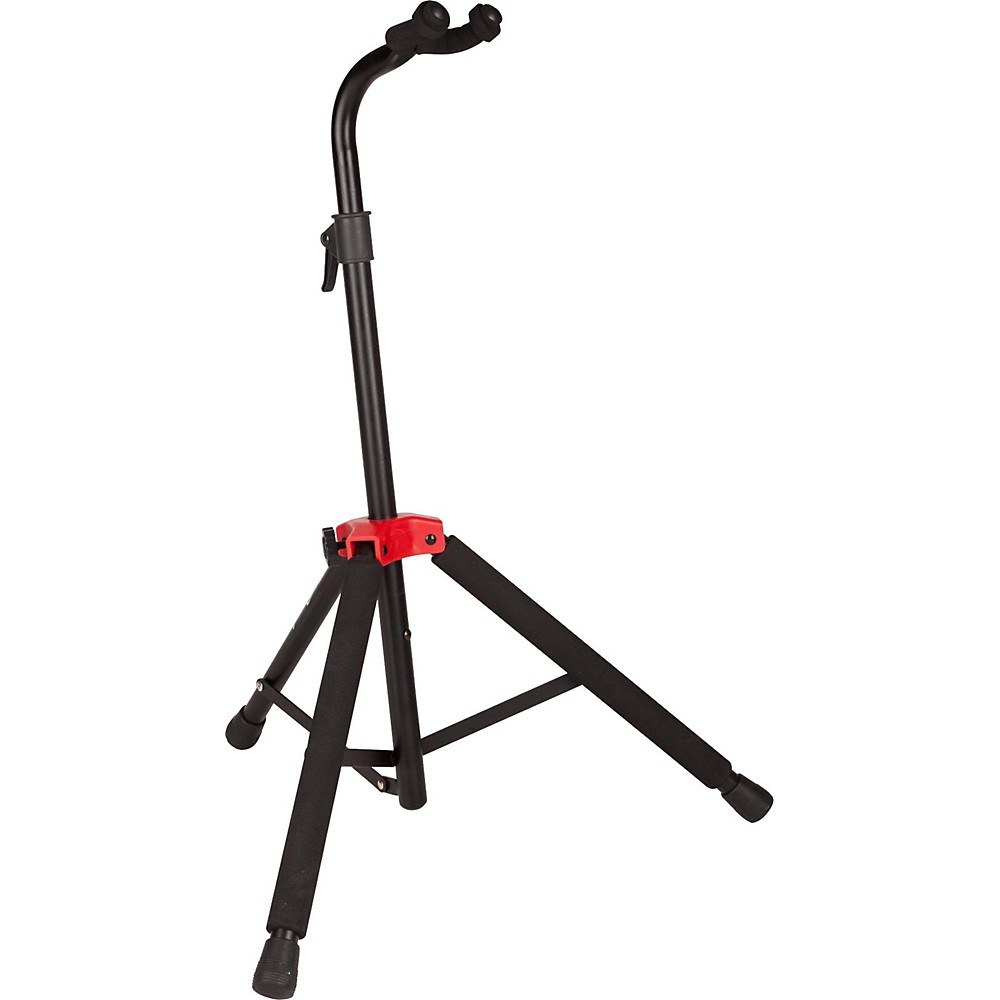 Stability
Rivaling Hercules in both sturdiness and stability is the Fender Deluxe Hanging Guitar Stand.
This guitar stand for Explorers blends a stout, height-adjustable tripod with a thickly padded neck yoke for guitar storage that is simple yet sure.
Though some might complain about the lack of auto-locking legs and height, I don't see a problem with having to set these manually. I rather find it a benefit that there are no springs to come loose or fancy parts to fail.
Quality
Fender's Deluxe Hanging Guitar Stand offers quality in a package that is convenient, simple, and secure.
I really don't have a bad thing to say about this stand. It's built strong from high-quality materials that won't wear out.
All its foam is nitro-safe so you can be confident in resting your Explorer in its neck cradle.
Plus, its easy-folding design is made from durable metal that can hold up to bumps and bangs in the back of the most disheveled of band vans.
Summary
Pros
Works with nearly every guitar type
Nitro-safe foam padding at all contact points
Affordable, functional, portable
Cons
This is a great stand that will keep your Explorer safe whether at home, on stage, or in the studio.
Though it's one of the lowest cost options on this list, it's my favorite of them all. I recommend this stand for players of any experience level looking to hang their Explorer or really any other guitar with peace-of-mind.
Check Price on:
---
Runner-up – Hercules GS414B PLUS

Stability
Hercules is the stand of choice for many guitarists and even guitar companies.
For general stability, the GS414B Plus Guitar Stand is one of the best in the biz. Hercules uses a combo of stable tripod legs, high-friction foot pads, and a special neck yoke called the Auto Grip System to keep your Explorer steadily upright.
This is a great stand for Gibson Explorers because it hangs the guitar at the headstock and then lets you use the Instant Height Adjustment Clutch to pull your axe's body just high enough off the floor.
All contact points are covered with Hercules' Specially Formulated Foam (SFF), which is proven to be safe for nitrocellulose finishes.
Quality
These stands are known to be some of the strongest around. Their strong frames hold up to the rigors of regular gigging, and, for the most part, they're made with long-lasting, high-quality materials.
The major quandary surrounding the Hercules GS414B PLUS and other stands in this family is the problem of gummification.
What is this gummification I speak of?
It's a fatal flaw that affects many Hercules stands in which the plastic of the Auto Grip System starts to become sticky. This stickiness turns into gumminess, and this gumminess turns into the plastic becoming weak and breaking.
The typical onset of this problem is somewhere between one and two years. So, you can get a good use from the GS414B until that pops up(if it does), but after that, you'd better start looking for a replacement. Of course, there is not always need for that.
Summary
Pros
AGS system keeps guitar necks stable
Sturdy frame and strong neck yoke support all guitar body shapes
Hercules' SFF padding protects nitro finishes
Cons
Auto grip system's plastic can fail after 1+ years
Hercules stands are some of my highest recommended, and the GS414B PLUS does a great job of keeping Explorer shaped guitars safe and stable.
It's at about the middle of what a hanging guitar stand can cost, so not exactly cheap, but not a bank-breaker either.
Because they tend to break after a couple years of use, you'll want to be aware that this stand is sometimes a short-term investment, but it does an exceptional job while it stays in one piece.
Check Price on:
---
Best Budget – Ultimate Support GS-100 Genesis Series Guitar Stand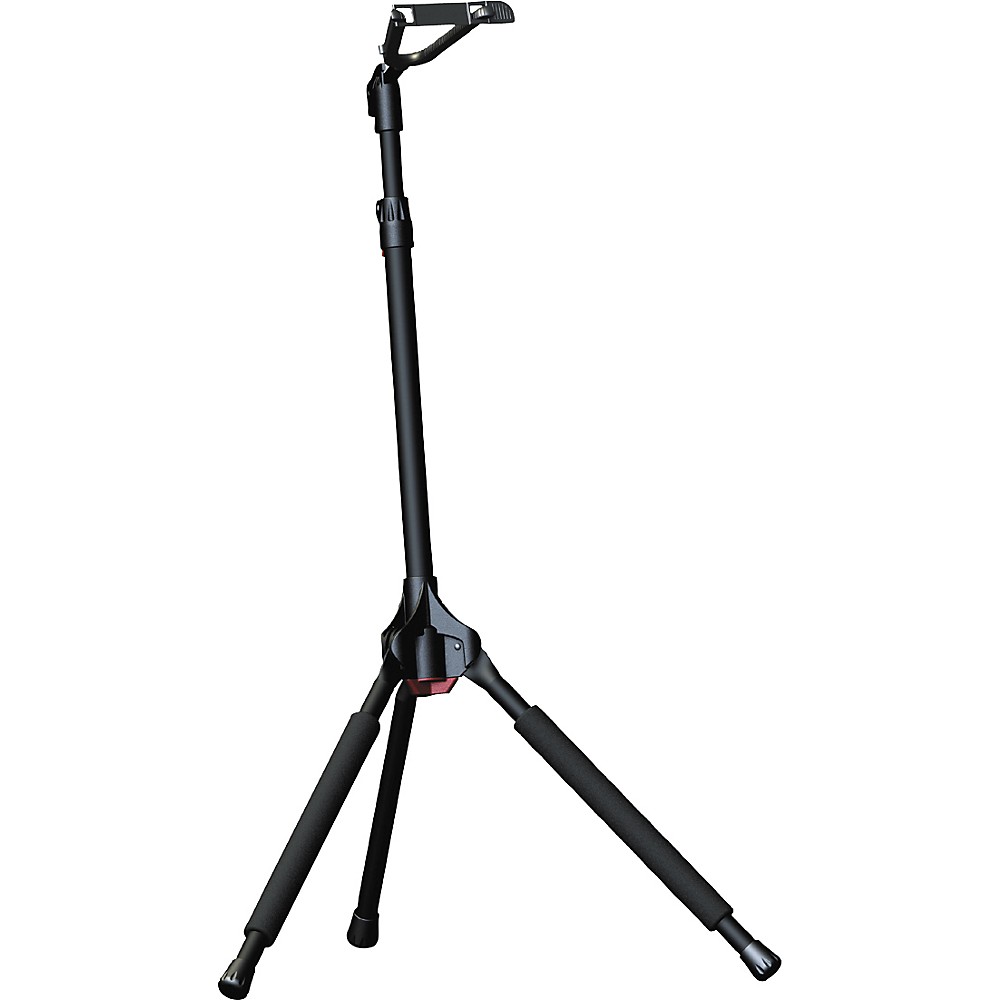 Stability
Upon first inspection, the GS-100 is a fine stand for Gibson Explorers.
Its neck yoke is strong and sports an easy-to-use strap that locks your guitar in place. At the same time, its tripod base is nicely balanced and stays put thanks to its rubber feet.
While it lasts, the GS-100 is perfectly stable. However, no one really knows how long this stand will hold up.
Quality
Unfortunately, this stand is just not built to last.
The weak construction of the GS-100 causes its auto-locking leg mechanism to fail.
It might last you a year or more, but it could also give out in less than a month.
So as we see, the brand name "Ultimate Support" is maybe a stretch—a more appropriate moniker for this GS-100 guitar stand might be "Acceptable Support".
Summary
Pros
Neck strap design increases protection
Low price
Easy to use and fold for travel
Cons
Questionable nitro safety
Weak construction
As the lowest-priced option on this list, you shouldn't be too surprised that this stand also offers the lowest amount of stability overall.
It's a good option if you're in a pinch and need a stand quick, but if you're serious about safely storing your Explorer, you'll find better protection while exploring the other options in this review.
Check Price on:
---
Most Portable – Fender Universal A Frame Electric Stand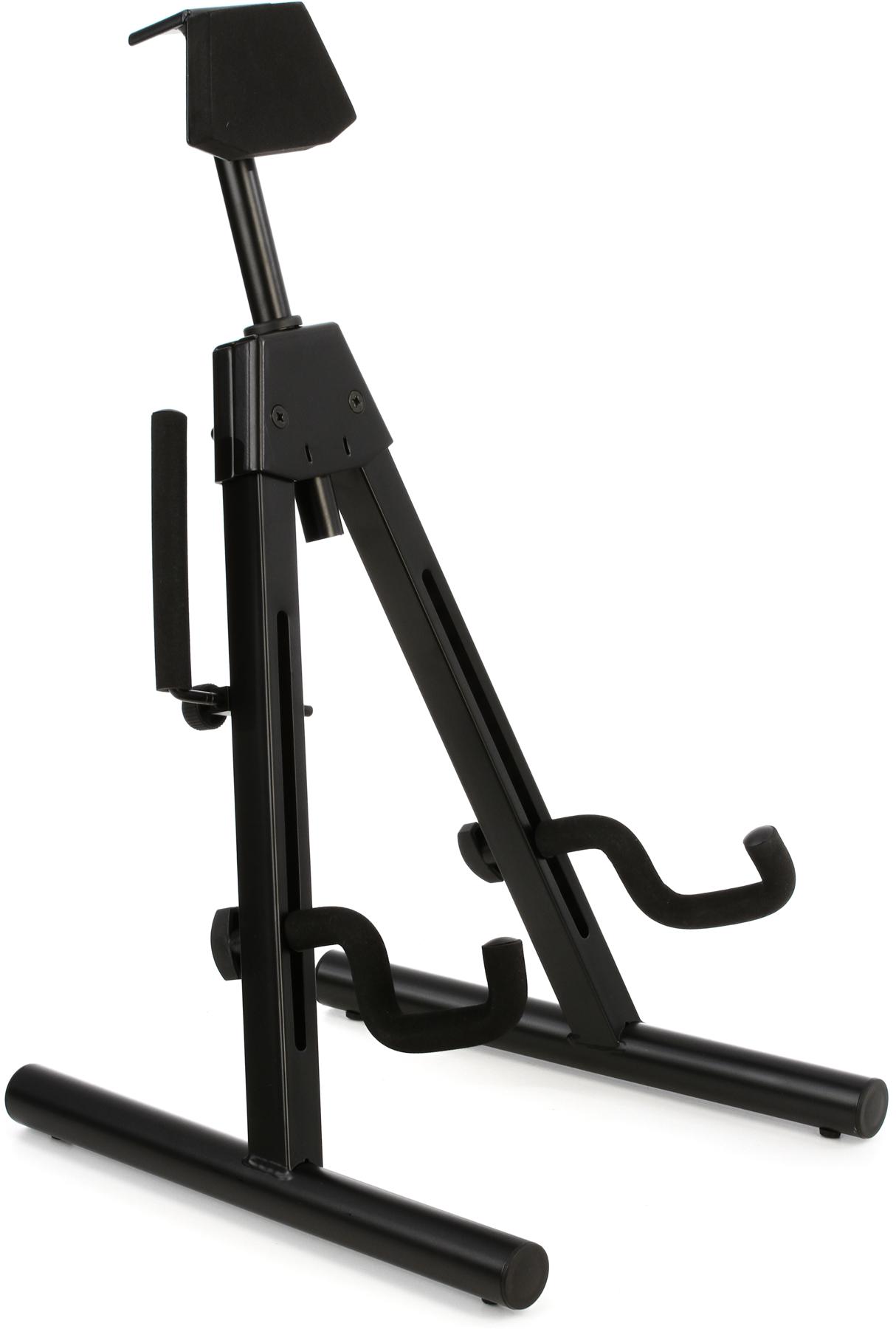 Stability
I used to be a bit skeptical of Fender's stands, but after reviewing stands for Stratocasters and more, I've come to find they're some of the best guitar stands around.
The Fender Universal A Frame Electric Guitar Stand might at first seem like an odd choice for a Gibson guitar, but it's truly the best A-frame stand available for Explorers.
The body yokes are height-adjustable, so you can position them to really hold any offset electric guitar. This makes holding your Explorer really easy.
This stand's best feature has got to be it's locking retainer arm. This is an extra piece not found on most A-frame stands that secures the upper areas of your guitar's body, giving your electric extra protection from falls.
Quality
Like I was saying, I really like Fender's storage options—they're generally really sturdy and well-built and do a great job of holding different guitar body shapes.
This Universal A-Frame Electric Stand is about as good as any other Fender stand, but it does have one unfortunate problem.
While not a total deal-breaker, that awesome retainer arm might come weakly welded. Because of this, it can break off. This doesn't make the stand useless, but it does really reduce its safety.
Summary
Pros
Extra arm adds stability to offset body guitars
Body yokes can be repositioned to fit Explorer
Super small folding design fits in gig bags
Cons
Takes up a lot of floor space
The Fender Universal A-Frame Electric Stand doesn't cost much and it's, in my opinion, the best A-frame stand around for Explorers.
All in all, it's versatile, great for traveling, and stable enough for stage use so long as its retainer arm holds up.
Check Price on:
---
Best Looks – Zither Wooden Guitar Stand
Stability
Since the Zither Wooden Guitar Stand is the highest priced stand in this review, it would be ridiculous if it wasn't one of the most stable.
It's actually a contender for most stable and is perhaps the winner of the title. It's hard to compare this to a tripod stand, but they're definitely similar in overall safety.
The Zither Wooden stand eschews the typical metal tripod for a more elegant design that uses a large, flat wooden base for stability.
Attached to this is a gently curving vertical piece that ends in a high-quality String Swing neck cradle.
Its build is well-balanced and reliable, and it does a perfect job of hanging up Explorer-shaped guitars.
Quality
So why's it so expensive?
Well, it's made of true solid wood—you can actually choose one of seven different wood types.
It's made to be a stationary stand, and to this end, it emphasizes form over function.
It's really not portable, with no folding or collapsing abilities. There's no height adjustment or rotating, swiveling, pivoting, or angling of the neck cradle.
In general, it's a really basic design. But basic isn't bad, and this stand delivers on its promise to hold your Explorer up proudly.
Summary
Pros
Gorgeous organic design
Uses a nitro-safe String Swing neck yoke
Strong wooden frame and stable base
Cons
At such a high price, I can only recommend this stand to those looking to add an artistic spice to a home or studio.
As my advice is to keep your guitar in its case over any long periods of time, I'd say this stand is really best suited for studios, where a guitar can stay displayed with no risk of damage.
If you do decide to buy it for your home, you'll be impressed both by its good looks and its dependability as a great stand for Gibson Explorers or really any electric guitar.
---
Verdict
When it comes to the best guitar stands for Explorer, I'd recommend the Ultimate Support GS-100 least of all.
Explorers are usually expensive, and, to be frank, the GS-100 is cheap. It's not dependably built, and its potential to fail without warning poses a serious risk to your guitar's safety.
Unless you absolutely must spend the least amount possible for a guitar stand, go with any of the other options on this list.
Considering it was our top recommendation for the similarly divergent Flying V, it's not a surprise to me that my favorite stand for Gibson's Explorer is the Fender Deluxe Hanging Guitar Stand.
It costs barely a few dollars more than the budget GS-100 but offers much more protection, safety, durability, and quality.
It's easy to travel with, easy to use, and sure to keep your Explorer where you want it, making the Deluxe Hanging Guitar Stand my number one choice for the best guitar stand for Gibson Explorer.
---
Buyer's Guide – FAQ
What Makes a Great Guitar Stand for Explorers?
Explorers are one of the oddest shaped guitars that are still common to come across.
With even the "budget" Epiphone editions of this body shape running around $600, I understand why you're wondering what the best Explorer stand really is.
The simple fact is, most stands that rely on body yokes for support won't make the cut. Explorers, like their Flying V siblings, have too unusual bodies to fit most A-frame or similar stands.
Your best bet for a great Gibson Explorer guitar stand—with a few exceptions—is to find a sturdy neck yoke model.
The top neck yoke hanging guitar stands are pretty much universal in their capacity to hold guitars—with many even accommodating instruments as small as ukuleles and as large as cellos.
You want to find a hanging stand with a stable base. This is probably the most important part. After that comes the padding. Like with gig bags and cases, guitar stands need to be soft where they contact the guitar.
For Explorers—its other Designer electric cousins—it's best to look for nitro safe stands. Even the lowest priced Gibson Explorer features a nitrocellulose finish, so err on the safe side. Choose a stand that is either built nitro-safe or can be easily wrapped with cotton.
Finally, try to maximize safety while staying within your budget.
There's really no such thing as a cheap Explorer, so you no doubt want to keep yours safe. But, of course, you've got to work within your price range.
So, try to get the best stand possible that you can afford. Protecting your Explorer with a great stand isn't one of those things to try to save a few bucks on. With this guitar accessory, quality is definitely key.
Are Guitar Stands Bad for Your Guitar?
The best short answer I can give you is two parts.
Part one is: A good guitar stand is ok for your guitar in the short-term. Long-term use of a stand has a higher chance of damaging your Explorer.
Part two deals with what a good stand is. Simply put, a good stand works.
A good guitar stand for the Gibson Explorer is, above all things, dependable and stable. If it can't secure your guitar, it's not a good stand.
If the stand can keep your guitar safe and sound, the next quality of Explorer stands is their nitro safety.
True Gibson Explorers are nitro-finished, so like I said before, you need a stand that is nitro safe or can be adapted to be so with cotton.
Other Explorer-style guitars may or may not be nitro-finished, but regardless this is a good trait to look for.
So, if you find a stand that works with Explorers—and works well—it won't be bad for your guitar if you keep your guitar there only for short periods of time.
Any long period of time that your guitar will go unused, keep it in its case.
Is it OK to Leave a Guitar On Its Stand?
How long do I mean when I say a long period of time? Really, anything over a day.
If you're practice-obsessed and—like Steve Vai—spend a solid twelve hours or more a day with a guitar in your hands, it's probably okay for your guitars to spend the other ⅔ of their time in a dependable stand.
This is assuming your guitars' room is safe in general…
If you've got a rambunctious pet or a curious toddler, do yourself a favor and store your guitar in its case anytime it's not making music.
No matter how strong the stand, it can be knocked over, and all it takes is one good fall for your Explorer to lose a body wing.
However, if your guitar lives without unexpected visitors, keeping it on a stand for shorter lengths of time is ok.
The general rule is: the case is always best. Stands are good for short lengths of time. Even nitro-safe stands can damage nitro guitars over long periods of use.
Consider all this and keep your Explorer's safety in mind. If it's going to rest for a while, let it do so safely in its hardshell case or padded gig bag.
---
Conclusion on Best Guitar Stands for Gibson Explorers
After all, despite how difficult it might have seemed at first look, it's not so hard to find great Explorer stands.
We did the legwork for you and found your Explorer some awesome hanging guitar stands and even an A-frame option.
These are the best guitar stands for Gibson Explorer, chosen to help you keep your guitar as safe as can be anytime it's not busy rocking out.
I wish you all the best and keep rocking!
You might also like:
We are sorry that this post was not useful for you!
Let us improve this post!
Tell us how we can improve this post?