Last Updated on November 23, 2023 by Justin Thomas
Best Overall/Most Secure – HERCULES GS414B PLUS
Stability
Portability
Quality
Value For Money
Summary
This stand is built for heavy instruments, so your Les Paul will be more than safe in its rugged hold.

It's got well-spaced feet that hold your guitar at a perfect angle for balance and support. Plus with its Auto Grip System, you can basically set it and forget it.

With nitro-safe foam at all contact points and overall durable construction, the Hercules GS414B is a great stand for Les Pauls. It's a little bit pricier than many others, but it delivers protection well worth the price.

The best guitar stand for Les Paul's.
Check Today's Price on
*Consider all links in this post to be affiliate links. If you purchase, at no additional cost to you, we may earn a small commission. It helps us to keep the lights on, thanks! 🙂
---
The Next Best:
Compare:
---
Les Pauls, even the budget versions, are sweet, valuable guitars.
When it's not in your hands and you want to keep it within easy reach and safe, a great guitar stand for Les Paul can help you.
Now, I'm about to reveal my favorite stands for you! These stands will keep your guitar protected from falls and looking good in your room whenever you've got to put it down.
Let's first look at these fine stands, and at the end of the post, you can find the FAQ section that helps you to make the best choice possible.
Who crafted this post:
Author: Tommy Tompkins
Playing guitar since 2004. Primarily an acoustic guitarist who plays and writes traditional American folk music, with a background in melodic metal and a solid foundation as a bassist.
Hide The Rambling▲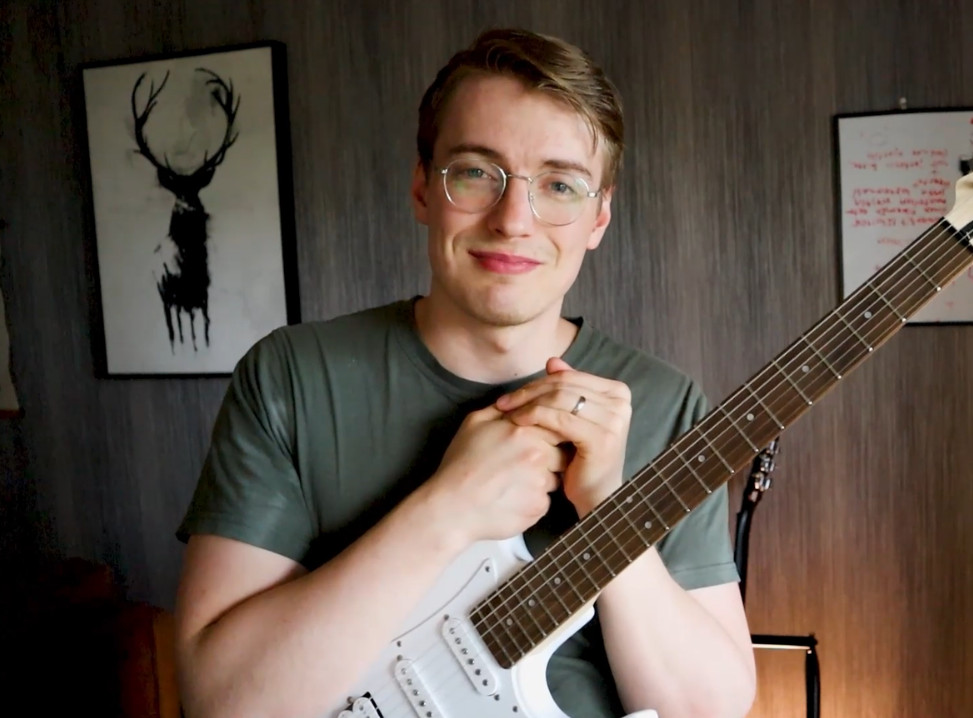 Editing & Research: Teemu Suomala
I first grabbed the guitar in 2009. I started this website in January 2020 because I couldn't do window installation anymore due to my health problems. I love guitars and have played dozens and dozens of different guitars through different amps and pedals over the years, and also, building a website interested me, so I decided to just go for it! I got lucky and managed to get awesome people to help me with my website.
I also got lucky because I have you visiting my website right now. Thank you. I do all this for you guys. If you have any recommendations, tips, or feedback, just leave a comment, I would love to chat with you. I have also been fortunate to produce content for several large guitar websites, such as Songsterr, Musicnotes, GuitarGuitar, and Ultimate Guitar.
I spend my spare time exercising and hanging out with my wife and crazy dog (I guess that went the right way…).
Hide The Rambling▲
Every one of these stands is here based on our decades of combined guitar experience and extensive research.
---
Our Favorite Music Store in The World!
Why?
– Excellent Customer Service (4.7/5 Trustpilot Score)
– Fast & Free Shipping
– Gear is Inspected, Tested, & Ready to Play When it Arrives to You (We love this)
– Fair Prices
Visit Sweetwater:
Our reviews of the top 5
Best Overall/for Nitro Finish – Hercules GS414B Plus
Stability
Hercules' GS414B Plus stand is built for heavy instruments, so your Les Paul will be more than safe in its rugged hold.
It's got well-spaced feet that hold your guitar at a perfect angle for balance and support. With its Auto Grip System, you can basically set it and forget it.
Quality
Hercules is one of the most trusted brands for Gibson's high-quality guitars. They use Specially Formulated Foam that is rigorously tested on nitro finishes to ensure protection.
They're strong, stable, and built to last, so taking this stand on the road with you is no worry at all.
Summary
Pros
Keeps guitars stable and in place with the Auto Grip System
Adapted for use with a wide variety of stringed instruments
Durable and strong build lasts a long time
Cons
Rubber can break down and make guitar sticky
With nitro-safe foam at all contact points and overall durable construction, the Hercules GS414B is a great stand for Les Pauls. It's a little pricey, but well worth the protection it offers.
---
Best for Wooden – Zither Wooden Guitar Stand
Stability
This Zither Wooden Guitar Stand is the option to go with if you're a high-class kind of person. Even without a flashy guitar, this stand is a work of art.
That's because it's an all-natural wooden frame topped off with a String Swing neck yoke.
The wooden frame looks truly beautiful with a sturdy base that does a great job of supporting heavy guitars like Les Pauls. Its String Swing yoke is a trusted name for nitro safe equipment and will hold your Les Paul with no problem at all.
Quality
For a room stand, this is about as good as they come aesthetically speaking.
You can choose between different finish options to accent your studio or house just the way you like.
It's strong hardwood, so it certainly won't crack under pressure.
If you're looking for a stand to travel with, you could do better than this one, as it doesn't fold at all. But, it's not that hard to disassemble, so with just a little effort, you can take it on the road.
Summary
Pros
Looks great thanks to natural wood construction
Nitro-safe String Swing neck yoke
Strong, solid build can take a beating
Cons
Heavy and hard to travel with
For me, I'm not really ever looking for a stand to be beautiful, but that's my personal preference. If you care about elegance in all your equipment, Zither's Wooden Guitar Stand is one of the most beautiful options to be had.
It's definitely not cheap, but regality rarely comes at a low price. For those who value style, this stand is worth the money.
---
Best Budget/A-frame – NEUMA Guitar Stand Folding Universal A frame Stand
Stability
NEUMA's universal stand is a great low-cost A-frame that does a wonderful job of holding your Les Paul.
It's got a strong steel frame with non-slip EVA foam on the body yokes to make sure your guitar doesn't slip or slide out of place.
The legs are offset at an angle to add support and balance while your guitar is being held and capped with rubber feet to prevent any sliding around on the floor.
As a bonus, the yoke arms of this stand work to hold both electrics and acoustics, so your Les Paul will feel just as at home as your Taylor.
Quality
The steel goes a long way in adding to this stand's build quality. It's impact resistant and won't dent or bend in most ordinary travel conditions.
It folds up for easy carrying, though it probably won't fit inside your gig bag. This isn't a big problem as it's pretty lightweight and easy to keep in your hand or simply tie to your case.
Its EVA foam isn't qualified as nitro safe, so you'll need to be sure to wrap its contact points in cloth before using this stand with any high-end Les Paul.
Summary
Pros
Easy-to-use A-frame design that fits different guitar bodies
Well-balanced leg angle keeps stand secure
Lightweight; easy to fold and carry
Cons
Non-locking design can accidentally fold if not fully extended
For the price, this is one of the best Les Paul safe A-frame stands out there. It's strong, stable, and easy to travel with, all at about as low a cost as stands ever sell for.
---
Most Affordable Tripod – Universal Guitar Stand by Hola!
Stability
Hola! Music does a pretty fine job of delivering a great Les Paul stand in their Universal model.
While it's not quite as stable as the Hercules above, it's by no means a dangerous place to set your guitar. You just have to adjust the balance of your neck a little bit to make sure it stays in place when you walk off.
It's got nicely coated rubber feet to prevent slipping and sliding on the floor, and all in all, is a great stand for most electrics, Les Paul included.
Quality
This isn't the most durable feeling stand on the market, so I'd be careful to make sure your heavy cabs don't fall on top during travel and such. But, for the most part, it's rather well put together.
It's got nitro-safe foam at all contact points so you don't have to worry much if you'll be using it with a high-end Les Paul.
Its main issue is the neck yoke, which folds down just a bit too easily, so you really need to make sure it's in place before you walk away.
Summary
Pros
Auto-locking legs ensure the stand is set up properly
All contact points covered in nitrocellulose safe foam
Compact folding allows for easy travel
Cons
Balance of the stand is a little off-center
If you're careful, this stand will do a good job of keeping your Les Paul safe and stable. You can't exactly use it mindlessly as you have to make sure your guitar is balanced. But if you're willing to give a little time to this then it's a great Les Paul stand.
Considering its price and overall positive attributes, this is one of the best guitar stands out there.
---
Best for Travel – Guitar Stand, Neboic Real Hard Wood
Stability
This stand is, as long as it holds together, as stable as any other A-frame.
It's got a decent footprint to keep your guitar firmly planted and soft foam to protect your finish.
The angle it reclines at feels altogether pretty safe, but I wouldn't use this for a long period of time anywhere that the guitar could be bumped.
Quality
While this stand's wooden frame sure looks good, its hinges are rather on the weak side. It can fall apart pretty easily under heavy use, so I definitely recommend it more as a home stand than road gear.
If you set it up in one place, it's a nice, strong, stable stand that can show off your Les Paul in a beautiful way.
Summary
Pros
Sleek folding design fits inside gig bags
Attractive mahogany build looks great in a room
Fits Les Paul electrics as well as acoustics
Cons
Weak attachment points can break easily
Let's say you do decide to chance its construction through the hardships of travel; well, it is amazingly collapsible and can easily fit in a gig bag.
If it holds up for you, you've got a really sleek A-frame stand that looks fantastic and has dependable protective foam.
The wood build adds to its cost a bit, so you might pay more than is expected for the typical A-frame, but if it doesn't fall apart on you you'll wind up with a really nice Les Paul-ready stand.
---
Verdict
It's real tough for me to choose between the Hercules and the NEUMA here, as they're both great stands in their own right.
As I tend to prefer the grip security of tripods, I'll go with the Hercules as my winner in this review. Not only is it strong and sturdy, but it's nitro-safe as well, so you can entrust it with even the highest-priced Les Pauls.
Neboic's stand is my least favorite on this list, and just because it has a tendency to fall apart. If they'd strengthen up those joints, it could easily replace the NEUMA, but until then I'd say this is the lowest-ranked stand for Les Pauls.
---
Buyer's Guide – FAQ
What Makes a Great Guitar Stand for Les Paul?
Above all, the most important factor in choosing any guitar stand is stability.
A stand that can't stay upright when it's loaded down with your axe isn't worth its weight. That's why the stands on this list are all rated with stability first—fall damage is the last thing you want to happen to your precious Les Paul.
Aside from that, you want to look at things like build strength. Les Pauls are on the heavier end of electric guitars, so you want to choose a stand that can keep up.
This means looking at things like the resilience of the neck yoke and the durability of the legs. Great Les Paul stands should rank high in both these areas.
Note!
Now, you should definitely be aware that older or pricier Les Paul models often have a nitrocellulose finish. These nitro finishes are quite easy to damage, especially if used on the wrong stand.
If your guitar is nitro finished, be sure to choose nitro safe gear in order to find the best stand for your Les Paul.
I already gave you some nitro-safe options in this post, but you might want to check this article for more info: 5 Best Guitar Stands for Nitro Finish in 2022 – Buyer's Guide.
Could the Continuous Use of a Guitar Stand Damage My Les Paul?
The question of whether a stand can cause any damage to your Les Paul or not depends on the guitar's maker.
Those made by Epiphone use a poly finish that is totally stand safe. You can leave these guitars on a stand for long periods with no worry of stand rash or nitro burn.
That all changes if you're the proud owner of a true Gibson Les Paul though. Gibson continues to make their Les Paul lines using a nitro finish that can be damaged by stands.
If you get a stand that isn't rated nitro safe, you can solve this problem by wrapping all the contact points in soft cloth, ideally 100% cotton fiber.
Even this precaution, however, can't completely protect a nitro finished Les Paul. That's because nitro finishes are basically semi-liquid, so long-term pressure can smudge the finish by pushing it out of place.
For these nitro models, your best bet is to only leave your guitar on the stand for short periods of time and otherwise keep it in the case when you're not playing it.
---
Conclusion
When that fine Les Paul leaves your hands, you want to be sure it's got the protection and security it deserves.
Choosing any of these best guitar stands for Les Paul will give you that sense of solidity you need to be able to step away from practice for a little while.
These are great, dependable stands that I wouldn't hesitate to entrust with my most prized guitars in those times I need to put them down.
I hope that this guide helped you to choose the stand for you!
I wish you all the best and keep rocking!
You might also like:
We are sorry that this post was not useful for you!
Let us improve this post!
Tell us how we can improve this post?