Best Overall – Fender Deluxe Hanging Guitar Stand
Stability
Portability
Quality
Value For Money
Summary
The Fender Deluxe Hanging Guitar Stand is a basic tripod with an uncomplicated design that just works!

It's solidly built to keep your nitro guitar up and in place at an angle that feels totally safe and secure.

Fender is one of the few names I'd trust to make a great nitro-safe product because they're one of the few companies regularly producing nitrocellulose guitars.

The best stand in my opinion, and the price is spot-on too.
Check Today's Price on:
*Consider all links in this post to be affiliate links. If you purchase, at no additional cost to you, we may earn a small commission. It helps us to keep the lights on, thanks! 🙂
---
Next Best
---
FREE Access for You! Secret Page Reveals 5 Must Learn Electric Guitar Riffs That Accelerate Your Learning (For All Beginners Who Love Rock and Metal)
(If you want to make progress fast, this is for you). Just tell me where I should send the link:
By entering your email address you agree to receive emails from Guitarist Next Door. We'll respect your privacy and you can unsubscribe at any time.
Guitars with nitro finish are stunning! callback to guitar days of old really…
But be careful with your guitar-stand choices. It can literally make or BREAK your guitar. Using a stand with nitro-finish guitars is possible, for sure. You just need to pick the right stand.
To help you out we've taken a look at the top five guitar stands for nitro finish for when you need to take a playing break. The manufacturers of all of these state that these stands are good fits for the nitro finish. Even some huge brands like Gibson and Fender, use these same stands to store their nitro-finish models.
Let's first look at these fine stands, and at the end of the post, you can find the FAQ section that helps you to make the best choice possible.
Who crafted this article:
Author: Tommy Tompkins
Playing guitar since 2004. Primarily an acoustic guitarist who plays and writes traditional American folk music, with a background in melodic metal and a solid foundation as a bassist.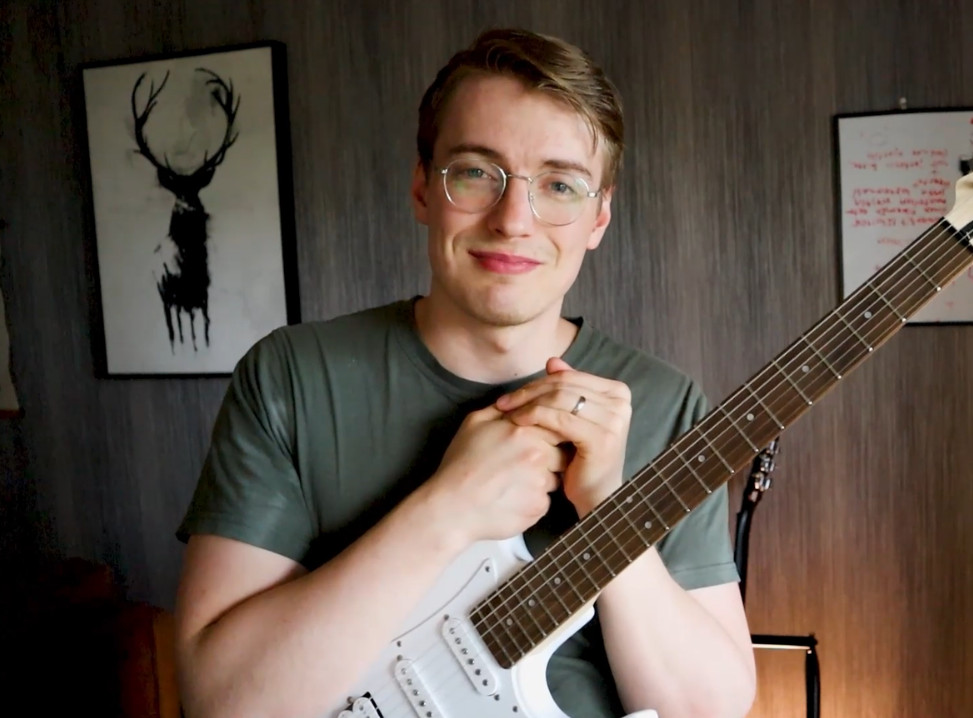 Editing & Research: Teemu Suomala
Playing guitar since 2009. Mainly focused on electric guitars, although jamming with acoustics too. Has played dozens and dozens of different guitars through different amps and pedals over the years. That's why he started this blog in January 2020 and started sharing his experience. Has produced content for several large guitar websites, such as Songsterr, Musicnotes, GuitarGuitar, and Ultimate Guitar.
Every one of these guitars is here based on extensive research and decades of guitar experience of our team.
---
Best Guitar Stands for Nitro Finish
I made a couple of graphs that make choosing the right product easier:
Specs & Features comparison
Features & Benefits comparison
Our Favorite Music Store in The World!
Why?
– Excellent Customer Service (4.7/5 Trustpilot Score)
– Fast & Free Shipping
– Gear is Inspected, Tested, & Ready to Play When it Arrives to You (We love this)
– Fair Prices
Visit Sweetwater:
Best Overall – Fender Deluxe Hanging Guitar Stand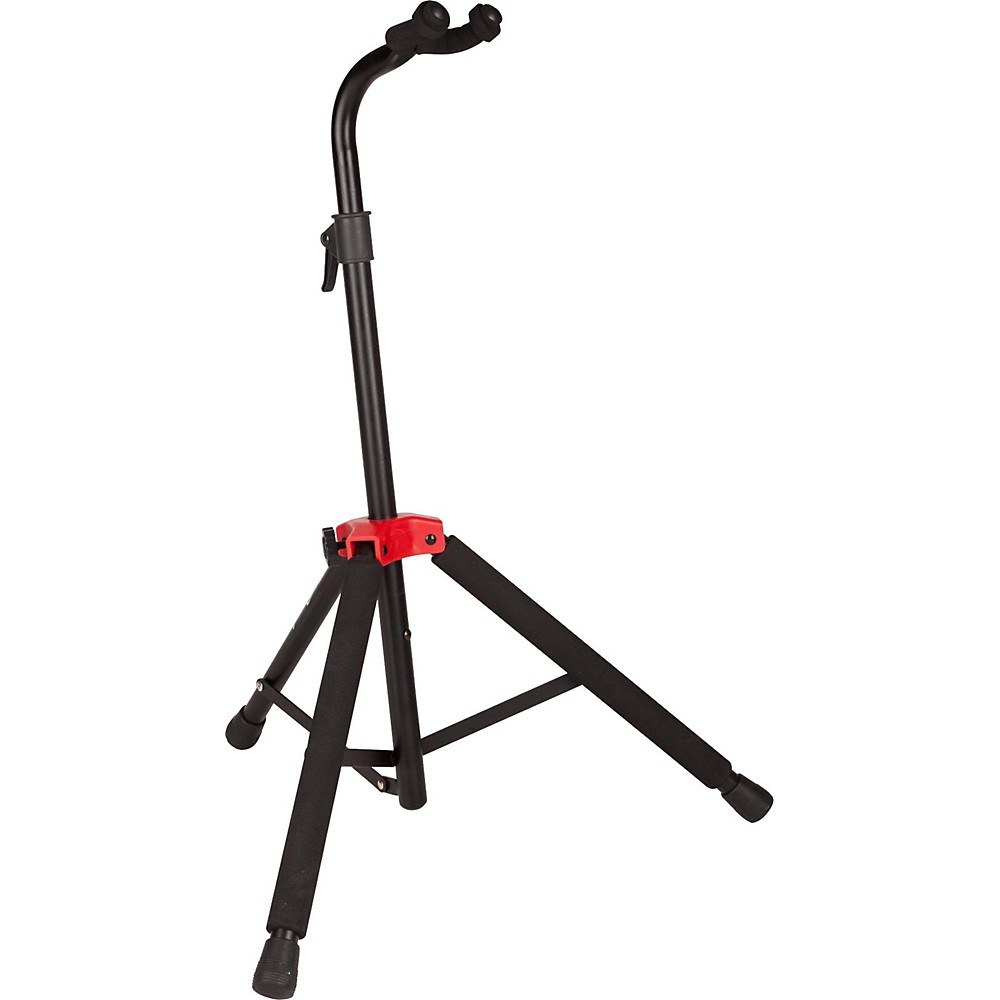 Stability
The Fender Deluxe Hanging Guitar Stand is a basic tripod with an uncomplicated design that just works.
It's solidly built to keep your nitro guitar up and in place at an angle that feels totally safe and secure.
One minor issue is that the neck and body yokes are slightly at odds with each other, which means your guitar might sit just a little to the side. This isn't a huge deal and doesn't affect the stability or balance at all.
Quality
Fender is one of the few names I'd trust to make a great nitro-safe product because they're one of the few companies regularly producing nitrocellulose guitars.
I'm sure they've tested it on a slew of their own models like their nitro-finished American Originals, though for some reason they didn't think to design it to work with Telecasters. Because the neck yoke is just too wide to grip those slim headstocks…
Summary
Pros
A simple yet functional design(it just works!)
High-quality Fender product
Made for nitrocellulose finished guitars
Cons
Neck and body yoke can be out of alignment
Doesn't work with Telecasters
As long as you're not looking to use this with a Tele, the Fender Deluxe Hanging Guitar Stand is one of the best options for nitro finish guitars in my opinion.
It's sturdy and reliable, easy to travel with, and it offers the best value for the money in my opinion.
Check Price on:
---
Runner-Up/Best for Heavy Guitars – Hercules GS414B Plus

Stability
The Hercules GS414B PLUS is a pretty much guaranteed way to keep your guitars safe and secure.
They're strong, built to hold up to 33 pounds (that's much more than the standard electric).
Their solid footprint and rubber feet ensure no slipping and sliding, as well as no damage to your floor.
Quality
The key here is Hercules' Special Formulated Foam. This is located on the legs and inside the neck yoke where the guitar contacts the stand.
It's all-around a pretty high-quality guitar stand, but some people do have a problem with the Auto Grip System failing after a while.
Summary
Pros
Strong stability; holds up to 33 pounds
Auto Grip System secures neck with no hassle
Trusted SFF nitro safe foam; Gibson-approved
Cons
AGS system can stop working over time(rare, but can happen)
If it says anything about Hercules stands, Gibson has been known to sell them at the Nashville Gibson Showcase and has commented that they're the stands used in the Gibson offices.
While no guitar stand can be 100% nitro safe, Hercules comes about as close as you can get to protection outside the case.
It's a high-quality product at a fair price that I'd say is pretty safe to leave your nitrocellulose guitar on when you've gotta set it down.
Check Price on:
---
Best Budget – Universal Guitar Stand by Hola! Music
Stability
This is a stand that requires a little bit of care in order to get a stable positioning.
Unlike most guitar stands, the angle of this Hola! Music is forward rather than backward. This puts the guitar at a slightly precarious angle. If you pay attention when you set your guitar in, it holds it quite well.
But, a big bump might send it teetering forward, so be careful.
Quality
The Universal Guitar Stand is another stand with great nitrocellulose safe foam.
All the contact points are covered, so you won't have to worry about any nitro burn to your finish.
Though it's a bit flimsy on the whole, if you're mindful of what you're doing (which you should be with expensive instruments) it'll hold up to the task.
Summary
Pros
Legs automatically lock tight when extended
Nitro safe foam on neck and body yokes
Folds compact for easy traveling
Cons
Neck yoke folds too easily with no locking mechanism
Balance is front-heavy and unstable
This stand has a really nice price and one of the lowest cost nitro safe guitar stands I could find. It's worth considering how much trust you want to put in it though, and also worth asking if you trust yourself to make sure your guitar is at just the right point every time you put it in.
If either of these is questionable and you've got the cash to burn, you might be better off aiming a bit higher(I would).
---
Best for Collection/Bands- Hercules GS525B 5-Piece Guitar Rack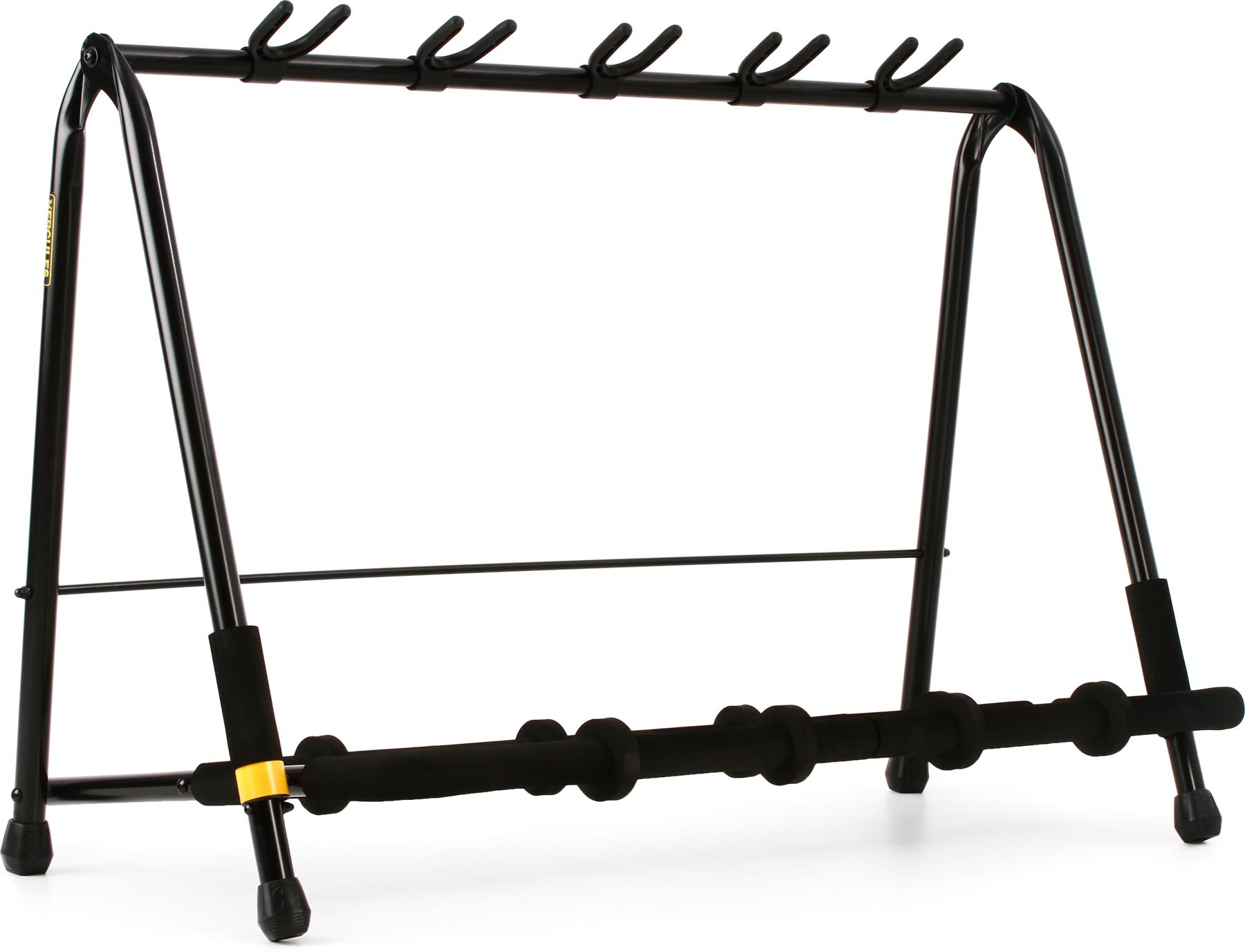 Stability
Though it ships a little loose, a quick tightening of the nuts and bolts of the Hercules GS525B will give you one of the most stable stands I know of.
There's no other stand I'd trust more to hold as many guitars as this one does.
It can hold almost 200 pounds of instruments…yet it still manages to be foldable and lightweight! It's so stable I'd say it's actually hard to tip over, no matter how many instruments you load it down with.
Quality
If you trust Hercules Special Formulated Foam, you'll get a kick out of this stand.
Every surface that comes into contact with the instruments is coated in the stuff. You'd have a hard time finding a better nitro protecting stand than this one.
Everything about the GS525B is a winner, from its robust framework to its portability.
Summary
Pros
Holds 5 guitars of various sizes; great for gigging groups
Strong, reliable, and fully covered in nitro safe SFF
Capable of holding many different body sizes, including acoustics
Cons
Needs to be tightened up by hand for optimal stability
This is the stand to go with if you're buying for your band. It's the most stable multi-guitar stand for five guitars around and is especially suited for high-end axes that use a nitrocellulose finish.
While the price might make it a little impractical for homebound hobbyists, if you've got several vintage six-stringers you wanna show off at once, it's a great deal that won't let you down.
Check Price on:
---
Best Looks – String Swing Guitar Stand for 6 Electric or Bass, or 3 Acoustic Guitars
Stability
The general construction of String Swing's Side-Loading Inline Guitar Rack is in itself very stable.
It's thick, sound wood that holds secure once you put it together.
For the most part, it does a good job of keeping your guitars secure, but there's a small problem… Because the body supports are so narrow, there's not a lot of grip for the guitar to rest on. As such, bumping into this stand basically sends your guitars wobbling.
If you're using it in a low-traffic area that doesn't see a lot of action, it's a great display piece, but I'd be wary of using it on-stage.
Quality
Like I said before, its overall build is pretty rocking.
It's solid wood except for the neck yokes, which not only looks great but ensures it won't bend or warp in the back of your tour van. As far as being good for nitro finishes, String Swing is one of the most trusted brands for this.
Their stands and yokes are what you see in most major guitar shops used as wall mounts. They're commonplace at trade shows where top-of-the-line guitars are displayed, so you can bet that they do well to not damage nitrocellulose.
Summary
Pros
Beautiful wood construction in either black walnut or oak
Made with industry-standard nitro safe material
Easy to assemble AND folds for travel
Gibson and Fenders use string swing products on their show displays
Cons
Angle and position of guitars is a tad unsteady
This is a great display piece thanks to its beautiful wood construction. It's not the most sturdy of the multi-guitar racks, but it does excellently if you don't jostle it.
This is a surprisingly affordable rack for protecting your nitrocellulose guitars from stand rash.
---
The Final Verdict
Assuming you're going to take my advice and keep your nitro guitars in their cases when you're not playing them, you'll probably be better off with a single-guitar stand.
In this category, I recommend the Fender Deluxe Hanging Guitar Stand above all others.
It's just the right price for over-the-top quality. Fender knows a thing or two about nitrocellulose, so I have no doubts about the safety of this stand for your guitars with sensitive finishes.
On the other hand, Hola! Music isn't quite as celebrated, and they don't have much info about their nitrocellulose-safe foam.
I'm not saying it doesn't work, but I'd rather trust a renowned brand in the care of my most expensive axes.
---
FAQ
What is Nitro Finish and Why Is It So Easy to Damage?
Nitro finish is a type of lacquer that was once the industry standard in guitar sheens.
It has its origins in the automotive industry as the first quick-drying paint that allowed for a variety of color applications. Shortly after its development in the 1920s, it became the go-to finish for many different instruments.
Nitro is short for nitrocellulose, which is, in simplest terms, plant material (hence the cellulose) dissolved in nitric acid (the nitro part of the equation).
This formulation was discovered in 1862 and was the first artificial plastic(so it's indeed a vintage finish).
In the search for a fast-drying paint, DuPont mixed nitrocellulose with a solvent, which thinned out the thick plastic and allowed it to be applied using a spray gun. After application, the solvent rapidly evaporates, leaving behind a shiny surface of nitrocelluloid plastic.
Its quick-drying properties, thinness, and ability to be buffed to a nearly mirror sheen made it a prime choice for instrument finishes. It was used on nearly every guitar from its introduction to the popularization of polyester lacquers several decades later.
There are basically two groups of nitro finishes—the old and the new.
The old style of nitrocellulose lacquer does not include many plasticizers. As a result, it tends to crack as it ages.
The new nitro does contain plasticizers to prevent this age-induced cracking. Plasticizers evaporate over many years, keeping the finish flexible for an extended amount of time.
Most modern guitars coated with nitro finishes are done with the newer version.
Since these finishes are still in the evaporation process, they are, in a sense, still semi-liquid.
This is why it is very easy to damage them by using the wrong kind of stand.
The stand can affect the finish in one of two ways.
If you leave your guitar on the stand for a long time, the pressure on the contact points will physically wear into the finish, causing small grooves and what are essentially smudges in the still-curing lacquer.
Other stands that might damage your finish are made with materials that chemically react with the plasticizers. This can cause a gross discoloration of your otherwise flawless nitro finish known as nitro burn or stand rash.
How to Make Sure a Stand Won't Harm Your Guitar
When you set your nitro finish guitar on a stand, you need to keep two things in mind:
the length of time you'll have it there
and what the stand's made of.
First, the simplest advice I can give you is to not keep your guitar on any stand for an extended amount of time. Nitrocellulose finish guitars are the safest in their cases.
It's okay to put it on a nitro-safe stand for a short time period, like between songs or when you take a break during practice, but any length of days or months runs the risk of fudging the finish.
This is because nitro finish is softer than the more common modern varieties.
One of the reasons people like it is because it wears off and can give your guitar a classic, well-used look. But, this means that keeping it on a stand can wear off the finish in places you don't want.
Nitro is also more prone to heat and humidity damage than poly finishes.
So keeping your nitro-finished guitars in a case is all around the safest bet.
More importantly, you need to be sure you're using a stand that is safe for nitro finishes. These stands are made with special foam or rubber that is designed not to react with the nitro's solvents.
This chemical reaction can cause the foam or rubber to leech into the nitro and is the most common way for a guitar stand to ruin a finish.
If you can't get your hands on a nitro-safe stand, you can wrap the contact points of the stand in non-abrasive cloth. Simple cotton will do the trick of protecting your guitar from damaging chemical reactions.
Which Guitar Stands Are Safe for Nitrocellulose Finish?
In a way, technically any guitar stand can be safe for nitro finishes if you wrap the yokes in cloth. But, this can be an annoying hassle, and if you're playing on stage it can—let's face it—look kind of dumb.
So the best thing is to find a stand that is made with non-reactive materials. There are foams and rubbers that are mostly inert, meaning they don't chemically react with the nitro.
There are several companies that make nitro safe stands, including Hercules, Fender, and Hola! Music. They make yokes that won't chemically damage the stand, but remember to only keep your nitro guitars on stands for short amounts of time!
Why Nitro Safe Stands Have Sometimes Damaged Guitars?
I emailed String Swing to get more info about their Nitro-Safe stands because Fender and Gibson are known for using String Swing stands on their displays.
This is why I figured that String Swing must be manufacturing nitro-safe stands. Their answer was interesting…
Robert from String Swing support stated:
"Nitro is a very delicate finish that we are constantly learning more about every day. We have spent a lot of time and resources to make sure that our material will not react with nitrocellulose finish, but unfortunately an unconditional guarantee is something that no one can honestly give. Our material will not chemically react like some foams and rubbers of our competitors do.
We have seen discolorations, hazing, and smudges. The smudges almost always wipe by hand, as our material is petroleum based which like a fingerprint will leave a light oily smudge at times. Many of the other times the culprit has been polishes, sunlight, previously used hangers, and under-cured finish, but once in a while there is no explanation. We have sold literally millions of hangers and hold large collections of vintage guitars. Gibson and Fender both use our hangers for their trade show displays, and we manufacture Martin guitars branded accessory hanger.
The one thing that I can assure you is that there is nothing safer on the market. In good conscience we cannot say that nothing can ever happen, due to the sensitivity of the finish."
So, you can never be 100% sure, because so many things affect the finish of your guitar. Maybe you have held your guitar in direct sunlight too long, and that's why it reacts with some guitar stands. Or maybe you used wrong kind of polish, and this is why the color of your axe changes when it touches some stands.
At the end of the day, I would rather be safe than sorry. If I were looking for a stand for my nitro finish guitar:
I would buy a stand that is claimed to be nitro-safe.
I would also make sure that reviews point to the same conclusion.
Then I would wrap the contact points between the stand and guitar with cotton cloths.
After this, I could be almost 100% sure that my guitar won't be damaged because of the guitar stand.
Are Hercules Stands Nitro Safe?
Hercules is one of the bigger names in nitro safe stands thanks to their proprietary Special Formulated Foam (SFF).
They have tested this foam on a huge array of guitars to watch for reactivity, and claim that on the majority of nitro guitars it does not cause discoloration.
However, they don't guarantee their stands due to the fact that there are many different formulations of nitrocellulose lacquer, so there may be an outlier that is indeed damaged by the SFF.
Conclusion
All things considered, there are guitar stands that won't damage nitro finishes when used as a temporary storage option. For added peace of mind with these and other stands, wrapping cotton around the contact points will further protect against the possibility of ugly nitro burn.
But, in the end, you shouldn't leave your treasured nitrocellulose guitar is best kept in the case to safeguard against all manner of damage that might befall it.
Though, when you want to take a short break from rocking out, choosing one of these best guitar stands for the nitro finish is the safest way to set your axe aside.
I hope that this guide helped you to choose the right stand for you. If you have any questions, leave a comment down below and feel free to share this post too.
I wish you all the best and keep rocking!