Last Updated on February 20, 2023 by Teemu Suomala
Best Overall – Fender Deluxe Hanging Guitar Stand
Stability
Portability
Quality
Value For Money
Summary
The Fender Deluxe Hanging Guitar Stand is a basic tripod with an uncomplicated design that just works!

While surprisingly cheap to buy, the overall quality of this stand is fantastic. It's well put together, super reliable, and won't damage your nitro-finished guitars either.

The best guitar stand for Stratocasters and the price is spot-on too.
Check Today's Price on:
*Consider all links in this post to be affiliate links. If you purchase, at no additional cost to you, we may earn a small commission. It helps us to keep the lights on, thanks! 🙂
---
The Next Best:
Compare Key Specs:
---
When you've got a Stratocaster, it's definitely worth protecting. A steady stand can keep your Strat safe and sound when you are not playing it.
This guide will walk you through everything you need to know before making a purchase, and also makes sure that you won't spend your hard-earned money on unstable stands.
Let's first look at these fine stands, and at the end of the post, you can find the FAQ section that helps you to make the best choice possible.
Every one of these stands is here based on 10+hours of extensive research and 27-year experience on our team. I've broken reviews about these stands down, taking a close look at each of the key traits, so you can find the best guitar stand for your Stratocaster.
Who crafted this post:
Author: Tommy Tompkins
Playing guitar since 2004. Primarily an acoustic guitarist who plays and writes traditional American folk music, with a background in melodic metal and a solid foundation as a bassist.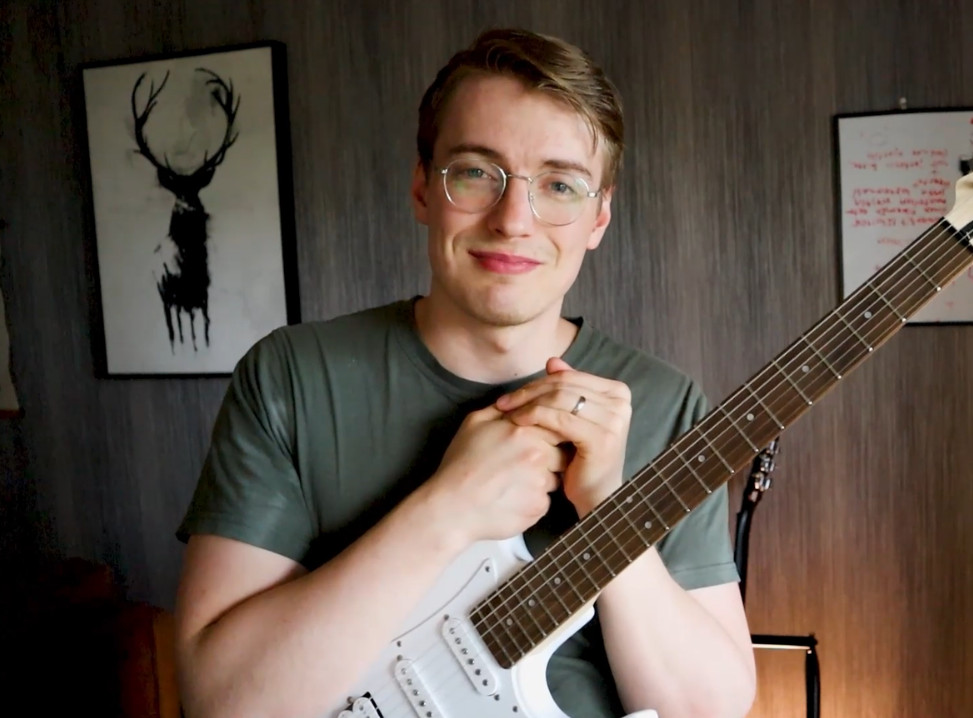 Editing & Research: Teemu Suomala
Playing guitar since 2009. Mainly focused on electric guitars, although jamming with acoustics too. Has played dozens and dozens of different guitars through different amps and pedals over the years. That's why he started this blog in January 2020 and started sharing his experience. Has produced content for several large guitar websites, such as Songsterr, Musicnotes, GuitarGuitar, and Ultimate Guitar.
---
Our Favorite Music Store in The World!
Why?
– Excellent Customer Service (4.7/5 Trustpilot Score)
– Fast & Free Shipping
– Gear is Inspected, Tested, & Ready to Play When it Arrives to You (We love this)
– Fair Prices
Visit Sweetwater:
Best Guitar Stands for Stratocasters
Best Overall – Fender Deluxe Hanging Guitar Stand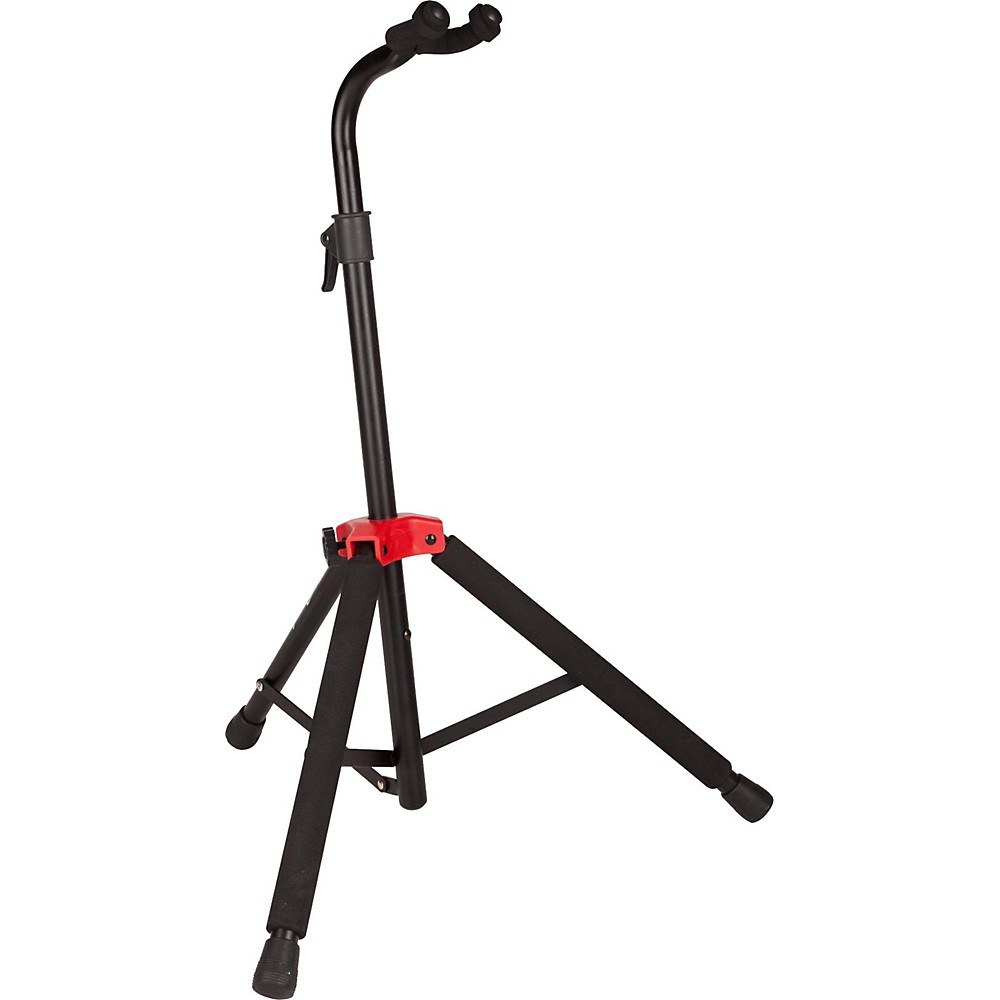 Stability
The Fender Deluxe Hanging Guitar Stand is one of my favorite neck-yoke guitar stands around.
It focuses on simple stability, hanging guitars from the headstock on a strong and padded yoke.
Though it's a bit too wide to faithfully grip Telecasters' narrow headstocks, this stand fits Strats like a glove.
With well-spaced tripod feet topped with non-slip rubber feet, Fender's Deluxe Hanging Guitar Stand provides convenient, no-frills storage protection.
Quality
In my opinion, this stand's winning qualities are its simple functionality.
There are no spring-loaded auto-locking functions that can malfunction. Every adjustment point is manually loosened and tightened, so while it might take a few seconds more to set up, you can take peace of mind in the sturdy build you'll feel in your hands.
Summary
Pros
Works well with offset or unusual body shapes
Safely holds nitro finish Stratocasters
Stable tripod design that folds for easy travel
Reliable and durable
Cons
Neck yoke is too wide to hold Telecasters
Coming in at about the mid-range of stand prices, the Deluxe Hanging Guitar Stand gives you more than you could expect at this cost.
It's a great Fender-branded stand that will offer a stable nitro-safe hold to your Strat anytime you need to set it down.
Check Price on:
---
Strongest Hold/Runner-Up – Hercules GS414B A/G Guitar Stand

Stability
Coming from one of the top-ranked stand brands, Hercules, the GS414B A/G Guitar Stand offers you the best stability through its strong steel frame and Auto Grip System.
Able to securely support up to 33 pounds, the GS414B A/G gives a sound center of gravity grab on all styles of electric guitars.
Its Auto Grip System closes in front of your neck once the guitar's in the cradle, giving extra protection against accidental slips and falls.
Quality
Hercules stands are able to take years of rough use, but they have one fatal flaw.
After one to a few years, the rubberized plastic used in many of their components starts to degrade. It becomes sticky to the touch and then can become brittle and break.
Hercules is quick to replace stands that do this, but you'll need to take quick action to upgrade your stand once you start to notice this rubber becoming sticky.
Before this happens, however, you do get a strong and sturdy stand that's nitro safe. It's more than durable enough to hold your prized Stratocaster.
Summary
Pros
Works with most guitar body shapes as well as basses and acoustics
Strong frame holds up to 33 pounds
Nitro safe Specially Formulated Foam (SFF)
Cons
Rubberized plastic parts can become sticky and break after years
Hercules is in the higher range of stand prices, which is generally fine considering their initial quality. However, these stands have a serious expiration date, so you'll need to know that this cost is not in a long-term investment.
If you don't mind knowing you'll eventually need a replacement(this happens probably with every stand tho), the Hercules GS414B A/G will give your Strat years of dependable support.
Check Price on:
---
Best Budget – Universal Guitar Stand by Hola!
Stability
This is a versatile stand that uses both a neck and a body yoke to support your guitar.
It can be a bit finicky and require some precision adjustments to make sure your guitar is really set safely, but once you've loaded in properly this stand will hold.
Its one issue is that it does seem like it can topple easily. I wouldn't recommend this for busy rooms where kids or pets are apt to run, nor for a raucous stage at a punk show.
For calmer musical environs, this Hola! Music Universal Guitar Stand is both stable and dependable.
Quality
Thanks to the free-swivel design of its bottom yoke, this stand can hold nearly any body shape of the guitar. No matter whether you're looking to rest an offset, a Flying V, a single cut, a double cut, or an acoustic, this stand can get the job done.
It's at least somewhat nitro safe, though I'd recommend wrapping the yokes in cotton if you're using this stand for nitro finish guitars.
Summary
Pros
Autolock legs, neck yoke, and body yoke for great stability
Neck yoke folds for easy portability
Easy to adjust for many different instrument styles
Cons
Neck yoke doesn't lock and might collapse during use
Overall, this Hola! Music stand is a great affordable choice for players of Strats and beyond.
When you really need a stand but don't have a lot of extra cash, the Hola! Music Universal Guitar Stand can be a rocking low-cost option.
---
Most Portable – AmazonBasics Guitar Folding A-Frame Stand
Stability
If you're a fan of minimalist gear, AmazonBasics' Guitar Folding A-Frame Stand offers you an easy-to-use design for holding traditional Strat-style guitars and more.
Its stepped-yoke design enables many different instrument types to rest on this stand. It fits electrics ranging from the Strat to the Les Paul Standard, acoustics from the dreadnought to the parlor guitar, and even electric basses.
If there were more support where the stand contacts the upper body, I'd rank this stand higher in stability, but it makes me feel a bit wary.
Quality
With a simple 3-width setting system and a sturdy metal frame, this stand will hold up for a long time.
It's not marketed as nitro safe though, so you won't want to use this with any nitrocellulose Strats.
Summary
Pros
Versatile A-frame design holds most non-offset guitar shapes
Simple to use; easy to fold and carry
Durable construction
Cons
Not nitro safe
Only good in low-traffic areas
If you're looking for an easy-to-fold stand for the best portability, AmazonBasics Guitar Folding A-Frame Stand can be a perfect choice.
It's not the most stable stand around, but it suffices as a place to set your guitar during short breaks in calm areas.
---
Most Fashionable – Zither Wooden Guitar Stand
Stability
When I was younger I might have knocked on a wooden guitar stand such as this Zither model, but the older I get, the more I have a taste for the "finer things in life."
Nowadays, I can definitely see the appeal of having a luxurious wooden stand, but we've got to make sure it's up for the test before we buy it based solely on looks.
So, is it stable? Absolutely.
Zither paired a broad wooden base, a well-balanced brace post, and a top-quality String Swing neck cradle to provide a strong stand that's great for Strats and all other electrics.
Quality
As far as stationary stands go, Zither's Wooden Guitar Stand is a leader of the pack.
It's built beautifully but beefily, able to support any weight of guitar.
Though it's the least portable stand on this list, you wouldn't buy this stand looking for a portable option.
This is a stand meant to stay at home or in the studio, gracing the room with its natural wood grain and lustrous finish while it keeps your guitar steady.
Summary
Pros
Features a strong and dependable String Swing nitro safe cradle
Elegant wood frame adds classy looks to guitar storage
Large, stable base keeps guitar balanced
Cons
Expensive and not portable
If you're settled down and looking to decorate your space with an attractive guitar display, Zither's Wooden Guitar Stand is the choice for you.
It's classy and graceful while still offering the stability and strength a guitar stand really needs.
While it's one of the most expensive options to protect your Strat, it's a stand that will grace your home for decades.
---
The Final Verdict
I'm definitely partial to neck-yoke style guitar stands, and for that reason alone I'm setting AmazonBasics' Guitar Folding A-Frame Guitar Stand in my least recommended spot.
It's easy to use and works with many different instrument bodies, but it lacks the stability that's my first inspection point for quality stands.
The best guitar stand out there for keeping your Strat safe and secure is, not surprisingly, Fender's own Deluxe Hanging Guitar Stand.
It's built with simple functionality in mind, featuring nitro safe foam, a strong frame, and easy-to-adjust yet sturdy pieces.
For Fender's originals and many more guitars, the Fender Deluxe Hanging Guitar Stand is the best guitar stand for Stratocaster I can find.
---
Buyer's Guide – FAQ
Are Guitar Stands Bad for Your Guitar?
The short answer here is that, if you're smart about your guitar stand choice and usage, they're generally a safer way of storing your guitar.
While best used only in the short-term, stands are much better than resting your guitar against a wall or, perhaps even worse, laying it on the ground.
While inside a case is by far the best way to protect your Strat while you're not busy with it, stands are a much more convenient way to keep your guitar safe when you need to take a break.
What Makes a Great Guitar Stand for Stratocaster?
The good news is that most of the best guitar stands will work for Stratocasters as well as many other diverse body types.
Stratocasters aren't offset, so most bottom-yoke dependent stands will work fine.
With their wider headstocks, Strats will fit in more neck-yoke stands than their Telecaster cousins, giving Stat fans an even wider choice of stands to choose from.
Knowing this, we've chosen guitar stands that balance the factors of stability, quality, and overall value, considering things like durability and longevity along the way.
Some of these stands are nitro-safe, which will make storing your high-end Strats less of a stress. Others can simply be wrapped in cotton if you want to set a nitrocellulose finished Stratocaster in its nooks.
All in all, these stands are the most stable, dependable, and safe guitar stands for Stratocasters that come at a good cost-to-value ratio.
If you have multiple axes to take care of, a guitar rack (multi-guitar stand) might be a great option for you. If this is the case, check this article out: 5 Best Multi-Guitar Stands and Guitar Racks in 2022 – Buyer's Guide
Benefits of Guitar Stands
In the hierarchy of guitar storage techniques, I rank the best stands all at a steady number two, trailing behind strong cases but leading over flimsy gig bags and the hazardous practice of leaning the guitar against a wall.
They're super convenient but still have a few faults. For instance, while stable in the short term, most stands will fall over if you bump into them hard.
Pros
Most convenient short-term storage
Best for gigs and concerts
Inexpensive, secure, long-lasting
Stands work with many guitar bodies
A great way to display your axe
Cons
Can be knocked over easily
Long-term use can damage nitro finish
No protection from dust and dirt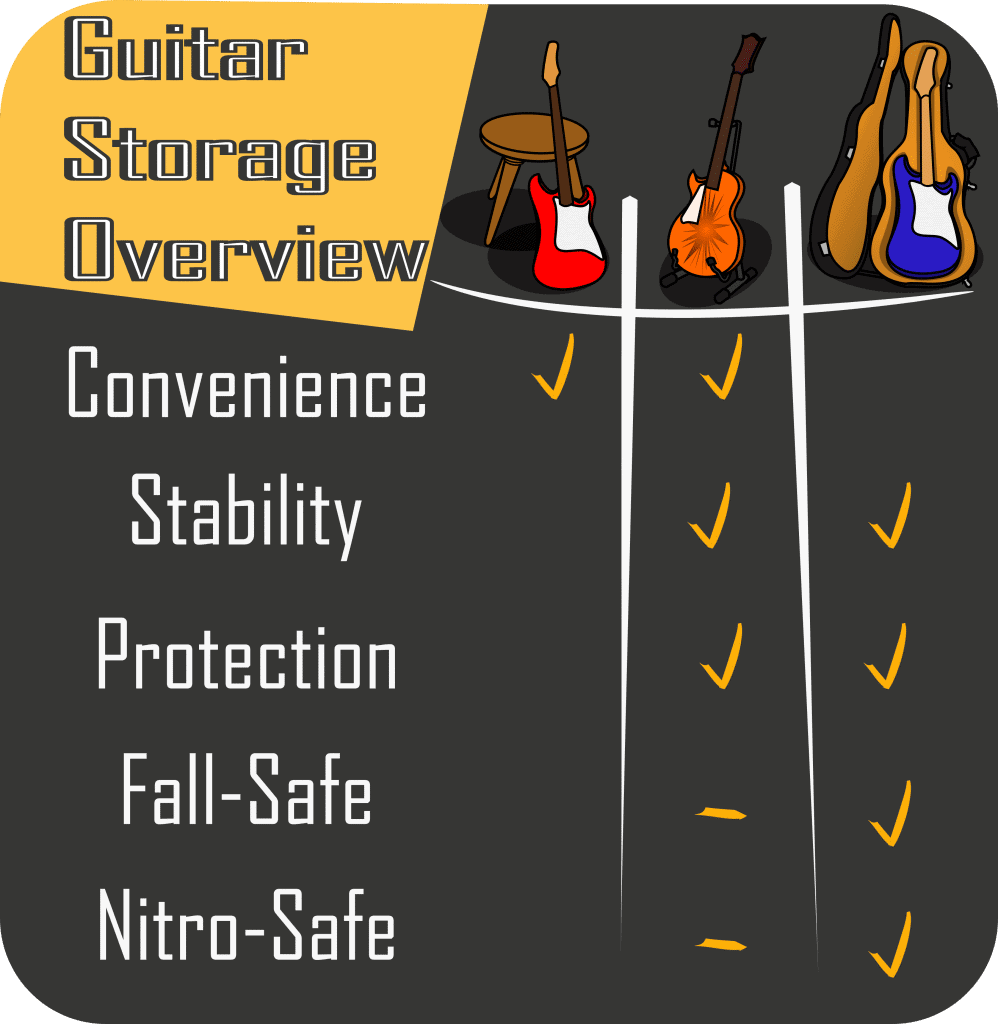 If you think that a gig bag or guitar case is a better option for you, these articles will be helpful:
---
Conclusion on Best Guitar Stands for Stratocasters
Though you may never want to put down your Strat, we've all gotta take a break from time to time.
When that time comes, you can keep your guitar in reach while safe as can be with one of these best guitar stands for Stratocaster.
I hope that this guide helped you to choose the stand for you. If you have any questions, leave a comment down below and feel free to share this post too.
I wish you all the best and keep rocking!