Last Updated on April 29, 2023 by Teemu Suomala
Best Overall – HERCULES GS414B PLUS
Stability
Portability
Quality
Value For Money
Summary
This Hercules holds just about any stringed instrument, making it a multi-instrumentalist's dream.

And yes. It keeps Telecaster's safe and sound too.

It has also been tested against many different kinds of nitrocellulose finishes and shown to cause no chemical damage to the majority of them.

You're paying for quality you can trust to keep your Tele safe.

The best guitar stand for Telecasters.
Check Today's Price on
*Consider all links in this post to be affiliate links. If you purchase, at no additional cost to you, we may earn a small commission. It helps us to keep the lights on, thanks! 🙂
---
---
Whatever the model, your Tele is your baby. It's there for you whenever you need to jam out with a sweet bright chime.
It's only natural you'd want to keep it safe as can be, and a great guitar stand can do just that.
Limit the pumps, scratches, falls, and fails.
Take a look at my favorite stands for Tele's and you'll find a one that can steady your Tele any time you've gotta set it down. Let's first look at these fine guitar stands, and at the end of the post, you can find the Buyer's Guide section that helps you to make the best choice possible.
Who crafted this post:
Author: Tommy Tompkins
Playing guitar since 2004. Primarily an acoustic guitarist who plays and writes traditional American folk music, with a background in melodic metal and a solid foundation as a bassist.
Hide The Rambling▲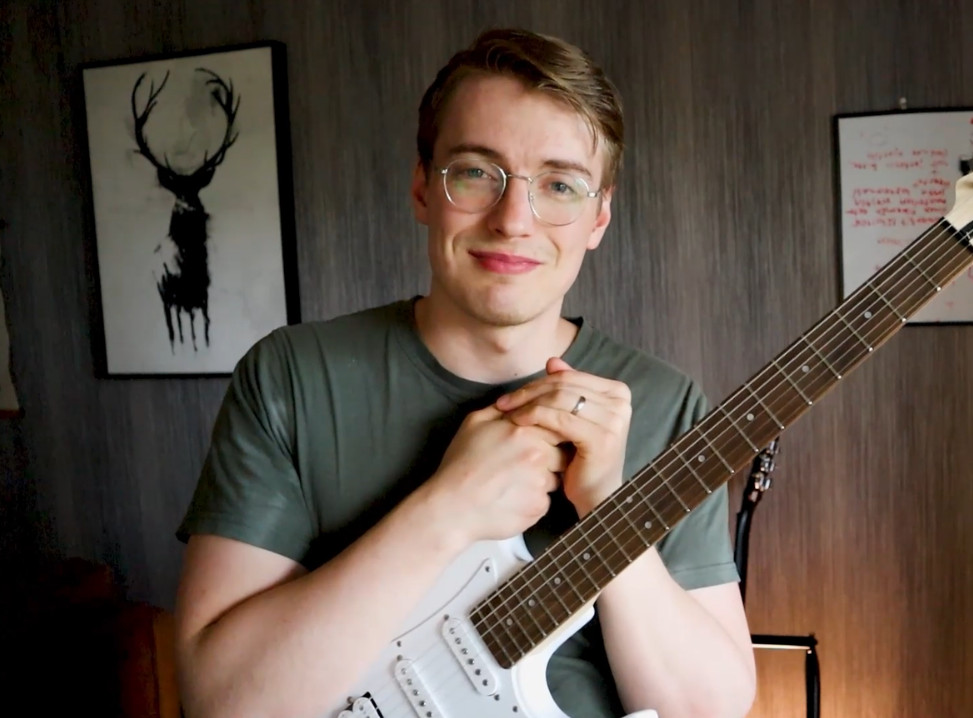 Editing & Research: Teemu Suomala
I first grabbed the guitar in 2009. I started this website in January 2020 because I couldn't do window installation anymore due to my health problems. I love guitars and have played dozens and dozens of different guitars through different amps and pedals over the years, and also, building a website interested me, so I decided to just go for it! I got lucky and managed to get awesome people to help me with my website.
I also got lucky because I have you visiting my website right now. Thank you. I do all this for you guys. If you have any recommendations, tips, or feedback, just leave a comment, I would love to chat with you. I have also been fortunate to produce content for several large guitar websites, such as Songsterr, Musicnotes, GuitarGuitar, and Ultimate Guitar.
I spend my spare time exercising and hanging out with my wife and crazy dog (I guess that went the right way…).
Hide The Rambling▲
Every one of these guitar stands is here based on extensive research and decades of combined guitar experience of me (Tommy) and Teemu.
---
Our Favorite Music Store in The World!
Why?
– Excellent Customer Service (4.7/5 Trustpilot Score)
– Fast & Free Shipping
– Gear is Inspected, Tested, & Ready to Play When it Arrives to You (We love this)
– Fair Prices
Visit Sweetwater:
Best Guitar Stands for Telecasters
Best Overall – HERCULES GS414B PLUS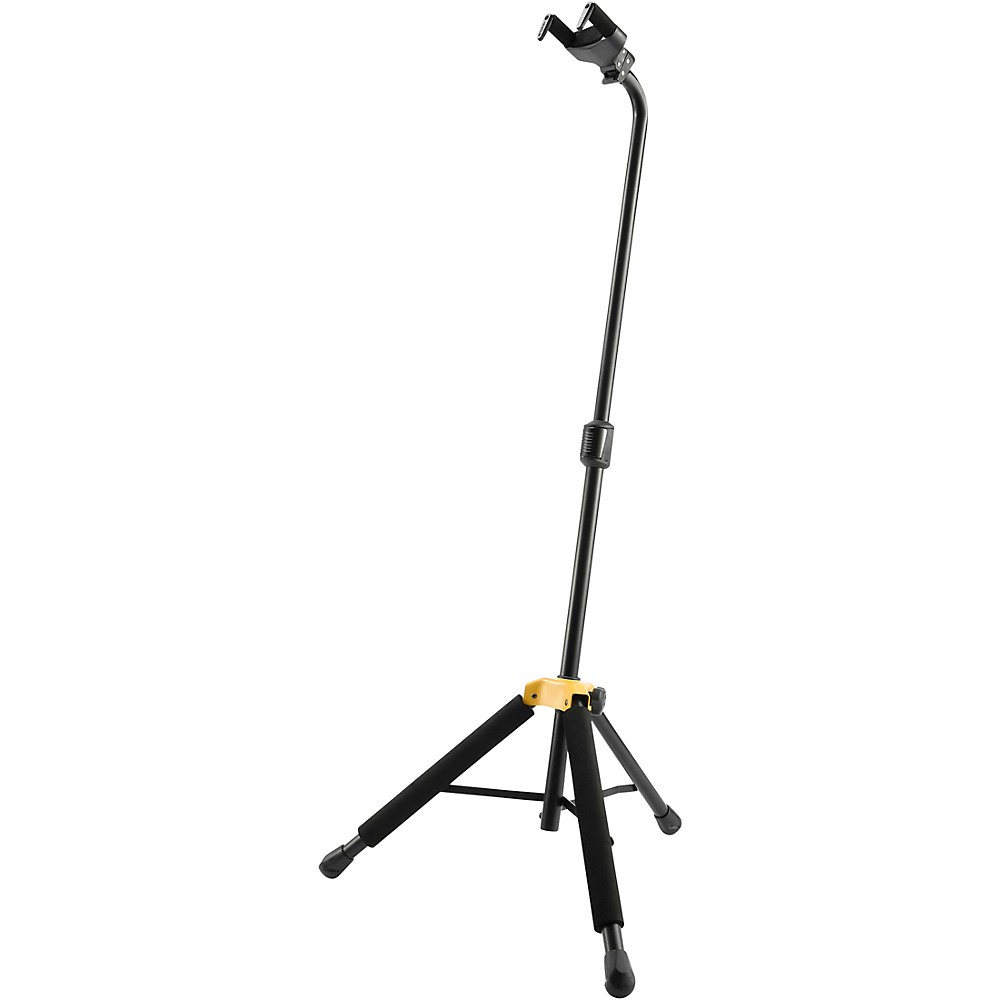 Stability
If you're like me, you always hesitate a couple seconds after putting your guitar down anywhere. It's just to make sure it won't slip or fall and is safely out of harm's way.
This Hercules stand really throws away that need to double-check.
It's a floating guitar stand with a couple of extra safeguards to make it one of the best.
These are things like:
the Auto Grip System that closes over your Tele's neck
the Narrow Instrument Neck Adjustment supports slim Telecaster headstocks
Specially Formulated Foam to protect sensitive nitrocellulose finish
Hercules does a lot to make sure you can trust them, and their GS414B PLUS is one of my favorites.
Quality
Like the mythological Hercules, these stands are strong. You'll find them to be some of the stoutest on the market.
Since they're made with steel, they're able to hold more weight than you'd really ever need—up to 33 pounds(15kg) actually.
Telecasters only weigh around 8 pounds, so this stand can handle yours no problem.
Most of this stand is built in a way that will last decades, but you should know one important thing.
The rubber pieces of the AGS system can degrade and even fall apart after a couple years. At the least, they might become annoying and sticky. But at most, they can make the stand unusable. But still, that's like years down the road, and you'll have a really great stand in the meantime.
Summary
Pros
A strong frame that can hold 33 pounds
N.I.N.A bonus fits small neck and headstocks
Auto Grip System adds extra protection
Cons
Some rubber parts might break down over time
Although you might have to replace it every few years, the Hercules GS414B is one of the most stable guitar stands out there.
Its N.I.N.A system holds your Telecaster or Tele-style guitar so snug for the price, having to replace it if the rubber starts to melt really isn't so bad.
Check Price on:
---
Runner-up – Fender Adjustable Guitar Stand
Stability
In the best Tele stands list, it's no surprise to find a nice choice from Fender.
The Adjustable Guitar Stand is a good choice for Telecasters not only because it's Fender-issue.
It also uses a 2-yoke system to support your guitar, combining body and neck grips.
Because Teles have such small headstocks, it's hard to find a neck yoke that fits them and more of the "normal" guitars.
But with this stand, that's not a problem because your guitar is supported from the bottom as well. The neck yoke is like a cradle adding upper balance.
Quality
I like stands that deliver stability in a simple way and Fender's does that for me.
There aren't any fancy automatic pieces or springs or anything like that.
It's a straightforward one-piece stand that can hold your Telecaster just as well as your Thunderbird thanks to its swiveling lower yoke.
Though its legs lack stabilizing crossbars and are attached to a rather thin-looking piece of plastic, this is an altogether sturdy stand I would trust in most uses.
Summary
Pros
2-yoke design with easy-folding legs
Lower support holds your Tele so headstock size isn't an issue
Fender-approved nitro safe foam
Cons
Leg attachment point is somewhat weak
That Fender branding might tack an extra few dollars to this Adjustable Guitar Stand, but you'll be getting a stand with stable and nitro safe foam that will keep a sure grip on your Tele.
Check Price on:
---
Best A-frame/for Travel – Hercules GS302B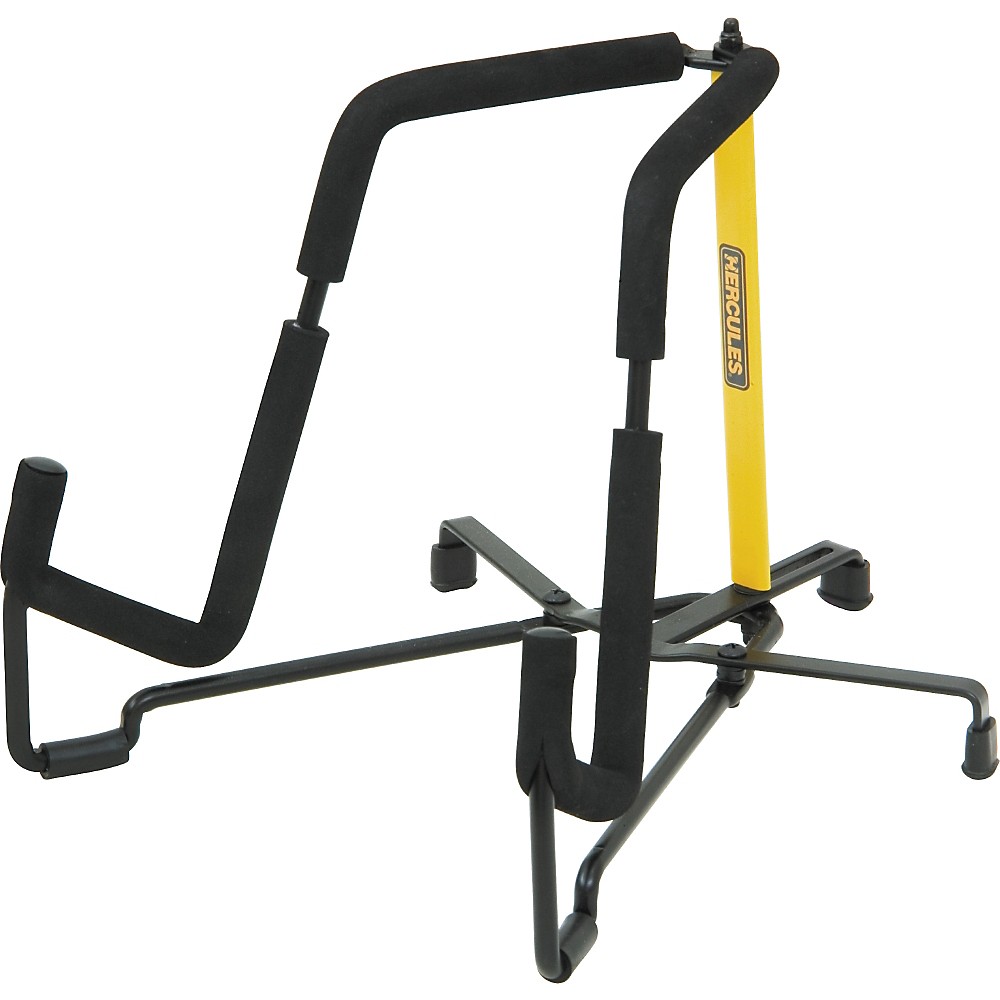 Stability
When you see this stand, you'll probably think it looks really weird. It's not technically an A-frame, but it's closer to that category than any other.
Now, normally I don't really trust A-frame style stands as much as I do the neck yoke type. But, the Hercules GS302B could change my opinion.
The main difference in support is that this Travlite Compact Electric Guitar Stand has much more contact with your guitar.
Without using the neck for stability at all, the GS302B grips your guitar around the bottom bout and then up along both sides of the back.
And since it has so many rubber feet, this isn't a stand likely to slide out of place easily at all.
Quality
From its appearance alone, you can tell that this is a really hardcore stand. It's simply industrial looking.
Coming from Hercules, you can bet it's as strong as it looks, too.
This is a great stand for touring musicians. If you're traveling in a crowded van and need to save some space, this Travlite can take the rigors of the road well.
My only issue is for some reason the middle of the back supports was left uncovered by Hercules' SFF foam. It's not likely, but if you set your guitar in wrong you could scratch it on this exposed metal.
Summary
Pros
The strongest "A-frame" stand available
Just over 12-inches in length for compact portability
Several contact points ensure body support and stability
Cons
Small space of exposed metal on frame can scratch the guitar
If you want a dependable (and surprisingly affordable) piece of travel gear to rest your Tele on during the gig's intermission, the Hercules GS302B will help keep your show on the road.
Check Price on:
---
Best Budget A-frame – AmazonBasics Guitar Folding A-Frame Stand
Stability
A-frames might not be the most stable stand type, but the AmazonBasics is one of the better ones in this category.
To set it up, all you have to do is use the push-button adjustment on the back. You set the width to match your Telecaster's body. Then you simply rest your guitar into the stepped body yokes and lean it back against the top of the A.
If you plan to use this stand in a generally safe, not-busy area, you shouldn't have any problems.
But, because the back of the guitar is only held by one small piece of foam, anyone bumping into your Tele could knock it down pretty easily.
Quality
As far as its actual metal frame is concerned, there aren't many better budget A-frame stands around than the AmazonBasics Folding.
Its square pipe design and stout support arms are hard to break, bend, or warp. And the padding on its arms seems durable too.
Really its main failure comes back around to that little patch of cushion at the top of the A. I'm not sure what you could do to make this any better, but it will eventually need reglued or even replaced.
Summary
Pros
Lightweight and easy to travel with
Adjustable width fits a variety of guitar shapes
Low cost for affordable portability
Cons
Minimal padding
Lack of stability
Though an A-frame won't give you as much stability as a hanging or combo stand, they can be a prime choice if you're concerned about travel space and storage.
The AmazonBasics Guitar Folding A-Frame Stand offers you the convenience of smaller stands with just enough stability to make it worth your while.
---
Best Budget – Gator Frameworks Adjustable Guitar Stand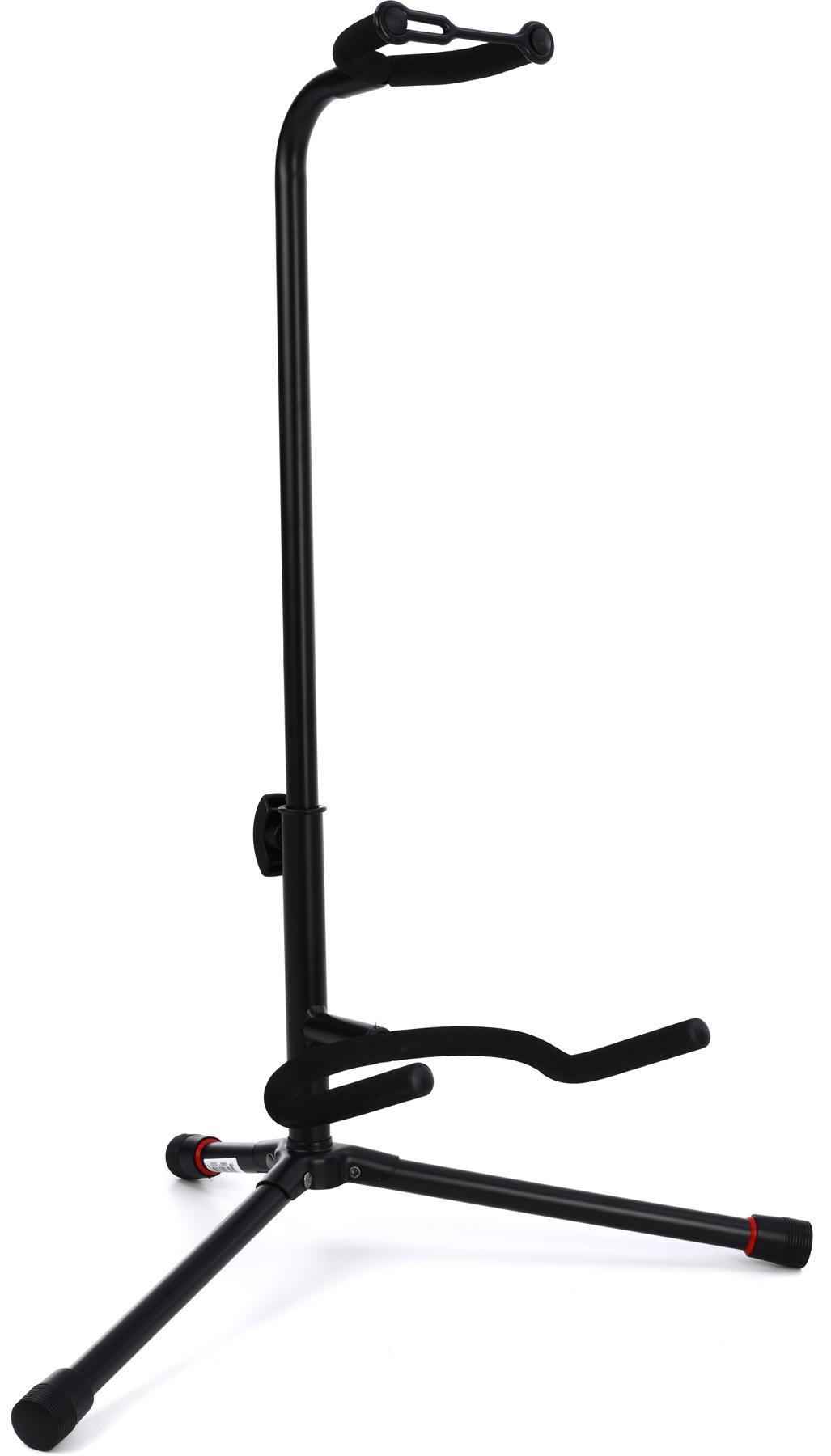 Stability
Similar to the Fender Adjustable Guitar Stand, the Gator Frameworks GFW-GTR-1000 uses a combo neck+body support system to protect your Tele.
Its neck yoke alone is too wide to hang the Telecaster headstock, but that body cradle is there to pick up the weight and hold your guitar where you want it.
This stand comes with the addition of a neck restraining strap for even more safety. It's the same principle as the Hercules Auto Grip System, only this is a manual strap you put in place yourself.
With this strap, the chances of your guitar falling out of the stand are slim to none.
Quality
Now comes the sad part. This stand is stable, but only so long as it stays together. It's not the most durable…
The main problem seems to be that the bolt for tightening the height adjustment can simply break. If this happens, the stand might suddenly collapse. Of course, this would be a disaster for you.
So I really only recommend this stand if you can either:
find a replacement bolt to use right away
or
use this stand only temporarily while saving for a safer one
Summary
Pros
Super affordable stability
Neck strap, neck yoke, and body yoke for superior protection
Available in 2- and 3-guitar versions
Cons
Height adjustment bolt can break causing stand to fail
Sometimes you've got to find the first stand you can for the lowest price. At the same time, you don't want just a piece of junk.
The Gator Frameworks Adjustable Guitar Stand is as affordable as a good stand can be. When you're in a financial pinch, it will keep your Tele safe while you save up for an upgrade.
Check Price on:
---
Verdict
There are really a lot of great stands on this list, but I'm a bit wary of the Gator Frameworks Adjustable Guitar Stand. I'd hate for your Telecaster to be in this stand if the support bolt were to break, so please know this stand is really recommended mostly for "emergency" use.
To really protect your Tele, you want a stand like the Hercules GS414B PLUS. It's really not much more expensive than the Gator stand but gives you way more security and safety.
---
Buyer's Guide – FAQ
Which Type of Guitar Stand is Best for Telecasters?
There are many different types of guitar stands, and I do think that some work better for Teles than others.
The good news is that Telecasters have a standard or traditional body shape. This means you don't have to worry about finding any special body support. You also don't have to focus on finding a hanging guitar stand.
Now, it's really good that you don't have to look only for hanging stands because these can be a problem with Telecasters.
Why?
Because Telecaster headstocks are so narrow that many neck yokes can't grab them.
But usually, it's better if you find a stand that supports your Telecaster from the neck and the body. Simply put, if you're not hanging it then you want as many contact points as you can have.
Stands that use a body cradle and a neck yoke together give you much more support than A-frames and can do a better job of handling Teles than a stand that hangs from the neck alone.
How to Pick the Right Guitar Stand for You
Just because I think these body/neck combo stands are the best overall doesn't mean they're the best for you.
To find the perfect stand, you need to ask yourself some questions.
Do you care more about stability or portability?
How important is the stand's size?
How much can you afford to pay?
Will you use the stand as your main guitar storage method?
Is your guitar kept in a safe, calm room or is it somewhere busy?
Taking all these factors into account can help you narrow down the type and model of stand you'd be best with.
If stability is your primary concern, choose one of the higher value stands that hold your guitar in multiple ways.
These stands are also good if you don't care about the size and can afford to pay for the highest quality.
If you care more about portability than stability, A-frames might be the better option for you. They're smaller, more compact, and generally easier to travel with.
A-frame stands will usually also be a good pick if you're on a tighter budget because they typically cost less.
For guitars kept primarily on their stands or in busy rooms, shoot for the safest, most stable choices. If you only use the stand for short amounts of time in calm areas, A-frames can do the trick.
There's a stand out there for everyone and their respective Telecasters.
If you just consider what your main use and reasons for the stand are, you'll wind up with one that will give you a sense of security knowing your guitar is safely stored.
If you have multiple axes to take care of, a guitar rack (multi-guitar stand) might be a great option for you. If this is the case, check this article out: 5 Best Multi-Guitar Stands and Guitar Racks in 2022
In some cases, wall hangers can be a really handy way to store your guitars(saves space). If wall hangers are a better option for you, this article helps: 5 Best Wall Hangers for Telecaster in 2022
---
Conclusion on Best Guitar Stands for Telecasters
From compact travel companions like the AmazonBasics Guitar Folding A-Frame Stand to the hanging and hybrid stands like the top-rated Hercules GS414B PLUS and Fender Adjustable Guitar Stand, there are plenty of great options to keep your Telecaster secure when you've gotta take a break.
Keeping your guitar safe from fatal falls is no problem at all with the best guitar stands for Telecaster, and I hope you find your perfect match on this list.
If you are regularly transferring your Tele to gigs or friends place, a gig bag might be a great option to give your guitar protection. If this is the case, this article will help you out: 5 Best Gig Bags for Telecaster in 2022
If you have any questions, leave a comment down below, and feel free to share this post too.
I wish you all the best!
You might also like:
We are sorry that this post was not useful for you!
Let us improve this post!
Tell us how we can improve this post?