Last Updated on April 29, 2023 by Teemu Suomala
Best Overall/Most Secure – HERCULES GS414B PLUS
Stability
Portability
Quality
Value For Money
Summary
When stability is your number one stand concern, Hercules is the way to go. Every aspect of this stand is strong and secure.

Pros
-Hercules Auto-Grip System locks guitar in place with no hassle
-Nitro-safe foam on all contact points
-Easy-to-use push-button height adjustment

Cons
-Expensive

Though it is the most expensive stand on this list, you're paying for a stand that you won't have to replace for years. It's highly recommended for players whose top priority is the safety of their acoustics. The best guitar stand for acoustic guitar.
Check Today's Price on
*Consider all links in this post to be affiliate links. If you purchase, at no additional cost to you, we may earn a small commission. It helps us to keep the lights on, thanks! 🙂
---
The Next Best:
---
Compare these stands:
---
We want to keep our six-strings in pristine condition for as long as possible. Part of that care will surely involve having a safe and convenient place to set your guitar when you're not playing it.
For that, you'll want to have a great acoustic guitar stand. These will help protect your instrument and give you a safe spot to secure your guitar when it's not belting out your tunes.
Let's first look at these fine stands, and at the end of the post, you can find the FAQ section that helps you to make the best choice possible.
Every one of these stands is here based on extensive research and 27+ years of experience on our team.
Who crafted this post:
Author: Tommy Tompkins
Playing guitar since 2004. Primarily an acoustic guitarist who plays and writes traditional American folk music, with a background in melodic metal and a solid foundation as a bassist.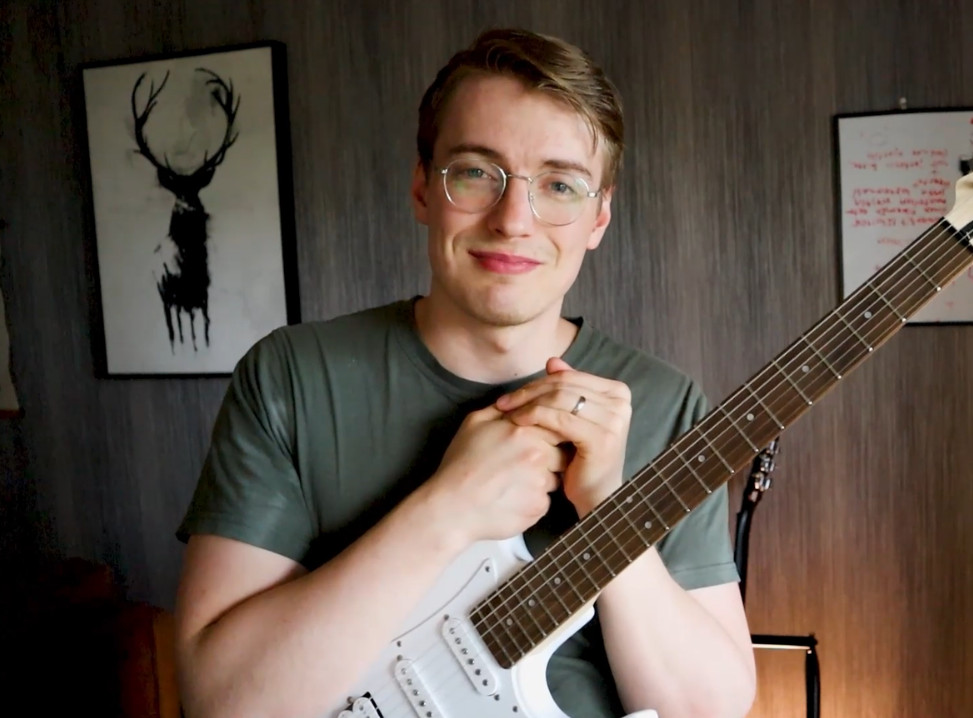 Editing & Research: Teemu Suomala
Playing guitar since 2009. Mainly focused on electric guitars, although jamming with acoustics too. Has played dozens and dozens of different guitars through different amps and pedals over the years. That's why he started this blog in January 2020 and started sharing his experience. Has produced content for several large guitar websites, such as Songsterr, Musicnotes, GuitarGuitar, and Ultimate Guitar.
---
Our Favorite Music Store in The World!
Why?
– Excellent Customer Service (4.7/5 Trustpilot Score)
– Fast & Free Shipping
– Gear is Inspected, Tested, & Ready to Play When it Arrives to You (We love this)
– Fair Prices
Visit Sweetwater:
Best Guitar Stands for Acoustic
Best Overall/Most Secure – HERCULES GS414B PLUS

Stability
When stability is your number one stand concern, Hercules is the way to go. They're one of the most trusted names in guitar stands and for good reason.
The GS414B PLUS Acoustic Guitar stand features non-slip feet, an auto-grip system that closes over the guitar's neck, and a solid tripod footprint that won't shake or wobble.
This Hercules stand is great for stage, studio, or home use, and is one of the most reliable acoustic guitar stands on the market. Designed for strength and stability, this is a stand that will keep your guitar exactly where you want it.
Quality
Everything about the Hercules GS414B PLUS speaks of high quality. It's made of strong steel tubing, top-of-the-line foam padding, and non-slip rubber to prevent any unwanted movement.
Like all Hercules stands, this acoustic edition features their Specially Formulate Foam that is tested on many different nitro finish guitars. While it's not absolutely guaranteed, this stand is much less likely than most others to cause chemical damage to an acoustic guitar with a nitrocellulose finish.
That means you can trust it with your high-end Martin or old-time vintage acoustic and have little worry that your finish will be ruined.
Summary
Pros
Hercules Auto-Grip System locks guitar in place with no hassle
Nitro-safe foam on all contact points
Easy-to-use push-button height adjustment
Cons
Every aspect of this stand is strong and secure. The AGS locking system will prevent your guitar from tipping forward, the SFF will prevent finish damage, and its durable frame won't break during travel.
Though it is the most expensive stand on this list, you're paying for a stand that you won't have to replace for years. It's highly recommended for professionals whose top priority is the safety of their acoustics.
Check Price on:
---
Best for Travel/Runner-Up – Fender Mini Acoustic Guitar Stand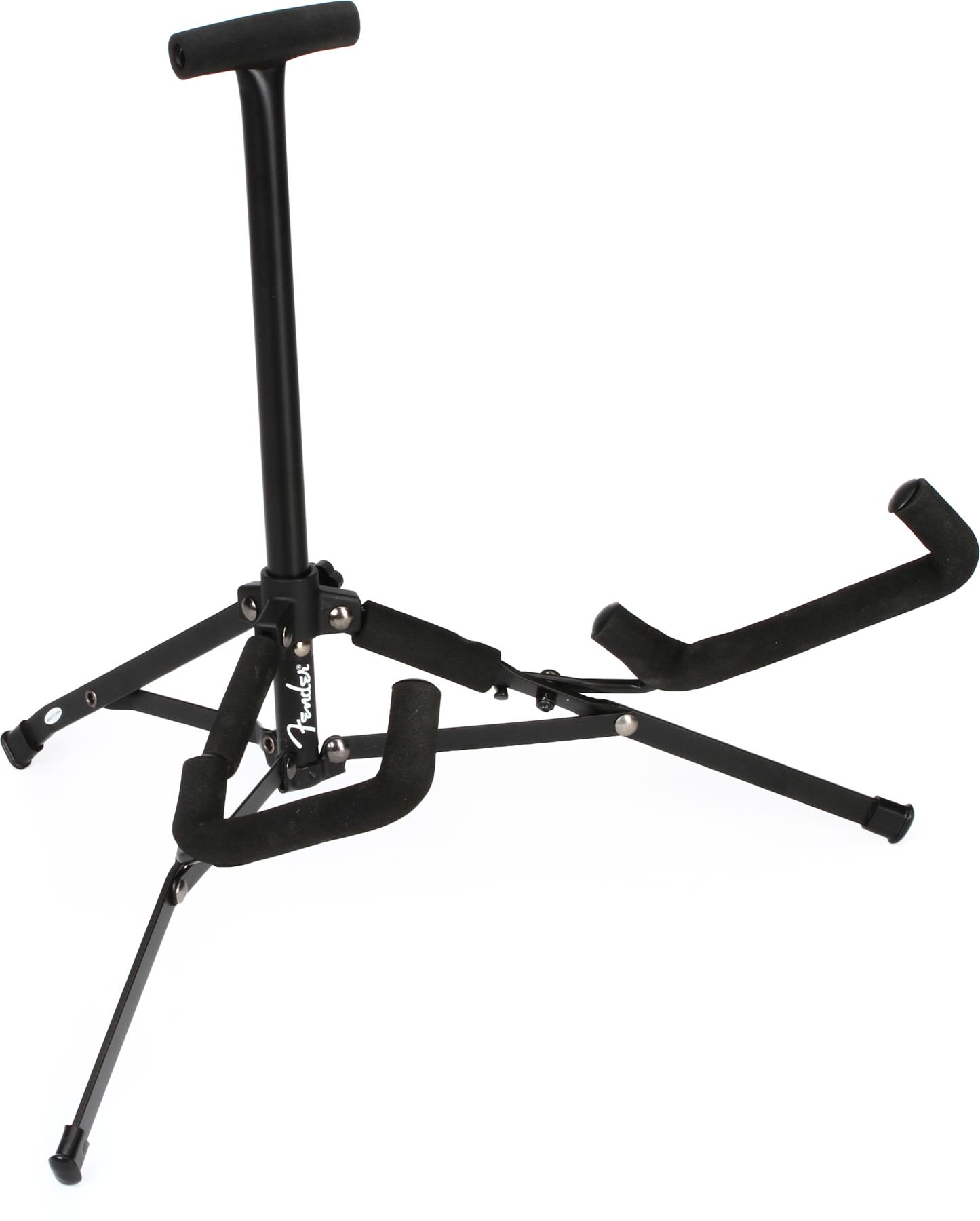 Stability
Fender's Mini Acoustic Guitar Stand is an excellent small tripod model that does a swell job of holding your acoustic. It sits at a great angle that isn't too far back or forward, taking up just a little bit of floor space for use in a versatile number of spaces.
This stand features big body yokes that flip upward at the ends so your guitar can't slide out. The body of the guitar is supported by a firm T-yoke that's covered with slip-resistant foam to firmly grip the acoustic's back.
Rubber-capped feet keep the stand right where you've set it. It won't budge once your guitar's set, making it perfect for use on stage or at home.
Quality
The Fender Mini Acoustic stand doesn't cost very much at all, but that doesn't mean it's low-quality.
On the contrary, it's a well-put-together product that is as strong as it is stable. Its steel frame is rigid and durable, able to take on the rigors of a tour van with no problem.
Perhaps its best feature, this stand folds super small to fit inside nearly any gig bag. As such, it's perfect for travel and a busker's dream come true.
Summary
Pros
Compact folding design fits in most gig bags
Quick and easy to unfold and use
Lightweight yet strong; perfect for travel and gigging
Cons
Internal nut can be lost if turn-knob is unscrewed too far
The only flaw with this stand is that the locking screw doesn't stop at its optimal point. There's a small nut on the inside of the vertical tube that can come loose if you undo the screw too far and can easily become lost if you're collapsing it in a hurry.
Without this nut, the screw doesn't hold and the stand becomes much less stable. If you take care when storing it, this won't be a problem, but if you do lose it you're in for a headache.
Overall, this issue doesn't detract much from its overall quality, and at the cost is definitely something you can ignore. From beginners to pros, this is a stand that will do your acoustic good.
Check Price on:
---
Best Budget – On-Stage XCG4 Black Tripod Guitar Stand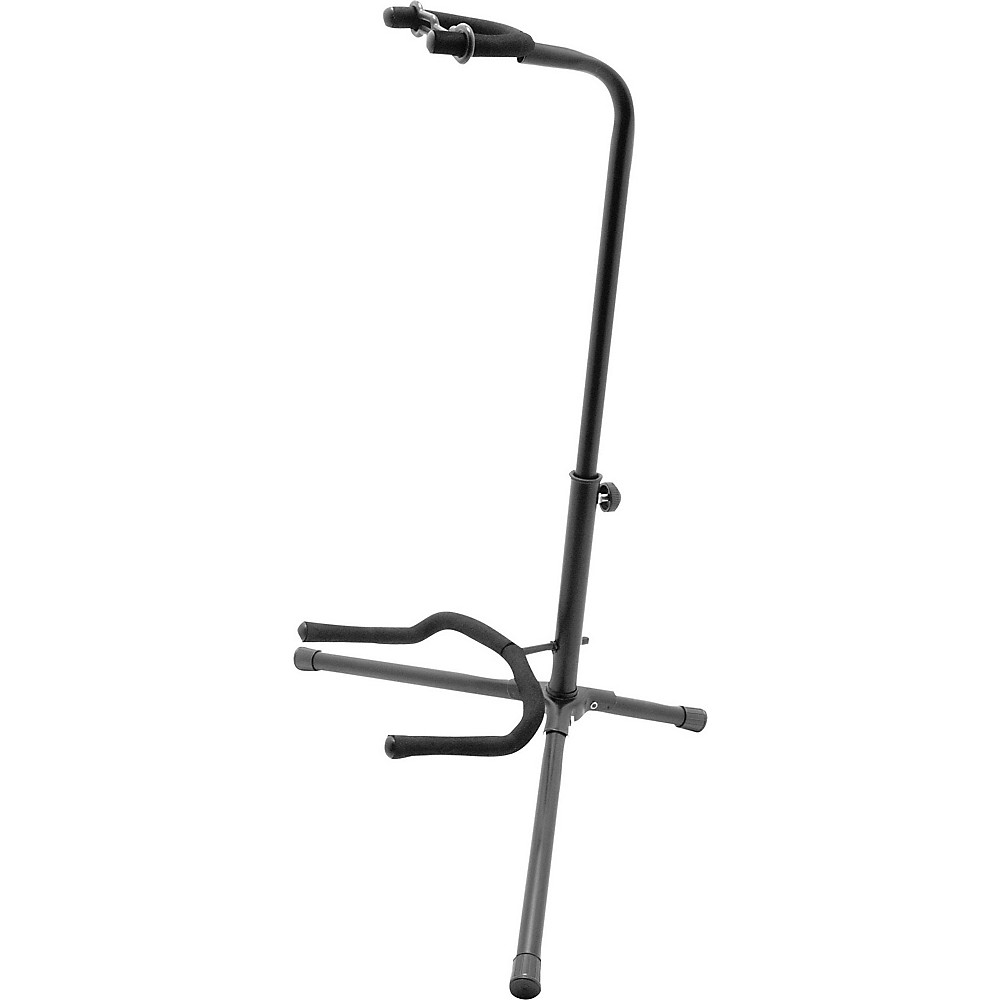 Stability
Being that this is a review of the best guitar stands for acoustic, you can be sure that we won't recommend any that aren't stable. So, though the On-Stage XCG4 barely costs over $10, it's still an awesome stand to store guitars on.
It's made with hefty sheet metal tubing and EVA velveteen rubber that protects your guitar at all contact points. Rubber end caps on the neck yoke and the addition of a security strap prevent your guitar from tipping out of place, giving your acoustic extra safety while stowed in the stand.
Quality
With its strong frame, this stand can take a beating and last through the trying travel times in the back of a tour van.
It's got a heavy-duty friction knob to prevent the upper yoke from twisting out of place, and rubberized feet to stop it from sliding around on stage.
Summary
Pros
Strong sheet metal frame won't bend or break under routine use
Super-low cost
Security strap adds an additional safety element to protect guitar from falls
Cons
Bottom yoke rotates freely and requires careful setting in of your guitar
What can be a big benefit of this stand is also its biggest issue, which is the rotating bottom yoke. This is designed to fit offset style bodies but can be an annoying hassle if you're in a hurry. Basically, you just need to make sure your guitar is in a good position before you walk away, or the yoke can turn and make your acoustic fall.
Just take care and you'll have no problems, and at the super affordable cost, that's something you should have no issue with this stand.
Check Price on:
---
Best Budget A-Frame – AmazonBasics Guitar Folding A-Frame Stand
Stability
You might think a budget A-frame stand from Amazon is the last thing we'd recommend for safely storing your acoustic, but they do a surprisingly good job with this model. Its offset footprint creates a stable base that grips the floor superbly and holds firm during use.
It has stepped arms that work with all acoustic body shapes, from the traditional dreadnought to the unusual bowl bodies of Ovations and everything in between.
Non-slip foam on the bottom yokes and top of the A protects your guitar from scratches while holding it still.
Quality
With strong steel tubing acting as its frame, the AmazonBasics Guitar Folding A-Frame Stand is remarkably rugged and durable.
It requires no assembly, and there are no small parts to lose while folding it for travel or storage.
Three variable width settings enable you to keep all guitar sizes on it, as well as smaller or larger instruments ranging from ukuleles to cellos.
It's easy to use, easy to travel with, and does a great job of protecting your guitar from falling.
Summary
Pros
Solid, stable footprint keeps stand and guitar in place
Requires no assembly; usable right out of the box
3 width settings to accommodate most acoustic guitar body shapes
Cons
Steep backwards angle requires a couple of feet of clearance from the wall
Not the most secure because it's lacking neck support
I'll admit, I'm surprised at the quality of this Amazon stand. Totally not a name brand, it outcompetes many others in its A-frame category.
It's perfectly priced for those who need a stand in a hurry and is stable enough for homebound beginners or gigging pros.
Check Price on:
---
Best Looks – Wood Guitar Stand
Stability
This Wood Guitar Stand from Snigjat is best suited for home use.
Why?
While stable in most regards, the lack of gripping foam on the upper contact point doesn't grip the guitar very well, so I'd be hesitant to use this on a busy stage. It also wobbles a little bit, so it's best to use it in a place where there's very little chance of your guitar being bumped.
In your home, when set in a low-traffic area, this is a beautiful stand that will keep your guitar stable while looking great.
It has a nice folding design that can be adjusted to different widths for holding various acoustic sizes, and it can be easily taken apart when you want to bring it on the road.
Quality
Made with real zebrawood, this is the best looking stand on our list. It's really aesthetic and makes for a great display piece in your home or studio.
Though not as strong as a steel stand, it won't break under regular use so long as you don't let any heavy equipment fall on it during travel.
Summary
Pros
Genuine zebra wood construction looks beautiful
Easy to disassemble and stow in a gig bag
Wide range of width adjustments will fit many different instruments
Cons
Prone to wobbling
Small amount of upper padding barely grips guitar's back
Not the most secure because it's lacking neck support
I'd definitely recommend this more for homebody players than for those who are frequently on the road. It's a great stand for home-use, as it truly looks amazing and can hold a wide variety of instruments. Wooden construction brings up the price a little bit, but it's still affordable as far as wood stands go.
If you want a beautiful stand to showcase your instruments as art pieces, the Snigjat Wood Guitar Stand is the way to go.
---
Verdict
All these stands are so good, it's really hard to say which one is the best. They all have things that make them great in their own regard and each excels at one thing or another.
Because its upper padding is pretty unsubstantial, the last stand I'd buy is the Snigjat Wood Guitar Stand. It's fine for totally still areas of your house, but I wouldn't want to use it in any place where my guitar could be jostled.
It's beautiful and strong, but it's definitely not my first choice for stability.
Personally, I would go with the Fender Mini Acoustic Guitar Stand, mostly because I really like how it folds so small. I value portability a lot, and its combination of security and travel-ease makes it my favorite stand on this list.
But for home use only, I would choose a stand that is stable and firm, if this is what you need, I would pick Hercules GS414B PLUS. It's more expensive than other stands on this list, but it will keep your acoustic safe and lasts for years and years.
---
Buyer's Guide – FAQ
What Makes a Great Stand for Acoustic Guitar?
When you're shopping for a guitar stand, the first thing I recommend is focusing on stability. A guitar stand isn't worth anything if it can't reliably keep your guitar still and steady.
Great acoustic guitar stands are well-built, solid, and firm-standing—designed to keep your guitar where you want it when it's not in your hands.
Second, I recommend looking for guitar stands that are built to last. There are some that do a good job of holding your guitar but might start to fall apart after a few months. This will obviously degrade the stand's integrity and put your guitar at risk of unexpectedly crashing to the floor.
To prevent this, look for high-quality stands that you can get years of use from.
Portability is another great quality to look for, but only if that's something you need. I know plenty of guitarists who are content to only play at home—there's nothing wrong with that. These folks would rather have the strongest and most aesthetic stands they can find, not bothering with the travel aspect.
But, if you play out—or hope to at some point—you'll want to find a guitar stand that folds easily, is lightweight, and, best of all, can fit inside your gig bag.
Finally, you obviously have to work within your budget. Thankfully, many stands cover all three of the above features for a totally fair price.
That means you don't have to break the bank to get a great stand. On the other hand, you don't want to go as cheap as possible and risk damage to your guitar due to faulty gear—just keep in mind that a stand is an investment into the safety and security of your instrument, and find the best one you can for what you can afford.
Are Guitar Stands Bad for Your Acoustic Guitar?
For most acoustic guitars, a stand will be no problem at all.
No matter the type of stand, as long as it's got protective foam or rubber on its contact points, your acoustic probably won't suffer any damage. You might be worried about neck strain on tripod-style stands, but this is negligible, especially compared to the tension of the strings.
You should know, however, that there are plenty of acoustics that have sensitive nitrocellulose finishes. These include many Martins, pre-1990s Taylors, several Godin models, and most vintage guitars made before the 1960s.
So what does that mean in terms of guitar stand safety?
Well, nitro can react with the rubber on the stand and cause blemishes to your finish. You can prevent this by wrapping the yokes in cotton cloth since cotton doesn't react with nitro. Still, keep in mind that nitro finishes off-gas for a long time after their application. They remain semi-liquid and somewhat malleable for years after the guitar leaves the factory.
Because of this, long-term focused pressure can smudge the finish. So, if you want to ensure you never damage your guitar's finish, keep it in the case for any extended period of time. Short jaunts on the stand will be fine, but don't keep a nitro-finished guitar on a stand for more than a day at a time.
You can see our full review of the best stands for nitro finish here.
Do You Really Need a Guitar Stand?
I really do recommend a stand for everyone.
First, they're generally pretty inexpensive, so it's not like buying one just to have around is going to substantially set you back.
Second, they're very convenient. With a good stand, you'll always have a place to set your guitar when you need to take a break.
Third, if you have a stand, the chances that you'll lean your guitar against a wall or in some other dangerous spot are greatly reduced. Having your guitar fall to the floor because it slipped from the wall is one of the worst feelings in the world.
When you've got a good stand, you never have to place your guitar in this risky position, so you avoid any of this horrible accidental damage.
For the sake of your guitar and to ensure that it plays right for as long as possible, do yourself a favor and get a stand.
---
Conclusion on Best Guitar Stands for Acoustic Guitar
Whether you're a homebody or a regular gigger, a great acoustic stand can save you a lot of time and perhaps a lot of damage when you need to take a performance break.
The products we looked at are the best guitar stands for acoustic that can keep your guitar safe and steady anytime you want to set it down. Before you ever have to experience the sickening pain of witnessing your guitar slide off the wall, arm yourself with a secure stand so you know your guitar will stay put and protected whenever it's not in your hands.
I hope that this guide helped you to choose the right stand for you.
I wish you all the best and keep rocking!
You might also like:
We are sorry that this post was not useful for you!
Let us improve this post!
Tell us how we can improve this post?