Last Updated on May 2, 2023 by Teemu Suomala
Who crafted this post:
Author: Tommy Tompkins
Playing guitar since 2004. Primarily an acoustic guitarist who plays and writes traditional American folk music, with a background in melodic metal and a solid foundation as a bassist.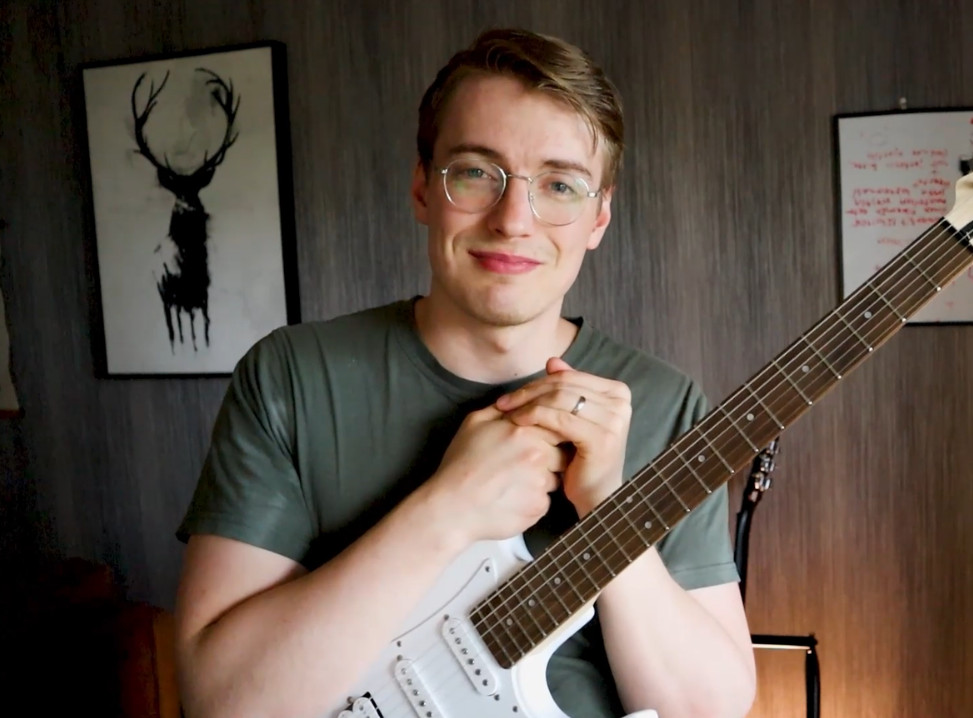 Author: Teemu Suomala
I first grabbed the guitar in 2009. I started this website in January 2020 because I couldn't do window installation anymore due to my health problems. I also noticed that most guitar websites don't do a really good job, so I decided to just go for it! I got lucky and managed to get awesome people to help me with my website. I also got lucky because I have you visiting my website right now. Thank you. I do all this for you guys. If you have any recommendations, tips, or feedback, just leave a comment, I would love to chat with you. I have been fortunate to produce content for several large guitar websites, such as Songsterr, Musicnotes, GuitarGuitar, and Ultimate Guitar. I spend my spare time exercising and hanging out with my wife and crazy dog(I guess that went the right way…).
Every one of these guitar stools is here based on extensive research and decades of combined guitar experience of our team.
Best Overall – Mapex T770 Double Braced Throne
Comfort
Portability
Overall Quality
Value for Money
Looks
Features
Summary
The Mapex T770 is actually intended for drummers…
but it's serving double duty as one of the best guitar stools!

And to be honest, drum stools/thrones/seats are way ahead of guitar stools in comfort, stability, and durability. Simply because drummers always sit, so they need that extra comfort.

What you get with Mapez T770:
-Large, soft-padded, vinyl cushion for maximum comfort
-Mapex "Memory Lock" system keeps your height settings perfectly adjusted
-Comfortably-padded backrest adjusts to fit your ideal posture
-Plus normal-sized players can easily access pedals from this

This is in my opinion the best "guitar" stool for comfortable jam sessions!

Check Today's Price on:
*Consider all links in this post to be affiliate links. If you purchase, at no additional cost to you, we may earn a small commission. It helps us to keep the lights on, thanks! 🙂
---
The Next Best:
I started playing guitar without a stool…and that's why I developed a poor playing posture. It took years of working on this to break that bad habit.
You can save yourself a lot of player's fatigue, as well as add to your overall skill if you get a great guitar stool with a backrest.
Some of my favorite options bear the name "Drum Throne", but don't be alarmed, these stools are really comfortable and provide your back a lot of support when playing the guitar.
But you should note that while these are really comfortable to sit, "Drum Throne"-stools usually don't have a footrest. When the stool doesn't have a footrest, playing with a guitar strap or with a footrest is a great option for most players(if you are looking for a guitar stool with a footrest, check this article out).
Let's first look at these best guitar stools with a backrest, and at the end of the post, you can find the FAQ section that helps you to make the best choice possible.
Our Favorite Music Store in The World!
Why?
– Excellent Customer Service (4.7/5 Trustpilot Score)
– Fast & Free Shipping
– Gear is Inspected, Tested, & Ready to Play When it Arrives to You (We love this)
– Fair Prices
Visit Sweetwater:
Best Guitar Stools with a Backrest
Best Overall –

Mapex T770 Double Braced Throne
Comfort
The Mapex T770 is actually intended for drummers, serving double duty as a great guitar stool. Since it's made for musicians who sit down for extended periods of time, its padding is comfortable enough to accommodate this.
Adjustable height between 20 and 26 inches lets you find the best position for your legs to be firmly planted on the ground. However, 20 inches minimum height might be just a bit too tall for short-legged players, requiring some form of footrest to make this model work.
Portability
Each piece of the Mapex T770 can be easily removed, and its legs fold up smoothly, giving it a compact, easily transportable design.
Weighing in at only 4.4 pounds, it's very easy to carry from place to place without being too flimsy to rely on.
Quality
This stool's frame is heavy-duty steel, making it resistant to corrosion and impervious to warping.
Its double-braced quad legs are made to withstand the wild motions of drummers, and will surely stand up to whatever a guitarist can throw at it.
The thick vinyl coating and soft padding are top-quality. Giving drummers years of support, they might last a hobby guitarist a lifetime.
Among its other benefits is the adjustable backrest that can move both vertically and horizontally to support your spine and an easy-to-set lock that lets you dial in your preferred height and keep it there from session to session.
Summary
Pros
Large, soft-padded, vinyl cushion for maximum comfort

Mapex "Memory Lock" system keeps your height settings perfectly adjusted

4-leg design adds stability while you jam

Comfortably-padded backrest adjusts to fit your ideal posture

Rubberized leg grips prevent slippage and won't damage fragile floors



Cons
May be a bit too high for shorter players

No footrest
Although it's technically a drum throne, the Mapex T770 is a great guitar stool that will give you a comfortable seat for hours of practice.
If it came with a footrest or could be lowered just a couple of inches lower, I'd say it's a perfect stool. However, shorter players might be able to overlook its tall height once they're enamored with its ergonomic, heavily-padded seat and backrest.
---
Runner-Up –

Gibraltar 9608MB Bike Seat Style Drum Throne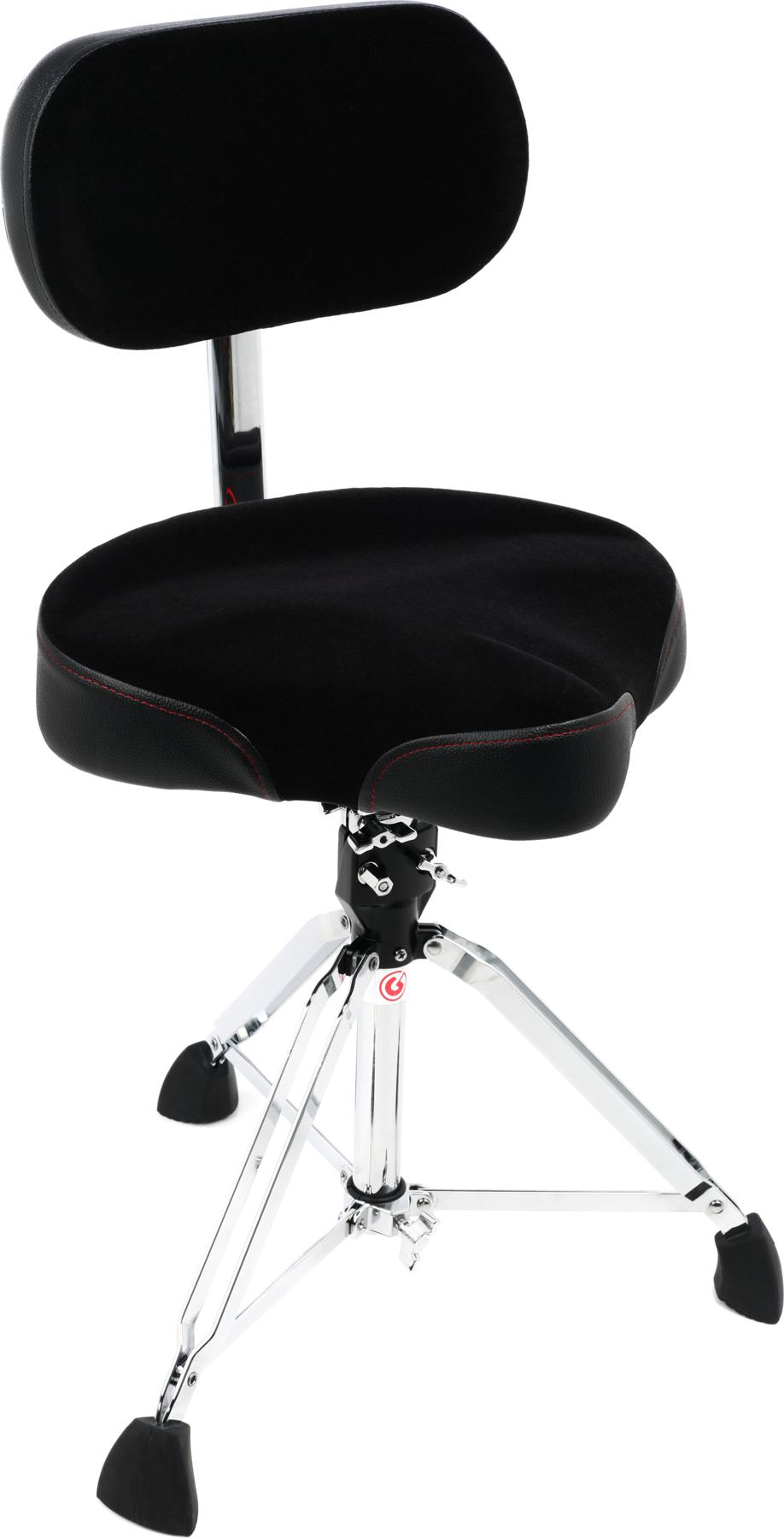 Comfort
Memory foam is one of the most raved-about materials on the market. If you want a good place to sit down, memory foam padding will keep your rear-end comfortable all day long.
The Gibraltar 9608MB has a thick cushion of memory foam on a bike-style seat that fits nicely between the thighs. This is a great feature for classical guitarists which lets the guitar fill the space with no problem.
Unlike most stools which have vinyl coverings, this one is primarily covered with a material called cordura. This is similar to corduroy, proving a non-slip surface that you won't be sliding off of as you play.
Its backrest is wide and sleek, and it gives your back full width of support. Unfortunately, depending on your body size it may not actually meet your spine the way it's supposed to.
This stool has a tripod design with rubber-coated feet. It might be a little wobbly, but as long as you keep one of the feet facing forward, you shouldn't have to worry about tipping over.
Portability
The Gibraltar 9608MB is a rather heavy guitar stool, coming in at 20.8 pounds. It won't be very easy to carry this and your guitar from room to room at the same time, but it's manageable when carried alone.
You can remove the backrest easily and fold its tripod legs up in a breeze, so breaking it down for traveling to your practice space or gigs isn't an issue.
Quality
Along with being comfortable, the materials used in the Gibraltar 9608MB are high-quality and long-lasting, so this is a stool you can use for years.
Its frame is sturdy, dependable steel, made for drummers, that won't bend out of place through routine performance and practice.
Maybe its major downfall is the looseness of the seat on the center spindle. Even after tightening every piece by hand, I can't eliminate the slight wobble. This is aggravating but isn't necessarily a deal-breaker considering its other perks.
Summary
Pros
28-inch maximum height supports the tallest of musicians

Bike-seat-style throne adds maneuverability and ease for classical guitarists

Memory foam padding is ultra-comfortable to sit on

Non-slip covering keeps your tush in place while you play

Rubber grips on feet prevent the stool from sliding
Cons
The seat can wobble on its frame

3-legs make it easily tipped out of place during hard rocking out

Backrest sits too far to the rear for some players

No footrest
If you prefer bike-style seats, the Gibraltar 9608MB is a great stool in that category. It's very comfortable and works well for a variety of player heights, though it may not be ideal for short-legged guitarists since it only adjusts to a 20-inch minimum.
Despite this, its memory foam cushion and Cordura covering give it a seat that can't be beaten.
Check Price on:
---
Best for Multi-Instrumentalist –

Quick Lok Musician Seat
Comfort
As far as playing position goes, this Quick Lok Musician Seat is great for a variety of musicians. It can work for pianists, guitarists, brass, and woodwind players.
It has a thickly padded seat which is more firm than soft but keeps you upright and firmly rooted like you should be when you're playing.
The footrest is adjustable and covered with a non-slip material, adding an extra dimension of posture support to this stool.
This stool was selected as the best guitar stool with footrest in 2022.
However, the minimum height of this stool is too high for even moderately-short players. Lowering to only 22.8 inches, you have to be fairly tall to use this stool correctly.
Portability
For musicians on the go, this is one of the easiest stools to stow for transport. It disassembles into three separate pieces or can be folded into a compact shape that can be stored in speaker cases.
It's not the lightest of guitar stools and definitely won't be easy to carry alongside your guitar, so if you're planning to get this for street performances you'll need to devise a way to cart your gear.
Quality
The Quick Lok Musician Seat's frame is made of strong, powder-coated enamel-finished steel. It won't give way while you're playing, though it is prone to tipping forward if you lean too far toward the front.
Its covering is of an unfortunate material that can easily rip and tear if you catch it on any sharp surfaces, so extra care is needed during transport.
Summary
Pros
Ergonomic-design that suits any type of musician

Easy-to-change height adjustment with security pin

The built-in footrest with adjustable height

Quick to fold or disassemble for transport
Cons
Minimum height of 22.8-inches doesn't work for all players

Seat tips forward quite easily

Support-beam of the backrest can press into lower back

Doesn't pivot
While not my favorite guitar stool, the Quick Lok Musician Seat is a good option for multi-instrumentalists. It's easy to adjust, comfortable enough for hours of playing, and has a small footprint for those with limited space.
Keep in mind, you'll need some extra footrests if your height is under about 5'10". Players on the tall side won't find any problems with this stool at all.
---
The Most Stabile –

Fender Barstool with Backrest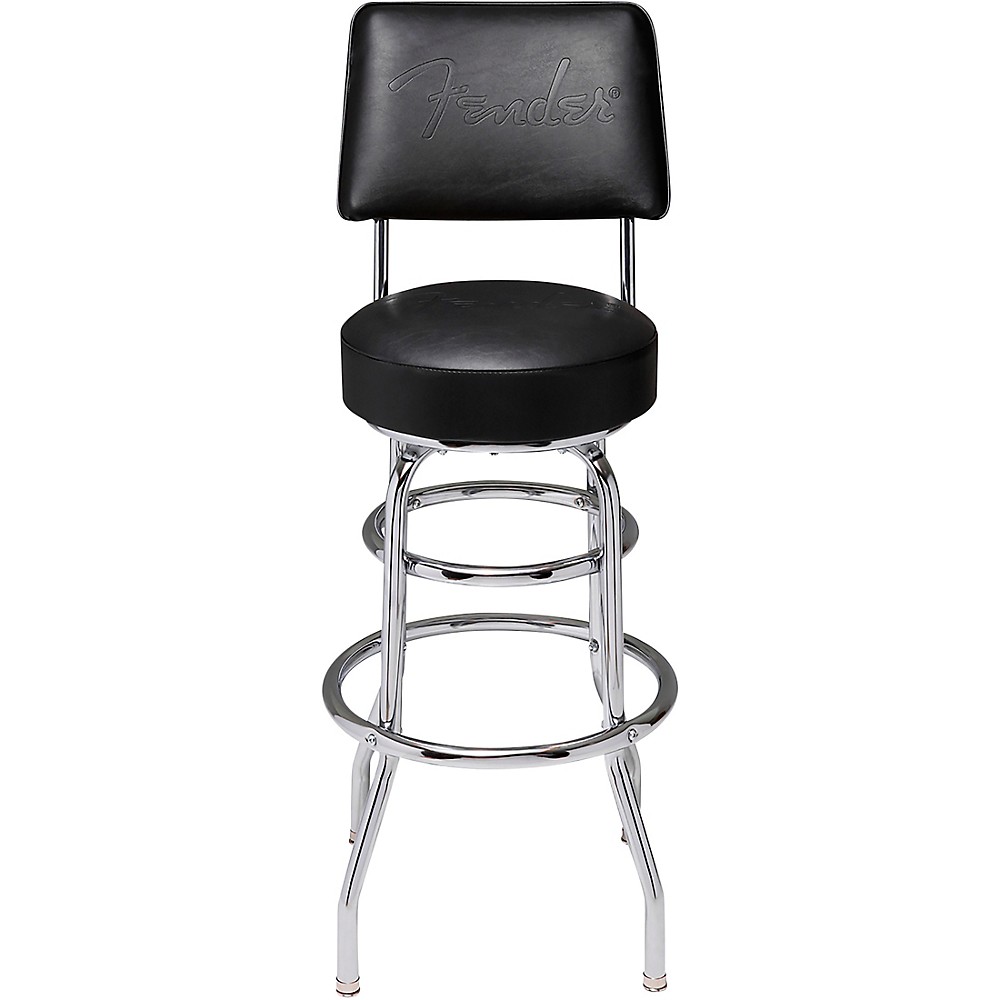 Comfort
The seat and backrest of this Fender Barstool have nice thick padding that provides a comfortable seating area while you play. Additionally, the backrest is really large, giving support to almost the entirety of your back.
However, nothing on this stool is adjustable. So, unless it fits you perfectly from the get-go you have no option to change its seat height, footrest position, or the setting of the backrest.
With the footrest made of steel tubing, you'll have to wear shoes to keep your feet from sliding off, and even then there's a good chance your feet won't hold.
As long as you're not a very short guitarist, you should have a pretty comfortable experience with this Fender Barstool despite its lack of customization options.
Portability
This is by far the least portable stool on this list. It's big, it's heavy, it doesn't fold, and it's all one piece that's not easy to take apart.
It doesn't have a huge footprint, so if you plan to just keep it in your house you shouldn't have a problem finding space for it in various rooms. But, taking it on the road is going to require a spacious van or great patience and time-management to take it all apart and put it back together upon your arrival.
Quality
Fender doesn't really make a lot of cheap, good-for-nothing products. This applies to their stools as well.
Construction-wise, this is a nice dependable guitar stool with a rigid frame that isn't going to be easy to damage. Chrome-plating on the steel tubes of the frame keep it rust-free and shinily polished, even when playing in smoke-filled pubs.
When you take it out on the town, you'll need to wrap it in some sort of covering or blanket to protect the material, as it's not very strong and can tear easily. Also, since it's only stapled on, snags can rip it off the seat and quickly reduce its quality.
Summary
Pros
Huge backrest gives lots of spinal support

Tubular footrest provides a comfortable playing position

Sturdy and sleek-looking chrome-plated steel frame



Cons
Expensive without many added bonuses

Non-adjustable seat or backrest height

Feet can easily slip off of the footrest

Covering material seems poorly fastened
Fans of Fender, this is the stool for you. It bears the Fender logo in two different locations and is a great piece of gear to add to your Fender-brand collection.
Other players who are looking for a simple, stripped-down guitar seat will enjoy its feel of solidness and balance but should look elsewhere if height adjustment and portability are important decision factors.
Check Price on:
---
Best Budget –

Gator Frameworks Guitar Seat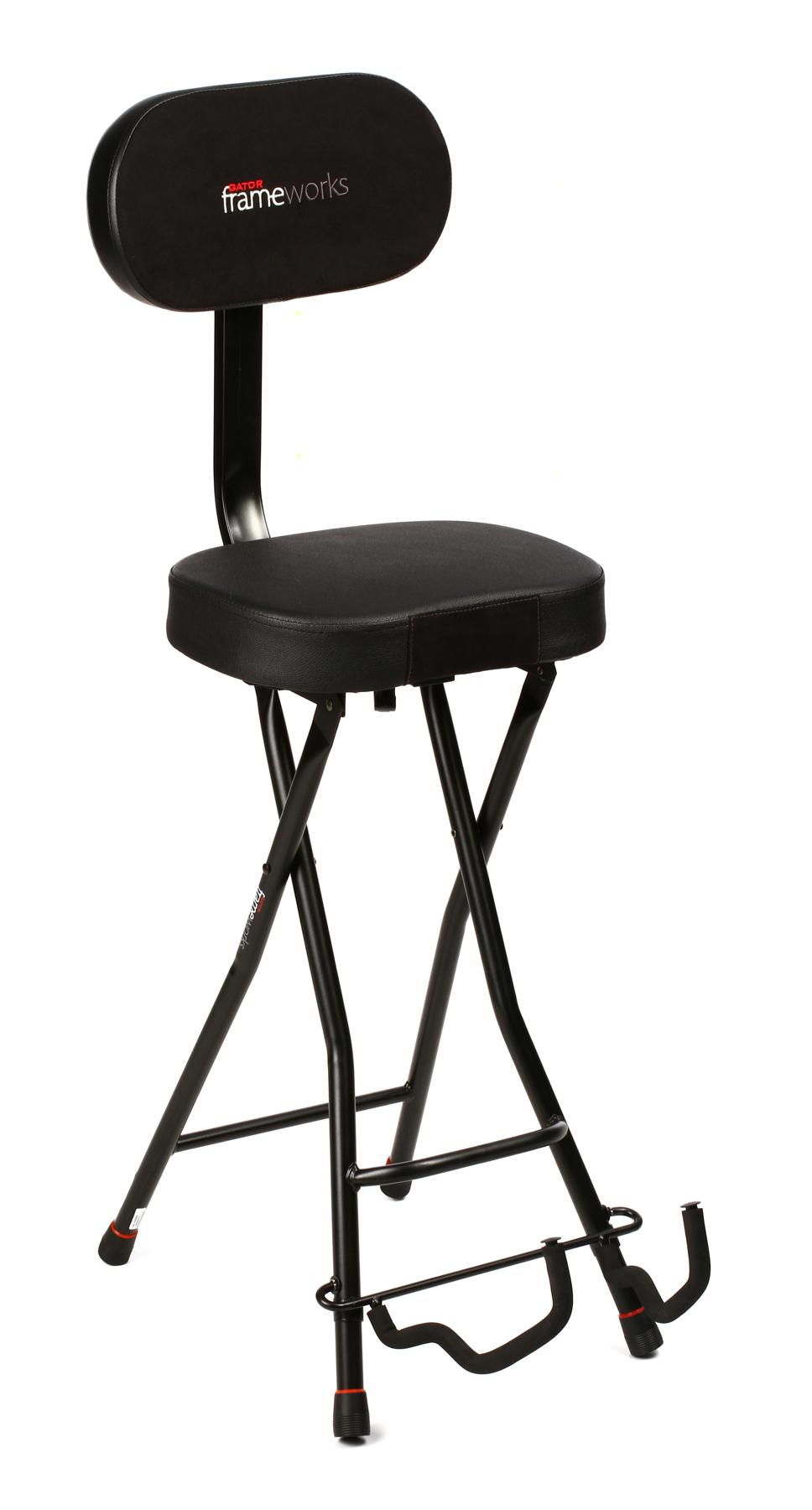 Comfort
The Gator Frameworks Guitar Seat is a chair-style guitar seat that is far more comfortable than your average kitchen chair.
It has soft foam padding on the seat portion and thick padding on the backrest to keep you from developing aches and pains from poor playing posture.
There's a thin bar-style footrest that works well if your legs are long enough to use it. Unfortunately, unless you're over 6-feet tall, there's a bit of a trade-off you have to choose between when using this seat.
If you're not very tall, to use the backrest you won't be able to reach the footrest, and to use the footrest you'll have to lean forward in the seat, therefore missing out on the backrest. Your best bet as a non-tall player would be to get an external footrest, which is doable considering the low cost of this guitar seat.
No-slip rubber feet keep the chair in place while you're rocking out, and it's nicely balanced on four feet so there's no fear of tipping over.
Portability
The most portable of all the models listed here, this Gator guitar seat is super easy to fold and go. It's lightweight at just over 13 pounds, making it no task at all to carry around.
The chair folds with no hassle and the backrest can be quickly removed to make it even more compact.
Quality
Although it doesn't exactly look it, the slim frame of this Gator Frameworks Guitar Seat can hold up to 300-pounds of guitar player. It's got a great design as far as dependability goes, and won't slip or slide around on the floor while you're playing.
The bonus guitar stand is a cool idea, although it could be executed a bit better. I wouldn't trust this as my primary stand because there's no neck yoke to keep the guitar stable. However, it works well as a temporary holding place if you just want to set your guitar down for a little while to take a break.
Whatever you do, don't mistake the stand pieces as the footrest, as they will easily snap off under the weight of your legs.
Summary
Pros
Includes built-in guitar stand

Has a footrest to add playing posture support

Comfortable foam padding on seat and backrest

Lightweight and easy-folding for convenient transport

300-pound weight capacity



Cons
Non-adjustable seat and backrest height

Sits too high for short players

Guitar stand isn't very dependable

No swivel abilities
Considering the price of the Gator Frameworks Guitar Seat, it's one of the best options for players on a budget. You not only get a nice guitar chair, but also a sleek stand all in one.
There's definitely room for improvements in the design, and short players will be better off with a different model. But, overall, it's one of my favorites on this list.
Check Price on:
---
Verdict
At the end of the day, I'm going home with the Mapex T770. It's the most comfortable, most adjustable, and most durable of all, and in my opinion, is the best guitar stool with a backrest overall.
In reviewing our choices, I've decided the Fender Barstool is my least favorite of these options. I like Fender guitars okay, but I'm not an ultra-fan and the lack of adjustability in this stool doesn't cut it for me.
---
Buyer's Guide – FAQ
Why Do You Need a Guitar Stool?
Guitar stools are built to ergonomically benefit your guitar practice and performance. They assist you in sitting with the correct posture. This enables you to access every part of the fingerboard comfortably while reducing strain on your arms, wrists, and hands.
If you don't develop proper playing posture early on, sitting in poor style can become an ingrained habit that is overwhelmingly hard to break.
With a comfortable guitar stool, you can sit the way you're supposed to and start playing with proper posture. This will help you play for longer and reap the full benefits of your practice sessions.
What's the Difference Between a Guitar Stool and a Regular Chair?
So you might be thinking, "I play on my kitchen chair just fine. Why do I need a guitar stool?"
Guitar stools are built to accommodate a guitarist and their sometimes rather bulky instrument. Conversely, ordinary chairs often have too much overhang on the sides, creating an annoying bulk that can be an obstacle to your maneuverability while playing.
The padded tops of guitar stools, while comfortable to sit on, also serve to protect your instrument if you do happen to bang it on the sides of your seat.
Many guitar stools also allow a swivel action, allowing you to easily turn toward your amp or pedals. Additionally, several models feature adjustable height mechanisms and built-in footrests to further add to your playing comfort.
What's So Important About Playing Posture?
Bad playing posture will not only affect your ability to perform at the top of your skill level but can also result in playing-related pain and injury. It can contribute to carpal tunnel syndrome, backaches, and shoulder pain that will take away from your musical enjoyment.
In poor posture, your shoulders are slouched, your neck is bent, and your back is steeply curved. Due to this, an incredible 29% of guitar players report back and neck pain. Good posture means keeping a straight back and properly supporting the weight of the guitar. You can read all about it in this article.
To reduce your chances of developing guitar-related injuries, pay attention to your posture, adjust when you come out of correct form, and give yourself a great stool to sit on while you play.
In order to help you get started with playing the right way, I've checked out some great guitar seats and present you now with the best guitar stools with a backrest.
---
Conclusion on Best Guitar Stools with a Backrest
All these best guitar stools with a backrest are comfortable choices to sit on when jamming with your axe. The Mapex T770 is my favorite because of its great ergonomics and comfort.
I hope that this post helped you to pick the right guitar stool for you. If you have any questions, just leave a comment.
I wish you all the best and keep rocking!
---
You might also like:
We are sorry that this post was not useful for you!
Let us improve this post!
Tell us how we can improve this post?