Best Overall – Quick Lok Musician Seat
Comfort
Portability
Overall Quality
Value for Money
Looks
Features
Summary
Not the most beautiful…
but still a really high-quality guitar stool!

My favorite all-around seat thanks to its adjustable foot- and backrest, plus overall comfort. Also, holding the right playing posture is easy with this stool. Plus this has the best footrest out there in my opinion.

Pros
-Adjustable footrest for optimal playing comfort
-Backrest with adjustable height for spine support
-Designed for multi-instrumentalists

Cons
-Not suited for short players
-Can tip out of place if you lean far forward

Just treat it with care and watch for snagging its soft covering on sharp equipment edges, and this seat will last you for ages.
Check Today's Price on:
*Consider all links in this post to be affiliate links. If you purchase, at no additional cost to you, we may earn a small commission. It helps us to keep the lights on, thanks! 🙂
---
The Next Best:
FREE Access for You! Secret Page Reveals 5 Must Learn Electric Guitar Riffs That Accelerate Your Learning (For All Beginners Who Love Rock and Metal)
(If you want to make progress fast, this is for you). Just tell me where I should send the link:
By entering your email address you agree to receive emails from Guitarist Next Door. We'll respect your privacy and you can unsubscribe at any time.
---
If you're tired of slouching in a kitchen chair or sinking into the couch while you jam, maybe it's time for you to check out seats made for musicians.
A great stool with a footrest will help you sit right while you play and give you the comfort you need for hours-long practice sessions.
In this article:
We reveal our 5 favorite stools based on a combined 27 year of guitar playing with stool and without
You learn what makes a good guitar stool with a footrest
Let's first look closer at these fine stools, and at the end of the post, you can find the FAQ section that helps you to make the best choice possible.
Who crafted this post:
Author: Tommy Tompkins
Playing guitar since 2004. Primarily an acoustic guitarist who plays and writes traditional American folk music, with a background in melodic metal and a solid foundation as a bassist.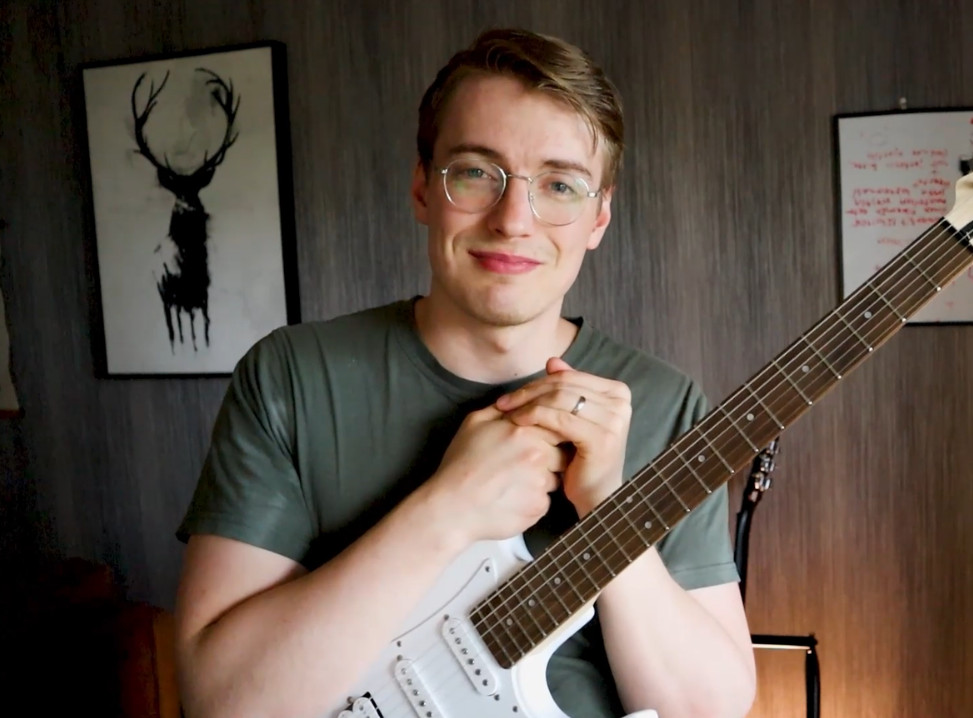 Editing & Research: Teemu Suomala
Playing guitar since 2009. Mainly focused on electric guitars, although jamming with acoustics too. Has played dozens and dozens of different guitars through different amps and pedals over the years. That's why he started this blog in January 2020 and started sharing his experience. Has produced content for several large guitar websites, such as Songsterr, Musicnotes, GuitarGuitar, and Ultimate Guitar.
---
Our Favorite Music Store in The World!
Why?
– Excellent Customer Service (4.7/5 Trustpilot Score)
– Fast & Free Shipping
– Gear is Inspected, Tested, & Ready to Play When it Arrives to You (We love this)
– Fair Prices
Visit Sweetwater:
Best Guitar Stools with a Footrest
Best Overall – Quick Lok Musician Seat
Comfort
This Quick Lok Musician's Seat is designed to support both your legs and your back, so holding the right playing posture is easy. It has the best footrest of any stool on this list. It's got a non-slip covering to keep your feet in place and can be adjusted to fit many different leg lengths.
Portability
This stool both folds and disassembles easily. Thanks to this, it's simple to transport in a variety of situations, whether you want to stick it in the tour van or carry it in a case.
It's not exactly convenient for carrying by hand long distances, but taking it from room to room in your home won't be any problem at all.
Quality
This seat's frame is durable and corrosion-resistant, and its padding is thick enough to hold up to countless hours of use. Though it would be much better if the adjustable parts accommodated shorter players, it's a great guitar stool for most musicians.
Summary
Pros
Adjustable footrest for optimal playing comfort

Backrest with adjustable height for spine support

Designed for multi-instrumentalists
Cons
Not suited for short players

Can tip out of place if you lean far forward
This is a really high-quality guitar stool. It's one of my favorites all-around thanks to its adjustable foot- and backrest. Just treat it with care and watch for snagging its soft covering on sharp equipment edges, and this seat will last you for ages.
---
Best Comfort on a Budget- BIG RED TRP6185 Torin Swivel Bar Stool
Comfort
If you're going to be sitting down to play for hours at a time, you'll want a stool with thick padding like this one.
The BIG RED TRP6185 is a basic barstool in most ways, but the seat cushion is especially comfortable. Although the footrest isn't adjustable, its height is good for most leg lengths. It's not ideal for classical posture but does a nice job supporting the casual position.
It's a shame that a little more thought didn't go into its design though. It feels nice to sit on, but the legs and seat are a bit uneven. This causes an annoying wobble that can make you feel off-kilter.
Portability
At only 12.2 pounds, this is a pretty easy guitar stool to carry around. While I'd choose something a bit more compact for street performing, it's a nice stool for home practice or open mics.
Quality
You do have to assemble this stool, and the instructions aren't very clear. It can take a little figuring out before you get it put together.
Once it's all in order, for the most part, it's a decent quality guitar stool. The legs are sturdy metal that can support up to 250 pounds, so there's little chance of breaking it with normal use.
Something to watch out for is tearing the vinyl covering. It's a pretty soft, fragile material, so wallet chains or studded belts can easily rip it.
Summary
Pros
Smooth, 360-degree rotating seat

Comfortable seat padding

Well-positioned footrest

Strong metal frame
Cons
Low-quality vinyl cover material

Difficult to assemble

Wobbles
Because the covering can be torn, I might not recommend this stool to metal musicians who wear a lot of spikes. Otherwise, if you're looking for a basic, comfortable seat with a footrest, this is a good option at a nice price.
---
Most Portable – Trademark Home Folding Stool
Comfort
Although fine for most guitarists, this is a really short stool so it might not be ideal if you have extra-long legs. The footrest is at a great position that lets you have one leg on the floor and one on the stool. Like this, the classical position is easily attained.
It could use some more cushion, but it's not bad to sit in for a couple of hours at a time.
Portability
This stool is small and very lightweight, totaling less than 5 pounds. At this weight, I could see myself strapping it to my gig bag and taking it around on my back.
Its folding design makes it perfect for stowing away on the bandwagon. So, it's great if you frequently travel for performances.
Quality
Though this stool is awesome in terms of portability its overall stability is pretty weak. I recommend being careful when you go to sit on it, as it feels like it could break if treated roughly.
You definitely don't want to sit any heavy equipment on it when you pack it for travel. The legs seem quite frail and could bend without much force.
Summary
Pros
Easy-folding, lightweight design makes it super easy to transport

Comfortable footrest position

Very affordable
Cons
A small amount of padding reduces seat comfort

Not very reliable construction
If you need a low-cost seat that's easy to take around, this Trademark Home Folding Stool is a good choice. It provides a minimum of comfort but maximum portability and a nicely-placed footrest. Although it's not strong, as long as you treat it kindly, you probably won't have any issues.
---
Most Stable – Taylor Brown Logo Barstool – 24″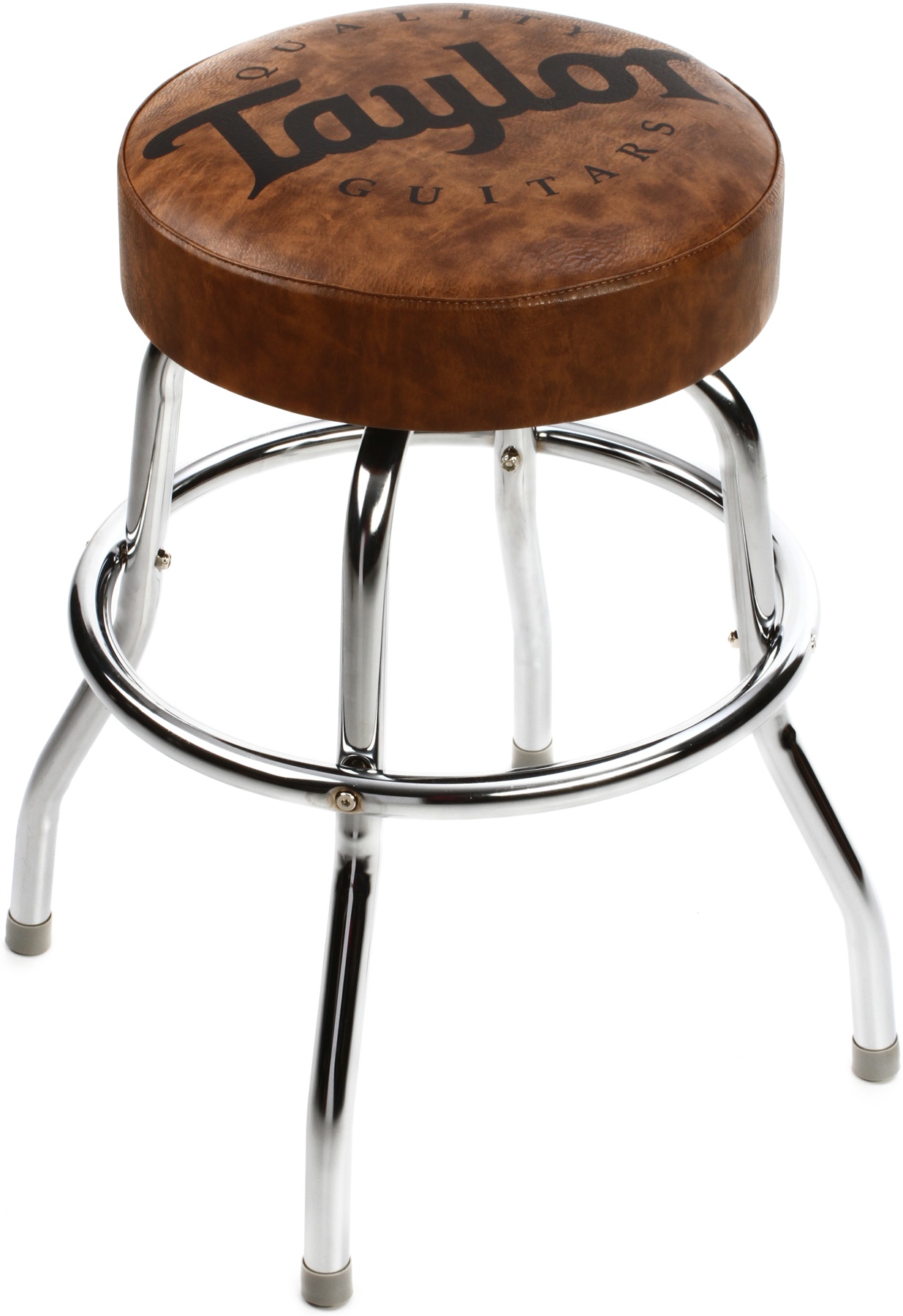 Comfort
As far as the footrest goes, Taylor 24 inch Barstool gives you secure leg support. It's only 2 feet tall with a centrally-located footrest. Because of this design, it's versatile for players of different heights even though the footrest isn't adjustable.
At first glance, this looks like it would be a throne of supreme comfort…
and from most of us, this is true. I don't personally want super thick padding where you sink in. But if you want that, this might not be the best option for you.
But in my opinion, this is a comfortable stool that enables good playing posture, hours of pain-free playing, plus you can even reach pedals from it(depends on your size ofc).
Portability
At 12.5 pounds, this isn't an ideal stool for street musicians. It's more a seat that you'd want to use in a studio or a live-music bar. Basically, it's good for settings where it won't be moved around a lot.
Quality
While it has a flaw in comfort, the overall quality of this guitar stool is above average. This seat is built strong, and most importantly, has a stable, secure base that won't let you tip over.
Even, stable legs with good grips eliminate the annoying problem of rock and wobble while you jam.
Summary
Pros
Solid and secure legs prevent wobbling

High-quality padding and covering for extended product lifetime

The thick footrest bar provides comfortable leg support

Easily comfortable enough for most players
Cons
Not enough padding for everyone
Holes for the screws are sometimes too large for the screws(rare tho)
Anyone wanting a rock-solid barstool, this seat is a great option.
Although the throne isn't the most comfortable for long jam sessions, it gives you the basic comfort you need for the average practice period.
Check Price on:
---
Most Features/Runner-Up – Gator Frameworks Guitar Seat
Comfort
This guitar seat from Gator Frameworks offers the most features in a single stool.
It has a thickly-padded backrest for spine support and a sturdy footrest for leg support. There's even a guitar stand to keep your instrument comfortable when you're not playing. The seat section of this chair is soft foam, making it an all-around comfy guitar stool.
Portability
This stool folds to a compact shape in one swift movement so you can readily store it away or take it on the road. If folding's not enough for you, the backrest detaches in no time for even easier storage and travel.
Quality
In dependability, you can't do much better than this guitar stool. It's one of my favorite seats in general, and its bonus backrest and guitar rest add a lot to its value.
It's strong, stable, and well-constructed. Whether you're a touring musician or an at-home hobbyist, this chair can take just about anything you'd throw at it.
Summary
Pros
Built-in guitar stand keeps your instrument standing during your breaks

Comfortable backrest

Quick and simple fold-and-go design

Stable and dependable
Cons
The seat is too high for very short musicians
Cost considered, this is one of my top recommendations. The footrest is firm, there's no shakiness in the design, and the guitar stand is a great extra that makes it much more than a basic chair.
Check Price on:
---
The Verdict
There are tons of stools to choose from, and I hope you saw one on this list you'll love.
The Quick Lok Musician's Seat is the clear winner for me here. Adjustable in most ways, it's smartly-designed, transportable, and will ensure great posture while you play.
While it's low-cost and comfortable, the wobble-factor of the BIG RED TRP6185 Torin Swivel Bar Stool keeps it at the bottom of my list.
Still, all these stools are good options, and you should choose yours according to your needs and preferences.
---
Buyer's Guide – FAQ
What Makes a Great Guitar Stool?
A great guitar stool will have comfortable padding to cushion your back and rear while you perform. It should also have a stable base so that you don't have a fear of tipping over.
The guitar seats in this review have a great bonus feature that you desire: footrests! This add-on helps keep you in a good posture and makes holding your guitar much easier.
The best guitar stools will also be fairly portable. That is, they can be moved and transported without a lot of hassle. Guitar stools of high quality should be relatively lightweight and easy to carry.
And, of course, great guitar stools are high-quality products. This means that they'll last you a long time without breaking down. Guitar seats can be pricey, and you don't want to have to replace them every year.
Why a Stool with a Footrest Might Be a Great Option for You
In an uncomfortable seat, you have to adjust your body constantly and will start to ache after a while.
These distractions can destroy your practice.
When you choose a good guitar stool with a footrest, you're choosing to play in comfort. This will boost your practice benefits because you can stay focused on the music.
A stool with a footrest can also help keep you in the correct posture while you play. Good playing posture will prevent guitar-related injuries such as carpal tunnel and back problems. It can also help you improve your technique.
Also, especially for classical guitarists, a footstool is a great choice. It can be a cheaper way to correct your playing posture than a guitar stool. If you are interested, check this guide out: 5 Best Guitar Footstools (Footrests) in 2022 – Buyer's Guide.
If you want to focus on supporting your back, check this post out: 5 Best Guitar Stools with a Backrest in 2022 – Buyer's Guide.
How Should I Sit While Playing Guitar?
There are a few different ways you can sit while playing guitar to improve your technique and comfort.
Here's a quick video that helps you to find the correct playing posture:
Casual Position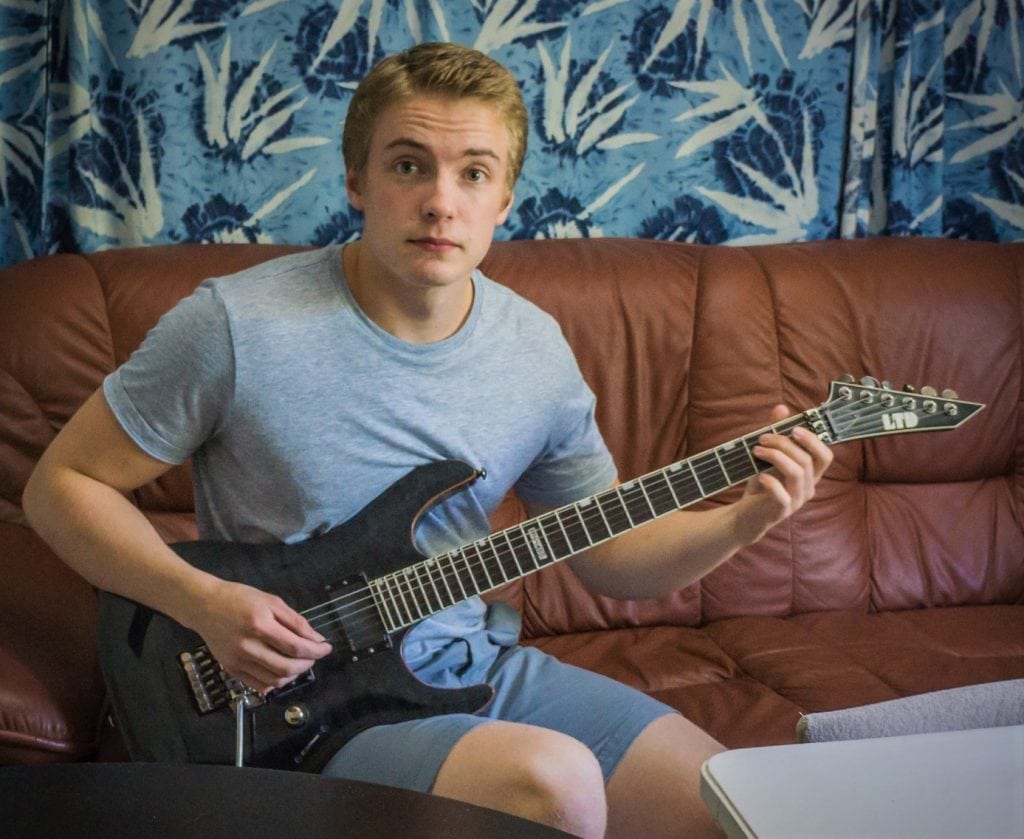 The first and most common posture outside of classical guitar is the casual position. This is a relaxed posture that is pretty easy to get into and sit in for a long time.
This standard posture keeps both of your feet on the same level, either on the floor or on your footrest. Your hips should be even and your knees bent at about 90-degrees.
Keep your back straight, and don't slouch. Craning over the instrument is a leading cause of back and neck pain in guitarists.
The guitar is held against your body by your right arm on the lower bout. Your guitar's body should sit across your thighs while your left arm relaxes loosely at your side.
Classical Position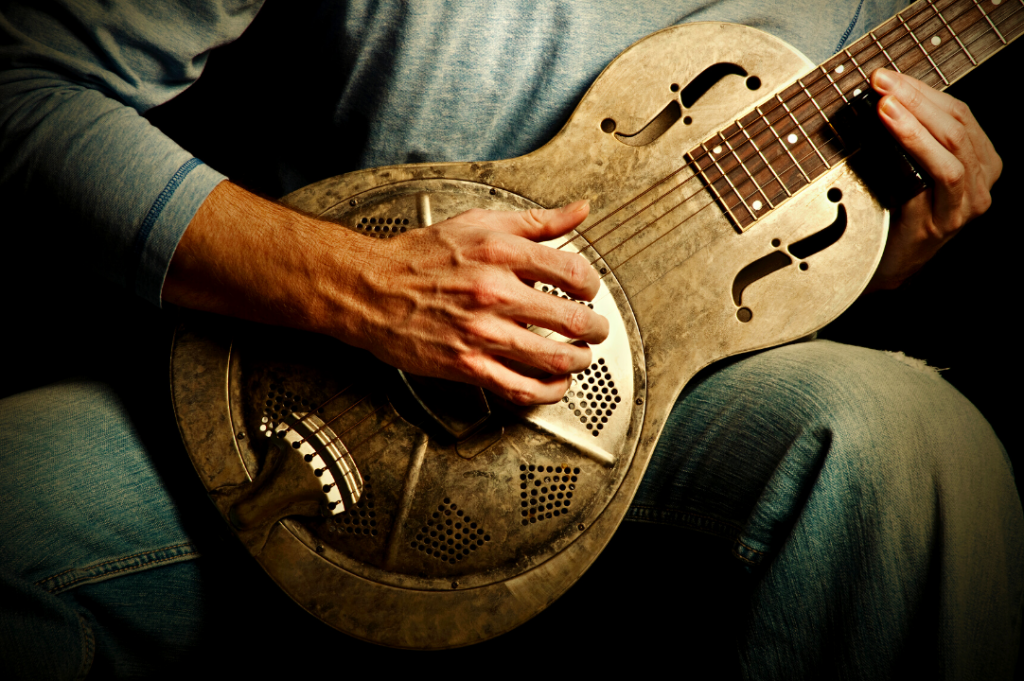 Even if you don't play classical guitar, this position can boost your range of motion. It's my preferred way to sit when I play acoustic.
In the classical position, the left foot should be raised higher than the right. You can prop your left foot up with a special guitar footstool, a stack of books, or by keeping your right foot off the footrest on your guitar stool.
The bottom bout of your guitar sits between your thighs in the classical position. Doing this makes it easier to keep the guitar stable while you play.
This position puts the neck of the guitar at a high angle. It frees up your left arm to let you play more difficult pieces up and down the fingerboard.
Crossed-leg/Knee Up Position
In the knee up position, your right arm holds the guitar against your body similar to the casual position. The main difference is that your right leg is brought up to cross over your left knee.
Raising your right knee in this way elevates both the body and neck of the guitar so you can play difficult pieces more easily.
However, this position puts a strain on your right knee that will lead to pain after a short amount of time. So, I recommend only using the knee-up position in short intervals.
---
Conclusion
A good quality stool is a great way to level up your playing posture. I hope that this post helped you to pick the best stool for you. If you have any questions, leave a comment down below, and feel free to share this post too.
I wish you all the best and keep rocking!