Last Updated on November 22, 2023 by Teemu Suomala
Who crafted this post:
Author: Tommy Tompkins
Playing guitar since 2004. Primarily an acoustic guitarist who plays and writes traditional American folk music, with a background in melodic metal and a solid foundation as a bassist.
Hide The Rambling▲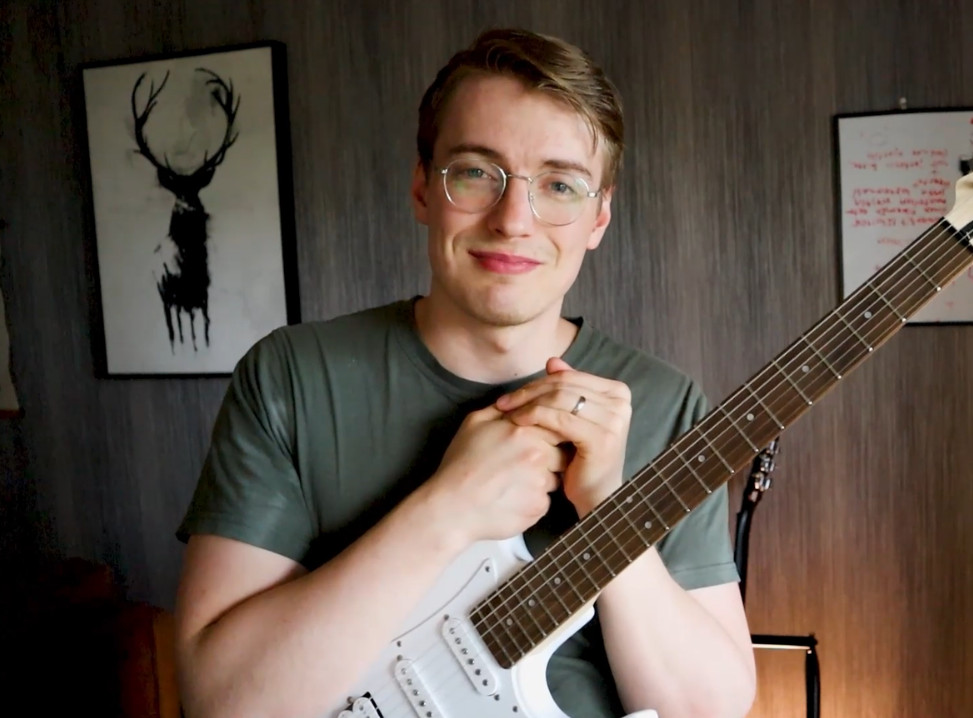 Editing & Research: Teemu Suomala
I first grabbed the guitar in 2009. I started this website in January 2020 because I couldn't do window installation anymore due to my health problems. I love guitars and have played dozens and dozens of different guitars through different amps and pedals over the years, and also, building a website interested me, so I decided to just go for it! I got lucky and managed to get awesome people to help me with my website.
I also got lucky because I have you visiting my website right now. Thank you. I do all this for you guys. If you have any recommendations, tips, or feedback, just leave a comment, I would love to chat with you. I have also been fortunate to produce content for several large guitar websites, such as Songsterr, Musicnotes, GuitarGuitar, and Ultimate Guitar.
I spend my spare time exercising and hanging out with my wife and crazy dog (I guess that went the right way…).
Hide The Rambling▲
Every one of these tool kits is here based on extensive research and decades of combined guitar experience of me (Tommy) and Teemu.
Best Overall Guitar Tool Kit – MusicNomad Premium Guitar Tech Set
Convenience
Quality
Tool Variety
Value For Money
Summary
These tools are as functional at home as they are in a pro guitar shop.

You get:

-A huge assortment of hex key, socket wrench, and screwdriver sizes
-Strong, durable, and lightweight aluminum case keeps tools safe while on tour
-Comfortable tool handle fits snuggly in the hand

If you've got several guitars, you'll have many different screw and nut sizes that will need to be turned from time to time.

With this MusicNomad Premium 26-piece tool kit, you'll never be short of the right size tool.

The best guitar setup kit in my opinion, although you might have to buy some tools separately(fret files etc).
Check Today's Price on:
*Consider all links in this post to be affiliate links. If you purchase, at no additional cost to you, we may earn a small commission. It helps us to keep the lights on, thanks! 🙂
---
The Next Best:
Compare:
---
Learning how to set up your guitar and how to do basic maintenance helps you save money and solve lots of basic guitar problems yourself. No need for a luthier every time…
All you need is a little know-how and guitar tool kit that fits your needs. Save on time, effort, and costly trips to the guitar tech by checking out the best guitar tool kits for different situations!
Let's first look at these fine kits, and at the end of the post, you can find the FAQ section that helps you to make the best choice possible.
Our Favorite Music Store in The World!
Why?
– Excellent Customer Service (4.7/5 Trustpilot Score)
– Fast & Free Shipping
– Gear is Inspected, Tested, & Ready to Play When it Arrives to You (We love this)
– Fair Prices
Visit Sweetwater:
Our Reviews of The Top 5
Best Overall –

MusicNomad Pre

mium Guitar Tech Set
Convenience
If you've got several guitars, you'll have many different screw and nut sizes that will need to be turned from time to time. With this MusicNomad Premium 26-piece Guitar Tech Screwdriver and Wrench Set, you'll never be short the right size tool.
In terms of comprehensive convenience, you'll need a bit more than what this kit provides, as it comes with no measuring device, string tool, or files. It's best to think of this as a versatile addition to a guitar tech's arsenal rather than a one-kit-for-all-needs set.
Everything inside is smartly-designed, ergonomic, and multi-purpose, so if all you need for your repairs is a wide variety of wrench and driver bits, this is a great kit for you.
Quality
These are high-quality tools that are made for professional use. They're just as functional at home as they are in a pro guitar shop.
The plastic multi-use handle is made of rugged, durable plastic that can take a beating. All the metal implements are long-lasting stainless steel, so corrosion and bending are nothing to worry about.
Value for Money
This is a great set for those with many different instruments to work on. The versatility of the kit expands even past guitar repairs and can even be used to fix different things around the house. If you need a file for smoothening the frets, I would recommend this one.
Though its cost isn't cheap, you get what you pay for. With the MusicNomad Premium 26-piece Guitar Tech Screwdriver and Wrench Set MN229 you can handle almost every maintenance situation.
Pros
A huge assortment of hex key, socket wrench, and screwdriver sizes

Multi-use kit; repair more than just your guitars

A strong, durable, and lightweight aluminum case keeps tools safe while on tour

The comfortable tool handle fits snuggly in the hand

A suede-backed spanner wrench prevents damage to instruments

All the tools

included are high quality
Cons
No files or other types of tools for various maintenance tasks(only has screwdrivers, keys, and wrenches)
Check Price on:
---
Highest in Quality –

D'Addario Accessories Guitar Tools
Convenience
The D'Addario PW-EGMK-01 guitar maintenance tool kit is a handy little set of accessories for performing minimal maintenance on electric guitars. Its assortment of hex key and screwdriver sizes give you just about every tool you'll need to access your electronics, adjust your bridge and pickups, and tighten up any loose hardware on your axe.
For when you need to completely remove a piece of hardware, a magnetic patch inside the carrying case is there to catch them and keep them in place. This makes it a great kit for repairs on the road.
Maybe my favorite feature is the headstand and protective non-slip mat combo. These useful elements allow you to keep your guitar propped up and stable while making your adjustments, so maintenance is that much easier.
Quality
Everything in this D'Addario kit functions well and serves a great purpose… except for the string cutter.
The string tool would be a perfect combo accessory if the cutting blades had any sharp edge, but they don't have enough bite to really do their job.
Aside from this, D'Addario provides everything you need for basic work on your electric guitar in a compact, super-useful, travel-ready guitar tool kit.
Value for Money
I'd like to say this kit is worth its price, but considering at least one of the elements is disposable (the lubricant and perhaps the fret polishing cloths), the large price tag is hard to justify.
Overall, if you're looking for a quick way to get the tools needed to work on an electric guitar, this kit is a good option. However, if you're not in a hurry, you might be better off shopping for each piece individually.
The reason why this is not my favorite pick is the fact that with MusicNomad-kit you get all the key things in high-quality at a lower price.
Pros
Includes guitar-protecting equipment such as non-slip mat and headstand

Multi-purpose string tool with pin-remover, wire cutter, and string winder

for the tuning pegs

Capo and string action gauge to assist in set up measurements

Lubricant for nut and bridge

Fret polishing system

Multitool with six hex keys and four screwdrivers

Magnetic area in the case to keep guitar hardware secure
Cons
Multitool can be hard to maneuver while making truss rod adjustments

String cutter isn't sharp or strong; hard to cut strings

Expensive

Only designed for electric guitars
Check Price on:
---
Best Budget –

TIMESETL 26 Pcs Guitar Repairin

g Tool Kit
Convenience
This 26-piece Guitar Repairing Tool Kit by TIMESETL is one of my all-around favorite guitar tool kits.
It has many different tools, including hex keys, a multi-spanner wrench, and various files that make working on acoustics or electric easy as pie.
This kit is perfect if you're just starting to learn guitar tech skills. Its low cost means you won't be hurting financially if you decide you'd rather leave the repairs up to a luthier. Yet, you can practice just about every minor repair, maintenance (guitar cleaning excluded), or adjustment on a project guitar with its wide range of tools.
Quality
On the surface, all 26 pieces in this kit seem to be pretty decent quality.
They're not made of the most durable materials and their construction isn't exactly dependable, but for occasional use by hobbyists, they'll stand up to the test.
I wouldn't recommend this kit to any professional techs looking for a new set of tools because they probably won't last through the rigors of constant use. For everyone else though, I'd say this is one of the top guitar tool kits on the market for the cost.
Value for Money
Even if the tools aren't durable, you can't do much better at a cost:value ratio. Individually shopping for all the tools included in this kit will run you easily two or three times the price. So, for anyone new to guitar maintenance, this kit is highly recommended as a way of exploring this new skill.
But for professional luthiers or guitar techs, you'll want to invest in a higher quality set to do your paying repair jobs.
Pros
A huge variety of implements to perform many different maintenance tasks

Includes guitar picks and extra bridge pins for musicians on-the-move

Fingerboard protectors prevent damage and scratches while filing frets

Multiple files of different sizes to grind down fret edges or saddle notches

Small, simple multi-spanner wrench for working with a wide range of nut sizes

Screwdriver with adjustable length and easy-change heads

Many tools for a low price



Cons
Tools of medium quality; prone to breaking or falling apart

Only two screwdriver tips; won't work with many different screws

Hobby quality; not suited for professional use

Quality of the files is not consistent
---
High Value for Money –

Complete Guitar Accessories Repair and Maintenance Kit
Convenience
This Tasman & Co. Complete Guitar Accessories Repair and Maintenance Kit comes packed with measuring tools, files, and hex keys to fine-tune your guitar for a perfect custom set up.
Every tool included is solid and reliable, so this is a kit that can last you for years of regular use.
I would call this a perfect guitar tool kit, but it, unfortunately, doesn't come with any screwdrivers or wrenches. As such, you're unable to make all the adjustments you'd need with just this kit alone. However, if you buy the few extra accessories you need for all your screws and nuts, you'll wind up with a super useful assortment of guitar maintenance products.
Quality
The real selling point of this kit is its array of measuring devices. You get a set of under-string neck-radius gauges, a set of 32 blade feeler gauges, and a string action ruler to dial in your set up to minute specifications.
This alone makes up for the lack of screwdrivers, which you can find pretty cheap elsewhere to complete your guitar tool collection.
The whole kit comes in a compact, easy-to-store zippered case that lets you take your repair tools wherever you go.
Value for Money
The cost of the measuring tools alone would be about as much as this whole set. Factoring in the files, hex keys, and other accessories, this guitar tool kit is a bargain.
Falling somewhere between strict-hobbyist and professional-grade tools, I'd say this is one of the best cost/value guitar tool kits on the market.
Pros
Comes with almost every measuring device you need to completely set up a guitar

Quality steel tools hold up to climate-induced corrosion

A variety of sanding, grinding, and filing implements

Fingerboard protectors to save your neck while you file frets

Includes replacement bridge pins

String cutter doubles as a bridge pin puller

Includes lubricant for electric guitar hardware

Very affordable price
Cons
No screwdrivers or wrenches make it an incomplete guitar tool kit

Quality of the files is not consistent
The string cutter should be stronger
---
Includes Best Screwdriver –

Fender Custom Sh

op Guitar Tools
Convenience
For many guitars, this Fender Custom Shop Guitar Tool Kit is going to contain all you need for basic adjustments and maintenance.
It has tools gauged to the most common measurements, so the simple set up of most guitars is possible with just this one handy kit.
I have a special love of multi-purpose tools, so the 4-in-1 screwdriver goes a long way in winning me over with this kit. It saves on space, adds efficiency, and can be used to loosen or tighten many different screw sizes.,Thanks to the 4-in-1 screwdriver, this kit is slim and compact, making it easy to take with you on all your guitar voyages.
Quality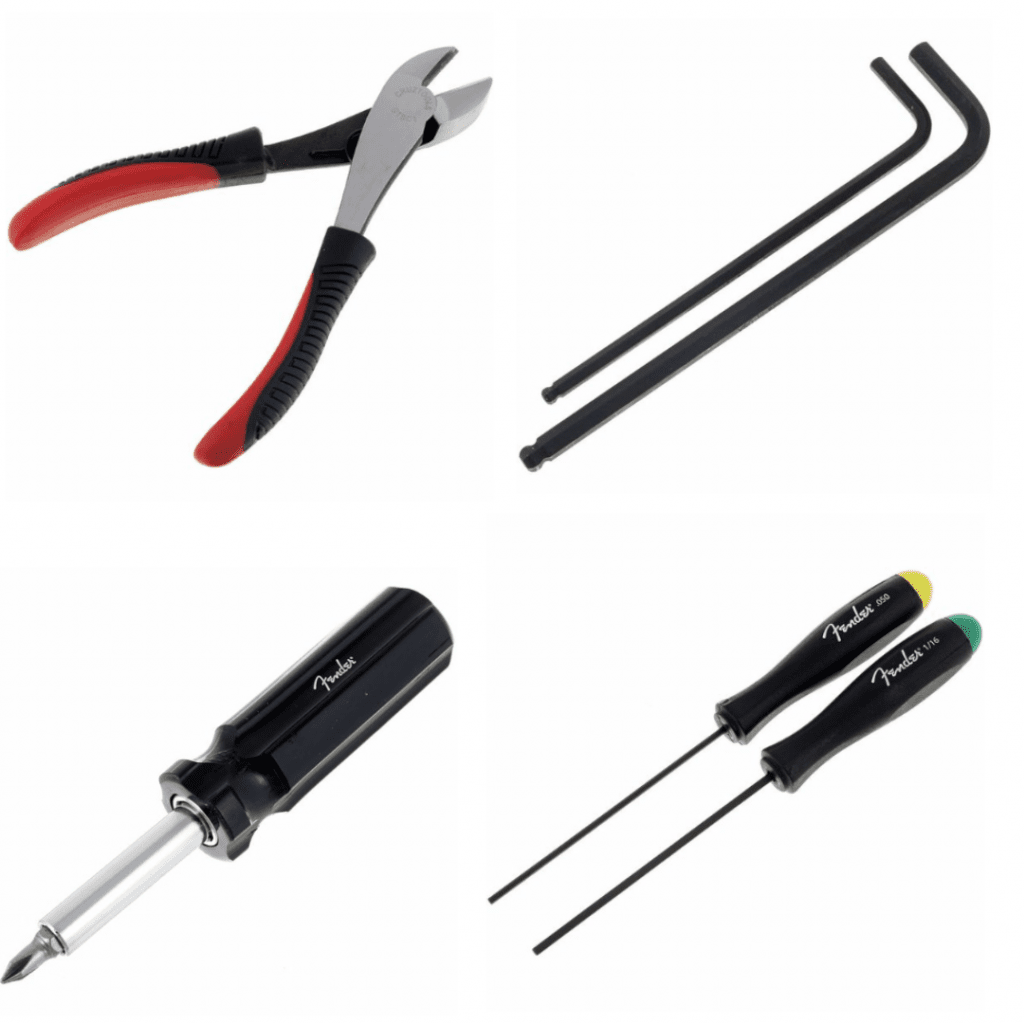 The tools in this kit, though they bear the Fender logo, are actually made by the company GrooveTech Tools. They specialize in musician tools as well as tools for airplane maintenance!
So, you can be sure the pieces included inside this Fender Custom Shop Guitar Tool Kit are high quality and made to last.

That is, except for the capo. It's a rather cheap accessory that falls far short of the quality of clamp capos. Of course, capos aren't the reason to buy a guitar kit, and so we can overlook the downfalls of this piece and consider it a bonus in-case-of-emergency addition.
Value for Money
This kit has a lot going for it, but its price is almost too high to be worth it. As a matter of fact, if you go to a hardware store, you can buy everything in this kit (aside from the Fender logo and traveling case) for much less than the cost of this guitar tool kit.

Factoring in the convenience of having all your tools delivered right to you, I can justify the high price. Just keep in mind that you might find yourself needing another hex key or two to fit all your instruments.
Pros
A convenient assortment of basic tools

Includes a bonus capo

Comes with a set up guide on the back of the ruler

Zippered storage pouch keeps all your tools in one accessible location

4-in-1 screwdriver reduces bulk for easy gig-bag transport
Cons
Only two hex keys won't fit all truss rods or saddle nuts

Capo is of low quality

String winder doesn't accommodate electric bass tuning machines

Expensive; alternate tools can be purchased individually for cheaper
Check Price on:
---
Verdict – What's The Best Guitar Maintenance & Setup Tool Kit
It's hard to choose the best one because the best quality kits don't include everything you need, and kits that include everything you need are lower in quality.
But one thing is for sure, in the market would definitely be room for a high-quality kit that really includes all that you need…
The best overall goes MusicNomad Premium tool kit, it's high quality, and the price ain't too bad. You should note that you have to buy the files separately if you need them.
And this is usually the problem with higher quality tool kits, you have to buy some important tools separately.
To pick the most versatile one, I had a hard time choosing between the TIMESETL 26-piece Guitar Repairing Tool Kit and the Tasman & Co. Complete Guitar Maintenance Kit for my favorite.
All things considered, I'm going to recommend the TIMESETL for the hobbyist. It's by far the most versatile guitar tool kit listed, and it comes at such a low cost that it's hard to turn down and the quality ain't bad for the price. But it should be noted that it's made for hobbyists, not for professionals.
Tasman & Co. Complete Guitar Maintenance Kit is a little bit higher in quality, but it doesn't include any screwdrivers or wrenches.
Though its tools are high quality, I'd say the D'Addario Accessories Guitar Tools set is the least useful for most hobby guitarists. If you're strictly an electric guitarist, it's a great set with most things you'll need for basic maintenance. But I think that for the price, it should include more.
When I buy a guitar tool kit for this price, I want it to cover all my guitars, acoustics, and bass included. If you have the money, you probably won't regret buying it, but again, you have to buy some additional tools to complete your tool kit.
And to wrap all this up, the Fender Custom Shops Tool Kit includes the best screwdriver. Hands-down.
---
Buyer's Guide – How to Choose The Right Guitar Tool Kit For You?
What is a Guitar Tool Kit?
I went years without knowing the benefits of having a guitar tool kit. Now, I always have one on hand.
Guitar tool kits are collections of some of the essential tools you'll need for performing basic guitar maintenance.
Every tool kit is different, but most will include hex keys for adjusting your truss rod, screwdrivers in a range of sizes, and some sort of wrench.
Aside from these basic tools, a great kit will often come with files for grinding down sharp fret edges, feeler gauges for measuring string and pickup height, and a string winder to optimize your string changes.
You can learn everything you need to know about guitar maintenance and repair online, and with a comprehensive guitar tool kit, you can truly become the master of your instrument.
What Makes a Great Guitar Tool Kit?
Guitar tool kits range from the absolute basics of a couple of screwdrivers and hex keys to fully outfitted sets that you can use to do nearly everything a guitar will ever need.
The greatest kit is the one that best accommodates your goals, depending on how much work you trust yourself with doing.
You'll need to ask, "Does the kit have everything I need to perform the maintenance tasks I'm willing to carry out?"
If you're a not-so-confident DIYer, the basic screwdriver and wrench set might be all you need. With regular use, the hardware that holds our guitars together is bound to come loose, and having a simple assortment of screwdrivers to tighten things back up is enough for many players.
Otherwise, if you're in the camp who's willing to take your guitar tech skills to a higher level, you'll want a more extensive collection of tools to work with.
This is where things get interesting. Kits for the more daring contain all sorts of measuring tools, gauges, files, and even protective equipment to prevent damage to your guitar while you work.
It all boils down to getting the right tools for the jobs. Know your limits in both skill and DIY-confidence, and choose accordingly.
What Tools Do I Need to Set Up a Guitar?
If I'd learned to set up my own guitar earlier than I did, I could have saved enough on guitar tech visits to buy a whole other instrument.
Setting up a guitar is, after changing strings, the most basic guitar tech skill I think every guitarist should learn.
A complete guitar set up will require many different tools, and many of the more advanced steps should be left to a tech if your guitar is truly out of whack. However, the basic adjustments needed to make your guitar playable call for just a few tweaks and twists of easy-to-change components.
The tools you need for these tasks depend on how accurate you want your adjustments to be. If you're a perfectionist, you'll want to have a machinist rule for measuring minute distances, a set of feeler gauges, a straight edge for gauging neck relief, and a precision tuner for dialing in your intonation.
I'm more of the "close is good enough" variety of players, so my guitar set ups only require a couple of screwdrivers, an adjustable wrench, and a few hex keys. I usually just eyeball my string height and neck relief and mostly focus on adjusting the truss rod.
Depending on how deep into the process you want to go, other tools can include a belt sander, shim stock, nut files, and various implements for calibrating the electronics.
Learn what taking care of your acoustic guitar means here.
Basic Guitar Tools
Here are the 3 must guitar tools:
Is it Hard to Set Up a Guitar?
The first time setting up your own guitar is probably going to be a bit stressful. Guitars, at least in my opinion, are such marvels of musical engineering that it can feel frightening to alter any aspect of their construction.
But, like with most things, the more you do this the more confident you'll become.
A basic guitar setup is pretty much just a couple of turns of the truss rod and maybe a bit of bridge and pickup adjustment.
These are usually easy tasks unless you have a guitar with concealed nuts, which will require full removal of the neck and should probably be given to an experienced tech.
Outside a truss rod mod, things start to get increasingly more challenging. You should thoroughly study any of these more intrusive steps and make sure you're fully capable of getting things in order before you start sanding down your bridge or re-notching your nut and saddle.
For beginners, start with the basics and move on to more difficult tasks as your familiarity with guitars grows. This guide from Sweetwater details the simplest steps you can take to take to set up your guitar to a fully playable standard.
Here's a nice video tutorial about guitar setup:
Why a Guitar Tool Kit Might Be Right for You?
A guitar tool kit might be right for you if… you own a guitar. In my view, it's as simple as that.
Every guitarist should at least have a few screwdrivers, an adjustable wrench, a string winder, a string cutter, and the hex key or wrench that fits their truss rod.
When your tuning machines become loose or your input jack starts to rattle, there's really no need to pay for guitar repairs when you're fully capable of turning a couple of screws yourself.
At the very least, get yourself these basic tools and you can set a large part of your mind at ease knowing that basic maintenance is at your fingertips.
Check our full How to Clean Your Guitar guide here.
---
Conclusion
I think a minimal working knowledge of instrument maintenance is just about as important as knowing proper playing posture, so I hope you feel inspired to learn some new skills.
Study up and grab one of these best guitar tool kits, and you'll add another level of achievement to your musical repertoire.
I hope that this post helped you to pick the right tool kit for you!
I wish you all the best and keep rocking!
---
You might also like:
We are sorry that this post was not useful for you!
Let us improve this post!
Tell us how we can improve this post?