Last Updated on November 23, 2023 by Teemu Suomala
Author: Tommy Tompkins
Playing guitar since 2004. Primarily an acoustic guitarist who plays and writes traditional American folk music, with a background in melodic metal and a solid foundation as a bassist.
Hide The Rambling▲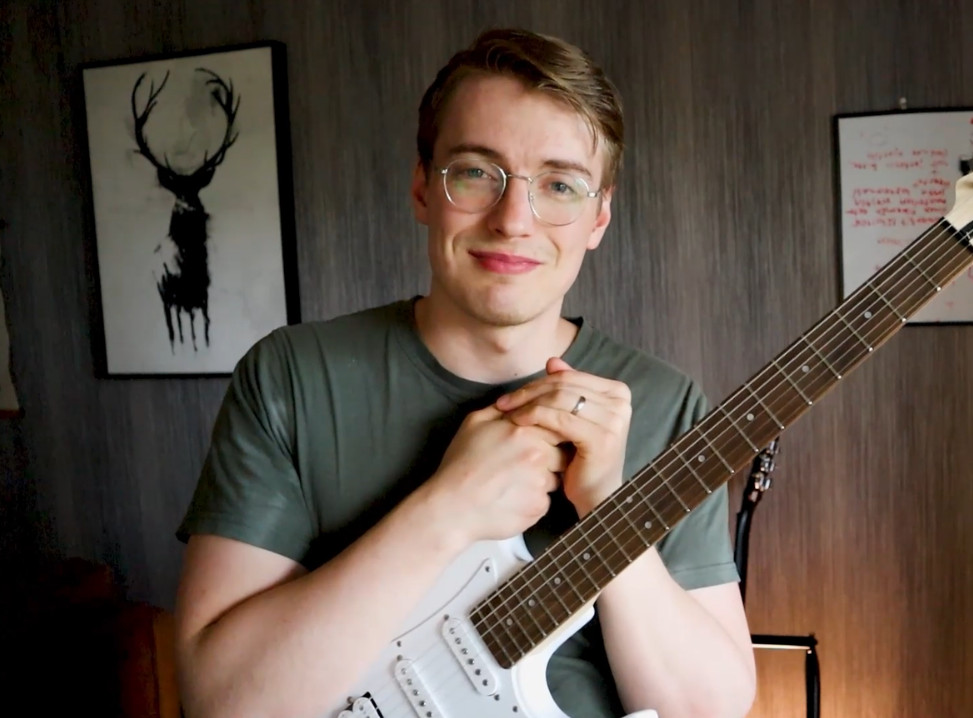 Editing & Research: Teemu Suomala
I first grabbed the guitar in 2009. I started this website in January 2020 because I couldn't do window installation anymore due to my health problems. I love guitars and have played dozens and dozens of different guitars through different amps and pedals over the years, and also, building a website interested me, so I decided to just go for it! I got lucky and managed to get awesome people to help me with my website.
I also got lucky because I have you visiting my website right now. Thank you. I do all this for you guys. If you have any recommendations, tips, or feedback, just leave a comment, I would love to chat with you. I have also been fortunate to produce content for several large guitar websites, such as Songsterr, Musicnotes, GuitarGuitar, and Ultimate Guitar.
I spend my spare time exercising and hanging out with my wife and crazy dog (I guess that went the right way…).
Hide The Rambling▲
---
Best Overall – Gretsch G5420T Electromatic
Sound
Playability
Overall Quality
Value for Money
Summary
My favorite hollow body for 90% of the players out there…

The Tone?

This Electromatic is outfitted with powerful FT-5E Filter'Tron Humbuckers. These kick out a big tone that boosts your bottom end.

Even with this low-end drive, you get a lot of treble definition thanks to the maple body. So the tone is not muddy and you can hear all the notes played clearly.

What about playability?

It's got a Classic C-shaped neck profile that adds to the vintage feel and medium jumbo frets perfect for gripping strong chords.

With the right setup, playing is comfortable, and hitting the right strings and frets is effortless. But because its big size (both neck & body), this Gretsch is not usually the best fit for really small hands.

And the looks…

Just beautiful. Plus there are several color options to choose from! The best hollowbody guitar under $1000.
How G5420T Electromatic sounds:
Check Today's Price on:
*Consider all links in this post to be affiliate links. If you purchase, at no additional cost to you, we may earn a small commission. It helps us to keep the lights on, thanks! 🙂
---
The Next Best:
Runner-Up – PRS SE Hollowbody Standard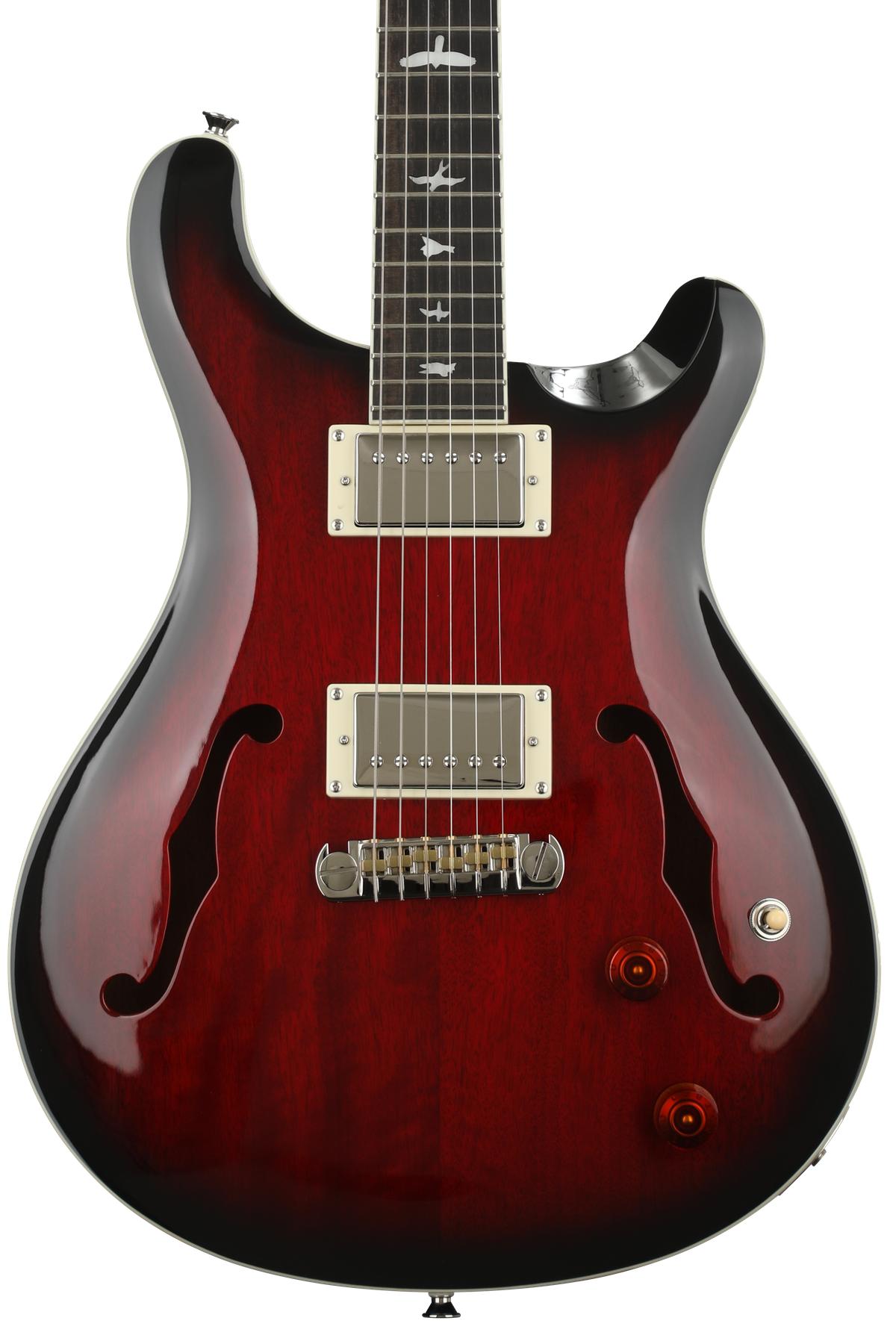 Check Today's Price on
---
---
Summary
It's a PRS SE, and it has the quality you would expect from one.
It can't beat up Original PRS's, but for the price, it's a great pick.
It's one of the best options if you are looking for a:
chunky body and neck,
smooth playability
full and warm tones.
One of the top hollow bodies out there!
Best for Unique Tone – Godin 5th Avenue CW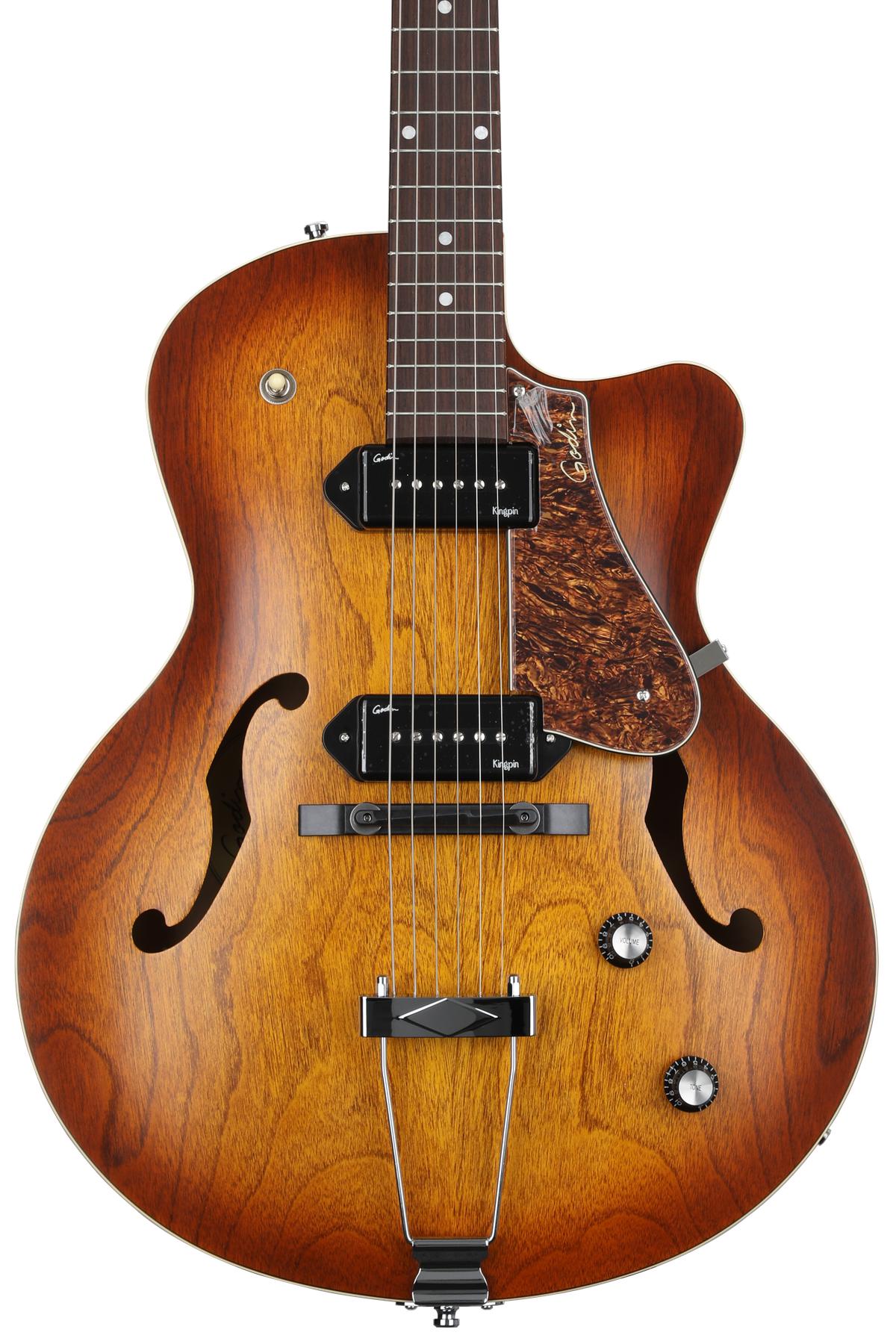 Check Today's Price on
---
---
Summary
Unique.
A mix of Cherry-body and P90 pickups gives us something that is unique.
If you are looking for a regular-sounding hollow body, this is not the best pick.
But if you are after a little bit brighter tone plus a wide neck(1.72"), this Godin is a great option.
…it looks beautiful for sure!
Best Budget – Ibanez Artcore Expressionist AG95QA
Check Today's Price on
---
---
Summary
One of my favorite hollow body models.
It's versatile, sounds good, and fun to play, but it's just a little bit cheap in some of the finer construction details (plastic nut for example).
Plus, plate-covered humbuckers give this axe solid sound with distortion.
If you would rather go well under $1000, this is my favorite pick!
Best for Vintage Experience- Gretsch G100CE Synchromatic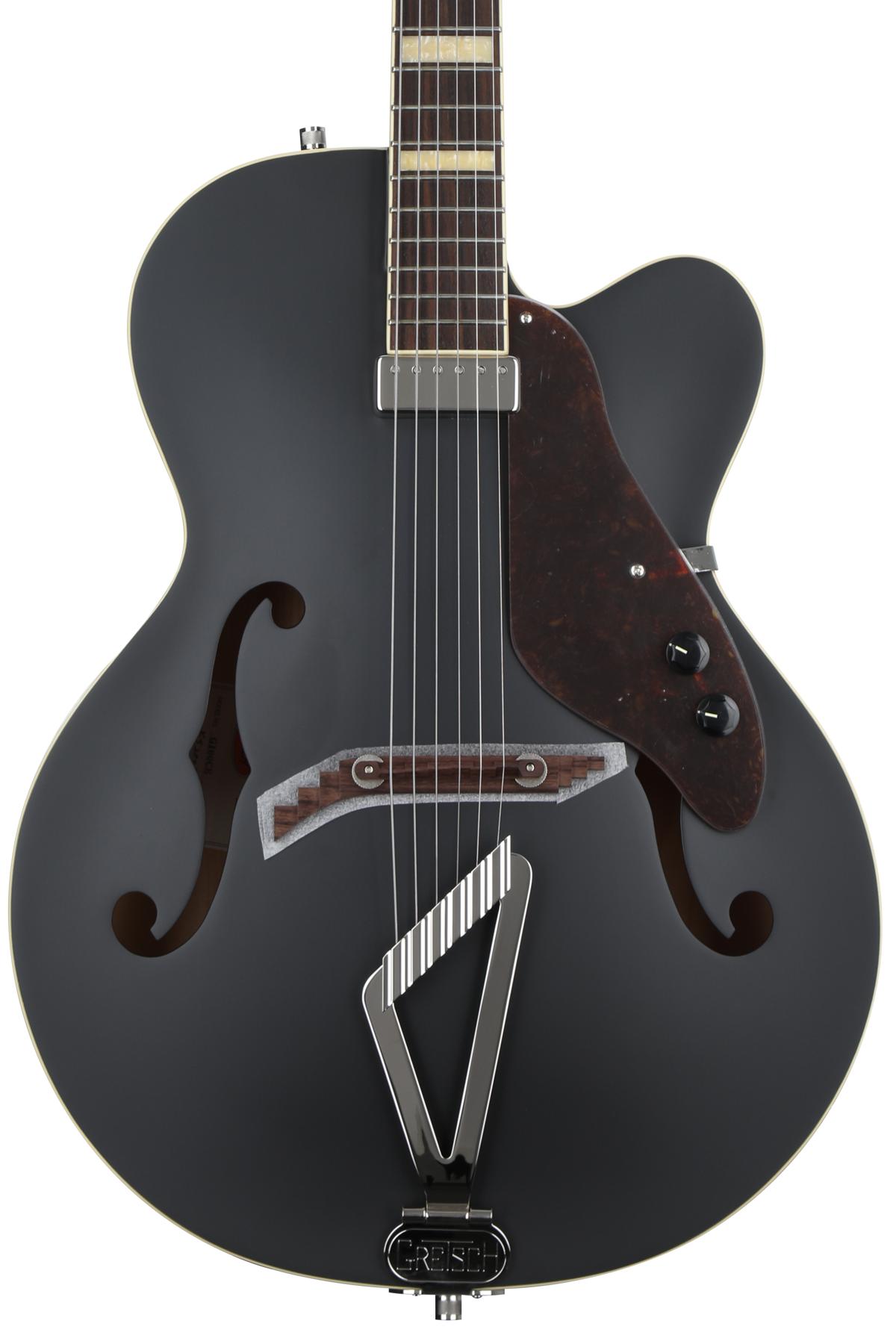 Check Today's Price on
---
---
Summary
This gives you the closest experience you can get to old-timey hollow body musicianship.
Not modern, but looks amazing.
Not the most versatile, but offers great crisp tones for blues and jazz.
There is no way that this could be "The Best Overall" for me…
But I still like it A LOT, and it might be an awesome pick for some players.
Here's A Decision Tree to Help You Out:
---
Choosing a hollow body guitar for just under $1000 will get you a great axe to conquer the world of blues, jazz, and classic rock.
With a great hollow body, you can really bring your soulful riffs and licks to life. And these instruments are chunky-sounding, full-bodied music makers. Let's first look at these great hollowbody guitars, and at the end of this post, you'll find a buyer's guide that helps you to make the right choice.
---
Here are a couple of comparison graphs that I made for you, hopefully this helps!
Specs:
Gretsch G5420T Electromatic
PRS SE Hollowbody Standard
Godin 5th Avenue CW
Ibanez AG95QA
Gretsch G100CE
Nut Width
1.687″ (42.86mm)
1.69″ (43mm)
1.72″ (43.688mm)
1.69″ (43mm)
1.6875″ (42.86mm)
Neck Shape
Standard "U"
Wide-Fat
Kingpin
AG Expressionist
–
Fretboard Radius
12″
10″
16″
12″
12″
Frets
22 Medium Jumbo
22 Medium Jumbo
21
22 Medium
22 Medium Jumbo
Nut Material
Graph Tech NuBone
Bone
Graphtech Tusq
Plastic Nut
Synthetic Bone
Scale-Length
24.6″
25″
24.84″
24.72″
25.5″
Neck Finish
Gloss Urethane
Gloss
–
Gloss
Matte Urethane
Pickups
2 * Black Top FilterTron
58/15 "S" Bass
58/15 "S" Treble
2 Godin Kingpin P90s
Super 58 (H) neck pickup & Super 58 (H) bridge pickup
1 Mini-Humbucker
Tones That The Pickups of These Guitars Offer (In My Opinion)
With hollow-body guitars, tonewoods are a much bigger factor than with solid body guitar, that's for sure. I would pay attention to the tonewoods:
Gretsch G5420T Electromatic
PRS SE Hollowbody Standard
Ibanez Artcore Expressionist AG95QA
Gretsch G100CE Synchromatic
Learn more about electric guitar tonewoods here.
Our Favorite Music Store in The World!
Why?
– Excellent Customer Service (4.7/5 Trustpilot Score)
– Fast & Free Shipping
– Gear is Inspected, Tested, & Ready to Play When it Arrives to You (We love this)
– Fair Prices
Visit Sweetwater:
---
Our top 5 picks
Best Overall – Gretsch Guitars G5420T Electromatic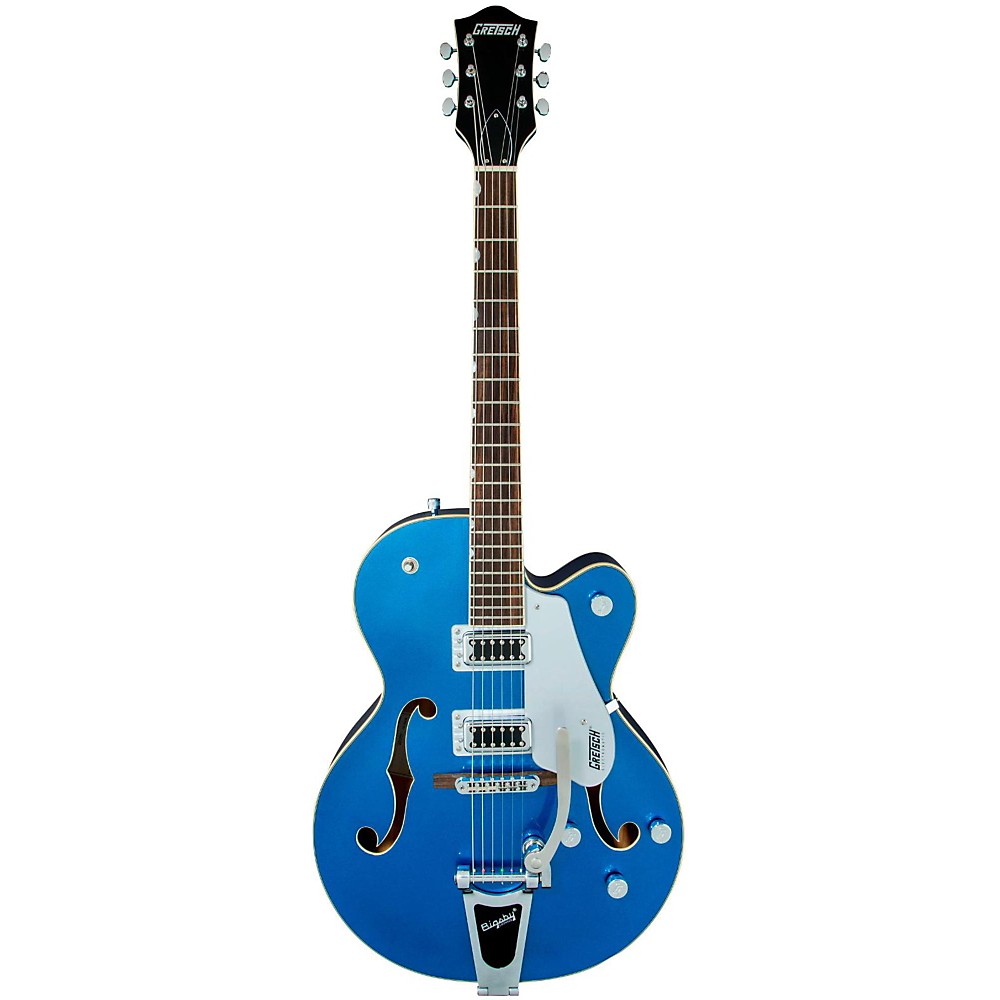 Sound
It's how you would expect a hollow body guitar and a Gretsch guitar to sound. Excellent.
The G5420T Electromatic is outfitted with powerful FT-5E Filter'Tron Humbuckers. These kick out big tone that boosts your bottom end.
Tones are:
And even with this low-end drive, you get a lot of treble definition thanks to the maple body. So the tones are not muddy or too warm.
It's an all-around smooth-sounding hollow body that takes you back in time to the first days of the electric guitar.
This Gretsch uses an all-new trestle block bracing method. I personally think this doesn't add much to the overall sound, but I have to test more guitars head-to-head more to form a better opinion.
Here's how the Electromatic sounds:
Playability
This is a pretty big hollow body guitar with a 24.6-inch scale length. Because of the large body, it might not be ideal for all small players. But, if you think you can manage the size, the rest of the build is perfectly playable.
It's got a classic C-shaped neck profile that adds to the vintage feel and medium jumbo frets perfect for gripping strong chords.
When the setup is spot-on, this guitar plays like over $1000 hollow body guitar.
The neck of the G5420T is finished with gloss urethane. If you've got sweaty hands, this can feel a bit sticky at times, but overall neck feels really smooth.
When I have played this guitar, the Adjusto-Matic- bridge has been really comfortable for my pick-hand positioning. With both pick and without the pick. You can focus on playing, not on "where to lay your pick-hand".

Teemu Suomala – Editor (has played this guitar several times)
Quality
In most ways, this is a near-perfect hollow body for the price. If you're looking for an old-timey playing experience, you can't do much better than a Gretsch.
Body build quality is great, along with the construction of most other parts.
The only minor issue I have with this model is its tuning machines. They're not awful, but when you're paying this much for a hollow body guitar I think you could expect better. They are generally stable but might wear out after some time.
Summary
Pros
Cons

Vintage build for historic playing experience

Susceptible to feedback

(tho most of the hollow-bodies are)

Bigsby vibrato tailpiece so you can personalize your riffs

You can get better tuners

Maple body adds snap to the tone

Gloss-finish of the neck is not ideal for sweaty hands

FilterTron pickups deliver powerful tones

Adjusto-Matic- bridge is really comfortable for picking-hand positioning
Comfortable playability. If the setup is made right, playing is really effortless.
Gretsch guitars were one of the first big names in the hollow-body guitars scene. They've carried their legacy well and continue to make great semi-acoustics with 1930's looks and sound.
Of all Gretsch models, the G5420T Electromatic ranks at the top of their lower-cost hollow bodies. One of the greatest hollowbody guitars out there.
Check Price on:
---
Runner-Up – PRS SE Hollowbody Standard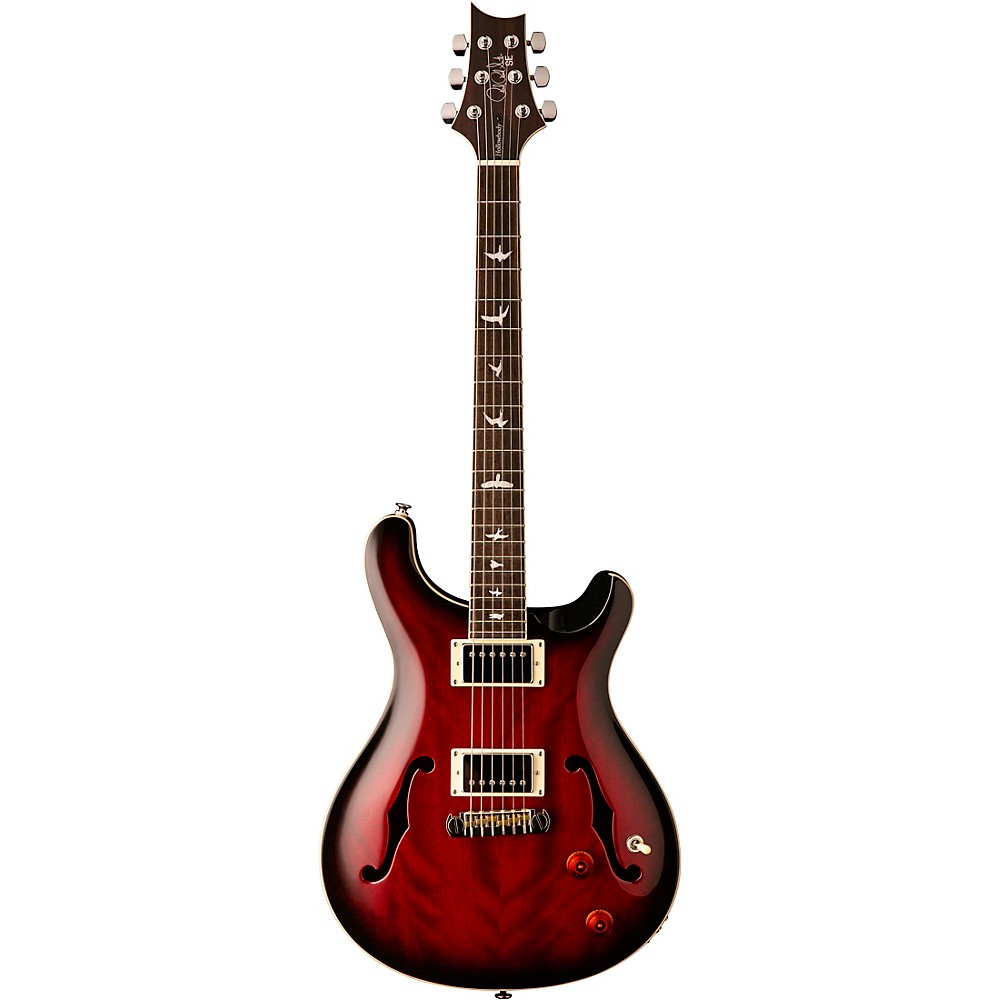 PRS Se Hollowbody standard combines the magic of the PRS guitars and hollow-body axes together. Result?
Something unique and amazing in my opinion. But this hollow body guitar is still not the best for everyone…So let's find out if it's the right hollow-body for you!
Sound
The PRS uses versatile pickup configuration with this axe:
Treble Pickup 58/15 "S", great for both leads and riffs
Bass Pickup58/15 "S", great for fingerpicking and riffing
"S" stands for student (SE for Student Edition).
Do these pups sound any good?
This SE Hollowbody Standard has a nice mellow and warm sound that I personally love. The combination produces beautifully deep basses (low end) with clear trebles (high-end).
It's not the brightest guitar out there, which is great for those of us who are looking for something more gentle.
What do the tonewoods bring into the mix?
The PRS SE Hollowbody Standard is made with mahogany, it provides warm and thick tones. But still, the guitar doesn't sound muddy or fuzzy. Clarity is great with this guitar.
Also, this guitar is really loud unplugged!
Playability
You get:
Wide-Fat neck shape
1.69" nut width
Ebony fretboard
22 medium frets
The neck is chunky. Again, not the best for small hands. But with a chunky neck, I especially like the control that I can have over the guitar.
It is not as fast as the wide-thin neck shape of many PRS guitars, but the control and the firm grip are what this neck offers.
The string spacing measured from the bridge is the standard 52mm=2.16inches. Fingerpicking is not made easier for you with wider-string spacing, but I would not expect any huge issues when using fingers with this guitar.
With the right setup and jumbo frets, playing can be really effortless and smooth. Fast shifts and hitting frets all over the fingerboard are everyday life with these features.
One thing that should be mentioned: the body of this guitar is deep, and it can feel too big for small-framed person.
Quality and Value for the Money
The PRS SE Hollowbody Standard is not cheap, but it does offer great value. The guitar has been built with quality that you can feel as soon as you pick one up.
PRS's own bridge that comes with this is something that I value. It's durable and when I have layed my hands over a guitar with this kind of bridge, playing has been easy(especially palm muting).
And for me, tuning stability is nothing to worry about with this guitar(or PRS's in general). You can get better tuners if you spend more, but these are by no means bad.
Summary
| Pros | Cons |
| --- | --- |
| Warm and full tones | If you want bright tones, not the best option |
| Really good with blues, country, and classic rock | Big body and chunky neck not suitable for everyone |
| Good grip and control because of chunky wide-fat neck | Setup is sometimes poor out of the box(easy to fix tho) |
| Medium frets and comfortable neck make playing really effortless with the right setup | You can get better tuners for this price |
| Build and finish quality are spot-on | |
| Stable and durable PRS bridge | |
| Great Value for Money | |
It's a PRS SE, and it has the quality you would expect from one.
It can't beat up Original PRS's, but for the price, it's a great pick.
It's one of the best options if you are looking for a chunky body and neck, but also want smooth playability and full tones.
Check Price on:
---
Best for Unique Tone- Godin 5th Avenue CW Electric Guitar (Kingpin II, Cognac Burst)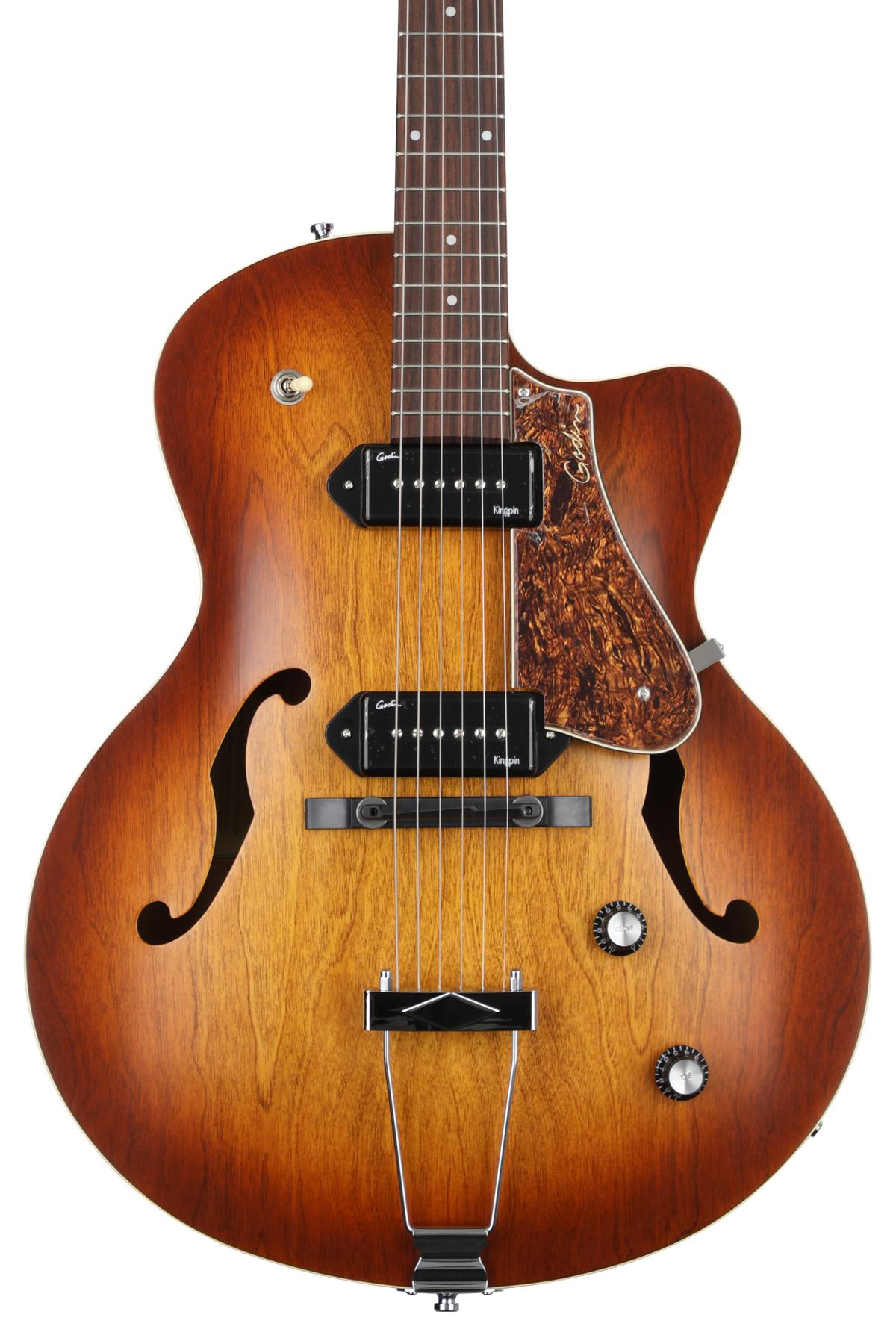 Sound
The wild cherry body of the Godin 5th Avenue CW Kingpin II gives you a unique tone I've heard nowhere else. It's creamy and smooth but has a certain bite in the mid-range that hits harder than expected.
Its maple neck adds snap to the tone that's rounded out just the right amount by the rosewood fingerboard.
A shame to me is their choice of P90's single-coil pickups. In my opinion, hollow bodies absolutely need humbuckers to keep the feedback down.
With the single coils, yes, you get a crispier tone that's great for blues and jazz. But, with even a bit of distortion, you start to hear feedback squeals.
But this axe doesn't sound bad at all, I just prefer hollow-body guitars with humbuckers…I wanted to share this axe with you because it has something unique to offer.
Listen to how this guitar sounds:
Playability
With a lightweight build, this is a guitar you could rock with all night long. The smooth-shouldered single-cutaway gives you easier access to the highest frets. So, you can riff all over the neck without much issue in terms of reach.
The neck profile is Godin's signature Kingpin shape. This style has a lot less curve than most neck shapes which can feel odd at first.
The nut width is maybe the worst for small hands and short fingers from all these 5 axes… it's 1.72″ (43.688 mm). So the neck is really wide for electric guitar.
Once you get used to it, it's pretty pleasant to play, but big chords on the wide neck might fatigue your hands a little faster than other electric guitars.
Quality
The strongest point of this hollow body is its build quality.
Godin is one of my favorite guitar brands because of the attention to detail they put into the construction. All of their electric guitars are handmade by a team of talented luthiers. You can be sure nothing is overlooked in putting these axes together.
The frets come finely ground and polished. The necks are perfectly set. All the electronics are solidly soldered, so you have no worry of loose connections.
In addition to these qualities, the wood is select high-grade as well and is responsibly sourced from local forests.
Summary
| Pros | Cons |
| --- | --- |
| Beautiful wild cherry finish | Gives feedback extremely easily |
| Wild cherry body wood gives unique tone | Wide, flat neck profile can be uncomfortable |
| Single coil pickups kick up the treble and give mid-range punch | |
| Handcrafted construction ensures a quality build | |
| Comfortable maple neck | |
While I'd love this guitar a lot more if it had humbuckers, it's designed to be as snappy and crystalline as can be. I'm a big fan of Godin and believe they know what they're doing. So, the single-coil pickups get a pass.
As long as you're playing mostly clean and crunch genres, this is a top-notch hollow body you should check out.
Check Price on:
---
Best Budget (and for Distorted Genres) – Ibanez Artcore Expressionist AG95QA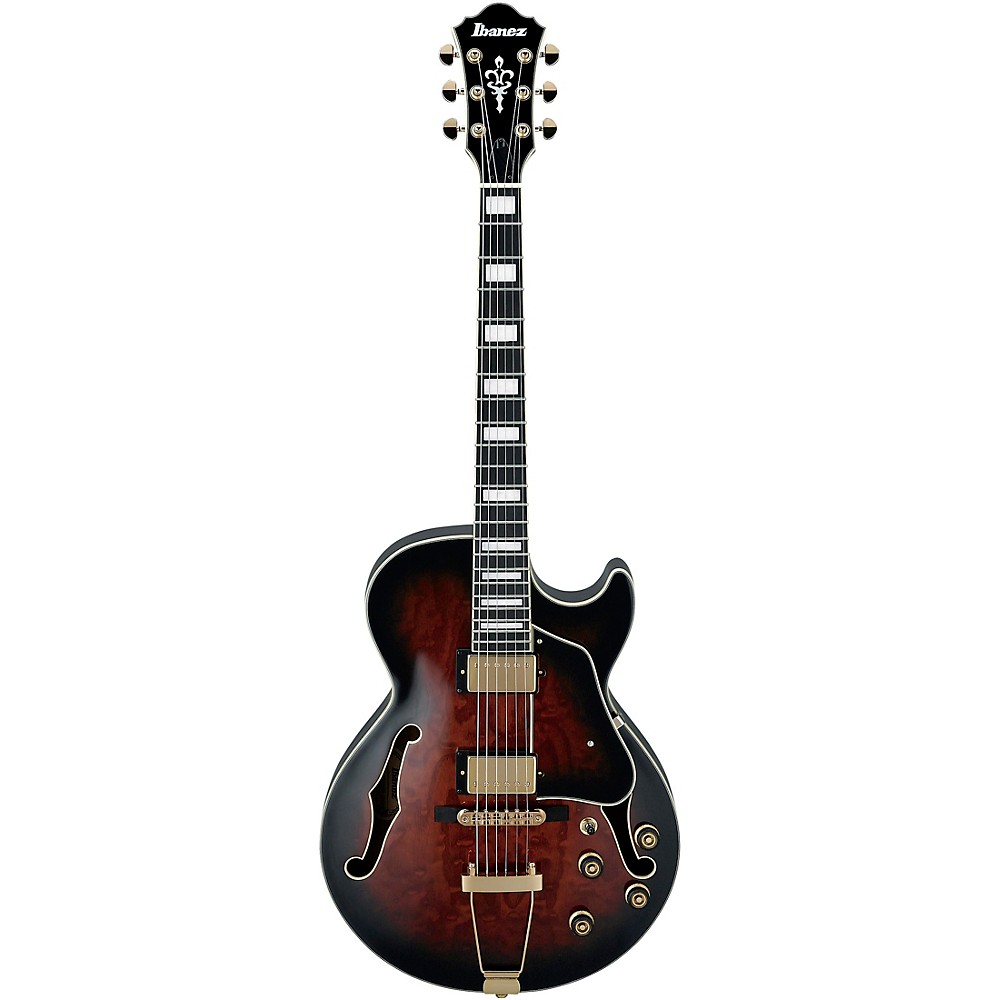 Sound
The tone of the Ibanez Artcore Expressionist AG95QA reminds me more of regular electric guitar than the other hollow bodies here. Since Ibanez is known for their electric models, this is really no surprise.
They use quilted ash in the body of this axe, which not only looks amazing but sounds great too. The tone of ash gives you the perfect blend between warmth and brightness.
A maple neck and ebony fretboard serve to kick up the articulation, so each note comes crisp and clear.
All of this is transmitted through heavy-duty Super 58 humbuckers. Unlike most hollow body pickups, these are covered, meaning you can add overdrive to your tone without feedback issues. This makes the AG95QA great for a wide range of genres, letting you dive deeper into rock than other semi-acoustics.
Here's how this guitar sounds like:
And a little low-gain sample:
Playability
Ibanez is renowned for their fast-playing necks.
While this hollow body isn't fitted with anything as slim as their trademark Wizard necks, the Expressionist profile is still sleek and comfortable.
The guitar as a whole is comfortable. It's a good deal slimmer and smaller than other hollow bodies.
The bottom bout is reduced in size to fit most players no matter their build. Plus, ash is lightweight so you won't suffer from easy fatigue. You can pull off tapping, arpeggios, and other nifty tricks with no problem.
The ebony fretboard goes a long way in adding to your speed. The moment you hit a note, the sound shines through so your fingers can fly.
The playability(with the budget price) is the biggest strength of this guitar against other hollow-bodies under $1000.
Quality
As far as hollow bodies go, this is on the low-price end. For the most part, it's a decent build, but the main problem is the bridge.
Sometimes the wheels seem hastily assembled and don't turn as they should. This can be a problem in your initial setup and might need to be redone by a guitar tech.
This doesn't always happen, but is one issue you can face with this axe.Another, less important issue is Ibanez's use of cheap plastic for the nut and saddle. Replace these with bone pieces and you'll greatly improve this guitar's overall tone.
Personally, I would do this Nut replacement ASAP to increase sustain and overall tone.
Summary
| Pros | Cons |
| --- | --- |
| Reduced body size for comfortable playing feel | The bridge is low-quality when compared to others on this post |
| Plate-covered humbuckers allow for lots of distortion | Cheap nut and saddle material might need upgrading at some point |
| Slim Expressionist neck profile increases speed and comfort | |
| Individual tone knobs give you a wide range of variable sounds | |
This is the lowest cost option on this list and one of my favorite hollow body models. It's versatile and fun to play, but it's just a little bit cheap in some of the finer construction details.
Check Price on:
---
Best for Vintage Experience- Gretsch G100CE Synchromatic Cutaway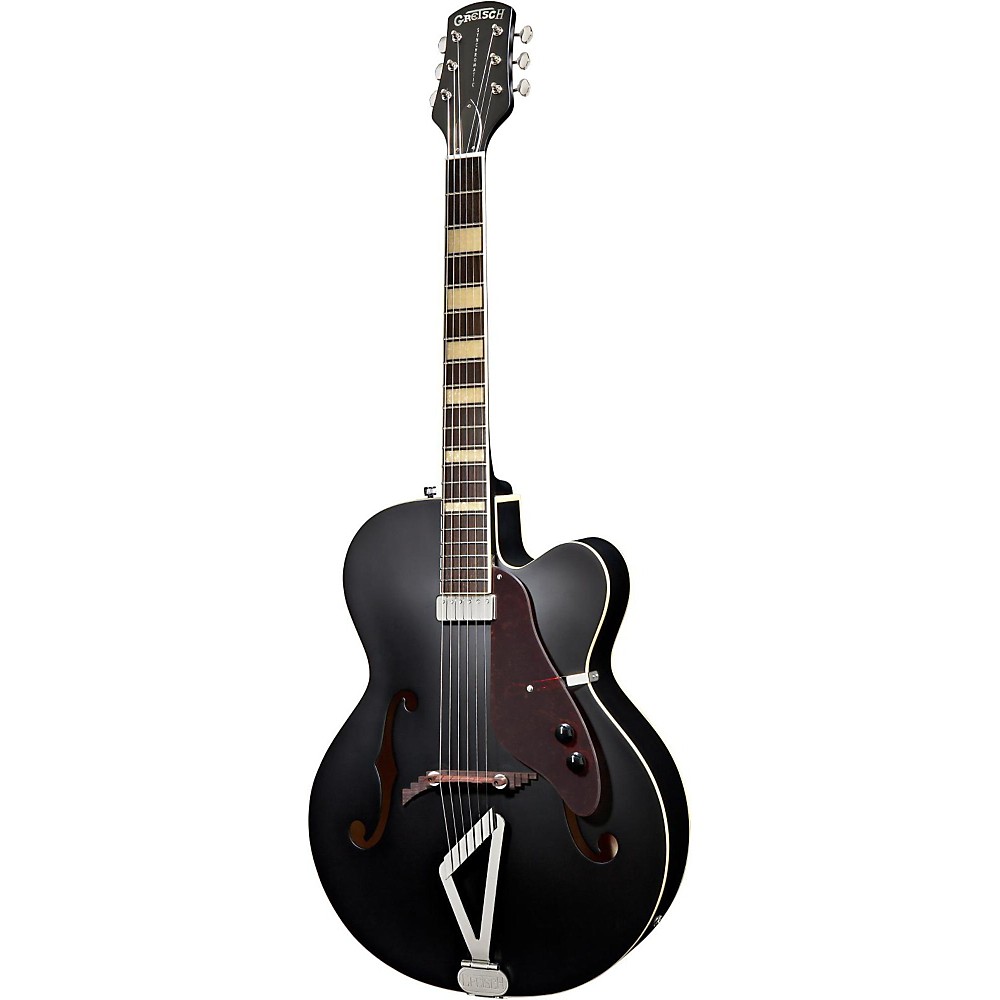 Sound
When you want a stripped-down, mid-20th century jazz tone, you want a hollow body guitar like this Gretsch G100CE.
While its voice isn't exactly my cup of tea, it goes a long way in giving vintage jazz enthusiasts the sweet, sharp sounds of that genre.
Personally, I don't get enough power out of the standalone mini-humbucker pickup to make me happy. But, if you want to experience the tone of 1940's jazz, this is about as close as you can get.
Plate-covered Gretsch single-coil with a plate-cover limit's unwanted feedback a little bit, so some crunch tones go just fine with this Single-coil.
Especially articulate blues and jazz lead sections are meant for this guitar.
The use of maple(laminated body) gives you brightness and even some bite into your tone. Another feature that just shouts "LEAD-sections!" for me. This guitar offers an excellent classic jazz tone overall…sign me in!
For me, this Gretsch is one of the most interesting options when it comes to under $1000 hollow bodies. It's unique, it's vintage and it sounds awesome. Plus, it's one of the best-looking hollow bodies for this price in my opinion!

Teemu Suomala – Editor
Hear how The Synchromatic sounds like:
Playability
The matte finish of this model gives it silky smooth playability. If you can work with the wide and thick neck shape, you'll have a fun time jamming out.
And there is a reason why Gretsch mostly uses medium frets with their hollow bodies…it just works! With the right setup(again), you can make this guitar really effortless to play for you.
With a naturally oily rosewood fingerboard, the response is pleasant. It's a great build if you're looking to reconnect with jazz history.
However, if you want to really shred, you'll probably be better off finding a model with a thinner neck.
Quality
This is on the lower end of Gretsch's guitars. In general build quality, it's all right. The body and neck are firmly joined. The body is high-quality maple laminate and the 3-piece neck holds up to the rigors of performance well.
In terms of hardware, there's nothing to complain about. The tuners are good, the bridge is typical of Gretsch's high quality, and the tailpiece is secure and solid.
The pickup seems to sometimes have been installed without much care. There's a significant amount of static when you turn the knobs. Plus, feedback is still pretty much inevitable with this design.
But 1 thing I would replace is the synthetic bone nut. For me, these have never been any better than plastic nuts. It handles the job for sure, but with an upgrade, the sustain, tone, and how much you have fun playing this improves drastically.
Summary
| Pros | Cons |
| --- | --- |
| True-to-form 1940's design | Maple construction lacks punch with only one pickup |
| Classic style neck, frets, body, and pickup give historical sound and feel | Too chunky for some players |
| Good, crisp tone for jazz and clean blues | |
| Solid quality | |
| Great for blues and jazz leads | |
| Unique | |
I've included this guitar because it gives you the closest experience you can get to old-timey hollow body musicianship. It plays like a true classic, but that's not exactly a perk. The guitar design has come a long way since the 1940s.
Check out the Best Gretsch Guitars and find your dream vintage style guitar.
So, if you want a versatile hollow body, you can do better than this G100CE. But for folks looking for a vintage experience, this guitar is a great choice.
Check Price on:
---
Verdict
Ironically, Gretsch is taking both the winning spot and the losing spot in this review for me.
Gretsch Electromatic models are, in my opinion, one of the best hollowbody guitars on the market. They're fun, classic, versatile, and sound great. The G5420T is, for most applications, an awesome pick.
I'm mostly unimpressed by the G100CE. It's just not for me. If you're looking to hit the studio or the stage, you'll need more tone than it provides. It just lacks versatility. So if you are looking for an all-arounder, I don't recommend G100CE for you. But it's unique and has some nice tones to offer for sure.
All these guitars are still excellent instruments and my absolute favorites on the market. You are probably not going to be disappointed, no matter which one you choose.
---
Runner-Ups That Just Missed The Top 5
---
Buyer's Guide & FAQ
Should You Buy a Hollow Body Guitar?
Hollow body guitars are vintage-style instruments that came to be in the 1930s.
If you're an old soul who craves classic tones, hollow-body guitars can supply you with the antique sound you're seeking. In the Under $1000 price range you'll find an assortment of high-quality axes ready for the stage and studio.
I'd recommend these to any serious-minded musician looking to tap into the roots of blues and jazz music.
However, these pricey guitars might be a bit impractical for beginners. There are good hollow bodies for lower prices that will suit your needs if you're not quite ready to gig.
What Is a Hollow Body Guitar Good For?
These axes have fat, full voices that sing best in older styles of music. Blues and jazz rose to popularity thanks to hollow-body guitars.
You'll notice when you play one that they have a time-honored tone full of warmth and roundness. They're also called semi-acoustics because they combine the best of acoustics and electrics into one instrument.
They're great guitars for softer genres of rock, from pop-rock to the classic rock tones of the 50s and 60s.
Usually, they're equipped with humbucker pickups. This lets them handle a decent amount of gain without screaming with feedback. So, you can crank up the grind a bit for your harder rock jams.
What Are the Benefits of a Hollow Body Guitar?
Hollow body guitars are the first point of middle ground between acoustic and electric axes. You get the warmth and earthiness provided by acoustics combined with the amped-up power of electrics.
Their thick, full voices make them excellent rhythm guitars. Still, they've got enough high-end definition to pull off fantastic blues and country leads.
On top of dirty blues licks, you can play a hollow body completely clean for an equally impressive sound. They work beautifully with effects like chorus or slight reverb for genres like folk and jazz.
Can You Play Hollow Body Guitar Without an Amp?
Yes, you can play it and the sound will be much louder than with solid-body electric guitar. It's loud enough for practicing. But it's usually not loud enough for playing with others or performing
What to Look for in a Hollow Body Guitar?
When you buy any guitar, there's a certain quality checklist you should go through to make sure you're getting an instrument that works for you.
The first thing on this list is pretty obvious. You should definitely look the guitar over for signs of damage. Common damage will be cracks in the wood, scratches or chips in the finish, and poor connections between the neck and body.
After this, you should check the frets for sharp edges and dents. Next, check the tuning machines by detuning and retuning to make sure they hold position and turn easily.
If the frets and tuners are all right, look the neck over for signs of damage and warping. Some neck issues can be easily fixed, but serious curves are something you should pass on.
Those are the easiest things to inspect on your quality checklist. If you want to read more about the full process, this article will walk you through every inspection point.
In a hollow body guitar, you should make sure the electronics don't crackle and pop when you turn the knobs.
Also, make sure it's not too big or heavy for you. These guitars can be pretty bulky, and you want to go home with an instrument that's comfortable to play.
Crank up the gain in small steps and see if you can get the fuzz you want without feedback. Feedback at low volumes will be a sign of poor construction or low-quality pickups.
Finally, play around with it to ensure it has a tone you're happy with. Minor changes can be made with EQ controls on your amp. But, if the overall tone doesn't suit you, wait to find a guitar that does.
---
Conclusion
Hollow body guitars are amazing instruments and these above were the top-notch hollowbody guitars you can find for under 1000 bucks.
I hope that this post helped you to find the right guitar for you. If you have any questions, leave a comment down below, and feel free to share this post too.
I wish you all the best and keep rocking!
---
You might also like:
We are sorry that this post was not useful for you!
Let us improve this post!
Tell us how we can improve this post?