Last Updated on April 28, 2023 by Teemu Suomala
Best Overall – SX Lap 2 Ash NA Electric Lap Steel Guitar
Sound
Playability
Overall Quality
Value for Money
Summary
Utilizing the same tonewoods of many of the most popular Stratocasters and Teles, this six-string SX sings with a bright, beautiful voice.

Ash as the body wood gives you great sustain, and the maple in the neck keeps things shining and crisp.

It's powered by a P-90 style single-coil pickup, the same made famous by Gibson's first electrics. SX's P-90 isn't the highest quality, but it still has a lot of the same spank and bark that the original is renowned for.

Pros
-36 frets for 6 full octaves of range
-Solid swamp ash body and maple fretboard for long, bright sustain
-Includes stable, adjustable legs and a padded carrying case
-Great tone from classic P-90 pickup

Cons
-Lowest leg-height adjustment may be too tall
-Tuners are not very good

Quality legs, gig bag, and build make this the best lap steel guitar for beginners.
How SX Lap 2 Ash NA sounds:
Check Today's Price on:
*Consider all links in this post to be affiliate links. If you purchase, at no additional cost to you, we may earn a small commission. It helps us to keep the lights on, thanks! 🙂
---
The Next Best:
---
The electric lap steel is a fun instrument that anyone can learn to play, although it's not as popular as traditional acoustics or electric guitars.
Pick up a great lap steel guitars for beginners to get on your way to playing the lonely wailing solos of Western, the rocking slide riffs of blues, and the classic island vibes of slack-key Hawaiian music.
Let's first look at these fine lap steels, and at the end of the post, you can find the FAQ section that helps you to make the best choice possible.
Who crafted this article:
Author: Tommy Tompkins
Playing guitar since 2004. Primarily an acoustic guitarist who plays and writes traditional American folk music, with a background in melodic metal and a solid foundation as a bassist.
Hide The Rambling▲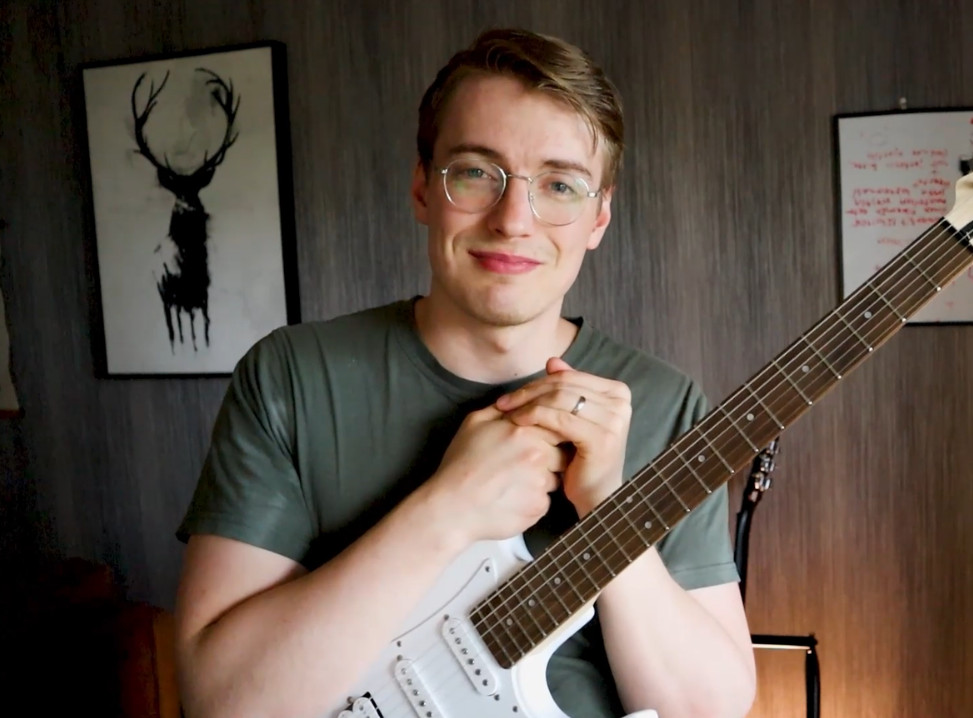 Editing & Research: Teemu Suomala
I first grabbed the guitar in 2009. I started this website in January 2020 because I couldn't do window installation anymore due to my health problems. I love guitars and have played dozens and dozens of different guitars through different amps and pedals over the years, and also, building a website interested me, so I decided to just go for it! I got lucky and managed to get awesome people to help me with my website.
I also got lucky because I have you visiting my website right now. Thank you. I do all this for you guys. If you have any recommendations, tips, or feedback, just leave a comment, I would love to chat with you. I have also been fortunate to produce content for several large guitar websites, such as Songsterr, Musicnotes, GuitarGuitar, and Ultimate Guitar.
I spend my spare time exercising and hanging out with my wife and crazy dog (I guess that went the right way…).
Hide The Rambling▲
Every one of these Lap Steel guitars is here based on extensive research.
---
Our Favorite Music Store in The World!
Why?
– Excellent Customer Service (4.7/5 Trustpilot Score)
– Fast & Free Shipping
– Gear is Inspected, Tested, & Ready to Play When it Arrives to You (We love this)
– Fair Prices
Visit Sweetwater:
Best Lap Steel Guitars for Beginners
Best Overall – SX Lap 2 Ash NA Electric Lap Steel Guitar w/Stand & Bag
The SX Lap 2 is one of the best entry-level electric lap steels around.
Utilizing the same tonewoods of many of the most popular Stratocasters and Teles, this six-string SX sings with a bright, beautiful voice. Ash as the body wood gives you great sustain, and the maple in the neck keeps things shining and crisp.
It's powered by a P-90 style single-coil pickup, the same made famous by Gibson's first electrics. SX's P-90 isn't the highest quality, but it still has a lot of the same spank and bark that the original is renowned for.
Whether you get the dog-ear or the soap bar style pickup seems to vary from shipment to shipment, but either way, you'll get a tone that can send out some serious blues.
With 36 frets, you've got a full 6 octaves of playing field to work with, giving you endless solo opportunities.
Like so many other beginner guitars, the tuning machines of the Lap 2 are not amazing.
But it's such a good lap steel otherwise, I'd recommend just replacing them at some point. In the end, I think that's an investment that will make this guitar much more valuable to you. Some people complain the strings are too loose, but you can remedy this simply by switching to a heavier string gauge.
Its padded gig bag and adjustable legs, along with its great tone, construction, price, and playability, bring the SX Lap 2 Ash solidly into the top spot of beginner lap steels.
Hear how this guitar sounds:
Pros
36 frets for 6 full octaves of range
Solid swamp ash body and maple fretboard for long, bright sustain
Includes stable, adjustable legs and a padded carrying case
Great tone from classic P-90 pickup
Cons
Lowest leg-height adjustment may be too tall
Tuners are not very good
---
Best Budget – Rogue RLS-1 Lap Steel Guitar with Stand and Gig Bag Metallic Blue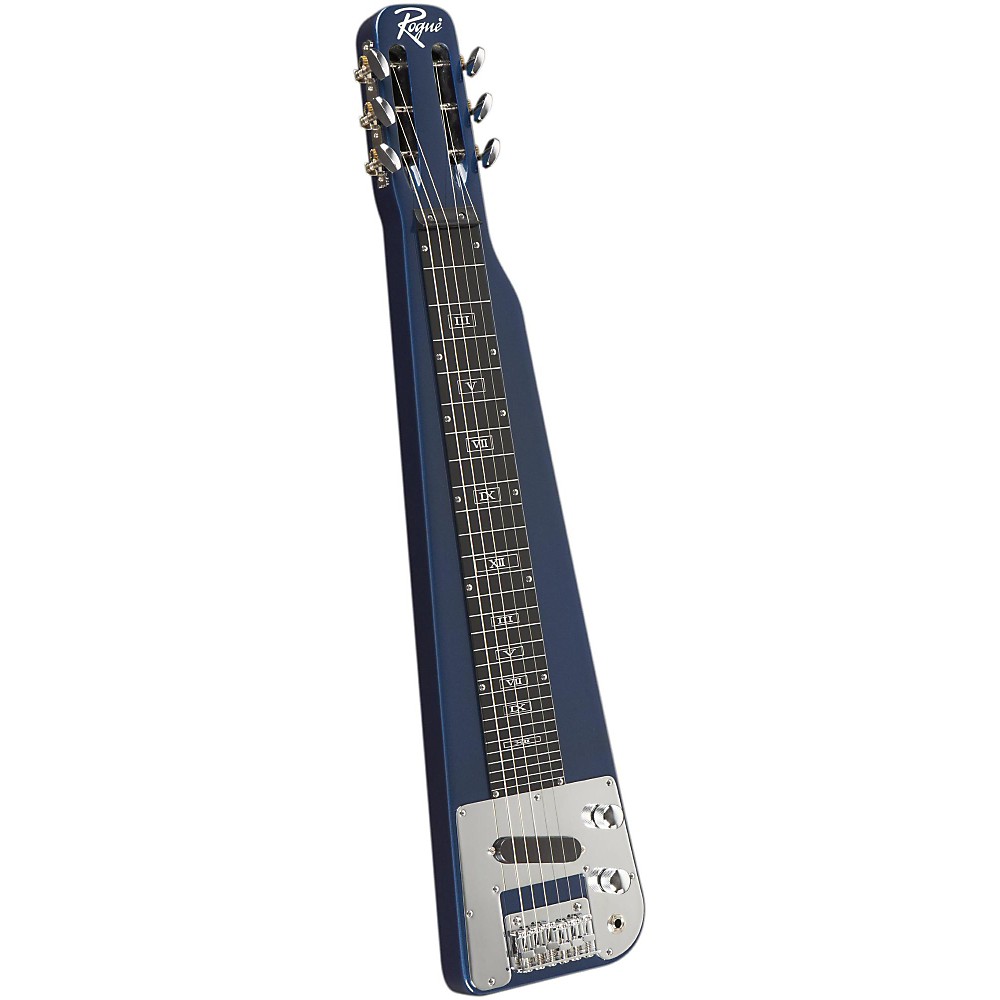 Rogue is among the top of beginner instrument manufacturers, and their RLS-1 is one of my favorite entry-level lap steel guitars.
One of the most affordable options available today, undercutting others by almost 50%.
Exact specs are hard to come by on the RLS-1, but I've done so much writing on Rogue in the past I feel I can give us a pretty good rundown.
Rogue is Musician Friend's in-house brand, and they aim to produce usable instruments at as low a cost as possible.
Typically, their body tonewoods are poplar/basswood or some other lightweight hardwood, and their pickups are either in-house or a generic off-brand. This doesn't sound very promising, but the result is usually better than I'd expect. I've played many Rogue instruments in the past and think they're a great brand for players wanting to learn a new skill.
The RLS-1 combines some generic tonewood with a slanted single-coil pickup to craft a lap steel that delivers a very basic voice. It's not fancy and it's not beautiful, but it gets the job done at a low cost.
The main problem with Rogue's products is the hardware, and the RLS-1 does not escape this issue. You'll find yourself tuning this lap steel more than many others.
All things considered, I think the Rogue lap steel's pros—its balanced tone, hardwood construction, and included gig bag and legs—far outway its few cons.
It's a great value lap steel, available in 3 finish options, that will get any eager beginner going. And if you replace the tuners, this transfers to a pretty solid lap steel.
Hear how this guitar sounds:
Pros
Slanted pickup for balanced tone
Stainless steel pickup lasts against playing wear
Includes gig bag with lots of accessory storage
Cons
Low-quality tuning machines don't hold pitch well
Weak pickup and tonewood make a generally flat tone
Check Price on:
---
Best Tones – Recording King RG-32-SN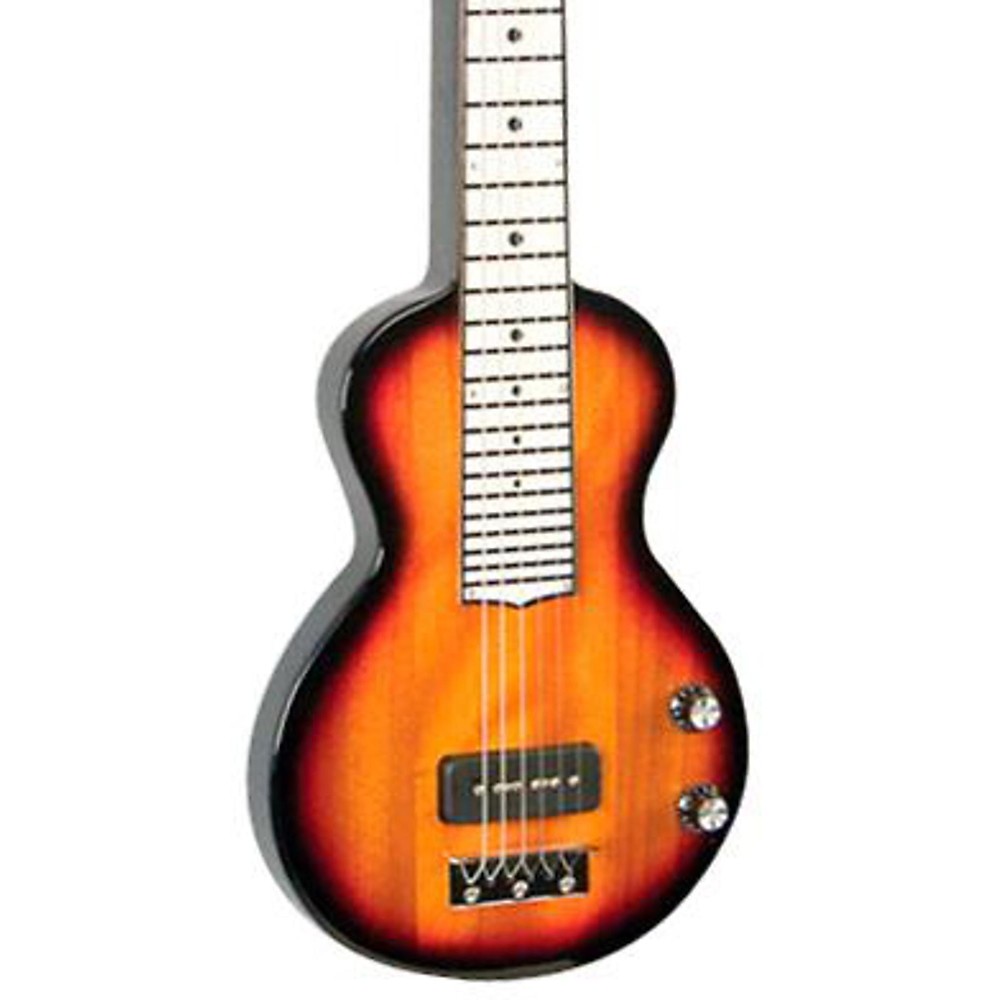 The Recording King Lap Steel is my top recommendation for anyone with professional aspirations.
To be honest, most of the other lap steels on this list aren't going to do very well when it's time to record or rock out in public.
This RG-35-SN is the exception, singing with a thick, sultry voice I think any crowd would fall in love with. It's made with one solid piece of mahogany forming both the body and the neck. This gives you tons of sustain. The tonal qualities of mahogany make this a dark, warm sounding lap steel that holds notes for ages.
A P90 pickup beefs up your voice, adding depth to the bass and clarity to the highs.
Although it's almost twice as much as most beginner lap steel guitars and doesn't come with a stand or bag, Recording King's RG-35-SN Lap Steel is the way to go if you're serious about lap steel and want to go beyond practicing at home.
Hear how this guitar sounds:
Pros
Solid mahogany construction gives rich harmonic tone
P90's manage to add depth to guitar's voice without lack of brightness
Great for the stage and studio
Cons
Electronics or tone control may ship faulty
Check Price on:
---
Most Affordable – Lap Steel Guitar, 6 Steel String, Metallic Red Polish Body, w/a cable
This lap steel is from the Harmonia brand, not to be confused with the vintage instrument maker, Harmony.
It's a low-cost lap steel that just hits the mark for a great beginner-friendly guitar.
Like many instruments in this price category, the tonewood choice probably varies a lot from guitar to guitar depending on what's available. Most likely, it's basswood or alder. Since it's made of this low-density hardwood, your tone won't be superb, but it will be fairly even throughout. The balanced tone is further guaranteed by the use of a slanted pickup.
This model uses a plastic pickguard and fingerboard, which is quite unusual in my experience. The plastic pickguard will do a good job of protecting the finish from scratches, but the fingerboard is probably going to detract from your tone to some degree.
Harmonia's lap steel isn't my favorite choice, but it is very affordable and does everything a beginner will need.
Pros
Affordable solid-body lap steel with adjustable bridge
Numbered fret markers for easy learning
Makes a good project guitar
Cons
Low-grade hardware and construction
No stand or gig bag included
---
Best 8 String – SX LAP 8 NAT 8 String Lap Steel Guitar w/Free Detachable Stand & Bag
SX's Lap 8 is my top choice for beginners' 8-string electric lap steel guitar. Combining quality tonewoods with a biting P-90 pickup, you can snarl out the blues or sing out sweet island melodies with this lap steel.
Like the 6-string SX Lap Ash, the Lap 8 Nat 8 String is made from an ash body and maple neck. These are both bright-sounding tonewoods commonly used in jazz or blues guitars and give a lot of sustain. Ash guitars tend to have an open, transparent tone, opening this lap steel up for beautiful swells and emotional solos.
With 8 strings, you've got a huge variety of alternate tunings to choose from and can play in many different styles. 36 frets give you a colossal range you'll never tire of exploring.
The SX Lap 8's major downfall is the pole pieces of the P-90 pickup…
Pole pieces are the metal bars that transmit the electromagnetic field to your strings.
In the Lap 8, they're terribly misaligned with the strings. The closer to the bass strings you get, the weaker the signal becomes because of the pole piece spacing.
You could fix this by replacing or moving the pickup, but I don't know if that would be entirely worth the cost.
For practice and learning purposes, this isn't a huge problem, but in my opinion, it eliminates this lap steel for any performance purposes.
Regardless of its pickup problems, the SX Lap 8 Nat is a great learner instrument, especially if you're up to the challenge of an 8-string electric lap steel.
Pros
All the perks of the SX Lap Ash with an extra 2 strings
Quality tonewoods for a crisp sound
Better tuning machines than the usual entry-level guitar
Cons
Pickup pole pieces do not align with strings
---
The Final Verdict
I've got to place the Harmonia Lap Steel in the bottom slot. It's got the same quality build as Rogues RLS-1, but it costs the same amount while lacking a stand or bag. This isn't a bad lap steel, but for the same price, you can do better.
Although my favorite lap steel tone-wise is the Recording King, I think you get the best value from the SX Lap 2 Ash. Its quality legs, gig bag, and build make it the premier lap steel guitar for beginners. A great instrument to get started with!
---
Buyer's Guide – FAQ
Is Lap Steel Guitar Easy to Learn?
This is a question that I think is always dependent on YOU.
Learning anything is basically the same process of practice, practice, practice, etc. Lap steel is no different. It might not be easy exactly, but it's only as hard as you make it.
I don't think that lap steel is inherently more difficult to play than any other instrument, but its lack of popularity makes it an intimidating instrument. If you set your mind to it and have the time and patience and time to practice, anyone can learn the lap steel. This same applies to any other instrument.
To take a look at basic lap steel techniques, check out this great guide to the fundamentals.
If you're a guitar player already, you might think it will be a smooth transition from one instrument to the other, but there are many differences in technique that, in my opinion, make the lap steel almost an entirely different instrument from electric or acoustic guitars.
For instance, you don't exactly "fret" chords on a lap steel, but rather use a slide or tone bar to play notes while muting the undesired strings.
The playing position is obviously different since the lap steel sits flat with the strings facing up. This completely changes your playing perspective. Plus, things get even more complicated when you work with the not-unusual 8- and 10-string steels, or even more on to double-necked or triple-necked console steels!
And, whereas the most common tuning for acoustics and electrics is E-standard, lap steel uses a big variety of different open tunings. They change depending on which genre you want to play, but most beginners start out with E7 (E – D – E – G# – B – E).
Basically, lap steel is its own thing. It's no harder to learn to play than any other instrument if you're willing to put in the work.
What Do You Need to Start Playing a Lap Steel Guitar?
The most basic piece of equipment you'll need to get started with playing lap steel is a tonebar.
This is also called a slide, a steel, or simply a bar. It's the fundamental tool for playing the lap steel, giving your notes that crying glissando sound.
There are many types of slides, from straight steel bars to glass cylinders.
For beginners, I'd recommend something like the Alnicov Stainless Steel Tone Bar or the Ernie Ball Steel Guitar Bar.
The second accessory you'll want to find is a set of picks. Traditionally, lap steel is played using a plastic thumb pick and metal fingerpicks.
You don't have to use picks—your fingertips can work just as well—but it's good to have a set around to practice with so that you keep your technique broad.
Whole sets of picks for lap steel guitars range in quality, from the top tier packs like these Nationals to bulk economy sets like this multi-set.
Those two things—picks and a bar—are all you need to start learning the most basic lap steel techniques. But you'll need an amp, a volume pedal, and some instrument cables if you want to explore the full potential of this instrument. This is where things start to get more costly.
Of course, if you already have an amp for an electric guitar, you're pretty much good to go.
All you'll need to add to the mix is a volume pedal like the Goodrich 120 or a budget option like this Quick-Lok.
If you don't have an amp, take a look at some of our recommendations. We've reviewed lots of great affordable amps if you want to keep costs low, as well as top-rated small tube amps if you really wanna wail.
The last thing you might want to pick up is a case or bag.
I would say some kind of bag or case is necessary for the long-term protection of your instrument. Because of the wide variety of shapes of lap steels, your best option is either to get a universal case or buy one specifically made for your type of guitar.
How to Pick the Right Lap Steel Guitar for You
When you're starting out on lap steel, I might say that less is more.
That's why we're looking at a specific type of guitar today, the electric lap steel. This is 1 of 3 main types of lap steel guitars that you have to choose from:
Acoustic lap steels- these look like traditional acoustics
Resonator/Dobro lap steels- they feature large aluminum cones used to increase the volume
Electric lap steels- usually solid-bodied, these use pickups for amplification
Electric lap steels are versatile and can be used in a wide range of genres. They're easy and comfortable to play thanks to their shallow bodies and the ability to be used with a stand. Even in the electric lap steel category, there are many different types of guitar to choose from, with changes in string number, pickup configuration, body shape, wood type, and more.
The best thing you can do to pick the right lap steel guitar for you is to play a variety of these guitars at your local music store. It's always great to know if you like the way an instrument feels and sounds in person before pulling the trigger on a purchase.
That's not always feasible though, and the next best thing to do is to listen to recordings of your considerations. Try to hear as many different players and styles as you can for each type of lap steel you want to buy. Plus watch sound demos on Youtube!
Take note of what you like about each guitar, paying attention to the type of wood it's made of, the body type, and whether it has a single-coil or a humbucker pickup.
Generally speaking, you'll get a brighter, chimier tone from single-coil pickups and guitars made of maple or ash. On the other hand, humbuckers and woods like mahogany will give you a thicker, warmer, darker sound. You should also ask yourself how many strings you want.
If you're a brand new musician, 6 strings is a great starting point.
There are some good options with 8 strings, so if you've got a bit of experience already or are just up for a challenge, there's nothing holding you back from expanding your lap steel's range.
What Makes a Great Lap Steel Guitar for Beginners?
You'll find a lot of benefits in these beginner lap steel guitars, like their accessible playability, their dependable construction, and their affordability.
These lap steels have clearly marked frets—some even with numbers—so that you can hit each note with accuracy.
Many entry-level lap steel guitars come with legs or stands and even gig bags. You'll still have to get an amp and cable, but that's half your gear taken care of already!
Although you'll be hard-pressed to get pro-quality sound out of beginner instruments, they provide all the tone you need to learn the lap steel.
Best of all, beginner lap steels are often surprisingly affordable! You don't need a $5000 Gibson frying pan to start learning the revered licks of Hawaiian and Western classics.
---
Conclusion on Best Lap Steel Guitars for Beginners
Whether you're looking to play the crying solos of Western or the joyful slide tunes of Hawaiian music or something else entirely, any one of these guitars is a great starting point on the road to lap steel mastery.
The best lap steel guitar for beginners is the one that gets you playing, so pick the guitar that calls out to you and start learning all those lovely riffs and licks!
If you have any questions, just leave a comment down below. Keep rocking!
You might also like:
We are sorry that this post was not useful for you!
Let us improve this post!
Tell us how we can improve this post?