Last Updated on August 17, 2023 by Justin Thomas
Best Overall – Martin Road Series D-10E
Sound
Playability
Overall Quality
Value For Money
Summary
It is an excellent guitar for someone looking to add a high-quality, affordable Martin to their arsenal.

Pros:
-Tough, solid construction holds up to life on the road
-Onboard Fishman electronics add versatility for the working musician
-Quality woods provide an amazing tone for the price
-Playability is right up there with higher-end Martins

Cons
-Lacks an onboard tuner
-Could use a couple of upgrades to make it more professional (a real bone saddle and nut, wooden bridge pins)
-The "select tonewood" neck implies that it could be made of any type of wood and may possibly cause tonal inconsistencies from guitar to guitar.

Quality tonewoods provide an amazing tone for the price. Tough, solid construction holds up to life on the road. Also, the playability is right up there with higher-end Martins!
How Martin D-10E Road Series sounds:
Check Today's Price on
*Consider all links in this post to be affiliate links. If you purchase, at no additional cost to you, we may earn a small commission. It helps us to keep the lights on, thanks! 🙂
---
The Next Best:
Compare Key Specs of The Top 5:
Are you wanting a Martin guitar but the price tag terrifies you? And you afraid that you're going to get a low-quality instrument if you buy one of their more affordable models? It's wise to be careful when buying a new instrument…
On this post, we'll look at our choices for the best Martin guitars best under 1000. You'll also learn why some Martins are good. For starters, I can reveal that due to my experience, affordable models of Martin are not bad by any means.
For our choices for the best martin guitars overall, check this article.
Martin Guitars have maintained an exceptional reputation for building quality guitars for nearly 200 years. They are a staple in bluegrass and folk music and have helped define how an amazing guitar should sound.
But here's the deal…
They aren't just for bluegrass anymore. Nowadays Martin's are more versatile than ever. Also, more affordable than ever…Great time to be a guitar player!
Martin has produced many affordable models in recent years. They have somehow managed to design great-sounding guitars that are not only
made of non-traditional materials
but also stick to Martin's exceptional quality control standards.
Plus, they also sound amazing!
Martin now offers players on a budget the opportunity to own unique guitars that deliver
great tones,
quality construction,
and innovative designs
they have somehow managed to balance innovation with tradition, so players know that they are still playing the "real deal".
Let's first look at these fine guitars, and at the end of the post, you can find the FAQ section that helps you to make the best choice possible.
Who crafted this post:
Author: DL Shepherd
Darren has been playing guitar for over 23 years. He fronted the metal band Suddenly Silence in the early 2000's, and also achieved recognition as an award-winning bluegrass guitarist.
A native of southwestern Virginia, and has shared the stage with many big-name acts from various genres. When he is not playing one of his many guitars, he can be found riding his Harley through the mountains of Virginia.
Hide The Rambling▲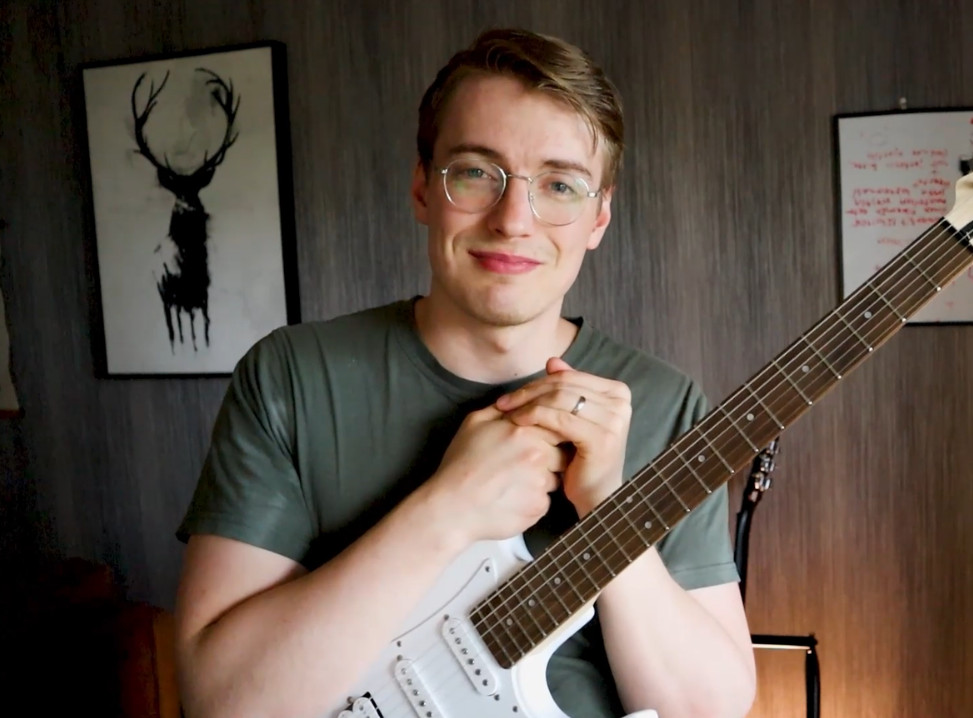 Editing & Research: Teemu Suomala
I first grabbed the guitar in 2009. I started this website in January 2020 because I couldn't do window installation anymore due to my health problems. I love guitars and have played dozens and dozens of different guitars through different amps and pedals over the years, and also, building a website interested me, so I decided to just go for it! I got lucky and managed to get awesome people to help me with my website.
I also got lucky because I have you visiting my website right now. Thank you. I do all this for you guys. If you have any recommendations, tips, or feedback, just leave a comment, I would love to chat with you. I have also been fortunate to produce content for several large guitar websites, such as Songsterr, Musicnotes, GuitarGuitar, and Ultimate Guitar.
I spend my spare time exercising and hanging out with my wife and crazy dog (I guess that went the right way…).
Hide The Rambling▲
We can proudly say that Darren Shepherd has played every guitar featured in this article. These Martin acoustic guitars are here based on extensive research and decades of combined guitar experience of Darren and Teemu.
---
Our Favorite Music Store in The World!
Why?
– Excellent Customer Service (4.7/5 Trustpilot Score)
– Fast & Free Shipping
– Gear is Inspected, Tested, & Ready to Play When it Arrives to You (We love this)
– Fair Prices
Visit Sweetwater:
Best Budget Martin Guitars Under $1000
If this article doesn't have the Martins that seem right for you, check this main article about The Best Overall Martins in 2022.
Best Overall – Martin Road Series D-10E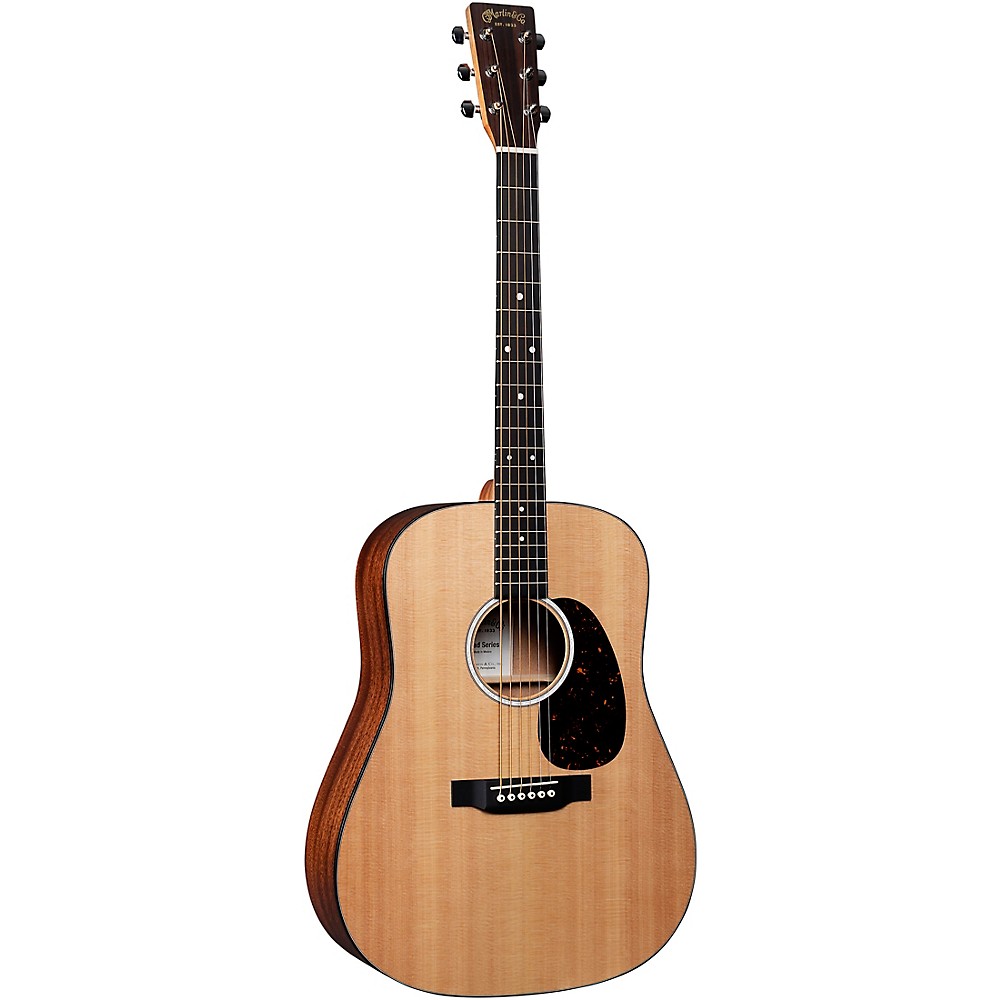 Martin invented the dreadnought body style, and it has proven to be the preferred style among players from all experience levels. The D-10E is a great example of how Martin has managed to mix innovation with tradition.
Construction
Martin designed all of the guitars in their Road Series to endure the rigors of being on the road. I know how important it is for your instrument to be able to handle being knocked around and exposed to all types of environmental elements.
Trust me, you do not want to skimp on solid construction when it comes to living a life on the road!
This is a real "working man's" guitar from start to finish. It's rugged and ready for anything.
The Martin D-10E is constructed with all solid woods. Instead of using traditional tonewoods like mahogany and rosewood, Martin opted to craft the back and sides from sapele. This is a tough, stout tonewood that is harder than mahogany.
The D-10E also sports a solid Sitka spruce top which is quite impressive for a Martin in this price range.
There are two items of interest when it comes to the construction of this guitar:
the fretboard/bridge material
and the wood used for the neck.
First, the fretboard and bridge are made from a material known as Richlite.
Richlite is basically a material that is made from paper and a resin binder and it actually has some great tonal properties.
Despite its composition, Richlite has the benefit of being water-resistant, fire-resistant, and rot-resistant. It is also a sustainable product, making it great for the environment.
The neck wood is a mystery. Martin lists the neck material as "select hardwood", which begs the question: what kind of hardwood?
I'm going to take an educated guess on this and say that the neck is probably made from leftover tonewoods that didn't quite make the grade for their high-end models. The reason they label it "select hardwood" is most likely due to the fact that it varies from guitar to guitar.
Appearance
You are getting a straightforward, no-nonsense dreadnought when it comes to looks – and that is perfectly fine. It's a beautiful instrument with no frills.
No fancy inlays. No groundbreaking finishes.
Simply a traditional-looking acoustic guitar that's ready to do it's job.
The sapele has a different grain pattern than its cousin, mahogany.
It doesn't have long, straight, flowing grain patterns. This only adds character to a guitar that was built for the purpose of giving the player a smooth-playing, great-sounding instrument.
The main benefit to the lack of visual additions is a lower price tag.
Martin guitars are handmade, so, therefore, a premium price is charged when they load them up with intricate inlay work. The D-10E is a simple man's guitar and it proves that you don't need to look fancy in order to sound good.
Playability
Right out of the box, you can tell you've got yourself a great playing guitar.
The neck differs from their more traditional higher-end models (such as the D-28). It is slightly thinner, but it still has enough wood to make long playing sessions comfortable.
The action is also closer than most of the D-28 models that I have played. It won't cause buzzing if played forcefully, but it does play rather smooth for a full-sized dreadnought.
One thing that I noticed right off the bat: you may want to change to a true medium string size. The guitar feels like it comes standard with a medium-light gauge. They are quality Martin strings nonetheless.
Why?
Because switching to a regular medium gauge will make the guitar play a little tighter, thus improving the accuracy if you're doing some intricate flatpicking.
Sound
Another sound demo:
The tonewoods used in this guitar allow it to project beautifully.
The Sapele back and sides allow it to have a substantial amount of volume even when strummed.
The dreadnought-sized projection makes it easy to cut through a mix.
And the tons differ from more expensive Martins, of course…
How?
For example, the sound is thinner than that of a D-28 model, and the sapele is most likely responsible for this. Since it is a much harder wood (harder than red oak), it does not resonate as well as mahogany. It is still not nearly as bright as maple, although it doesn't have quite the fullness mahogany provides.
This doesn't sway my opinion though. It's a tone machine!
The sound may be a bit thinner, but don't let that scare you away.
This thing provides some great lead tones that have a bit more high-mids than the more expensive Martins. The bass is smooth with a plucky brightness that flows beautifully.
Roll back on your picking and strum a rhythm. You'll be pleasantly surprised at just how well it fills in the mix. It would be wrong for me not to mention the versatility that this guitar provides when it comes to tone.
Sure, it can hold its own in an unplugged jam session, but it also shines if you plug it in.
That's right, it's equipped with onboard electronics by Fishman.
Fishman is the first choice for many professional musicians because of their excellent preamps, pickups, and amplifiers designed specifically for acoustic/electric guitars.
The Martin D-10E is equipped with the Fishman MX-T onboard preamp. These were designed specifically for Martin guitars. The controls are mounted inside the bottom edge of the soundhole.
This is great because: it keeps the outside of the guitar looking nice and clean.
Plug it in and dial in your tone. You'll experience noise-free performance and an impressive amount of tonal adjustment options.
Overall
This guitar gives you
a quality Martin guitar at a fraction of the cost of their higher-end models
the solid construction,
traditional looks,
great playability,
and amazing tonal versatility makes it an instrument capable of genre-hopping.
The onboard electronics are great for musicians who play live and they are a brand that professional musicians know and trust.
This guitar is a great guitar for someone who wants to play virtually any style of music. It is an excellent guitar for someone looking to add a high-quality, affordable Martin to their arsenal.
Pros:
Tough, solid construction holds up to life on the road
Onboard Fishman electronics add versatility for the working musician
Quality woods provide an amazing tone for the price
Playability is right up there with higher-end Martins
Cons
Lacks an onboard tuner
Could use a couple of upgrades to make it more professional (a real bone saddle and nut, wooden bridge pins)
The "select tonewood" neck implies that it could be made of any type of wood and may possibly cause tonal inconsistencies from guitar to guitar.
Check Price on:
---
Best for Electric Players – Martin DX Johnny Cash Signature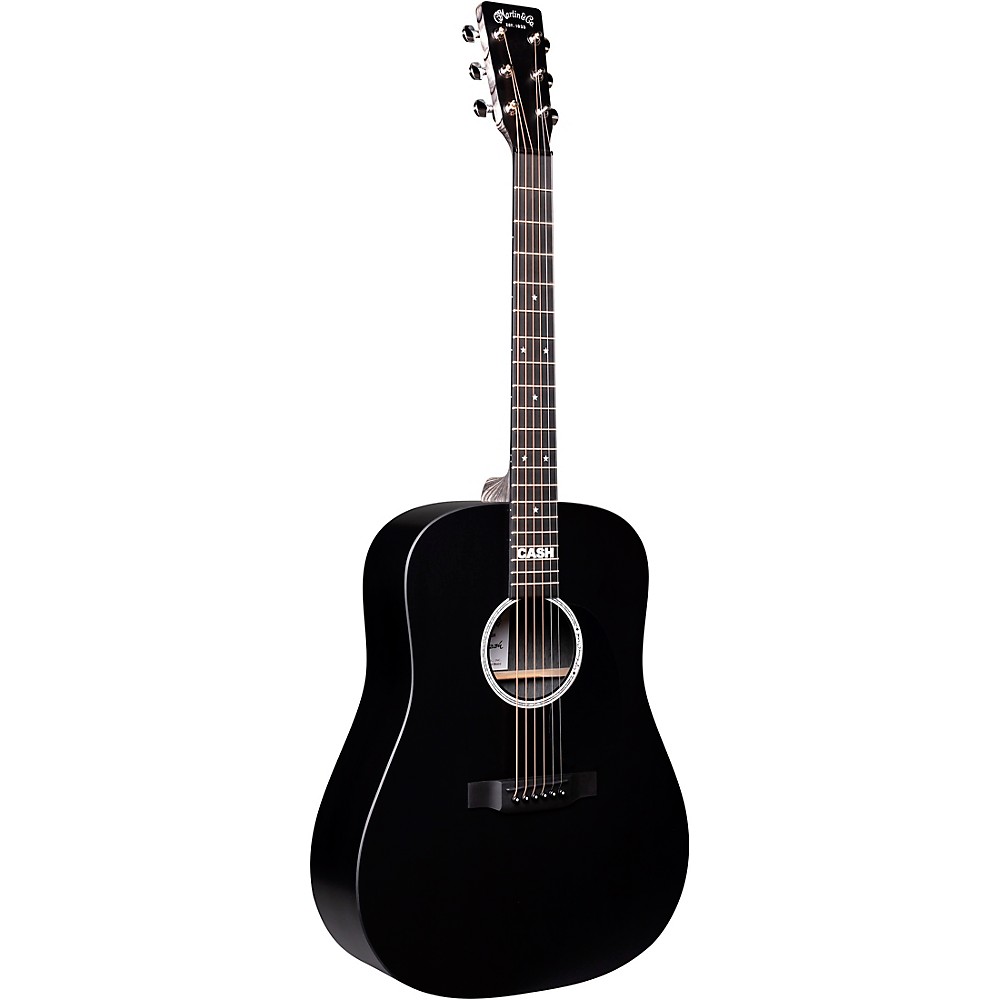 You cannot deny that Johnny Cash is a household name. His music established him as an American legend and his legacy is timeless.
His signature sound was partly because of his preference for a big dreadnought guitar with a smooth, vibrant rhythm tone.
Martin made the original Johnny Cash Signature D-35 in the 1970s specifically for "The Man in Black". The DX version is a more affordable version that offers many of the same appointments as the much pricier original.
Construction
The Martin DX Johnny Cash Signature has a body that is entirely made of high-pressure laminate (HPL) and painted completely Jett black. High-pressure laminate is being used to make more and more instruments these days, and for good reason.
First, I'll explain what HPL is as far as its composition.
HPL is essentially very thin layers of wood that are laminated with resin and pressed together under high pressure. The result is very tough and hard.
This is beneficial for many reasons:
It resists swelling and warping when exposed to moist environments, unlike solid wood.
It has a high heat resistance and is very tolerant of dry environments.
Since it is not technically "finished" wood, it is highly resistant to cracks, scratches, and finish checking.
You're essentially getting a very tough instrument even though it is not a solid wood guitar.
What about the neck?
The neck is constructed of birch laminate, which again adds strength and is resistant to warping (you'll stay in tune better)
Martin also opted to use Richlite as the fretboard and bridge material
When all is said and done, you have a tough guitar that can be played in many different environments without sacrificing tuning stability.
Appearance
It's just as you would expect a guitar built for Johnny Cash to be: all-black with a touch of that Cash class!
It is a gorgeous guitar.
The glossy black body contrasts exceptionally well with the fretboard inlays which are made of white plastic.
The position inlays are star-shaped, and it sports his signature at the base of the fretboard.
The white plastic binding wraps around the body as well as the neck and headstock.
It is hard to beat the basic black-and-white contrast.
It's classy. It's minimalistic. It's Johnny Cash in guitar form.
Playability
This is the reason I have chosen it as a great option for electric players.
This thing plays like butter. You might even say it's as smooth as black silk…
The action reminded me of an electric guitar. It may be a bit too close for some acoustic guitarists to appreciate, but electric players will love it. I was able to play barre chords and scales with very little effort.
Here is the confusing part for me: it has the same neck profile as the D-10E, yet the frets felt as if they were a larger size. This really threw me for a loop. It is a good thing though if you like to play with a lot of hammer-ons and pull-offs.
I also noticed that it was lighter than most solid wood guitars. This is great if you're playing a long set while having it strapped on.
Sound
Hear how this guitar sounds:
This guitar sounds great unplugged or plugged in. It has a great mid-range tone and a fair amount of volume. The sound isn't quite as rich as a solid wood guitar tho…
It's not brittle, but it seems to want to break up a bit when playing with a lot of force. It's not overly chimey or buzzy though, and it isn't unpleasant at all.
It will cut through a mix well unplugged, although it does lack the fullness of a solid wood guitar.
This is a rhythm machine though! Your chords are crisp and fluid, and it can lay down a pretty solid bass line that has a tinge of brightness to it.
The onboard Fishman MX-T preamp allows you to tame this beast whenever you decide to plug it in. To me, this is where the true beauty of HPL comes in.
Since HPL is much harder and less resonant in comparison to solid wood, it makes a great acoustic/electric. Resonance is important in all guitars, but I love the way this guitar sounds when it is plugged in.
You don't have to do a whole lot of adjusting to get a good amplified sound out of this guy. I personally think that it sounds better than the D-10E when it's plugged up.
I would play this guitar in virtually any setting.
It is versatile enough for many different genres, and it certainly isn't a one-trick pony.
Overall
The Martin DX Johnny Cash Signature guitar is an excellent choice if you are primarily an electric player that wants to add some acoustic sounds to your regimen.
The construction may not be traditional, but it is far from being disappointing due to the structural integrity that it offers. Those with small hands will appreciate the playability, and those with large hands will not find it too uncomfortable to play.
It isn't a solid wood guitar, so please don't expect it to perform as one. It is a true tone machine and very worthy of carrying the name of Johnny Cash.
I might be a bit of a tone snob when it comes to acoustics, but I can say that the overall tone is pretty awesome for a guitar made of HPL.
It's also very affordable, so you don't have to spend a lot of cash to add some Cash to your playing.
And no, I won't apologize for that joke…hahaha
Pros:
HPL construction offers incredible tuning stability in many different environments
Very smooth playability with great volume
Classy looks and styling for great stage appeal
Sounds amazing while plugged in
Cons:
HPL can be brittle and can actually shatter if it is hit hard enough, making repairs very tough.
Onboard electronics lack a tuner
The unplugged tone could be improved. Adding a real bone nut, saddle, and bridge pegs would improve it immensely.
Check Price on:
---
Best Value – Martin 000-X2E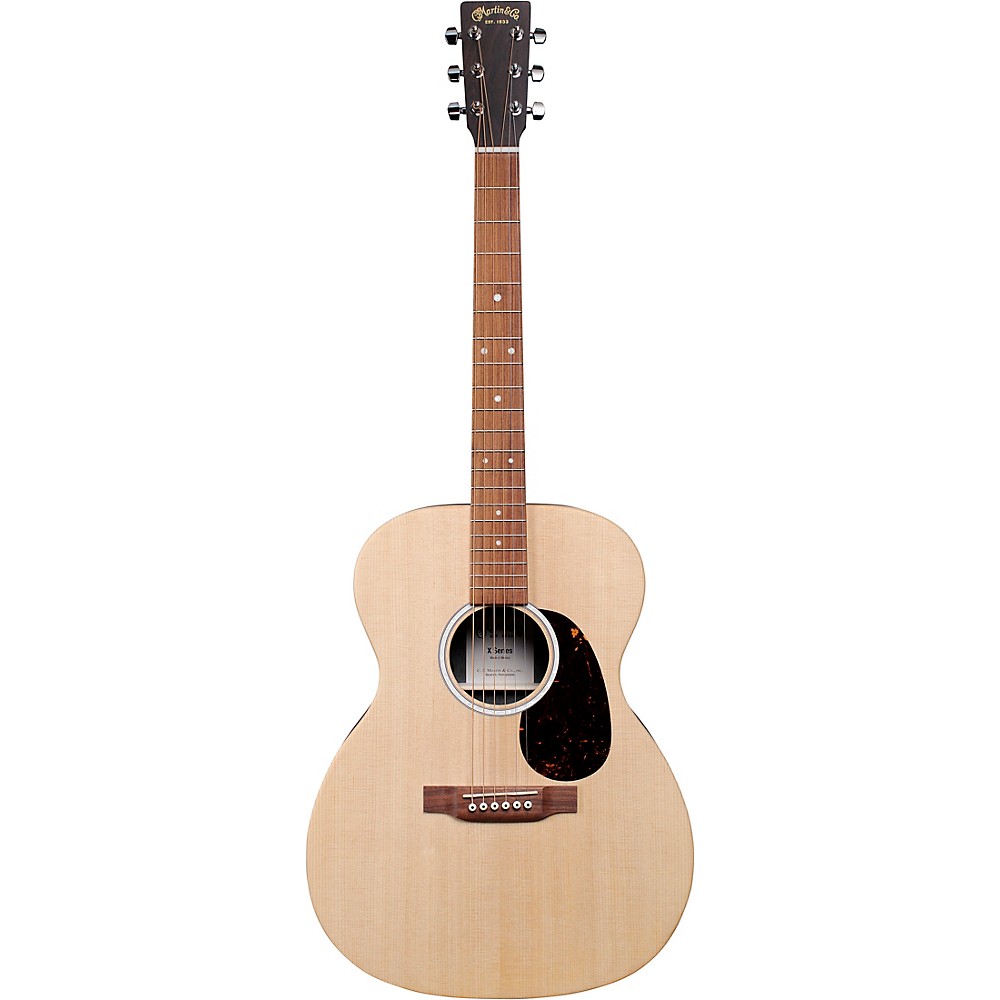 If there is one thing that I like, it's a guitar that sounds great, plays great, has versatility, and offers up some professional features…
The Martin 000-X2E hits all of those marks and therefore makes it the best value.
When I talk about value, I'm not talking about the price tag. I'm talking about what you get compared to what you spend.
I will admit that I almost gave this guitar the Best Overall rating, but there are several reasons why this takes the trophy when it comes to value. Let's check it out!
Construction
I'll readily admit to anyone that I love the way Martin chose to construct this guitar…They really did their homework on this one, and it shows.
This Martin is designed with a smaller "auditorium" body style. Martin refers to this size as their "000" size.
This is much smaller than a standard dreadnought and is popular with blues players and finger-style guitarists (Eric Clapton has a signature 000-model Martin).
The top is made of solid Sitka spruce while the body is comprised of a mahogany-patterned high-pressure laminate.
The neck, fingerboard, and bridge are all made of select hardwood.
When I say that this is a solidly built guitar, I mean it. It may not be completely made of solid wood, but it manages to use both HPL and all solid wood in the same package.
The combination gives you a guitar that is built far better than the price tag suggests.
Appearance
The 000-X2E is absolutely beautiful. It's understated but very traditional.
It may lack the fancy body and neck bindings that are found on other models, but I personally think that the lack of binding adds to the appearance instead of detracting from it.
It has
a nice hand-rubbed finish on the spruce top which really makes the natural grain stand out
the HPL body is finished to look like mahogany.
It is about as simple as it gets when it comes to minimalistic beauty.
Martin chose to use mother-of-pearl inlays on the fretboard and around the soundhole rosette. This is a very nice touch of elegance and gives it a handmade look.
The tortoiseshell-patterned pickguard gives a nod to Martin's guitars of the past and adds to the traditional appearance.
The neck is finished with hand-rubbed lacquer, and it really provides a nice, silky feel while not being sticky.
Take one look at the Martin 000-X2E and there is no mistaking it: it's a real Martin!
Playability
The Martin 000-X2E is an absolute joy to play!
It sports the same neck profile as the D-10E and the DX Johnny Cash Signature, so it's a smooth operator. Picking arpeggios and single notes is easy as possible.
The string spacing is the same as the dreadnought-sized D-10E so there is no new spacing to get used to if you're currently playing a dreadnought with a 2 5/32" string spacing.
In other words, you don't have to change up your typical picking just because this guitar is smaller in size.
Beginners and intermediate players will appreciate the action, neck profile, and reduced body size.
Find more acoustic guitars for intermediate players here.
For smaller players, the small size is extremely comfortable while not sacrificing tone. Advanced players will appreciate it as well…
I love the fact that it is lightweight and easy to handle in a sitting position as well as maintaining comfort while standing. It's very well-balanced overall.
This is a guitar for all guitarists who appreciate a great playing guitar. There's no corner-cutting going on at Martin when it comes to giving you great playability at an affordable price.
Sound
Hear how this guitar sounds:
The Martin 000-X2E is a tonal beast in my opinion! The combination of solid woods and HPL really make this a guitar that sings to you.
The unplugged sound is phenomenal, to say the least. The reduced body size gives you a brightness that really balances out nicely when you strum it with your fingers.
If you're a fingerstyle player, you will really enjoy how warm the bass notes come through.
Find more great acoustic fingerstyle guitars here.
When strummed with a pick, it has a surprisingly full sound with just the right amount of brightness. The bass brightens up a bit when you use a pick, but you can get a really nice percussive rhythm sound (think Jack Johnson) if you throw in some palm mutes.
One thing that I noticed in particular about this Martin was the sound transfer between the neck and the body.
This is something that mimics higher-priced acoustics, and it has to do with the way the neck is joined to the body (in this case, a mortise and tenon joint).
This adds body and fullness to the overall tone and increases the sustain significantly.
Sustain is sometimes lost when guitars are constructed of HPL due to HPL being less resonate. The neck and fretboard are hardwood, and when joined to the body with a mortise and tenon neck joint they really help fill in sonically where the HPL falls off.
The Martin 000-X2E also has the Fishman MX-T onboard electronics, so you can plug in for all of those live performances or while playing with a large group. This is a great addition for this guitar in particular because it does have a little trouble punching through a mix due to the smaller body size.
Overall
Simply put: this guitar sounds great!
I'd feel comfortable playing it anywhere no matter what genre I might be playing. Players of all experience levels will really appreciate all of the features that this guitar brings to the table.
Pros:
Solid wood/HPL combination sounds great and is incredibly durable
The smaller size is easy to handle
Smooth, velvety playability makes it a guitar for all experience levels
Onboard electronics make it incredibly versatile because you can have tonal control when you're plugged in.
Cons:
Smaller body size lacks volume and projection
Onboard electronics really need a tuner function
Select hardwood neck and fingerboard may cause some tuning instability in high-moisture environments.
Check Price on:
---
Best Compact/Travel Guitar – Martin Backpacker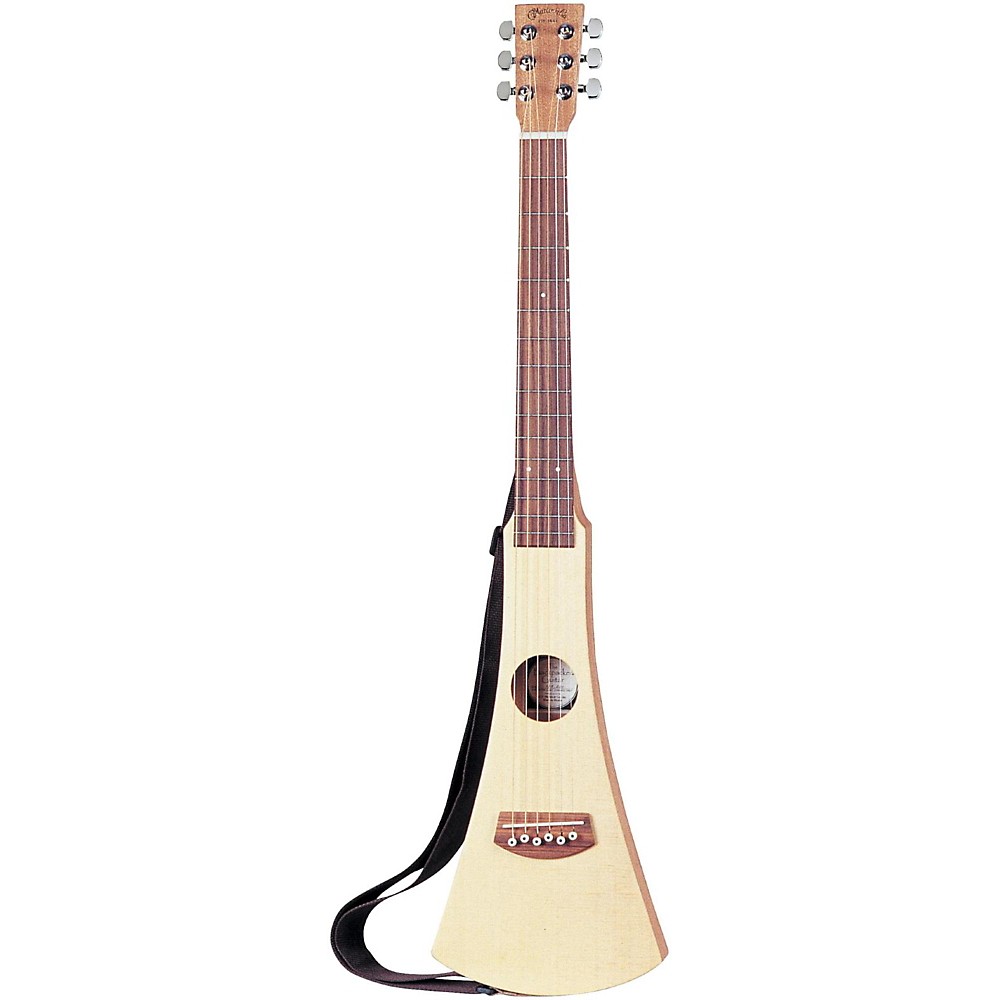 This is a guitar that you can pull out at parties and make people look at you funny. You will probably even hear someone say, "What the heck is that???"
Don't let this little guy fool you though. It's a whole lot of fun in a small, travel-friendly package. It's a fully functional, compact size guitar that is designed with the serious player in mind.
It may look a bit comical, but trust me when I say that it is a 100% real Martin guitar!
Construction
The Martin Backpacker is made with solid quality tone woods. There are a couple of versions that I have seen on the market.
One version has a solid Sitka spruce top with a neck and body made of mahogany.
The most recent version I have run into was constructed completely of sapele with the exception of the neck – a mystery hardwood that I suspect was sapele as well.
Martin currently lists the sapele version on their website, but the pictures depict the mahogany/spruce version. Either way, you can't go wrong because they are well-built.
The fretboard and bridge are made of Richlite, so durability is not an issue.
Appearance
These guitars will draw some attention from those who have never seen one.
Some may even mistake it for a baritone ukelele…
Although it looks a little non-traditional, guitarists will find that it fits right in with many folk instruments. The quality woods provide a great traditional look, and it's quite beautiful especially when examined up-close.
It's almost like it was custom-made by an adventurous luthier.
Playability
It plays like a dream…mostly…
The string spacing(narrower than usual) takes a bit of getting used to, but it doesn't take too long for most players to adjust to it.
Maybe if you have really thick fingers, this narrow string spacing can cause some real problems for you…but hey, I have seen videos where people play guitar with their feet, so this guitar is not impossible to play no matter who you are.
The action is low and the neck has a nice taper allowing hands of all sizes to feel right at home on the fretboard.
The ultra-small body size does make it a bit of a challenge, especially for players like myself who are accustomed to playing dreadnought-sized giants.
I think most will find it unique in a good way though, and it was certainly able to hold my attention. It actually made me want to play it more and more.
Some finger-style players may not appreciate the small body simply because it lacks the surface area needed to properly anchor your forearm.
This might be a good thing though; it allows you to think outside of the box and get out of your comfort zone. After all, new challenges are one thing that guitarists thrive on.
It's a completely playable instrument that should not be confused with anything less. It won't play like a dreadnought or even an auditorium-sized guitar because it's not one.
Sound
Hear how this backpacker sounds:
This thing produces some great sounds for such a little guitar! It also surprisingly loud given its size and has some smooth bass that floats just around the lower midrange.
It is obviously not going to cut through a big mix. It wasn't built for that purpose. As a rhythm instrument, it provides a nice, bright, and chimy rhythm that fills in the mix just enough for others to know it's there.
I definitely recommend that this guitar be played solo as a vocal accompaniment or as a rhythm instrument in a group of 2 or 3 other musicians with acoustic instruments.
It just doesn't have the punch to cut through a thick mix, and it can sound rather flat when played with some force.
You have to realize that this guitar was designed to be compact and portable, so don't expect it to blast through in a group setting when you go to play a blazing lead. It's a great-sounding guitar though, and it should offer most guitarists a useable sound that they will appreciate.
Overall
The Martin Backpacker is perfect for guitarists who enjoy taking their guitar everywhere with them.
You can easily pack it in the trunk of your car, in the backseat, on a motorcycle, or on your back (it is called the Backpacker for a reason).
Hiking enthusiasts, campers, and serial travelers will really appreciate the ability to drag out this guitar almost anywhere and play all they want.
The Martin Backpacker is the best option for those looking for a compact, easy to play, and fully functional guitar because it is, after all, a 100% real Martin!
Pros:
Compact design allows you to carry it virtually everywhere
Fully-functional with a very nice tone
Smooth playing neck with a smaller profile makes it great for small hands
It does what it should well
Cons:
Unique body size may not be suitable for all playing styles
Limited to basic rhythm playing when in a group setting
Check Price on:
---
Best Beginner/ Budget – Martin LX1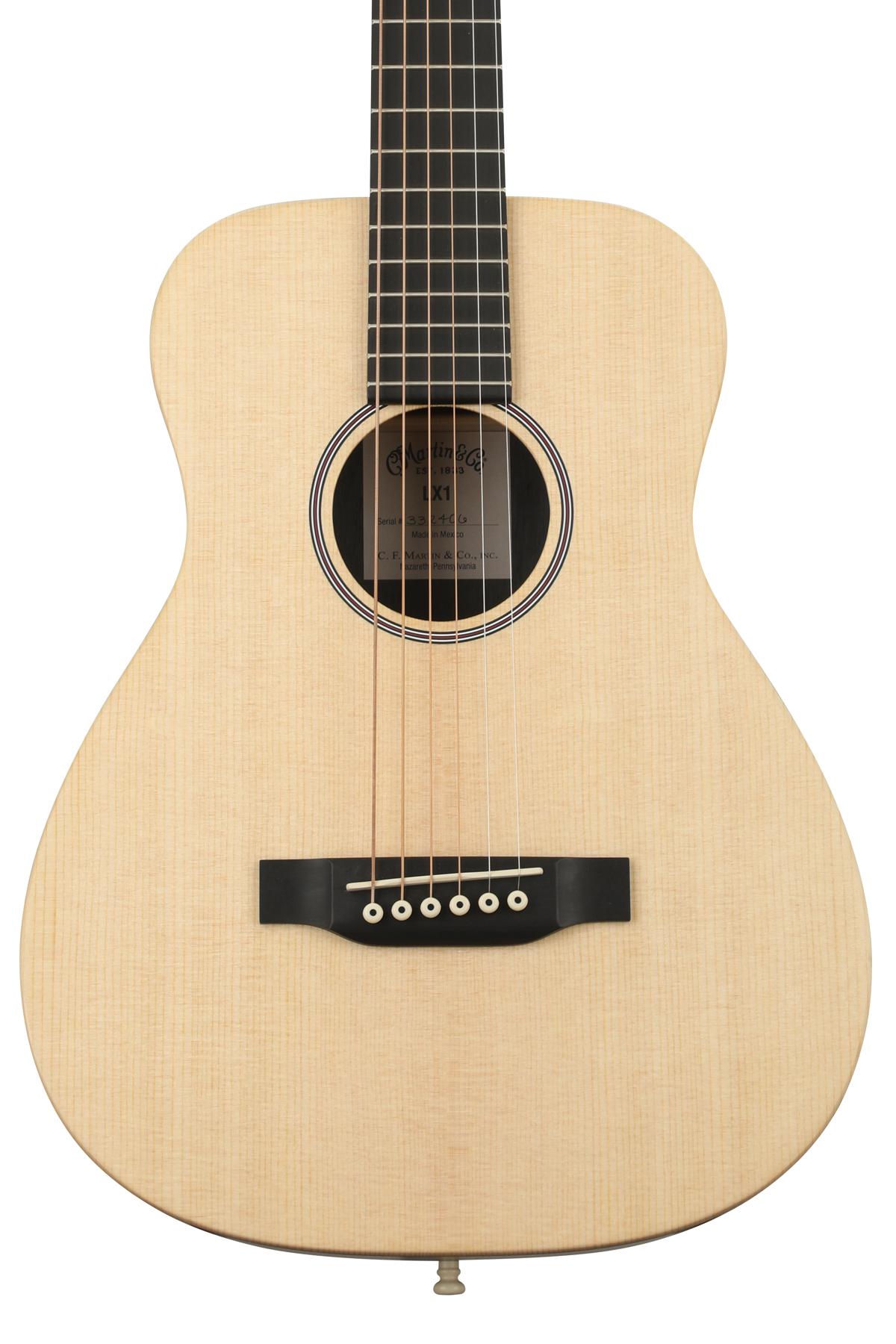 We're not leaving out the budding guitarist. Martin has something for you as well!
The LX1 is a part of Martin's "Little Martin" line of guitars, and it is their smallest guitar with a traditional body style.
Whenever I look for a "beginner" guitar, I look for
the features that aspiring guitarists will appreciate as well
as the features that will make their learning process easier.
It is all too often that I see guitars that are marketed for beginners that completely miss the mark by giving students low-quality woods and hardware, horrible playability, and incredibly poor tone.
With that being said, it is important for beginners to get an instrument that inspires them to play. Learning on a real Martin is probably one of the most inspiring ideas that I can think of at the moment.
Here's why it made my top pick for the best beginner Martin.
Construction
The Martin LX1 boasts some features that are available on much more expensive models. Since the size of these guitars means that fewer raw materials are used when making them, Martin is able to pack a lot of good stuff into a small package.
You'll find that it is constructed similarly to the Martin 000-X2E.
It features a solid Sitka spruce top
and a mahogany-finished HPL body
The neck is laminated birch…
so these guitars are solid in every way.
The top and neck are finished off with hand-rubbed lacquer to ensure a smooth playing experience while adding some protection to the wood.
Appearance
There's not a lot to say here other than it is simplistic. This is great for students because they are paying for a quality-sounding and great playing guitar instead of fancy visuals.
It has a nice traditional appearance that anyone can appreciate. It's timeless and instantly recognizable.
Playability
This guitar is very comfortable to play, especially for this price. The action is nice and close, and the neck is smooth and sits comfortably in the hand.
Holding chords down for long periods of time will not be a problem thanks to the Richlite fretboard and closer string spacing(not a lot of finger strength required).
The string spacing is wonderful for guitarists with smaller hands, and younger students will definitely appreciate how well the guitar sits in their lap. It's lightweight and very easy to handle.
The smaller string spacing also allows for single notes to be picked easily. For those who are learning scales, this is a must-have feature.
It's extremely versatile and can handle some forceful strumming if you get a little carried away. But of course, for folks with large hands and thick fingers, this guitar is not the best pick.
Sound
Hear how this Little Martin sounds:
b
They say that dynamite comes in a small package…
This guitar is a perfect example of that. It really sings and has a surprising amount of bass for its size.
The bass lines are punchy and clear, while the high-end notes are crisp and bright. But it doesn't have a lot of cut to it, so I would not expect it to perform like a full-sized dreadnought in a big mix.
It has a rich rhythm tone that truly sings. If you palm-mute it, you can get some great chunky bass lines that really project.
The tone is great for a guitar of this size, and I would think that a student would become completely spoiled to anything else. Once you play a real Martin, it's hard to go back to anything less.
Overall
For beginning guitarists, this guitar packs a lot of great features into a small package.
It is
easy to play,
sounds amazing,
and it's a very inspiring instrument
– the perfect combination for a great learning experience.
Intermediate players and experienced players alike will also appreciate how easy it is to carry around. It makes a great travel guitar for those who want to stick with something a bit more traditional than the Martin Backpacker.
Pros:
Small size is easy to handle for small players
Quality woods make for great tone and durability
Easy to play, especially for those with small hands
Cons:
Gets a little muddy if played forcefully
Those with larger hands may not fully appreciate the small string spacing
Discover how well the Little Martin compares to the Baby Taylor!
Check Price on:
---
Verdict
The Martin D-10E takes the Best Overall category for its impressive construction and gorgeous tone.
Electric players will really appreciate the sound and playability of the Martin DX Johnny Cash Signature model.
If you're looking for a guitar that has some professional features with a very comfy price tag, the 000-X2E is the Martin for you.
The Martin Backpacker is a true travel companion. It is definitely the most portable and compact model that Martin offers, and it gives players the ability to play virtually anywhere.
Students should look no further than the Martin LX1 as their instrument of choice. Its inspiring tone, traditional looks, and easy playability are top-notch, making it the perfect "first guitar".
---
A couple of other posts worth checking out when buying a new acoustic (click the title to view):
First, these posts will help you handle the protection and storage side of things:
These posts help you to achieve the tone you want:
And here are a couple of other acoustic guitar buyer's guides worth checking out:
5 Best Taylor Guitars Under $1000
---
Buyer's Guide – FAQ
Are Martin guitars worth the money?
Absolutely. From their more affordable models – like the ones mentioned above – to their absolute masterpieces like the D-200 model, you will find that they are well worth the money. I look at a Martin as an investment and not just "another guitar".
We dive deeper into the subject in this article: Are Martin Guitars Any Good?
How do I choose the right Martin guitar for me?
Check our full How to Choose the Right Martin Guitar-guide here.
First, identify what you want out of a guitar. Ask yourself
how you will primarily be using it?
and how certain features may or may not benefit you?
For example, if you are interested in playing live and need a good guitar for the road, check out the D-10E. It has features that make it suitable for a working musician.
If you're a student or someone looking for a guitar that travels easily to casual outings like family reunions or camping trips, you may find that the LX1 meets most of your needs.
Also, find one that inspires you! This can really motivate and make you a better player.
If you are a beginner, check our Beginners Martin guitar guide here.
Are Martin guitars hard to play?
While many guitarists will tell you that Martins are "hard to play", they are usually referring to their experience with an older Martin.
The Martin guitars in this article were chosen because they offer great playability and are comfortable for most guitarists. So no, Martin guitars are not hard to play.
Do Martin guitars hold their value?
In most cases, yes. This is especially true for their higher-priced models, but most Martins do hold their value well. Of course, this depends on how you treat your Martin, and some models might not hold value so well.
They are American-made and have a history that stretches back nearly 200 years. Many vintage Martins sell for hundreds of thousands of dollars (depending on many factors, of course).
Why are Martin guitars so expensive?
Martin guitars are built in Nazareth, Pennsylvania, and have developed a reputation as one of the finest guitar manufacturers in the world. Their reputation and a keen eye for quality materials are driving factors for their price. Not only that, but they also handmake their guitars.
Although some more affordable models are assembled in Mexico, the materials are all made in the USA by hand.
The most expensive Martins will use Brazilian rosewood leftover from stock purchased before WWII (Brazilian rosewood is illegal to import), and usually have very intricate inlay work: all done by hand.
There's a lot of work that goes into each and every Martin guitar, so you know that you're getting a quality instrument.
Do Martins sound better as they age?
Yes, they do develop a better tone as they age. Many experts attribute this to the wood becoming more resonate as it ages. This especially applies to solid top Martin guitars.
What is the cheapest Martin guitar?
Currently, their most affordable model is the Martin Backpacker
Check our picks for the best acoustic guitars under $500 here.
Why do Martin guitars sound so good?
Martin has nearly 200 years of experience making guitars by hand. They have learned exactly what it takes to make a high-quality instrument; this includes sourcing high-quality tonewoods and developing innovative designs such as the dreadnought body style. They have just learned what makes an amazing guitar. Plain and simple.
---
Conclusion on Best Budget Martin Guitars Under $1000
There you have it: the 5 Best Martin Guitars for under $1000.
It is hard to imagine that a quality Martin can be purchased for well under a grand, but thanks to Martin's continuing efforts to build guitars out of non-traditional materials it is now possible.
For many players, owning a Martin was only a pipe dream. Now, players of all skill levels and budgets can get their hands on an American legend and be a part of a company with nearly 200 years of guitar building behind them.
You don't need to be wealthy just to get the guitar of your dreams! Find the model that works for you and grab it up!
You might also like:
We are sorry that this post was not useful for you!
Let us improve this post!
Tell us how we can improve this post?