Last Updated on September 20, 2023 by Teemu Suomala
Author: DL Shepherd
Darren has been playing guitar for over 23 years. He fronted the metal band Suddenly Silence in the early 2000's, and also achieved recognition as an award-winning bluegrass guitarist.
A native of southwestern Virginia, and has shared the stage with many big-name acts from various genres. When he is not playing one of his many guitars, he can be found riding his Harley through the mountains of Virginia.
Hide The Rambling▲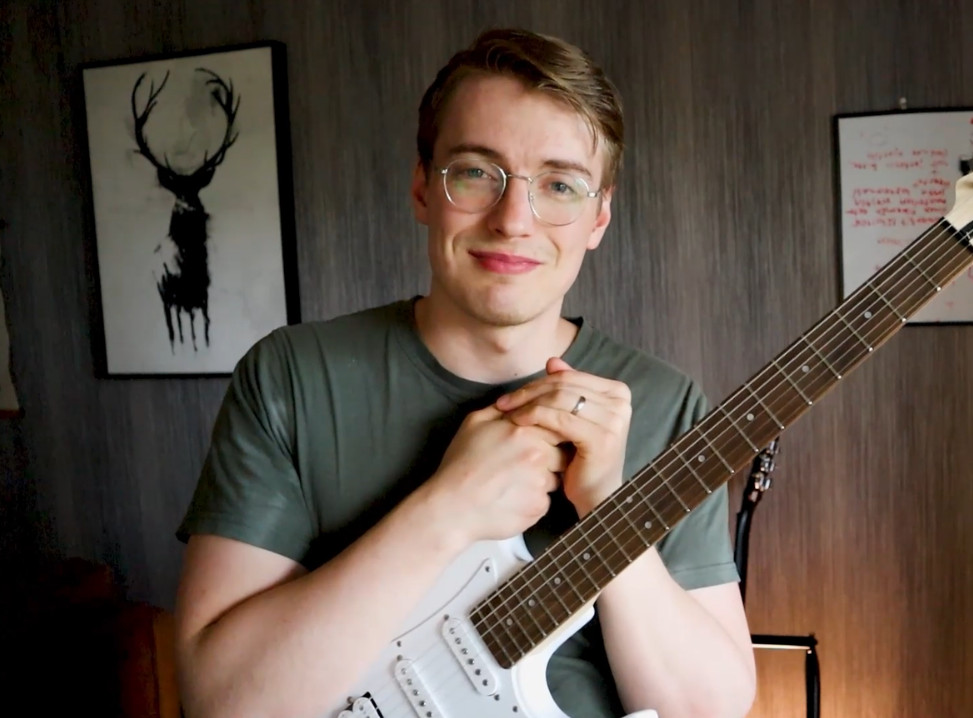 Editing & Research: Teemu Suomala
I first grabbed the guitar in 2009. I started this website in January 2020 because I couldn't do window installation anymore due to my health problems. I love guitars and have played dozens and dozens of different guitars through different amps and pedals over the years, and also, building a website interested me, so I decided to just go for it! I got lucky and managed to get awesome people to help me with my website.
I also got lucky because I have you visiting my website right now. Thank you. I do all this for you guys. If you have any recommendations, tips, or feedback, just leave a comment, I would love to chat with you. I have also been fortunate to produce content for several large guitar websites, such as Songsterr, Musicnotes, GuitarGuitar, and Ultimate Guitar.
I spend my spare time exercising and hanging out with my wife and crazy dog (I guess that went the right way…).
Hide The Rambling▲
Facts Checked
To ensure the highest quality content possible and to protect guitar players from misinformation we let experienced guitar players to fact-check our articles. This article is fact-checked by an experienced session guitarist and guitar content creator Altin Gjoni. Altin runs his own music business The Working Guitarist. He has also produced content for many big guitar websites such as Guitarspace.org and Cort Guitars.
Show Less
We can proudly say that Darren Shepherd has played every guitar featured in this article. These Martin acoustic guitars are here based on extensive research and decades of combined guitar experience of Darren and Teemu.
---
If you're reading this, then you're probably already familiar with Martin's high stature in the guitar world and its role in acoustic guitar history. You might also be considering your first (or 10th) Martin guitar. If you are, then you need to keep reading.
You're in the right place because we have spent hours of exhaustive research to bring you the 5 best Martin acoustic guitars that are available today. In fact, it has taken me so long to come up with this list that my boss thought I was dead for quite some time (sorry, Teemu).
But I have a job, and part of my job is making sure you get the most accurate information out there. Yes, it is hard to play guitars for a living, but someone has to do it.
Here are our top picks for the best Martins!
---
Our Favorite Music Store in The World!
Why?
– Excellent Customer Service (4.7/5 Trustpilot Score)
– Fast & Free Shipping
– Gear is Inspected, Tested, & Ready to Play When it Arrives to You (We love this)
– Fair Prices
Visit Sweetwater:
5 Best Martin Guitars
3 Things to Keep in Mind When Buying A Martin
Think about how your new Martin will fit into your musical preferences
What kind of sound are you after?
Warm and full?
Bright and clear?
Soft and balanced?
Know what you are after and you are on your way to choosing the right guitar for you!
Learn more about acoustic guitar tonewoods here.
Choose a guitar that enables you to play the music you love.
C.F. Martin & Co. (founded in 1833) is responsible for introducing the dreadnought body style to the guitar world and has single-handedly defined what an acoustic guitar should sound like.
---
Compare Key Specs of The Top 5:
---
Compare The Tonewoods: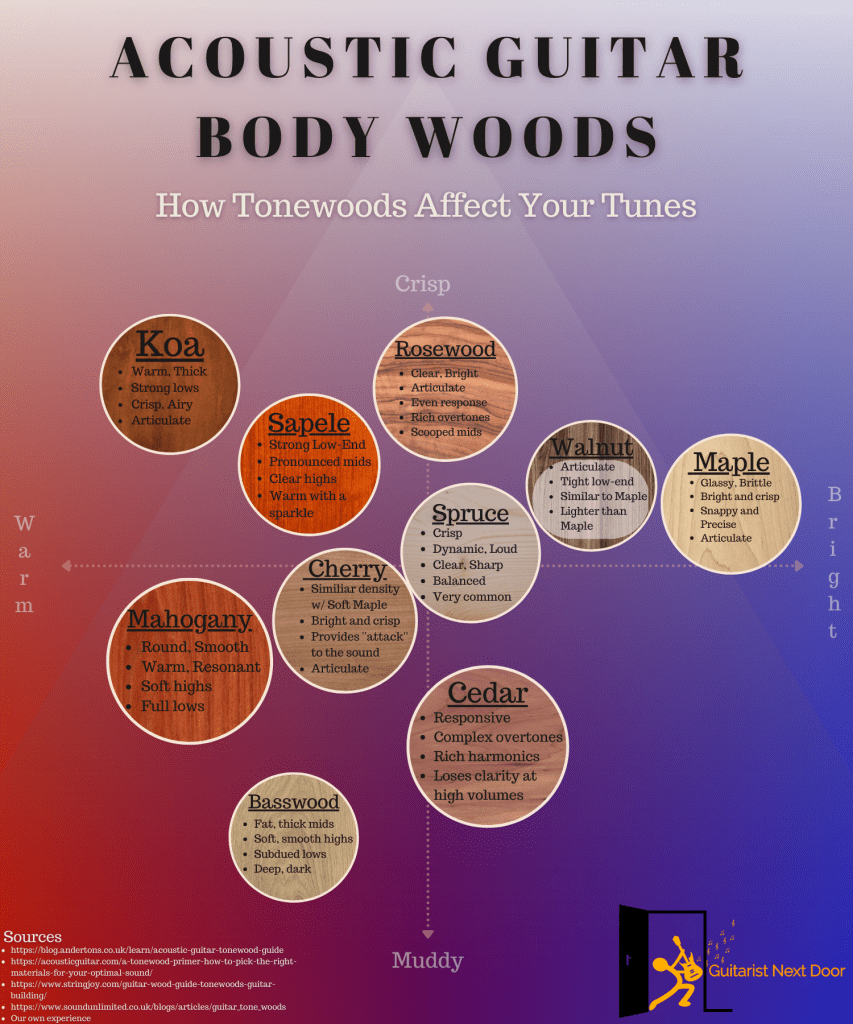 Top: Solid Sitka Spruce
Back & Sides: Solid East Indian Rosewood
Neck: Select Hardwood
Fretboard: Ebony
The fretboard and neck don't affect the tone much.
Top: Solid Sitka Spruce
Back & Sides: High-pressure Laminate
Neck: Select Hardwood
Fretboard: Select Hardwood
Top: Solid Sitka Spruce
Back & Sides: Solid Sapele
Neck: Select Hardwood
Fretboard: Richlite
Top: Solid Sapele
Back & Sides: Solid Sapele
Neck: Select Hardwood
Fretboard: Richlite
Top: Sitka Spruce
Back & Sides: Koa veneer
Neck: Select Hardwood
Fretboard: Ebony
For more cool info about tonewoods, check this acoustic guitar tonewoods article.
---
Best Overall Martin – Martin HD-28
Specs
Check our full acoustic guitar pickup guide here.
If you're wanting the king of acoustic guitars and will settle for nothing less, then look no further than the Martin HD-28. It is the same design as the famous D-28 Martins played by countless musicians for decades. It's the best Martin acoustic guitar to me.
The Martin HD-28 gives players the real Martin guitar experience. The unbeatable combination of a solid Sitka spruce top and solid rosewood back and sides provide an authentic Martin tone that is often mimicked but never duplicated.
Balanced, loud, yet well-behaved, the Martin HD-28 is a hearty nod to the classic Martin guitars of years past.
All of the familiar visual features are there:
open-geared tuners,
bone nut and saddle,
all come together for a straightforward guitar that defined how an acoustic guitar should sound.
This is the guitar that many acoustic players work hard to own. Don't sell yourself short and grab the real thing.
I chose this to be #1, because it gives you the whole package. Balanced tone, premium Martin quality, and comfortbale playability. Amazing classic Martin guitar.
Here's another sound demo for you:
Pros:
Incredibly balanced tone and volume
Bone nut and saddle transfer the sound more effectively than other materials
Cuts through a mix when played with a group
Classic design and visual appointments give it a stunning look that will look better with age
True Martin guitar sound
Cons:
Price is a bit steep for most beginners/intermediate players
Find more great acoustic guitars for intermediate players here.
What others are saying:
I waited 30 years to buy a Martin which was 31 years too long. Everything about this guitar is a credit to Martin's craftsmen. I find myself playing every day. The tone, the ease of play, the projection combine to draw you to the instrument. Before you realize it, an hour has passed. An hour absent the troubles of the world. – Mark from WA
Check Price on:
---
Best Budget – Martin D-X2E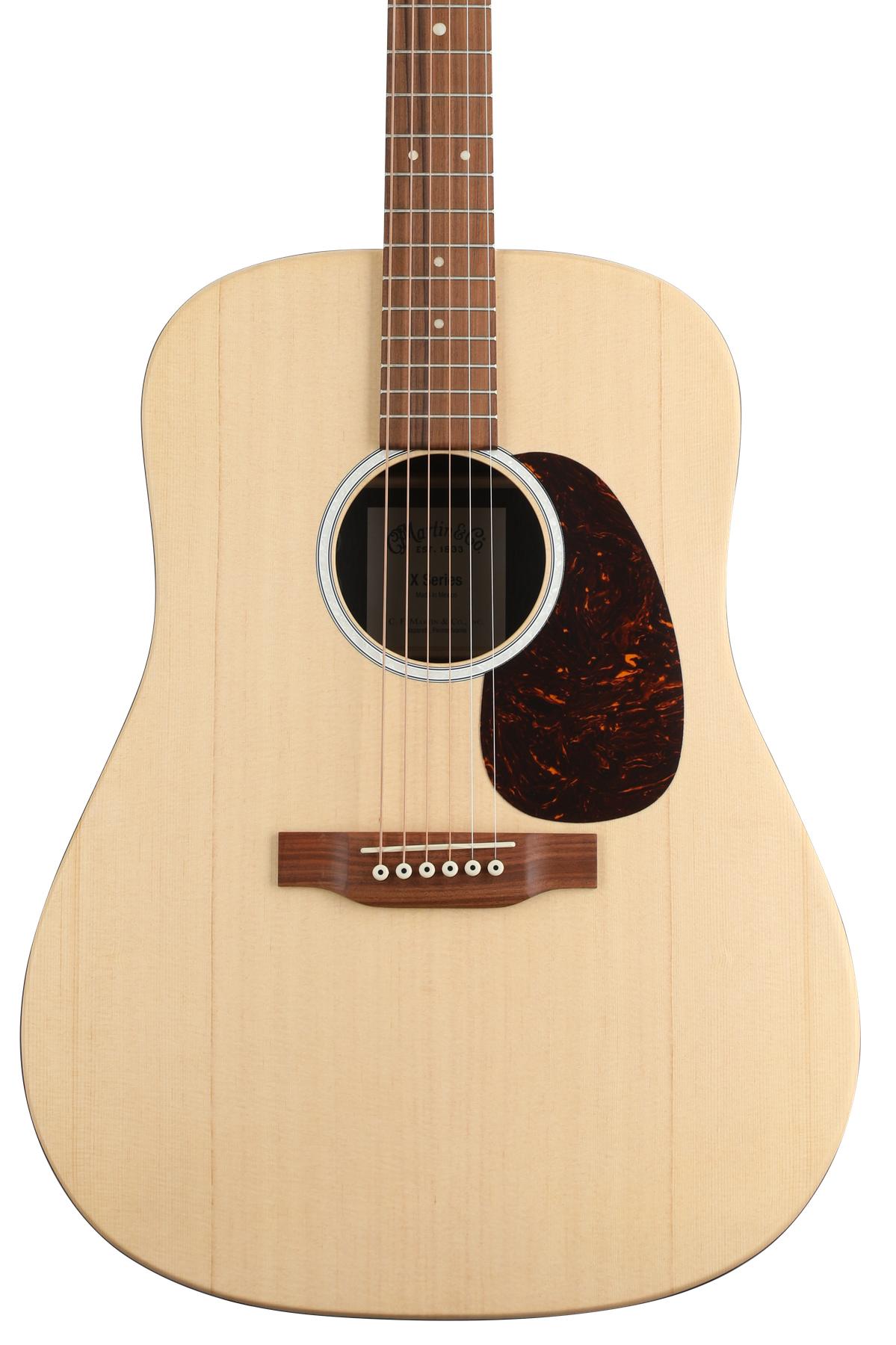 Specs
| | |
| --- | --- |
| Body Style | Dreadnought |
| Top | Solid Sitka Spruce |
| Back & Sides | High-pressure Laminate |
| Neck | Select Hardwood |
| Neck Shape | Performing Artist |
| Fretboard | 20 frets, Select Hardwood |
| Nut | White Corian |
| Nut Width | 1.75″ |
| Electronics | Fishman MX |
| Saddle | Compensated, White Tusq |
| Scale-Length | 25.4″ |
The Martin D-X2E is a great choice for budget-minded guitarists who want that classic Martin tone without dropping a ton of money.
Make no mistake about it, the Martin D-X2E is a real Martin. Long gone are the days when all players were limited to high-priced Martins. The Martin D-X2E definitely proves itself beside the likes of some of Martin's most iconic models.
Let's look at the construction. Players get a solid Sitka spruce top with HPL (High-Pressure Laminate) back and sides. This makes the guitar much stronger when it comes to construction without sacrificing tone and playability.
Read our laminate vs solid wood acoustic guide here.
The Martin D-X2E may not have the sustain that all solid-wood Martin guitars have, but it definitely has that familiar dreadnought volume. It is clear, cutting, and well-balanced.
Throw in a select hardwood neck/fingerboard combination with Martin's High-Performance taper, and you have a guitar that sings with a voice that only a true Martin can do. The Martin D-X2E also sports the Fishman MX electronics system so players can plug in and turn it up!
The Martin D-X2E comes out on top of other Martins in this price range because of the price-to-performance ratio. It is just as suitable for a seasoned pro as it is for a beginner. Martin D-X2E is a great affordable acoustic guitar and maybe the best Martin guitar for the money.
Hear how this guitar sounds:
Pros:
Tough HPL back and sides can take abuse without breaking
Loud, punchy tone with plenty of balance
Tapered neck is very easy to play
Onboard electronics provide versatility
Very affordable
Cons:
Lacks sustain
TUSQ saddle and nut really choke the tone
Lacks onboard tuner
What others are saying:
This is the guitar I'll be rolling with probably for the rest of my life. Love the color in this Natural (mahogany finish) D-X2E, and the rounded-edge, square Martin headstock has always been so pleasing in my eyes. The pick guard and spruce top are just beautiful, too. Since I had an all mahogany Guild D-240E prior, I was curious to see how I felt about the HPL sides and back. It has a nice texture and also feels very durable. Doesn't seem like a noticeable sacrifice in any way, and if it makes the guitar a little more affordable, that's a win-win imo. Most importantly this guitar sounds fantastic, especially with some Martin Monel strings. So stoked to have this one. – Eric from Indianapolis
Check Price on:
---
Best for Working Guitarists – Martin D-12E Road Series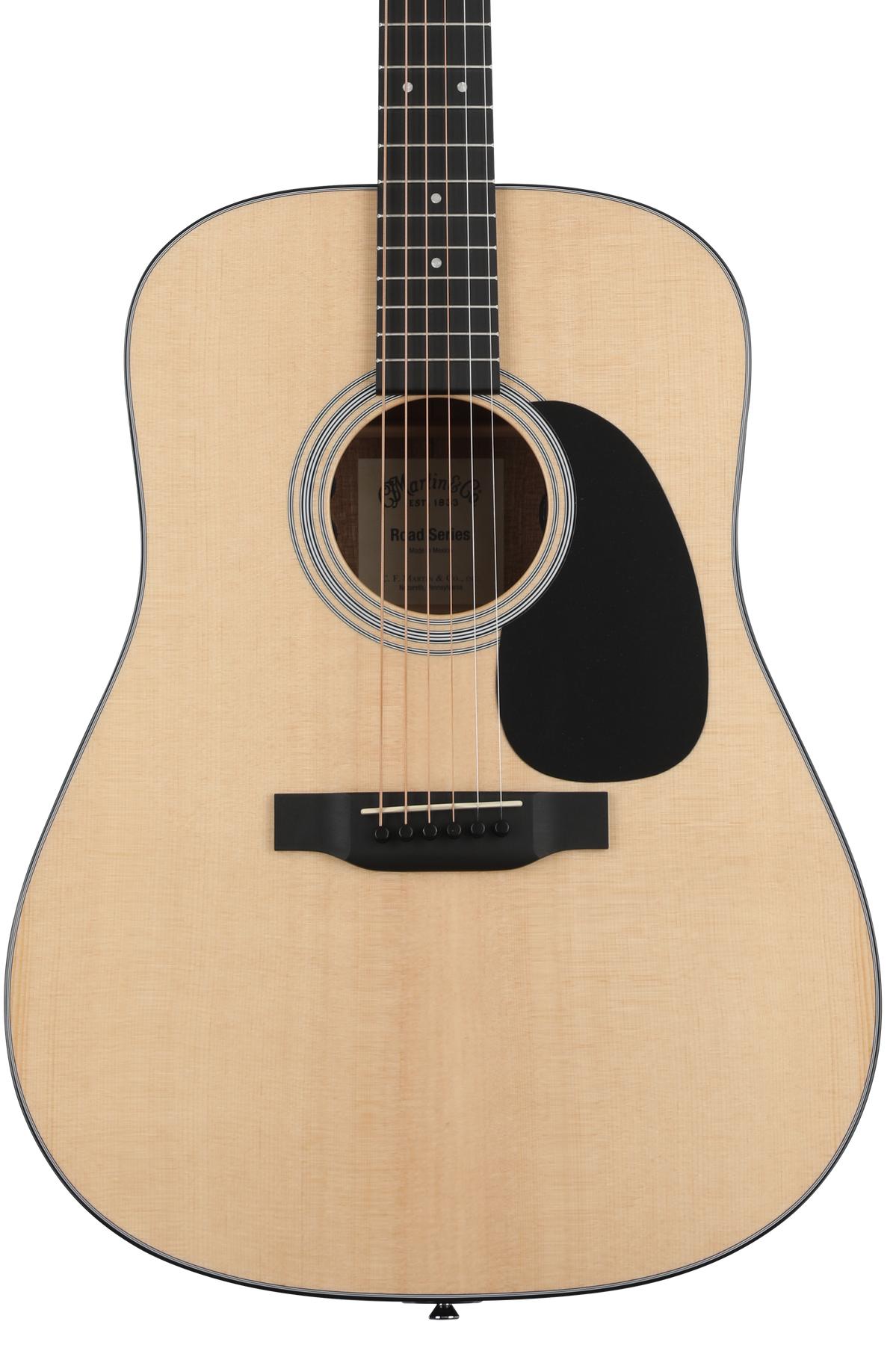 Specs
| | |
| --- | --- |
| Body Style | Dreadnought |
| Top | Solid Sitka Spruce |
| Back & Sides | Solid Sapele |
| Neck | Select Hardwood |
| Neck Shape | Performing Artists |
| Fretboard | 20 frets, Richlite |
| Nut | White Corian |
| Nut Width | 1.75″ |
| Electronics | Fishman MX-T |
| Saddle | Compensated, White Tusq |
| Scale-Length | 25.4″ |
Martin has always made instruments that hard-working touring musicians could rely on no matter what. That spirit is alive and well in Martin's Road Series.
The D-12E gives working musicians what they want and need without breaking the bank. If you like to play gigs, then this is the Martin for you.
Players get an all-solid-wood Martin guitar in all its glory. A solid Sitka spruce top is mated with solid Sapele back and sides for a big, loud, beefy tone with plenty of sustain. The Richlite bridge and fingerboard are the only parts of the D-12E that are not solid wood.
That's pretty snazzy – especially since this guitar is so affordable compared to other solid-wood Martin guitars.
One major thing that really brings this guitar together is the Fishman MX-T electronics. It's the same system used in the D-X2E, but it incorporates a soundhole tuner that mutes the electronic signal so your audience doesn't have to hear you tune up in mid-set.
That is a pro feature for sure.
The added visual adornments make it look like a much higher-end Martin. Make no mistake about it: the Martin D-12E is ready for the rigors of the road.
Hear how this Martin sounds:
Pros:
All solid-wood construction for amazing unplugged tone
Richlite fingerboard and bridge for added durability
Easy playing, High-Performance tapered neck feels very comfortable
Inclusion of an onboard tuner makes it easy to tune up mid-set
Cons:
May be out of the price range of beginners
Upgrade the Corian nut and Tusq saddle to bone – you'll thank me later
What others are saying:
Well.. this guitar is worth every penny and then some. For an "entry level" Martin…it definitely doesn't sound or feel like entry level. Right out of the box it was ready to gig. The quality of the fit and finish is top notch and the richlite fretboard feels way better than I was expecting. I'm 100% satisfied and recommended this guitar to anyone looking for a more affordable high end instrument. – Jim from Massachusetts
Check Price on:
---
Best for Playing the Blues – Martin 000-10E
You can find more great acoustic guitars for blues here.
Specs
| | |
| --- | --- |
| Body Style | Auditorium |
| Top | Solid Sapele |
| Back & Sides | Solid Sapele |
| Neck | Select Hardwood |
| Neck Shape | High-performance Taper |
| Fretboard | 20 frets, Richlite |
| Nut | White Corian |
| Nut Width | 1.75″ |
| Electronics | Fishman MX-T |
| Saddle | Compensated, White Tusq |
| Scale-Length | 24.9″ |
If you're looking to get down and dirty with some fingerstyle blues, or you're looking for a guitar that is smaller than the familiar dreadnought body shape, then the Martin 000-10E is the guitar you need.
The 000-size body (also referred to as an "auditorium" size) is lighter, thinner, and sits more comfortably in your lap than a big dreadnaught.
If you're familiar with Eric Clapton and his 1939 Martin 000-42 or his 1966 Martin 000-28, then you're already familiar with what these guitars can do.
If you aren't, you really need to watch his groundbreaking MTV Unplugged performance. It will change your life.
The Martin 000-10E shares the same body style as Clapton's models, but features an all-solid-wood Sapele body. A hardwood neck and Richlite fingerboard and bridge put it right up there with the D-12E as far as construction is concerned.
As for the tone, you're going to get a darker, warmer sound with punchy bass – perfect for blues licks and fingerpicking. This is about as close to a mahogany body as you can get.
Throw in the Fishman MX-T electronics with a soundhole tuner and you're ready to lay down those blues scales and chord progressions anywhere you want.
Martin 000-10E is a great guitar for Bob Dylan style blues.
Hear how this guitar sounds:
Pros:
All solid-wood construction for durability and tone
Smaller body size is easier to handle than a dreadnought
Fishman MX-T electronics make it easy to plug in and tune up
Very comfortable to play sitting down
A lot of pro features for the money
Cons:
Not as loud as a dreadnought when played acoustically with others
A bone nut and saddle would be nice
What others are saying:
So for weeks I was searching for a new acoustic sub-$1500 for acoustic gigs with a reliable sound and playability. I took the change on the 000-10e without playing it in person and was very glad I did. Immediately out the box the guitar was playing perfectly. The guitar subtly responds to any attack on the strings, from loud picking, to finger picking. The sound is unique but familiar (if that makes sense). We all have this sound in our head of what we want our acoustic to sound like, even if we do not know how to explain it. And Martin knocked this out of the park for the price! The built in tuner is super helpful and pickups sound great going right into the mixer/PA. Extremely happy with my purchase! – Fritz from US
Check Price on:
---
Best for Electric Players – Martin SC-13E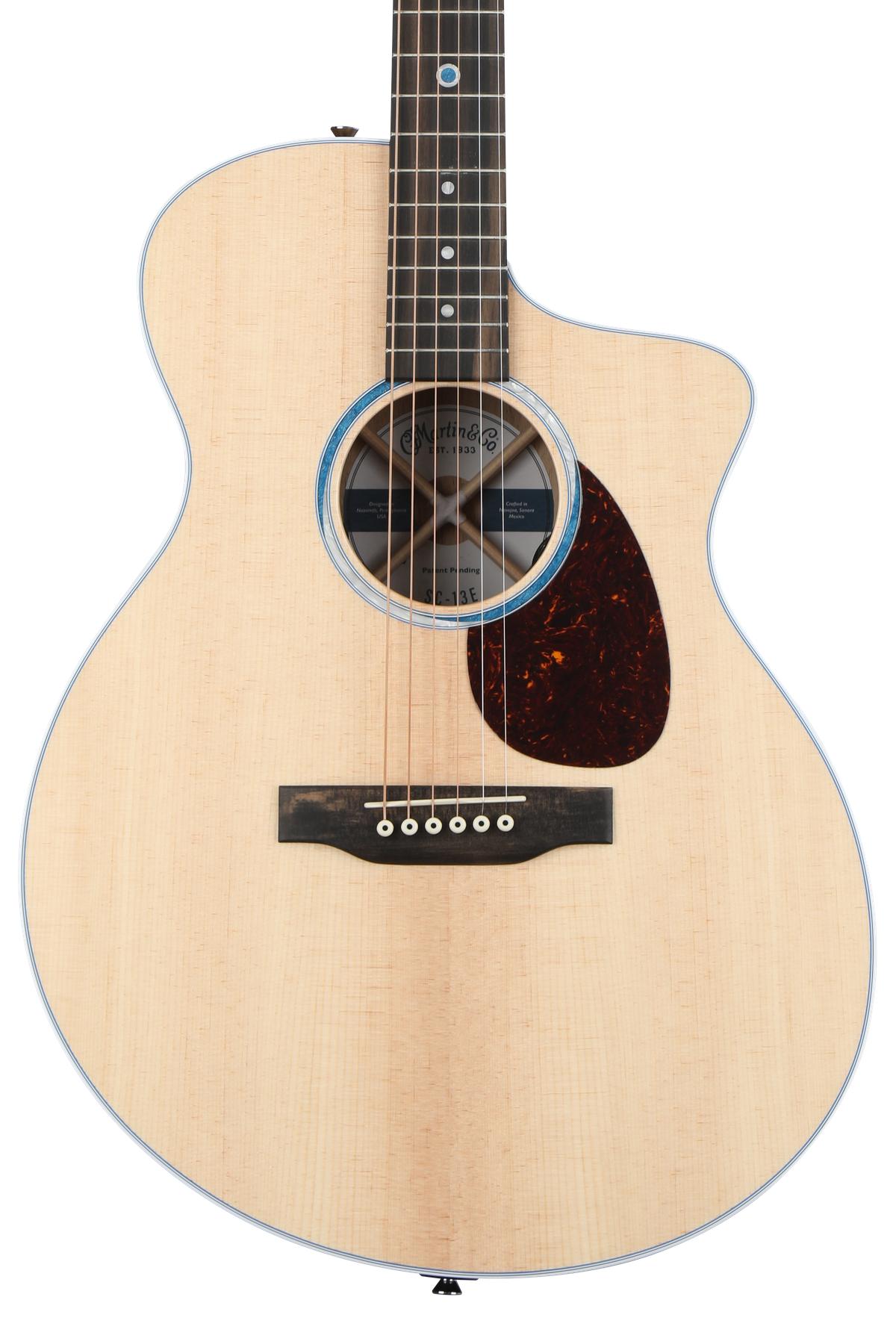 Specs
| | |
| --- | --- |
| Body Style | Cutaway |
| Top | Solid Sitka Spruce |
| Back & Sides | Koa veneer |
| Neck | Select Hardwood |
| Neck Shape | Low Profile Velocity |
| Fretboard | 20 frets, Ebony |
| Nut | White Corian |
| Nut Width | 1.75″ |
| Electronics | Fishman MX-T |
| Saddle | Compensated, White Tusq |
| Scale-Length | 25.4″ |
Electric players are often forgotten about in the acoustic guitar world. The SC-13E offers electric players the experience of a Martin guitar without worrying about the playability limitations of conventional body shapes.
The SC-13E looks modern, and it is when it comes to the unique design. The S-style body is shaped specifically for those who like to use the higher frets. The cutaway and a heelless design allow unlimited access to those sweet high notes.
All of that playability is useless without a sound construction. The Martin SC-12E sports a solid Sitka spruce top paired with a Koa veneer body that not only looks gorgeous but provides plenty of tonal balance and sustain as well.
The neck is different than most Martins. Martin refers to it as their Low Profile Velocity design, and that's a very accurate statement. Electric players will appreciate the low action and smooth feel as they explore the upper frets.
The Fishman MX-T electronics make it a real winner by providing unparalleled plugged-in tone with a soundhole-mounted tuner. The versatility of the SC-13E is boundless, allowing players to light up a stage with its exotic looks and tone, record crisp passages in the studio, or just jam with friends.
If you're in the market for an acoustic-electric that really caters to your electric tastes, the Martin SC-13E should be at the very top of your list.
Hear how SC-13E sounds:
Pros:
Neck is smooth and effortless to play
Cutaway and heelless design allow unlimited access to the upper frets
Fishman MX-T electronics make it extremely versatile
Koa veneer and visual appointments set it apart from traditional acoustics
Acoustic electric guitar with Martin quality, sound, and feel
Cons:
Not loud unless it is plugged in
Neck design takes a while to get used to if you're already an acoustic player
What others are saying:
Got my Martin SC-13E about a month ago and I love it. The tone is incredible as is the volume. Which is surprising for a smaller body guitar. And the smaller body fits me well. But the real story is the neck. Such a pleasure to play. It is advertised as an acoustic guitar for electric guitar players and it lives up to the hype. It did have a slight string buzz on the high E string in the higher register so I had it set up. The cost was minimal and well worth it to make it perfect. I LOVE THIS GUITAR and now my luthier loves it too. Well worth the money. – Norm from Nevada
Check Price on:
---
Runner-Ups That Just Missed The Top 5
---
How We Chose These Martin Acoustic Guitars
We decided which Martin guitars to recommend by using our own experience, doing extensive research, visiting music stores, and asking help from our musician friends
After we had chosen the products to recommend we looked for a good way to test the gear. This could mean renting it, buying it, testing it in a music store, or visiting a friend who owns it. This time, our main testing method was playing these Taylor guitars in music stores.
Even after this, we'll still do another round of extensive research to make sure that this specific product is in fact, a real cream-of-the-crop candidate.
Then we wrote this in-depth but easily digestible review about these top-notch Martin guitars. We kept in mind who will be playing them (most likely) such as bluegrass players, blues players, players who want to plug in, beginners, advanced players, etc.
Most acoustic guitars we recommend are run through tests like these:
We go carefully through the finish and build quality of the guitar.
We inspect the fretwork and edges of the fretboard to make sure there are no sharp edges.
We play the acoustic guitar unplugged and plugged in.
We use different playing techniques, such as fingerpicking, flatpicking, strumming, tapping, and even percussive playing.
We measure and weight the guitar.
We try licks and riffs from different genres.
Learn more about GND's testing and reviewing processes here.
---
Buyer's Guide – How to Choose The Right Martin Guitar for You?
What you should know before buying:
Martin guitars come in a variety of styles. Choose the style that best fits your playing abilities.
Martins can be expensive. Make sure you budget correctly.
Once you have this basic step figured out, then it will be time to ask yourself what kind of sound you want the guitar to produce. Do you want a loud guitar or something with a more intricate sound? This will further help you narrow down what body sizes would be best suited for you.
Martin guitars can look the same but some are made with man-made materials such as Richlite, Micarta, TUSQ, and Corian. This will affect the overall tone of the guitar.
Models with an "E" behind them denote that the guitar is equipped with Fishman MX (no tuner) or Fishman MX-T (tuner version) electronics.
Be warned: your friends will want to play your new Martin! It's just impossible for them to resist.
Basic understanding of acoustic guitar anatomy
If you are a beginner, check our Beginners Martin guitar guide here.
Martin Body Sizes, Shapes, and Styles
There are six body sizes that you will find Martin making these days. These do not include the cutaway versions of each one as that is highly model specific.
Concert (0)
Soft sounding with clear treble and delicate bass. Slim & small body shape that's easy to handle.
Grand Concert (00)
Soft sounding with clear treble but warm bass response. Snuggly body shape that fits smaller players really well.
Auditorium/Orchestra model (000)
The most balanced tone of all Martin shapes with easy-to-handle body size. Great for fingerpicking and blues.
Find more great acoustic guitars for blues here.

Find more great fingerstyle acoustic guitars here.
Grand Performance (GP)
More projective than a 000 size with more bass response. Solid volume and projection. Body shape that makes overall performance really comfortable.
S Cutaway
S-shaped asymmetrical body style with a cutaway. Offers great access to upper frets and overall easy playability. Great acoustic for electric guitar players. Surprisingly balance tone and good sustain. Not the boomiest low-end.
Jumbo/Grand Jumbo/Grand Auditorium (0000)
Projective tone with a clear distinction between bass and treble. Currently these body variations are not used in many Martins. The large size might be too much if you are used to easy-to-handle acoustics or electrics. Test before buying.
Dreadnought (D)
Loud and projective with a strong bass response. This is the loudest-sounding Martin. Large size, but still really versatile, and surprisingly easy to handle.
Important!:
Larger-bodied guitars require more power on behalf of the player in order to project correctly. This means that a dreadnought needs to be played harder than a 00 or 000 size. If you're a flatpicker, a dreadnought is what you'll want. If you prefer to play fingerstyle, then a GP or smaller size will be up your alley.
Martin Tonewoods
Learn more about tonewoods from our full acoustic guitar tonewoods guide.
Mahogany
warm, well-rounded tone. It can make a guitar heavier though because of its density. Mainly used for backs and sides, but some guitars have mahogany tops. Necks are also made from mahogany.
Rosewood
perhaps the most popular tonewood for acoustics. It has a warm, well-balanced tone. It is lighter in weight than mahogany and tends to resonate more freely. Mainly used for backs and sides.
Sapele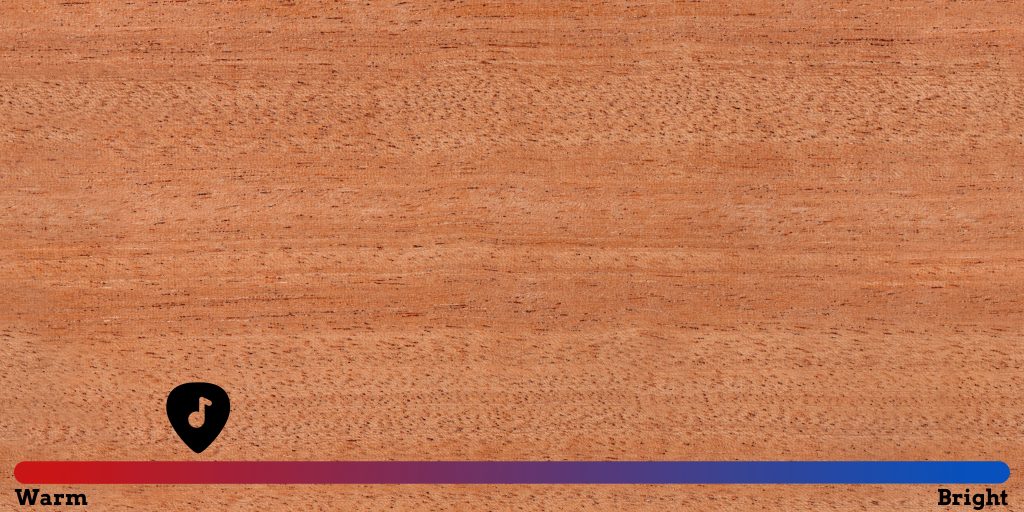 this wood is used in place of mahogany. It is a tough wood that is incredibly durable. The tone is very similar to mahogany with a bit more pronounced treble. It also tends to be more focused than mahogany since it is denser, therefore it does not resonate as freely. Mainly used for backs, sides, and necks.
Koa
This tropical tonewood fits in between the crisp sound of rosewood and the warm sound of mahogany. It is typically used for backs and sides, but a few Koa-topped models are out there.
Maple
This tonewood is very bright and crisp. It has a very clear tone without a lot of sustain or overtones due to its density. While it can be used as a stunning top, it is more commonly used for backs, sides, and necks.
Sitka spruce
This is used almost exclusively for guitar tops. It is a softer tonewood with a lot of volume and presence. It also has a very well-balanced tone that pairs well with the tonal bandwidth of a guitar. You can't go wrong with a Sitka spruce top!
Cedar
Cedar is softer than Sitka spruce and therefore resonates more freely. While the sound is not as focused, it is warm and vibrant. This is a good choice for fingerstyle guitar players since it doesn't take much force to make this wood sound great. It is used as a wood for guitar tops.
Sycamore
Sycamore is a softer tonewood and therefore is very mid-ranged focus. It has a mellow treble and bass response.
Martin Electronics
Many Martin guitars come with electronics that allow you to plug them into an acoustic guitar amplifier. This is great for live performances where more volume is needed and eliminates the need for an external microphone.
Martin has their Thinline 322 piezo pickups available on several models. These are installed under the saddle on the bridge to replicate the sound of the guitar. They should be used with an external preamp or dedicated acoustic guitar amp with an equalizer for the best sound.
You'll also find electronics from notable manufacturers like LR Baggs and Fishman. These vary from model to model. Some have their preamp built in.
We wrote a full acoustic guitar pickup guide, check it out too!
Martin Neck Profiles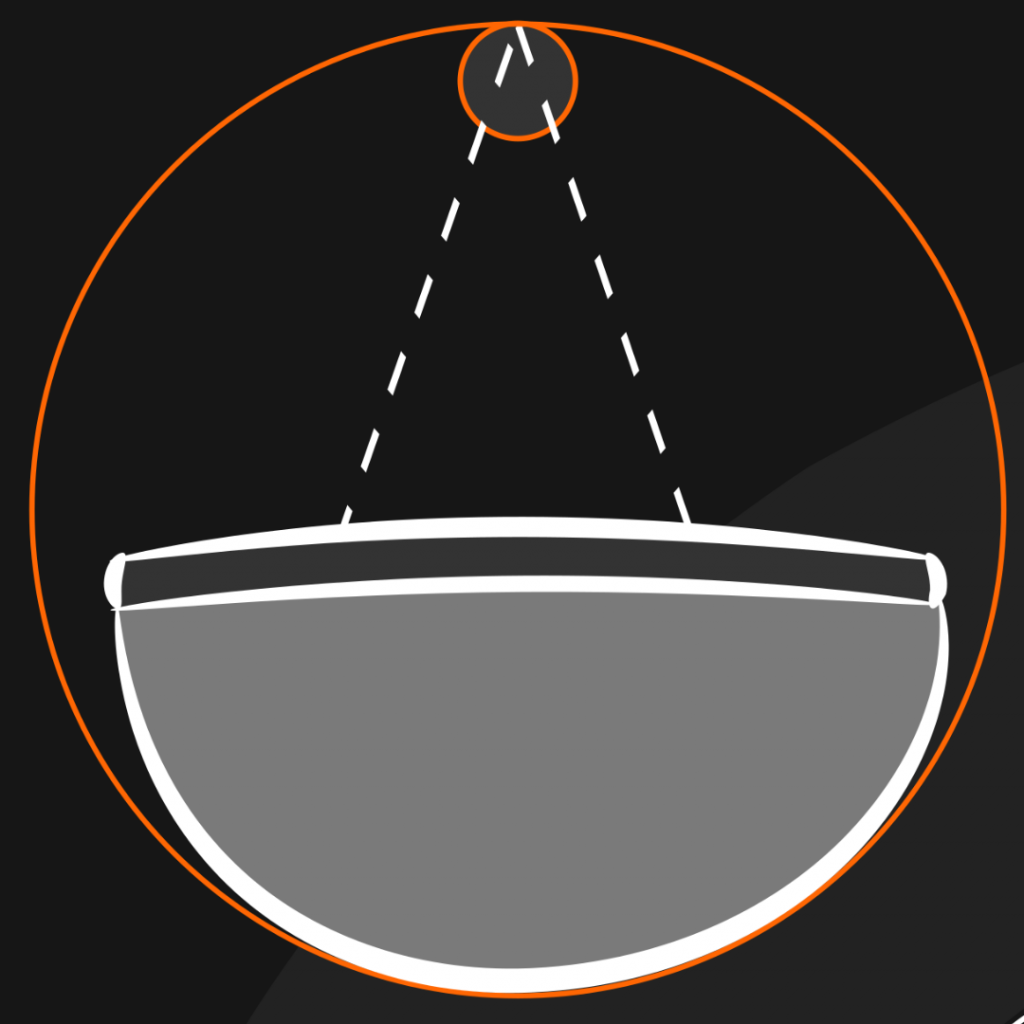 Modified Low-Oval – This neck profile is in the middle; it is not too big and not too small. This is a "C" shaped neck.
Full-Thickness – This is the biggest neck that Martin offers in terms of thickness. It is a "C" shaped neck. This is definitely a neck for larger hands and long fingers! If you have short fingers, stay away!
Modified V – This is Martin's take on the vintage "V" neck profile. If you have never played a "V" shaped neck, I highly suggest you do so before buying. They are different by modern standards and have a completely different feel compared to the "C" shaped necks that are so popular today.
For more on neck profiles, check out our full guitar neck shape guide.
Synthetic Materials
In an effort to establish more sustainable practices, Martin has opted to use synthetic materials in place of solid wood. These materials are meant to be tonally balanced and sufficient for guitar use. They also help bring down the overall cost of the instrument in many cases.
Martin has used materials such as:
HPL – High-Pressure laminated wood that uses very thin layers of wood and epoxy pressed together.
Carbon fiber – used in the aerospace industry. It is very tough and durable and is weatherproof.
Richlite – Richlite is made from a composite of paper and epoxy. Martin uses it for fretboards and bridges.
Micarta – This is a composite of paper layers in epoxy. Martin has used this for fretboards.
Martin Series
Standard Series – These guitars are what made Martin famous. They are tried and true designs that are the backbone of the Martin lineup. They are anything but "standard".
X Series – These guitars are for budget-minded musicians. A lot of these will include synthetic materials.
Modern Deluxe Series – Think of these as the Standard Series with modern updates to their design. These will also have electronics.
Junior Series – These are smaller bodied guitars that are perfect for songwriting sessions or recording.
Authentic Series – This series is comprised of guitars that are faithful reproductions of pre-war era Martins. These are built with exact dimensions of their vintage forefathers.
15 Series – Solid mahogany acoustics that are built for live performance.
16 & 17 Series – Affordable Martin tone made with tonewoods such as mahogany and granadillo that are available with a wider range of finishes.
Road Series – As the name suggests, these guitars are built for working musicians. They feature laminated back and sides with solid Sitka spruce tops.
Little Martin Series – These guitars are for people looking for a scaled-down guitar with a bigger sound. They are great for students, travelers, and smaller-statured players.
Backpacker Series – These are the most travel-friendly Martins. They don't resemble a guitar, but rest assured they sound great – especially around a campfire!
FAQ
What makes a good Martin guitar?
This depends entirely on your personal tastes. I have broken down the reviews into helpful sections that are most commonly asked about.
There will always be a battle between all solid-wood guitars and those constructed of man-made materials. To say that one is better than the other is a matter of opinion. All of the Martins that I have played have been exceptional guitars.
Also check this article: Are Martin Guitars Any Good?
What are Martin guitars good for?
Martins are more versatile than ever thanks to their new, innovative designs (such as the SC-13E). Martins are mostly known for their relationship to bluegrass, the blues, and folk music. Martin guitars just happen to be the weapon of choice for these musicians.
But this does not limit them to just these styles of music. They can be used in every genre – from jazz to rock and everything in between.
Learn how to take care of your acoustic guitar here.
Who should buy Martin guitars?
Anyone who is looking for flawless craftsmanship and high-quality acoustic playability, tone, and looks deserve to get their hands on a Martin acoustic guitar. I have personally never heard anyone say that they regretted buying one.
Are Martin Guitars Good For Beginners?
Yes and no. They are not the most economical choice. This might make them a bad choice for a beginner who isn't quite sure whether or not they'll stick with it.
Other than that, Martin guitars are a great choice for beginners. The Martin LX1 is a perfect example of a great starter Martin, as well as any from the Road Series. The Road Series is a great way to get into an all-solid-wood Martin while saving some money at the same time.
Learn more about choosing a Martin guitar for beginners here.
Are Martin Guitars Easy to Play?
There is, for some reason, a common misconception that Martin guitars are hard to play. This is false. With the correct setup, they are as easy to play as any other guitar.
Where Are Martin Guitar Serial Numbers?
Martin guitar serial numbers are generally located on the heel of the neck inside the sound hole.
What is The Most Iconic Martin Guitar?
The most iconic Martin guitar is the D-28. The dreadnought body style in general would technically be the most iconic since it has been adopted as the "standard" guitar size by many manufacturers. In that case, the D-18 would also fall into that category.
Why is The Martin D28 So Popular?
The Martin D-28 is so popular because it projects loudly while maintaining tonal clarity. Bluegrass players love them because they can cut through a mix of other instruments with ease while maintaining clarity in the treble and bass.
Do Martin Guitars Sound Better With Age?
Mattin guitars will sound better with age if they are made from solid wood. This is because the wood dries out over time leading to it being more resonate.
On the other hand, Martin guitars crafted from laminated wood or synthetic materials will likely not sound better with age because the tonal characteristics of the materials do not change much over time.
Are Martin Guitars Good Investments? Do Martins Hold Their Value?
Martin guitars certainly hold their value and are great investments for collectors. This is especially true of higher-end Martin guitars or vintage Martin guitars. Martin guitars made before WWII are especially valuable on the collector market.
Do Martin Guitars Have A Lifetime Warranty?
Martin guitars have a LIMITED lifetime warranty. The instrument must be purchased new from a Martin authorized dealer in the United States. It is also limited to the original owner. Martin may opt to replace the whole instrument or only part of it, and the warranty covers the replacement of the case, tuning keys, and electronics for 1 year after purchase.
What Martin guitar did Ed Sheeran use?
Ed Sheeran uses his ¾ sized Martin LX1. He also has his own signature Martin Ed Sheeran Divide Signature Edition guitars.
Famous Artists and Guitarists Using Martin Guitars
-Eric Clapton – Martin 000-28EC
-Johnny Cash – Martin D-35
-Tony Rice – 1935 Martin D-28
-Jimmy Page – Martin D-28
-Ed Sheeran – Martin LX1
-Shawn Mendes – Martin 000JR-10E
-Rich Robinson – Martin D-28
-David Crosby – Martin D-45
-Del McCoury – Martin D-28
-Tommy Emmanuel – Martin 000-28
Who should look for another guitar brand instead of Martin?
If you're into more innovative looks and styling, Martin guitars might be a little bland for you. You may check out Blue Ridge guitars for more fancy inlays and such.
If you're not really worried about acoustic tone but want exceptional playability and a great plugged-in sound, then you might be better off considering an Ovation.
If you want a deeper, louder sound than a Martin acoustic guitar can provide, then I would recommend checking out a Gibson Jumbo-style acoustic.
Where Are Martin Guitars Made?
The main Martin guitars factory is located in Nazareth, Pennsylvania, USA.
Martin also has another factory in Navojoa, Mexico where they manufacture some cheaper guitar models, as well as strings and other instruments. Learn more about where Martin guitars are made here.
---
Conclusion On Best Martin Guitars
If you're in the market for a Martin guitar, then use our guide as a road map to find your dream guitar. There were many, many hours spent compiling this list.
After traveling many miles to remote music shops and putting callouses on my callouses, it's about as well-researched as it can get. These truly are the best martin guitars out there.
But it was totally worth it.
Even if the bossman thought I was dead, I enjoyed playing every single guitar listed here. I tried to get one thrown in as part of my pay, but alas, my request was denied. That's ok: at least you have enough information to make a sound decision on your first (or next) Martin acoustic guitar.
Now, the next step is simple: just choose one! You'll write me thank-you notes, and my sore fingers will appreciate them. I promise you: you won't go wrong.
Check our picks for the best acoustic guitar brands here.
---
You might also like:
We are sorry that this post was not useful for you!
Let us improve this post!
Tell us how we can improve this post?