Last Updated on November 30, 2023 by Justin Thomas
Author: Tommy Tompkins
Playing guitar since 2004. Primarily an acoustic guitarist who plays and writes traditional American folk music, with a background in melodic metal and a solid foundation as a bassist.
Hide The Rambling▲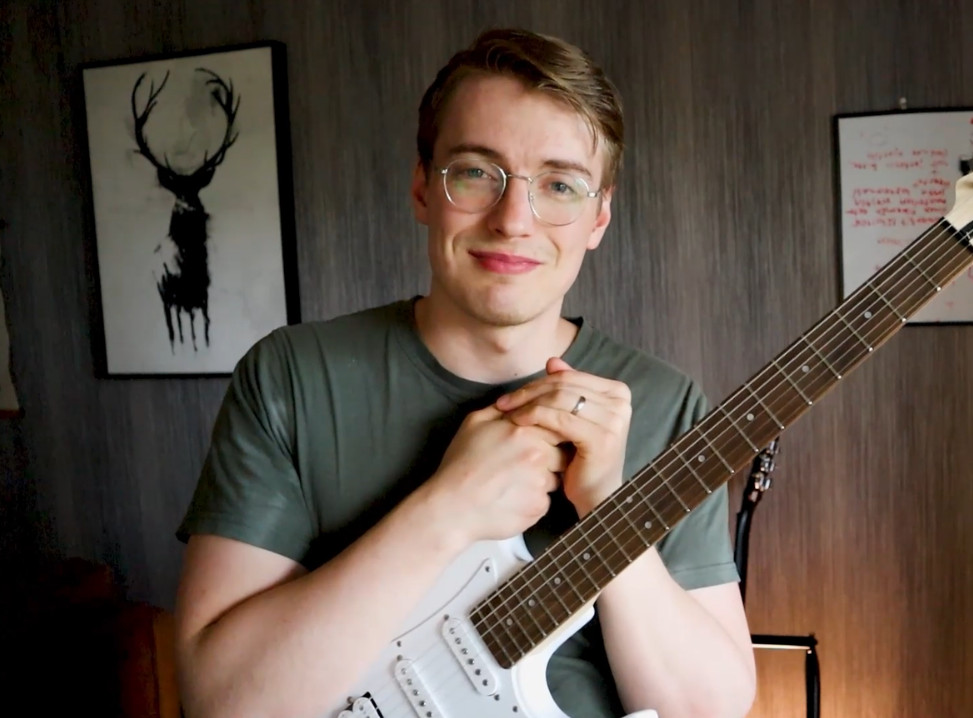 Editing & Research: Teemu Suomala
I first grabbed the guitar in 2009. I started this website in January 2020 because I couldn't do window installation anymore due to my health problems. I love guitars and have played dozens and dozens of different guitars through different amps and pedals over the years, and also, building a website interested me, so I decided to just go for it! I got lucky and managed to get awesome people to help me with my website.
I also got lucky because I have you visiting my website right now. Thank you. I do all this for you guys. If you have any recommendations, tips, or feedback, just leave a comment, I would love to chat with you. I have also been fortunate to produce content for several large guitar websites, such as Songsterr, Musicnotes, GuitarGuitar, and Ultimate Guitar.
I spend my spare time exercising and hanging out with my wife and crazy dog (I guess that went the right way…).
Hide The Rambling▲
---
Best Overall – Boss Katana-100 MkII 212
Sound
Features
Usability
Value for Money
Summary
Whether you're ready to hit the stage or are still keeping your riffs in the bedroom, the BOSS Katana MKII is able to deliver soul-crushing heavy metal goodness.

Versatile, but the Brown amp setting is why we are here for.

Modeled after Boss' groundbreaking solid-state WAZA amp, this is a high-gain channel with loads of heavy, focused distortion.

Plus

The Lead channel is pretty nasty too, with a sound similar to Joe Satriani's heavier tunes.

And you are not limited with features. At all.

You get access to the BOSS Tone Studio software that lets you change just about everything about your sound settings. And when you have nailed your tone, you have 8 different banks to store your own presets in. The best metal amp under $500.
How Katana-100 sounds:
Check Today's Price on
*Consider all links in this post to be affiliate links. If you purchase, at no additional cost to you, we may earn a small commission. It helps us to keep the lights on, thanks! 🙂
---
The Next Best:
Compare:
---
I'm a big fan of brutal breakdowns and melt-your-face-off melodic metal, but I know I'll probably never spend more than a few hundred dollars on an amp.
Lucky for me and you and all other metalheads out there, you can get a killer tone without killing your finances. This guide reveals my 5 favorite metal amps under $500 and walks you through everything you need to know before making a purchase!
Let's first look at these fine metal amps, and at the end of the post, you can find the FAQ section that helps you to make the best choice possible.
---
Our Favorite Music Store in The World!
Why?
– Excellent Customer Service (4.7/5 Trustpilot Score)
– Fast & Free Shipping
– Gear is Inspected, Tested, & Ready to Play When it Arrives to You (We love this)
– Fair Prices
Visit Sweetwater:
Our reviews of the top 5
Best Overall – Boss Katana-100 MkII 212
Sound
With five different preset amp voicings, there's already a lot you can do with the katana. As a metal master, you might not be too interested in the Clean and Acoustic channels, but they're there if you need them(and sound good btw).
What you're after in your quest to start a moshpit wherever you may roam is this amp's Brown setting.
Modeled after Boss' groundbreaking solid-state WAZA amp, this is a high-gain channel with loads of heavy, focused distortion. It works almost with any kind of metal, and especially really popular stuff (Metallica, Pantera, System of A Down).
The Lead channel is pretty nasty too, with a sound similar to Joe Satriani's heavier tunes.
This demo displays amps versatility well+metal tones ofc:
Features
I glossed over the Acoustic setting, but yeah—this bad boy doubles as an acoustic amp.
And did I mention that each of the 5 amp presets has an alternate setting, so you actually have 10 models to choose from?
Add to that multiple effects—Booster, Mod, FX, Delay, and Reverb—and you can take your tone anywhere you want to go.
This is a really versatile amp; a great choice if you metal and other stuff too.
Usability
It doesn't stop at just shaping the presets either. You also get access to the BOSS Tone Studio software that lets you change just about everything about your sound settings. Then, when it's perfect, you have 8 different banks to store your own presets in.
With a 100-watt output, you could easily gig with this (at max, your drummer might even have a hard time keeping up).
And I really love that you can adjust the power level all the way down to just a half a watt. This gives you that same deathly distortion but at in-home volume levels other people can live with.
Summary
Pros
Huge 100-watt voice from 2 speakers for filling large clubs
Output can be scaled down to 0.5-watts for bedroom volume
High-gain "Brown" amp setting for mean metal crunch
Really versatile amp
Provides room-filling open-back tones
Cons
Loss of tonal definition at highest volumes
Whether you're ready to hit the stage or are still keeping your riffs in the bedroom, the BOSS Katana MKII is able to deliver soul-crushing heavy metal goodness.
I think this is the best combo amp for metal you can find for under $500.
Check Price on:
---
Best for Classic Metal- Marshall MG50GFX-U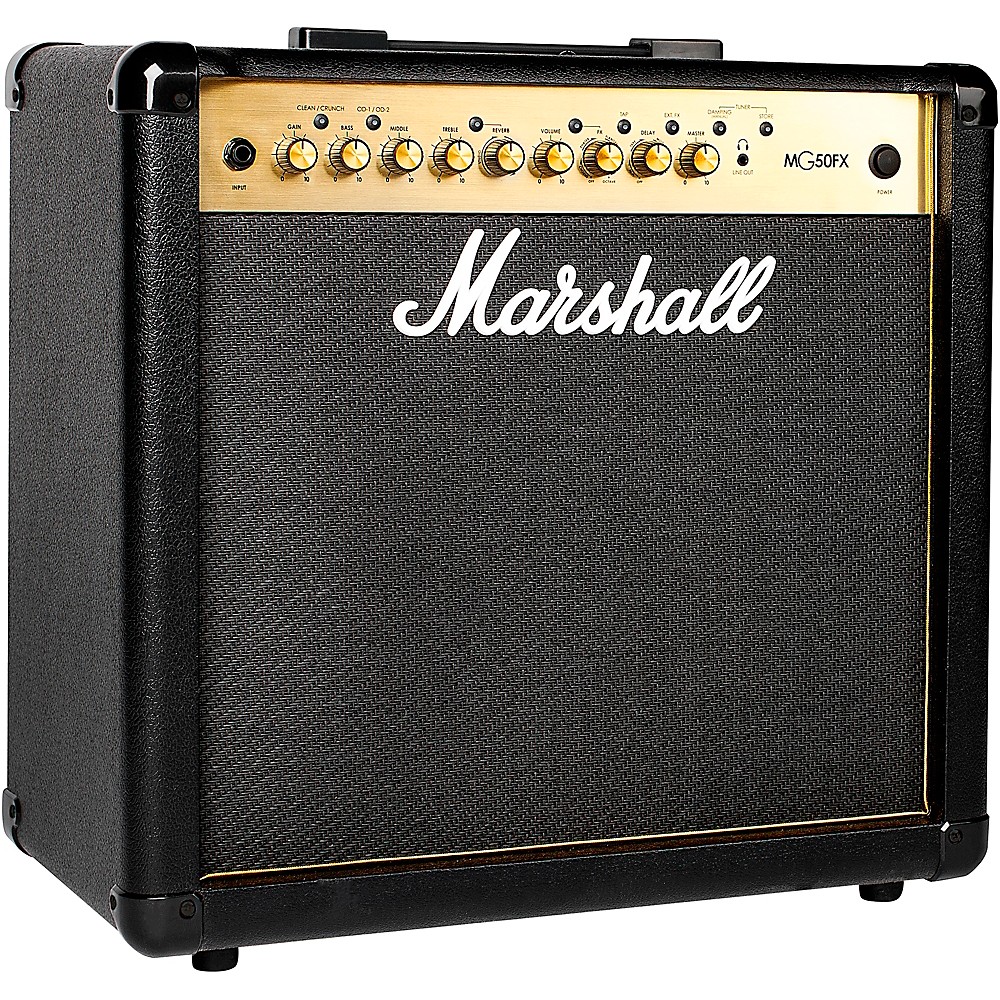 Sound
There's no denying the influence of Marshall amps on metal music.
From Iron Maiden to Slayer to Rage Against the Machine and beyond, the heavy crunch of Marshall's tube heads has overwhelmed audiences for decades.
The MG50GFX packs a wide variety of these classic Marshall tones into the compact power of a solid-state amp. You can get go from melodic cleans to evil riffs with just the push of a button.
You get emulations of 4 different amp voices: a smooth Clean, a bluesy Crunch, a rockin' OverDrive1, and a heavier OverDrive2.
On OD2, you can tap into the tones of the premiere metal legends and shred the songs that started the genre off in the early 80s.
This amp definitely shines with classic metal.
Hear how this amp sounds:
Features
In addition to its multiple channels, there are 7 effects you can use to spice up your tone.
Unlike many digital effects, these actually sound good! There are 2 different reverbs, 4 different types of delay, plus Chorus, Flanger, Octave, Phaser, and Vibe.
Once you find the perfect tone, you can save it to any 1 of 4 available channels so it stays right at your fingertips.
Usability
One of the best features of this amp is its included footswitch. It's a 2-button model that controls your channels only, so you'll have to upgrade to the 4-button footswitch to control your effects.
If you don't want to, you can bypass the digital effects entirely and use your own pedalboard with the MG50FX's in/out effects loop.
Marshall really made it easy to dial in the tone you want, so if you're looking at this as a beginner amp, know that it's really intuitive to use. I'm sure you'll get the hang of its controls quick!
Summary
Pros
Powerful 50-watt output with 4 preset amp voices
7 great-sounding digital effects
Includes a footswitch for easy channel flipping
Crunchy old-school metal tones
Cons
Some tones from overdrive channels sound more like tube fuzz than metal distortion
Though I like modern metal a bit more than the older stuff, I can't deny the satisfying crunch of Marshall's classic tube tones.
If you're a fan of these original metal legends, you'll dig the way their tones are reproduced in solid-state fashion with the Marshall MG50GFX.
Check Price on:
---
Best Practice Amp – Line 6 Spider Jam Guitar Amplifier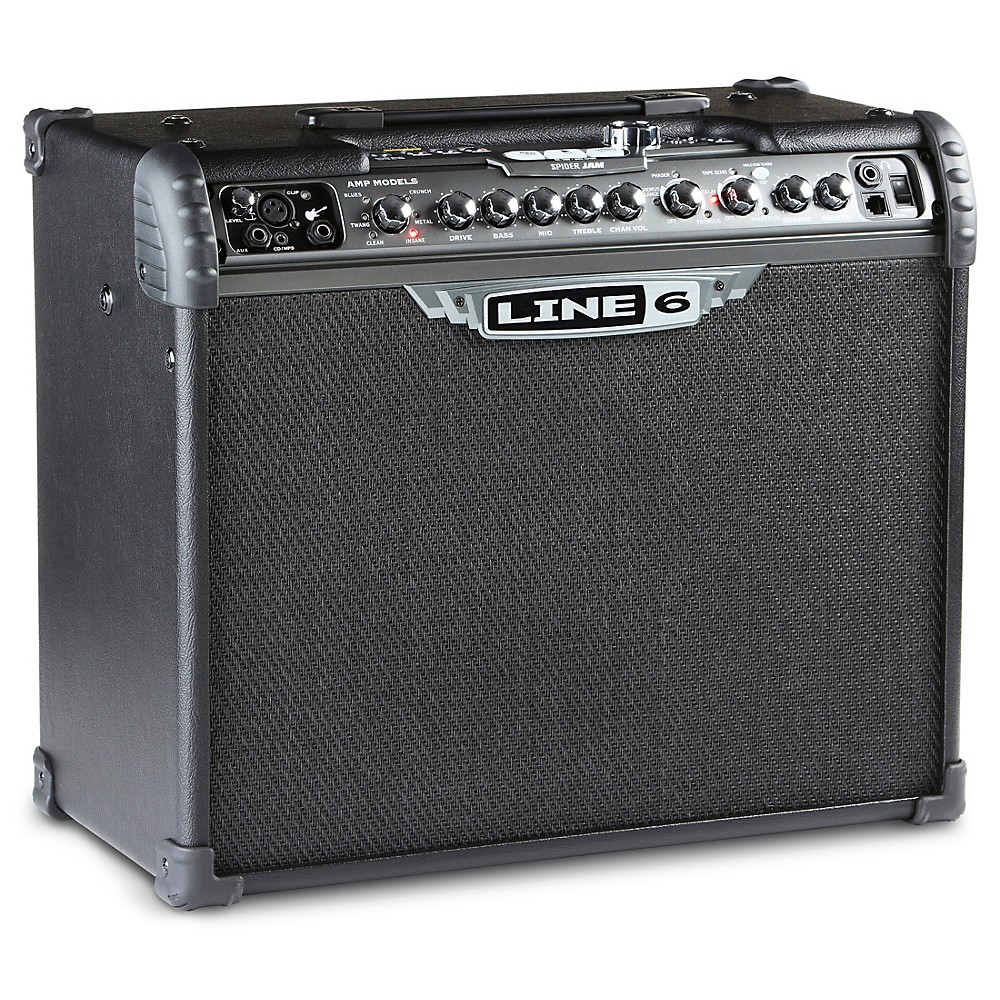 Sound
I'll say it right out, the sound quality is not the selling point of the Line 6 spider jam.
As an amp that relies heavily on digital processing, it doesn't give you the direct, in-your-face tones that you want to really rock.
It doesn't sound bad—it's just kind of blah. No real or spirit; you might even say it sounds artificial.
Regardless, its many effects and voicings make it an amp that's sure to keep practice interesting.
See how you can jam with this amp:
Features
One of the cooler things about this amp is that you can record loops with up to 28 minutes of storage. This is the main reason why I like this amp.
Plus…
It includes over 100 pre-recorded jam tracks in all sorts of styles, and you can even record over these.
To make the playback of your recordings as clear as can be, Line6 topped off the Jam amp with a little tweeter speaker cone.
Usability
I know that 75-watts sounds like a lot for a "practice amp", but that's the glory of solid-state. You don't have to be playing loud to sound good.
Unlike tube amps, the amount of overdrive you get isn't entirely dependent on your output, so you can still get meaty distortion at low volumes.
And I also realize that there's a lot of hi-tech stuff going on here, so this amp might not appeal to more traditional players.
But it's actually simple to get the hang of, and I think even your grandpa could learn to tweak the Spider Jam for optimal face-melting sound.
Summary
Pros
Hundreds of presets and editable voicings
24-minute in-amp recording capabilities
Includes pre-recorded backing tracks to practice with
Surprisingly easy to use
Cons
Low-fidelity sound isn't good for gigging
With free access to the Spider Online portal, which contains online lessons as well as even more amp models, the Line 6 Spider Jam is the best metal amp for beginners.
You might not want to hit the road with it, but it's got every tool needed for practice and a newbie to start shredding heavy metal.
Check Price on:
---
Most Versatile – Yamaha THR10II WL Wireless Desktop Amp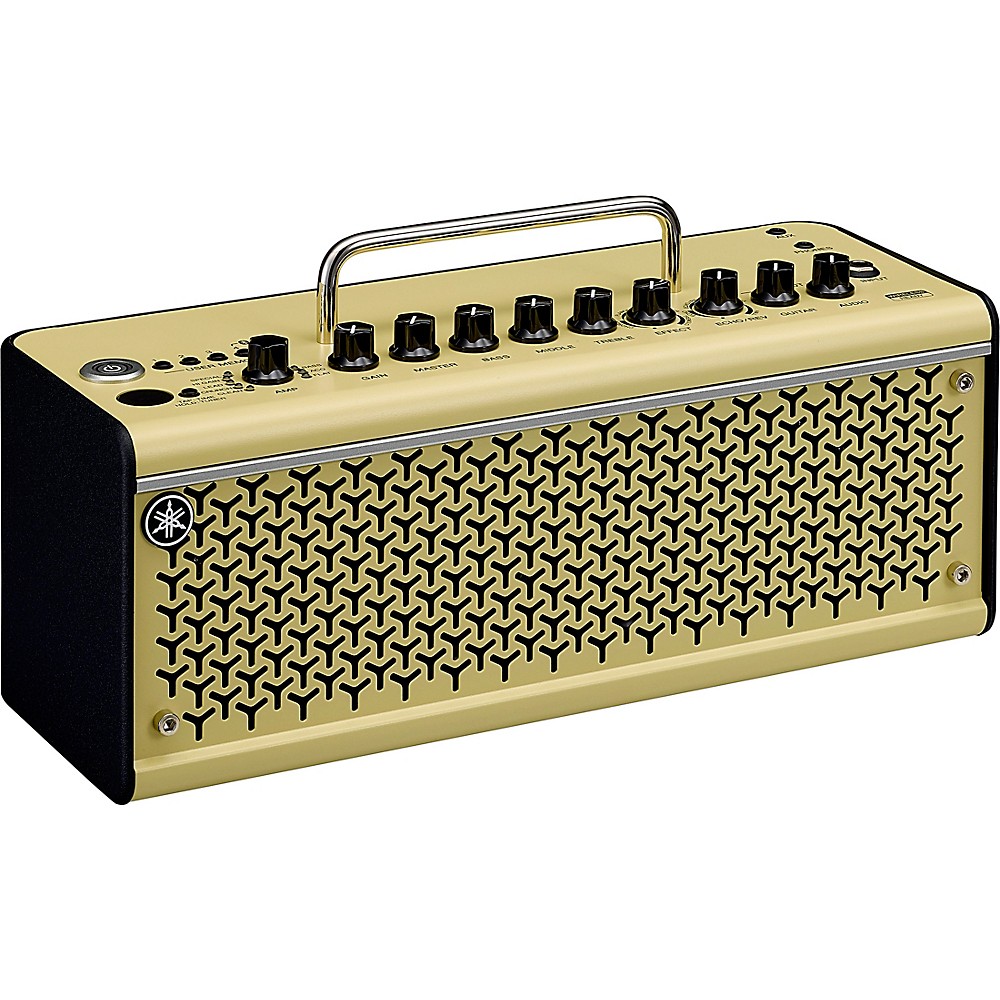 Sound
One of the most versatile amps around, Yamaha's THR10II WL can just about do it all…
…except fill a venue…
Packing 5 crystal clear built-in amp presets into a device no larger than a loaf of bread, it's a bit surprising this thing sounds as good as it does.
But that's Yamaha for you, and their THR10II is a testament to what music and technology can create when masterfully mixed.
The best channels for metal are the Hi Gain and Special. Both offer instant dirty distortion that you can adjust to match whatever style you're after.
So while you can't fill a club with the 20-watts of the THR, you're at least guaranteed studio-quality tones from each of its amp models.
Hear how this amp sounds:
Features
There's a lot to cover about this amp because it does so much.
First off, it's wireless. That means wireless audio playback via Bluetooth, wireless control of the settings from your phone, and wireless access to many more presets and amp models.
You can even play wirelessly if you get the Line 6 G10T Transmitter.
In addition to DC power, it's also rechargeable so you can take your metal on the move.
Also, it's got bass and acoustic modes if you wanna switch up instruments at any point.
Last but not least is the USB recording interface and the inclusion of Steinberg's Cubase AI recording software, giving you just about all you need to start your home studio.
Usability
It sounds like there's a lot going on, but the basic functionality of this amp is as simple as plug and play.
The onboard controls are all clearly labeled and neatly laid out, so there's no getting lost in a sea of knobs.
Though recording and doing some of the finer tone-tweaking through the software might be a little technically challenging, the variety of sounds it opens you up to is worth the learning curve.
Summary
Pros
High-quality studio tones for home-recording and practice
Battery-powered for easy traveling or busking
Wirelessly control settings, recording, and more
Nice modeled tube tones
Cons
Low power small speakers limit loudness a bit, and there's no outputs for external speakers
If you've always dreamed of being a home-studio recording whizz, or you're just looking to make some mean sounding music during quarantine, you can't do any better than the Yamaha THR10 II.
It's hi-fi tones are made to match any genre. So as angelic as its cleans may be, you can count on its drive channels to be just as evil.
Check Price on:
---
Best for Professional Use – Randall RG Series RG1503H Guitar Amplifier Head
Sound
A big, mean, gain machine, the Randall RG1503H is our metal head choice—amp head I mean…
Sporting 150-watts of quality solid-state power, this is an amp for pro-level audio.
Two gain channels give you a range of distortion fit for all manners of heavy music—dial them back for bluesy grit or go full-force for metal chaos.
The clean channel is just as nice, perfect for those melodic refrains you might wanna slip in just before the breakdown drops.
Hear how this amp sounds:
Features
Tho not made to be a fun beginner's amp, the RG1503H is strictly simple. Lacking any fancy effects, all you get is a Reverb, but it sounds great and can add a nice ring to any riff.
Outside of that, you've got basic tone controls, all doing a lot to help you fine-tune your sound. In addition to the 3-band EQ, you've got a control to scoop the mids and a Bass Boost for extra low-end power.
Usability
When you're playing with 150 watts, even 1 on the volume control is loud. Unless you've got some nice headphones, this amp is way better off on stage or in your rehearsal space than in your apartment.
It's built to gig, so all its controls are accessible as can be—it even includes the footswitch for hands-free channel changing.
Although it lacks effects, there's of course an in/out effects loop for your own pedals.
And, maybe it goes without saying, but since it's just a head, you'll need a speaker cab to pair with it.
Summary
Pros
Roof-rumbling 150-watt output can blow away audiences
Provides mean distortion. It Chugs.
3-channels: Clean, Gain, and Gain 2; includes footswitch
Effects loop, onboard EQ, plus Bass Boost and Mid Scoop switches
Cons
No speaker cab included. You need get a one for this bad boy
If you're looking for real solid-state metal amp power, this is the best you can get for under $500. It's a solid piece of gear made for heavy gigging and live studio recording.
It's incredibly powerful and has more high-gain overdrive than any other amp on this list, with a sound that's altogether pro-quality.
---
The Final Verdict
In this list, there's no absolute best.
But my favorite is the Boss Katana MKII. I switch up my playing style a lot, so I like that it delivers raw metal ferocity on one setting but sweet acoustic tones on another. And no matter how it's set, there's no sacrifice in clarity.
And overall, Katana just offers most value for money. It
sounds good,
is easy to use,
you can craft tones with Boss Tone Studio
and it's also versatile.
That's why Boss Katana 100 MKII 2×12 is great.
On the other hand, I'm at a point where I've outgrown beginner tones and need more definition in my riffs. So, the Line 6 Spider Jam doesn't quite cut it for me.
For beginners, there's no better metal amp under $500, so definitely don't let my tone-snobbery turn you off.
---
Buyer's Guide – FAQ
What Makes a Great Metal Amp Under $500?
Although metal is a really broad style of music with many offshoots and subgenres, there are a few things most metal guitar tones have in common.
The first, and most obvious, is distortion. You gotta get that absolute high-gain crunch to shred through speed metal solos and chug out gut-punching breakdowns.
So a great metal amp is going to have great overdriven tones—and better yet, multiple channels.
Because, yeah, you might be using heavy distortion 95% of the time. But there's hardly a metal band I can think of that doesn't use the occasional clean passage.
It's really helpful to find an amp that lets you easily switch between clean and distorted tones, so we've included several of these in this list.
Now, distortion's no good if your tone is trash, so the best metal amps under $500 give you hi-fi solid-state power. This allows you to get those rumbling palm-mutes with a tight low end while keeping higher-end riffs and solos sounding clear by focusing the mids.
You can read more about how to get a great metal tone here.
Outside of having a distorted, yet articulate, tone, my favorite metal amps give you at least one or two extra goodies—and some of them give you a lot more.
I'm talking onboard effects: reverb (at a minimum), delay, flanger, chorus—you name it, and one of these amps has got it.
Although you might not use a ton of effects in an average metal song, having them at your disposal can really spice up your practice time and songwriting.
How to Pick the Right Amplifier for You
Once you've made up your mind to be a metal god, you'll probably progress through a line of increasingly better amps.
Back when I started playing bass in my high school metal band, both my guitarist friends were using 50-watt Peavey combos. By the time we were graduating, they'd both moved up to Marshall half-stacks.
So, where are you in your musical journey right now?
If you're just starting out, the truth is that you don't need a 150-watt metal amp head. You'll be much better off with something like the Line 6 Jam model.
Not only does a smaller practice combo give you more acceptable volume levels for bedroom-use, but they also usually come full of cool effects.
Personally, I'd much rather be rehearsing scales and finger exercises with some radical phasing octave effect than totally dry—it's just more fun!
Anyway, if you've been playing for a while and already have your chops down, a digital combo amp might not have the clarity you want. They can sound pretty boxy, after all.
Well, are you focused more on recording or playing out? Not to say that there aren't great metal amps that work for both purposes, like the Boss Katana. But there are some amps that will do a lot better in the studio than they ever could on stage.
For example, although the Yamaha THR is a great recording amp and has really awesomely articulate tones, it's only 20-watts! Since you can't connect it to an external cab, there's no way you could compete with your drummer during band practice.
Basically, all these amps sound good, but how good they sound and how loud they get is a different story.
To put it in the most basic terms:
If you need a metal amp for gigs, go for high-power (watts) and hi-fidelity.
For recording, you can go low or high power, but hi-fi is a must.
Beginners should look for low- to medium-power, headphone jacks, and cool effects!
Tube, Solid-state, or Digital?
I know a lot of people will argue that tube amps are unbeatable, but solid-state and digital amps have a lot to say when it comes to metal.
Every amp has its time and place, and tube amps do sound really great in blues and rock and many other styles.
Metal, however, is an entirely different monster from rock with its own sonic characteristics setting it apart.
I'll be generalizing a lot here, but rock for the most part doesn't need the same razor-sharp clarity that metal riffs use.
So how does metal attain that clarity?
The answer lies in the difference between overdrive and distortion.
Rock and blues generally feature guitars with a lot of warmth. The chords and licks are resonant and have wild intermixes of harmonic overtones.
If this sounds like what you're after, have a look at our review of the top 5 tube amps for blues.
Tube amps are great for this because they use soft-clipping overdrive that changes depending on how hard you play. The tone of overdrive adds lots of resonance to your low- and mid-range. They're full, open sounding amplifiers that fill a wide space in the sonic void.
Metal, on the other hand, is cold and precise. Amps for metal need to deliver this.
Your palm-muted open notes, often played in double-dropped tunings, need to cut with distinction for complicated breakdown rhythms. At the same time, the high-end is usually tempered a bit to be less "clean" or "crystalline" than softer genres.
Everything's got a little extra evil edge, and you usually want to avoid muddiness. This extra dash of sharp spice comes from solid-state distortion.
Unlike overdrive, which varies depending on how hard you drive your signal, distortion maxes out your signal at a constant rate. This is hard-clipping, which means that no matter how hard you play you have the same amount of dirt in your signal.
With solid-state distortion, you get the even, tight frequency response you need to play ultra-technical riffs and concise breakdowns.
Digital vs. Solid-State
To clear up some confusion here, you can't have a digital amp without some solid-state technology.
Sweetwater explains the difference really clearly here, but I'll summarize:
Many of the best low-cost amps for metal use some digital components. They're pretty cheap to manufacture and can easily add a lot of cool effects to an amp.
Solid-state amps that are completely non-digital exist, but most that you'll find that have different amp model settings are giving you that by digital means.
Digital is not inferior to solid-state, it's just an add-on. If a solid-state amp relies fully on digital tech for its tones, sure, you probably won't have the best quality sound. But just because a solid-state amp is digital doesn't mean it's bad.
In the end, it's all up to how YOU want to sound.
---
Conclusion
With as diverse a genre as it is, the best metal amps under $500 can sing like angels and scream like banshees. They're versatile, and most of them are just as good in softer genres as they are in the heavy styles.
Whether beginner or pro, hardcore punk or straight-up grindcore, every amp on this list can get your guitar roaring to your heart's content.
You might also like:
We are sorry that this post was not useful for you!
Let us improve this post!
Tell us how we can improve this post?