Last Updated on September 21, 2023 by Justin Thomas
Best Overall – Schecter Omen Extreme-6
Sound
Playability
Quality
Value for Money
Versatility
Summary
My favorite under $500 axe for any type of metal.

You get:

-Well-built guitar with a Mahogany body & neck.

-Pickups are 2 Passive Diamond Plus Humbuckers, with coil-split. These offer full and thick tones that sound MEAN with distortion.

-Thin-C-shaped neck which is made for fast and heavy playing.

-Top-notch quality for this price.

And also, this is not just a metal guitar, The Omen can handle all sorts of music very well. The best metal guitar under 500.
How Omen Extreme-6 sounds:
Check Today's Price on:
*Consider all links in this post to be affiliate links. If you purchase, at no additional cost to you, we may earn a small commission. It helps us to keep the lights on, thanks! 🙂
---
The Next Best:
Best for Budget Riffing – ESP LTD EC-256
Check Today's Price on
---
---
Summary
This guitar is a good choice if you love heavy riffs.
It's not the smoothest with shredding, but I have not felt that this guitar limits me too much when playing it (I don't own this, but have played it multiple times).
But this axe sounds good, especially with riffs. Really mean, thick, and growling. That's why EC-256 is here.
Wide Neck & Flat Fretboard – Ibanez RGA42FM
Check Today's Price on
---
---
Summary
Especially if you have large hands or just love wide necks…this axe is worth checking out!
The neck feels and is wider than with most of the other electric guitars(1.692" nut)
Super-flat (15.7") fretboard makes fast playing smooth and comfortable.
If you want to shred/sweep/tap like Petrucci and Satriani check out this Ibanez!
Best Flying V/Shred Machine – Jackson JS32 Rhoads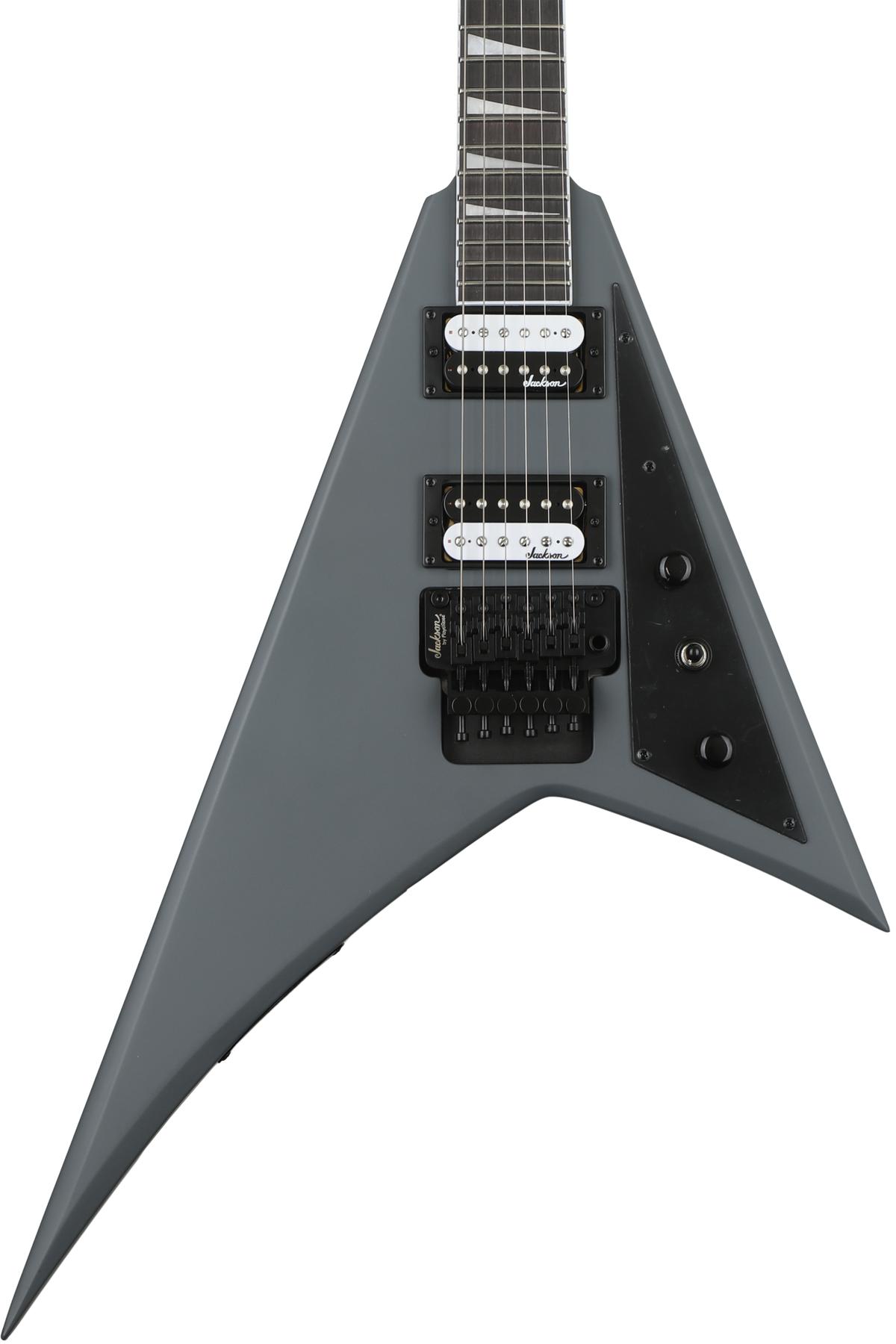 Check Today's Price on
---
---
Summary
This is for you if:
Want to shred with easiest possible access to every corner of the fretboard.
You like Flying V's
Want the best flying V under $500
Plus, this guitar comes with evil-sounding pickups…
and the axe feels so good that if you at some point grave for more, upgrading the pups is the best option.
Best under $500 axe for shredding.
Best HSS –Jackson JS34Q Dinky DKA-M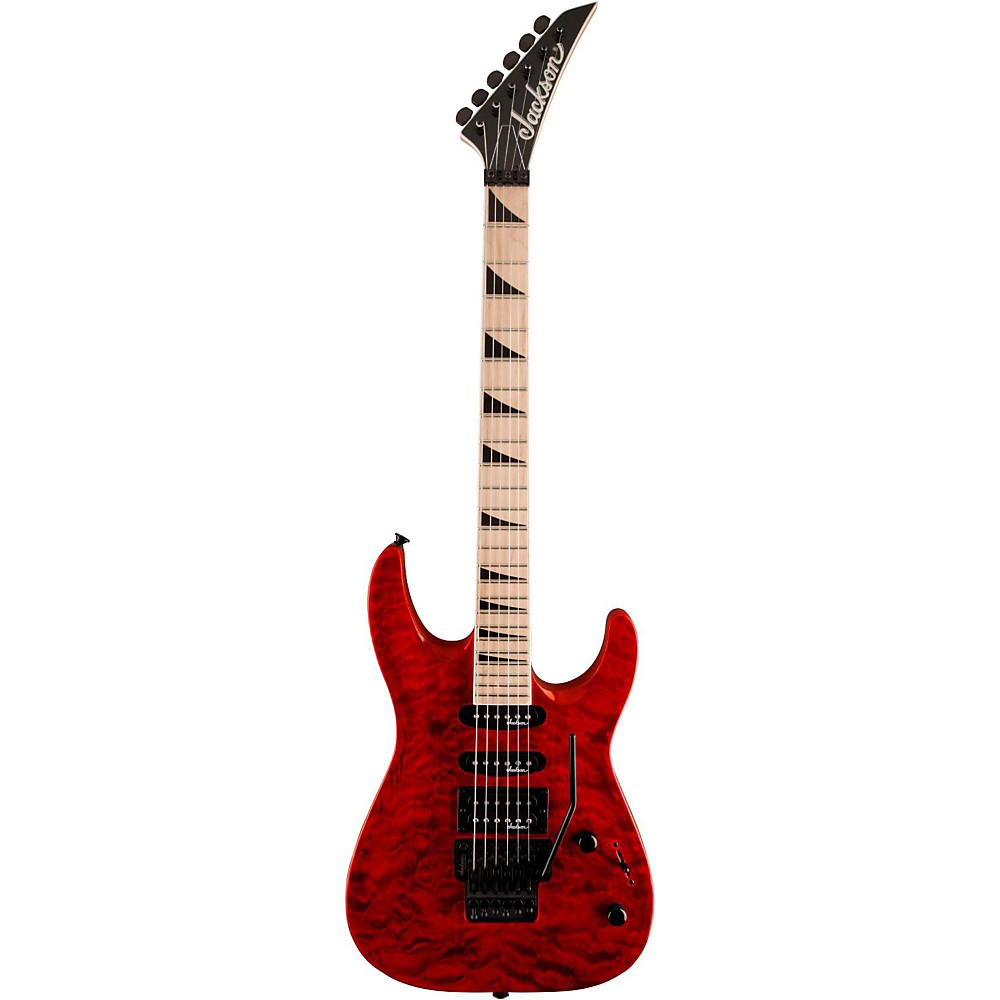 Check Today's Price on
---
---
Summary
Great for shredding, and for not so chugging and thick tones
Best for stuff like Iron Maiden…Power- and Speed metal type of metal… but this can handle heavier riffs too.
But the best thing is the playability.
The speed-shaped neck(Jackson doesn't want to use traditional neck shape names) is speedy.
This is made for fast playing.
Compare:
---
You don't want to spend a fortune to get yourself a great metal guitar? You are at the right place. And YES…
…you can get a great metal guitar for under 500. I have been playing dozens of guitars under the price of 500 and I could get a really mean distorted tones out of those. But at the same time, all guitars under $500 don't chug that much. That's why it's a good idea to invest some of your time in reading this post.
And now, I'm about to reveal the 5 best metal guitars under/around $500 for you. Let's first look at these fine guitars, and at the end of the post, you can find the FAQ section that helps you to make the best choice possible.
In recommendations/reviews, our main focus is: Does this guitar provide great heavy metal sounds?
Other factors are:
Quality
Is it easy to play?/Can you play fast with it?
Let's get started!
Check our favorite metal guitars under $1000 here and favorite metal guitars for beginners here.
Who crafted this post: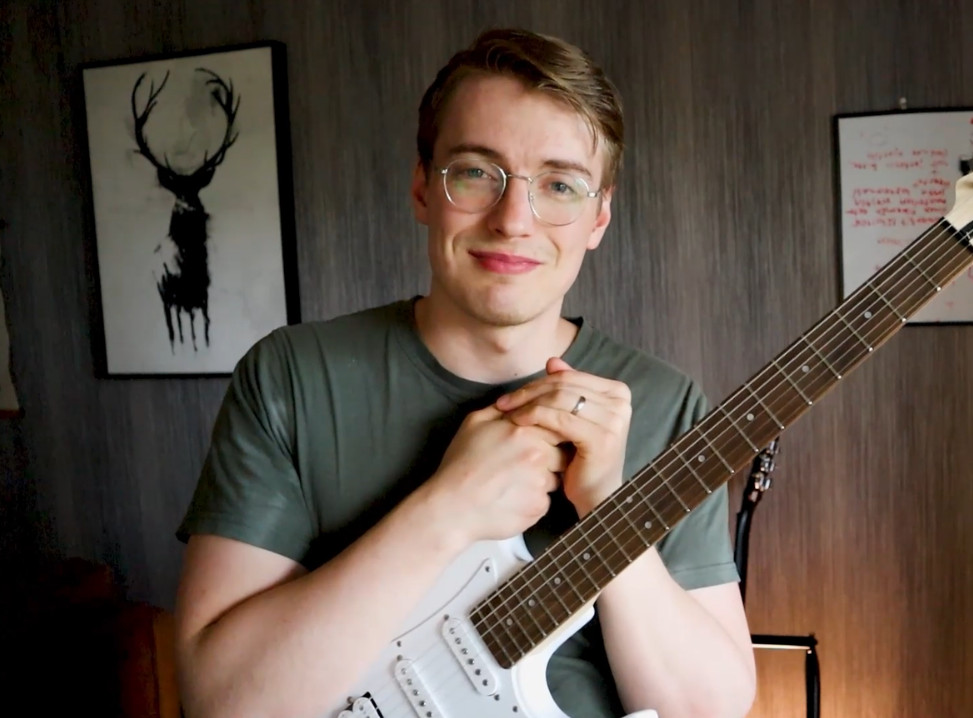 Author: Teemu Suomala
I first grabbed the guitar in 2009. I started this website in January 2020 because I couldn't do window installation anymore due to my health problems. I love guitars and have played dozens and dozens of different guitars through different amps and pedals over the years, and also, building a website interested me, so I decided to just go for it! I got lucky and managed to get awesome people to help me with my website.
I also got lucky because I have you visiting my website right now. Thank you. I do all this for you guys. If you have any recommendations, tips, or feedback, just leave a comment, I would love to chat with you. I have also been fortunate to produce content for several large guitar websites, such as Songsterr, Musicnotes, GuitarGuitar, and Ultimate Guitar.
I spend my spare time exercising and hanging out with my wife and crazy dog (I guess that went the right way…).
Hide The Rambling▲
---
Our Favorite Music Store in The World!
Why?
– Excellent Customer Service (4.7/5 Trustpilot Score)
– Fast & Free Shipping
– Gear is Inspected, Tested, & Ready to Play When it Arrives to You (We love this)
– Fair Prices
Visit Sweetwater:
Best Metal Guitar Under 500: 5 Different Options
Amp plays a huge role when aiming for metal tones… this artilce will help you out: 5 Best Metal Amps Under $500.
Best Overall – Schecter Guitar Research Omen Extreme-6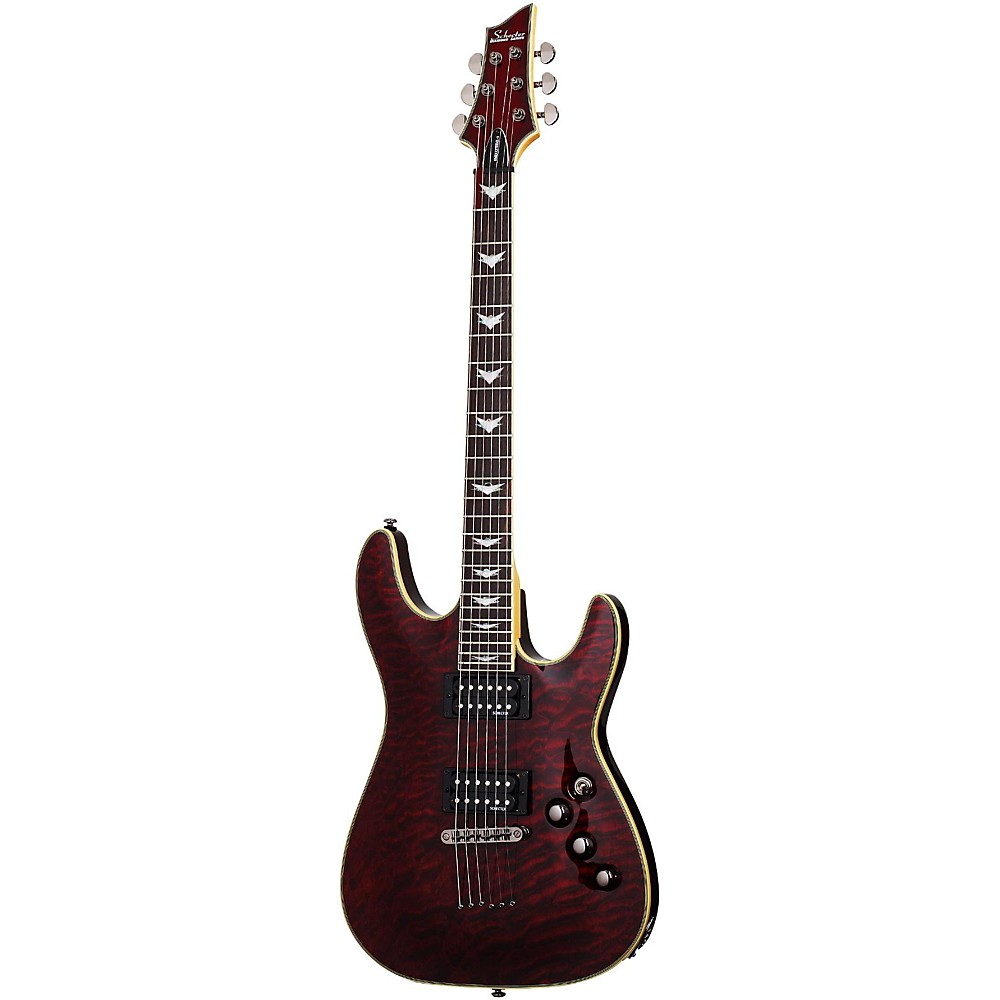 Sound
Another sound demo for you:
Note: There is Floyd Rose and Tune-o-Matic- bridge versions available. I would go with Tune-o-Matic, but choose the one you like the most!
My favorite.
The neck and body are both made of mahogany, so that's a ''check'' for warm and dark tones when we look at the body woods. But at the same time, sound has still enough brightness in it too.
So you get, thickness and warmth, but clarity too.
Pickups are 2 Passive Diamond Plus Humbuckers, with coil-split. If you have played more expensive guitars for a long time, pickups can sound a bit average, as with any guitar under $500. But if you just want to get a solid metal axe for under 500, pickups are excellent for the price.
Omen gives you great sounds for both, old-school and modern metal riffs. Plus, this guitar handles the distortion lead sounds really well.
For me, this is the swiss-army-knife of metal guitars under $500. If you want to play all sorts of metal, this is the safest bet.
If you want some complaining about the sounds, here it comes…
The sound could be a little bit more detailed in my opinion. And when playing clean parts, especially high notes, I found the sound to be flat in some points. So this is not the best pick for clean soloing. But clean tones are definitely good enough for the price and clean intros will go just fine with this axe.
Playability
Out of the box action is really good. You can usually start shredding as soon as you open the box.
The neck shape is thin-C so it's relatively slim and feels good for my small hands. But the neck is not "Ibanez Wizard-neck"-slim. The neck is made for fast playing, and it's really comfortable. Some high notes with thicker strings (aka. upper fret access) are a little bit hard to reach, but not too bad.
Check the best electric guitars for small hands here.
This guitar is surprisingly light, and the balance is also solid. Even though the upper fret access is not amazing, The Omen is definitely one of the easiest guitars to play on this list. And both, solos and riffs feel smooth to play with this guitar.
Quality
I think that this offers the best quality from this list. Nothing to complain about when I look at it. And I found no long-time owners saying that the guitar broke or had serious issues in normal use either. This is always a good sign. But for this price, some quality issues can always be present, such as fret buzz, rough fret edges, bad setup, etc.
Summary
Pros:
Pickups are excellent for the price
Offers warm and thick tones with enough brightness in it
Thin C- Neck makes this easy to play
Made for fast playing
Out of the box action is usually great.
Handles every kind of metal well
Cons:
The sound could be more detailed
Upper fret access is not amazing. (Some high notes with thicker strings are hard to reach)
In my opinion, this is the best metal guitar under 500(which I know of). It has some minor flaws, but for the price, it's hard to beat this one.
I would recommend this for any type of metal. But especially for modern metal with fast riffs and solos. If I would be in search of a metal guitar for under 500, I would buy this one.
Check Price on:
---
Best for Budget Riffing – ESP LTD EC-256
Sound
Let's hear how this one sounds:
Double humbuckers, mahogany body, and neck provide dark and warm tones.
Pickups are 2 ESP LH-150 (B&N). When it comes to distortion, ESP has never disappointed me. From their $200 to $1000 axes, pickups chug. The tone can be muddy with some settings, but when I have played this, the tone is pretty amazing. When I visited a music store recently, I especially enjoyed plugging this into the Blackstar HTR5 tube amp and hitting an MXR M193 GT Overdrive pedal between these two. The tone was breathtaking.
General opinion: Some people find these pickups great, some want to replace them later on. If I would buy this guitar, I would start with the original pickups and hear how they sound in the long run.
Plus: Coil-split is a nice feature and makes this guitar versatile. Of course, it doesn't sound like the guitar with a real single coil-pickups, but the coil-split is still always nice to have.
Playability
I say it right away…my least favorite guitar of the 5 when it comes to playability. But I still like it!
A thin U-shaped neck with a 13,5-inch fretboard radius feels good, a really familiar feel, since I own an LTD already. In my opinion, a Thin U-shape is not the fastest, or easiest, but this neck is still really comfortable to play. I really enjoy playing crunchy riffs with this neck.
Frets are pretty easy to access, but as usual with single-cut guitars, upper-level access is a little bit limited. So some super-fast solos are a little bit harder to play with due to upper-level access and neck shape. But extra-jumbo frets help us out a little here, you don't need to put in much effort in order to fret a note with this xe.
The setup is super-important with this chugger(did I just invent something new?). Otherwise playing can be hard, but with some truss rod and bridge adjustments (usually just adjusting the bridge is enough), you can make it smooth. Reeeaaally smooth.
And playability overall, it's awesome for riffs. Do you know James Hetfield? He is the singer and mainly rhythm/riff guitarist of Me…(just trying to be funny). Well, you get the point. This guitar shines with riffs. With both, playability and tones.
Quality
This can compete with any other guitar at this price when it comes to quality. Everything is usually smooth and detailed. At least when I have gotten a chance to riff with this.
And one thing surprised me when I was doing research for this guitar: there are almost zero people saying that some parts of the guitar broke in normal use after several years of playing. That's an amazing plus when the price of the guitar is this affordable.
Plus, just like even cheaper LTD EC axes, this EC-256 stays in tune like a beast. That's my experience when playing it.
Summary
Pros:
Pickups are great for metalheads
Body materials support metal tones (I'm not a huge tonewoods-believer)
Neck feels good
Handles the clean parts well too
Quality for the price is fantastic
It's really fun to play riffs with this
Cons:
High notes on thicker strings are hard to reach (Poor upper fret access)
The Thin U-shaped neck paired with single-cut guitar with not much contour is not the best option for fast soloing
This guitar is a good choice if you want to play heavy riffs. You can definitely shred with this too, but it's made for riffing in my opinion.
For example, this guitar handles stuff like Metallica, Slipknot, and thrash metal overall really well. It can also be a solid mid-range option if you just want to play metal music in general.
Check Price on:
---
Wide Neck & Flat Fretboard – Ibanez RGA42FM
Hear how this axe sounds:
Sound
Most Ibanez artists are hard rockers, and that's because these guitars pack a lot of punch. They're fantastic for your heavier genres, from nu-metal to grindcore and on.
Quantum humbuckers this RG is equipped with churn out really mean tones that fit metal, hard rock, and rock really well. With cleans, this guitar can sound a tad dull sometimes, but overall it's versatile too.
Playability
Ibanez is the master of fast-playing fretboards, and the Wizard III they equipped on the RGA42FM is among the best in the business.
Measuring 1.692-inches wide from the nut, the Wizard III is wider than average. So you get a really thin neck that's not pretty wide.
But, this axe is topped with a fingerboard with a whopping 15.7" radius, making the feel of this neck ultra-wide. It's super flat and slim, giving you a huge amount of reach around the neck. Gladly you've got great fretboard access thanks to sharp double cutaways.
And with 24 jumbo frets spaced through this wide but thin neck, you've got lots of room for accurate high-end shredding.
Quality
Overall the quality is great, but there is 1 common flaw that can be present…
Fret edges can be a bit rough sometimes. This doesn't happen most of the time.
Otherwise, from finish quality to tuners, the quality is usually great.
Summary:
Pros:
Wizard III neck is really comfortable
Features an astonishing 15.7" fretboard radius, this makes fast playing smooth
Neck width slightly exceeds average while being ultra-playable
Dual Quantum humbuckers offer roaring sound
Cons:
Thick tones are not really versatile
Sometimes issues with quality (mainly rough edges etc.)
This guitar packs a lot of punch. Fantastic for your heavier genres, from nu-metal to grindcore and on. However, their super-hot humbuckers don't really meld as well with softer styles like jazz and soul(though Steve Vai sure makes his guitars sing on some sultry tracks).
Plus quality control with this Ibanez is sometimes hit or miss.
At any rate, I'm sure the Ibanez RGA42FM can do plenty in the right hands, which could very well be yours considering its affordable price!
Check Price on:
---
Best Flying V/Shred Machine – Jackson JS32 Rhoads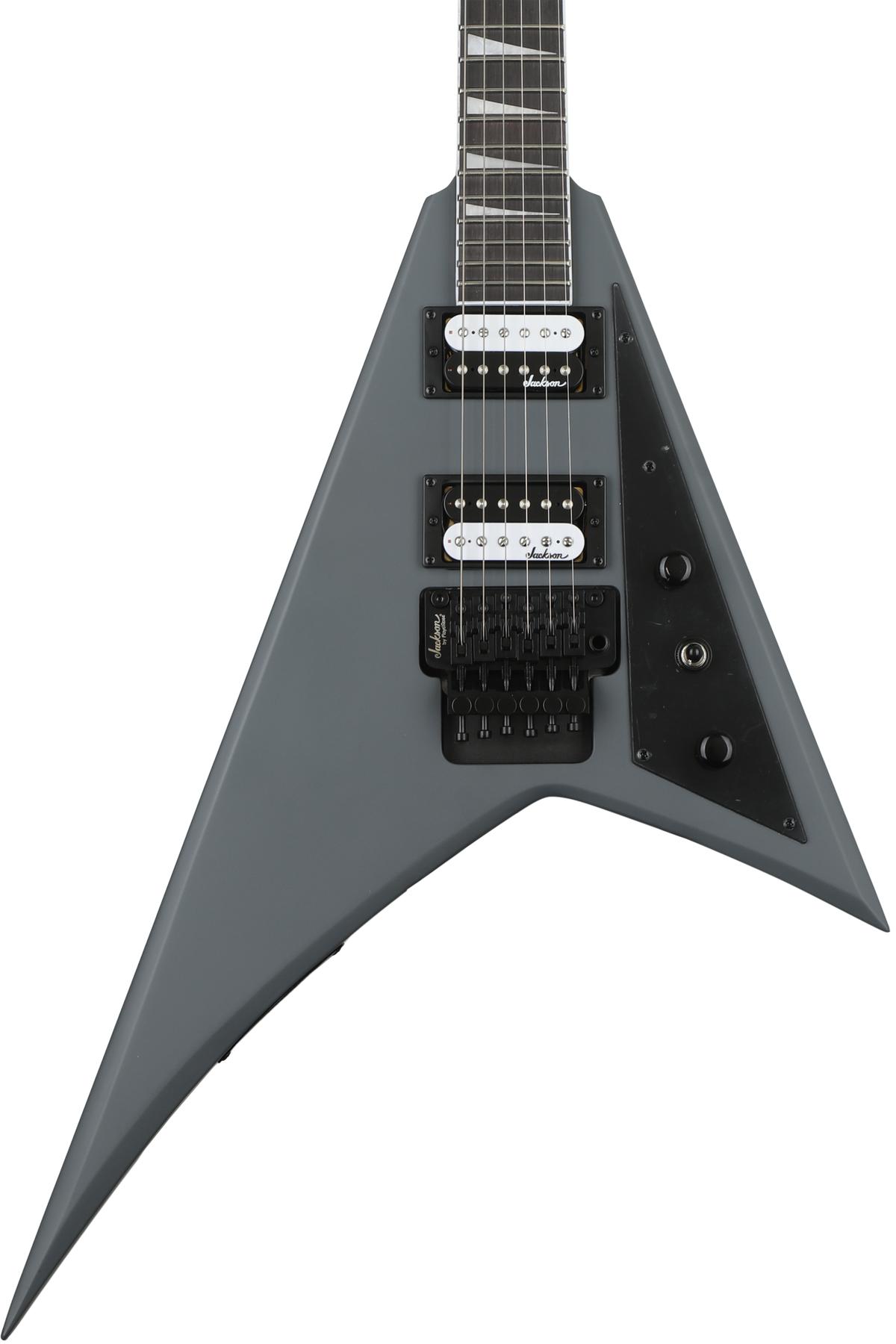 Sound
Hear how this flyin' axe sounds:
For metal, these pups are a match made in heaven. And for the price, these offer amazing value. You really get those growling, mean, and hot distorted tones needed in metal.
With a crunch and clean, you get solid tones, but nothing amazing. A bit dull, but still not bad by any means.
Evil tones…CHECK
Versatile enough…CHECK
Playability
The playability is where this axe really shines.
Jackson's speed neck feels smooth, fast, and like a neck of a more expensive axe. The feel of the Speed neck is quite close to Wide Modern C or SlimTaper D. It enables great access to upper-frets, plus it's super-smooth.
For me, barre chords are a little bit less comfortable with this neck shape than usually.
But there are 3 more reasons for great playability.
1. Compound radius.
The curve on the fretboard varies when you move around the neck. More curve closer to the nut and less when moving closer to the body. This makes playing smoother when you want to riff near the nut and shred near the body. It's amazing that compound radius can be found from guitars at this price range.
2. Flying V-shape
This gives you upper-fret access which is nothing less than amazing. Every corner of the fretboard is really easy to access. Made for shredding.
3. Jumbo frets plus low action
If you pair these 2, playing is really effortless. You don't have to press a lot, just shred away.
Quality
Overall, this axe feels like a more expensive one. But sometimes quality control seems to take a coffee break while guitars still move down the assembly line…
This mainly results in finish issues and poor setup. Nothing terrible, and can happen with any guitar, but still worth mentioning.
Summary:
Pros:
Ultra playable
Made for shredding
Chugs
The compound radius at this price is amazing
Relatively versatile
Cons:
Neck feels alien with barre chords
Sometimes issues with the finish quality
Clean and crunch tones are only ok
If you want to shred with mean tones and are ready to tame a Flying V, this is one of the best options under $500. Easily.
Check Price on:
---
Shred Machine – Jackson JS34Q Dinky DKA-M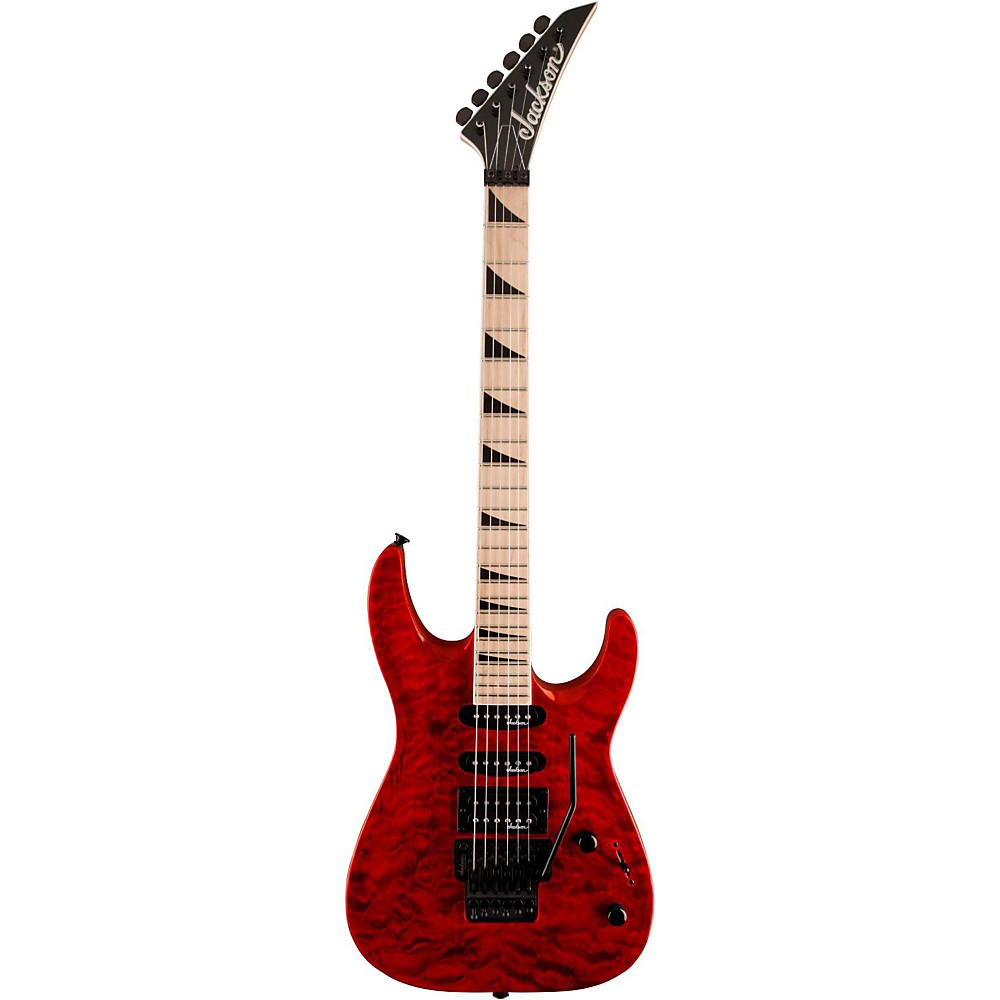 Sound
This speedster sounds like this:
This guitar is different than others on this list.
The body is made of poplar(American tulipwood), it's really similar to alder. Poplar should provide a slightly brighter tone than basswood, and higher notes should be more noticeable with this material. So fast shred solos should be clearer with this type of body. (I say "should" because it's not proven that tonewoods have an effect on the sound of electric guitar).
Pickups are Black High Output Single-Coil's in neck and middle. The bridge pickup is Jackson High-output Humbucker.
The overall tone is clear and bright (because of the single-coils), best for soloing and fast power metal-styled riffs. There is enough darkness in tone, but some heavily distorted riffs lack warmness in tone.
Also, some heavy riffs just don't sound like I want with this one, especially when playing power chords or multiple strings at the same time. The sound is just too light. So, in my opinion, this guitar is not ideal for heavy riffing. But for fast lead parts, the tones are solid.
Clean tones are a bit hard and spanky for me, not the best fit for metal. But this is just my opinion, you might love these.
This can be an awesome power and speed metal guitar in the right hands.
Playability
The neck is super fast. One of the fastest ones if you compare it to the others on this list. It's made for shredding and sweeping. Out of the box action is in most cases really good. The guitar is light and the body balance is OK. These qualities make this guitar really easy to play and the frets are easy to access.
The nut width is 1.685″ (42.8mm), and this paired with a compound radius (12″-16″) makes playing really smooth and the neck feels like one of a more expensive guitar.
Playability plus lead tones are definitely the strongest sides of this guitar.
Quality
For the price, quality is usually good or good enough. But, it could be better. The neck is the best thing quality-wise too.
Jackson Floyd-Ross feels a little bit cheap. Long-time users of this guitar do admit that Floyd-rose feels a little bit loose, but I found no one saying that Floyd-rose broke in the long run. So this one might be OK. But…
If you want to use Floyd-rose effortlessly, you might need to add some springs to the back of the guitar, it's probably too loose otherwise. There are already 3 springs, but it might need a 4th one.
Summary:
Pros:
The neck is super fast
Easy to play
Distorted lead sounds are great
Comfortable guitar overall
Fast, power metal-style riffs sound good
Cons:
Floyd Rose is a little bit cheap and loose
Overall quality is sometimes only good-enough
Clean tones are quite hard and spanky
Some heavy riffs sound too light or too sharp
This guitar is not the most versatile, it has some quality issues and heavy riffs sound sometimes too light or sharp. But if you want to play fast shred solos and are looking for a budget guitar with floyd rose, this might be a good option.
This guitar handles speed metal, power metal, hard rock, and lead sounds well.
Are the Jackson Dinky guitars good enough to make our "5 Best Jackson Guitars of 2023"?
Check Price on:
---
Verdict
My favorite is the Schecter Guitar Research Omen Extreme-6. All the aspects of it are really solid. Sound, playability, quality, etc. Some minor issues with sound(could be more detailed) and fret buzz can bother players sometimes. These small flaws can be expected when the price is under 500.
But still, in my opinion, Schecter Guitar Research Omen Extreme-6 is good as it gets for under 500 dollars. It can do anything, but it's made for modern metal and fast playing. It gets 4,4/5 stars from me.
I would put the rest in the following order:
ESP LTD EC-256, great value for money guitar made for metal, with really good playability for heavy riffing. For the price, it's a beast. 4.3/5 stars from me.
Ibanez RGA42FM, a thick toned shred-machine. 4/5 stars from me.
Jackson JS32 Rhoads, best fit for shredding. Really easy to play plus sounds killer. 4/5 stars from me.
Jackson JS34Q Dinky DKA-M. Fast neck. The sound and quality could be a bit better. Best for fast lead parts and sound will definitely fit some players well. 3,6/5 stars from me.
All of these are good guitars, especially for the price.
If you think that this post didn't have the right axe for you, check our favorite thrash metal guitars out.
---
Buyer's Guide – FAQ
What Makes a Great Metal Guitar?
You probably already know what is the most important thing…Yes. It's the sound. Can the guitar provide nice heavy distortion sounds?
When you are looking for a guitar to play metal with, go to the music store and test how different guitars sound. Watch sound demos from Youtube, read, and watch reviews.
So, the sound is key. But, many things affect the sound. Mainly, the pickups and strings.
What kind of specs do you need from a metal guitar? Let's find out.
Body
I don't believe much in tonewoods when it comes to electric guitars. Pickups directly pick up vibration from the strings so the vibration of the body woods doesn't affect the tone much. This video reveals that.
If you want to play heavy riffs with heavy distortion, Mahogany is the most common option for you. It provides a warm and full sound. The mahogany body is often used in Les Paul-type guitars.
Another common wood, especially on cheaper metal guitars, is Basswood. It should offer a little bit brighter sound than mahogany.
These are two common body materials for heavier playing. Some people also prefer adler or poplar, these should provide more brightness than mahogany.
If I had to pick one, I would get a mahogany-bodied guitar for metal.
Pickups, Active vs Passive
Guitars under 500 dollars usually come with passive pickups(active pickups are more expensive). So there are almost no other options. But don't worry, passive pickups can provide nice n' heavy distortion sounds for you.
Active pickups handle high-gain easier and give you more output, but sound can be a little bit too compressed sometimes(IMO).
This doesn't mean that active pickups are better or worse than passive pups. That's more of a personal preference. Choose which one you like more.
My personal opinion is this: if you have a 500 dollar budget, you can be happy with passive pickups, absolutely.
Pickups, Humbucker or Single-coil
I only have one pickup type to recommend for you: get a guitar with humbucker pickups. Just look at what most metal guitarists use…double humbuckers.
Humbuckers can provide that dark, warm, and powerful sound needed in metal. Great for distortion, but handles clean parts well too.
HSS pickup configuration can handle some metal too, but if you really want to chug, guitar with double humbuckers would be my pick.
How to choose the right humbuckers?
Test, listen to sound demos, ask questions, and get clear on what kind of tone you want. Pickups are the most important tone factor. Choose the ones that sound the best for you.
These brands make my favorite metal pickups for around $500 price point:
Jackson
Ibanez
ESP
Schecter
These are kind of tier 2 when it comes to metal, but I like their humbucker's distorted tones too:
Epiphone
Yamaha
Squier
Harley Benton
Kramer
---
These were the main things that affect the sound of the guitar. Of course, you should make sure that your amp can handle the heavy distortion and that you are using a good-quality cable.
I have specific guides for guitar cables, choose your budget and make the best choice possible.
---
Conclusion on Best Metal Guitars Under 500
Choosing a new guitar is always exciting and I hope that this post helped you to pick the right metal axe for you. Everyone one of these guitars chug and are a ton of fun to play! Definitely the best metal guitars under/around $500.
If you have any questions about these guitars, just leave a comment down below. Also, if you find this post helpful, share it on social to help others! (Thanks!)
I wish you all the best and keep rocking (metalling?)!
Teemu Suomala
You might also like:
We are sorry that this post was not useful for you!
Let us improve this post!
Tell us how we can improve this post?