Last Updated on April 29, 2023 by Teemu Suomala
Best Overall – Hercules GS523B
Stability
Portability
Quality
Value For Money
Summary
Unlike other stands, you don't have to fiddle around trying to get your guitar to sit just right in the holder…

Simply lean in and move the adjustable yoke, and your guitar will rest safe and sound!

If you treasure your instruments and value secure and convenient storage this is easily one of the best options.

The best 3-guitar rack out there.
Check Today's Price on:
*Consider all links in this post to be affiliate links. If you purchase, at no additional cost to you, we may earn a small commission. It helps us to keep the lights on, thanks! 🙂
---
The Next Best:
Compare:
---
A guitar stand is much safer than resting the guitar in a corner and looks a lot better than a pile of cases on the floor, so take a look and get your guitars the guitar rack or multi-guitar stand they deserve!
There are a lot of options out there, but I've selected the best of the best for you to keep your guitars safe and sound without worry. This guide will walk you through everything you need to know before making a purchase!
Let's first look at these best guitar racks, and at the end of the post, you can find the FAQ section that helps you to make the best choice possible.
Who crafted this post:
Author: Tommy Tompkins
Playing guitar since 2004. Primarily an acoustic guitarist who plays and writes traditional American folk music, with a background in melodic metal and a solid foundation as a bassist.
Hide The Rambling▲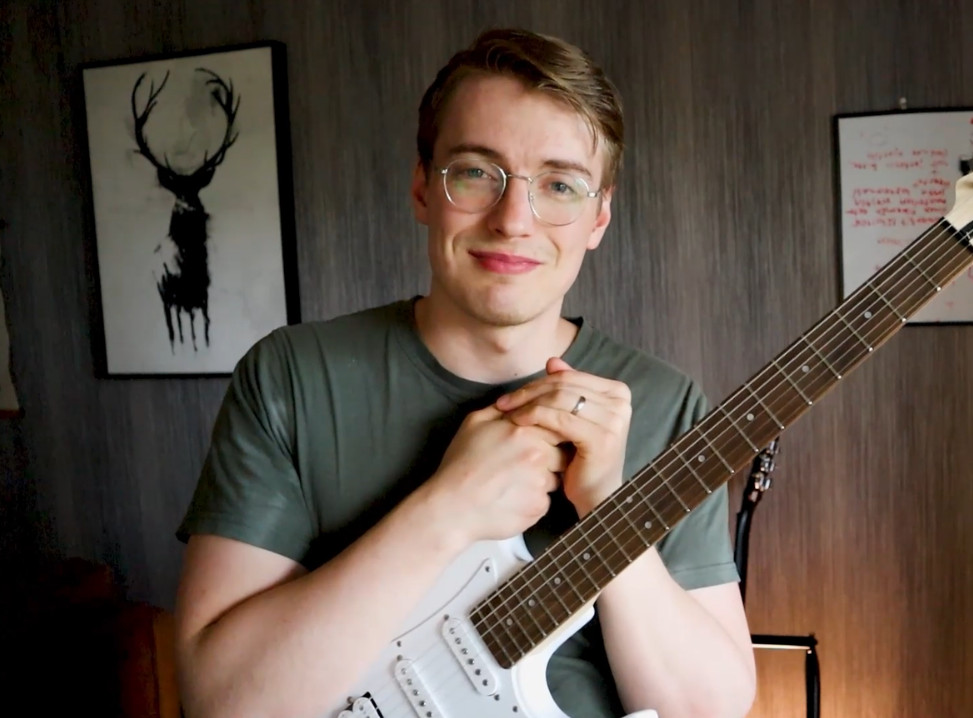 Editing & Research: Teemu Suomala
I first grabbed the guitar in 2009. I started this website in January 2020 because I couldn't do window installation anymore due to my health problems. I love guitars and have played dozens and dozens of different guitars through different amps and pedals over the years, and also, building a website interested me, so I decided to just go for it! I got lucky and managed to get awesome people to help me with my website.
I also got lucky because I have you visiting my website right now. Thank you. I do all this for you guys. If you have any recommendations, tips, or feedback, just leave a comment, I would love to chat with you. I have also been fortunate to produce content for several large guitar websites, such as Songsterr, Musicnotes, GuitarGuitar, and Ultimate Guitar.
I spend my spare time exercising and hanging out with my wife and crazy dog (I guess that went the right way…).
Hide The Rambling▲
Every one of these guitar racks is here based on extensive research and combined 31+ years experience of me (Tommy) and Teemu.
---
Our Favorite Music Store in The World!
Why?
– Excellent Customer Service (4.7/5 Trustpilot Score)
– Fast & Free Shipping
– Gear is Inspected, Tested, & Ready to Play When it Arrives to You (We love this)
– Fair Prices
Visit Sweetwater:
Best Multi-Guitar Stands and Guitar Racks
Best Overall – Hercules GS523B Three-Instrument Guitar Rack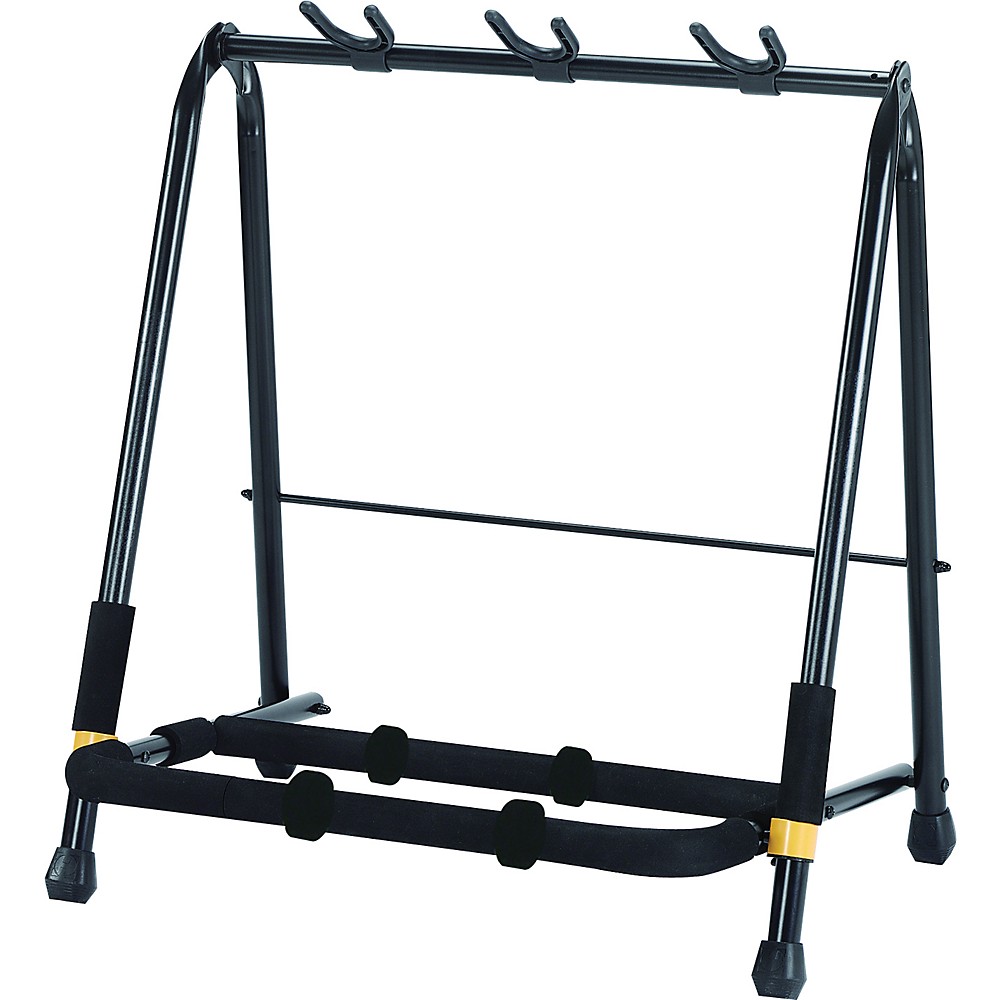 Convenience
The Hercules GS523B is a great stand for the stage, studio, or home musicians. It easily folds for transport, weighs under 8 pounds, and allows for very efficient guitar placement.
Unlike other stands, you don't have to fiddle around trying to get your guitar to sit just right in the holder. Simply lean in and move the adjustable yoke, and your guitar will rest safe and sound.
Stability
This is a rack-style stand with four points of contact on the floor, making it much more stable than a tripod stand.
I love rack stands like the GS523B, because it doesn't need to be balanced with counterweighting guitars, meaning it works just as well with one guitar as it does with three. Accidental bumps are no problem; this stand will stay in a place like its meant to.
Quality
Hercules uses a Specially Formulated Foam padding material to keep your guitars safe and scratch-free.
This foam covers every point of contact on the stand, gripping both the stand's frame and your guitar with security that won't slip and slide with normal use.
Overall Value
This is definitely one of the more expensive products in the world of guitar stands(not too bad tho), but like with most things, you get what you pay for. If you treasure your instruments and place value on secure, convenient storage, the price will be worth it.
Pros
A large rack that can accommodate acoustic guitars and electric basses
Can hold other instruments such as banjos
Sturdy and stable; stays firm with one to three guitars
Strong, but lightweight, with a 176-pound load capacity
High-quality SFF padding
Can be expanded with an additional product to hold six guitars
Pick-holder slots in each neck yoke
Cons
Doesn't work well with Flying V-style bodies
On the higher end of guitar stand prices
Check Price on:
---
Best Budget Space Saver – On-Stage GS7355 Hang-It Triple Guitar Stand
Convenience
On-Stage's GS7355 is a great stand for traveling convenience. It folds up to a compact transportable size and is very lightweight. Musicians who are often on the road will love it for these reasons.
It also takes up just a small amount of room when in use and holds up to three guitars in a small space.
Unfortunately, smaller guitars such as kid-sized models will require you to wrap extra fabric around the yokes so that they can properly support the headstock.
Stability
I take issue with the multi-guitar tripod design because it pretty much needs three guitars to stay stable. It can manage with two guitars, but you'll need to make sure the tripod legs are positioned in such a way as to support this off-kilter weight.
Using one guitar, you'll need to be very careful not to bump the stand, as all the weight will be centered on one side, making it an easy stand to tip over. If you're always going to keep at least two guitars on it, it does a good job of keeping them upright, and used to its full three-capacity, it's great.
Quality
Considering its price and the durability of its padding, this is a good stand if you're looking for something that will hold up and travel well. All its parts are securely attached to one another, so it won't fall apart, even jostling around in the back of your band van.
Overall Value
I wouldn't get this stand if you have any rambunctious kids or animals running around your music area, but if it doesn't risk being bumped into, it works well holding three instruments of different sizes.
It's not the most stable, but it's well put together and designed to be space-saving. Keeping your costs low, I'd say it's a decent lower-priced multi-guitar stand.
There are also double, and single versions of this stand available.
Pros
Safe EVA foam padding protects against finish scratches
Adjustable height to fit a range of guitar sizes, including mandolins
Compact tripod design
High and low yokes fold in to make storage and transport simple
Solidly constructed
Cons
Guitars must be carefully balanced to prevent tipping over
Extra yoke material needed to hold smaller instruments
Doesn't work well with only one guitar
Check Price on:
---
Best for Over 3 Guitars – Hercules GS525B 5-Piece Guitar Rack
Convenience
From folding transportability to firmly fitting five guitars, this Hercules GS525B meets all professional needs. It's amazingly easy to use; just lean your guitar in, tilt the neck yoke to the perfect position, and you're good to go.
Like its little brother, the Hercules GS523B, it folds with no hassle and can easily be taken from location to location, weighing a meager 9.7 pounds.
Stability
There's only a small issue with stability here, and it can be fixed if you're willing to do a little work. These stands tend to ship with slightly loose nuts and bolts, which adds a bit of a wobble factor when loaded down with your instruments.
You can tighten these with a couple of pairs of pliers in just a few minutes, bringing the stability level up to premium. After this, the Hercules GS525B will keep your guitars firmly rooted in place, no matter how much jumping on stage you do.
I own this stand, and it had no loose screws. I just took it out of the box, folded and it was ready to go. Super-happy with my purchase!

Teemu-Editor
Quality
This is one of the best guitar stands on the market. Aside from its sometimes factory-loose configuration, it's high-quality all around.
The SFF padding lasts for years and is even considered nitro-finish safe (you should always be careful with nitro finishes tho…).Additionally, a quick wrap of fabric around the yokes will be all you need to ensure your nitro-finish never gets hurt.
Overall Value
This is one of my favorite multi-guitar stands. It's more expensive than most, but you won't regret the price once you see how well it keeps your guitars in place. The best guitar stand for 5 guitars.
Pros
SFF padding suitable for storing nitro-finish guitars
Adjustable yokes and bottom support bar allow for customized instrument positions
Can hold smaller instruments by using only the neck yoke
Five-guitar capacity lets you proudly display your axes
Spacing between instruments lets you hold a range of acoustics, electrics, and basses
Cons
Might need manual tightening of bolts to be fully stable ("not in my case"-Teemu, editor)
Doesn't work well with unusual body shapes like Firebird or Flying V
I have owned this stand for over 6 months and it has been great. Easy to assemble, stable, and good quality.

Teemu Suomala – Editor
Check Price on:
---
Best Wooden Option – String Swing Guitar stand for 6 Electric Guitars or 3 Acoustic Guitars
Convenience
As far as putting guitars into the rack goes, this String Swing stand is as straightforward as can be. It easily fits up to six electric guitars or basses, three acoustics, or various combinations of such.
The main flaw in convenience is that it doesn't come pre-assembled, leaving it up to you to put it together. The only tool required is a screwdriver, but the instructions aren't very detailed and can leave you a bit puzzled at first.
Stability
The rack itself is a very stable wood frame.
Rubber grips at the yoke and bottom bar positions keep your guitars from sliding. However, the angle that the guitars sit at is a little off, which means if you bump the stand the guitars might come out of place. Be careful around it and you'll have no problems.
Quality
This is a solid oak stand that will hold up for years. Assembly is your job, so its overall build quality is really dependent on your own abilities. If you can figure out the assembly instructions, you'll be left with a good-quality wood stand that looks really nice in the studio.
Overall Value
Since it doesn't fold or come pre-assembled, this stand ranks low in the convenience factor.
Despite this, it does its primary job of holding your guitars and looks good while doing it. If you love a natural look, the String Swing side-load stand is a great choice.
Pros
Aesthetic oak construction looks great in a house setting
Sturdy build won't wobble or tip over
Holds acoustics, electrics, and basses
Cons
Must be assembled after purchase
Assembly instructions are not the clearest
Guitars don't rest at a great angle
---
Best Budget Option for Guitar Collection – TMS Guitar Stand 9
Convenience
This would almost be one of the most convenient stands in this review if you didn't have to put it together yourself.
Once it's assembled, the TMS Guitar Stand 9 is easier than any other to fold up and load guitars into. It's only 8 pounds, making this one of the most compact, transportable stands for multi-guitar use.
Stability
The TMS Guitar Stand 9 has no real problem with wobble or sway, and its rubber grips keep your guitars where they're supposed to be.
You'll have to make sure you assemble it correctly and tighten everything well, but once that's done you've got a great stand on your hands.
Quality
If you're on a tight budget and really need a place to conveniently store nine guitars, this stand will be a great deal for you. It's easy to use, has long-lasting rubber grips, and works well with nearly any guitar body design.
Overall Value
Price considered you can't do much better finding a stand to hold a whopping nine guitars. Although you have to put it together yourself, that's a small hassle compared to the savings you'll get with this TMS Guitar Stand 9.
Meeting all the basic requirements of convenience, quality, and stability, this is the best low-cost guitar stand I can find.
Pros
Holds up to nine electric guitars or basses
Works well with unusual body shapes
Very easy to transport
Low-cost with good stability
Cons
Needs to be assembled at home
Non-adjustable angle
Doesn't hold small instruments
---
Verdict
My favorite of these stands definitely are the Hercules GS523B and GS525B. By far the most stable, the highest quality, and the most convenient. These will be great investments for any player who wants to keep all their axes at the ready without the worry of knocking them to the floor.
Unless you're specifically a fan of tripod-style stands or really need the most transportable stand you can get, the On-Stage GS7355 is my last choice amongst these five. It's good in saving space, but you'll have to be extra careful taking your guitars on and off so as not to tip it over.
---
Buyer's Guide – FAQ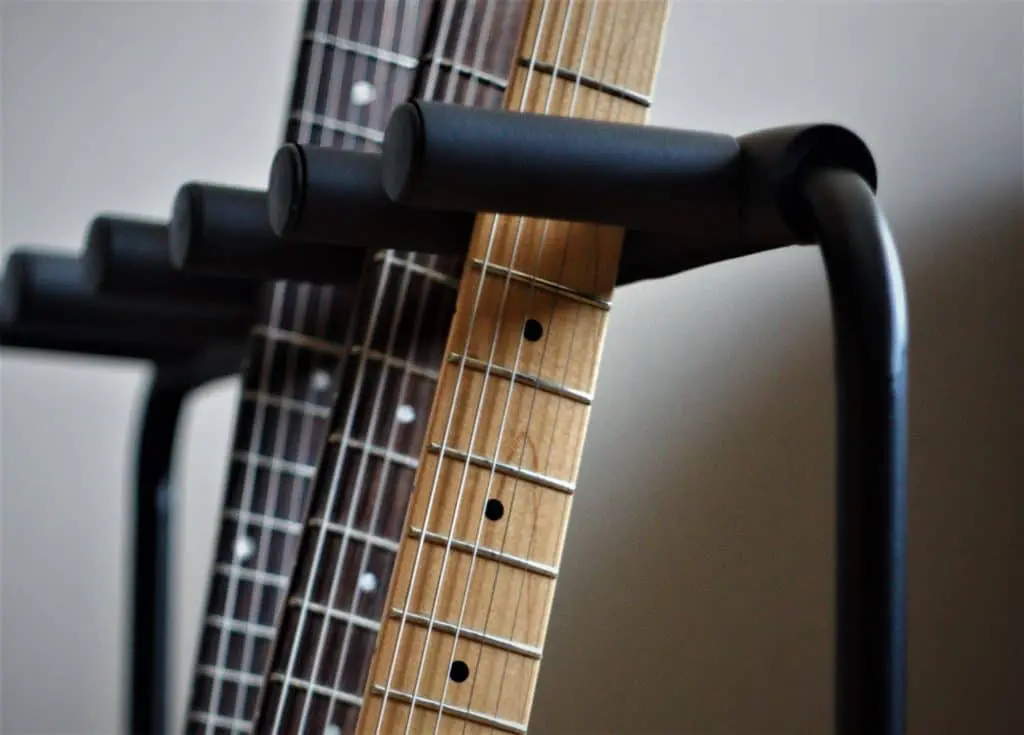 Why a Multi-Guitar Stand Might Be the Right Choice for You
If you've got a collection of fine instruments and you like to play them all, a multi-guitar stand adds a dimension of convenience you'll be glad to tap into.
Gone will be the days of fiddling with case clasps and unstacking and restacking your hard-shells. Most importantly, with a multi-guitar stand, you don't have to worry about gingerly resting your guitar against the wall when it's time to take a short break.
I've experienced few cringes worse than watching in horror as my guitar slides from its tenuous hold against the wall and crashes to the floor. After a time or two of this happening, I decided I'd never again go without a guitar stand.
Multi-guitar stands are great if you've got more than one guitar you want easy access to. They're dependable places to keep your instruments when you're not playing them. Plus, they look great loaded with an arsenal of music-making machines.
If you're tired of going in and out of your cases when you want to change instruments, or if you just want to add a nice piece of functional art to your room, a multi-guitar stand could be a great addition to your musical accessories.
What Makes a Good Multi-Guitar Stand?
In my mind, the most important aspect of a guitar stand is the stability factor. What good is a stand that can't stay upright itself once you've set your guitars into it? If a stand isn't stable, it isn't worth the material it's made of.
A good multi-guitar stand should stay firmly planted on the floor when it's holding your instruments, removing any worry that it will tip out of place if you jostle it or set your guitar in slightly out of balance.
Speaking of balance, this is the next most important factor when I'm choosing a stand. Guitar stands are great, sure, but that's only if they're more dependable than the corner of the room in keeping your guitar safely upright.
It really annoys me when I'm using a stand that requires me to carefully find the perfect center of gravity in order to keep my guitar straight.

Some stands are poorly designed in a way that if you set your guitar just a centimeter or two off in any direction, the instrument may start to lean precariously toward certain crashing.
Multi-guitar stands are good when they don't require minute adjustments of guitar position to hold the instruments steady.
Lastly, the quality of the stand will determine its overall value. Quality involves several different aspects, including the protection offered to your guitars, the durability of the materials, and the longevity of its parts.
Multi-guitar stands should definitely have some sort of padding layer between the stand and your guitars. This is important to prevent scratches and nicks in your finish.
The padding should be durable enough to give you many years of frequent use. I've seen low-quality stands with the flimsiest padding that starts to rip, tear, and wear away after only a couple of months. A good stand means good materials.
And of course, the overall construction should be solid. If a stand starts to rattle loose at the screws a few weeks into using it, it's not going to give you the sense of security that a guitar stand should impart. You want to find a stand that's made to last, staying strong under normal use conditions.
Finding a product that fulfills all of these quality markers can be tough, but that's why I've given you this review to help you choose the best multi-guitar stand for multiple guitars.
Are Guitar Stands Bad for Your Guitar?
The only guitar stand that will be bad for your guitar is a low-quality model. Generally, guitar stands should be the opposite of bad for your guitar; they're meant to give you a much safer spot to rest them than the floor or wall.
You'll want to choose a stand that has a padding material that won't slip off or fall apart quickly. This kind of stand will surely be bad for your guitar, exposing the delicate finish to the harsh metal of the stand that will give you unsightly scratches.
In this same vein, if you've got a nitro-finished guitar, you need to make sure the stand material won't discolor your finish. If in doubt, you can always place a cloth between the padding and the guitar.
The worst thing a guitar stand can do to your axe besides scratch it is to simply collapse under the weight. Imagine entrusting your guitar to a piece of equipment meant to hold it safe, only to hear the awful sound of your guitar crashing to the floor.

Any stand that has this possibility isn't worth your hard-earned money and may cost you more in guitar repairs. Be smart in your decision making and get a stand that won't do any damage to your prized instruments.
---
Conclusion on Best Multi-Guitar Stands and Guitar Racks
These best guitar racks and multi-guitar stands are all great choices, with a couple really standing out to me. However you choose, you'll be sure to get one of the best stands or racks for multiple guitars on the market.
I hope that this guide helped you to choose the right stand for you! If you have any questions, just leave a comment down below.
If you think that a multi-guitar wall mount/hanger might be a better option for you, this article will help you out: Best Multi-Guitar Wall Mounts and Hangers.
I wish you all the best and keep rocking!
You might also like:
We are sorry that this post was not useful for you!
Let us improve this post!
Tell us how we can improve this post?