Last Updated on April 28, 2023 by Teemu Suomala
Best Overall – Shubb AXYS Reversible Guitar Slide
Tone
Playability
Quality
Value For Money
Summary
Pros:
-Very versatile because of the ability to rotate it out of the way when not in use
-Lighter weight means better performance on guitars with lower action
-Tone is bright and cutting
-Very comfortable to wear and use

Cons:
-Priced a bit high for budget-minded players
-Different materials could be offered for those who dislike metal slides

Versatile, lightweight, and comfortable…the best guitar slide for electric guitar.
Check Today's Price on
*Consider all links in this post to be affiliate links. If you purchase, at no additional cost to you, we may earn a small commission. It helps us to keep the lights on, thanks! 🙂
---
The Next Best:
Compare Key Specs: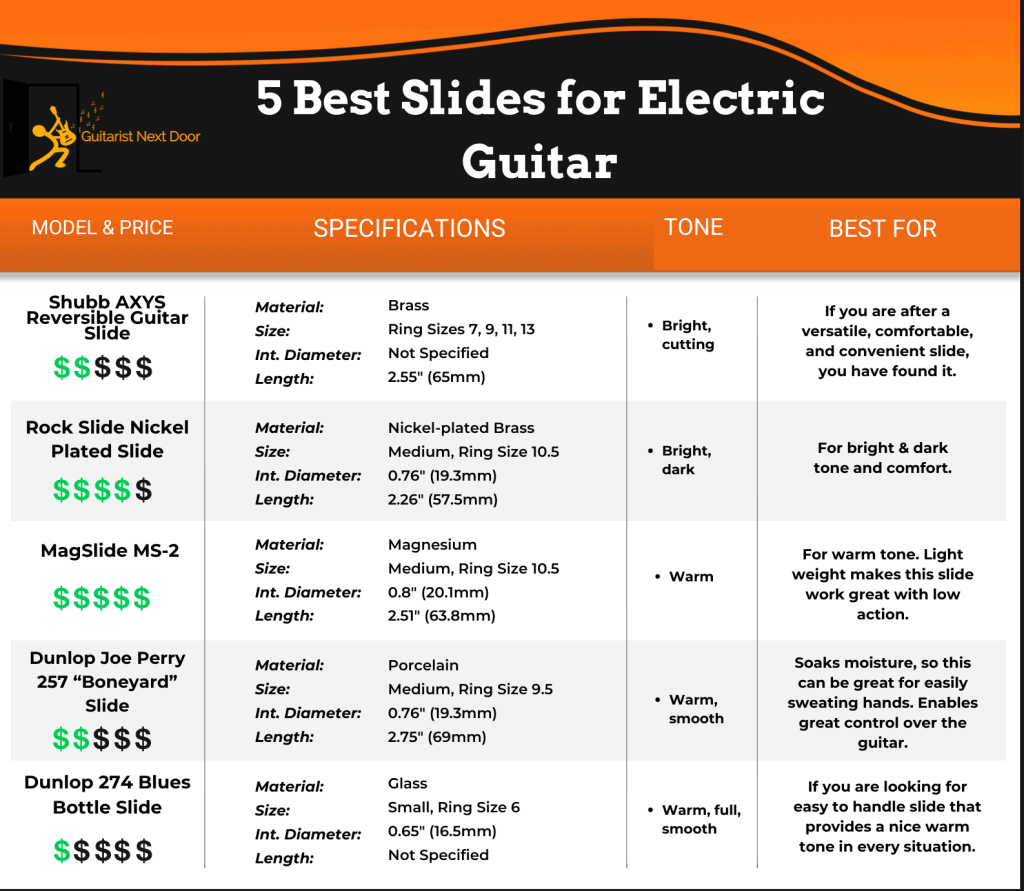 ---
If you've ever been mesmerized by the haunting, bluesy sound of players such as Bonnie Raitt, Ry Cooder, or old-school blues icons like Robert Johnson, then you've got the "slide bug." It hits all guitar players at some point in time.
The sound of a guitar slide is unmistakable. They open an entirely new tonal experience to guitarists without requiring a box full of effects, and they can really add a bluesy feel to many different lead passages. For example, play the main lead to Lynyrd Skynyrd's "Freebird" without a slide, and then play it with a slide. The dynamics, tone, and feel completely change.
Picking the correct slide is just as important as choosing the right guitar picks: different slide materials interact with the strings in different ways to create a plethora of tones. This is why many slide players will use different slides made of different materials, such as glass, brass, ceramic, and even magnesium.
We've broken it all down for you here at guitaristnextdoor.com to help you choose the best slide for your electric guitar.
Whether you're an experienced slide player or an aspiring newbie, you're in the right place.
Author: DL Shepherd
Darren has been playing guitar for over 23 years. He fronted the metal band Suddenly Silence in the early 2000's, and also achieved recognition as an award-winning bluegrass guitarist.
A native of southwestern Virginia, and has shared the stage with many big-name acts from various genres. When he is not playing one of his many guitars, he can be found riding his Harley through the mountains of Virginia.
Hide The Rambling▲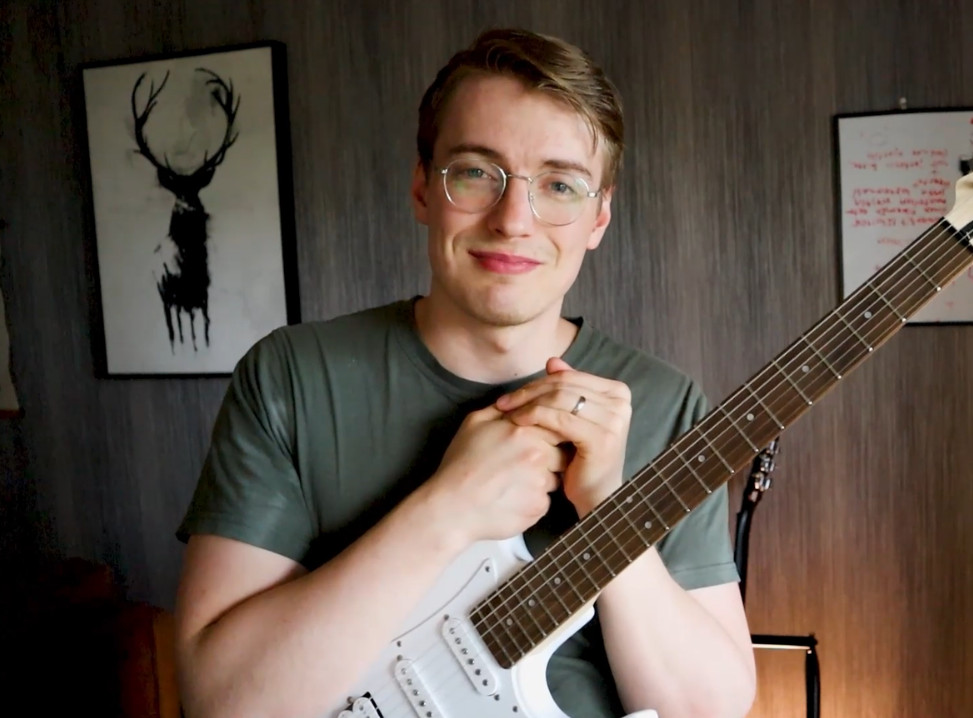 Editing & Research: Teemu Suomala
I first grabbed the guitar in 2009. I started this website in January 2020 because I couldn't do window installation anymore due to my health problems. I love guitars and have played dozens and dozens of different guitars through different amps and pedals over the years, and also, building a website interested me, so I decided to just go for it! I got lucky and managed to get awesome people to help me with my website.
I also got lucky because I have you visiting my website right now. Thank you. I do all this for you guys. If you have any recommendations, tips, or feedback, just leave a comment, I would love to chat with you. I have also been fortunate to produce content for several large guitar websites, such as Songsterr, Musicnotes, GuitarGuitar, and Ultimate Guitar.
I spend my spare time exercising and hanging out with my wife and crazy dog (I guess that went the right way…).
Hide The Rambling▲
---
Our Favorite Music Store in The World!
Why?
– Excellent Customer Service (4.7/5 Trustpilot Score)
– Fast & Free Shipping
– Gear is Inspected, Tested, & Ready to Play When it Arrives to You (We love this)
– Fair Prices
Visit Sweetwater:
What is A Guitar Slide?
A guitar slide can be many things. They are typically slipped over the pinky or ring finger of the fretting hand and slid across the strings to create a noticeable sliding effect. I've personally experimented with using antique medicine bottles, my Zippo lighter, and many other items over the years. The truth is, there is actually science behind what makes a good guitar slide.
Electric guitar slides are typically lighter weight because of the lower action that electric guitars offer over acoustic guitars. With this in mind, it is important to pick a slide that is suitable for your style and tonal expectations. This comes down to three key factors:
Slide material
Guitar action
Your finger preference and fit (pinky or ring fingers, generally)
Metal slides provide a brighter tone, while glass slides provide a warmer tone. Materials such as porcelain and ceramic tend to be in the middle depending on how they are glazed. This is a general rule of thumb when choosing a guitar slide. Other materials, such as magnesium, offer lighter weight while maintaining a warm tone.
5 Best Slides for Electric Guitar
Best Overall – Shubb AXYS Reversible Guitar Slide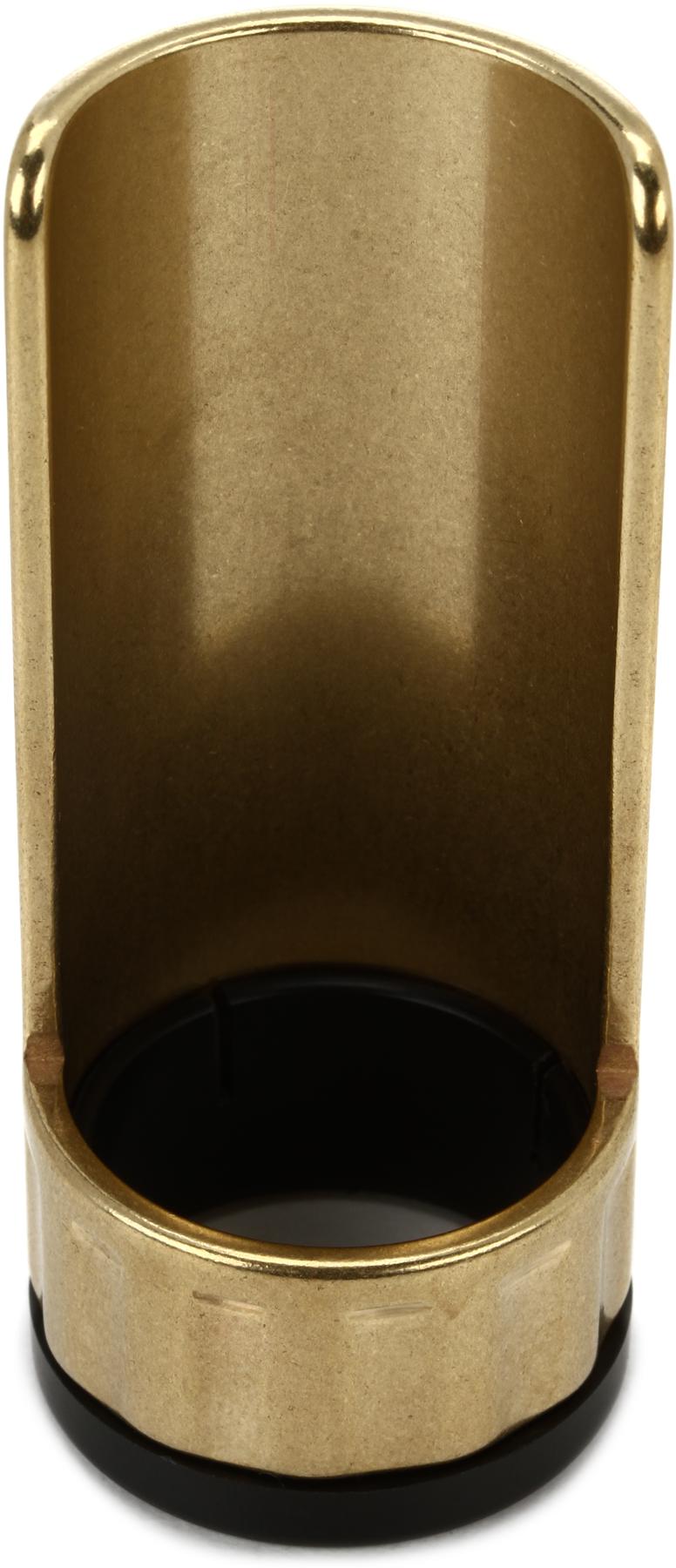 If you're looking for that great slide sound without sacrificing versatility, this slide beats out all of the competition. It is essentially a guitar slide that has been mounted to a Delrin® ring so that the slide rotates around your finger. This allows you to seamlessly switch from noting the strings with your finger to using the slide simply by turning it.
It is made of brass for a bright, cutting tone. It is lighter in weight by design (since technically it is a brass slide cut in half), and very easy to figure out once it is on your finger.
When you don't want to use it, simply allow it to rotate away from the strings and play your chords or scales just as you normally would.
When you need to use it, simply allow it to rotate toward the strings and let it take you to a new tonal plateau.
The versatility that this slide offer is second to none. There have been other slides over the years that have used a similar design, but they usually came with a bit of a learning curve since they fit beside the finger, not over it.
The versatility, tone, and comfort that the Shubb AXYS Reversible guitar slide provides puts it at the top of the list.
Pros:
Very versatile because of the ability to rotate it out of the way when not in use
Lighter weight means better performance on guitars with lower action
Tone is bright and cutting
Very comfortable to wear and use
Cons:
Priced a bit high for budget-minded players
Different materials could be offered for those who dislike metal slides
Check Today's Price on
---
Best Slide for Bright Tone – Rock Slide Nickel Plated Slide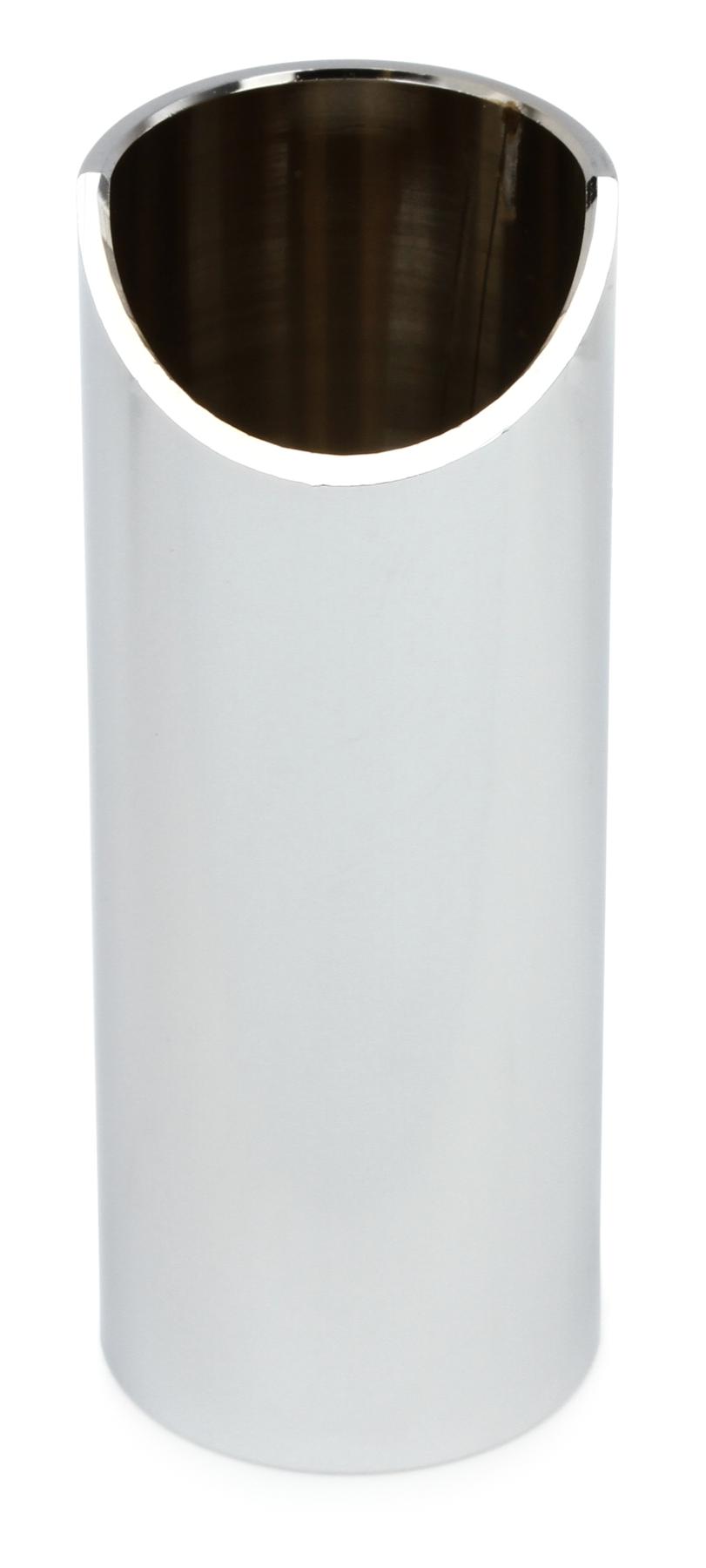 If bright tone is your thing, then the Rock Slide Nickel Plated Slide is the way to go. You get the brightness of a brass slide without the harsh notes that some can have and the slick feel of glass. This is due to the highly polished nickel plating.
The tone of the Rock Slide Nickel Plated Slide is a bit darker thanks to the slick nickel plating as well. It provides a hint of warmth that glass typically provides while still providing a cutting, bright tone. This is great for electric guitarists because it helps cut down on string noise and scraping.
Being a metal slide, it does have a bit of weight to it, but it is very easy to manage and comfortable to wear thanks to the finger recess. You can also index it very easily thanks to the cutaway feature. This is great for those long, sweaty performances when you need to have the utmost control over the slide.
Other features, such as the ergonomically designed interior, help to not only keep you finger in the slide, but also provide extra comfort. The more comfortable it is, the more likely you are to use it.
If you're a bright-tone junky, look no further than the Rock Slide Nickel Plated Slide. It's an amazing piece of equipment to add to your arsenal.
Pros:
Very comfortable to wear because of the ergonomic design
Bright, crisp tone without excessive string noise
Very easy to index when playing long sets
Cons:
A bit heavy for some players
Some players may find the tone to be a little too warm compared to other metal slides.
Check Today's Price on
---
Best for Warm Tone – MagSlide MS-2

Magnesium slides are perhaps the newest technology in the guitar slide world. The MagSlide MS-2 is a perfect example. While most metal guitar slides provide a bright tone, the MagSlide MS-2 provides a very warm tone. This may seem counterintuitive, but it's true.
The first thing you will notice right out of the box is the weight. It is virtually weightless! Magnesium is a much lighter metal than brass or steel, making the MagSlide MS-2 an amazing slide for an electric guitar with a low action.
The design of the MagSlide MS-2 is ergonomic, and it wasn't hard at all to achieve a comfortable fit. The finger rests and sizing is spot on.
If you want a metal slide with a warm tone without the added weight, then this is the slide to get.
Pros:
Light weight is great for guitars with low action or lighter gauge strings
Incredibly warm tone that is similar to glass
Great fit and ergonomics
Cons:
May be a bit pricey for beginners
Check Today's Price on
---
Best Electric Guitar Slide for Large Fingers – Dunlop Joe Perry 257 "Boneyard" Slide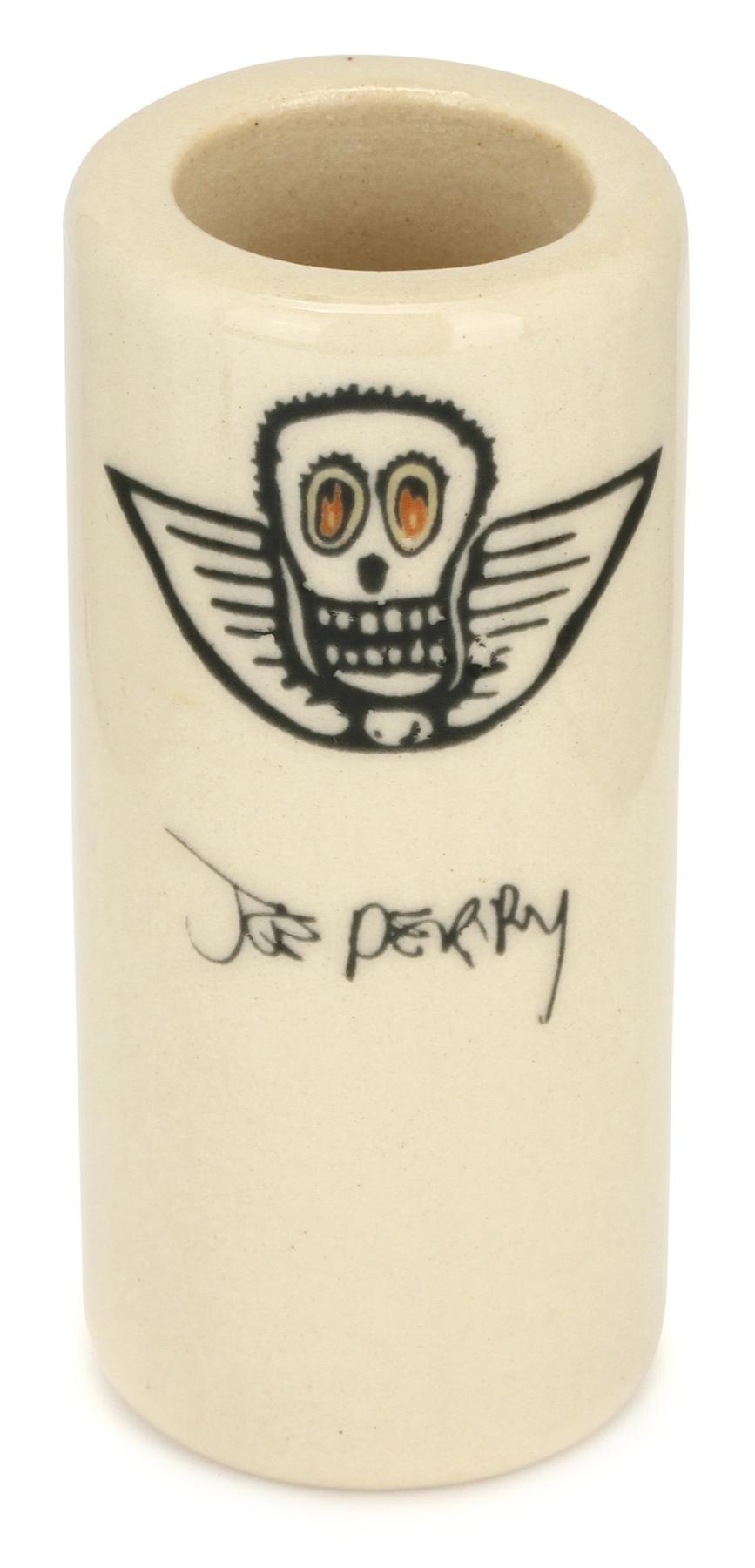 If you're like me, sometimes finding slides that fit over large fingers can be a chore. There is nothing worse than having your slide stuck on your finger in the middle of a performance (ask me how I know).
Joe Perry of Aerosmith worked with Dunlop to design a porcelain slide he calls the "Boneyard" slide. You can immediately tell that it is made for larger fingers. They appear to be made larger when compared to other slides of the same size.
This does not take away from the size of the slide, however. The walls are thick and solid, giving players maximum tone and control. As a bonus, porcelain slides soak up moisture and perspiration. No more slip-sliding with your slide!
The glaze is thick and provides a warm, smooth tone that is perfect for electric guitars. After all, it was designed by a guitar legend.
While there are several sizes, we recommend getting the Large/Long version if you have some beefy digits. If you have one of these, it may just be the last slide you will ever need.
Pros:
Sizing is made for larger fingers
Porcelain absorbs moisture keeping the slide on your finger
Warm, smooth tone thanks to the glazing
Plenty of control for a larger slide
Cons:
Porcelain will break if you drop it
Weight could be an issue for some players
Check Today's Price on
---
Best Electric Guitar Slide for Small Fingers – Dunlop 274 Blues Bottle Slide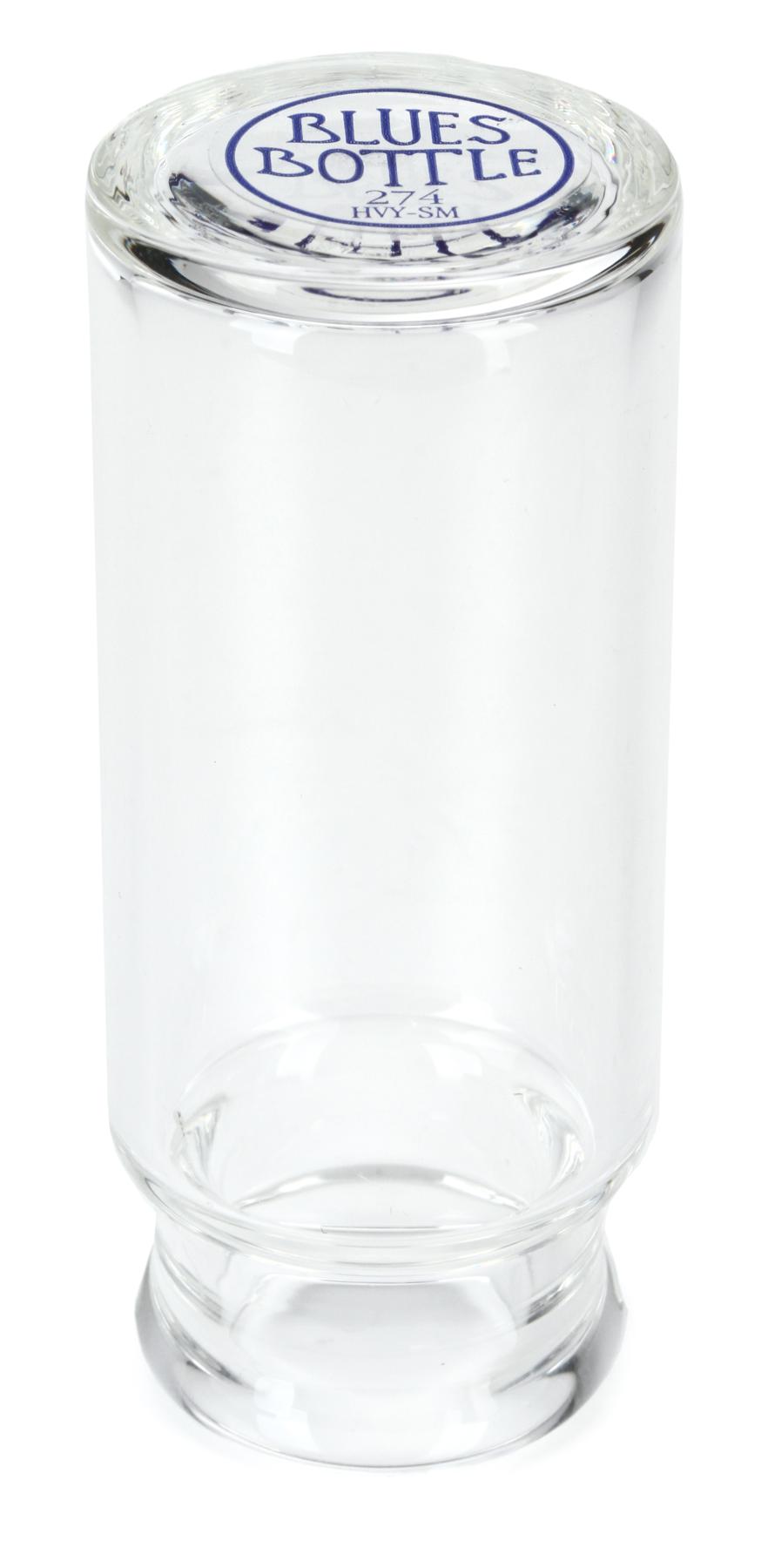 It would be a sin for this article to not mention a medicine bottle slide. The Dunlop 274 Blues Bottle Slide is a modern take on an old classic. Bluesmen of the early 20th century used medicine bottles for their slides, and a lot of them (like Robert Johnson) wore them on their pinky.
The Dunlop 274 Blues Bottle Slide captures the spirit of the Delta blues by giving players that classic medicine bottle look but with thicker sides. This means that the slide will provide a warm, full tone with plenty of smoothness. Seriously, you really have to try hard to get a bad tone from this slide.
It's about as comfortable as a medicine bottle can get. It fits well on the pinky and provides plenty of control.
They make several sizes of the Blues Bottle, so be sure you get the small version if you have smaller fingers. You'll thank us later.
By the way, Derek Trucks swears by a medicine bottle slide. So, if you don't take our advice, take it from one of the best slide guitar players in the world!
Check our favorite blues licks and riffs here.
Pros:
Smaller opening is great for smaller fingers
Seamless glass design offers a warm, full, smooth tone
Thicker sides mean less string noise
Cons:
Glass breaks fairly easily
An unopened top end causes fingers to sweat easier
Check Today's Price on
---
Verdict
Alright folks! The Shubb AXYS Reversible Slide comes in at number one for the best overall electric guitar slide because of it's great tone and incredible versatility. For those looking for a brighter tone, you'll definitely want to check out the Rock Slide Nickel Plated Slide. If warm tone is your thing, then you'll definitely want to add the MagSlide MS-2 to your arsenal.
A Dunlop Joe Perry "Boneyard" Slide (Long/Large) is great for those with fingers that are on the large side of the spectrum, and the Dunlop 274 Blues Bottle Slide is going to be best for those with smaller fingers.
---
Buyer's Guide – FAQ
What Makes A Great Electric Guitar Slide?
When it comes to electric guitar slides, remember that they are very much like any other piece of gear that you have: it all comes down to what you want.
Being conscious of slide materials and their tonal properties is a must. We recommend trying out some different materials to see what is best for you.
As a general rule, slides work best on guitars that have a higher action. The reason is that many slides are heavy and are hard to control on a guitar with a lower action. You really need to take that into consideration. This is why slides like the MagSlide MS-2 are becoming more popular with electric players. They no longer have to set up a guitar specifically for slide use.
So, a great electric guitar slide can be anything that works for you.
How Do I Pick The Right Electric Guitar Slide for Me?
This comes down to experimentation. Different materials will give you different tones. Try slides made from different materials to figure out your preference. They are not the most expensive pieces of gear, after all.
Secondly, make sure you know your ring sizes. Most manufacturers will offer slides in different sizes to accommodate everyone's fingers. If you know your ring size, then you can find one that will fit you the best. Fitment is very important!
Slides are meant to fit snug on your small or ring fretting fingers—tight enough to stay on when you turn you hang your hand down but not so tight as to be uncomfortable.
If you know your ring size, picking the right slide is easy. Sweetwater actually has a guide you can print and use to measure your ring size to make slide buying simple.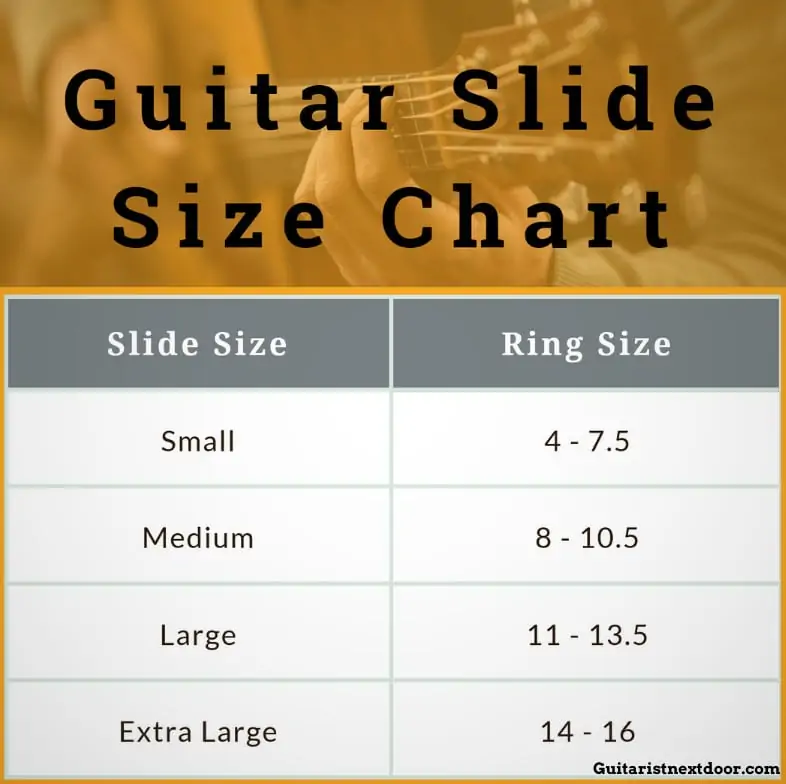 If you have a hard time finding a slide to fit you, lining the inside with leather or cotton can help secure the fit.
What Is The Best Material for A Guitar Slide?
When it comes to music, dealing with absolutes is a no-go for me. There's no such thing as the best slide material.
Each has its benefits and drawbacks, so knowing the different tonal and playability characteristics of all the most common materials can help you choose the perfect slide.
Glass
Glass is the traditional slide material and is a great choice for acoustic guitar.
Compared to steel, it's lightweight and low-density, making it a comfortable slide type that doesn't weigh your finger down too much.
Its sound is warm, gliding smoothly over the strings with no hitches or hesitation, but it lacks the sustain of steel slides.
Steel
Ironically, steel slides have a "glassier" sound than glass slides. They sound very bright and provide a lot of sustain.
But steel slides can be heavy and harder to play with than their glass counterparts, and their overall tone is on the harsher side.
Brass
Brass slides are very similar to steel, but their playing feel is a bit smoother. Being a softer metal, brass produces a warmer, darker sound than steel slides but is still brasher than glass.
Ceramic and Porcelain
These are clay-composite materials that land somewhere in hardness between glass and steel.
Both materials sound brighter than glass, warmer than steel, and have decent amounts of sustain.
Porcelain is the denser of the two materials, so it will lean closer to the sound and feel of steel slides, while ceramic is just a little more similar to glass.
How Much is A Good Electric Guitar Slide?
Most slides can cost anywhere from a few dollars to around $40 or $50. Some custom-made slides may run you more than that. Good slides can be found at just about any price range, but keep in mind that the more expensive slides typically use better materials.
What Should I Avoid When Choosing An Electric Guitar Slide?
I personally recommend staying away from thin-walled slides. These are usually on the budget end of the price spectrum.
The reason for this is that thinner walls can cause the slide to "bounce," creating a lot of string noise. It is safe to say that a medium or thick-walled slide will perform much better than one with thinner walls.
What's The Best Guitar Slide for Beginners?
The best guitar slide for a beginner should usually be a budget-friendly slide. This is to ensure that you are going to like it and stick with it without dumping a lot of money into a massive slide collection right away.
There are multiple choices out on the market that make good "first" slides, but you still need to keep in mind what kind of tone you want to go for. This will allow you to hit the ground running with a tone that you feel comfortable with. You can also learn what you don't like and what you would want to look for in your next slide.
---
Conclusion on Best Guitar Slides for Electric Guitar
Slide guitar is an art form that is almost separate from guitar playing in general. It opens up a completely different tonal spectrum, and it can almost transform your guitar into a different instrument.
If you want to hear some great slide guitar playing, then you should check out Derek Trucks, Bonnie Raitt, or Ry Cooder. These are pioneers in the art of electric slide playing, and they get their inspiration from the Delta bluesmen of old.
Choosing a slide can seem like a daunting task, but, as always, we have you covered here at guitaristnextdoor.com. So, look over our list, pick one of our choices, and have fun discovering a completely different side to your playing.
Keep rocking!
You might also like:
We are sorry that this post was not useful for you!
Let us improve this post!
Tell us how we can improve this post?