Last Updated on April 29, 2023 by Teemu Suomala
Best Overall – Fishman Loudbox Mini BT
Sound
Features
Usability
Value For Money
Summary
Again, we get what we pay for.

The Fishman Loudbox Bluetooth Mini is the most versatile, most powerful, and most professional of the small acoustic guitar amplifiers.

It costs quite a lot for a small guitar amp, but its big, clear voice and connection capabilities give it the value of much larger amps at a similar price point.

Fishman has (again) done their homework and nailed it with this amp.

If I were after the best small acoustic amp, this would be my choice!
How Fishman Loudbox Mini BT sounds:
Check Today's Price on
*Consider all links in this post to be affiliate links. If you purchase, at no additional cost to you, we may earn a small commission. It helps us to keep the lights on, thanks! 🙂
---
The Next Best:
It goes without saying that acoustic guitars are great unplugged, but you can take your steel-string tone to the next level with a great acoustic guitar amp. There are plenty of great-sounding acoustic-tone boxes out there. But sometimes, we want something compact and portable…
We've got you covered.
Whether you're a busker, a beginner, or a band member, and whether you have a cheap acoustic guitar or Taylor or Martin, you'll find amps on this list that will work from the bedroom to boulevard and all venues in between.
Let's first look at these fine amplifiers, and at the end of the post, you can find the FAQ section that helps you to make the best choice possible.
Who crafted this post:
Author: Tommy Tompkins
Playing guitar since 2004. Primarily an acoustic guitarist who plays and writes traditional American folk music, with a background in melodic metal and a solid foundation as a bassist.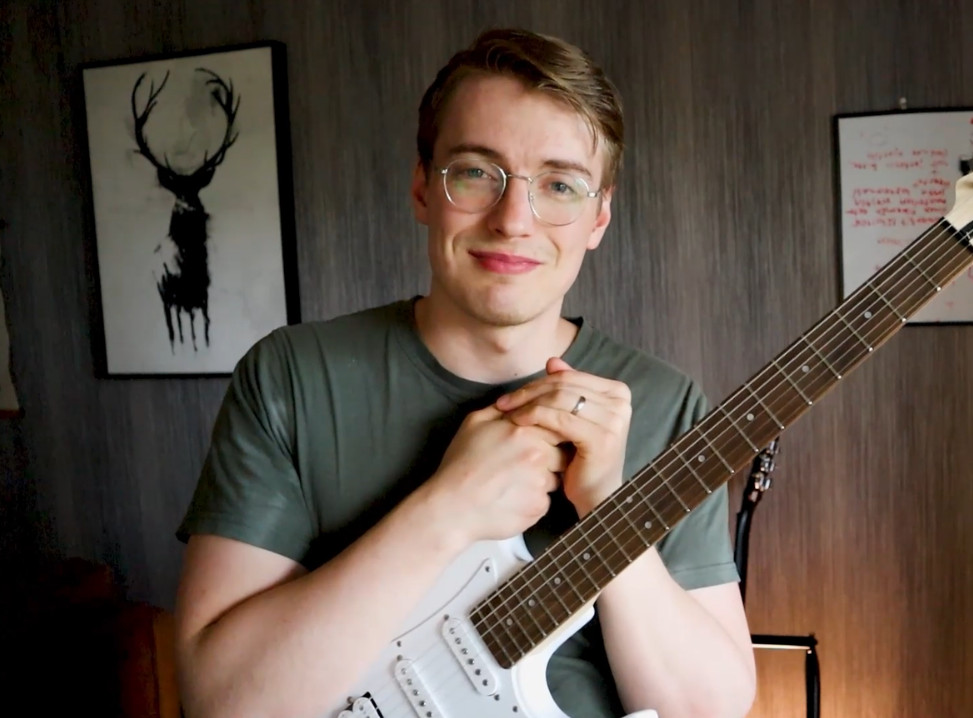 Editing & Research: Teemu Suomala
Playing guitar since 2009. Mainly focused on electric guitars, although jamming with acoustics too. Has played dozens and dozens of different guitars through different amps and pedals over the years. That's why he started this blog in January 2020 and started sharing his experience. Has produced content for several large guitar websites, such as Songsterr, Musicnotes, GuitarGuitar, and Ultimate Guitar.
Every one of these acoustic amps is here based on extensive research and decades of combined guitar experience of me (Tommy) and Teemu.
---
Our Favorite Music Store in The World!
Why?
– Excellent Customer Service (4.7/5 Trustpilot Score)
– Fast & Free Shipping
– Gear is Inspected, Tested, & Ready to Play When it Arrives to You (We love this)
– Fair Prices
Visit Sweetwater:
Best Small Acoustic Guitar Amps
Best Overall – Fishman Loudbox Mini BT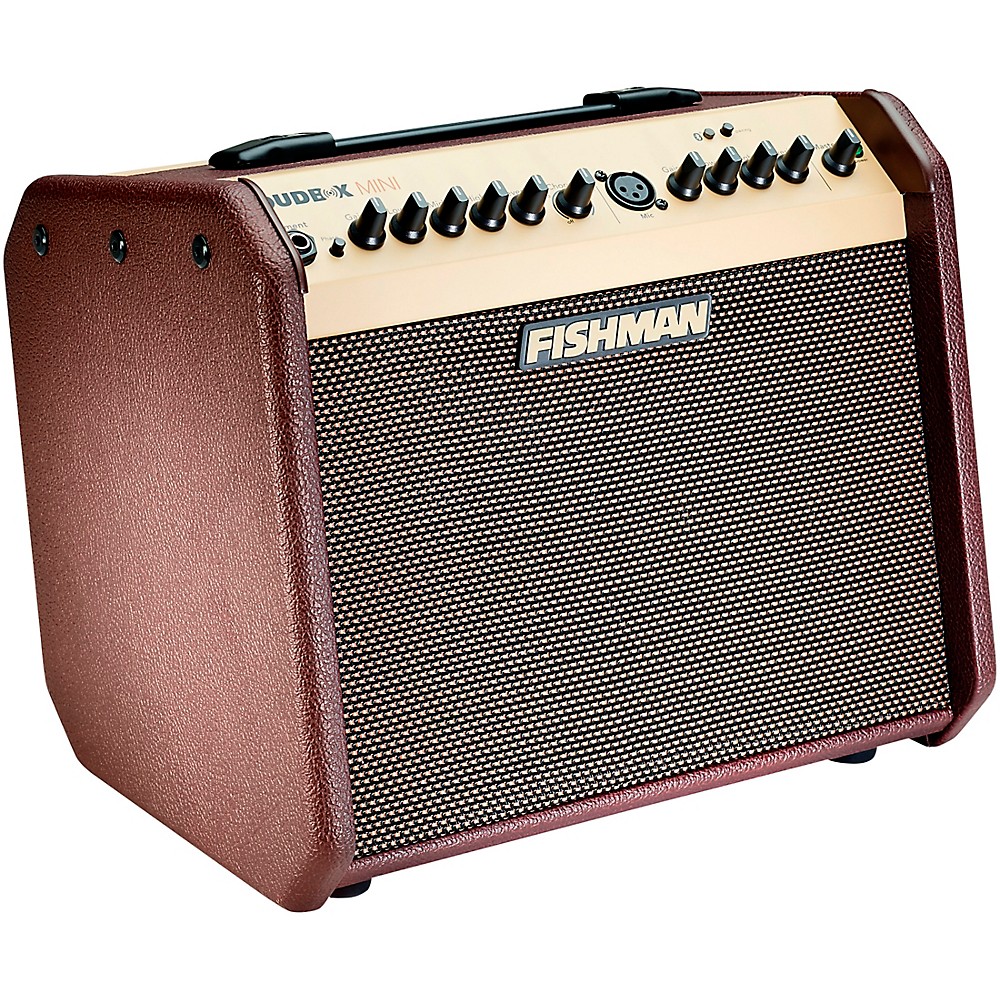 Sound
If you're not concerned about price and just want the best sounding small guitar amp for acoustic out there, the Fishman Loudbox Mini Bluetooth could be the amp for you.
It boasts 60 watts of solid-state power from both a 6-inch woofer and a 1-inch tweeter. Together, these speakers blend your acoustic's frequencies in a way that kicks while still being smooth.
The Loudbox Mini features reverb, chorus, and EQ, so you can adjust your levels however you please.
Hear how this amp sounds:
Features
Among its many standout features is the fact that it's microphone channel has its own set of EQ and effects controls.
With this, it's easy to dial in your vocal mic to sit perfectly on top of your acoustic channel.
The Loudbox also has a feedback-resisting Phase switch that you can use to get rid of the pesky noise you'll be encountering at the louder volumes.
Usability
You can connect your phone or PC via Bluetooth or the AUX in to add any accompaniment you want. Afterward, you can use the XLR DI jack to sync up with your home studio software and record your latest licks.
It's got a lot of neat features, but none of them are complicated. So if you're a beginner with a big budget for your first amp, this isn't an amp that would be out of your league.
To top it all off, this all comes in a very small package. The Fishman Loudbox Bluetooth Mini stands only a foot high and weighs all of 21 pounds. Though it's not battery-powered, it's portable enough to take anywhere you can plug in.
Summary
Pros
Great balanced acoustic tone driven by 60 watts of power
EQ on both instrument and microphone channels
Big voice in a small package
Bluetooth, XLR DI, and AUX connectivity
Cons
More expensive than its small amp competitors
All things considered, the Fishman Loudbox Bluetooth Mini is the most versatile, most powerful, and most professional of the best small acoustic guitar amplifiers. It provides great tones from flatpicking to strumming to acoustic fingerstyle.
It costs quite a lot for a small guitar amp, but its big, clear voice and connection capabilities give it the value of much larger amps at a similar price point.
Check Price on:
---
Best Under $100 – Fender Acoustasonic 15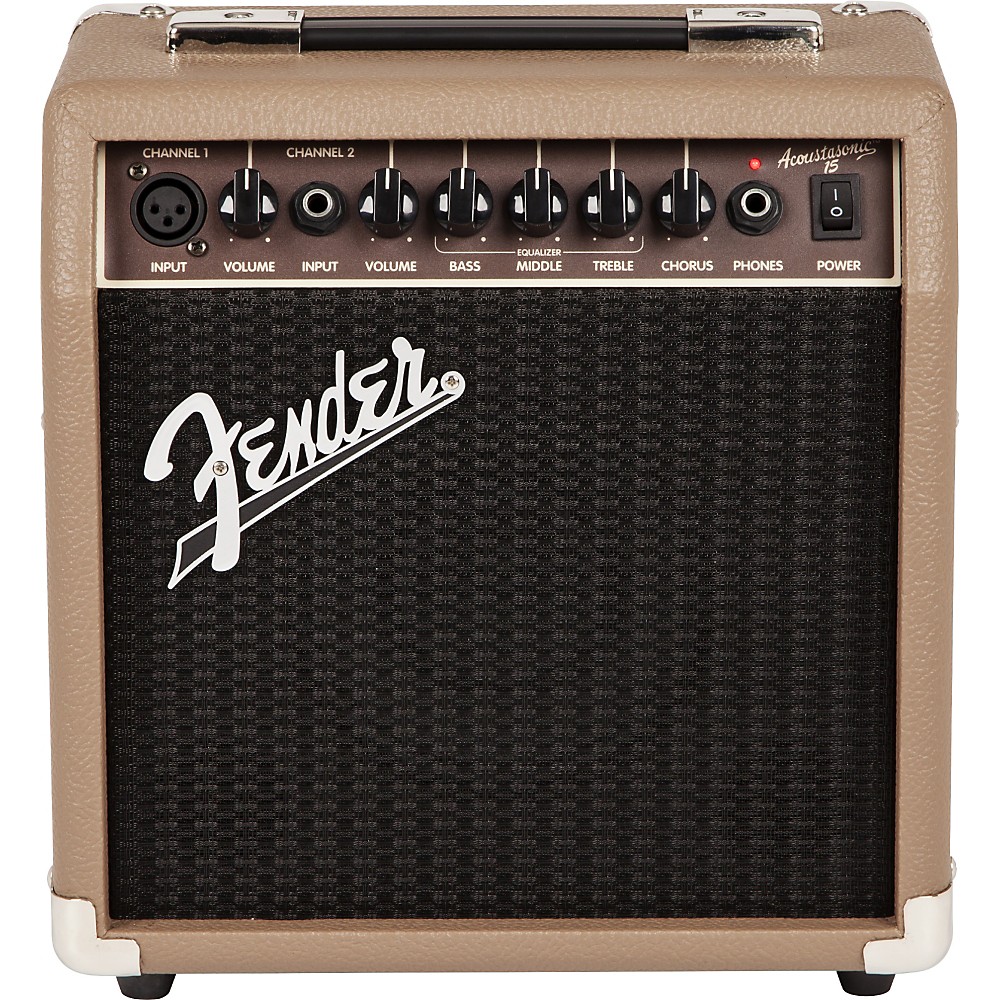 Sound
The Fender Acoustasonic 15 is in many ways similar to the Donner DGA-1, but one special feature really sets it apart.
Both are rated at 15 watts of output and have closed backs to kick up the bass and mid-punchiness a bit. And they both have XLR mic inputs, but the Acoustasonic has an extra element in its speaker design that makes this mic jack more usable…
This is a "whizzer cone", which is a small cone placed on the center of the speaker's main 6-inch cone. It drives up the higher frequencies. Doing this helps the mic input cut through the mix of the guitar.
However, if your guitar is treble-heavy in the first place, the amp might sound too sharp in the high end.
Hear how this amp sounds:
Features
Unlike the Donner, the Fender Acoustasonic 15 has a chorus controlled all with one knob. At the far left position, you'll have no chorus at all. The more clockwise you crank it, the more presence and speed the chorus will have.
There's another nice feature is 3-band EQ. You can tame those glassy highs or bring up or down whatever frequencies you need to change. Again, this only works for the instrument channel, so your mic will have to be EQed earlier in your signal chain.
Usability
This is another great amp for beginners with simple controls and basically nothing confusing at all in its usage. By just plugging and playing, you can let both your guitar and voice be heard. Or on the other hand, you can plug in headphones to keep your jams on the quiet end.
At hardly over a foot in length and width and a little 10 pounds in weight, the travel-friendliness of the Acoustasonic makes it a great amp for taking to guitar lessons.
For more under $100 options, check this post.
Summary
Pros
Addition of "whizzer cone" on speaker adds depth to sound
Very shimmery chorus effect
Small for portability but loud enough to fill a room
Cons
The tone is overall treble-heavy
Fender definitely knows tone, and their combination of the whizzer cone in the Acoustasonic 15 sets this amp up to be one of the best acoustic amplifiers around.
The Fender Acoustasonic 15 is my favorite entry-level acoustic guitar amp with enough juice, tone, and chorus to keep beginner guitarists playing for a long time.
Check Price on:
---
Best for Beginners/Budget – Donner 15W AMP Acoustic Guitar Amplifier
At the time of updating this post (Jan 2022), this amp was not available, for more beginner acoustic guitar amp options, check this guide.
Sound
Donner's 15-watt DGA-1 is a surprisingly nice sounding beginner amp. At its price, I would have expected a mush brasher, glassier voice.
At 15 watts, you won't get stage-shaking power, but the bedroom-level sound of this amp is just what you need for practicing in your early days.
If the closed-back design doesn't give you the bass response you're after, you can tweak this with the 3-band EQ to temper any squealy highs you might encounter.
While it does have two inputs, the mic-in lacks controls save a volume knob, so the sound quality of blending the two channels is pretty poor. Again, this is alright for practicing, but I would advise against trying to gig using this amp for both your microphone and guitar.
Hear how this amp sounds:
Features
Along with the 3-band EQ controls, you can color your acoustic's tone with a variable chorus effect as well.
A simple button turns the chorus on or off, and then a knob to the right of this gives you control of the modulation rate.
Though compared to many other amps this chorus is a super simple low-fi effect, it can be just the spice you need to break out of the doldrums of unmodified acoustic tone.
Usability
Some extra perks of the Donner 15W Amp Acoustic Guitar Amp are its bonus accessories—a 10-foot instrument cable and 4 guitar picks—and its ease-of-use.
If you're a beginner, you might not see the instrument cable as much of a benefit if you already own one. But, seasoned players know that you can never have too many of these given how often they short out.
The same goes for picks, which are very easy to lose. Having extras of these things handy is always nice.
As far as using the amp goes, it couldn't be more simple. Its power supply cord is even built-in, making the process that much easier. You just plug the power in, hook up your guitar, flip the power switch (no waiting like with tube amps), and rock.
Though the DGA-1 isn't battery-powered, it's compact, lightweight build makes it easy to take anywhere you can find an outlet.
Summary
Pros
Great tone at a low price
Includes instrument cable and acoustic guitar picks
Perfect power rating for practice
Cons
Mic and guitar at the same time will sound muddy
This is a great amp for beginners because it's low cost, sounds good, and has flavor without being complicated.
The days of learning basic chords can get really boring, so having a little chorus to help keep things interesting is a great addition to this nice-sounding beginner amp.
---
Best for Street Performers – Acoustic Guitar Amplifier, 40 Watt Portable Rechargeable Amp for Guitar Acoustic
For more under $200 amps, check this guide out.
Sound
I was a street performer for years, albeit a rather unprofessional and unamplified busker.
If you're dreaming of being a busker too, the 40 Watt Portable Rechargeable Amp for Guitar Acoustic by Vangoa is a much better route to go than singing so loud you lose your voice every night.
40 watts is plenty enough power to be heard on a busy street corner, so volume's no problem.
With 3 channels, you can connect a microphone, your guitar, and even a drum machine all at the same time.
However, the tone of the first two inputs is truly poor. It's extremely boxy, so you shouldn't expect great vocal sound quality.
Hear how this amp sounds:
Features
One thing this amp really has going for it is its broad range of connectivity. You can use DI for recording and the typical AUX in for playback, but you can also connect your phone or laptop via Bluetooth or USB for playing backing tracks.
There's even a power output on the back so you can charge your phone or other small devices from the amp's battery.
Controls-wise, you have a basic volume for each input. The first and second inputs share a reverb control, which limits their functionality a bit. The third input—the one for your acoustic—has this volume and reverb in addition to a 3-band EQ.
Usability
Learning to record with this amp will take a bit of study as it's not exactly straightforward. But, the basic controls are simple enough, as is connecting the Bluetooth. So getting ready to groove over your favorite backing track only takes a minute or two to set up.
At 16 pounds, this is still a portable enough amp to carry with you, and you can do this easily with its rugged side-carry handle.
Summary
Pros
Powered by rechargeable battery; take it anywhere
Multiple connection methods to play backing tracks, record, and more
40 watts is loud enough for small gigs or street performances
Cons
Build quality could be better
Boxy sound quality
The Vangoa Coolmusic BP40 is a great small acoustic guitar amp with versatile applications. You can use it for street performing, as a stage monitor, for gigging, or as an at-home piece of recording and practice gear.
With a construction of questionable durability, it's hard to say if this amp is worth the price in a general sense. But, if you're in a hurry to get your public performances up and running with acoustic power, the BP40 could be a good choice for you.
---
Best for Recording – Yamaha THR5 Mini Acoustic Guitar Amplifier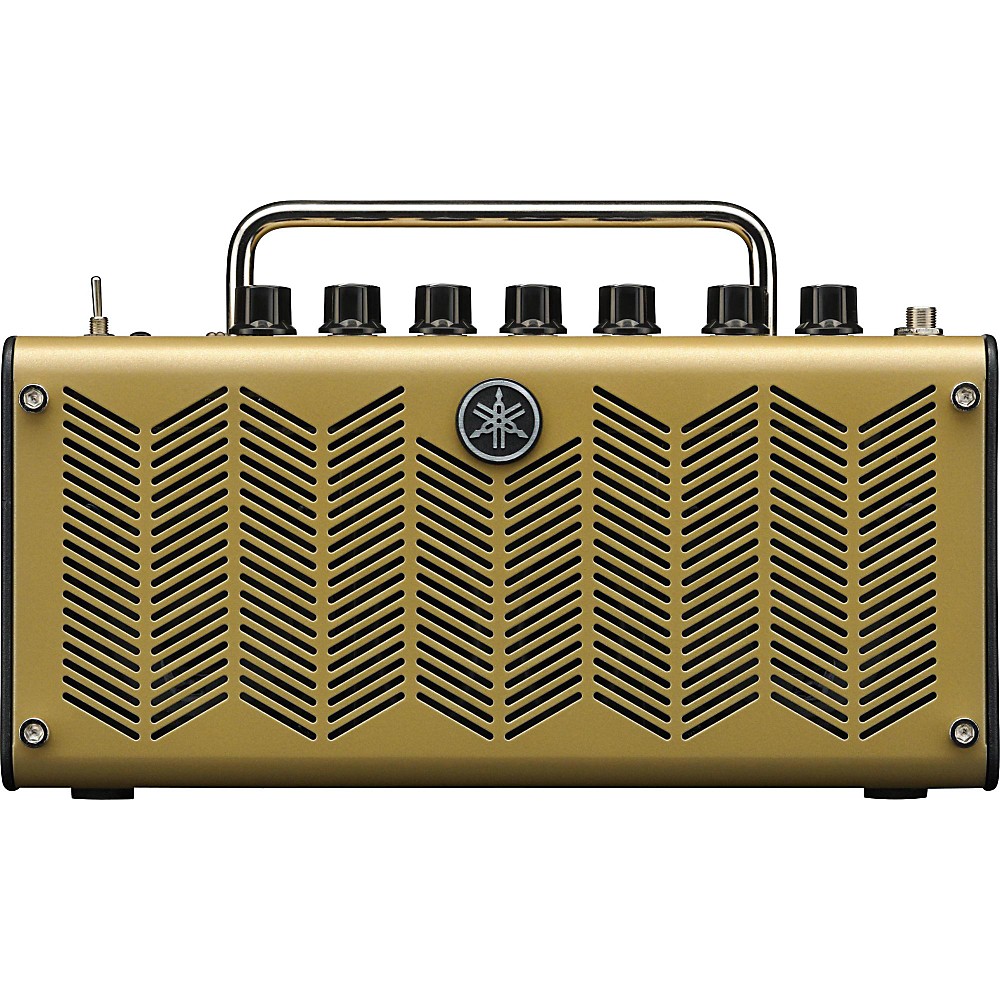 Sound
If we look at the shape and color of the Yamaha THR5A's sound, it's a really impressive mini acoustic guitar amp.
Out of the box, this amp comes packed with 5 mic presets ranging from a standard condenser mic all the way to the sound of a clean electric guitar. While most of the presets give you clean tones with varying EQ levels, the electric guitar EG CLN setting has a gritty bite to it.
These mic presets can then be modded with a variety of effects, so this is straightaway a little amp with a lot of versatility. Every tone is great thanks to Yamaha's Virtual Circuitry Modeling technology.
It gets even better knowing that you can use free downloadable THR Editor software to change the specific settings of each of these controls, giving you total power over the flavor of your tonal presets.
Hear how this amp sounds:
Features
Now, in line with the THR5's small build is its low power rating, which is almost woeful.
This amp can only sing with 10 watts, which is not much at all. It's a great amp for practicing alone or recording at home, but there's no way it could keep up with a drummer.
And for gigs? Sorry, but 10 watts won't drown out even a tame bar's chatter.
More volume would be nice, but it would also drive up the size, weight, and price of this otherwise compact, relatively affordable amp. And, considering it can run on a handful of AA batteries, 10 watts is actually pretty impressive.
Usability
So knowing its limitations, it's safe to say that this amp is best used for songwriting, rehearsing, and recording. It actually comes with a free copy of the recording software Cubase AI, so it's all you need to get your guitar on the reels.
Editing your presets through the THR software might be harder for the less-tech savvy, but setting your preferences through the preloaded mic models and effects couldn't be easier.
Check our picks for the best Yamaha acoustic guitars here.
Summary
Pros
Choice of battery or AC power for playing at home or on the go
Editable preset effects and microphone models
Comes with recording software
Cons
10 watts of power isn't loud enough for performances
I'd recommend this amp more for intermediate to advanced acoustic guitarists who want to get more serious about their home studios.
It has a beautiful range of tones suitable for any acoustic genre, and if it doesn't have what you're after, chances are you can edit it to be right.
It's not cheap, but the tonal quality is worth it if you don't need a lot of volume.
Check Price on:
---
Verdict
I think the Vangoa Acoustic Guitar Amplifier, 40 Watt Portable Rechargeable Amp for Guitar Acoustic is the least reliable choice on this list.
If it had the option for an AC power supply in addition to its rechargeable battery, it would rank higher. But, what are you going to do when its battery stops working like all built-in batteries eventually do?
The best sounding amp that's good from home to studio to stage is the Fishman Loudbox Mini Bluetooth. It's got all the most common features of today's best small acoustic amps while more than doubling on the tone output.
This is a useful portable amp that players of all skill levels can appreciate.
---
Buyer's Guide
What Makes a Great Small Acoustic Guitar Amp?
Amps are often the biggest, heaviest, and hardest to transport piece of equipment a musician will own. If you don't need an amp so strong it can fill a whole club, there are plenty of great small acoustic guitar amps.
To me, the main advantage of an acoustic guitar amp is the ability to change your acoustic's voice. As a guitarist of almost two decades, I know I have often become very bored of hearing my guitar's tone over and over again.
This is where a small amp is the best. They give you a compact way to shape your sound however you like. You can change the EQ to boost your bass or cut your highs, use the amp's built-in effects, or even plug some effects pedals in to get the most out of the rig.
Many of these amps give you an additional channel and a microphone input so that you can use a mic at the same time as you play. This is handy for singer-songwriters or anyone who needs to mic up a second instrument.
In most of the best acoustic amps, you'll get at least one effect. This is usually either reverb or chorus. It's a nice way to experiment with different styles and put a spin on your songwriting and riffing.
Perhaps the most modern attribute found on the best amps is Bluetooth connectivity. This is a feature that lets you easily play backing tracks or other accompaniment using your phone or laptop.
The thing that ties these amps together is that they are truly small. Some are no bigger than a shoe box! It's impressive that they can fit such pure tones and levels of power into such compact shapes.
How to Pick the Right Small Acoustic Guitar Amp for You
The most important things to look for are
the value,
the sound,
and the size.
Amps can be really pricey, but there are also good low-cost models to choose from. Shop within your means when you're looking for a good small acoustic amp because $20-$30 doesn't make much of a difference in quality.
For the sound, look first at the speaker quality. In most small amps, there's only one speaker, but some give you two to really enhance your guitar's treble response.
The built-in effects only matter as much as you want them to. Personally, I recommend ignoring the effects for the most part and getting a good digital effects processor.
Lastly, make sure the amp is small or large enough to suit your needs. If you need to play shows, there are only one or two small acoustic amps that are good for this. Most will give you practice volume levels with a good shape and color to the sound.
---
Conclusion on Best Small Acoustic Guitar Amps
This list of the best small acoustic guitar amps has got you covered whether you're just starting out or ready to rock a nightclub.
You've got your pick of the smallest, cleanest-sounding acoustic amplifiers around, like the super affordable Donner DGA-1 to the meaty, high-end Fishman PRO-LBT-500.
From practice to performances, these small acoustic amps will pump up your tone to levels a steel-string just can't pull off alone.
I hope that this guide helped you to choose the right acoustic guitar amplifier for you.
I wish you all the best and keep rocking!
You might also like:
We are sorry that this post was not useful for you!
Let us improve this post!
Tell us how we can improve this post?