Last Updated on April 29, 2023 by Teemu Suomala
Best Overall – Yamaha THR10II WL
Sound
Features
Usability
Value for Money
Summary
Stuffing 15 digital amp emulations along with 8 effects and 3 instrument modes in a box barely more than a foot wide, the THR10II gives you literally thousands of sound choices.

You also get:
-15 digital amp emulations
-8 effects
-3 instrument modes(works well with acoustic and bass guitars too)

Size:
-Height: 7.2″=18.3cm
-Width 14.49″= 36.8cm
-Depth 5.5″ = 14cm
-Weight 7.06 lbs = 3.2kg

The Yamaha THR10IIWL gives you studio-quality tones and all the latest in wireless technology.

It's a hi-tech amp with high fidelity stereo sound that you can tweak just about any way you want, making it a great choice for tone gravers. The best small modeling guitar amp.

(This has a cheaper non-wireless version available too)
How THR10II sounds:
Check Today's Price on:
*Consider all links in this post to be affiliate links. If you purchase, at no additional cost to you, we may earn a small commission. It helps us to keep the lights on, thanks! 🙂
---
The Next Best:
Compare:
---
Playing through a modeling amp is a fun and versatile way to experiment with tons of different tones.
One awesome thing is the size. Nowadays you can get pretty amazing modeling amps that still leave your room to turn around inside your apartment.
And now I've chosen my five favorites to give you a look at the best small modeling guitar amps around.
Let's first look at these fine amps, and at the end of the post, you can find the FAQ section that helps you to make the best choice possible.
Who crafted this post:
Author: Tommy Tompkins
Playing guitar since 2004. Primarily an acoustic guitarist who plays and writes traditional American folk music, with a background in melodic metal and a solid foundation as a bassist.
Hide The Rambling▲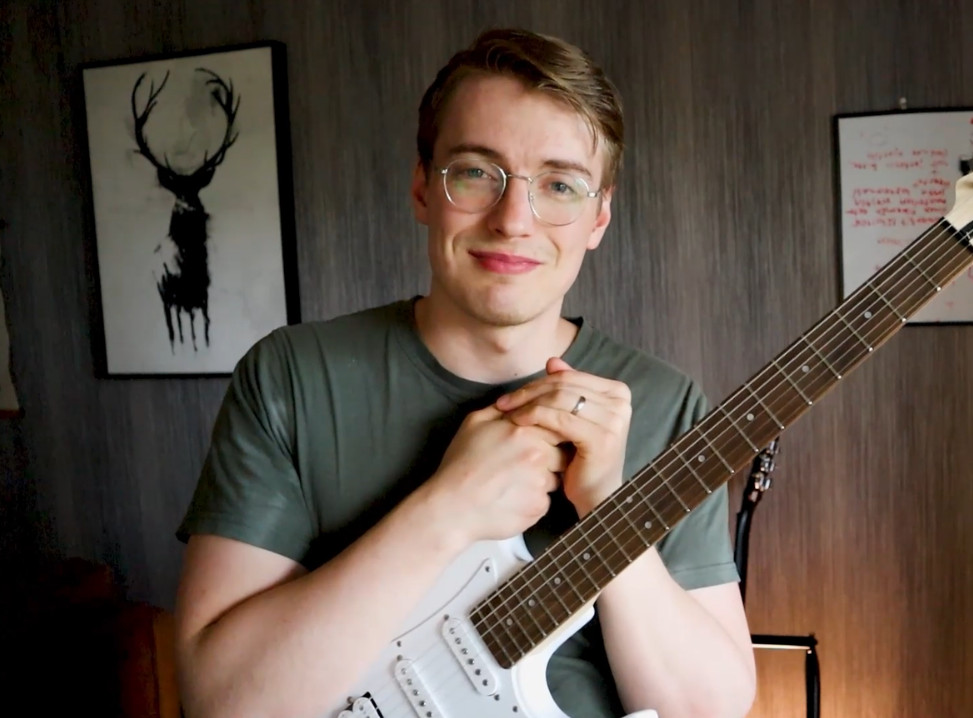 Editing & Research: Teemu Suomala
I first grabbed the guitar in 2009. I started this website in January 2020 because I couldn't do window installation anymore due to my health problems. I love guitars and have played dozens and dozens of different guitars through different amps and pedals over the years, and also, building a website interested me, so I decided to just go for it! I got lucky and managed to get awesome people to help me with my website.
I also got lucky because I have you visiting my website right now. Thank you. I do all this for you guys. If you have any recommendations, tips, or feedback, just leave a comment, I would love to chat with you. I have also been fortunate to produce content for several large guitar websites, such as Songsterr, Musicnotes, GuitarGuitar, and Ultimate Guitar.
I spend my spare time exercising and hanging out with my wife and crazy dog (I guess that went the right way…).
Hide The Rambling▲
Every one of these amps is here based on extensive research and 27+ years experience of me (Tommy) and Teemu.
---
Our Favorite Music Store in The World!
Why?
– Excellent Customer Service (4.7/5 Trustpilot Score)
– Fast & Free Shipping
– Gear is Inspected, Tested, & Ready to Play When it Arrives to You (We love this)
– Fair Prices
Visit Sweetwater:
Best Small Modeling Guitar Amp
Best Overall – Yamaha THR10II Desktop Amp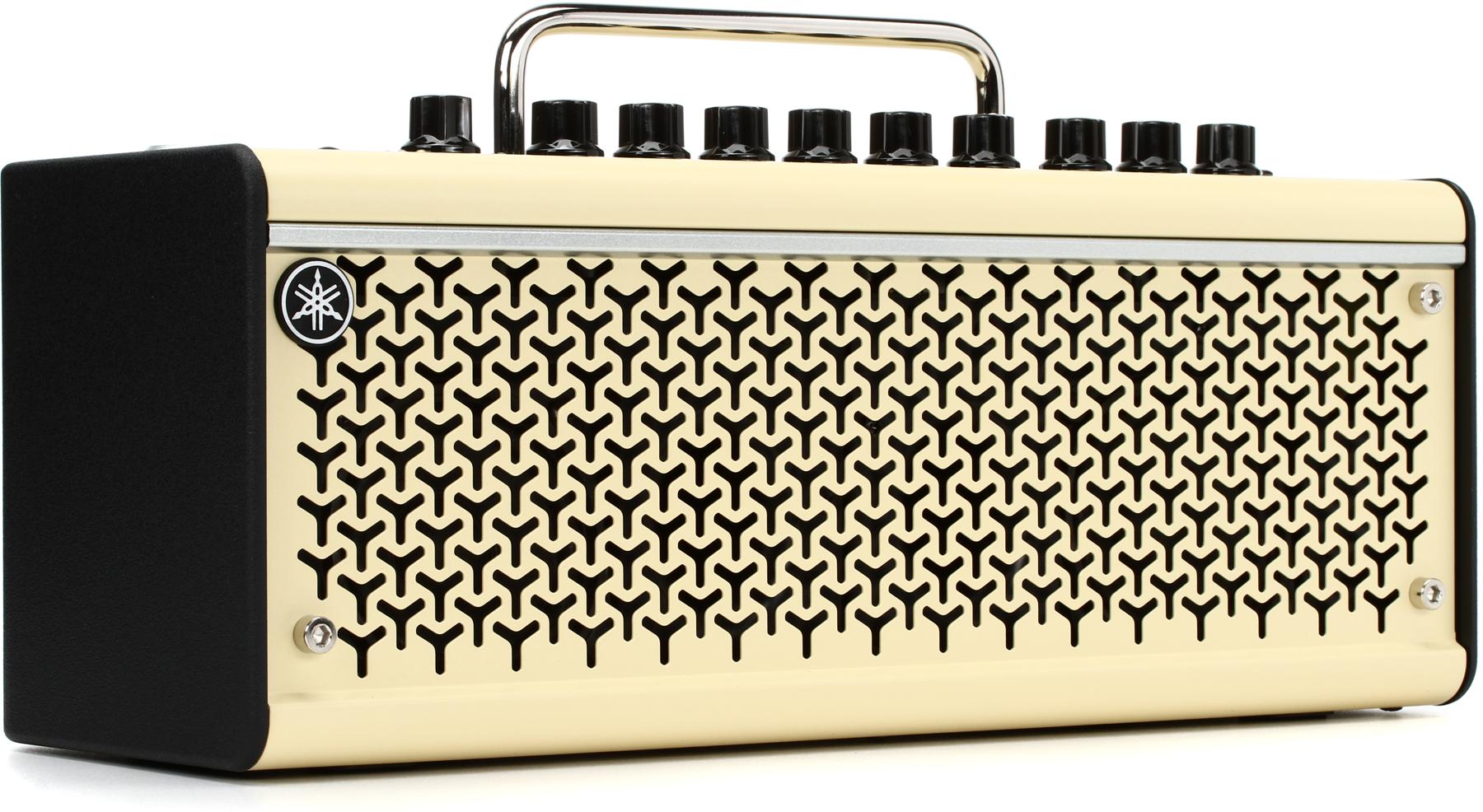 Size
Height: 7.2″=18.3cm
Width 14.49″= 36.8cm
Depth 5.5″ = 14cm
Weight 7.06 lbs = 3.2kg
Sound
Yamaha's THR10II is a new edition to the world of amplifiers made for home musicians.
Stuffing 15 digital amp emulations along with 8 effects and 3 instrument modes in a box barely more than a foot wide, the THR10II gives you literally thousands of sound choices.
With amp modes ranging from clean and shimmery to crunchy and mean, this is an amp that covers every genre you could want to play in.
It may not have the most authentic voice emulations, but each model is crisp, clear, and well-balanced.
Hear how this amp sounds:
Features
This is yet another amp that gives you the ability to control the settings from your phone. This is a feature I've wished for in amps for a long time, and I'm glad it's finally here.
You also get 5 channels to store your pre-defined settings in so you can easily change among your favorite voices.
Usability
Anything that can't be changed from the app is easily accessible via the nicely laid out onboard control panel.
Though there aren't many effects to choose from, each option is responsive and easy to dial in.
Value for Money
This is a sleek, functional modeling amp that is best for hobbyists. The newer editions give you battery-power, but you're stuck to an outlet with the Desktop model. Despite this, the high-quality sound and precise amp models are well worth the cost.
Summary
Pros
Designed for guitars

and

basses

3 unique microphone settings for acoustic-electric performance

20 watts pushed through 2 x 3-inch speakers perfect for in-home practice

THR Remote app lets you control your tone from a distance
Cons
Can be difficult to connect via USB to Windows software

sometimes
I like Yamaha a lot and trust their electronics more than most. With the THR10II, you get a compact, great-sounding modeling amp that you can depend on and have a great time playing through.
Check Price on:
---
Most Portable – Vox Adio Air GT 50W 2×3 Bluetooth Modeling Guitar Combo Amplifier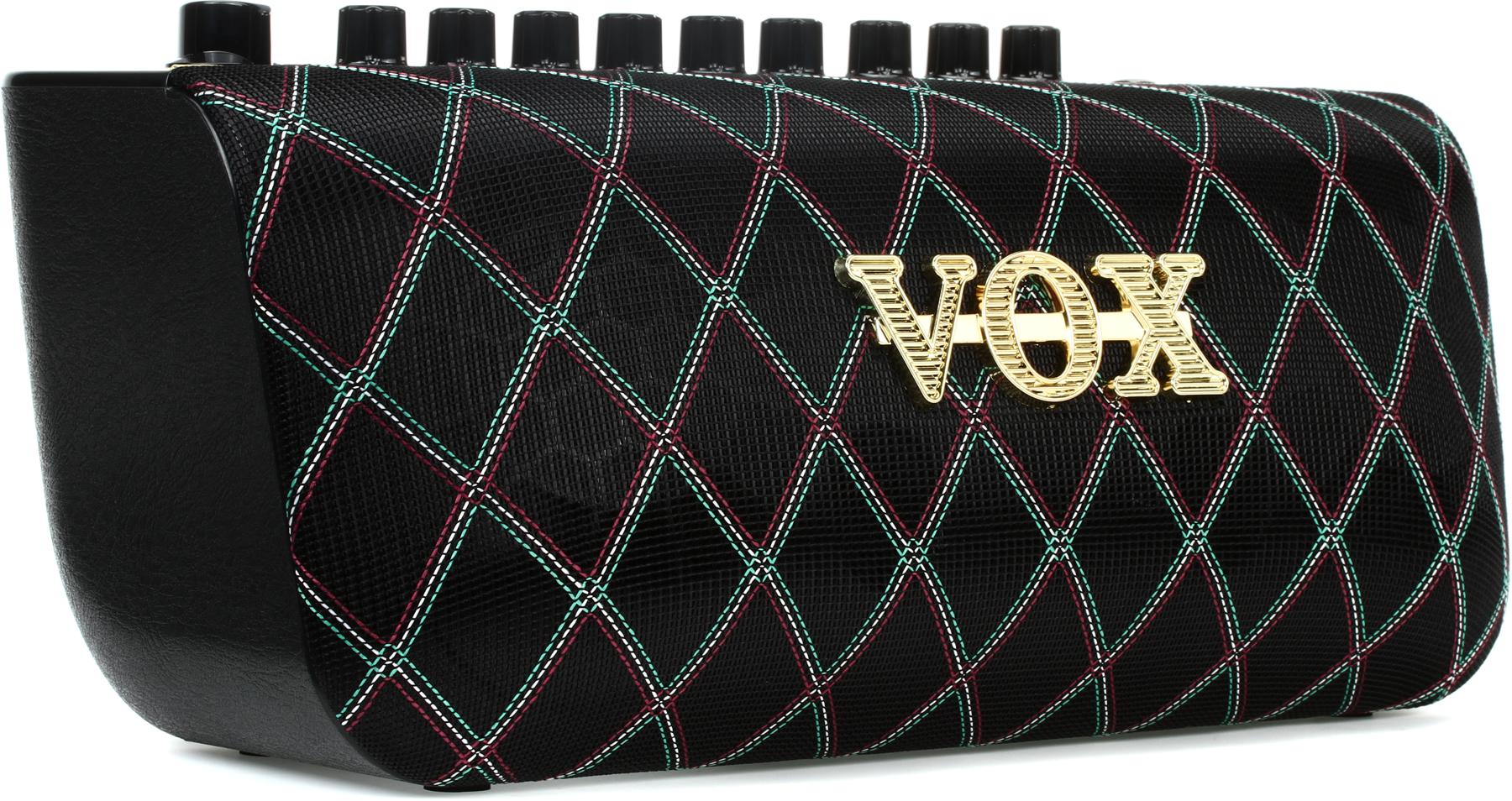 Size
Height: 6.5″=16.5cm
Width 14.1″= 35.8cm
Depth 6.4″" = 16.25cm
Weight 6.39 lbs = 2.9kg
Sound
Despite being small, the VOX Adio Air GT is a loud, powerful soundbox. It packs 50 watts of power in its compact case, easily filling most small to medium venues.
It comes with 11 preprogrammed amp models that let you play in every genre from country to modern metal. Add to this a smattering of digital effects, and you can tweak your tone in hundreds of ways.
Hear how this amp sounds:
Features
The amp models and effects are just the most obvious features of this amp. It also has cool Bluetooth connectivity. This way, you can control the amp with your phone and even play your guitar with no cables attached.
Cable-free playing requires a Bluetooth transmitter for your guitar, but it's worth the extra cost.
Usability
The controls are all clearly labeled, making it easy to dial in your preferred settings. Learning to work the app takes a bit of practice, but it's pretty intuitive overall.
My main issue is that the Bluetooth can be a bit laggy, which is annoying when you're trying to record loops.
Value for Money
It's a bit of a strange-looking amp, but that's no reason to avoid it. If you can get past the unconventional looks, you'll find a versatile modeling amp with state-of-the-art wireless technology that is super fun to jam with.
Summary
Pros
Powered by replaceable AA batteries

Loud 50 watts pumped through 2 x 3-inch speakers

Bluetooth feature lets you change settings remotely

Provides a huge range of different amp voices
Cons
Phaser and flanger effects sound overly artificial

Bluetooth connection can lag on some devices
Did I mention this is battery-powered? With 50 watts of power, hands-free use, and portable power, this is a great modeling amp you can take wherever you go.
Check Price on:
---
Most Voice Variety But Not So Small – VOX Valvetronix VT20X Modeling Amplifier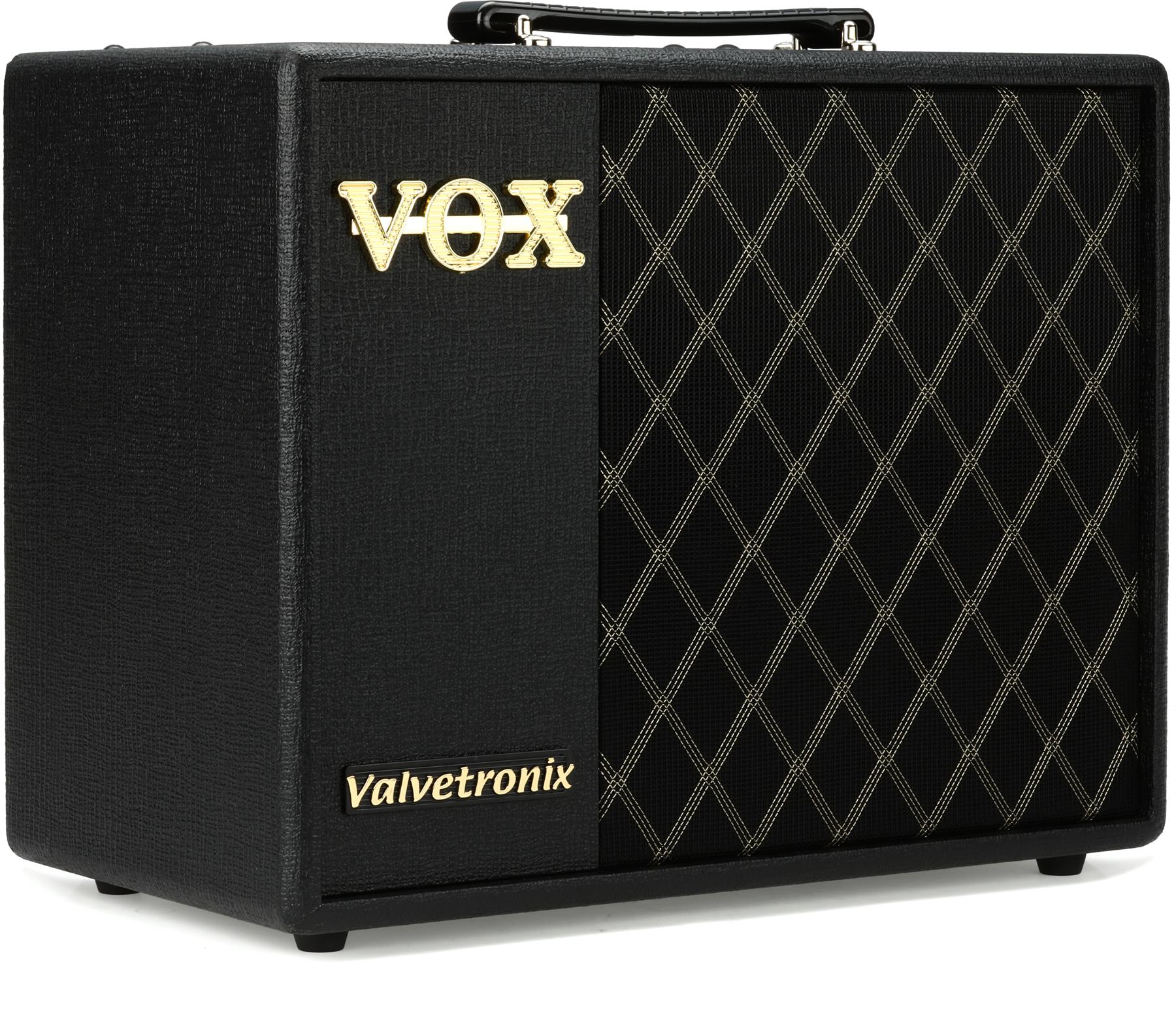 Size
Height: 13.9″=35.5cm
Width 16.14″= 41cm
Depth 8.85″ = 22.5cm
Weight 15.9 lbs = 7.2kg
Check a full review of this amp here: VOX Valvetronix VT20X Review
Sound
Our second VOX entry utilizes a real tube in the pre-amp power stage. This provides you with a genuine tube gain tone that's great for gritty genres.
The VOX Valvetronix VT20 has really nice sounding effects to mod your sound with and 33 preset models to choose from.
Plus, you can plug into your PC and run the VOX Tone Room software to find even more great amp models.
This amp was featured at Guitaristnextoor.com's best guitar amps under $200 test and was in the top 2.
Hear how this amp sounds:
Features
The hybrid tube/solid-state design of this amp is great, but its ability to be modded with VOX software takes it to the next level.
Without the software, you still get a ton of great tone choices. But once you hook it up, the limits are nearly endless. Each model can be crafted to your ideal, giving you full tonal control.
Usability
The VOX Tone Room software is a bit complicated on the surface and can be unsettling for players who just want to plug and play. The thing is, it's totally optional.
Also, the control panel itself can be a little bit confusing at first…
"At first, it felt like I was about the fly a spaceship. But after a while, all started to make sense. If I learned how to use this you can too!"

Teemu (Editor) – Owns this amp
Value for Money
At a relatively low price, you get a genuine tube tone and many different ways to mod it.
That's great and all, but there is excess noise in this amp that you can't seem to tune out. Unfortunately, it loses some quality points for this and due its lack of sustain. Still a good deal, but maybe not for everyone.
Summary
Pros
Hybrid design boosts authentic tube tone

Real tube in preamp gives genuine distortion

Great-sounding amp models and effects

Works with VOX Tone Room software to further increase sound variation
Cons
Has some hiss and hum

Certain settings can reduce sustain

Can be hard to use at first
If you want complete control of your sound and are tech-savvy, this amp is a great choice. It's not the clearest, cleanest on the market, but it ranks at the top of versatility and value.
Check Price on:
---
Best Budget – Peavey Vypyr VIP 1 Guitar Modeling Amp
Size
Height: 14.9″=38cm
Width 16.6″= 42.2cm
Depth 8.5″ = 21.6cm
Weight 17.4 lbs = 7.9kg
Sound
Peavey is a big name in heavy music, and the best points of the Vypyr VIP1 are its distorted models. These, it reproduces with a stunning strength that rocks even at 20 watts.
It's made to function for acoustic electrics and basses as well, but these settings fall a bit short of the mark. The bass is generally flat and lacking in robustness, while the acoustic models are glassy.
But, if you're looking for a small modeling amp with lots of good distorted settings, this could be the one for you.
Hear how this amp sounds:
Features
My favorite feature of the Vypyr VIP1 is that you can play with 4 effects at the same time. This gives you room for loads of experimentation. You can create some truly unique sounds like this that you'd otherwise have to buy lots of effects pedals to get.
In addition, you get several amp models that sound just like the real thing. You can choose among crystal cleans, classic British tweed, twangy blues, or a range of heavier models for rock and metal.
Usability
I'm not going to lie, the control panel of this amp looks very confusing. It would take me a whole day of reading the manual and tweaking controls to figure out how it works. This is something that could definitely use improvement.
But, it's not a deal-breaker if you're willing to put in a little work for a big range of great tones.
Value for Money
This isn't a very pricey amp, and I think if you're a fan of heavy genres it provides a good sound for the cost.
Its main drawback is that the controls are what I might call sticky. They don't always do what they're supposed to which gives me the concern that it might not be reliable in the long run.
It's a bit of a gamble, but a relatively low-cost one with the potential for high reward.
Summary
Pros
Accurate amp modeling reproduces many different tones

A wide range of effects for playing with any sound you please

Use a max of 4 effects at the same time

4-channel design lets you preset your desired tones for easy switching
Cons
Unreliable control knobs don't always work as they should

Complicated controls can be overwhelming
The Vypyr VIP1 has more effects than any other model on this list plus the ability to use multiple at the same time. This is a fun feature that helps it rank on my list of best small modeling guitar amps.
Not to mention, I'm a big fan of metal and think the high-gain models of this amp sound amazing. It's definitely worth checking out.
---
Give Tons of Different Amp Models –

Line 6 Spider V 20 MKII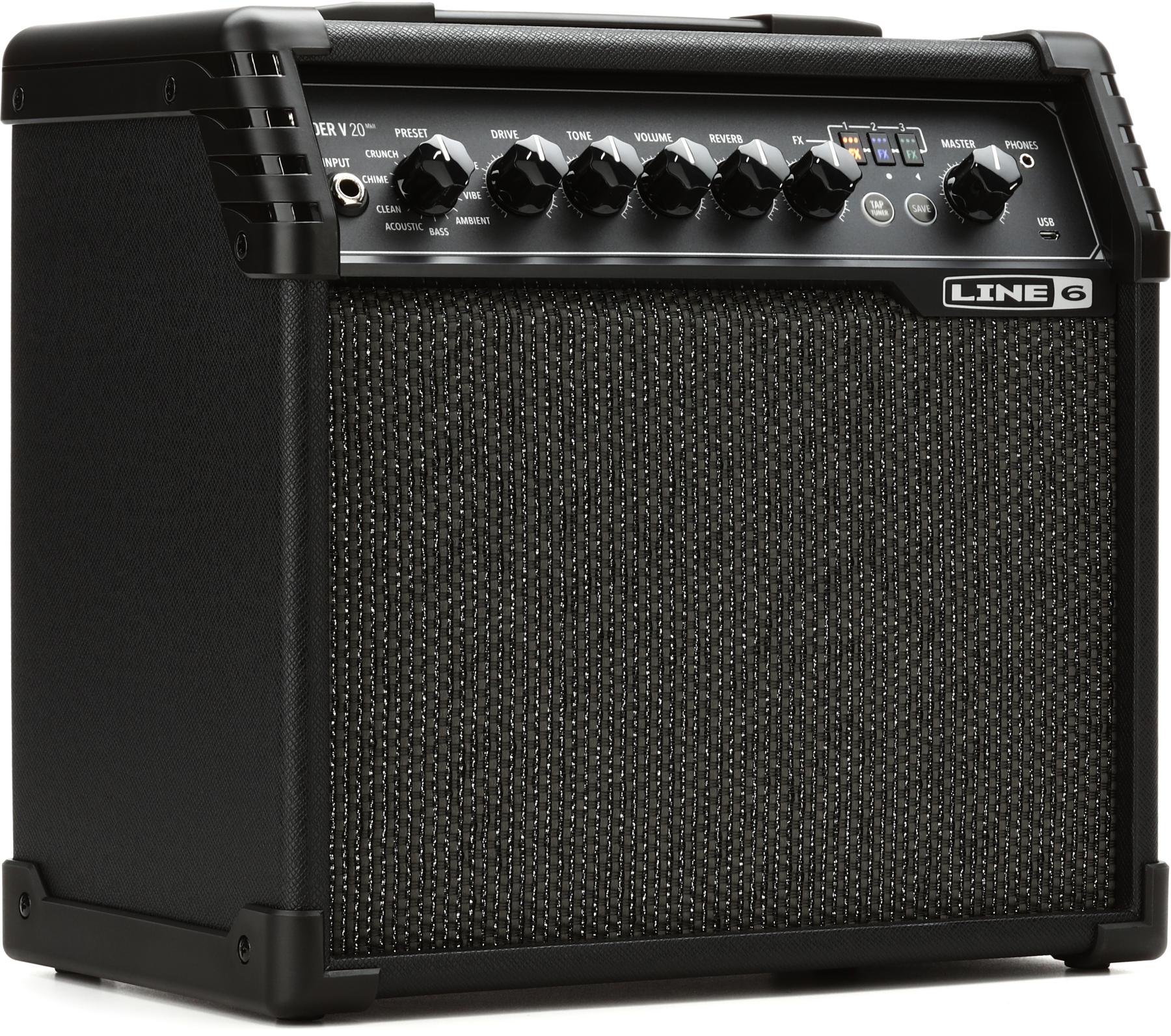 Size
Height: 15.2″=38.6cm
Width 14.2″= 36cm
Depth 8″ = 20.3cm
Weight 11 lbs = 4.9kg
Sound
Here, we find the prime example of why modeling amps are sometimes a bit of a trade-off between versatility and quality of tone.
With the Line 6 Spider V 20 MKII paired with the matching app, you can choose among more than 200 amp models to play on.
However, all these amp models don't really sound like the real deal. They're obvious emulations that lack sonic authenticity.
It's strange to describe a tone as "fake" or "digital"-sounding, but that's how the bulk of these models sound; more like MIDI than actual amplifiers.
Hear how this amp sounds:
Features
Some lack of genuineness in this amp's tone is due to the digital processor because the speaker is top-notch quality. It's a custom-designed Line 6 model made specifically for this amp.
When you play an external sound source through the speaker, you can see what I mean.
Having over 200 amp models to choose from is cool and is a great way for you to find the type of tone that you like, but you'll want to upgrade to a better model once you're ready for the big time.
Usability
Now, when you hear "200 amp models" you probably think the control panel of this amp is a monstrosity. In reality, there are only 7 knobs. Most of the control will be through the amp.
Onboard, it's a simple, easy-to-use layout that's great for beginners who just want to hook up and rock.
On the downside, your EQ is limited to a tone knob, so you can't alter your sound too specifically.
Value for Money
With the lowest cost of any amp on this list, the Line 6 Spider V provides the greatest number of models but also the lowest overall sound quality. It's not too bad, but it's truly a great illustration of why guitarists have a love/hate relationship with modeling amps.
If variation of tone is what you're after, you'll be hard-pressed to find more options at a lower price.
Summary
Pros
16 preloaded amp models at a low cost

Over 200 amp models available with Spider V Remote app

High-quality Line 6 custom-built speaker

Simple controls and easy usability
Cons
Limited effects reduce tone variability

A bit i

nauthentic sounding amp models
You may be the type of guitarist who loves to try out new sounds every day, and this is a great low-cost way to do so. Great for beginners and tone-gravers.
Check Price on:
---
The Verdict
It's probably clear that my least favorite of these choices is the Line 6 Spider V 20, but it's really a matter of preference. In a modeling amp, I'm asking for more sonic authenticity than this provides, though I am intrigued by its 200+ model choices.
My go-to choice on this list is the Yamaha THR 10II WL. It's battery-powered, portable, loud enough, and great-sounding. For my own needs and what I think are the needs of most guitarists, the Yamaha THR 10II WL is the best small modeling guitar amp I can find.
And if it seems too expensive, it has a cheaper non-wireless version available too!
---
Buyer's Guide – FAQ
What Is a Modeling Amp?
Depending on the modeling amp you buy, you can have vintage boutique tones, modern metal voices, and many other sounds from a wide range of different amplifiers.
They're a special type of amplification system that gives you more tonal options than many other amps. Just by turning a knob you can experiment with different types of tones and try out the sounds of various guitar styles.
Most modeling amps have multiple channels that can include a clean channel along with their different modeling settings. These amps typically let you use the sound of a range of tube amplifiers. Many even work with software that gives you access to 50 or more different voices.
Are Modeling Amps Any Good?
Modeling amps are, in my opinion, great for a number of reasons.
I'm an adventurous guitarist and love to play in several different genres, as well as experiment with new, weird tones. While I love the sound of a genuine tube amplifier, it's hard for me to choose one tone to stick with for a long time. I like to mix things up too often to choose one specific amp.

With a modeling amp, I have the ability to change up my sound constantly. Whether I want to play classic rock, jazz, blues, or heavy metal, all I have to do is choose the best setting for the genre and away I'll rock.
Modeling amps give you the freedom to experiment with your style and work to find your signature voice. This is especially good in your early days of playing guitar, as your tastes and performance preferences are likely to evolve the more experience you gain.
You might think you'll be a dedicated blues riffer, drop a load of money on a tube amp designed for blues, then change your mind and wish you had a way to get sultry jazz tones.
Modeling amps let you switch sounds easily, giving you room to grow your genre variety along with your skill.
Besides just being versatile, modeling amps are also low maintenance. Tube amps require regular upkeep. The vacuum tubes that power the amp burn out like lightbulbs and need to be changed from time to time.
Modeling amps, on the other hand, are all-solid-state and digital technology. There are no parts that need regular replacement and they'll work reliably for a long time.
On top of this, the lack of heavy tubes makes them lightweight and easy to transport. Tube amps can be really heavy and hard to lug around. Substituting tubes for lightweight processing boards cuts down on poundage and makes modeling amps a breeze to travel with.
Who Should Buy a Small Modeling Guitar Amp?
You might find a modeling amp to be best for you if you're not yet set in your ways as a guitarist.
I mean, if you're a beginner to intermediate player who hasn't yet defined your personal style, modeling amps can make your playing fun, free, and open to experimentation.
They're also great for guitarists who strictly play as a hobby. When all you do is jam at home, you'll probably want a lot of options tone-wise. Rather than buy several different expensive amps to get a range of voices, you can choose a good modeling amp to provide many sounds in one.
This is opposed to the professional guitarist, touring in a band with a set sound. Guitarists like this, who have practiced for years to find their signature voice, probably have a preferred amp model. For some pros, gear specifications can be very definitive.
When you don't have to concern yourself with replicating the same tone each time you practice, modeling amps give you variety and flavor. You can play with tweedy gain one minute then switch straight to all-out metal crunch the next as you work to find your favorite tones.
Once you've learned your licks and have found a sound you like best, then you can upgrade to the genuine amp that you've loved to model.
Why Are Small Amps Sometimes Better?
This review is looking at the best small modeling amps, and there's a good reason for that.
With amplification, bigger isn't always better. In fact, a powerful tube amp can be unplayable at home because you really need to push the volume to get a good sound. Aside from risking hearing damage, this can be a major annoyance to your housemates and neighbors.
It should go without saying that small amps are much easier to take with you than big ones. They're more compact, lighter, and all-around a breeze to carry.
Small amps give you the benefit of in-home practice volumes that won't result in public disturbance police visits. You can get the full tonal enjoyment of the amp at low to moderate volumes.
If you're thinking that a small amp won't let you gig, that's usually no worry either. Even a small amp generally has enough volume to fill the kind of venue that won't mic you up. Otherwise, most venue sound guys will want to mic your amp and play you through the PA. Like this, small amps have the potential to fill any room.
The only time a small amp could really be an issue is during band rehearsal. If you don't have a PA in your practice space, it'll be hard to be heard over your drummer.
Overall, if your amp needs include a solid sound for in-home practicing, a compact setup for limited space, and easy-to-use performance and recording features, these small modeling guitar amps are a great choice.
---
Conclusion on Best Small Modeling Amps
All these amps are great options. Your choice really depends on your budget, needs, and what you like.
I hope that this guide helped you to choose the right amplifier for you.
I wish you all the best and keep rocking!
You might also like:
We are sorry that this post was not useful for you!
Let us improve this post!
Tell us how we can improve this post?