Last Updated on April 29, 2023 by Teemu Suomala
Best Overall – Marshall Origin 20W combo
Sound
Features
Usability
Value For Money
Summary
A versatile amp that lets you play in a wide range of genres, but shines with blues.

The cleans are chimey and, honestly, beautifully smooth. It's just as good for sultry jazz as it is for dirty blues-rock.

You get a pure, strong, highly variable tone that can play in pretty much every genre at a price that is truly great.

Pros
-Selectable power output great for gigging or in-home jams
-Tilt control blends clean clarity with overdriven punch
-Presence knob and 3-band EQ let you shape your tone to specifics

Cons
-10-inch speaker isn't very powerful; needs help from external cabs to really sing in large venues

I recommend this to any beginner or intermediate player who wants to take their blues game to the next level. The best small tube amp for blues.

How Marshall Origin 20W sounds:
Check Today's Price on
*Consider all links in this post to be affiliate links. If you purchase, at no additional cost to you, we may earn a small commission. It helps us to keep the lights on, thanks! 🙂
---
The Next Best:
---
Getting great blues tones doesn't require an amp strong enough to blow the roof off your house.
There are plenty of awesome blues amps with amazing voices that are small enough to play at home. We have chosen our 5 favorite small tube amps that shine with blues. This way you can avoid bad apples and choose the best option for you.
If you want serious loudness, check this article out: 5 Best Tube Amps for Blues in 2022.

If you are also looking for an electric guitar for blues, check this: 5 Best Electric Guitars for Blues.

If you have a blues acoustic guitar itch, check this: 5 Best Acoustic Guitars for Blues.
Let's first look at these fine tube amps for blues, and at the end of the post, you can find the FAQ section that helps you to make the best choice possible.
Who crafted this post:
Author: Tommy Tompkins
Playing guitar since 2004. Primarily an acoustic guitarist who plays and writes traditional American folk music, with a background in melodic metal and a solid foundation as a bassist.
Hide The Rambling▲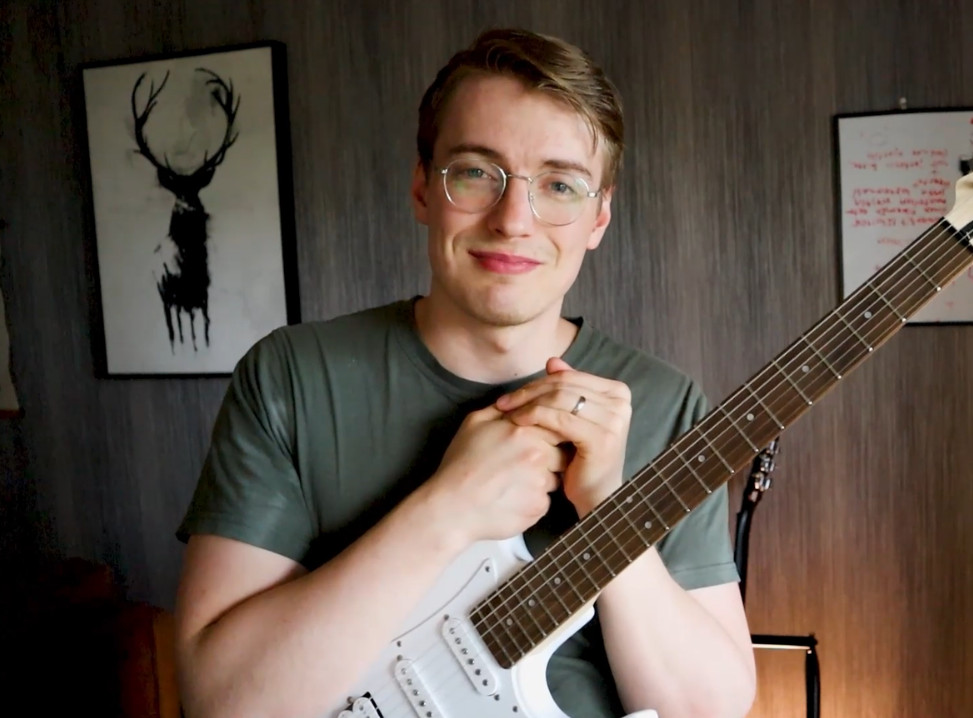 Editing & Research: Teemu Suomala
I first grabbed the guitar in 2009. I started this website in January 2020 because I couldn't do window installation anymore due to my health problems. I love guitars and have played dozens and dozens of different guitars through different amps and pedals over the years, and also, building a website interested me, so I decided to just go for it! I got lucky and managed to get awesome people to help me with my website.
I also got lucky because I have you visiting my website right now. Thank you. I do all this for you guys. If you have any recommendations, tips, or feedback, just leave a comment, I would love to chat with you. I have also been fortunate to produce content for several large guitar websites, such as Songsterr, Musicnotes, GuitarGuitar, and Ultimate Guitar.
I spend my spare time exercising and hanging out with my wife and crazy dog (I guess that went the right way…).
Hide The Rambling▲
Every one of these tube amps is here based on extensive research and decades of combined guitar experience of our team.
---
Our Favorite Music Store in The World!
Why?
– Excellent Customer Service (4.7/5 Trustpilot Score)
– Fast & Free Shipping
– Gear is Inspected, Tested, & Ready to Play When it Arrives to You (We love this)
– Fair Prices
Visit Sweetwater:
Best Small Tube Amps for Blues
Best Overall – Marshall Origin 20W combo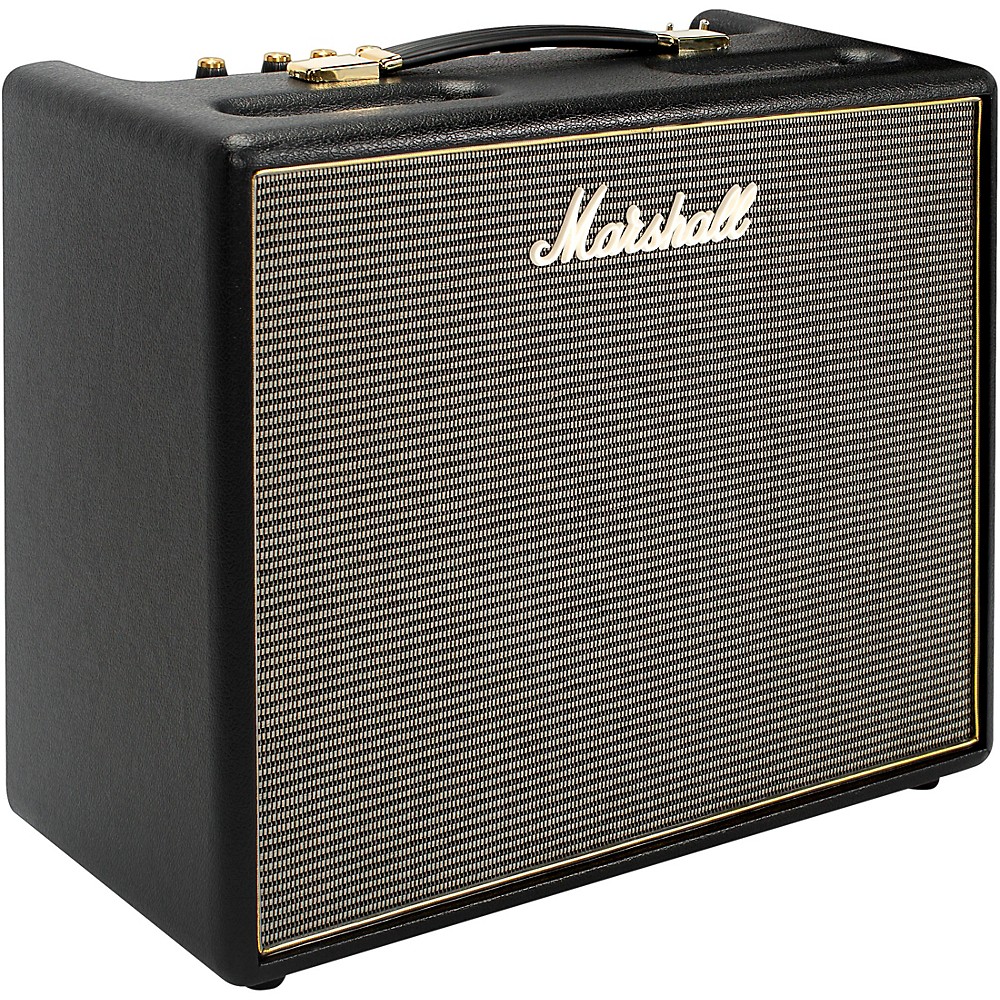 Sound
Marshall Origin 20 is a really versatile amp that lets you play in a wide range of genres. Its overdrive can be varied to be cranked for full rock vibes or dialed down for bayou blues.
The cleans are chimey and, honestly, beautifully smooth. It's just as good for sultry jazz as it is for dirty blues rock.
It doesn't have a ton of headroom, but what it does have gives you a truly sweet sound with clear note articulation and smooth response in every range.
Another sound demo for you:
Features
In my opinion, the best features of this amp are its selectable output and Tilt control.
With output power ranging from a loud 20 watts to a bedroom-friendly 0.5 watts, you can play with full tonality just as well on-stage as in your bedroom.
The Tilt control is an awesome feature that lets you blend the clarity of clean tones with the fuzz of the overdrive, giving you increased note definition when you want to make your tone dirty.
Usability
The Marshall Origin 20 supports effects loops as well as external speaker cabs, so if you want to add extra spice to your tone you're totally able to do so.
It's a no-nonsense blues amp that focuses on delivering a great dry tone rather than adding on subpar effects. There's no reverb, but you can easily hook up your own stompboxes to play with virtually any sound you want.
Value for Money
I've got to say that this is, in my view, the best value amp on this list. It's maybe just above what I'd recommend for a beginner's budget tho. But, if you're just starting out and know you've got a passion for tube powered blues, the Marshall Origin 20 is a great investment that will keep you rocking for years.
Summary
Pros
Selectable power output great for gigging or in-home jams
Tilt control blends clean clarity with overdriven punch
Presence knob and 3-band EQ let you shape your tone to specifics
Cons
10-inch speaker isn't very powerful; needs help from external cabs to really sing in large venues
This is my favorite amp on this list. I'm definitely one to use external pedals rather than onboard effects, so the lack of any special features doesn't bother me a bit. You get a pure, strong, highly variable tone that can play in pretty much every genre at a price that is truly great.
I recommend this to any beginner or intermediate player who wants to step up their blues-game.
Check Price on:
---
Best for Blues Rock/Runner-Up – Peavey Classic 30 112 Guitar Combo Amp
Sound
Peavey's Classic 30 is a nice fuzzy blues amp that delivers an all-around warm, meaty tone whether clean or overdriven.
Its tone is full and resonant and super-rich in harmonics. There's little feedback no matter how loud you pump it, making it great for gigging.
Speaking of gigging, at 30 watts of power you have plenty of loudness for performing at medium venues. It might be just a tad loud for practicing full output at home(small apartments especially), but if you're willing to sacrifice a little overdrive you can get away with it.
Now, it is a little muddy and the EQ controls don't do a whole lot to clean up the tone, but if you want a real dirty fuzz amp this is a good choice.
Hear how this amp sounds:
Features
With a midrange boost control, you can kick up the punchiness of the middle range for some real in-your-face riffage.
It's equipped with genuine spring reverb if you want to jam out some surf rock or add some flavor to your solos. Plus, it supports an effects loop and external cabs, so you can customize your rig with a variety of effects and speakers.
Usability
The classic tweed design of this amp is outfitted with clear, easy-to-use controls to tweak your EQ, reverb, and overdrive. It comes with a footswitch for easy switching between its two channels and for flipping the spring reverb on and off.
Value for Money
This amp comes at a great price for 30 watts of power.
It's not packed with effects or special features but keeps things on the simple side while giving you the option to mod your tone via external factors like additional speakers or effects chains.
For intermediate players ready to take their show on the road, this amp will deliver all the juice you need.
Summary
Pros
Thick, meaty tones for blues, rock, or country
Good headroom for playing clean
2 channels to easily switch sounds from grit to glisten
Cons
EQ controls change clean tone very little
When I pick up an electric, I tend to play stuff that's dirty and grimy, so I appreciate the Peavey Classic 30's muddy warmth a lot.
If you want something more crystalline and accentuated, this might not be the amp for you. But, if you're about raw authenticity in a tone, it's a powerful amplifier at an awesome cost.
Check Price on:
---
Best for Classic Tones – Fender '65 Princeton Reverb 15-Watt 1×10-Inch Guitar Combo Amp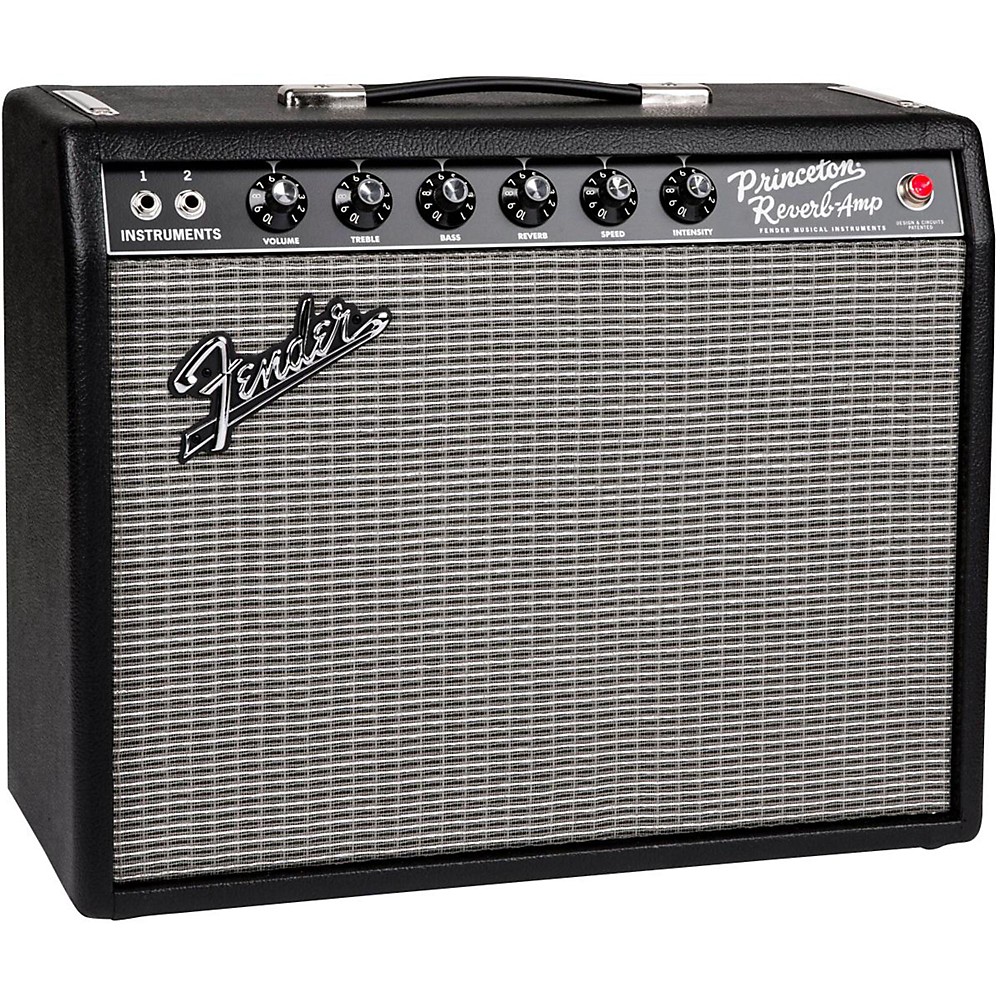 Sound
Fender's '65 Princeton Reverb puts the pure classic tones of their original Princeton model in an updated cabinet with modern-day circuitry.
At 15 watts, you get enough power to rock a small venue—think pubs, street corners, and coffee shops—without needing to blast out your windows to kick the tubes into overdrive.
It's got old-fashioned blues grit but can be clean when it needs to be, with a nicely sparkling high end and a creamy low- and mid-range.
Hear how this amp sounds:
Features
The new Princeton release comes in a rugged cabinet that can take a beating on the road but still looks attractive in your home. It's a one-channel amp with dual inputs in case you want to hook up a drum machine or mic while you jam.
It also supports external speakers through connections on the back.
Best of all are its vintage effects. You get a genuine long-spring reverb, the same pioneered by Fender back in the day, as well as an authentic tube vibrato for when you want to literally shake up your sound.
Usability
Not having to fiddle with multiple channels or output levels makes this a simple amp to use. Just plug in, flip the power, and play.
It comes with a footswitch to control the reverb and vibrato, so you can mod your effects without ever taking your fingers from the frets.
Value for Money
For 15 watts, you might expect to pay a bit less than what the Fender '65 Reverb retails for, but all in all, it's not a bad buy.
It delivers truly vintage blues tones that call back to the classic days of electric guitar music. If you can overlook its mild buzz and hiss, you won't regret your purchase.
Summary
Pros
Modern reissue of a legendary vintage Fender amp
Built-in reverb and vibrato effects
Rugged yet lightweight for easy travel
Cons
Has issues with hiss, buzz, and internal rattling
This is a rocking little blues amp from the company known for vintage blues tone. It's great for the studio, your home, or small stages, and can put you in touch with the true spirit of the blues-rock genre.
Check Price on:
---
Best for Rhythm Guitar – Fender Blues Junior IV 15 Watt Electric Guitar Amplifier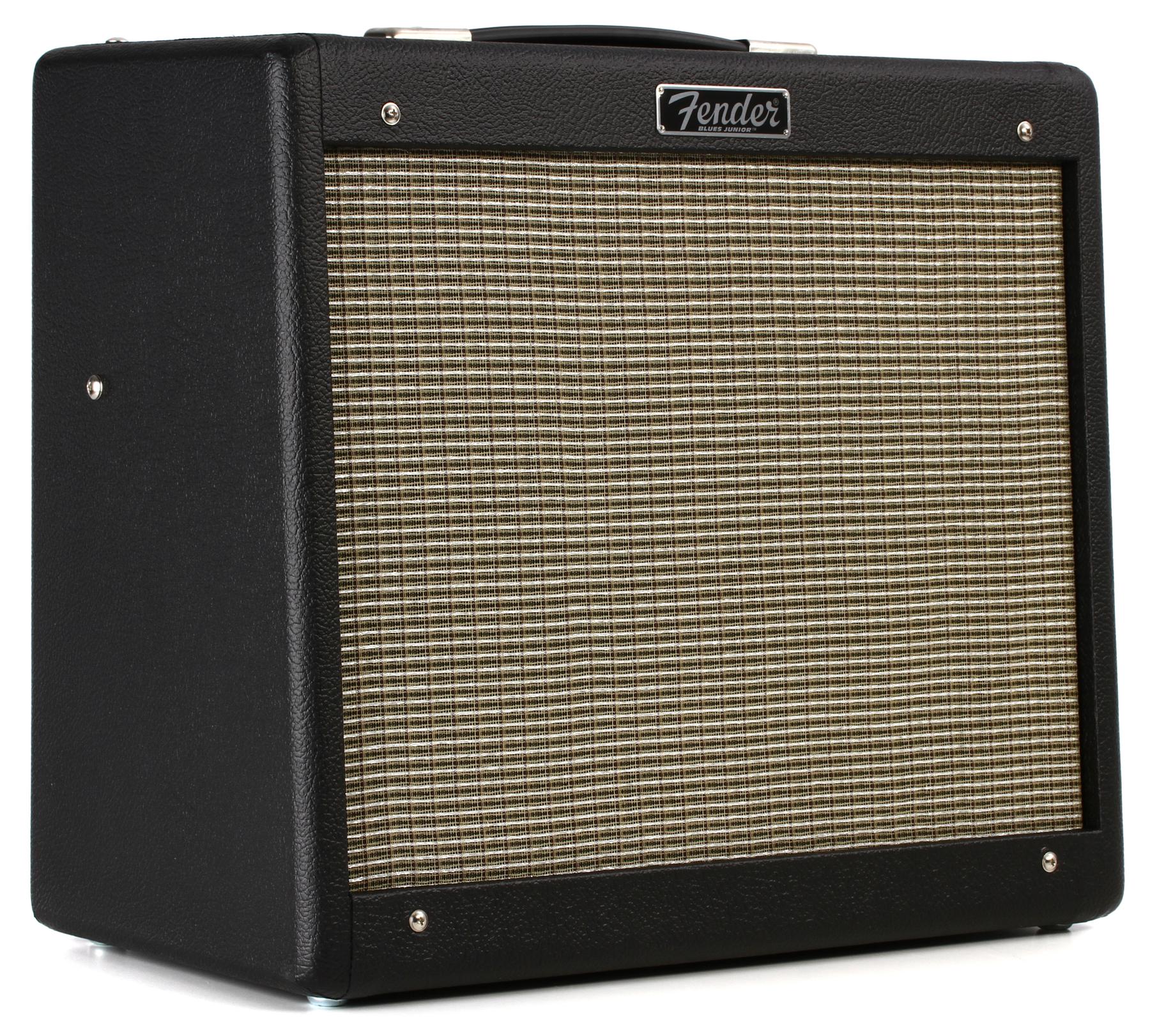 Sound
For bottom-end driven power, the Fender Blues Junior IV is an amp of choice.
It's got a thick and rich-sounding Celestion A-type 12-inch speaker that sings with strength and stoutness, so rhythm work is punchy and powerful.
With 15 watts of all-tube output, you can rock your bedroom as well as a pub with no problems. However, its emphasis on the low-end makes for a mid-range that is a bit too creamy for the clarity you might want for clear solo work.
Hear how this amp sounds:
Features
This is a great amp for those who want to sound "fat." As a matter of fact, it comes equipped with a "fat switch" that gives even more boost to the bottom end as well as increases the overall gain.
There's a real oomph to the sound of the Fender Blues Junior IV that pairs great with hard-hitting progressions. Effects-wise, you get an updated spring reverb that has been redesigned to hold clarity for smooth-sounding blues riffs and licks.
Usability
This is a compact little blues box with a relatively lightweight build that's superb for taking on the road.
Its control layout is sleek and simple, featuring a simple 3-band EQ, a single input, one reverb control, the fat switch, and one master volume knob. There's nothing to puzzle about as you're setting up your ideal tonal specs.
One drawback is it has no outputs for external speakers, so you're stuck with the cab the combo amp comes with.
Value for Money
As far as tube amps go, this is a great value product. There's virtually no issue with the electronics and the tubes won't need replacing for quite a while.
The only real quality subtractor is the exterior vinyl can start to detach, but this is really only a minor cosmetic flaw that I wouldn't worry much about.
Summary
Pros
Big bass response from the Celestion A-type 12-inch speaker
Redesigned preamp circuitry improves tonal depth
"Fat switch" pumps up your low end and gain
Cons
Too full midrange muddies your tone
This is a nice little blues amp that I highly recommend for any beginner with a passion for the classic sounds of the 50s and 60s. It's responsive in the EQ, has a great crunch, and has enough headroom to let you play clean with no issue.
Check Price on:
---
Best Budget – BUGERA V5 5-Watt Class Amplifier Combo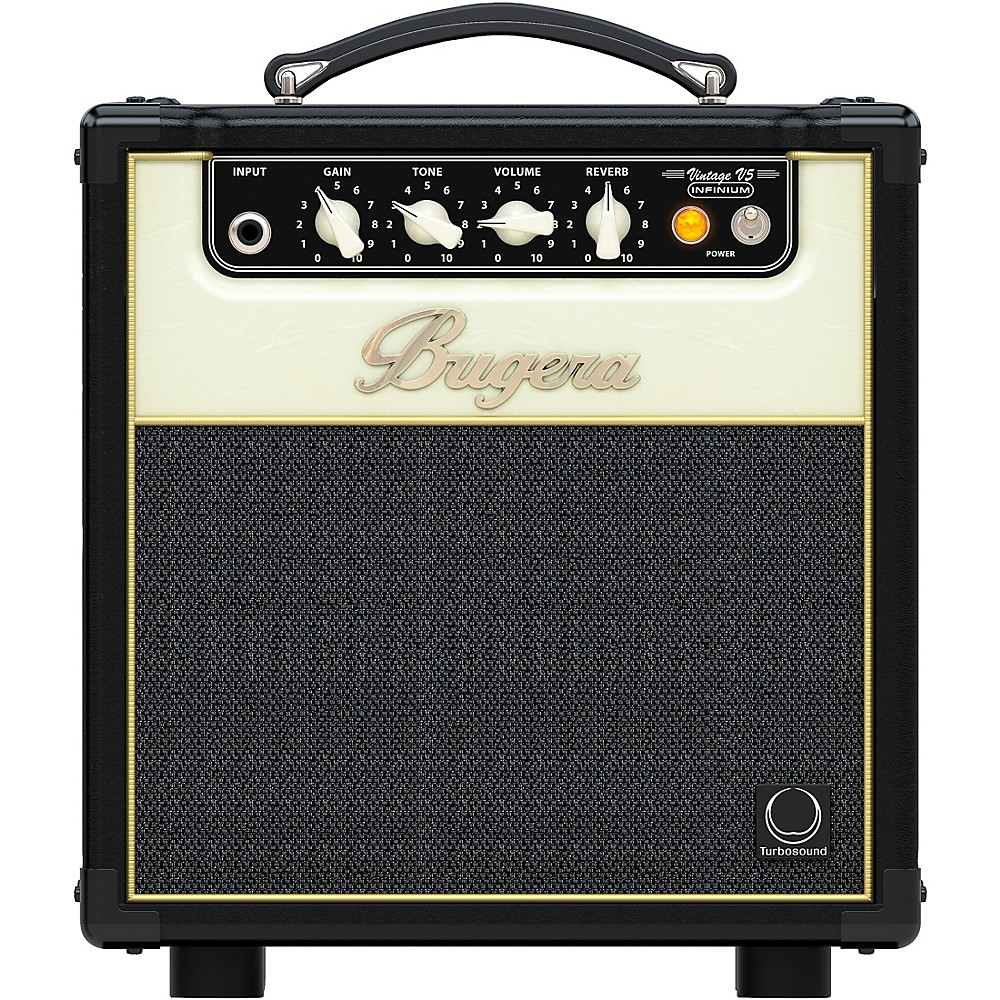 Sound
This is a great beginners' amp that gives you just enough grit to get in touch with the spirit of classic rock and blues.
It's not a show-stopper or exactly stage-worthy—especially considering it's just 5 watts— but it works more than fine as a stay-at-home practice amplifier.
The tone overall is a bit, plain, I would say, but it's got enough accentuation to let you hear where your riffs are going wrong and really work on the dynamics of your solo and chord work.
Hear how this amp sounds:
Features
The best features of this amp are its headphones adaptability, its power-selection capabilities, and its authentic-sounding digital reverb.
With the headphones option, you can plug in some stereo phones for private practice sessions.
This isn't even necessary in most instances considering you can attenuate the power all the way down to .5 watts. This lets you play at home with no worry of rousing angry neighbors. Its reverb is digital, but it sounds like the real thing, adding a wavy texture to your tone that is a joy to play with.
Usability
There are only 5 controls total on this Bugera V5. You have the basic master volume, a reverb knob, a gain control, the power-selector switch on the back, and a tone knob. As such, it's super easy to use.
I take a little issue with the tone control in place of a 3-band EQ, but that's just me. If you're looking for a straightforward practice amp to learn the basics of blues on, the lack of EQ controls should be no problem.
Value for Money
This amp is as simple as it is inexpensive, which is a real win-win for guitar amateurs. You'll pay less for this amp than you will for most guitars, allowing you to get your gear up and running at very little cost.
Summary
Pros
Low-cost, low-watt amp great for home practice
Simple controls great for beginners
Breaks up at low volumes for easy-on-the-ears blues grit
Cons
At only 5-watts, the Bugera V isn't going to fill out any decent-sized venues. You'll need their 22-watt model for that.
However, this amp really shines as a stay-at-home setup. It's got grit and girth of voice that will give you all you need to hone your chops.
Check Price on:
---
Verdict
The Bugera V is a great amp for those on a tight budget. But if you've got the money to spend I think you should spend a bit more and get better tones.
On the other hand, the Marshall Origin 20 is just twice the price but provides magnitudes more tonal pleasantness and sonic strength. It's good to go from your home to the studio to the stage and can really rock a crowd.
The best small blues amp in my opinion.
---
Buyer's Guide – FAQ
What Makes a Great Small Tube Amp for Blues?
When you buy a tube amp, you really want to look at how the overdriven sound is. This is the main marker of a great small tube amp.
Some have rather unimpressive overdrive that sounds pretty weak. This is usually due to not using enough high-quality valves.
The best small tube amps for blues use popular tube types that are made to break up into distorted sounds at moderately low volumes. They crank into dirty territory before the loudness starts rattling your windows.
Other features of great small tube amps for blues are things like effects and the ability to link them to external speakers. If they don't have any built-in effects, make sure to choose an amp that lets you connect an effects loop so you can experiment with different sounds.
The external cab outputs are important if you want to kick more juice into your tone. You might be unsatisfied with the speaker your combo amp comes with, but if the head is how you like it, being able to hook up to an external cab can make all the difference.
Small tube amps for blues are great for practice, and some are strong enough for rehearsals with aggressive drummers. You just need to define your needs and pick an amp that isn't too loud but is loud enough to perform in the environments you wish to play.
How Many Watts Do You Need?
So, how many watts do you really need? This depends, of course, on where you'll be playing.
If you want to learn more about how many watts you need and how loud amp you need, check this guide I made out: What Wattage Guitar Amp Do I Need? – Complete Amplifier Wattage Guide
If you're an absolute beginner with no plans to play out, you barely need over 1 watt to learn your licks. This doesn't sound like much, but it can be a real bonus if you live in tight quarters with close neighbors or roommates.
Much more than this—really, anywhere over 10—and you'll have to start reducing your gain to make the amp home-safe. This, in turn, limits your dirty overdrive and can make a tube amp impractical.
For gigging guitarists, you want to look in the +15-watt range. 15 watts is enough to perform at small venues like clubs and bars and open mics. When you get up to 20 watts, you're in the realm of medium-sized venues, and 30-watts can really rock a house.
20 to 30 watts is what you'll want for band rehearsals to be heard over the drums, but 30 watts and over is when you start to get too loud for most intermediate players' needs.
Louder isn't always better, and most times you can mic your amp through a PA at larger venues, so focus more on finding an amp with a great tone than a huge amount of loudness.
Conclusion on Best Small Tube Amps for Blues
These best small tube amps for blues range from perfect practice amps to serious rigs that will have you totally stage-ready.
Their tones carry the classic blues vibe of the mid-20th century in a way that lets you connect to the genre from which most modern music sprang.
Whether you're a beginner, an up-and-coming intermediate, or a pro just looking for a bedroom amp, these great tube amps for blues will let you scream with soul in a wide array of locations and genres.
I hope that this guide helped you to choose the small tube amp for you. I wish you all the best and keep rocking!
You might also like:
We are sorry that this post was not useful for you!
Let us improve this post!
Tell us how we can improve this post?