Last Updated on April 29, 2023 by Teemu Suomala
Best Overall – Taylor 210ce
Sound
Playability
Overall Quality
Value for Money
Summary
Taylor has really nailed it (with a huge sledgehammer) when it comes to the quality of the 210ce!

Why do I think so…?

-One of the loudest acoustics, but it's not buzzing, no matter how hard I strum it.
-Quality materials and design provide full, balanced tones
-The 210ce offers one of the smoothest actions out of all of the top guitar manufacturers(you can practice those scales with ease and not end up with cramped fingers!)

All this combined does something that feel's like magic. Just hear me out:

This guitar gives guitarists of all skill levels a real chance to explore and learn. It is a very inspiring instrument to play because it does not limit you to just the top portion of the neck.

I like it a lot.
How 210ce sounds:
Check Today's Price on
*Consider all links in this post to be affiliate links. If you purchase, at no additional cost to you, we may earn a small commission. It helps us to keep the lights on, thanks! 🙂
---
The Next Best:
Compare Key Specs:
---
It can be a real battle to stick to just one guitar. I have twenty in my personal collection, and I love every single one of them. And have I stopped searching for new ones…?
I'm not going to even answer that…we both know how this goes… I'm always searching for new tones and I don't like to feel boxed in whenever it comes to my guitar playing.
I like to explore new possibilities…
And so does Taylor Guitars.
If you are afraid of spending money on a guitar that lacks versatility and quality, then you're in the right place. I'm going to show you some of the best acoustic guitars on the market.
And you don't need to get a second job to afford them!
After many hours of research, I am going to show you my top picks for the 5 Best Taylor Guitars Under $1000. Let's get started!
You can check our choices for overall best taylor guitars here.
Who crafted this post:
Author: DL Shepherd
Darren has been playing guitar for over 23 years. He fronted the metal band Suddenly Silence in the early 2000's, and also achieved recognition as an award-winning bluegrass guitarist.
A native of southwestern Virginia, and has shared the stage with many big-name acts from various genres. When he is not playing one of his many guitars, he can be found riding his Harley through the mountains of Virginia.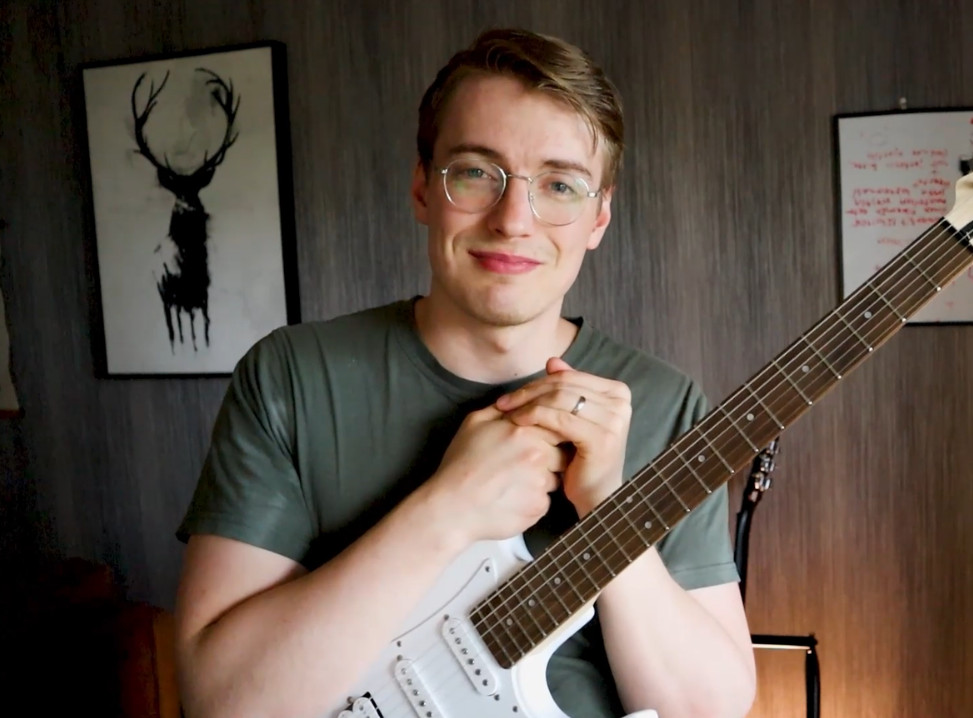 Editing & Research: Teemu Suomala
Playing guitar since 2009. Mainly focused on electric guitars, although jamming with acoustics too. Has played dozens and dozens of different guitars through different amps and pedals over the years. That's why he started this blog in January 2020 and started sharing his experience. Has produced content for several large guitar websites, such as Songsterr, Musicnotes, GuitarGuitar, and Ultimate Guitar.
We can proudly say that Darren Shepherd has played every guitar featured in this article. These Taylor acoustic guitars are here based on extensive research and decades of combined guitar experience of Darren and Teemu.
---
Our Favorite Music Store in The World!
Why?
– Excellent Customer Service (4.7/5 Trustpilot Score)
– Fast & Free Shipping
– Gear is Inspected, Tested, & Ready to Play When it Arrives to You (We love this)
– Fair Prices
Visit Sweetwater:
Best Budget Taylor Guitars Under $1000
Best Overall – Taylor 210ce
Guitar like Taylor 210ce defines Taylor's innovation and dedication to creating high-quality instruments out of materials that go beyond your typical solid woods and laminates. Over the years, Taylor has somehow managed to come up with a balance between the tonal qualities of the materials that they use and the body shape of their guitars.
This is not an easy task, and I am sure that they have spent a ton of money on research and development over the years.
Taylor 210ce is a living proof of this in nearly every aspect.
Construction
Here is the part that I would really like to highlight about this guitar.
It is a dreadnought-sized guitar that seems rather ordinary when you first look at it.
It has the familiar solid Sitka spruce top found on a majority of other acoustics (all Taylor guitars have a solid top). The body looks familiar as well with its rosewood back and sides.
But there's something you must know about the back and sides:
They aren't solid rosewood!
Before you write these guitars off as "just another laminate body acoustic", you need to know why Taylor's laminate stands out above other laminates. Taylor lists the material as "layered rosewood". This is technically a laminated wood product. However, Taylor explains that a layered wood laminate is different because it is comprised of layers that are, in fact, all wood.
Other laminates may contain layers that are not wood. Therefore, Taylor's choice of laminated wood adds some great benefits:
Tone improvements
Incredible durability
True all-wood construction (not to be confused with all solid wood construction)
Let's add it all together. You're getting a solid Sitka spruce top, layered rosewood back and sides, a solid mahogany neck, and a rosewood fretboard. Although the bridge material is not listed, I can attest that it is definitely solid ebony.
This is without a doubt a solid, well-built guitar, and I applaud Taylor for their commitment to quality construction.
Appearance
You don't have to worry about paying extra for a bunch of fancy inlays. These guitars are beautiful just the way that they are.
They are more traditional in style than other Taylor acoustics.
The body is a typical dreadnought size with a cutaway and a gloss finish. It has a simple three-ring rosette around the sound hole. The neck is finished off with a soft satin finish. Nothing fancy here.
The top layer of their layered rosewood body creates the appearance of all solid wood construction.
It's classy without being over-the-top. There are no flashy inlays or bindings. The beauty lies in its simplicity.
One of the things that stood out to me was the unique shape of the bridge. It is a more modern shape with gentle curves instead of being squared off at the edges like many acoustic guitars.
This adds a simple touch of modern styling without breaking completely from traditional designs.
Playability
Don't let the stripped-down looks fool you:
This guitar plays like a dream!
I have always thought that Taylor offered one of the smoothest actions out of all of the top guitar manufacturers. The 210ce is no different.
I have personally played Taylor guitars that were in a much higher price bracket and I can say with certainty that the 210ce plays just as smooth.
There is a lot of engineering when it comes to making a smooth-playing guitar that doesn't buzz if you play it with a little force. Taylor has done their homework as far as action and playability are concerned.
There's no buzz. I tried to make it buzz by playing forcefully. It didn't happen.
The neck is extremely comfortable, and the satin finish was an excellent choice. Satin finishes don't feel sticky in humid environments or during long playing sessions.
I was able to maneuver around the fretboard with ease, and the neck radius provides a smooth transition if you venture down to the lower frets.
The playability of this guitar gives guitarists of all skill levels the chance to explore and learn. It is a very inspiring instrument to play because it does not limit you to just the top portion of the neck.
You can practice those scales with ease and not end up with cramped fingers!
Sound
Hears another nice fingerstyle sound demo for you:
Hold on to your hats, folks. This guitar will blow you away when it comes to tone.
As a matter of fact, it is one of the loudest guitars that I have played with a cutaway and a laminate back and sides.
I'm a sucker for a guitar that has enough punch to get through a mix. The volume is definitely there. You will have no trouble flatpicking a lead if you're in the middle of a big acoustic jam session.
The tone is clear and bright without sounding thin. In fact, the sound is very full and rich. Bass lines flow like butter with a low-midrange tone that is crisp and satisfying. I'm going to guess that it has something to do with how it is engineered on the inside.
The bracing pattern that Taylor uses inside the guitar seems to allow the top to ring out more. The added resonance of the top explains the rich projection and volume.
Taylor's ES2 electronics are included in this model. The ES2 is Taylor's own design. It's simple, but there is a lot of innovation here.
Instead of mounting the pickup under the saddle, Taylor discovered the science behind how a guitar saddle performs when it is played. The result of that research led to Taylor placing the pickup system behind the saddle.
This really captures the true tone of the guitar and allows for a much richer sound when it is plugged in. The controls are located on the top shoulder of the guitar, and consist of volume control, treble control, and bass control.
You will hear a difference as soon as you plug it in. There's no noise, and the treble and bass adjustments have just the right amount of adjustability to quickly dial in a rich tone.
Overall
Pros:
Design and materials work together for an amazingly balanced tone.
Onboard electronics make it extremely versatile.
Laminate back and sides add incredible durability.
Satin finish on the neck makes it smooth to play on all areas of the fretboard.
Action is out of this world(in a good way)
Cons:
Lacks an onboard tuner.
The addition of a real bone nut and saddle would be a major improvement.
Taylor's commitment to quality shines through on the 210ce. Quality materials equal quality tone, and they have nailed it.
The natural unplugged tone of the instrument is absolutely wonderful, and Taylor has really done their homework on how to perfectly balance design with materials in order to achieve an extremely versatile guitar.
Check Price on:
---
Best Budget – Taylor Academy 10
Taylor's Academy Series are designed for guitarists who are looking for a guitar that is well made, sounds amazing, and doesn't break the bank. The value that they provide is a rarity because they offer some professional features without giving you buyer's remorse.
I was particularly impressed by the Academy 10 model.
This dreadnought-sized tone machine had me hooked as soon as I picked it up.
I'll tell you why…
Construction
Once again, Taylor has a knack for choosing the right materials for the right guitar design. I just don't know how they do it so well.
This is a dreadnought in every way. The body offers no cutaway, so those who like to venture up into the higher frets may find this a bit of a challenge.
Taylor paired their solid Sitka spruce top with a layered sapele back and sides. The combination is nearly bulletproof as far as durability is concerned.
The neck wood is maple. This is a rather unusual choice if you look at many guitars, but it is rock solid.
The fretboard and bridge are both made from ebony which gives the 10e a classic look.
Overall, this guitar is extremely well built for the price range. If you're looking for a guitar that will stand up to a little abuse, you should highly consider the Taylor Academy 10.
Appearance
Taylor's ability to craft an attractive instrument without fancy visual appointments is second to none.
You're not paying for extra visual appeal here. The wood speaks for itself and produces a minimalistic look that fits right in with every setting. Once again, Taylor's unique bridge shape adds a little bit of a modern look to the guitar.
In addition, Taylor has also incorporated a built-in armrest on the body. This is not only a key feature for comfort, but it also adds a custom-built look to the guitar.
There is no doubt that the 10e is going to turn some heads whenever you get it out of the case. It just looks good. Plain and simple.
Playability
When I say that the Academy 10 is a dream to play, I mean it in every sense of the word. It is buttery smooth.
I honestly expected the action to be higher due to the price point of this guitar (In my experience, a lot of companies do not concentrate on setting up their value-based instruments).
The out-of-the-box setup was perfect.
Kudos to Taylor's quality control department for this one!
It sat very comfortably in my lap and was very well balanced when strapped on in a standing position.
The armrest contour on the body really made a difference in comfort while standing since straps cause the guitar to sit out from your body a little further.
I won't joke too much about how much my belly makes that problem worse for me, but I could easily see myself getting spoiled.
The neck was as smooth as silk and played wonderfully. Once again, I was reminded of higher-end Taylors that I have played over the years.
One important note tho…
the neck is that it is slightly shorter. At first, this felt rather odd since the body was a full-sized dreadnought style. However, it didn't take me long to settle in. I was able to play fingerstyle blues licks and barre chords without any effort at all.
I love a guitar that doesn't fight you when you try to play it. The Academy 10 is one of those guitars.
Find more great acoustic fingerstyle guitars here.
Sound
Hear how this guitar sounds:
All of that playability and quality construction means nothing if it doesn't sound good.
This guitar has an impeccable tone.
As a matter of fact, this guitar hits my tonal sweet spot just perfectly. The guitar was sitting in the case while I made small talk with the sales associate. When I went over to pick it up…
The guitar was literally "singing" in the case.
I've had this happen to me several times before with higher-end guitars, but never with a budget-minded guitar. Right away, I knew that this was going to be a great experience. I wasn't wrong.
The Academy 10 has an extraordinarily rich, full tone. The layered sapele brings on sweet mids and balanced lows. The high-end tones are balanced and not thin-sounding in the slightest.
You easily get that big, loud dreadnought volume without having to play it hard.
This guitar will definitely cut through a mix and make a strong impression while doing it. It was not overly loud, but it certainly had enough voice to where I would feel completely comfortable using it in a big jam session.
This particular model has no electronics, so some may find that it lacks a bit of versatility. In my personal opinion, this guitar doesn't need electronics. You could easily put a mic in front of it and record some beautiful, natural tones.
Overall
Pros:
High-quality materials provide extreme durability.
Satin-finished neck is extremely easy to play.
Very resonate woods give it a rich, full sound
Armrest provides increased comfort.
One of the most affordable Taylors on the market with professional features.
Cons:
Some may find the shorter scale length off-putting.
Lack of onboard electronics makes it a little less versatile.
Really needs a real bone nut and saddle to improve the volume a little.
All I can really say about the Taylor Academy 10 is that Bob Taylor designed a guitar that inspires beginners and makes more experienced players like myself want one in their collection.
Author's note: I didn't buy it, but I left the music store wishing that I had.
If you're a beginner looking for a great guitar or a more experienced player looking for an acoustic to add to your collection, then you should consider looking no further than the Taylor Academy 10.
Check Price on:
---
Best for Electric Players – Taylor 110e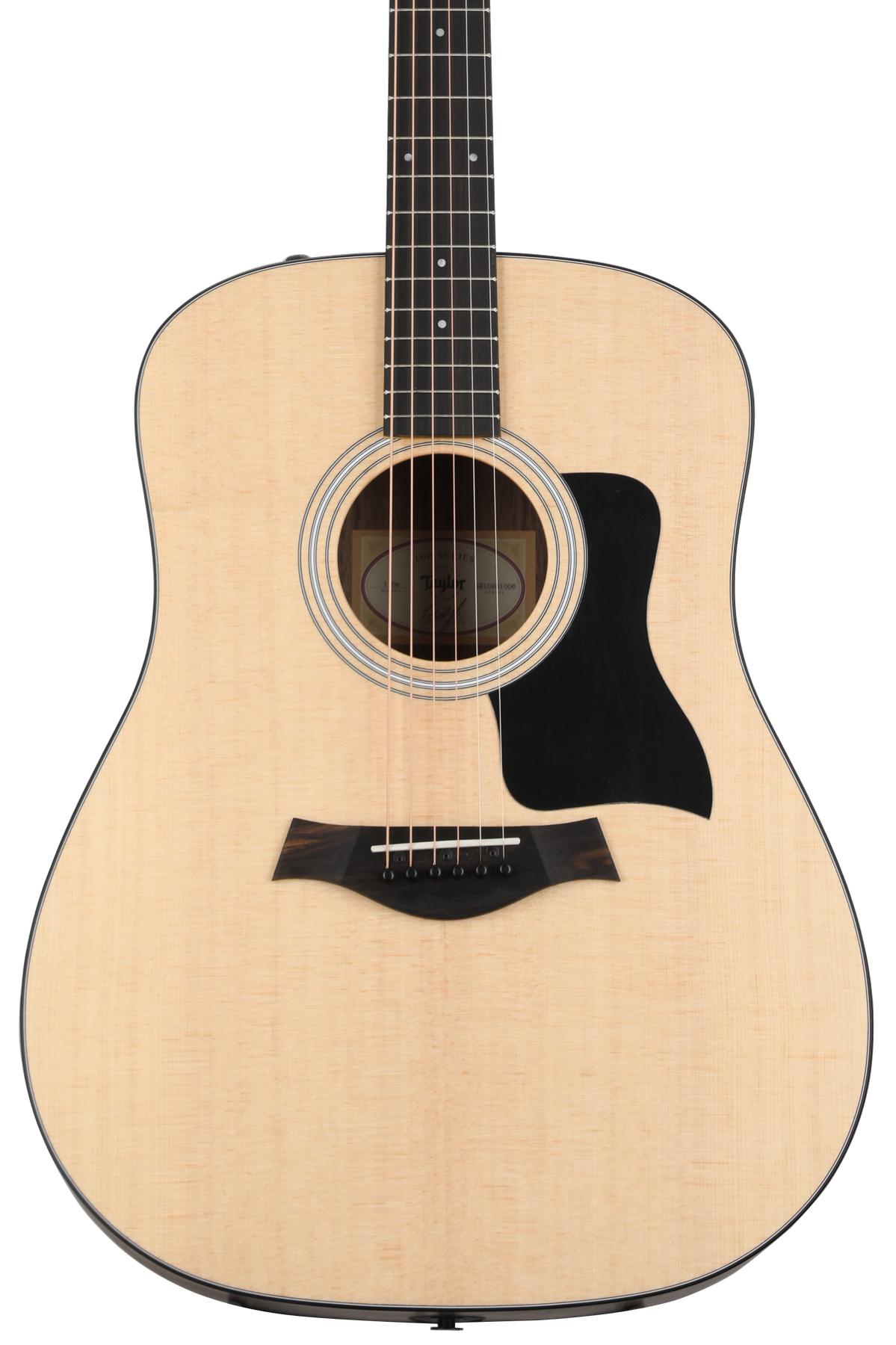 I've played electrics for many years, so I know what electric guitarists expect when it comes to venturing out into the broad world of acoustics.
Taylor has recognized this as well, and they have really done their research in order to design guitars that make switching to an acoustic an effortless process for electric guitarists.
There are key reasons why the Taylor 110e is great for electric guitarists.
It offers onboard electronics, but also:
The Taylor 110e is at a great price point for accomplished electric players who want to add a true, full-bodied acoustic to their arsenal.
The lack of a cutaway gives electric guitarist a traditional-looking acoustic that plays well all the way up the neck.
Faster action than many other acoustic guitars in this price range.
Let's put it under the microscope and explore this beautiful axe.
Construction
The 110e has Taylor's standard, high-quality Sitka spruce top. The sides and back are made of layered walnut, which is an interesting choice and a break from traditional woods.
The neck is solid maple, and it is capped off with a beautiful ebony fretboard and bridge. The material choices result in a very lightweight, yet exceptionally durable instrument.
Appearance
This guitar is very traditional. I see that as a good thing. Although there are some higher-end Taylor models that are much more visually appealing, the minimalistic stylings of the 110e are what I appreciate the most.
I want my electrics to look like electrics and my acoustics to look like acoustics.
If you're like me, then this guitar totally nails that look without sacrificing functionality. You're also not paying for expensive inlay work or visual adornments.
Playability
Here is where it all comes together for the electric player.
Electric guitars typically have much thinner and/or narrower neck profiles than most acoustics. This has to do with the fact that electrics are just played differently.
They have features like adjustable saddles that allow a player to set up their guitar to their personal tastes.
Acoustics do not have that.
Therefore, choosing an electric guitar can be a challenge for a lot of electric players because they cannot change the playability without doing some modifications to the saddle…
and that can lead to the real disaster if you are not experienced in performing such procedures.
You won't have to worry about any of that with the Taylor 110e. It comes set up correctly right out of the box.
One of the key features that make this a perfect crossover acoustic is the nut width. It is slightly narrower and feels remarkably close to that of an electric guitar.
The benefit here is that those who play a lot of barre chords on an electric can easily duplicate them on the 110e. It plays effortlessly and very much like an electric. The neck is silky smooth even though it is a varnished finish. It is not overly glossy or thick, so you don't have to worry about your hands getting sticky during those long sessions.
It is easy to see why electric musicians would appreciate this guitar as a viable option for an acoustic due to the playability alone.
But how does it sound?
Sound
Hear how this one sounds:
Taylor's 110e is wonderfully smooth. This is thanks to the layered walnut back and sides.
Walnut has a very warm tone with more bass than sapele or mahogany. The tone is balanced overall because of the spruce top and maple neck (both add some brightness).
The extra bass is not a bad thing at all.
One might think that a dreadnought-style guitar made from walnut would have muddy, overpowering bass.
However, this is not the case.
Bass lines flow smoothly and effortlessly. The mids and treble project well, and the layered walnut colors them both with a slightly darker projected tone.
The volume is definitely there. It projects like a dreadnought should and cuts through a thick mix very well.
Plug in Taylor's ES2 electronics and get ready to explore a world of tonal possibilities. Taylor's ES2 system works differently than other piezoelectric systems because it is designed to capture the real tone of the guitar.
This means that what comes out of the speakers is the best representation of that particular guitar's tone. You have control over the bass, treble, and overall volume, but the tone of the guitar itself is preserved rather than being simply reproduced.
Taylor has definitely made an electric player's dream come to life with the 110e when it comes to what electric players expect from an acoustic guitar.
Overall
Pros:
Nut width allows for easier barre chord playing.
Onboard electronics add versatility.
Lightweight design makes long sessions more comfortable.
Action is amazingly easy and nearly replicates that of many electric guitars.
Cons:
Lacks a cutaway that many electric players prefer.
No onboard tuner included with the ES2 system.
If you are an electric player or simply want a guitar that nearly plays all by itself, then you should strongly consider the Taylor 110e.
It is a bulletproof performer and an excellent crossover acoustic for those who want versatility, playability, and exceptional tone all in one guitar.
Check Price on:
---
Best Beginner – Taylor Academy 12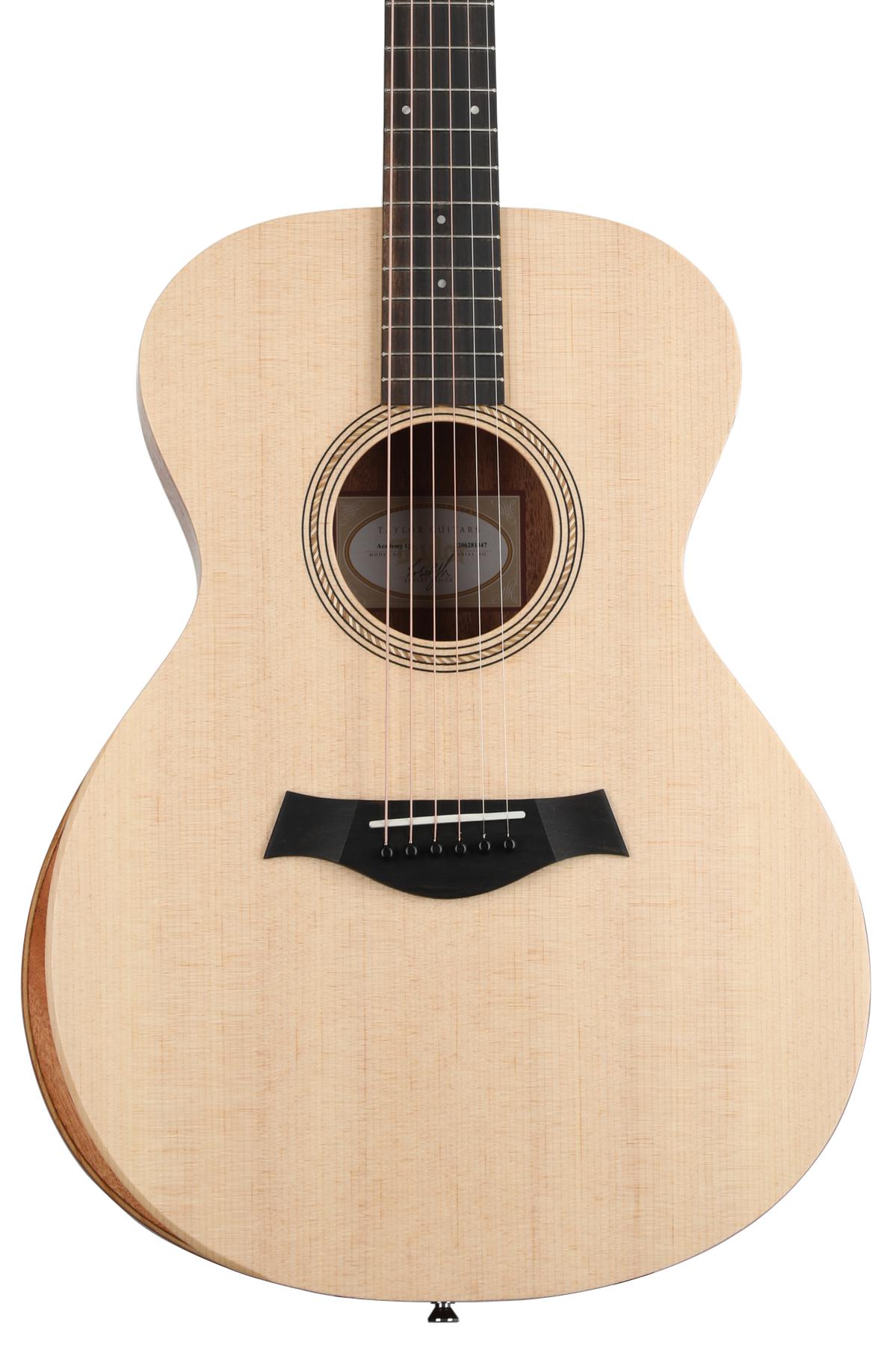 Once again, Taylor's Academy Series comes up on the list. This time, however, we're looking at the Academy 12 model.
Although all of Taylors Academy Series guitars are designed with the beginner in mind, the Academy 12 is especially suited for those who are looking to begin their musical journey.
The Academy 12 shares all of the features of the Academy 10 with one major exception:
It's size.
Construction
The Taylor Academy 12 is constructed of the same high-quality materials as its dreadnought sized brother, the Academy 10.
Players get
a solid Sitka spruce top,
layered sapele back and sides,
maple neck,
and an ebony fretboard and bridge.
It is essentially the same guitar in many ways. However, for beginners, size is often a challenge.
Instead of building the Academy 12 in as a monster dreadnought, Taylor opted to build this guitar in a Grand Concert body style. This is a much more manageable size because it is smaller and easier to handle.
Appearance
Once again, this is a no-frills guitar when it comes to looks. The beauty lies in its simplicity and traditional design.
You're getting a stripped-down look with the Academy series, and that's exactly how it should be. All of the finest inlay work in the world does not make one difference if the guitar is not well made.
You can save money here and get an extremely good guitar without paying for the extra decorations.
Playability
True to their word, Taylor delivers the playability that beginners require along with features that professionals prefer. Like the Academy 10, the Academy 12 has a slightly narrower nut and shorter neck profile.
It matches up perfectly with the Grand Concert body style.
The neck and nut dimensions allow for smooth flowing scales and pain-free barre chords.
The action is low enough to accommodate those with smaller hands, and the body size is perfect for smaller players because it is so comfortable in the lap.
The struggle of playing a monstrous dreadnought can intimidate many smaller players to the point where they are no longer inspired to play. Therefore, the Academy 12 is the perfect size for many.
In addition to incredible playability, Taylor also included their armrest feature that allows players to find a more natural position for their arm on the body of the guitar.
Taylor quite literally "takes the edge off" of finding the proper fit for budding guitarists.
Sound
Hear how this sounds:
The Academy 12 does offer some distinct sound differences due to its smaller body size when compared to the Academy 10
Even though the construction is identical, the Grand Concert body adds a bit more mid-range, a little less bass, and less volume than its dreadnought cousin.
It's crisp with bass lines that sit right around the lower-mid range. You get plenty of articulation when playing individual notes, and chords come through full-bodied and rich.
You can coax a fair amount of volume from it, but keep in mind that the size does keep it from projecting as loudly as a dreadnought. For those who are starting out, there is plenty of volumes even when played in a group setting.
This is a guitar that beginners can confidently play as they progress…and the reason for this is the professional sound.
It's not a beginner guitar that players will outgrow, and I can see most players keeping it around well after they have entered the intermediate or advanced realm.
Find more good acoustic guitars for intermediate players here.
Overall
Pros:
Smaller size is easier to handle.
Comfort features, such as the armrest, reduce fatigue.
Smaller hands will appreciate the low action and narrower neck and nut profile.
Incredibly durable construction and amazing tone
Cons:
No onboard tuner. This would be extremely helpful to beginners.
Lacks a real bone nut and saddle. These additions would improve tone and volume without adding much to the price.
This guitar is an absolute steal for beginners and intermediate players alike. Taylor stays true to their word and gives beginners all that they need – and more – in order to become proficient guitarists.
Check Price on:
---
Best Travel/Compact Guitar -Taylor BT1 Baby Taylor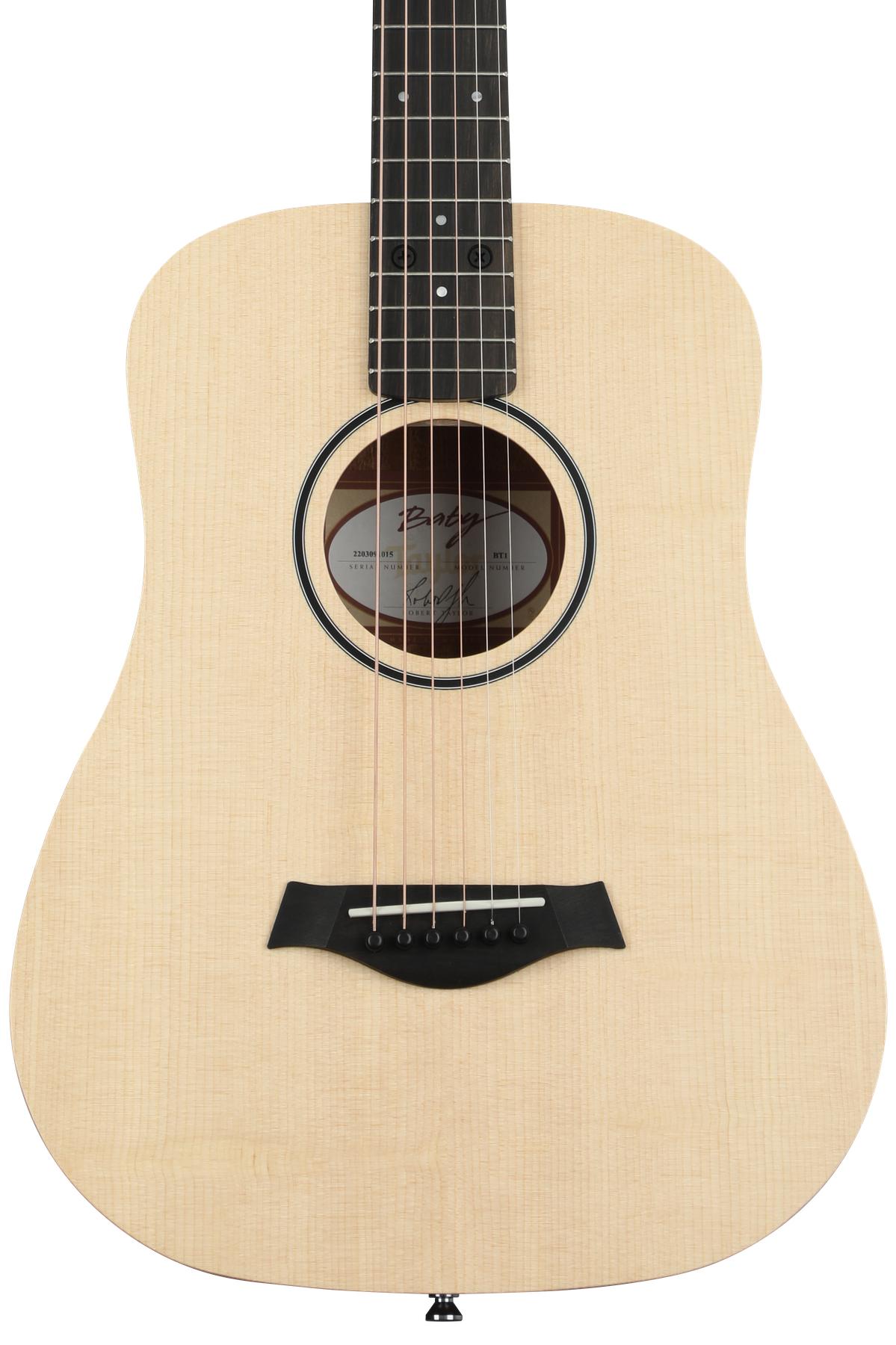 "Hey, baby! That guitar sounds amazing!"
You might hear this a time or two if you get one of these "babies".
Ok, I'll stop with the dad jokes now.
The Taylor's Baby Taylor Series guitars are indeed much smaller than their standard-sized brethren. This makes them a great option for those who want to take their guitar on a camping trip or when packing a full-sized dreadnought is not practical. They should not be mistaken for a toy, however.
These are the real thing!
Construction
The Baby Taylor BT1 is a ¾ scale guitar. This means that the neck is shorter and narrower than traditional necks.
The body shape is that of a dreadnought, just scaled down to a much more compact size. I am aware of two variations of the BT1 that are out on the market.
One model is made with a layered sapele back and sides, solid spruce top, sapele neck, and an ebony fretboard and bridge.
The other model, which is listed on Taylor's website, is made from layered walnut with a spruce top, mahogany neck, and ebony fretboard and bridge.
In either case, you can rest assured that these little guys are built for a life of travel.
Appearance
The Baby Taylor BT1 is a great-looking little guitar. They are stripped down and give you only what you need. This does not make them unattractive at all. In fact, they're quite the opposite.
Taylor crafts them to be minimalistic so you're not paying for something that you don't necessarily need. It's a great reflection of a traditional acoustic guitar with the added bonus of being a modern-designed Taylor.
The wood grain pops out under the varnish, and it is very eye-catching. I believe most acoustic guitar fans will appreciate the fact that Taylor isn't trying to dress up cheap materials. The natural beauty of the wood is the main attraction here.
Playability
Can you say "fun"? These guitars may be smaller in size and scale, but…
They play like a professional-grade guitar!
If you don't believe me, just ask one of the many professional players who have used these exact models to write songs, record, and perform live (Bono loves these).
The close action and smooth playing neck are a Taylor signature, and both are present in the BT1.
I actually laughed aloud at how much fun I was having while playing some Robert Johnson blues tunes on this thing.
It doesn't take long to adapt to the scale length or body size. As a matter of fact, the guitar is a joy to play because it is so lightweight and fits comfortably even in my lap.
Although they trimmed it down, this guitar is a remarkably fun guitar to play. It's easy enough for a beginner to love and sized perfectly for those who want a travel companion to entertain them at their next bonfire.
Sound
How this guitar sounds:
w
I'm just going to be straightforward and say that this baby is surprisingly loud for its size.
I mean it really has some volume!
I have a ¾ size acoustic in my collection made by another company, so I was accustomed to the weak volume and the lack of projection that guitars of this size typically possess.
I was surprised at how much this little guy projected.
As of right now, the Taylor BT1 blows away the competition when it comes to a small guitar that packs a punch.
A lot of travel-sized guitars are limited to mainly rhythm accompaniment because of their lack of projection. I would not hesitate to bring this little guy out in a jam session and wow my fellow musicians by breaking into a lead.
This thing will cut through a mix with surprising clarity without sounding thin!
The overall tone was balanced in a way that reminded me of a Grand Concert-sized guitar. Smooth, punchy bass lines, warm mids, and chiming treble really shine when it is played with a flat pick or with bare fingers. The articulation of individual notes is quite remarkable when you look at the size of this little guy. It rings out loud and true.
Don't let the small size fool you: This is a guitar that every player can appreciate!
Overall
Pros:
¾ size is perfect for travel and practice.
Great option for smaller students
Surprisingly loud for its size.
Cons:
An onboard tuner would be nice for a guitar designed for travel. This would eliminate the need to carry around an extra piece of gear.
Players with bigger hands may have trouble adjusting to the smaller neck size and scale.
As far as compact/travel-sized guitars are concerned, you would be doing yourself a disservice if you didn't check out the Taylor Baby Taylor BT1.
It is surprisingly amazing for its size and is a great option no matter what your skill level may be.
Check Price on:
---
The Verdict
The Taylor 210ce takes the Best Overall category because of its solid construction, incredible volume and tone, and its versatility.
The Taylor Academy 10 is the Best Value because of feature-to-price ratio. You get a lot of great professional features in a guitar that will hardly put a dent in your budget.
The Taylor 110e is a great option for electric guitarist looking for a full-bodied dreadnought to add to their collection. The tone and versatility that the ES2 electronics provide are something electric players will appreciate, and the action and neck allow the guitar to play very much like an electric.
The Academy 12 is certainly the best option for a beginner due to its overall size and professional features. It is also an extraordinarily comfortable guitar to play. This will allow beginners to concentrate on playing and less on how the guitar fits them.
The Taylor Baby Taylor BT1 is the perfect travel companion for those who like to take their guitar everywhere with them. Its small size makes it ideal for guitarists of all ages and skill levels.
---
Buyer's Guide – FAQ
Check our full How to Choose The Right Taylor Guitar for You? guide here.
How do I pick the right Taylor acoustic guitar for me?
In order to pick the proper Taylor guitar for you, consider how you will be using it.
If you are a beginner, check our Beginners Taylor guitar guide here.
Look at the features that are important to you and meet your needs.
Good questions to ask from yourself:
Are you mainly going to use a pick or fingerpicking?
What music do you want to play?
What's your budget?
Are you going to travel with your guitar?
Are you going to play with friends or alone?
Are you going to perform?
You want to be sure that the guitar fits you when it comes to size. Since all of the guitars on this list have no issues with playability, the most important things to consider are definitely comfort and size.
Is a Taylor guitar worth the money?
They are definitely worth the money.
The build quality,
professional features,
and their innovative designs
have really changed the acoustic guitar world for the better.
You can get an affordable Taylor that rivals many guitars costing thousands of dollars.
If you are still not 100% sure if Taylor guitars are the right choice for you, check this article: "Are Taylor Guitars Any Good?"
Is Taylor guitar better than Martin?
This is a really open question. It all comes down to what your personal preferences are and what you want to get out of a guitar.
Taylor does not have nearly two hundred years of experience behind them like Martin guitars, but they have taken familiar designs and improved them through their innovative research. They are more modern in many ways.
To say that one is better than the other is like comparing apples or oranges, however.
Do Taylor guitars hold their value?
According to my market research, Taylor prices seem to remain fairly stable as far as holding their value. This seems to be the case for all Taylor guitars in all price ranges.
Do Taylor guitars sound better with age?
The short answer is "yes". Although they are technically made with "layered" tonewoods that typically do not change much as the guitar ages. But the solid spruce tops will dry and become more resonant with age.
Where Are Taylor Guitars Made?
Taylor guitars are made in two different locations: El Cajon, California, USA, and Tecate, Baja California, Mexico. To learn more, check this article we made: "Where Are Taylor Guitars Made? – Not in China".
---
Conclusion on Best Budget Taylor Guitars Under $1000
Owning a Taylor guitar is easier than many might believe. Taylor designed these guitars to be budget-friendly, thus allowing the majority of players access to their incredible designs.
No matter what your skill level may be, you will be able to find a Taylor that fits every angle of your life. Skill level does not matter as they are all incredibly playable. The main variables that you should look at when getting a Taylor are comfort, how you plan to use it, and budget.
Regardless of what you decide, you are going to get an amazing guitar that will serve you for many years to come.
So, what are you waiting for? Pick one from our list and make it a part of your life! You will not regret it!
You might also like:
We are sorry that this post was not useful for you!
Let us improve this post!
Tell us how we can improve this post?