Best Overall – Taylor 814ce
Sound
Playability
Overall Quality
Hardware
Value For Money
Summary
This guitar checked off all of the boxes on my list of things that make up my idea of the perfect Taylor.

The Indian rosewood sings in harmony with the Sitka spruce top and provides an incredible mid-range tone with plenty of presence and warmth.

The playability is second to none. A smooth-playing action allows you to venture up into the higher frets courtesy of the cutaway.

I'm a fan of the smaller Grand Auditorium body style, and I could not stop playing fingerstyle blues licks on this thing. I could see the sales associate's face as I played it. He figured I would take it to the counter.

I almost did…and I will one day.

This guitar is an investment that players from any level can appreciate. Play one and you'll be hooked.

Yeah, it's that awesome.
How Taylor 814ce sounds:
Check The Latest Price on:
*Consider all links in this post to be affiliate links. If you purchase, at no additional cost to you, we may earn a small commission. It helps us to keep the lights on, thanks! 🙂
---
The Next Best:
Compare Key Specs:
---
If you're looking to move up to a legendary American guitar, then you're in the right place. You're obviously viewing this article to find out more about what Taylor Guitars can offer, and you're preparing yourself to make a decision.
It's a good thing that I was hired to write for guitaristnextdoor.com because I have played a lot of Taylor Guitars.
Seriously, I have an addiction to them. There are several reasons for this.
First, they play amazingly.
Secondly, they have a completely unique sound.
They also have some very innovative designs, and they take their time engineering the best possible guitar.
What am I saying… There's a ton of reasons why I love Taylor acoustic guitars. They seem to get better and better in terms of sound, playability, and versatility.
And now…
I have painstakingly managed to narrow down a list of the 5 Best Taylor Guitars. I will emphasize the word "painstakingly" because it was not an easy task. However, I based the criteria on guitars that I have actually played.
Here at guitaristnextdoor.com, we don't cut corners: we actually work to provide you with the best information possible so that you can make an informed decision.
So, after several days of contemplation and heavy consideration, here are the 5 best Taylor Guitars.
Who crafted this post:
Author: DL Shepherd
Darren has been playing guitar for over 23 years. He fronted the metal band Suddenly Silence in the early 2000's, and also achieved recognition as an award-winning bluegrass guitarist.
A native of southwestern Virginia, and has shared the stage with many big-name acts from various genres. When he is not playing one of his many guitars, he can be found riding his Harley through the mountains of Virginia.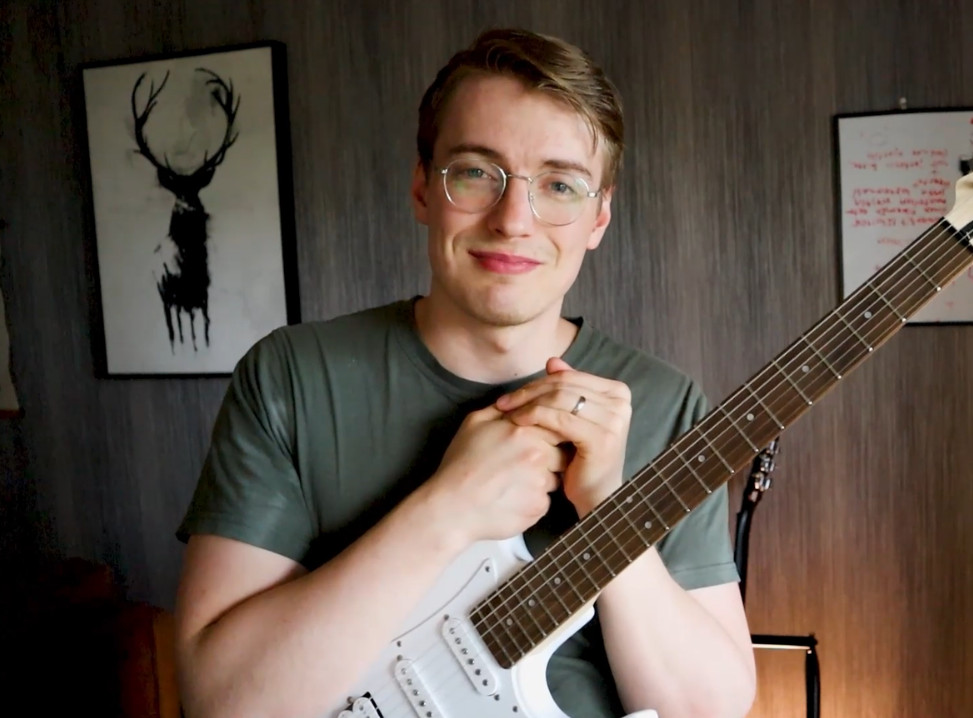 Editing & Research: Teemu Suomala
Playing guitar since 2009. Mainly focused on electric guitars, although jamming with acoustics too. Has played dozens and dozens of different guitars through different amps and pedals over the years. That's why he started this blog in January 2020 and started sharing his experience. Has produced content for several large guitar websites, such as Songsterr, Musicnotes, GuitarGuitar, and Ultimate Guitar.
We can proudly say that Darren Shepherd has played every guitar featured in this article. These Taylor acoustic guitars are here based on extensive research and decades of combined guitar experience of Darren and Teemu.
---
FREE Access for You! Secret Page Reveals 5 Must Learn Electric Guitar Riffs That Accelerate Your Learning (For All Beginners Who Love Rock and Metal)
(If you want to make progress fast, this is for you). Just tell me where I should send the link:
By entering your email address you agree to receive emails from Guitarist Next Door. We'll respect your privacy and you can unsubscribe at any time.
5 Best Taylor Guitars
A couple of other posts worth checking out when buying a new acoustic (click the title to view):
First, these posts will help you handle the protection and storage side of things:
These posts help you to achieve the tone you want:
And here are a couple of other acoustic guitar buyer's guides worth checking out:
5 Best Martin Guitars Under $1000
5 Best Taylor Guitars Under $1000
---
Best Overall – Taylor 814ce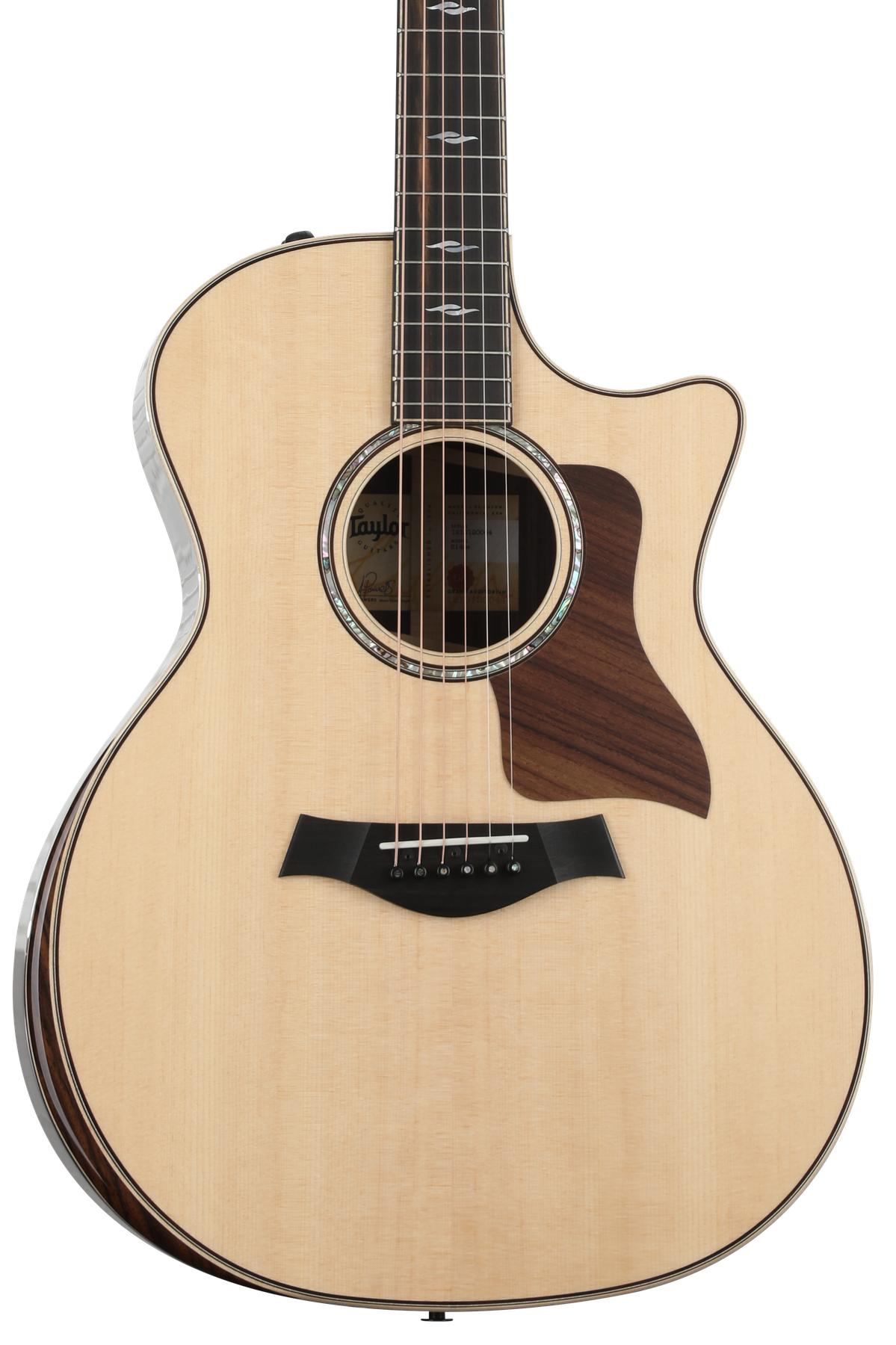 Here it is, folks! The best Taylor out there. I've played more expensive models and I have played less expensive models. However, this guitar checked off all of the boxes on my list of things that make up my idea of the perfect Taylor.
Here's why…
Construction/Appearance
I love a good Indian Rosewood guitar. They just sound like a guitar is supposed to sound in my head. The Taylor 814ce has an Indian Rosewood back and sides, solid Sitka spruce top, mahogany neck, and an ebony fingerboard.
Taylor's impeccable attention to detail really shines through with the 814ce. By that I mean I really wanted to see if they would take my Jeep in on trade for this guitar. I'd rather be seen walking up the street with this guitar than driving my Jeep. It's that impressive.
It has more visual appointments than other Taylors. The Grand Auditorium body sports a rock maple binding and has a single-ring abalone rosette. I'm a sucker for abalone.
A rosewood pickguard, ebony peghead overlay, and "Element" fingerboard inlays all provide an impressive, professional look.
It was truly love at first sight for me.
Playability/Sound
Coincidentally, it was also love at first strum for me as well. If you want a clear acoustic tone, this is your guitar.
The Indian rosewood sings in harmony with the Sitka spruce top and provides an incredible mid-range tone with plenty of presence and warmth. The 814ce is a single-cutaway acoustic, but you would never be able to tell it. It is powerful, projecting, and extremely well balanced.
Hear how this guitar sounds plugged in:
It sports a gloss finish over the entire body, making the beautiful grain of the tonewoods jump out at you.
I may sound like a broken record, but the playability is second to none. A smooth-playing action allows you to venture up into the higher frets courtesy of the cutaway.
I'm a fan of the smaller Grand Auditorium body style, and I could not stop playing fingerstyle blues licks on this thing. I could see the sales associate's face as I played it. He figured I would take it to the counter.
I almost did…and I will one day.
The ES2 system is present on this guitar, allowing for increased versatility whether in the studio or on stage. Additionally, the armrest adds so much comfort that you may catch yourself calling into work just so you can sit around and play it all day.
I would, but then again, Teemu doesn't give me sick days.
This guitar is an investment that players from any level can appreciate. Play one and you'll be hooked.
Yeah, it's that awesome.
Pros:
Amazing looks add major stage appeal
High-quality tonewoods produce sweet, singing tones
Very comfortable and extremely easy to play
Versatile and great for every experience level
Cons:
This guitar deserves a real bone nut and saddle! I'm just not a fan of Micarta or Tusq for these very important parts.
Check Price on:
---
Best Live Performer – Taylor 324ce Builder's Edition
All Taylor guitars are stage-ready. It doesn't matter what model you choose.
However, the Taylor 324ce Builder's Edition stands out among Taylor's extensive lineup when it comes to live performances. Let's see why…
Construction/Appearance
The Taylor 324ce is constructed from a tonewood that defies industry "standards": Urban Ash. This wood is sourced from Ash trees that are removed from urban areas due to factors such as disease, risk of infrastructure or property damage, or simply because they have reached the end of their life cycle.
That's a pretty smart move on behalf of Taylor. I mean, they are literally repurposing what most would consider useless debris and turning it into stunning works of art. Major kudos, Taylor.
The top and neck are made from tropical mahogany, and the bracing system is what is known as V-bracing. This gives extra support for the top while allowing it to resonate freely for a completely unrestricted response.
When you pick this guitar up, you know right away that you have a solid, well-built performer.
The truss rod cover, headstock overlay, fingerboard, and bridge pins are all made from West African Crelicam Ebony that adds a substantial contrast to the gorgeous Tobacco Kona Burst finish.
Throw in the included Elixer strings, a satin finish, a beveled armrest, and Taylor's impressive Expression System 2 electronics, and you have a guitar that absolutely shines on stage.
Playability/Sound
Hear how this sounds:
I do not have to go into a lot of detail here, because there aren't enough words in any language to describe how incredibly smooth the Taylor 324ce plays.
The body is a Grand Auditorium style, so it sits easily in the lap and feels well-balanced when strapped on. This makes it great for players who want to get away from the typical, often bulky dreadnought style.
The satin finish allows for a buttery smooth feel when traveling up and down the neck, and the action is among the most comfortable that I have ever felt. This makes it a great transitional guitar for electric players who are looking for a higher-end acoustic to add to their guitar locker.
The armrest adds even more comfort and a bit of visual flair. It makes the guitar exceptionally comfortable on the strumming arm and reduces fatigue due primarily to the slight angle it provides.
Little things make a huge difference.
As far as the sound and tone are concerned, players can expect the guitar to have a very rich, powerful tone.
Low notes flow well within the low-middle spectrum, and the highs are much warmer. This is due to the combination of tonewoods, and it really reminds you of an all-mahogany guitar.
It is not dark at all though and has an impressive amount of mid-range punch for a Grand Auditorium. Whether you are using the onboard electronics, a microphone, or simply playing without amplification, the Taylor 324ce gives an exceptional, well-balanced tone across the spectrum.
You need this on stage. Trust me when I say that not all sound guys are created equal.
Pros:
Incredible volume for a Grand Auditorium body
Beautiful finish with plenty of stage presence
Rich, balanced mid-range tone for excellent articulation on stage
Extremely comfortable to play
Cons:
Real bone nut and saddle would add more volume and clarity
Lack of an onboard tuner is a bit of a bummer for a guitar of this caliber
Check Price on:
---
Best Dreadnought – Taylor American Dream AD17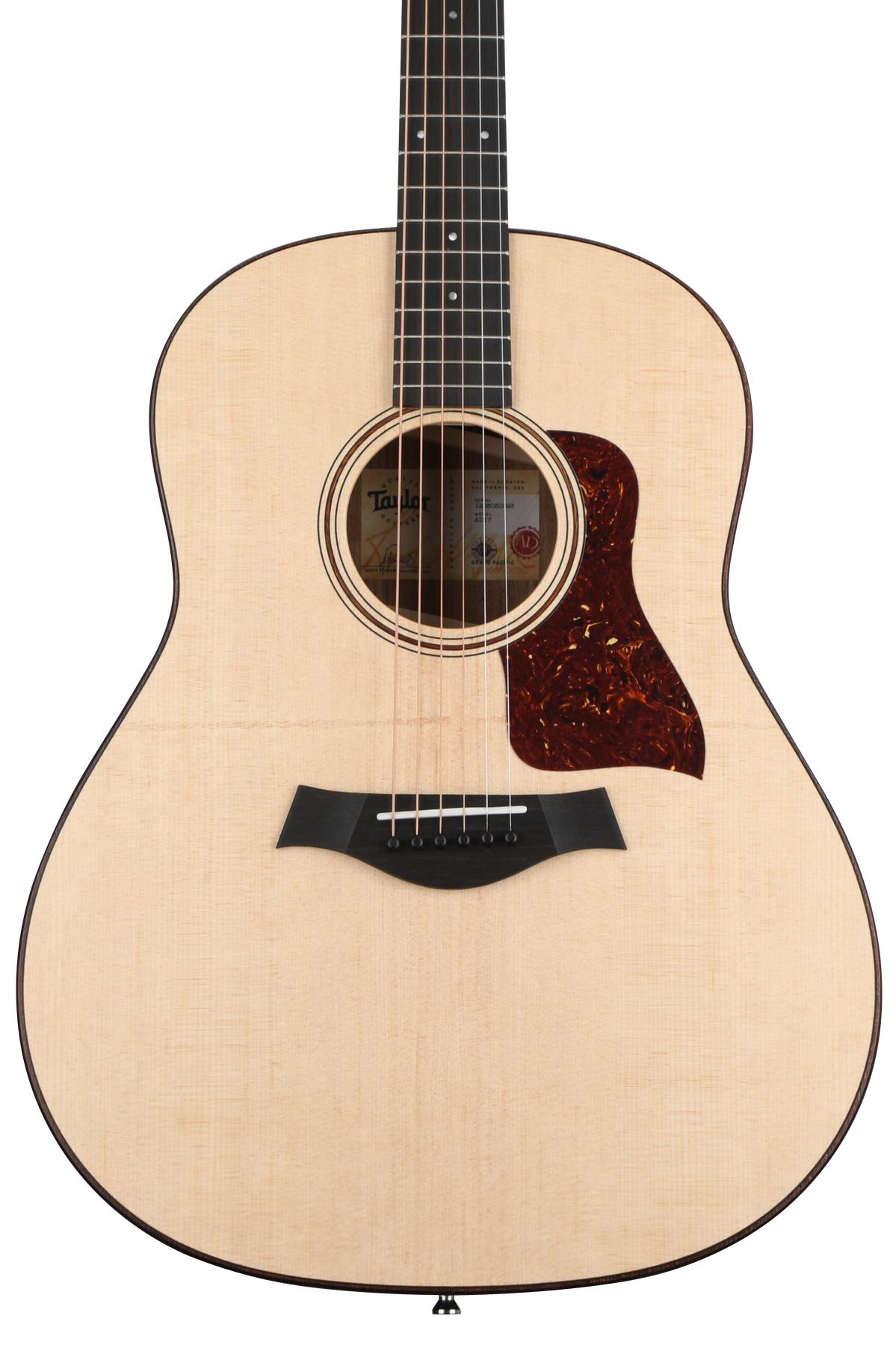 For those looking for a straightforward acoustic with a more familiar dreadnought body style, the Taylor American Dream AD17 is a perfect choice.
It sports a lot of features found on Taylor's higher-end guitars and is especially appealing to those who want a guitar without electronics.
This guitar nails the K.I.S.S. principle perfectly (Keep It Simple Stupid).
Construction/Appearance
Taylor refers to the AD17's body style as "Grand Pacific". Basically, this is just a round-shouldered dreadnought (as opposed to the typical square shoulder design).
It is constructed with high-quality tonewoods: an ovangkol back and sides, solid Sitka spruce top, tropical mahogany neck, and a eucalyptus fingerboard. It's the first guitar that I have ever played with a fingerboard made from eucalyptus. Visually speaking, it works very well by providing a nice, dark red/brown contrast to the Sitka top.
The innovative V-bracing keeps the top ringing loud and true and provides excellent structural integrity.
It is indeed a workhorse guitar in every sense.
Taylor's signature minimalistic visual appointments include Italian acrylic dot inlays and a very attractive rosette made of Hawaiian Koa. A tortoise-style pickguard adds a vintage look along with the matte finish.
Once again, you know you have a solidly built tone machine as soon as you pick it up.
Playability/Sound
Hear how this Taylor sounds:
The Taylor AD17 plays very much like its more expensive brethren. The action is similar and the neck radius seems to be the same as the Taylor 324ce.
It lacks a lower cutaway so the higher frets are not as accessible, but the neck joint still allows for some picking past the 14th fret.
The plus side to this is that the dreadnought body style remains true by providing copious amounts of volume and a much fuller tone than cutaway models.
The Taylor AD17 provides players with plenty of sparkly acoustic tone that is incredibly defined.
The combination of tonewoods allows the warmth of the ovangkol to balance perfectly with the Sitka spruce top to produce a well-rounded tone that is almost dead in the middle of the tonal spectrum.
That's the sweet spot.
As previously mentioned, there is more than enough volume available with this finely crafted instrument. When single notes are picked with some force, you get clear, cutting articulation that breaks through a mix of other acoustic instruments. It's rich, bold, and well-rounded – just like a good woman.
Those who are looking for a high-quality dreadnought with exceptional tone and playability should look no further than the Taylor American Dream AD17.
Pros:
Well-balanced tone with tons of clarity for versatile playing situations
Extremely solid construction makes it road-worthy
Comfortable to play for guitarist of all skill levels
Cons:
This guitar really needs a real bone nut and saddle to maximize tonal potential
I would have personally preferred a gloss finish over the matte finish for better visual appeal
Check Price on:
---
Best Budget Taylor – Taylor Academy 10e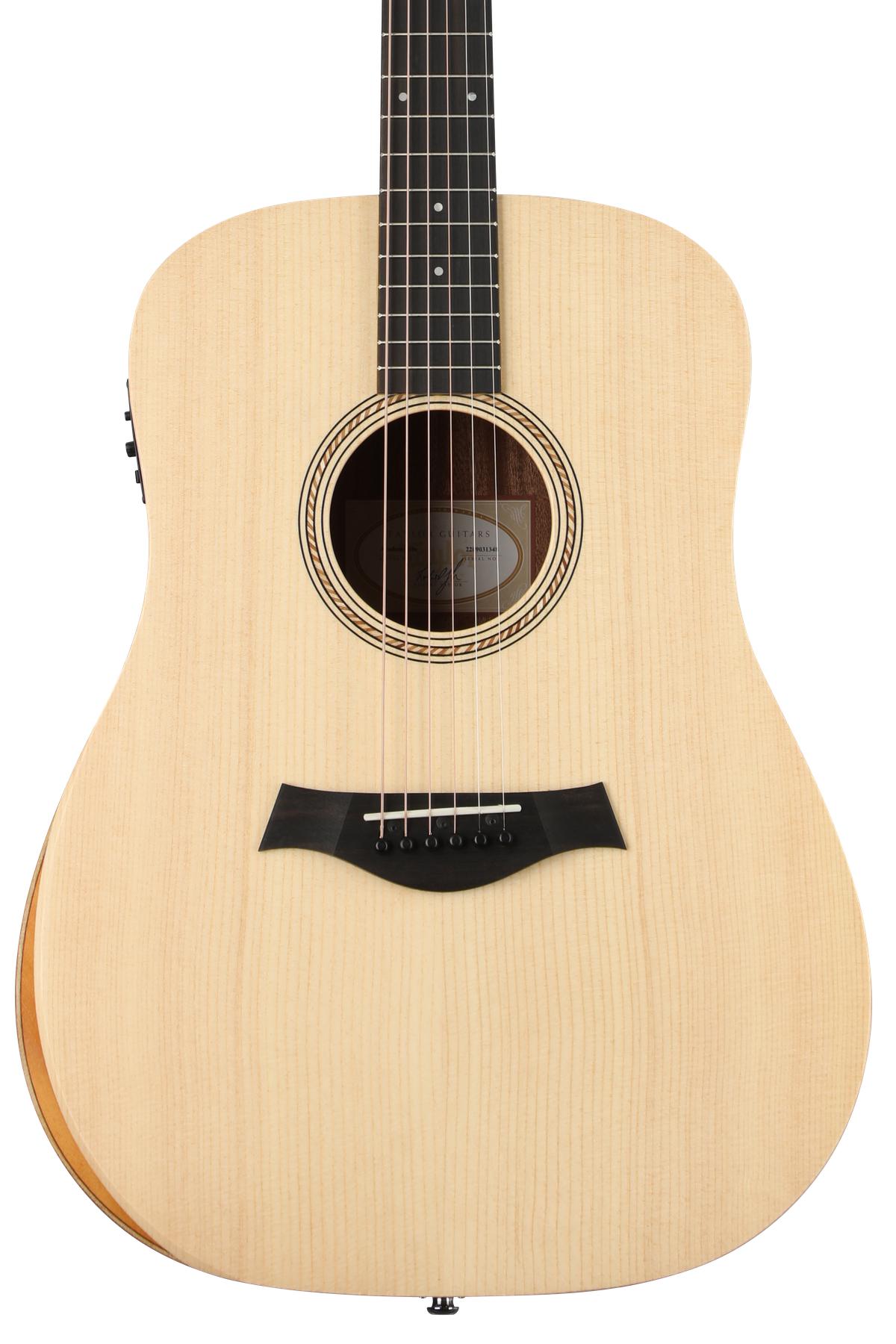 From my personal perspective, the Taylor Academy 10e is easily in my "personal top 5 favorites of all time" list. I can't say enough good things about this guitar.
Well, actually, I can say a ton of good things about this guitar. For the sake of saving you time, I'll just hit the high points.
Construction/Appearance
When you have a well-built acoustic in your hands, you know it. Taylor's solid construction quality shines through on the Academy 10e from top to bottom.
The dreadnought body is constructed of a solid Sitka spruce top and layered Sapele back and sides. It's a perfect recipe for durability and peace of mind when traveling. A maple neck and ebony fingerboard add to the already solid build.
One of the great things about this guitar is its lack of visual appointments. The tonewoods really pop out and create a guitar that needs no fancy inlays or intricate decorative rosettes.
This also means that you save money by paying for what matters: a solid, well-built acoustic that sounds and plays fantastic.
One feature that is present on the Academy 10e that is typically found only on Taylor's higher-end guitars is the armrest. This adds a custom-built appearance as well as providing extraordinary playing comfort.
Playability/Sound
As far as playability is concerned, I can't think of anything that could make it better. It has the action and overall feel of more expensive Taylor models without the big price tag.
The scale length is shortened a bit to 24-⅞ inches. At first, I was intimidated by this because I'm not a fan of change when it comes to classic designs. If it's not broken, why fix it?
However, the shorter scale length does improve the ability to bend notes and switch barre chords more quickly without feeling cramped. I know from years of teaching guitar lessons that barre chords can be challenging for many players.
I strongly believe that the Taylor Academy 10e would make it much easier for beginning/intermediate players to master many of the various chord structures even if they have smaller hands.
Now for the sound…
In my best attempt to describe the sound: it is how I imagine the voices of angels.
For real, it sounds that good. It's one of the most openly resonate guitars that I have had the pleasure of playing.
The tone is rich and full just like a dreadnought should be. The lows flow smoothly with great articulation while balanced highs ring out with warmth and clarity.
You don't have to coax volume from this guitar by playing it hard. It is just naturally loud and vibrant. When it comes to cutting through a mix, you will take center stage. If you need to go electric, the Taylor Academy 10e has the ES2 system for a balanced, true acoustic tone that does not sound artificial in the slightest.
If you aren't quite ready to fork out big bucks on a higher-end Taylor, I enthusiastically recommend that you give the Taylor Academy 10e your consideration.
Pros:
Quality tonewoods provide a full, rich tone
Dreadnought size provides impressive volume without playing hard
Shortened scale length is great for smaller hands
Onboard electronics make it an incredibly versatile full-bodied acoustic
Cons:
Some more experienced players may not like the shorter scale length
A real bone nut and saddle would add a bit more tonal balance
Taylor needs to add an onboard tuner to the ES2 system
Check Price on:
---
Best Travel – Taylor BT2 Baby Taylor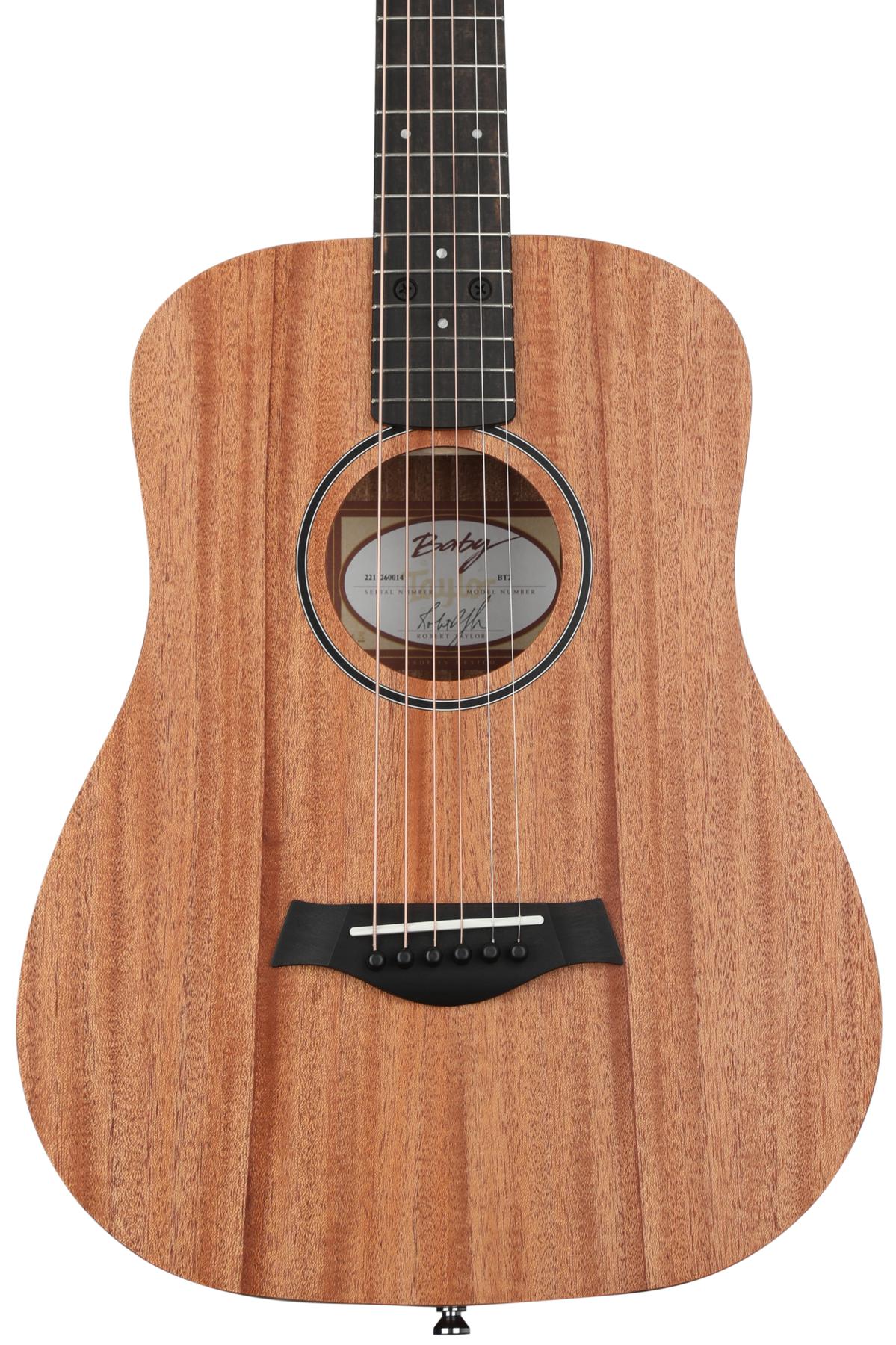 When I first played a Baby Taylor, I couldn't help but say, "Sweet Baby James!"
Bonus points for those who just got my lame joke containing a James Taylor reference.
Even more bonus points for those who recognized the irony (James Taylor…get it?).
These little ¾ scale guitars are not a toy! They're a 100% real instrument for players of all skill levels. The fact that they are small is a bonus for younger players or for players who want a good travel companion that doesn't require much room.
Construction/Appearance
Obviously, it's small. I won't say that again. However, the construction is more than adequate. The woods include a solid tropical mahogany top, layered Sapele back and sides, a mahogany neck, and an ebony fingerboard.
It is finished off with varnish, allowing the wood grain and laminate to pop out. Depending on the type of varnished used, it may also patina over time for a real old-school look.
It feels extremely solid for a small guitar, and I would not hesitate to take it on a camping trip or a bonfire jam session. Taylor builds the BT2 with the same commitment to quality as they do their higher-end, full-size models.
It has a minimalistic look with a single-ring rosette and typical white dot fingerboard inlays. However, the appealing part to me is the vintage vibe that it puts off. It reminds me of the old parlor guitars from the '20s and '30s.
Playability/Sound
Taylor originally designed these guitars with smaller, younger players in mind. The Baby Taylors started popping up on stages in the hands of professional musicians like Bono and Taylor Swift, therefore allowing more guitarists to take it more seriously.
With that being said, the BT2 is a great guitar for a beginner. It has that smooth action and playability that Taylor is known for, and the scale length is perfect when you just want to "pick up and play".
Hear how this Baby sounds:
The sound of the BT2 differs from its brother, the BT1, because of the wood choices. The Sapele laminate and mahogany combination gives a smooth, rich, dark tone with a little more dryness overall. The highs stay warm, which is a huge deal for a guitar with a reduced body size.
It has plenty of usable volume, and they are right at home in the studio. I would venture to say that many players would appreciate what this little guitar has to offer when it comes to sound and playability.
Pros:
Choice woods produce impressive volume and tone
Small size is great for travel or smaller players
Comes with a travel case!
Cons:
A simple onboard electronics system would improve versatility
Players with larger hands may find the ¾ scale a bit too small for them
Check Price on:
---
Verdict
Let's wrap it all up. The Taylor 324ce is the best choice for live performers while the Taylor American Dream AD17 is the best dreadnought-sized Taylor.
Budget-minded guitarists should definitely consider the Taylor Academy 10e, and travelers or smaller players owe it to themselves to pick up a Taylor BT2.
Last, but certainly not least, the Taylor 814ce takes the crown as the best overall Taylor model out there.
What can I say? I love my job. I play guitars and tell you about them. It sure beats touring with 4 other unbathed guys in a van for weeks on end, living on nothing but gas station food.
Use this list to find the best Taylor for you! I must warn you though: you'll become addicted as soon as you pick it up – no matter what model you choose.
---
Buyer's Guide – FAQ
What should I look for when buying a Taylor guitar?
You should consider all aspects of your style and what you want to accomplish. Ask yourself:
What kind of music will I primarily be playing?
What kind of features are necessities (onboard electronics, portability, etc.)?
What will I gain by getting this guitar?
If you can answer those, this will definitely help narrow down your choices.
How can I be sure which Taylor body size is right for me?
I always recommend this trick; play a dreadnought-sized guitar (any brand) and see if it fits you well. If you find it too large, then a Grand Auditorium or Grand Concert will be much better for you.
Are more expensive Taylors better guitars?
"Better" is a relative term based upon what you need.
But as far as construction is concerned, all Taylor guitars are built to last.
However, the biggest thing to consider is what type of construction you require.
Typically, higher-priced Taylors are made from all solid woods, while many budget-friendly Taylors are constructed of layered tonewoods that are similar to laminate.
More expensive Taylor guitars also have some visual appeal added to them such as inlay work and real-wood peghead overlays. It is important to note what features are important to you and go from there.
I'm a beginner, but I really like the more expensive Taylor guitars. Are these good for beginners as well?
The short answer is yes.
However, I recommend starting off slow. I would hate to sink a lot of money (which, of course, is relative to your personal financial situation) into a guitar that I just end up forgetting about or abandoning completely if I find that the hobby is not for me.
I would personally concentrate on how you plan on using it.
For example, I would not go out and purchase a full-size, name-brand automotive mechanic toolset unless I happened to be an automotive mechanic (or planned to be).
Guitars are very much the same way. Weigh the features against your own needs and forget about bragging rights. I have learned the hard way: never get something that is of no use to you.
If you expect to stick with playing for many years, then, by all means, grab the top Taylor guitar and enjoy it!
Conclusion
I think my real passion(addiction) on Taylor guitars shined through. Great instruments.
I hope that this post answered your questions and now you are ready to make the pick!
I wish you all the best and keep rocking!