Last Updated on February 20, 2023 by Teemu Suomala
Best Overall – String Swing CC01K-BW Guitar Hanger
Stability
Quality
Convenience
Value for Money
Summary
String Swing makes a product that is trusted in retail for the hanging of thousands of guitars.

At a cost so low it's hard to buy just one, this CC10K-BW (catchy name :D) is one of the best wall hangers for Telecasters I could find.

It's stable, strong, nitro-safe, and easy to use. A great choice for any Tele fans.

With this, getting your guitar back down can be done with one-handed ease. The best wall hanger for Telecasters.
Check Today's Price on:
*Consider all links in this post to be affiliate links. If you purchase, at no additional cost to you, we may earn a small commission. It helps us to keep the lights on, thanks! 🙂
---
The Next Best:
Compare:
---
The Telecaster's thin headstock can make it tough to find a guitar wall hanger you can trust to protect your Tele. We've checked out some of the best wall hangers for Telecasters around to help you show your stunning guitar off. And, c'mon—we know you want to.
Let's first look at these fine wall hangers, and at the end of the post, you can find the FAQ section that helps you to make the best choice possible.
Who crafted this article:
Author: Tommy Tompkins
Playing guitar since 2004. Primarily an acoustic guitarist who plays and writes traditional American folk music, with a background in melodic metal and a solid foundation as a bassist.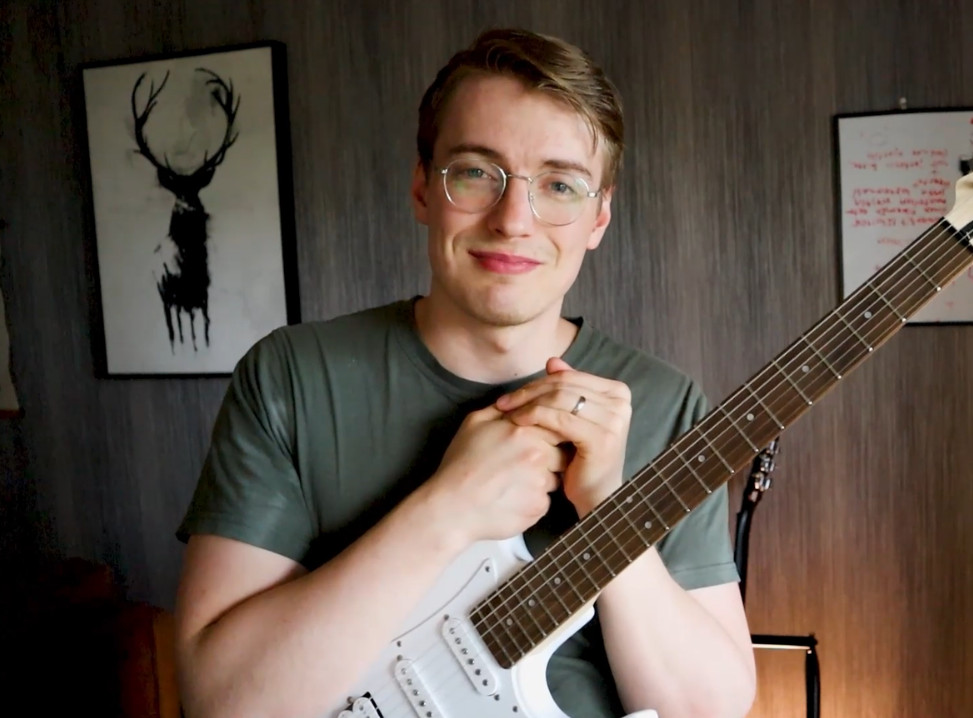 Editing & Research: Teemu Suomala
Playing guitar since 2009. Mainly focused on electric guitars, although jamming with acoustics too. Has played dozens and dozens of different guitars through different amps and pedals over the years. That's why he started this blog in January 2020 and started sharing his experience. Has produced content for several large guitar websites, such as Songsterr, Musicnotes, GuitarGuitar, and Ultimate Guitar.
---
Our Favorite Music Store in The World!
Why?
– Excellent Customer Service (4.7/5 Trustpilot Score)
– Fast & Free Shipping
– Gear is Inspected, Tested, & Ready to Play When it Arrives to You (We love this)
– Fair Prices
Visit Sweetwater:
Best Wall Hangers for Telecaster
Best Overall – String Swing CC01K-BW Guitar Hanger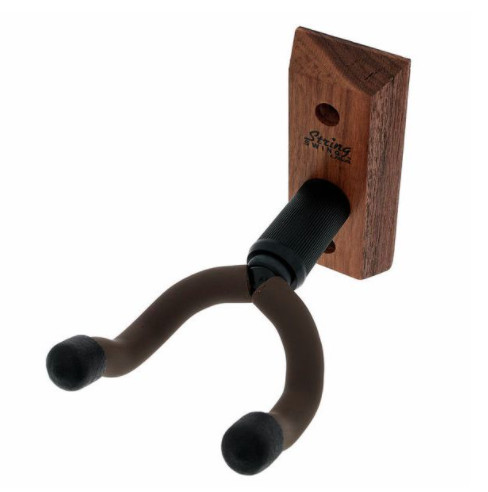 Stability
If there's any clear cut competitor of Hercules in the world of guitar storage, it's String Swing.
Their CC01K is a fine example of how String Swing blends simplicity with functionality to deliver the best guitar mounts.
With their nitro-safe yoke set up in a pivoting design, the CC01K swivels to hold nearly any stringed instrument with a nut width under two inches—yes, Telecasters and Tele-styled guitars included.
I'm no physicist, so I can't tell you exactly how having an angled guitar wall mount defeats gravity, but I do believe the CC01K can keep a sure grip on Telecaster's thin headstock.
Quality
String Swing's quality is truly evidenced by its success in the commercial display field. They make a product that is trusted in retail for the hanging of thousands of guitars. With a special nitro-safe material and a strong, well-designed yoke, String Swing's CC01K-BW is one of the surest ways to protect your Telecaster.
Just note, if you're looking for versatility, this one simply can't hold necks over two inches wide. That doesn't limit you too much, but you won't be able to hang your classical in one of these if you decide to double up.
Convenience
I won't say much about the CC01K's convenience, because it's simply one of the best. It's such an elegant design that there's not much that can go wrong. Once it's installed, use is as simple as setting your guitar in and walking away. Getting your guitar back down can be done with one-handed ease.
Summary
Pros
Pivoting cradle twists to catch stubby heels of Tele headstocks
Yoke is deep and safe
Trusted quality brand at a low cost
Cons
Cradle is too narrow for all guitar neck shapes
At a cost so low it's hard to buy just one, String Swing's CC10K-BW is one of the best wall hangers for Telecasters I could find. It's stable, strong, nitro-safe, and easy to use, making it a great choice for any Fender fan.
Check Price on:
---
Most Secure – Hercules GSP38WBPLUS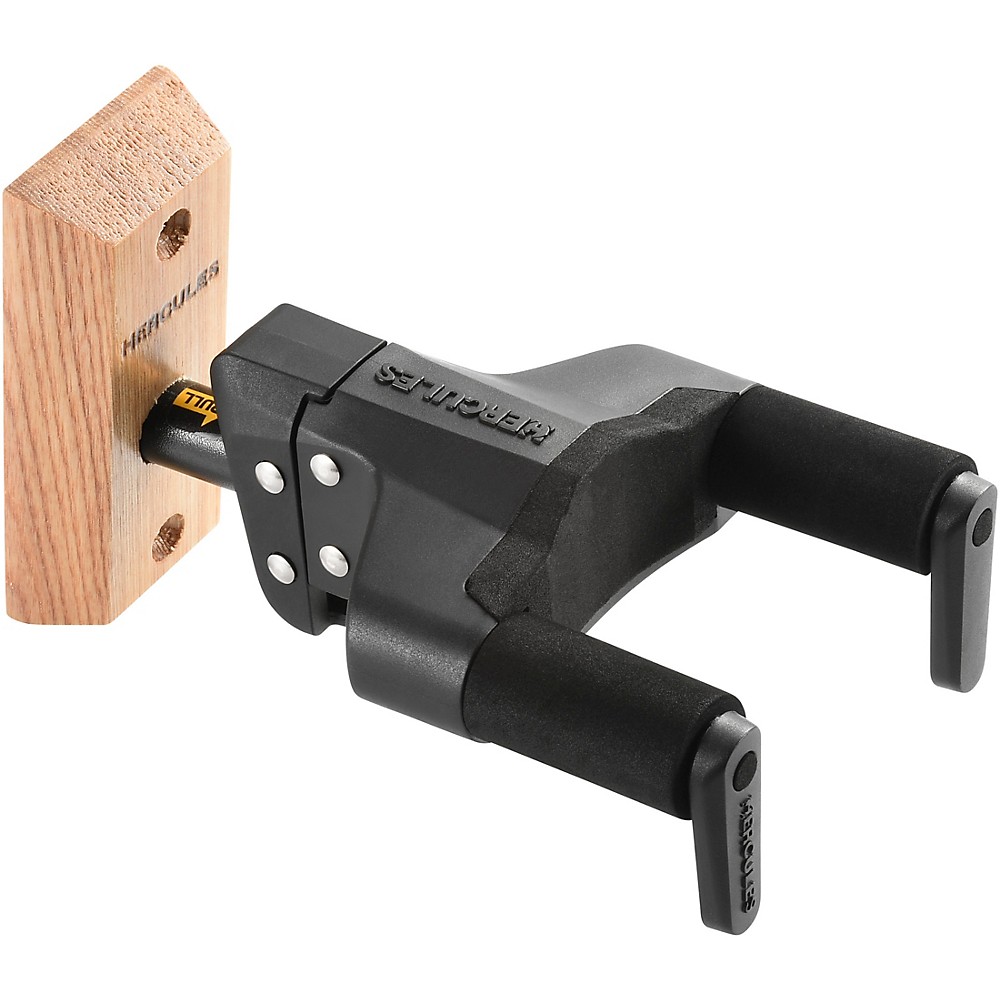 Stability
In addition to the typical well-balanced Hercules design, the GSP38WB PLUS features a protective Auto Grip System (AGS) and the NINA system for instruments with small necks.
First, let's cover NINA, which is the Narrow Instrument Neck Adjustment system. It sounds fancy, but it's actually just two foam sleeves that fit over the arms of the neck yoke. They thicken up the cradle enough to grab small instruments like mandolins. As it turns out, they also work really well for Telecasters.
With the NINA supporting the headstock, the AGS acts like a gate that closes in front of your fretboard once your Tele's in place.
While Hercules' yoke rubber probably won't cause any accidental slips, the AGS is there as an extra safeguard against tragedy.
Quality
The GSP38WB PLUS is built strong from a combo of steel, heavy-duty plastic, and Hercules' Specially Formulated Foam (SFF) all set on a simple wooden block. This SFF is great because it's a nitro-safe material. You can set your high-end nitro finish Telecasters in this hanger with no worry.
Hercules does have a problem with the rubber of their AGS system becoming sticky and gunky after use, but this is mostly a problem with their stands and doesn't seem to affect this wall hanger.
Convenience
Fitting instruments with neck widths from 1.1- to 2.01-inches, the GSP38WB PLUS is packed with features for safety and convenience.
However, it has one issue that is almost funny. Sometimes the springs in the Auto Grip System become weak, so when you lift up on your guitar, the locking arms won't open.
This definitely detracts from its convenience, because you'll have to use a second hand to manually lift the locking arms, making the AGS not so "auto" after all.
Summary
Pros
Auto Grip System closes shut over fretboard to prevent slippage
Includes NINA, a special padding system for narrow headstocks
Specially Formulated Foam safe for nitro finishes
Cons
Supplied mounting screws are too short
AGS system can stick if spring weakens
Back about fifteen years ago, I actually owned an older model of this Hercules wall hanger. I used it to hold my heavy Traben bass and never had a doubt when leaving my axe in that locking guitar wall mount.
With the GSP38WB PLUS, you can have that same security for your Tele thanks to Hercules' understated NINA system. It's a great buy for Fender players looking for the most protection possible.
Check Price on:
---
Best for Thin Fender Guitars – String Swing Guitar Holder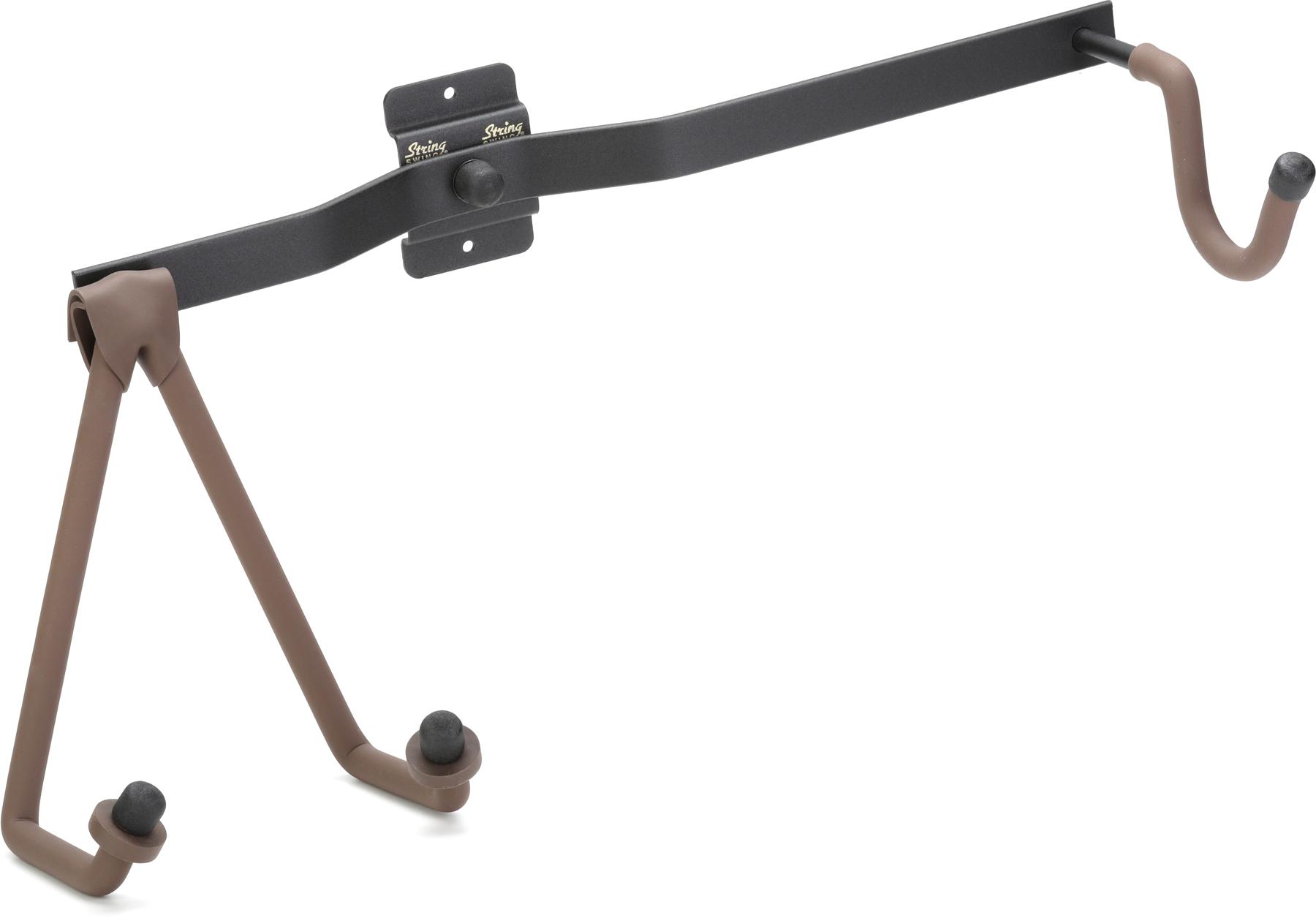 Stability
With a design unlike anything I've seen before, String Swing makes our list again in the CC151-LPN-FW.
This quirky horizontal wall mount might look weird, but it actually does a great job of holding your guitars.
Most hangers only give you two contact points—those of each arm of the neck yokes. String Swing's Horizontal Guitar Wall Hanger ups the ante with a neck cradle in addition to two body cradles.
Like all String Swing hangers, each yoke is covered with their nitro-safe rubber for a non-slip grip on the guitars.
Quality
This hanger is great for Telecasters because it skips the usual dependence on the guitar's headstock. That's the main problem with finding Tele mounts because their headstocks are so small. This side mount hanger holds the guitar not by the headstock, but by the neck and body, so virtually any guitar with a body under 2.5-inches will fit well in the CCC151.
Convenience
Aside from being a bit tricky to install for some folks, the String Swing Horizontal Guitar Holder is as easy to use as any ordinary neck yoke hanger. You simply lean the guitar in and go.
It can even be reversed to fit left-handed guitars, so from Teles to LPs, there's no electric out of limits.
Summary
Pros
Atypical design hangs Telecasters by the body and neck
Three stable contact points covered in nitro safe padding
Made of strong, resilient steel
Cons
Love it or hate it, people tend to call the CC151 secure, stable, and—ugly. And, well, I have to agree. Just my opinion. But gladly, the hanger itself is hidden behind the guitar…
It's a design that does a lot to hold and protect your Telecaster, or almost any other guitar. And this is one of the most dependable electric guitar wall hangers out there.
For all of you who crave a little more artistry in your guitar hangers, read on to see a truly beautiful choice.
Check Price on:
Wide Body Version:
---
Best Value MultiPack – Top Stage JX15NA-Q2 Guitar Wall Mount
Stability
If you're questioning the stability of this low-price two-for-one from Top Stage, I don't blame you—I'm a bit dubious myself.
After all, how safe can such a cheap wall hanger be?
Well, everything considered, the JX15NA-Q2 really isn't too bad.
Are they as safe as a String Swing or a Hercules? No way! The headstock grip of this model depends on your placement of a couple rubber stoppers. They press tight against your Tele to keep that headstock from slipping too far forward.
To say the least, it's a bit frightening.
But, if you're in a pinch and just absolutely need to hang up not just one, but two Telecasters for a really cheap price, Top Stage got your back with the JX15NA-Q2.
Quality
At first glance, these wall hangers seem just as good as any.
Neck yoke? Check.
Soft padding? Check.
Wood mount? Check.
But that neck yoke only fits standard headstocks, unless you carefully adjust the stop-caps.
Also:
Soft padding isn't nitro-safe and can damage your Telecaster's finish (if your guitar has nitro finish).
Wood mount has misaligned holes that result in the hanger installed crooked(this happens sometimes).
The adage "You get what you pay for" is most often true with the lowest-cost bargains, and it is true here. These Top Stage mounts cost little and equally offer little in the way of strength, stability, or protection.
Convenience
If you're aiming to hang just about any standard electric or acoustic, the Top Stage JX15NA-Q2 will do the trick without any hassle.
Unfortunately, for you, Telecasters aren't exactly a standard guitar.
For you owners of the renowned narrow headstock, you'll have to twist your guitar in and out of place and secure those foam caps each time you're done playing. It's not a huge problem, but it does seem like it would get old.
Summary
Pros
Super low-cost two-pack of hangers
Adjustable stop-caps can hold different Telecaster neck shapes
Easy to install in certain types of walls
Cons
Pre-drilled holes may be misaligned
Not nitro-safe
These are on my best list for one reason, and that is the price. Nowhere else will you find Fender Telecaster guitar wall mounts at such a low cost
HOWEVER
I can't recommend these for a Fender of any quality. Nitro finish worries or not, you want to choose a better hanger for high-value guitars.
If you're a beginner with a couple of Squiers you want to throw on the wall, the Top Stage JX15NA-Q2 can help you out at an unbeatable price.
---
Best-Multi Guitar Hanger – Whiskey Barrel Stave Guitar Wall Mount/Guitar Hanger
Stability
Coyle Woodworks' Whiskey Barrel Stave Guitar Wall Mount/Guitar Hanger is the most expensive option on our list, so how does it rank in stability?
It might lack the AGS of Hercules of the rotating yoke of String Swing, but the angle of its yoke arms and their soft foam padding ensures a comfortable grip on your Telecaster's headstock.
The spacing of these yokes allows this hanger to hold two of a variety of guitars, from acoustics to basses and even ukuleles.
You should keep in mind though that since there's no cap or curve in these cradles, the guitar rests there pretty unprotected. It's best to use this wall mount only in low-traffic areas.
Quality
The magic of this wall hanger lies in its wood mount. Rather than the simple block of most wall hangers, this one is made with a stave (aka, a board) from an actual whiskey barrel.
As such, each hanger is totally unique. Actually, every one is handmade by a small family team in Wisconsin, so they're really special that way.
The stave construction makes this hanger look great. It's a piece of art in itself and is a really excellent way to show your guitars off.
Convenience
This stave hanger is about as easy to use as they come. The yokes consist of just two straight arms each, so when you're done playing for the day, you just slide the guitar in and you're good to go.
The only thing is, this convenience comes with that lack of stability, so you've got to consider the trade-off and if the good looks are worth it to you.
Summary
Pros
Each hanger is unique; crafted from actual whiskey barrels
Dual stable neck yokes hold Teles and more
Handmade by a small family company
Cons
This is what I'd call a "fancy" guitar hanger.
To put its price in perspective: for the cost of only one of these Whiskey Barrel Stave Guitar Wall Mount/Guitar Hangers, you could buy six String Joy CC01Ks plus a pack of the Top Stage JX15NAs.
You could buy one of each of the other guitar hangers listed above and still have money for a coffee. So, is the one-of-a-kind barrel stave worth it to you…? For me, it is.
---
Verdict
You know the saying, "Quality of over quantity"?
It's one of my favorite idioms and certainly holds true for Fender guitar hangers.
In the search for the best Fender wall mount, you'll run into many tempting choices. Affordable multi-packs like the Top Stage JX15NA-Q2 may seem to give you more bang for your buck, but you've gotta ask yourself an important question:
Is saving a few bucks worth risking the safety and protection of your guitar?
It really isn't. So, I recommend going with a more trusted name in guitar hangers when looking for your perfect Telecaster wall mount.
When it comes to guitar storage, Hercules is usually my first choice...
But in the realm of Fender Telecaster wall mounts, one hanger stands above the rest in its combination of stability, quality, and value, and that is the String Swing CC01K.
With a simple yet sturdy design that can dependably secure the narrowest of Fender headstocks, String Swing's angled guitar wall mount is the best wall hanger for Telecasters in 2020.
---
Buyer's Guide – FAQ
Will a Wall Hanger Damage My Guitar?
From guitar shops to trade shows to pro and home studios and beyond, wall hangers are some of the most popular and trusted ways to store guitars.
But, how safe are they really? Well, aside from keeping your guitar tucked snugly in its case, wall hangers are one of the most secure ways to stash your guitar just within reach.
Wall mounts aren't as safe as cases, but they sure are close. And, there's very little that can go wrong when your guitar's in the nooks of a hanger.
If it's stored there for ages—like, really, months on end with no respite—sure, the neck might warp a little. Any guitar left exposed in a room's changing climate will change a bit, but that's what your truss rod's for. Pretty much the only other thing that could go wrong is a bit of nitro burn on your headstock. This can happen if you mismatch a nitro guitar with a non-nitro-safe product without taking proper precautions.
Look for nitro safe offerings if your axe sports that classic finish, or just be sure to wrap the hanger in cotton first.
If you want to learn more about guitar storage and how wall hangers change your guitar, check out this article.
What Makes a Great Wall Hanger for Telecaster?
Telecasters are actually some of the hardest guitars to find wall hangers for. Their unusually narrow headstock means a neck yoke that's too wide won't be able to hold your Tele. So, the first thing you need to look for in Telecaster wall hangers is the neck yoke width.
Some wall hangers have adjustable-width yokes, which is one of the best options if you own multiple guitars.
All of our choices are made to fit the C and Modern C neck shapes found on most Telecasters, as well as the rarer U and soft V shapes of certain series.
Since many lines of Telecasters are finished with nitrocellulose lacquers, the real top-of-the-line Fender wall hangers are nitro safe—or at least as nitro-safe as possible.
Next, consider if the hanger is convenient for you. Some require a lot of space out from the wall, which might not work if you're using it in a small room. Others might have special features, but if they're not built to last, these can become a hassle if they malfunction.
Which brings us to the point that, through this whole process, look for mounts that have great value for you specifically.
We've chosen wall hangers that should work well in most applications—versatile, high-value wall hangers for Fender Telecasters to keep your axe safely anchored when it's not in your hands.
If you have multiple axes to take care of, a multi-guitar wall mount might be a great option for you. If this is the case, check this article out: Best Multi-Guitar Wall Mounts and Hangers in 2022 – Buyer's Guide
A Word to the Wise
Anytime I talk about wall hangers, I want to stress the importance of one often-overlooked thing:
Even the best wall hanger won't work at all if it's not installed correctly.
Many of the top-rated Telecaster wall mounts include mounting hardware, which is both a blessing and a curse.
This hardware is not one-size-fits-all. Depending on whether your walls are wood or brick or plaster, the hardware that comes with these wall mounts may or may not work for you.
So, please understand that guitar wall mounts are different from stands in that they do require you to put in a bit of research, work, and critical thinking.
Here's a quick video tutorial for you:
The companies supply sturdy hangers, but guitarists have to find their own studs, drill their own holes, install their own anchors, and make 100% sure that their finely-crafted wall mounts holding those priceless Fender Telecasters aren't going to come crashing to the floor.
In some situations, wall hangers are not a good option for your Tele… maybe your landlord doesn't want you drilling into walls for example.
Whatever the reason may be, if you think that a guitar stand would be a better option for your Telecaster, this article will help you out: 5 Best Guitar Stands for Telecasters in 2022 – Buyer' Guide
---
Conclusion on Best Wall Hangers for Telecasters
Even though I sometimes harp on about how the case is the best place to store your guitar, I have to admit that—while cases may be safest—my favorite way to store and showcase my guitar is with a wall hanger. I know, using a guitar wall hanger takes a lot of trust in someone else's handiwork. But I believe these hangers will do a fine job of holding your Tele safely.
If you choose to try out one of these best wall hangers for Telecasters, I think you'll be impressed with their security, stability, and overall builds.
If you are regularly transferring your guitar to gigs or friends place, a gig bag might be a great option to offer your guitar protection. If this is the case, this article will help you out: 5 Best Gig Bags for Telecasters in 2022 – Buyer's Guide
I hope that this guide helped you to choose the right wall hanger for you.
I wish you all the best and keep rocking!