Last Updated on November 30, 2023 by Justin Thomas
Author: Tommy Tompkins
Playing guitar since 2004. Primarily an acoustic guitarist who plays and writes traditional American folk music, with a background in melodic metal and a solid foundation as a bassist.
Hide The Rambling▲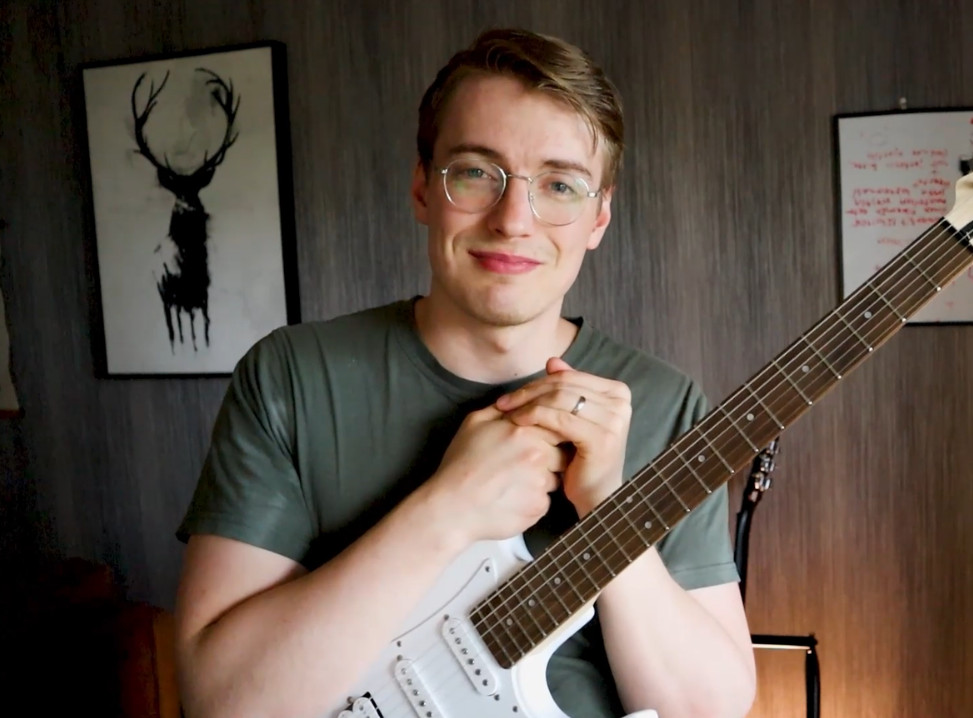 Editing & Research: Teemu Suomala
I first grabbed the guitar in 2009. I started this website in January 2020 because I couldn't do window installation anymore due to my health problems. I love guitars and have played dozens and dozens of different guitars through different amps and pedals over the years, and also, building a website interested me, so I decided to just go for it! I got lucky and managed to get awesome people to help me with my website.
I also got lucky because I have you visiting my website right now. Thank you. I do all this for you guys. If you have any recommendations, tips, or feedback, just leave a comment, I would love to chat with you. I have also been fortunate to produce content for several large guitar websites, such as Songsterr, Musicnotes, GuitarGuitar, and Ultimate Guitar.
I spend my spare time exercising and hanging out with my wife and crazy dog (I guess that went the right way…).
Hide The Rambling▲
---
Best Overall – Seagull S6 Original
Sound
Playability
Overall Quality
Value For Money
Summary
Fat fingers are right at home on the 1.8-inch neck(measured from the nut). It's wide and chunky, but comfortable. So you don't have to worry about hitting the wrong frets all the time, like with guitars with a tiny neck.

Seagull S6 is Pro-level quality at intermediate prices. So you won't have to take a mortgage to play a top-quality acoustic. Rolls-Royce at the Nissan's price really(I have a Nissan).

S6 also gives us the string spacing of 2.094" = 53.18mm (measured from the saddle. I contacted Seagull for the newest specs). This spacing is not the widest, but definitely gives us plenty of room to rock with.

When I'm trying to think of a great wide-neck acoustic guitar, Seagull S6 always pops into my mind. Because it's by far the best for 90% of the players in my opinion.

But of course, I recommend checking out other wide-neck acoustic guitars featured in this post too.
How Seagull S6 sounds:
Check Today's Price on
*Consider all links in this post to be affiliate links. If you purchase, at no additional cost to you, we may earn a small commission. It helps us to keep the lights on, thanks! 🙂
---
The Next Best:
Runner-Up – Alvarez AD30CE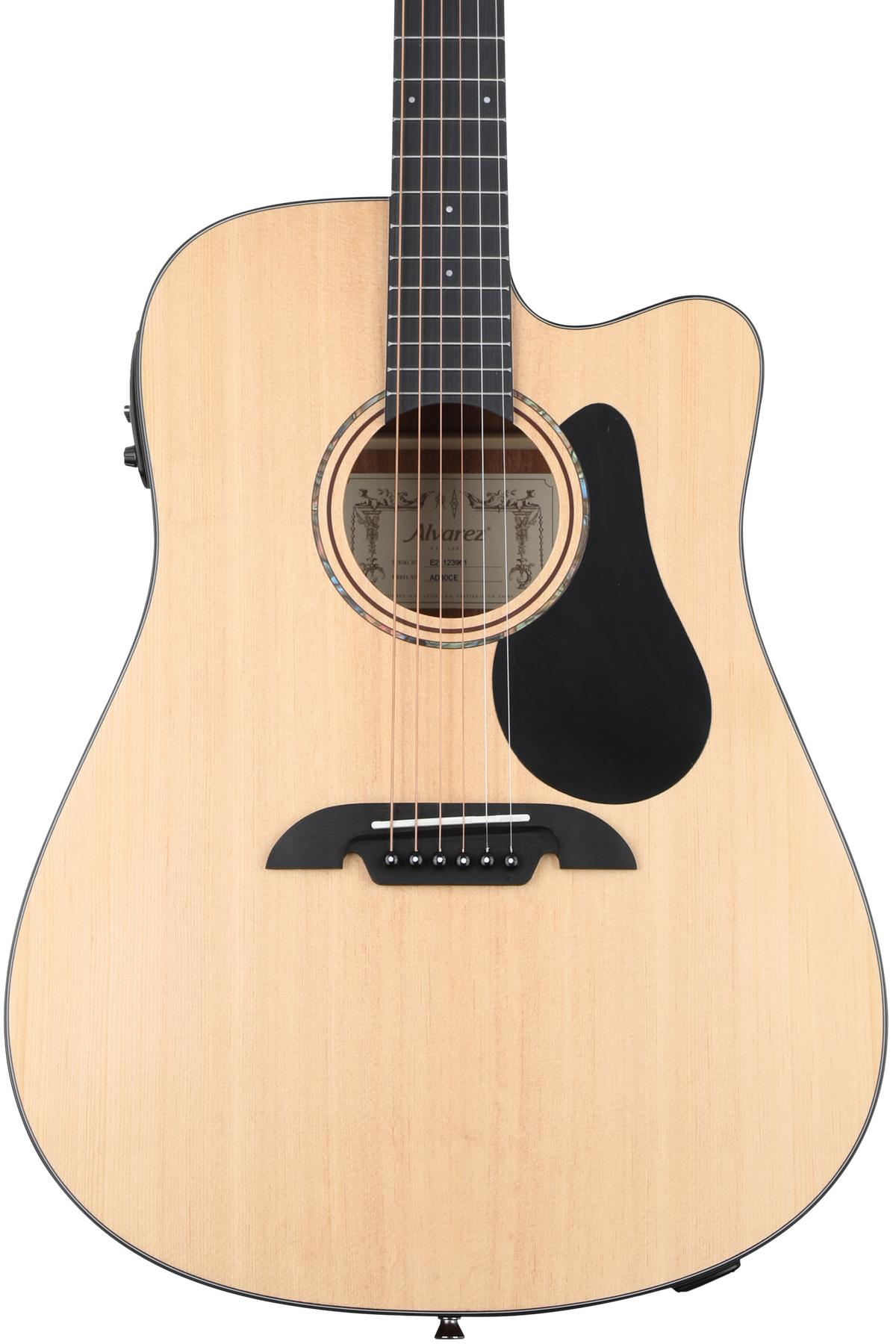 Check Today's Price on
---
---
Summary
This Alvarez gives you the extra spacing your big fingers need for accurate playing. Plus 1.75"nut.
So play without hitting the wrong strings all the time and feeling cramped(and without the stress these things cause (been there)).
And don't worry about sacrificing sound quality because this guitar sounds really good for the price!
If all this sounds good…look no further.
Tight Budget/For Beginners – Jasmine S34C NEX
Check Today's Price on
---
---
Summary
What's amazing:
1.75" nut width is 1- 2mm wider than what is most common these days.
On top of that:
Jasmine uses a reduced C-profile for the shape of the neck while keeping the actual string spacing wide.
All this combined with the smaller framed Grand Concert body(cutaway) makes fat-fingered players instantly love this guitar.
And lastly, the price is one of the best things about this axe!
Premium – Seagull Performer CW
Check Today's Price on
---
---
Summary
We all want our acoustic to be easy to play without sacrificing tone or quality (duh).
The Seagull Performer CW tackles this problem so easily, that it really seems like Superman fighting elementary school bullies.
It is one of the best acoustic-electric guitars for any player who wants professional sound and a wide neck(1.8" nut).
This is the best money can buy for your fat fingers under $1000 in my opinion.
Great for Fingerstyle – Ibanez AC340OPN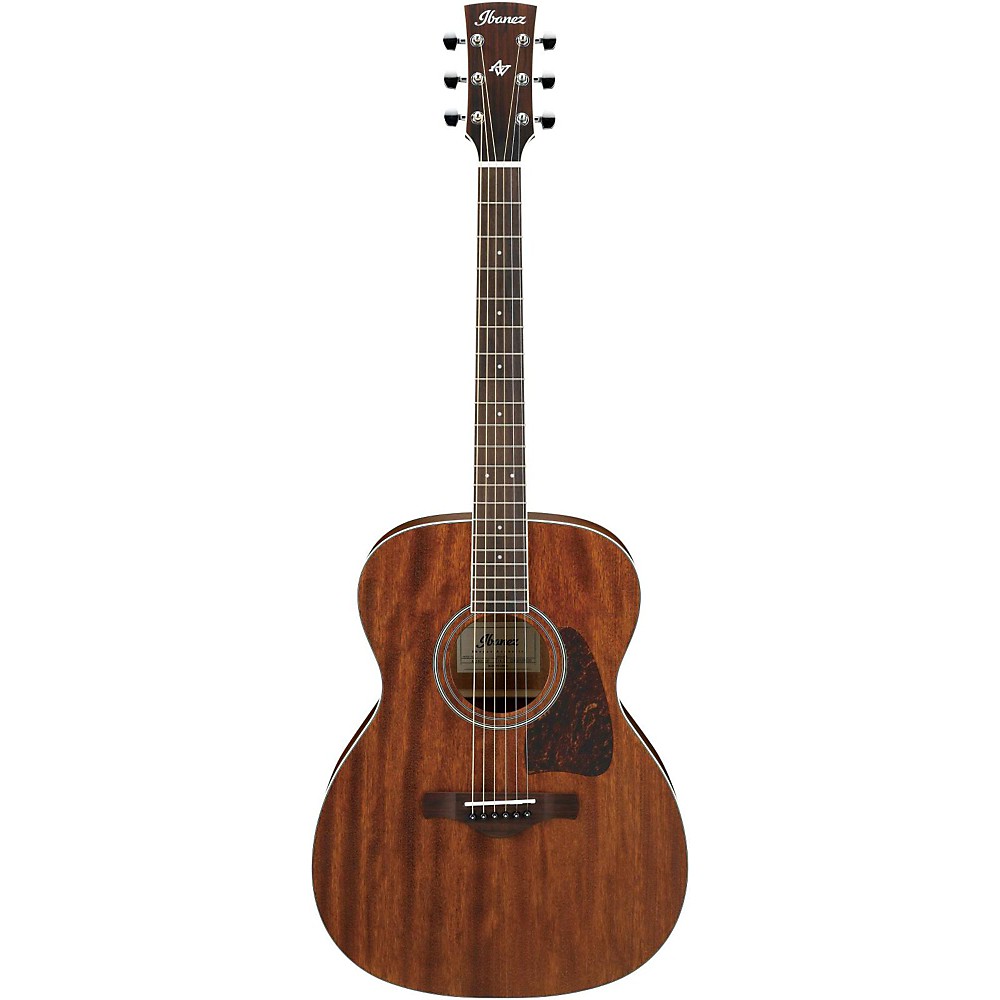 Check Today's Price on
---
---
Summary
AC340OP (1.77" nut) is a great example of how you can have your cake and eat it too.
At the same time, you don't end up spending your life savings, and you get an excellent fingerstyle guitar for fat fingers.
The wider string spacing and lower string tension make this guitar such a great fingerstyle axe…. plus the slinky playability makes this feel almost closer to a classical than a dreadnought.
Love fingerstyle?…this is for you!
Here's A Decision Tree to Help You Out:
---
List of 21 Other Wide Neck Acoustic Guitars
---
Are your open chords full of dead notes? Do barre chords cramp your fingers to the point of frustration? If so, you might be playing guitar with too narrow a neck. Because the fact is…
some of us have meatier fingers than others and need guitars with wide necks in order to really play comfortably. I have played acoustic since 2004, and I have laid my hands into DOZENS of wide-neck acoustics.
Back in the day, I even had a friend(Shawn aka. "Hot Dog Fingers") who didn't let his fat fingers hold him back from becoming the greatest flatpicker my school had ever seen!
But now, I will reveal to you my favorite wide-neck acoustic guitars for fat fingers…you are welcome to buy any guitar you want, but these guitars are PROVEN to have meaty necks!
As I have said before:
Playing a guitar with a too narrow neck is like daddy driving on his kid's bike…just like this:
not very handy…
It's time to stop fretting about if your fingers are too fat or not and find the acoustic that's the right fit for you.
Let's first look at these fine axes, and at the end of the post, you can find the FAQ section that helps you to make the best choice possible.
You need room for your fingers, and that's why we kept the string-spacing in mind when choosing these axes! If you want to find more guitars with wider string spacing, check this post we made for you.
---
Our Favorite Music Store in The World!
Why?
– Excellent Customer Service (4.7/5 Trustpilot Score)
– Fast & Free Shipping
– Gear is Inspected, Tested, & Ready to Play When it Arrives to You (We love this)
– Fair Prices
Visit Sweetwater:
Our reviews of the top 5
Keep these 3 things in mind when choosing:
The width of the neck: For me, wide neck acoustics start from 1.74" (44.2mm) nut width. I wouldn't accept anything narrower.
String spacing: One of the most important things. I would aim for 1.5"(38mm) or more string-spacing when measured at the nut.
Make sure that you get a guitar that allows you to play the music that you love.
Don't just buy a guitar that has a really wide playing feel. Buy spot on playability and specs plus great tones.
Buy the best you can afford. This has always worked well for me. Even when I had to choose the tight budget option.
When it comes to wide neck electric guitars:
If your budget is tight, Jasmine S34C NEX or something similar is a great pick.
If you are willing to go over that, but still want to stay low as possible, Alvarez AD30CE and Ibanez AC340OPN are nice options.
If you just want the best for most players and have room on a budget, Seagull S6 Original is a great option.
If you want the best under $1000 I would suggest checking out Seagull Performer CW.
There is a good option out there for every budget!
Compare The Tonewoods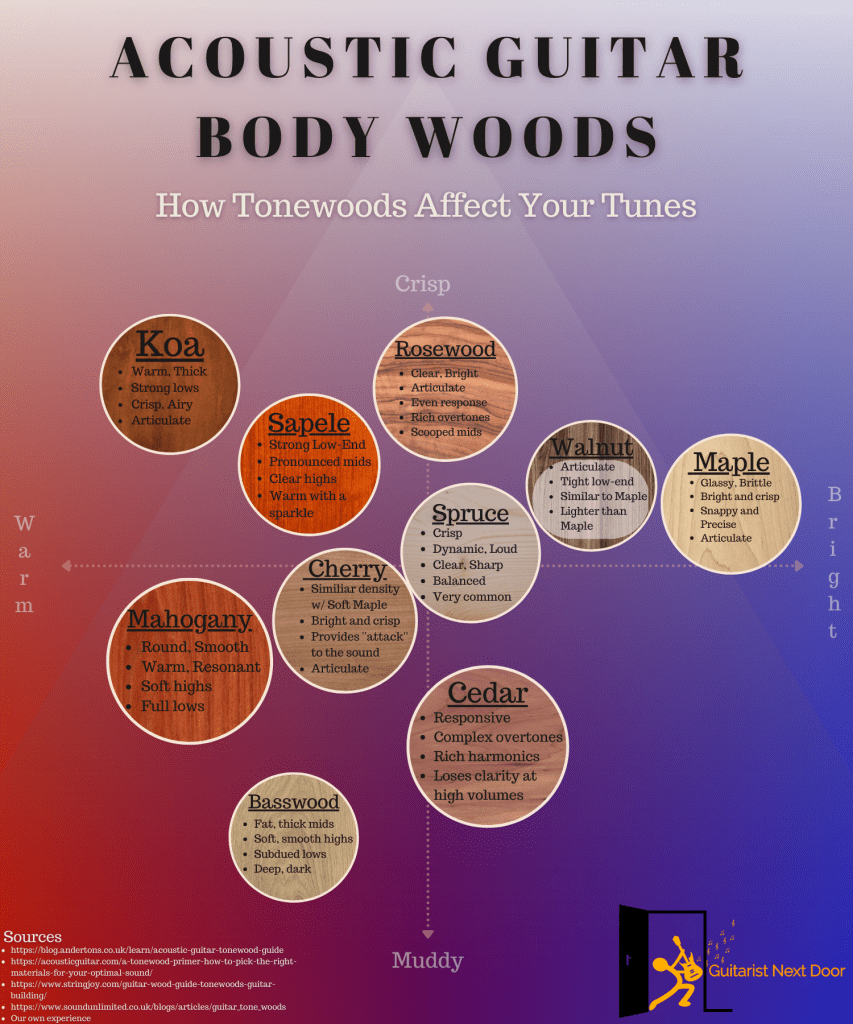 ---
Best Overall- Seagull S6 Original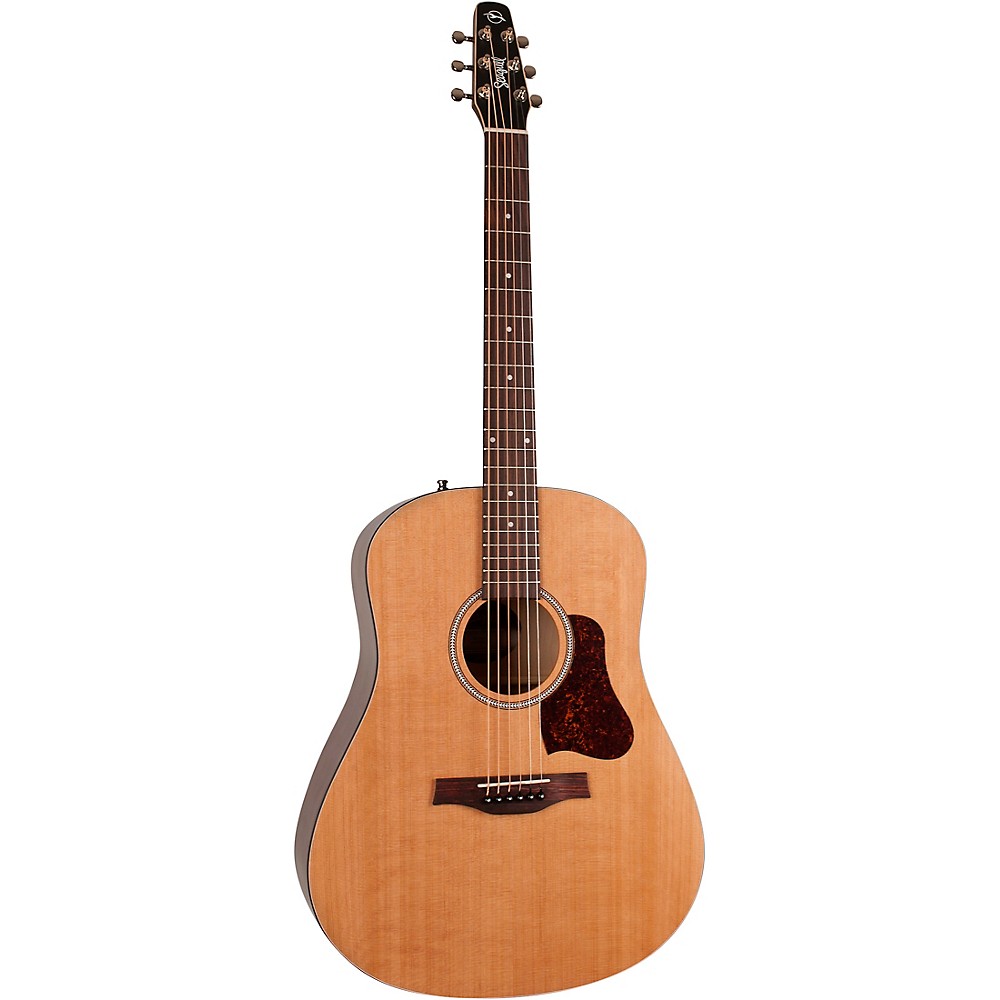 The Seagull S6 Original is one of my favorite acoustic guitars on the market right now.
And when I'm trying to think of a great wide-neck acoustic guitar, Seagull S6 always pops into my mind.
It's just like when I'm thinking about super-funny sitcoms, "Friends" always come into my mind(after that comes Seinfield:D). There's just no way around the greatness of these(now let's put the sitcoms aside).
Seagull, part of the Godin guitar family, is based in Canada and staffed by top-talented luthiers.
"I have contacted Seagull-guitars a couple of times to ask some questions about the string spacing, etc. They have answered in 1-2 days, which is really good service when keeping in mind that Gibson and Epihpone has taken 2 months(and counting) to answer. Points for Seagull and Godin guitars."

Teemu Suomala – Editor
You can see the refinement of their craft in every aspect of the S6 Original, from its solid cedar top to the tune-saving taper of its headstock.
Fat fingers are right at home on the 1.8-inch neck.
Made from silver leaf maple and capped with a smooth-playing rosewood fretboard, this extra-wide neck gives you plenty of space between strings. So it's not so easy to hit the wrong stings all the time with this acoustic!
"I played Seagull S6 Original in a music store recently, and the playability was really smooth. It can put up a fight against $1k acoustics. I was also impressed by the volume of the sound and how clear it was."

Teemu Suomala – Editor
And with a full-scale length of 25.5-inches, the 21 frets are comfortably spaced for easy playing even in the upper registers.
As far as sound goes, the S6 is quite unique because of its unusual tonewoods.
The cedar is more responsive than spruce-topped guitars but is a bit less articulate—like there's less definition between notes, so it sounds warmer and darker. It's paired with wild cherry, which aids in tightening the low end and adding some edge to the highs.
This adds some clarity while maintaining the overall smooth tone.
In case you are wondering how Seagull S6 Original sounds when it ages, here's a demo of one released in 1997:
Summary
Pros
Pro-level quality at intermediate acoustic guitar prices
Tonewoods selected by hand to ensure build quality
A rare dreadnought with a solid cedar top
Meaty 1.8" nut width
Strings spacing of 2.094" = 53.18mm (measured from the saddle) gives a room for ya(I contacted Seagull for the newest specs)
Cons
Cedar is not as crisp as spruce at high volumes
Check our picks for the best acoustic guitars under $500 here.
The Seagull S6 Original is regularly ranked among the best acoustic guitars for around $500. And in addition to being our favorite choice for fat fingers, it's also our top-rated fingerstyle guitar.
Whether you wanna hammer through some heavy country or gracefully fingerpick your way through classical standards, the S6 is a keen choice for any enterprising guitarist looking for a wide-neck acoustic.
Check Price on:
---
Runner-Up – Alvarez AD30CE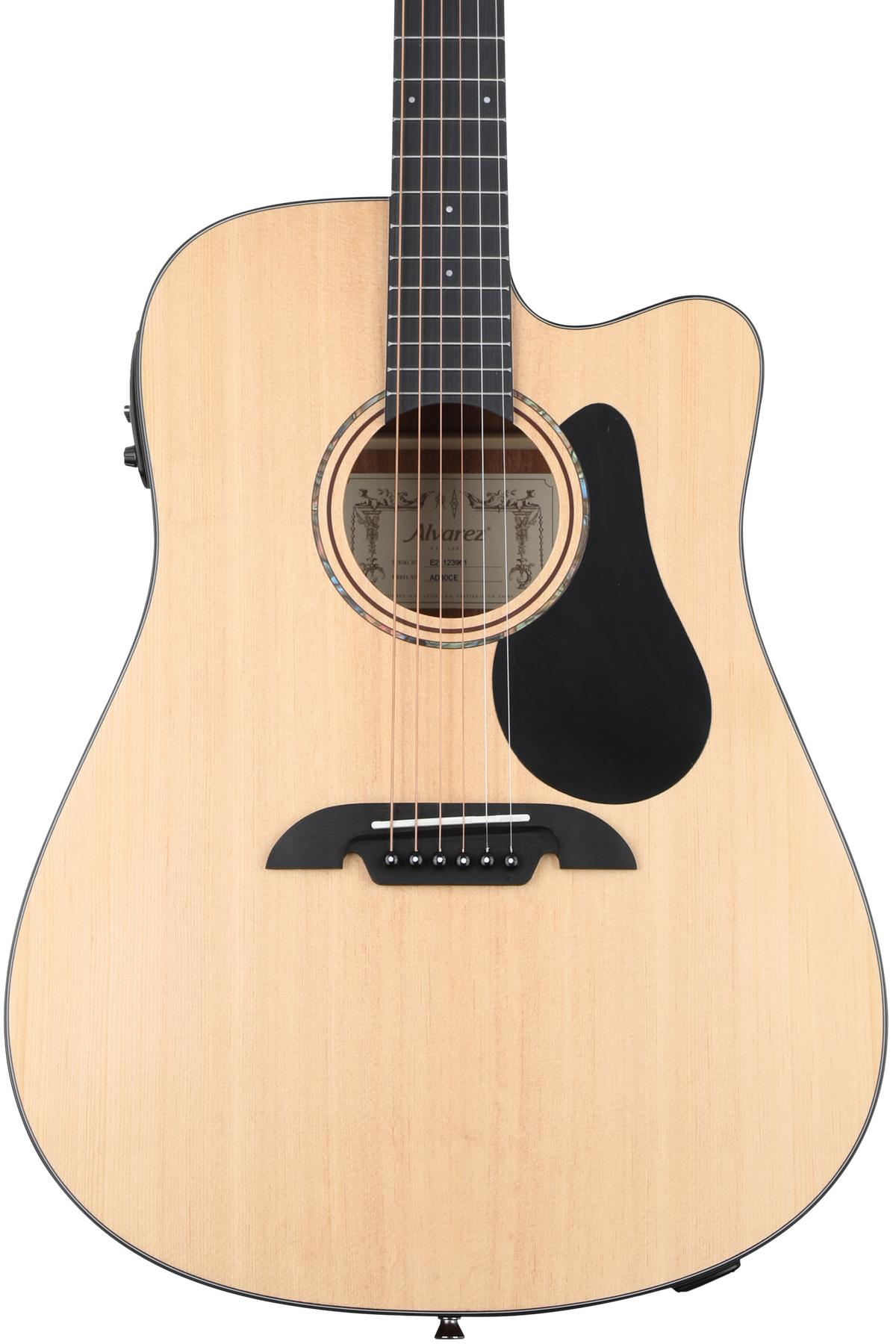 The AD30CE is Alvarez's self-described "entry-level solid top" acoustic guitar. And it's definitely one of my top choices for fat-fingered players.
Typical of many Alvarez models, the AD30CE is built with a 1.75-inch wide neck.
This gives you the extra spacing your big fingers need for accurate playing.
But at still a quarter-inch smaller than classical guitars, you'll find no added effort as you riff up and down the neck. The only thing you might not like about the playing feel of the AD30CE is that the fingerboard is synthetic…
It's made from this stuff called TechWood which is basically resin-injected wood pulp. Although it's a strong and pretty much natural feeling material, I'd rather be playing on rosewood.
If you can overlook that, you'll dig the punchy, classic resonance of this dreadnought.
Its solid spruce top and mahogany body woods give it the richness and balanced warmth that made this type of acoustic guitar so popular.
When it's time to hit the stage, you can plug straight into the SYS250 B-Band preamp/pickup system. Using the standard under-saddle piezo pickup, these electronics amplify your acoustic's natural tone beautifully.
And you can dial into whatever room you're in using the onboard 4-band EQ, this is a real premium feature and allows you to shape your tone a lot.
You can check out great small-sized acoustic guitar amps here.
Hear how this guitar sounds:
Summary
Pros
Lush, classic dreadnought voice
Onboard 4-band EQ
Forward-shifted bracing system increases sustain and volume
Wide-neck and string spacing make playing easier for large hands and fat fingers
Cons
Fingerboard is made of synthetic wood
Alvarez is one of my go-to acoustic brands because they offer high-quality instruments at prices I can actually afford.
Their AD30CE's dreadnought cutaway body and slightly wide neck are a comfortable pairing for most players, fat fingers included.
If you want to see more great affordable acoustics, check out our review of these great guitars under $400.
---
Best Tight Budget/For Beginners – Jasmine S34C NEX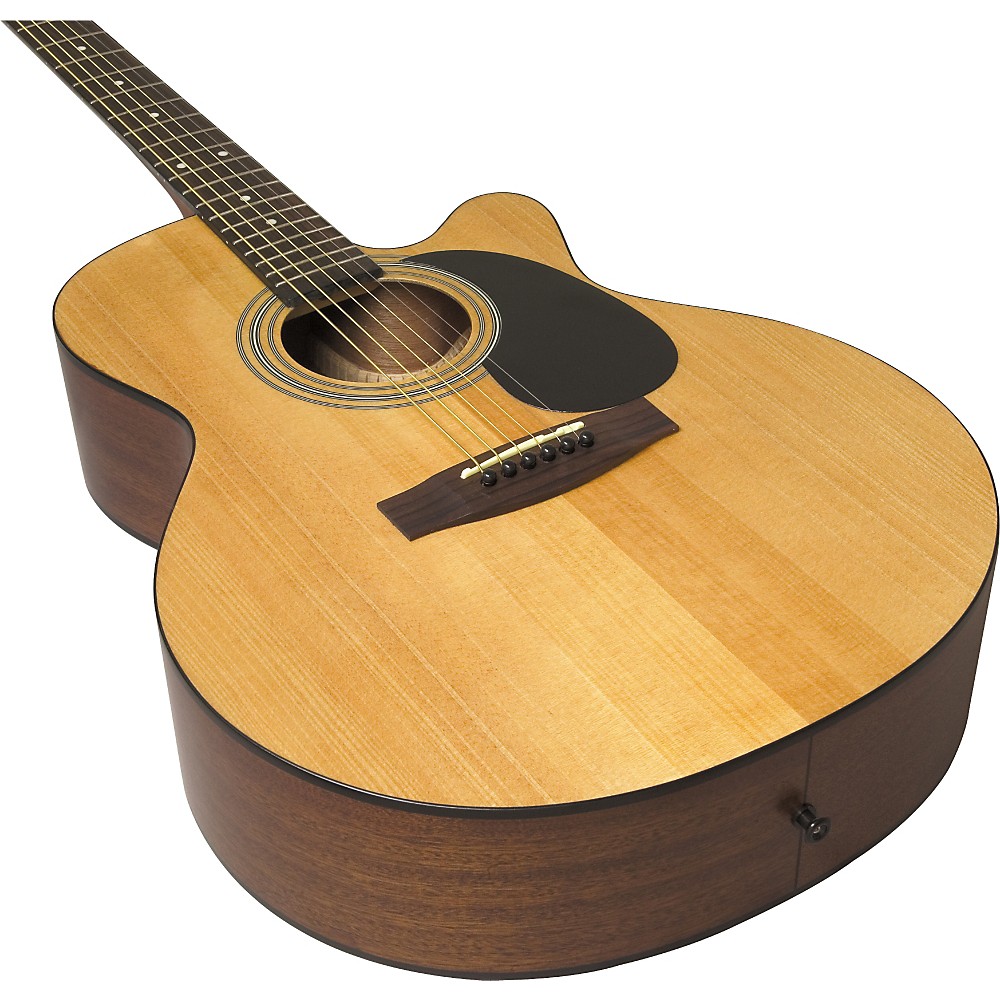 The S34C NEX is an easy-to-play starter guitar from Jasmine.
One of the first things you'll notice about this model is the smooth cutaway…This is kind of a rare feature for a non-electric acoustic and something I really like about the S34C.
This cutaway, combined with the smaller frame of its Grand Concert body, lets you get up-close and personal when playing. Reaching those highest frets is really easy with this model.
If you read the specs, you'll see it advertises a "slim neck", but this is a little misleading.
The nut width, 1.75-inches, is actually 1 to 2mm wider than what is most common these days.
It's more the depth of the neck that is slim; Jasmine uses something like a reduced C-profile for the shape of the neck while keeping the actual string spacing wide.
As a beginner model, you won't be blown away by the tone of the S34C. It's made with laminate tonewoods, so it's not as sweet-sounding as a solid top guitar.
However, the combo of spruce and sapele for the body produces a tone that's generally pleasant.
There's not much kick in the lows or mids, but it gets the job done and it's a nice guitar to get started with.
Hear how this guitar sounds:
Summary
Pros
Low-cost makes for a great starter guitar
Venetian cutaway for easy upper-fret access
Available with optional starter bundle including gig bag and more
Much wider neck than usually nowadays
Cons
Quality Control allows faulty guitars to ship
In extreme cases, neck may separate from body 😀
When you buy a guitar at this price, you should know that they often have minor problems and might need some adjustments before they're playing their best.
But, the temptation of the Jasmine S34C NEX is hard to resist—that smaller cutaway body paired with a wide neck has gotta be so fun to play.
No matter what small issues it might have, fat-fingered beginners are bound to fall in love with the easy playability of the S34C.
---
For the Pros/Premium – Seagull Performer CW
If you are really ready to go for the premium…look no further than the Seagull Performer CW.
It gives you
professional-level comfortable playability,
studio-level tone,
and top-grade construction.
This absolutely beautiful acoustic-electric guitar is yet another great model from my favorite Canadian guitar company—with added bonuses like a Godin pickup and onboard EQ.
Like the S6 Original, the Performer model is a dream to play if you have fat fingers thanks to its 1.8-inch nut (string-spacing is 2.094" = 53.18mm).
You also get a sleek cutaway so that the high frets are right at your fingertips…you'll especially appreciate this when you hear how great the Performer is for lead riffs.
Like all Seagull guitars, the Performer CW is handcrafted with only top-grade tonewoods.
In this case, you get a solid spruce top paired with flamed maple back and sides.
This Seagull has a bit uncommon mini jumbo shape. If you're unfamiliar with this body type, it's essentially the same size as a dreadnought, but the waist is significantly more narrow.
The end result is a loud, articulate acoustic like you'd expect from a typical dreadnought, but with a lot more mid- and high-end emphasis in the tone.
The Performer really cuts through the mix and is an ideal guitar for singer-songwriters and music centered around the acoustic as a lead instrument.
Hear how this guitar sounds:
Summary
Pros
Mini-jumbo body shape for a loud, focused tone
Hand-selected, pressure-tested solid spruce top
Godin electronics including onboard EQ and tuner
Comfortable but wide neck
Strings spacing of 2.094" = 53.18mm (measured from the saddle. I contacted Seagull for the newest specs)
Cons
Maple back and sides create sharper tone than normal
You might be hesitant to try out a spruce + maple mini jumbo, but I have no doubt that once you hear it in action you'll be entranced with the shimmering voice of the Seagull Performer CW.
Offering the same standard of sound and playability as guitars costing 3 times as much, the Performer is a guitar that pros will love at a price the rest of us can afford.
Check Prices on:
---
Best Budget/Great for Fingerstyle – Ibanez AC340OPN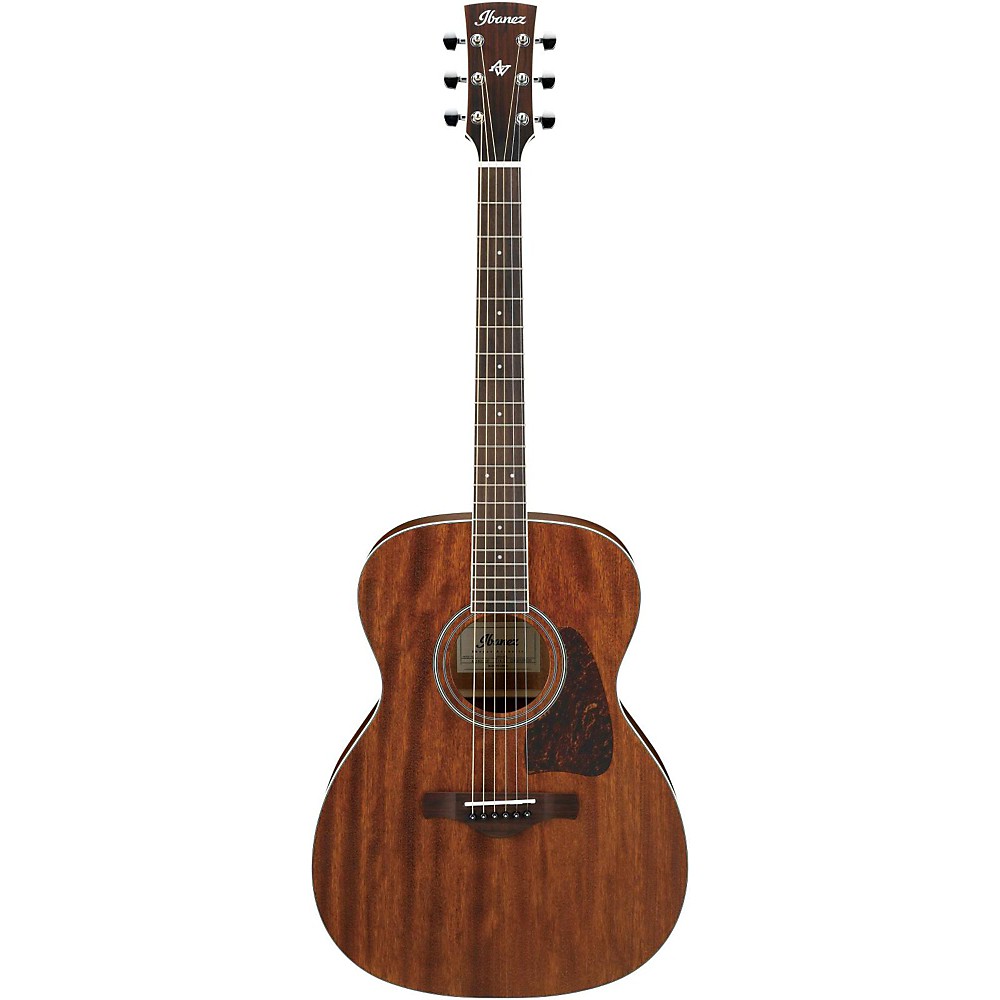 A beautiful guitar with a dark voice, the Ibanez AC340OPN is an excellent acoustic for folk and blues fingerpickers. (You can find more acoustic guitars great for blues here)
Although the original line of this model was made with mahogany, current editions are constructed with okoume.
Okoume is a more plentiful tonewood that has started to replace mahogany in some aspects of guitar building(it's easier and more cheaply accessible nowadays).
All-okoume guitars are rare, but the AC340 is here to show the world that this new wood is a solid performer in its own right. It carries a very warm, very earthy voice almost more overtone than fundamental.
Its nut and saddle made from real bone add even more sustain and resonance, making for a dark folk tone.
The nut is even wider than a standard wide neck acoustic, measuring 1.77-inches.
Then there's the smaller Grand Concert body shape, and then a reduced scale length for lower string tension.
Looking at all these together, the AC340OPN feels almost closer to a classical guitar than a dreadnought.
This slinky playability and its dark, subtle voice are why I think the AC340 is such a great guitar for fingerstyle blues and folk. (If you are into blues including the use of slide (check our acoustic guitar slides guide out.)
In general, I think this wider string spacing and lower string tension make this guitar a really good beginner model. It's a lot softer on the fingertips than many other steel-string acoustics. But for more experienced wide-neck seekers on a budget, this Ibanez is a nice option too.
Hear how this guitar sounds:
Summary
Pros
Shallow neck with wide nut for fast, comfortable playability
Very warm tone from all-okoume build
Real bone nut and saddle improve sustain and resonance
Cons
Sounds more or less muddy when played hard
Don't let its nontraditional okoume construction dissuade you—the Ibanez AC340OPN is an awesome solid top acoustic at a stellar price.
Though it might not be the best for heavy-handed styles, this is a great acoustic for fingerstyle folk and blues, singer-songwriters, or for anyone with a softer picking hand.
Check Prices on:
---
The Verdict
I mentioned briefly in the Cons of the Jasmine S34C NEX that there are extreme cases of damage in which the neck separates from the body.
I've never had this happen (thankfully) and would be really upset if I bought a guitar and then this happened(we can usually refund of course).
So, I think most beginners would be better off investing a little more money in their instrument and going with an upgraded starter model like the Ibanez AC340OPN.
The winner is a tie between the two Seagulls. Both are extremely well-built acoustics with some of the widest necks you can find today.
But, since the S6 Original is much more within my own price range and features that fingerstyle-friendly cedar top, I'm giving it the crown in this round-up of acoustic guitars with wide necks.
But if your budget is not tight, I wouldn't hesitate to try the more expensive Seagull('s) out.
---
Buyer's Guide
What Makes a Great Acoustic Guitar for Fat Fingers?
Check our full acoustic guitar buying guide here.
First things first, any acoustic can be a great guitar for fat fingers with the right mindset.
I've seen people of all shapes and sizes play guitars of all shapes and sizes. I think it's best to not limit yourself by thinking you need a specific type of guitar in order to start playing.
But can you make playing easier for you with the right guitar?
Absolutely!
For instance, a wider neck always helps.
This usually increases the space between strings too. So if you have a problem with your big fingers causing dead notes when you chord, wide nut guitars can make this less of an issue.
Another thing that's good is to get full-scale length guitars, meaning 25.5-inches. This is usually the best option.
The longer the scale length, the more space there is between the frets. This is something that can make complicated riffs a lot easier when you have fat fingers or big hands.
In addition to these things, of course, you want to look for the typical traits of a good guitar.
I mean, it's best if you find a solid top, high-quality tonewoods throughout, and then any special perks you want in your axe like bone nuts and saddles, electronics, cutaways, etc.
To learn more about how tonewoods affect your sound, take a look at this article.
Is a Guitar with a Wide Neck Easier to Play with Fat Fingers?
I think most people start out not knowing that there are even different types of guitar to choose from.
Me, personally, I started playing on the only guitar that was available, which was a child's model my parents had bought years and years before.
But then as I grew more experienced, I noticed that certain guitars felt better than others and that there are particular acoustics that I gravitate toward.
While avoiding that guitar might not solve all the problems you'll have as a guitarist with fat fingers, it might be the thing you need when it comes time to level up to your next level of musical mastery.
If you find yourself stuck in your progress or always encountering the same problems, I do encourage you to try out other types of guitars.
Try wide necks.
Try short necks.
Try different string gauges.
Heck, even try an electric.
You can see lots of great models to try in our review of the 9 Best Guitars for Short and Fat Fingers. But note that axes in this specific article have narrow necks, suitable for short and fat fingers.
Music has always been about experimentation, and it takes some time and some trials to find the specific instrument that is perfect for you.
But once you find it, I guarantee it will have been worth all of the effort.
Can Your Fingers Be Too Fat to Play Guitar?
I don't exactly know what the world record is for fattest fingers, but I'm willing to bet that whoever holds the title would still be able to play guitar.
Considering that there are extremely talented determined musicians that have persevered through countless physical disabilities, I wouldn't let fat fingers stand in your way.
I myself have known many skilled guitarists with big fingers, including my high school friend Shawn—a.k.a., Hotdog Fingers.
Their fat fingers might have been the subject of some friendly jokes like that, but their playing ability never was.
If you focus on your technique more than your limitations, you'll find your fat fingers can fly just as fast as anyone else's.
---
Conclusion
I love encouraging people to play guitar; it's been one of the greatest joys of my life and I think that it is an awesome hobby anyone can pick up.
If you feel like you need a wide-neck guitar to accommodate your thick hands, I'm happy to provide you with this list of my highest recommendations. These wide neck acoustic guitars are here to bridge the gap between your meaty digits and musical enjoyment.
If you have any questions, just leave a comment!
You might also like:
We are sorry that this post was not useful for you!
Let us improve this post!
Tell us how we can improve this post?