Last Updated on September 11, 2023 by Justin Thomas
Best Overall – PRS SE Custom 24-08
Sound
Playability
Overall Quality
Value For Money
Versatility
Summary
Why this is so good wide-neck electric guitar for fat fingers?

It's the combination of 3 things:

1. Wide-thin neck shape. You have smooth but firm control over the neck. A thin neck really enables you to reach frets easily. This is the one thing that I love the most about this neck shape.

2. 1.69"nut width. The neck is really wider. It doesn't feel like holding a kid's baseball bat in your hands. It's chunky and will obey thicker fingers like a puppet.

3. Wider string spacing than usually 52,5mm(2.06"). The Standard is 52mm. Hitting the wrong strings is made hard for you. There is plenty of room for you. You don't have to focus on not hitting the wrong strings, you can focus on hitting the right strings.

These are the 3 things that make this guitar the best wide-neck electric guitar out there. Here are the pros and cons:

Pros
-High-quality pickups and tonewood deliver superb sound
-Separate coil-split for both humbuckers adds versatility
-Wide thin neck shape ideal for fat fingers
-The scale length of 25′ over 24 frets for extra-wide fret spacing(hitting wrong strings is made hard)
-Wide and comfortable neck

Cons
-High price, out of budget for many
-Quality control sometimes lets lemons slip through

Great sounding and versatile guitar with a meaty neck. The best wide neck electric guitar.

How PRS SE Custom 24-08 sounds:
Check Today's Price on
*Consider all links in this post to be affiliate links. If you purchase, at no additional cost to you, we may earn a small commission. It helps us to keep the lights on, thanks! 🙂
---
The Next Best:
Compare
Pickup Tones
Our Ratings
Tonewoods (tonewoods won't matter much with electric guitars):
Gretsch G2622T Streamliner
Top: Beveled Maple Top with Flame Maple Veneer
Body: Mahogany
Neck: Maple
Fretboard: Rosewood
Specs from PRS's site
Body: Mahogany
Neck: Mahogany
Fretboard: Ebony
Body: Mahogany
Neck: Mahogany
Fretboard: Granadillo
Top: Flamed Maple top
Body: Meranti(really close to mahogany)
Neck: Maple
Fretboard: Jatoba
Specs from Ibanez site
Top: Laminated Maple
Body: Laminated Maple
Neck: Nato
Fretboard: Laurel
Specs from Gretsch's site.
Here's A Decision Tree to Help You Out:
---
List of 20 Other Wide Neck Electric Guitars
---
Playing an axe with a too narrow neck is like daddy driving on his kid's bike(I've seen that happen:D).
So you can make things a lot easier with the right-sized "instruments"…whether that "instrument" is an adult-sized bike or a guitar with a wider feeling neck!
My own experience has also thought me that if you have large hands or/and thick fingers, that doesn't ruin your guitar journey. Just hear me out…
I started playing guitar in junior high around the same time that many of my friends picked it up, and we were quick to poke fun at each other's techniques.
One of the guys in my friend group was Shawn also known as: "Hot Dog Fingers"
Shawn has really thick hands and fingers from growing up as a farm kid, but he didn't let his fat fingers hold him back from becoming the greatest flatpicker my school had ever seen.
Like Shawn, you too don't have to fret about having fat fingers. There is hope.
In this post, are gathered my 5 favorite wide neck electric guitars for fat fingers. I have found these to work the best for meaty-fingered folks during my guitar journey(since 2004).
Let's first look at these fine guitars and at the end of the post, you can find the FAQ section that helps you to make the best choice possible.
Who crafted this post:
Author: Tommy Tompkins
Playing guitar since 2004. Primarily an acoustic guitarist who plays and writes traditional American folk music, with a background in melodic metal and a solid foundation as a bassist.
Hide The Rambling▲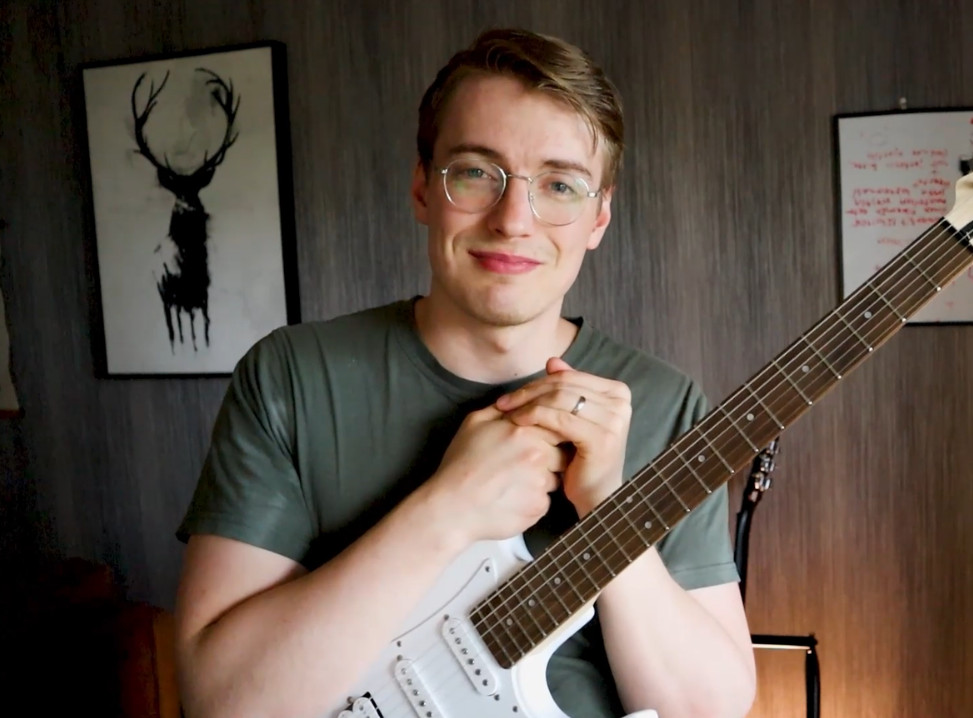 Editing & Research: Teemu Suomala
I first grabbed the guitar in 2009. I started this website in January 2020 because I couldn't do window installation anymore due to my health problems. I love guitars and have played dozens and dozens of different guitars through different amps and pedals over the years, and also, building a website interested me, so I decided to just go for it! I got lucky and managed to get awesome people to help me with my website.
I also got lucky because I have you visiting my website right now. Thank you. I do all this for you guys. If you have any recommendations, tips, or feedback, just leave a comment, I would love to chat with you. I have also been fortunate to produce content for several large guitar websites, such as Songsterr, Musicnotes, GuitarGuitar, and Ultimate Guitar.
I spend my spare time exercising and hanging out with my wife and crazy dog (I guess that went the right way…).
Hide The Rambling▲
Every one of these guitars is here based on extensive research and decades of combined guitar experience of our team.
---
Our Favorite Music Store in The World!
Why?
– Excellent Customer Service (4.7/5 Trustpilot Score)
– Fast & Free Shipping
– Gear is Inspected, Tested, & Ready to Play When it Arrives to You (We love this)
– Fair Prices
Visit Sweetwater:
5 Best Wide Neck Electric Guitars for Fat Fingers
Note!
All guitars on this post don't necessarily give you super wide nut width…like 1.71"width
but the neck shape and string spacing can also make or break the game!
Modern-, or thin C-shaped neck usually feels really narrow, on the other hand, a D-shaped neck usually feels a lot chunkier and wider.
So you mainly find guitars with D-, or U-shaped necks from this article. Although there is something even better out there(more about this soon).
Also, we paid attention to the string spacing. This plays a HUGE role when choosing a guitar when you have thick fingers.
You need room for your fingers, and that's why we kept the string spacing in mind when choosing these axes! If you want to find more guitars with wider string spacing, check this post I made for you.
Keep these 3 things in mind when choosing:
The width of the neck: Wide neck electric guitars start from 1.68" (42.67mm) nut width. I wouldn't accept anything narrower.
Neck shape: C and modern C won't probably be the best fit when it comes to wide playing feel. I would look for D and U shapes. PRS's Wide Thin shape is one of my personal favorites.
Fretboard radius: Aim for 10" radius or more. Everything under that makes the neck feel narrower and reduces overall playability.
String spacing: One of the most important things. I wouldn't accept anything less than 2.04"(52mm).
Make sure that you get a guitar that allows you to play the music that you love.
Don't just buy a guitar that has a really wide playing feel. Don't buy the biggest hollow body if you want to play metal.
Of course, you can always change the pickups. But still, make sure that tones are spot-on for you.
Buy the best you can afford. This has always worked well for me. Even when I had to choose the tight budget option.
When it comes to wide neck electric guitars:
If your budget is around $200, here's a great option for you: Epiphone SG Special VE
If the budget is around $400, then Ibanez RGA42FM is a good choice.
If you just want the best under $1000. PRS SE Custom 24-08 is my top choice.
There is a good option out there for every budget!
---
Best Overall – PRS Paul Reed Smith SE Custom 24-08
I love this color, my wife didn't :D, if you share her opinion, don't worry, there is another color option available.
Let's start with the playability because that's why you are here for.
Is the neck REALLY good for my fat fingers?
In my opinion, PRS's wide thin neck-shape really flies under the radar for most players. Do you know why? Because most players don't have thick fingers. That's why we don't hear many praises about these wide-thin necks.
But we should! Especially players with fat fingers…
Let's look at something interesting, I have actually never seen these 2 compared head to head like this. Check this image out to see how wide thin neck of PRS SE Custom 24-08 compares to Modern C: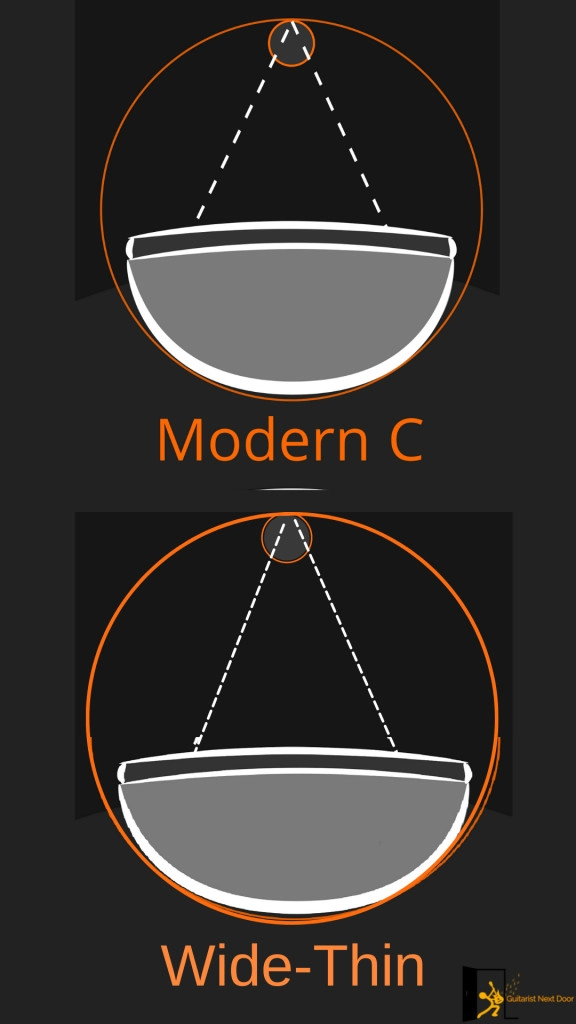 In simple terms, a wide-thin neck shape is a stretched version of Modern C. Modern C which is the best shape for most players…especially for kids and teens starting out with the guitar.
But if you think that Modern C is not the best option for fat fingers…You are absolutely right!
And here the wide thin neck does something amazing…
It grabs the good aspects of the modern C shape. Like the comfortable C-shape of the bottom of the neck that just works with hands of the human beings. It just fits. Like a glove.
So PRS keeps that with a wide-thin shape.
But it makes the neck wider, to give real meat and room for thicker fingers and larger hands. So the neck really fills your hand as it should and the guitar becomes an extension of yours.
But this is not the only reason why I think this guitar is the best for fat fingers.
When it comes to the width of the neck…This PRS mops the floor with its same price range Strat and Teleacaster competitors.
Nut Width is 1.69"(43mm)
It's chunky. It's a wide neck. And it's a wide feeling neck.
Yeah, I know, it's not the widest neck out there… but it's still on the wider side.
So fat fingers-friendly neck shape…CHECK!
Wide neck…CHECK!
But there is more…
Enter: Wide String Spacing
Standard string spacing is 2.047′(52mm), but this PRS has 2.066"(52.5mm).
0.019"(5mm)difference doesn't look like a game-changer on the paper. But string spacing is a thing that surprisingly many guitar manufacturers don't reveal to you.
Even though small things can matter a lot. Especially when it comes to hitting small strings of an electric with your both hands.
And we both know that guitar playing is actually not easy as it seems. It takes a lot of practice. Trial and error.
Here a spot on string-spacing can really make things easier for you.
But with strings spacing that is a good fit for you, you minimize the trial and error part. Imagine if you could cut mistakes of your both hands, fret, and pick, by 10% with a string spacing that is actually a good fit for you.
(I actually tested this with my Ibanez GRX (wide string spacing) and Epiphone Les Paul (narrow String spacing) and the difference in mistakes was about 10% when playing something new or hard.)
10% less hitting the wrong stings because fretboard just doesn't have enough room for you…
10% less messing the picking patterns because there is not enough room…
10% less messing up fast solos…
10% less stress because others are watching and listening…
You will learn to play mistake-free 10% faster
During one playing session, I might honestly say that: "naah, that's not too much"….
But we are not going to play just once. We are going to play every day….as much as we can.
And during our years with guitars that 10% compounds like crazy, check this out:
Using a guitar with "only ok" playability it would probably take a little bit more than 10 000 hours… it would probably take closer to 11 000 hours.
But with guitar, that is good fit for your thick fingers…. due to my experience, you can do this 10% faster.
So you would achieve guitar mastery in 9900hours
That's 1100 hours less!
Imagine what you can do with that time…
And this is what I like to do before I'm thinking about buying something… find out what's the actual cost or saving behind the product.
If 1 hour of your time is worth $12(it's probably a lot more), you will save $13200 with a guitar that has spot-on playability for you. 1100 hours. 13 200bucks. It's price vs cost.
The moment when I started thinking about price vs cost was a true "aha!" moment for me.
For me, easy-to-play guitars have been a true game-changer.
Yes. This is why PRS Custom 24-08 is my favorite wide-neck electric guitar for fat fingers.
It nails 3 key things:
Wide neck
Fat finger-friendly neck shape
Wide string spacing
But does PRS Custom 24-08 sound any good?
You already got the chance to listen to 1 sound demo of this guitar earlier, but of course, we want more before buying anything.Here we come to the reasons why this axe gets 5/5 from me when it comes to versatility.
8 different pickup positions! ("08" actually stands for that.)
Let that sink in. At least I had to think about it for a while…This video highlights the tones that you can get with each setting (plus Phillip also states that the tuning was stable on his testing!)
So, you can coil-split each of the humbuckers separately. And this really feels sooo premium for this price.
You can jump between the neck humbucker and the split bridge humbucker just with a flick of the switch! Warm riff with the neck pup, and bright solo with the split bridge. Cool!
Usually coil-split control is located on the tone-knob. You pull it to split both buckers. But with this PRS you double the tone options available.
This is the main reason why the versatility is easily worth 5/5 rating from me.
And PRS TCI 'S' humbucker set in a mahogany body capped with flamed maple, the SE Custom 24-08 cranks out the full-bodied tone. The tone PRS is known for.
That TCI stands for: tuned capacitance and inductance.
And PRS Claims that the different tonal factors of these pickups are tuned differently to every body shape to achieve the best tone possible. Sounds a little bit like marketing hype to me, but the guitar still sounds amazing, so I can't really complain!
'S', stands for Student. As this Custom 24-08 belongs into their SE=Student Edition line.
Right now, these PRS TCI 'S' pups are one of the most underrated pups in my opinion(with some of the Fender's humbuckers).
Whether you want to wail the blues like Santana, take it easy like Mayer, or chug like Mark Holcomb, the SE Custom 24-08 responds to your touch well.
This is a kind of swiss army knife-type guitar.
But at the same time this doesn't fall in the category "it kind of does everything ok, but does nothing well".
This guitar can do anything, but it shines with rock, progressive, and experimental stuff. And the #1 reason for this is the versatility.
It's super-hard to find a more versatile guitar for under $1000(like a-needle-in-a-haystack-hard).
If you don't want to be stuck inside one genre, this guitar is a great pick.
Is this guitar perfect?
No.
This is a PRS SE model and this results in lower quality control. For example, Phillip McKnight(he runs an awesome Youtube channel), faced an issue with his axe…
When using the pickup switch, the neck pickup didn't always work as it should. Reason for that… Dust inside the pickup switch. Probably no one tested this axe properly in the factory.
But gladly this was an easy fix. See how he did it:
I'm glad that I learned that. Now I know what to do first when the pickup switch is not working!
Stuff like this can be annoying, for sure. But at the same time, it can happen with any guitar. From $200 Squier to $3000 Gibson. We are dealing with products made by human beings that make mistakes.
But gladly we have 1 magic word that can save us if the product we ordered seems to really suck.
Refund.
I don't like to refund easily, but I will do that if the product has a flaw that is hard or impossible for me to fix. We have the right to do that. But this is the only flaw that I found. Quality control lets lemons slip through.
So…
This guitar is great if you:
Don't have a tight budget
You want versatility
You want a wide neck and room for your fingers
You also want good value for money
You are an intermediate or advanced player searching for electric guitar
I want to leave you with this sound demo here(this guy is great!):
Summary
Pros
High-quality pickups and tonewood deliver superb sound
Separate coil-split for both humbuckers adds versatility
Wide thin neck shape ideal for fat fingers
The scale length of 25′ over 24 frets for extra-wide fret spacing(hitting wrong strings is made hard)
Wide and comfortable neck
Cons
High price, out of budget for many
Quality control sometimes lets lemons slip through
If saving time and nerves with spot-on playability for fat fingers, plus versatile tones sound good to you. This PRS is hard to beat. It's my go-to wide-neck electric.
What about other wide neck options from PRS? Check out our 5 Best PRS Guitars and find more fat necks for your comfort!
Check the latest prices:
---
Runner-up – Epiphone Les Paul Custom
This beautiful Les Paul is in line with the custom model Les Paul (the man) requested for himself back in 1954. But let's dive deeper than the cosmetics…because looks can be deceiving…
Is the neck REALLY good for fat fingers?
Let's start with the nut width:
It's 1.69"(43mm)
so it can easily be counted to the wide-neck category.
And when it comes to playing close to the nut, it can but a fight against PRS… and any other wide-neck. But when you move closer to the body and start shredding, PRS is the winner for me. The access over the fretboard is just better.
Of course, one reason for this is the classic "no-contour" body shape of this axe. But also the shorter scale, and a little bit narrower strings spacing.
These are the reasons why this is not my top pick.
But this guitar might still be the best choice for some. Because the neck shape and fretboard radius can make all the difference too…
So this Epi has 60's Slim Taper neck shape. And here this Les Paul really cut's a piece from the cake when it comes to wide-neck electric-market.
Let's check a comparison, again, I have never seen these 2 compared head to head: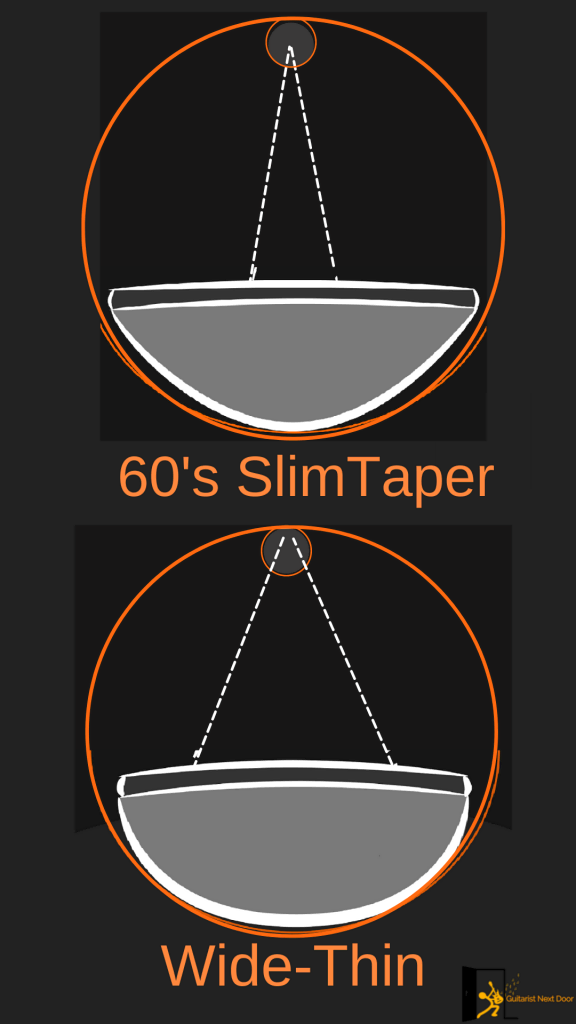 So for most folks, this 60's SlimTaper doesn't give as firm grip or "fit's like a glove"- feel like the PRS's Wide-Thin neck. But what it gives is…
Control and great north-to-south access(yeah, I'm probably the first using that phrase:D).
Doing small or even big changes to your palm positioning is really smooth and easy with this neck. Especially if you got a small or average-sized palm. Like I do. This neck profile definitely offers something tempting for me.
And because these shifts are smooth, fast scale runs, chord shifts and even sweep picking is comfortable with this neck. Of course, limited upper-fret access close to the body is a small downside, especially when it comes to sweeping.
But this is not all…
When you hit this package with 12" fretboard radius (2"more than with PRS). It gets even better. This is the cherry on top.
Because there is a reason why axes with 7.25" radius are pretty rare nowadays…flatter fretboard is just easier to play. For almost everybody.
A flatter fretboard just gives us less resistance when playing. It gives a smoother and easier feel. And this ripe cherry, on top of a delicious pie(60's Slimtaper neck with wide nut), makes this guitar delicious for wide-neck seekers.
Does this Les Paul Custom sound any good?
Well, there is a reason why this Les Paul has been super-popular. I wanted to check a couple of good sound demos from Youtube…
Usually, I have to really search for good ones. I don't want to watch demos made by music stores because those are only commercials really…
But with this Epi, I found like 10 great sound demos in 5 minutes. Made by real owners.
Let's check couple of these out!
First, Steve From Boston (his channel's name). I couldn't honestly do any better job than this with highlighting the warm and thick tones of this Les Paul:
That "You are already having fun with this things"- was my favorite line for sure. Yes, Steve. Yes I'am :D.
Full rock tones are my favorites with this axe too. It's just Les Paul is all about. And the cleans?
Detailed, and full. You get that room-filling tone, plus you can hear every note played. A pleasure to listen. But you might wonder…does this even chug?
Watch this:
It's chugs.
And for metalheads, this is one of the best non-metal guitars out there for this price. For sure. It gives almost all that you need.
Of course for some edgy-metal stuff, this is not the best option with these stock pickups, but in general… YES, this chugs.
Pickups are:
Epiphone ProBucker 2 – Neck
Epiphone ProBucker 3 – Bridge
Personally, I like the tones of the Neck pickup more. It's like butter. Soft. For all the teddy-bears out there really…:D.
Awesome for soft cleans, moody blues, and solos full of emotion. But the Bridge is not bad by any means. I just personally like the neck pickup more.
These give you a ton of versatility and awesome value for money. But if you are used to paying over $1k guitars, these pickups can sound really average.
But this is not perfect either….(what is?)
I already mention that tonally, this can sound really average if you are used to shredding with Gibson. But this loses for the PRS SE Custom 24-08 too. In versatility and in tone quality.
The tones of this LES Paul just lack a little bit, that spark…you know. For me SE Custom 24-08 gives that, but hey this is just my opinion.
But for this price, there is no way that I could really complain about how this Epi sounds(although I just did, I regret that already…)
And then the QC…
Yes, again. Some lemons slip through. The frets need polishing, there is fret buzz or there are some small scratches visible sometimes. I found nothing major during my research tho.
From these, the fret buzz is a piece of cake to fix. It doesn't bother me personally at all. Especially with guitars under $1k(like this).
Again, these things can happen with any guitar. But I wanted to point this out. And if something is really wrong, I would refund….it's our safety net really. But all in all, a really nice axe. Gives a great bang for the buck.
Summary
Pros
Gorgeous finish and hardware dressing a classic axe
Versatile tone works in most genres
SlimTaper D neck with 12" flat fretboard for fat finger comfort and control
1.69" nut width gives room for your hands
Cons
Sometimes issues with quality control
Pickups lack that "spark" for me
If you are after wide neck Les Paul that gives you real control over the fretboard…so that you can control the guitar(not the other way around). This is my favorite axe. It gives thick and warm tones and is not a one-trick pony. Excellent Gibson-inspired wide neck electric guitar.
Check the latest price on:
---
Best Budget – Epiphone SG Special VE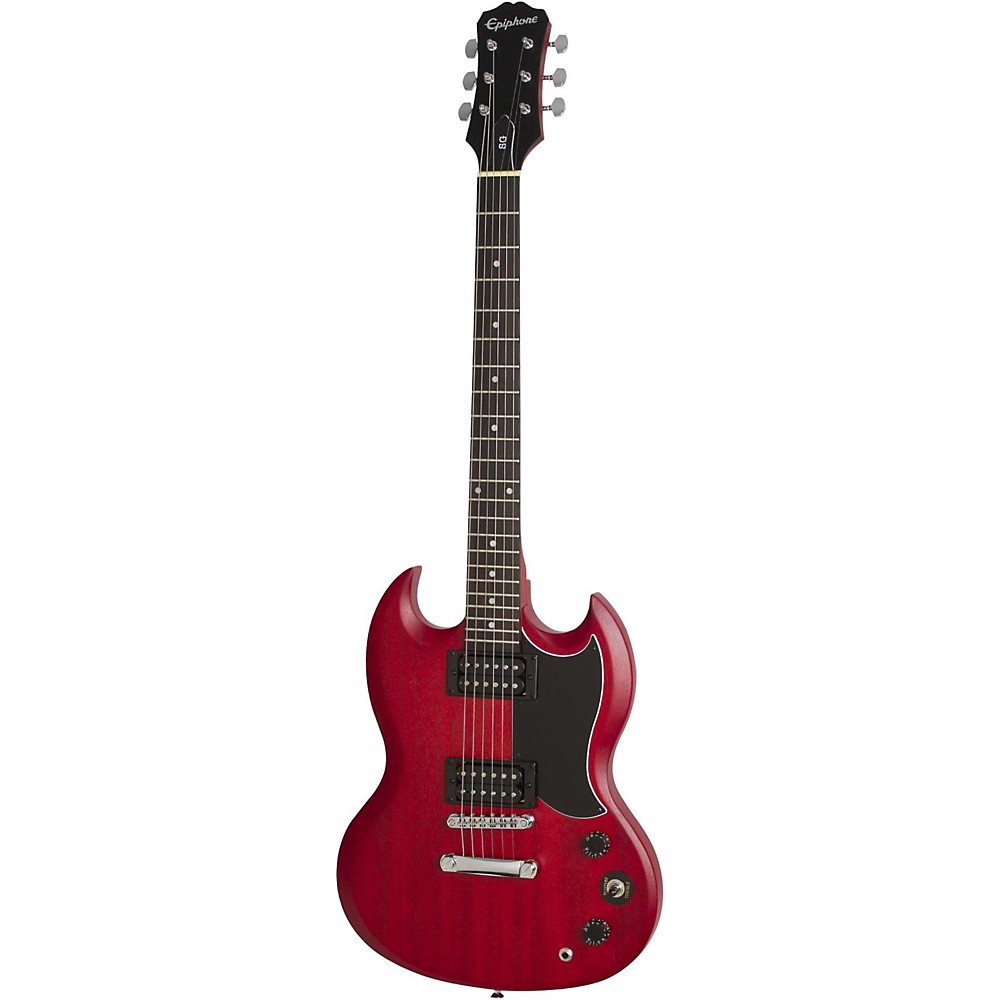 The SG is the kind of guitar that needs no introduction. Aside from its iconically good looks, the SG has had a long history in rock'n'roll.
Discover how important the Gibson SG is in the history of electric guitars!
You can hear the SG from the Beatles to Black Sabbath; from the wacky jazz of Zappa to the sultry slide of Derek Trucks.
While Gibson's models are out of reach for many players, Epiphone does a solid job of delivering a low-cost reproduction in their SG Special.
The Epiphone SG Special VE sports
poplar with mahogany veneer
and dual humbucker pickups.
It may lack the attention to detail that Gibson puts into their guitars and would certainly benefit from an upgrade in the pickup and hardware areas…
But it's hard to find a better brand new guitar at this price.
With a nut measuring 1.6875", the Epiphone SG beats most budget and beginner guitars in neck width.
However, its SlimTaper D neck shape and wide fretboard radius give the fretboard a relaxed, extended playing feel.
I mean that it feels a lot wider than other guitars with similar nut width. And hitting the frets without messing with the wrong strings is easier than for example with the same price range Stratocasters.
Despite its somewhat short-scale length, the SG has been a favorite of all shapes and sizes of guitar legends for decades, praised for its hearty tone and solid playability.
Hear how this guitar sounds:
Summary
Pros
The classic hard rock guitar at an affordable price
SlimTaper D neck and 12" fretboard radius form a wide playing field
Wide 1.6875" nut width
Cons
Quality control allows damaged instruments to ship sometimes
Poor soldering may be present on some wire connections
Tuners are only OK
The Epiphone SG Special VE is an entry-level guitar of the highest quality, built to be played hard on a tight budget.
At the start of 2021 we tested best electric guitars under $200, if you are on a budget, that's a post worth checking out.
Sure, its tone comes nowhere near the Gibson OG, but its wide rosewood fingerboard and chunky mahogany voice give you a rock-solid tone with fat-finger comfort.
Ideal for beginners or anyone wanting a low-cost SG, this Epiphone is the top-rated budget option for wide neck guitars.
Check the latest prices on:
---
Really Wide Feeling Neck – Ibanez RGA42FM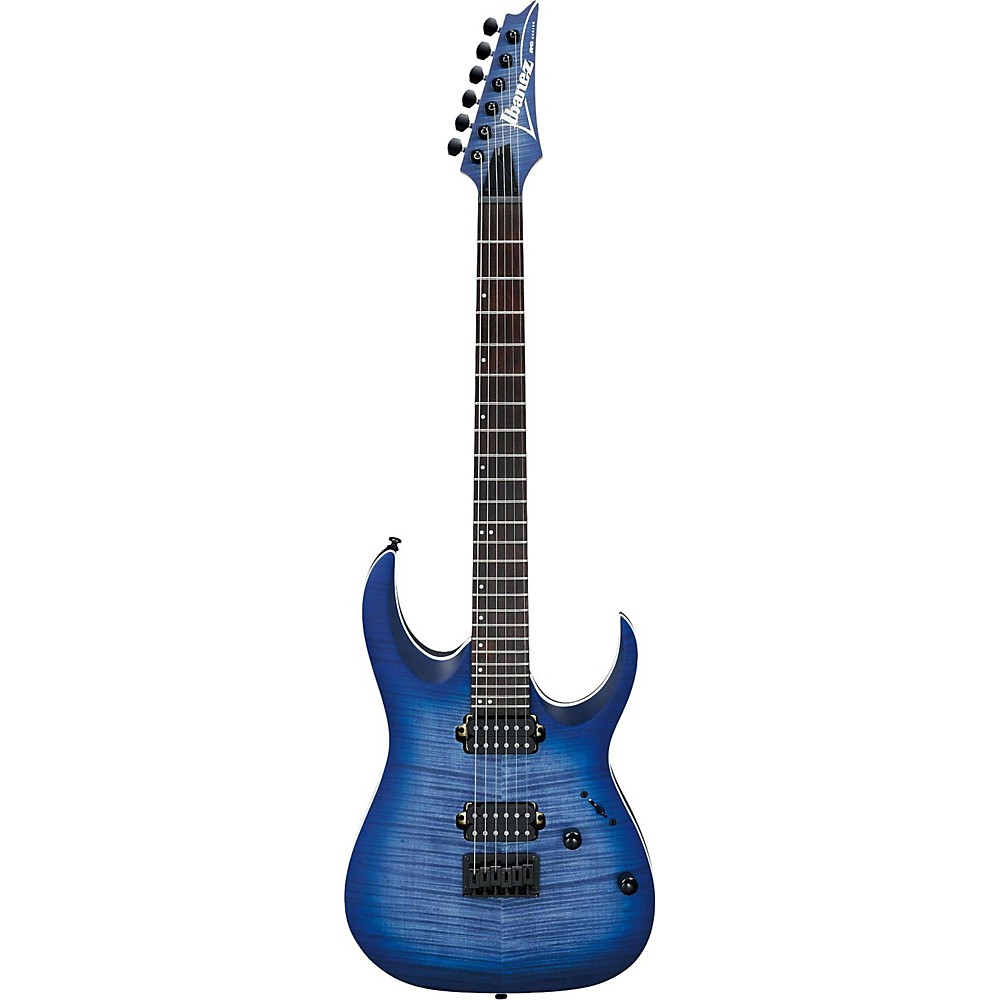 Although you may know Ibanezd best from the slim-fingered Steve Vai and Joe Satriani, it's a common favorite for all types of players.
Check out Cory Arford from CARNIFEX tearing up his Ibanez.
A big dude, but he navigates the fretboard flawlessly, even when packing 7 strings.
Ibanez is the master of fast-playing fretboards, and the Wizard III they equipped on the RGA42FM is among the best in the business.
Measuring 1.692-inches wide, the Wizard III is a bit wider than average.
But, it's topped with a fingerboard with a whopping 15.7" radius, making the feel of this neck ultra-wide. It's super flat and slim, giving you a huge amount of reach around the neck. You've also got great fretboard access thanks to sharp double cutaways.
And with 24 frets spaced over a huge 25.5" fretboard, you've got lots of room for accurate high-end shredding.
Hear how this guitar sounds:
Summary
Pros
Wizard III neck features an astonishing 15.7" fretboard radius
Neck width slightly exceeds average while being ultra-playable
Features dual Quantum humbuckers for roaring sound
Cons
Thick tone not ideal for all genres
Has sometimes shipped with faulty wiring
Uneven or sharp frets sometimes
Most Ibanez artists are hard rockers, and that's because these guitars pack a lot of punch. They're fantastic for your heavier genres, from nu-metal to grindcore and on.
However, their super-hot humbuckers don't really meld as well with softer styles like jazz and soul(though Steve Vai sure makes his guitars sing on some sultry tracks).
At any rate, I'm sure the Ibanez RGA42FM can do plenty in the right hands, which could very well be yours considering its affordable price. Excellent wide neck electric guitar for metal and shredding.
Check the latest prices on:
---
Best for Blues – Gretsch G2622T Streamliner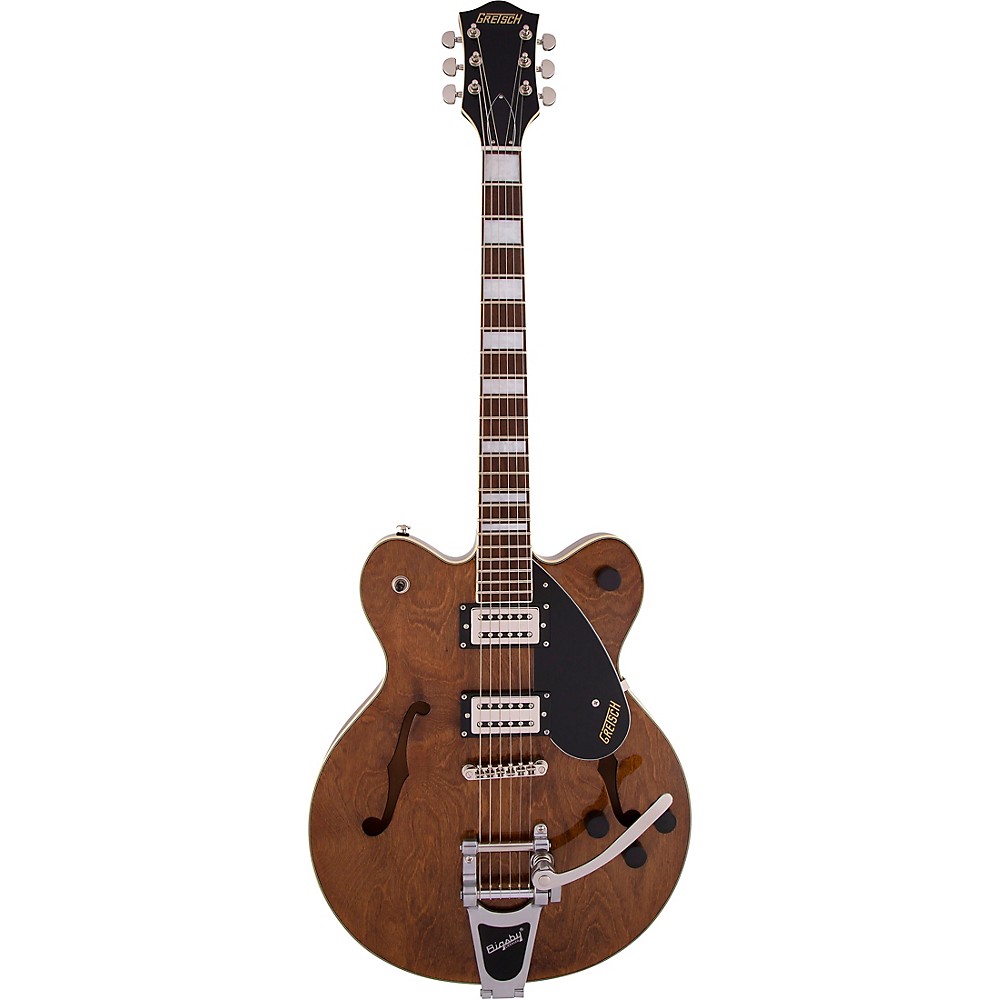 Another guitar brand with many big-fingered advocates, Gretsch offers its G2622T Streamliner as a great-sounding mid-range semi-hollow body guitar.
If you're seeking great
blues,
jazz,
soul, or
country tone,
It's hard to beat the sound of a classic hollow body paired with a great blues tube amp. With the G2622T, you can get that vintage emotion-packed sound at a great price.
Find more great electric guitars for blues here.
It pairs a maple body with two Gretsch Broad'Tron pickups for a rich, crisp voice.
The Streamliner can sing like an angel when it's clean or scream like a banshee in overdrive, so you've got access to just about every genre softer than hard rock.
The neck of the G2622T gives you slightly more than the average width…
The club-like Thin U neck spreads your palm out in a way that flows seamlessly with the fretboard. And here's the thing…
strings spacing makes the real difference with this guitar! Fret spacing is broad and free, so complex barres and tight riffs should be no problem for your thick fingers.
Hear how this guitar sounds:
Summary
Pros
Thin U neck shape strikes balance between grip and reach
Vintage semi-hollow design is great for blues, jazz, and country
Bigsby vibrato tailpiece and Adjusto-Matic bridge for tuning stable bends
Cons
Less versatile than solid body electrics
If you're a fan of classic genres—especially the blues—the Gretsch G2622T Streamliner is a great option of wide neck guitar. It's got a super comfortable playing feel thanks to its Thin U neck and churns out vintage vibes like no solid body can.
Gretsch is one of the best semi-acoustic manufacturers around, delivering trusted quality in every guitar, just the same as they have been since 1883.
Need more Gretsch? Check out our 5 Best Gretsch Guitars!
Their G2622T is a top-rated choice blues guitar, especially for thick-fingered players you can find the best electric guitars for blues here).
Check the latest prices on:
---
The Final Verdict
My foremost opinion is that if you set your mind to it, you can learn to master any one of these guitars whatever the size of your fingers.
If you're really conscious of your finger fatness though, I think you'd be best suited with the Ibanez RGA42FM. It combines a wide nut with an ultra-flat fretboard for the broadest playing feel around.
In terms of overall value… The PRS SE Custom 22 is the best guitar all-around. There's just no way around that. It's the most versatile, the smoothest-playing, and the best-sounding by a long shot.
The Gretsch G2622T Streamliner is a great guitar, but since it is somewhat limited to genres that don't rely on heavy distortion, it's my last recommendation.
A couple of other posts worth checking out when buying a new electric (click the title to view):
First, these posts will help you handle the protection and storage side of things:
These posts help you to achieve the tone you want:
And here's an article about hollow-body guitars that usually have really fat finger friendly playability:
---
Buyer's Guide – FAQ
What is A Normal Neck Width (Nut Width)?
Standard neck widths measure between 1.65″ and 1.675″ when measured from the nut.
Brands Manufacturing Wide Neck Electric Guitars
PRS: 1.687″ (42.84mm)
Gibson: 1.695″ (43.05mm)
Ibanez: 1.692″ (42.97mm)
Note that these guitar brands manufacture guitars with a lots of different nut widths. These are just couple of examples of wide neck electric guitars these brands create.
Can I Play Guitar with Fat Fingers?
Some of the best guitarists I've had the privilege to know personally are proud owners of chubby fingers.
Guitar is an instrument suited for everyone, and the size and shape of your fingers is the last thing you should let hold you back from pursuing music as a hobby.
Look at Django Reinhardt, the father of jazz manouche/gypsy jazz. He lost the use of 2 of his fingers in a fire at the age of 18, yet went on to become one of the most influential players of the 20th century.
Tony Iommi lost the tips of 2 fingers in a machining accident at a young age but powered through and later co-founded Black Sabbath.
Israel Kamakawiwo'ole weighed 700 pounds and still recorded the multi-award-winning "Somewhere Over the Rainbow" on a tiny ukulele.
BB King had large hands, and he managed to produce amazing songs and is one of the best blues guitarists of all time.
If these legends can rise to fame—
And if Mark Goffeney can shred WITH HIS FEET:
Then I fully believe that you can play the guitar no matter how fat your fingers may be.
What Is the Best Guitar for Fat Fingers?
The best guitar for fat fingers depends on who's playing it; there's no one right answer.
If you're concerned about being able to fret tight chords, chances are you'll be well-off with a guitar with a larger fingerboard, which is why this article focuses on wide-neck guitars.
However, a guitar's playing feel is just one small part of the equation.
What do you want out of your guitar? A thick, dark voice? A light, bright one? Match your desired sound to the right tonewoods and pickups, and you're on your way to finding the best wide neck axe.
But the tone is just one of several other factors to look at.
You of course need to look at affordability and value. The best guitar is a reliable guitar, and so my advice is to aim for the highest quality that fits within your budget.
This might sound like common sense, but way too many guitarists make the mistake of opting for only the cheapest gear, only to have to pay for repairs or totally new setups altogether. Avoid this by seeking the best value-to-cost guitars out there.
The final step in finding the best guitar for fat fingers is to check out the other playability factors.
What Else Affects Playability?
There are many factors that affect a guitar's playability—everything from fret size to finish choice to body shape to tonewood type.
Some of these things, like body shape and fingerboard wood, don't really have a big impact on the playability for fat fingers though. A maple fretboard will feel like a maple fretboard no matter your finger size.
The more important things to look at when choosing a guitar for big fingers are elements like neck shape, neck radius, and scale length.
Neck shape is just what it sounds like. If you cut the headstock off and looked down at the top of the neck—this is what's described by neck shape. There are several different shapes, and for fat fingers I'd usually recommend something like a flat Modern C, giving you plenty of room to wrap your palm around.
Fingerboard radius describes how curved the fingerboard is. A fingerboard with a larger radius (usually 12") will be flatter than fingerboards with a smaller, more-curved radius (7.25").
Flatter fretboards are usually preferred for soloing, so they may be a good choice for fat fingers, giving you more space to accurately play. On the other hand, if your palms are as meaty as your digits, a smaller radius will help with thumb placement and reach.
Finally, scale length tells you how far the bridge is from the nut. The usual rule is: the shorter the scale, the less distance between frets.
Short-scale guitars (generally below 25") can help players with short, fat fingers extend their reach, while normal or even extended-scale guitars can serve long-, fat-fingered players in the upper regions of the fretboard where fret spacing is really tight.
You can read more about how these and other specs factor into your playability and see more top-rated choices of guitars for short fat fingers in our review here.
Are Wide Neck Guitars Easier to Play?
I've seen some really big guys play some fairly small guitars and make it look like a piece of cake, and I've seen little kids play full-size dreadnoughts just the same.
Personally, I think once your technique is down, you'll be able to play any guitar you get your hands on. This article has great tips on how to become more comfortable playing with fat fingers.
But starting out, it's always better to work smarter vs. harder. So if you're more comfortable on a wide neck guitar, choosing this style will make learning easier in the long run.
One of the many benefits of these guitars for fat fingers is wider string spacing. This can be great for thick fingers because it lessens the chance of accidental muting.
These wide nut guitars are also a good transition instrument if you learned on acoustic or classical and now want to try the electric. Since classicals have nuts usually 2-inches wide, it can be a huge shock to your muscle memory to switch to the narrow neck of the typical electric.
Wide necks help split this difference, giving you more room to navigate the fretboard. They also increase the space between strings for your right hand too, giving you a wider range for picking and fingerstyle accuracy.
How to Pick the Right Wide Neck Electric Guitar for You
The thing about wide neck guitars is that, aside from their nut widths, they're all very different.
That can be a great thing, but having more choices also means it can be difficult to make a final decision.
When choosing the right wide neck electric for you, the first question to ask is what your musical goals are:
What style or styles do you want to focus on?
What artists do you want to learn from?
Rhythm? Lead? Both?
What overall sound are you going for?
Knowing the answers to these questions will help you when you take a look at the specs of each guitar.
For instance, if you want to focus on learning blues, you might look for a guitar that has twangy single-coil pickups. Or HSS pickup configuration, if you want to add some warmer tones to your mix with a humbucker. (Check this guide for the best guitar strings for blues.)
But if you want to learn metal, crunchy dual humbuckers could be the way to go.
Check this article out to discover our favorite metal guitars under $500.
If you're more interested in being a rhythm player than a lead guitarist, a guitar that adds thickness, as well as width to the neck, might be ideal, giving you plenty of neck to grab when gripping your chords.
On the other hand, lead guitarists with fat fingers might look for wide but flat necks, freeing up your hand for greater dexterity.
There are wide-neck electric guitars suited for every genre and playing style, so once you know your musical direction, picking the right is easy.
---
Conclusion on Wide Neck Electric Guitars
My friend, have no fear. Your fingers, no matter what you may think, are not too fat to play guitar.
You've got a huge arsenal of high-quality axes to choose from, so finding the best wide neck electric guitar for fat fingers is no trouble at all these days.
When you've found a guitar that matches your ideal sound and style, take your fingers for a workout and I think you'll find the neck is more accommodating than you ever could have guessed.
You might also like:
We are sorry that this post was not useful for you!
Let us improve this post!
Tell us how we can improve this post?