Last Updated on September 1, 2023 by Justin Thomas
Best Overall – Yamaha FG800
Sound
Playability
Overall Quality
Value for Money
Summary
Full and balanced tone with comfortable playability.

You get:
-Amazing value for money
-Holds its tuning very well(you can focus on playing, not on tuning)
-Intonation is great all across the neck(balanced clear tones)
-Smooth neck for comfortable playing

Plus this acoustic is really versatile(great for any genre). You just can't get a better bang for your buck with a beginner guitar. The best Yamaha acoustic guitar for beginners.
How Yamaha FG800 sounds:
Check Today's Price on
*Consider all links in this post to be affiliate links. If you purchase, at no additional cost to you, we may earn a small commission. It helps us to keep the lights on, thanks! 🙂
---
The Next Best:
Compare:
---
I don't know about you but whenever I ask guitarists their favorite beginner acoustic guitar, nine times out of ten I hear the name "Yamaha."
And that makes total sense! This Japanese guitar giant has been producing reliable instruments for several decades now.
I mean, I do love the budget Epiphones and Fenders, but Yamaha just has the edge for me when it comes to their sound and consistency.
But of course, some Yamaha acoustics are better fit for beginners than others…and that's why it's a good idea to do some research so that you can pick the right Yamaha for you! This is why I put together this post about the 5 best Yamaha acoustic guitars for beginners, most of which are already top-selling products and all-time favorites for guitar players.
Every one of these Yamaha's is here based on extensive research and combined 19+ years experience of me (Pranshu) and Teemu.
Who crafted this post: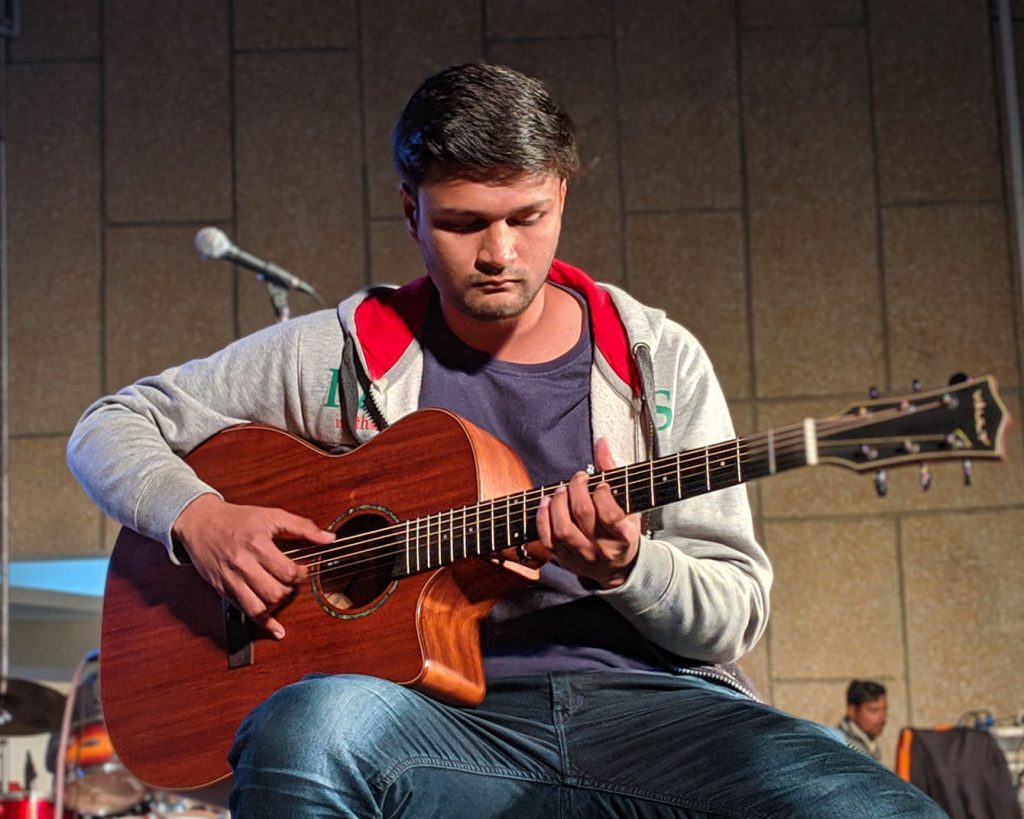 Author: Pranshu Nigam
Pranshu has been playing guitar since 2014, after having played the piano for 10 years.
He's all about acoustic & classical guitars and jamming around with unusual tunings. He mixes modern percussive fingerstyle technique and Flamenco music into his own playing. Pranshu also runs his own guitar website, Harmonyvine. Check Pranshu playing here!
Hide The Rambling▲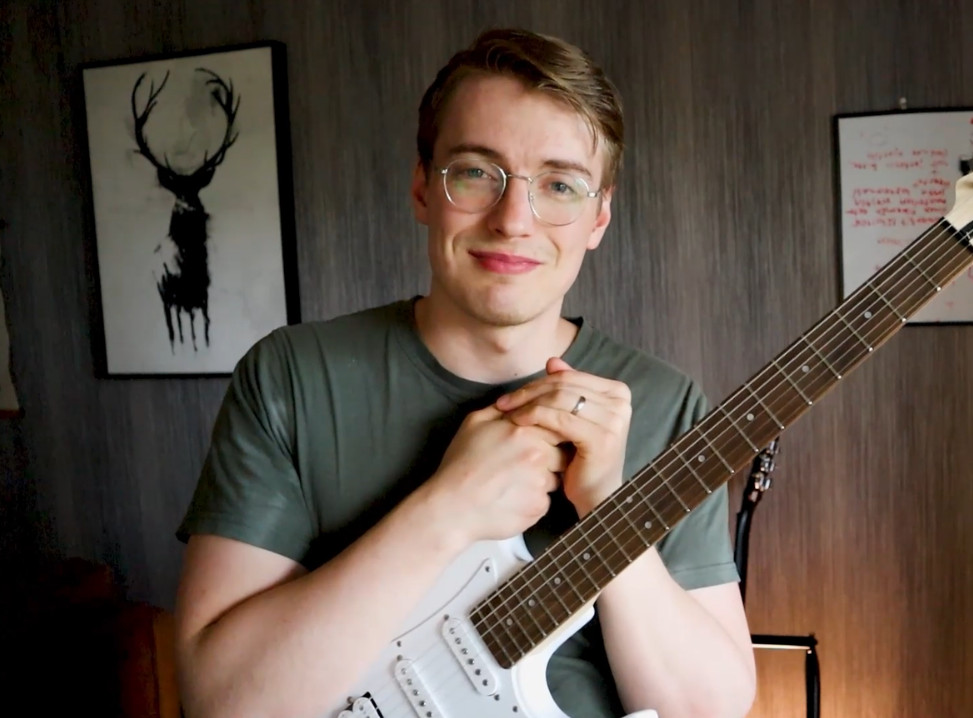 Editing & Research: Teemu Suomala
I first grabbed the guitar in 2009. I started this website in January 2020 because I couldn't do window installation anymore due to my health problems. I love guitars and have played dozens and dozens of different guitars through different amps and pedals over the years, and also, building a website interested me, so I decided to just go for it! I got lucky and managed to get awesome people to help me with my website.
I also got lucky because I have you visiting my website right now. Thank you. I do all this for you guys. If you have any recommendations, tips, or feedback, just leave a comment, I would love to chat with you. I have also been fortunate to produce content for several large guitar websites, such as Songsterr, Musicnotes, GuitarGuitar, and Ultimate Guitar.
I spend my spare time exercising and hanging out with my wife and crazy dog (I guess that went the right way…).
Hide The Rambling▲
---
Our Favorite Music Store in The World!
Why?
– Excellent Customer Service (4.7/5 Trustpilot Score)
– Fast & Free Shipping
– Gear is Inspected, Tested, & Ready to Play When it Arrives to You (We love this)
– Fair Prices
Visit Sweetwater:
Top 5 Best Beginner Yamaha Acoustic Guitars
In reviewing these instruments, I've paid close attention to the problems faced by a beginner upon getting his first guitar. Things like:
What does this guitar offer to me?
Is this easy to play?
Does this sound good?
Can I play my favorite music with this?
Not only that, I've included a buying guide and FAQ section at the end to clear all your doubts and educate you on buying your first Yamaha guitar.
To make it easier for you, I've picked the best products from different budget ranges and suited for specific needs.
Best Overall – Yamaha FG800
The Yamaha FG800 is what I would personally pick if I were to buy a beginner's acoustic guitar right now. And the reason is simple.
A clean and working approach to playability and durability and the biggest thing out of all – a solid top.
The solid spruce top is something you'll definitely appreciate down the line. Not only does it enhance the tonal quality, loudness, and durability, but also makes the guitar age well.
The sound coming from the FG800 is full, with plenty of low end that's always lacking in other budget acoustics. The classic dreadnought design (invented by Martin) speaks for itself, and there are not a lot of budget guitars that can match the rich articulation and tonal qualities of this guitar.
It's super comfortable to play, thanks to the rosewood fretboard and the satin finish on the neck.
However, since there's no cutaway on this one, you will have some trouble reaching the upper frets, so this is a small con. But for chords and riffs, this guitar fits like a nose into the face. Although the price might make it seem like a starter guitar, I can even recommend the Yamaha FG800 to any intermediate guitarist or experienced players looking for a backup option or first acoustic.
Find more great acoustic guitars for intermediate players here.
Also available with a starter bundle including lots of handy accessories such as a hard case, guitar strap, pick, guitar stand and digital tuner, it can be the perfect purchase for a beginner guitarist not wanting to break the bank.
So…
Easy playability….CHECK
Solid top for durability and good tones as the guitar ages….CHECK
Great tones…CHECK
Affordable….CHECK
Versatility…CHECK
This is why FG800 is my favorite beginner Yamaha!
Hear how this guitar sounds:
Pros:
Solid spruce tone provides rich and warm tones
Lived-in dreadnought look
Stays in tune for a long time
Comes with an optional guitar bundle with gig bag, case and more
For basic acoustic guitar playing, playability is great
Cons:
No cutaway, which makes accessing upper frets harder, so fast acoustic solos down the fretboard can be tricky
Check Price on:
---
Most Affordable – Yamaha F325D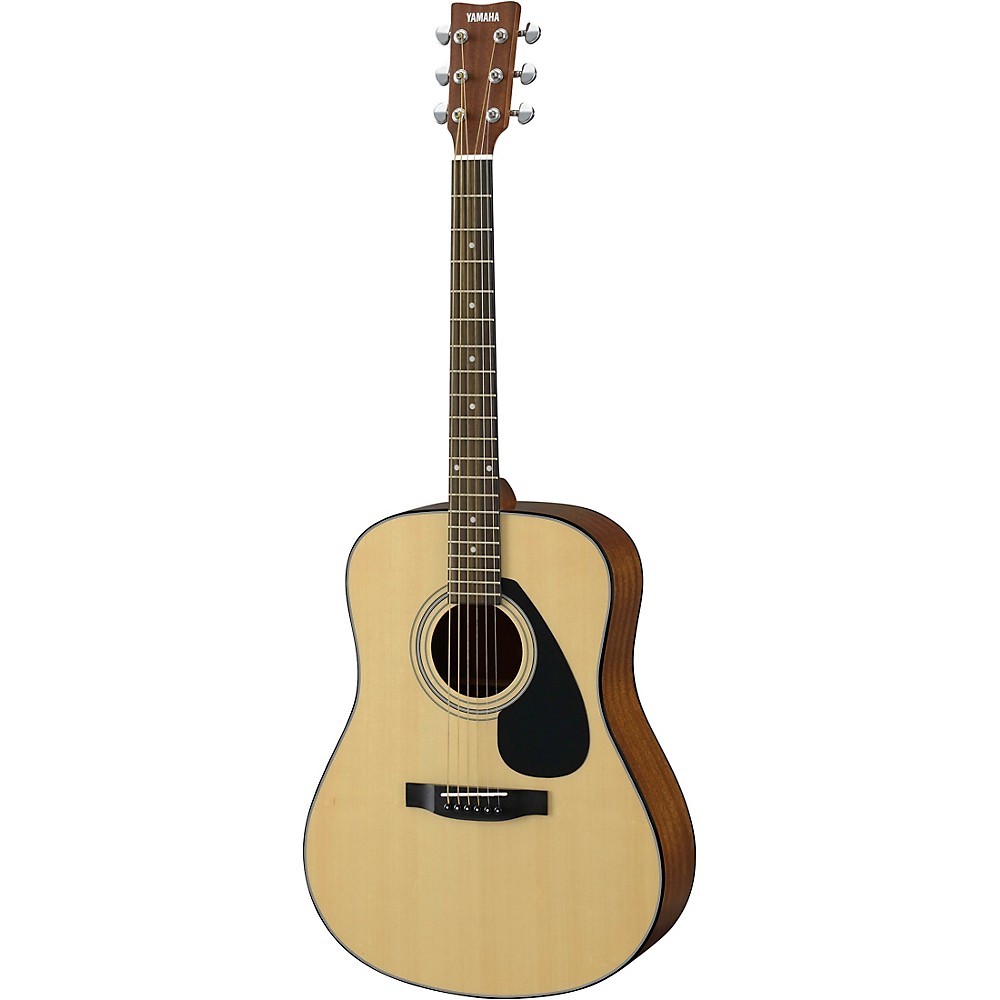 My first-ever guitar was a Yamaha F310 that I bought 7 years back at a price where playable guitars were a rarity. The fact that it still plays wonderfully and handles all the alternate tuning sessions I throw at it is quite remarkable.
The F325D is pretty much identical to the F310, with the only salient difference being that this guitar sports meranti back and sides instead of "locally sourced tonewood" on the latter.
The F-series from Yamaha is no joke and the value you get out of your money makes them a steal! In fact, Yamaha themselves markets these as the "Perfect Starter Guitars"…is this marketing true?
It pretty much is…
The F325D might not be the best sounding or the most comfortable guitar I've played, but I'd certainly say it has everything you need in a good beginner guitar:
Traditional dreadnought body with a full 25.5" scale length(full and authentic acoustic tones)
smooth rosewood fretboard (makes playing smoother and more comfortable)
high-quality chrome tuners that keep the guitar from going out of tune
these to just name a few.
The laminated top does lack the loudness and depth of the more expensive solid-top models, but the F325D still manages to get that deep bass and crisp mids and highs.
The only thing I wished was better is the string action out-of-the-box… It's not bad, just that I like the action a little bit lower. Luckily, the action is super easy to fix with a basic truss rod adjustment. This sometimes high action is not a dealbreaker in my opinion, considering that these mass-produced guitars are always susceptible to minor imperfections like these.
Yamaha F325D has a nut width of 1.69″.
Hear how this guitar sounds:
Pros:
Amazing value for money
Holds its tuning very well(you can focus on playing, not on tuning)
Intonation is great all across the neck(balanced clear tones)
Smooth neck for comfortable playing
Cons:
Some units might come with high string action out-of-the-box
Not as loud or vibrant as the more expensive models
Check Price on:
---
Best Acoustic-Electric Option – Yamaha APX600
The Yamaha APX600 is the successor to the company's top-selling APX500(one of the top selling acoustics ever).
It takes the acclaimed thin-line design and premium electronics of the latter, and adds some gorgeous new finishes while narrowing the string spacing and shortening the scale length to 25" for easier playability.
Here's something truly unique about this one.
The APX600 is available in a plethora of color choices – Natural (NA), Black (BL), Vintage White (VW), Old Violin Sunburst (OVS), and Oriental Blue Burst (OBB). But no matter what color you get, it looks fabulous.
The smaller body and shorter scale make it a breeze to play.
The narrower nut width also makes it easier to reach a larger area of the fretboard if you have smaller fingers. (I can already tell that this would make tapping significantly trickier, but hey, this is a beginner guitar)
Usually a smaller body restricts the air vibration and makes the guitar sound muffled and lacking in character.
I don't know how Yamaha did it, but the APX600 sounds surprisingly loud and the intonation is spot-on.
As this is meant to be our acoustic-electric recommendation, we must talk about the electronics now! The guitar is loaded with the proven and very capable SRT piezo pickup and SYSTEM65 preamp(stable tones and durable). A typical 3-band equalizer(you can shape the tone with this, adds versatility) and built-in digital tuner are welcome inclusions as well.
The APX500 had overpowering high frequencies when plugged in. In my opinion, the APX600 is a step in the right direction.
The sound coming from the APX600 expresses enhanced low-end and controlled mids and highs, eliminating the boxiness of the APX500.
If this guitar is to have any downsides, then it must be the out-of-the-box setup. You might get it with slightly high action when you receive it. A little bit can be lowered by yourself, but too high an action will warrant for a professional setup.
Also, the factory-supplied strings are pretty thick and not very crisp sounding, so make sure to keep a spare set when you receive the instrument.
But still, the overall quality, playability, and tones make this one of the top beginner/budget acoustic-electrics on the market.
Hear how this guitar sounds:
Pros:
Sounds great both acoustically and while plugged in
Looks beautiful
Small body and thin neck make it suitable for smaller players or kids(easy to play)
Built-in digital tuner(no need to buy tuner separately)
With 3-band eq(bass, middle, treble) you can shape the tone on to your liking
Sounds good with an acoustic guitar amplifier too
Cons:
Action might need adjustments
Pre-installed strings are mediocre at best
Check Price on:
---
Best 3/4 Size Guitar – Yamaha APXT2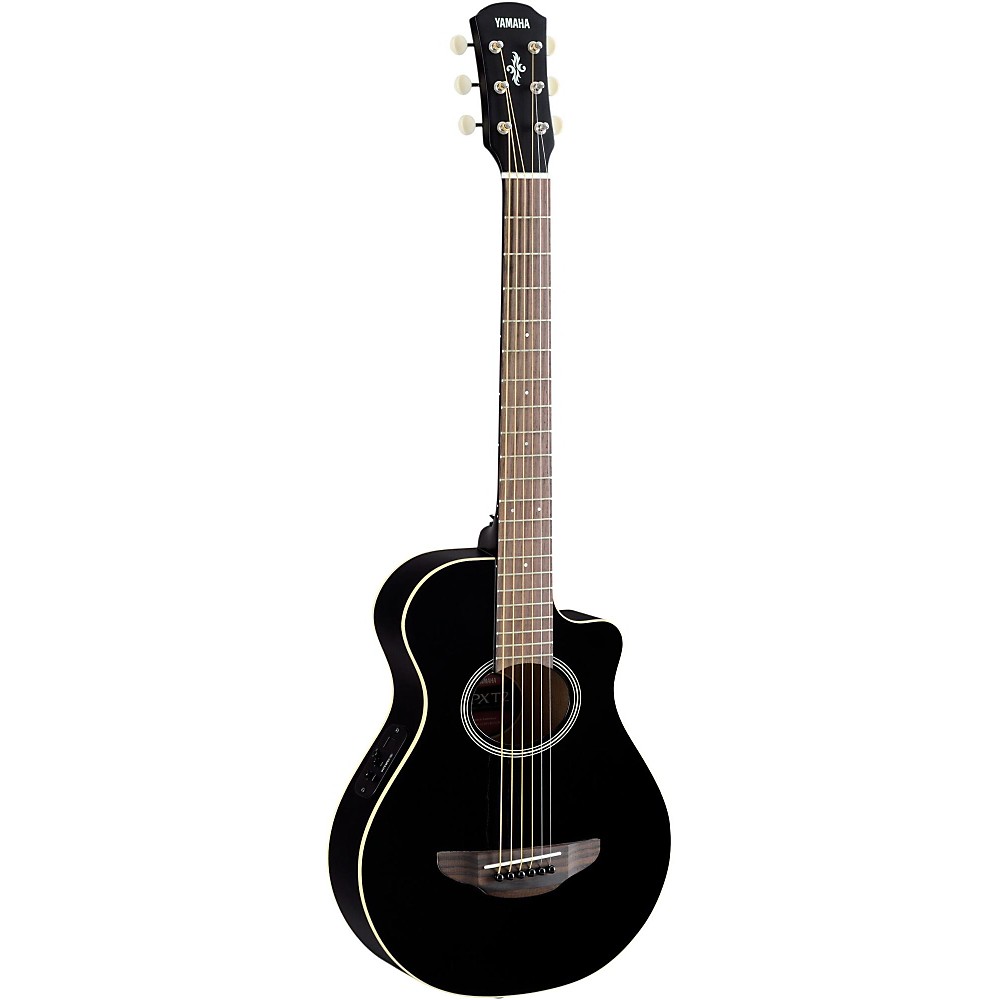 These smaller 1/2 and 3/4 sized guitars are designed specifically for children or adults with a smaller physique.
In addition to that, these guitars are great for traveling due to the much lighter and compact body.
Honestly, I won't suggest getting a mini-sized guitar unless it's for one of the above purposes, as you do sacrifice some of the quality and versatility. Now if you've decided to go for one, I've found the best 3/4 size Yamaha guitar to be the APXT2.
I believe that this model is well worth the extra investment over their more popular (and cheaper) JR series. There are multiple reasons behind that…
Firstly, you get the same ART-based pickup system from the higher-end APX models, albeit without the equalizer this time.
Secondly, it has all the elements a good acoustic guitar should have –
Rich and full tone
easy-to-play fretboard
good quality tuners
almost perfect intonation(notes sound like they should)
The combination of spruce and meranti tonewoods works wonders and gives the guitar a smooth and warm sound.
The tone is also full when plugged in, which is unusual for a compact guitar priced this low. As far as the sound is concerned, I didn't find wanting more. And for the price, this is an amazing achievement by Yamaha.
I would also like to mention a few drawbacks of the APXT2 as shared by a Redditor here. Even though the tuners hold the tuning pretty well, they are not the smoothest to turn. Besides that, the guitar lacks sustain while doing bends. He did, however, praise the richness of the sound coming out of it.
Overall, the Yamaha APXT2 delivers what it's meant to do –
Provide a dreadnought-like sound and quality in a compact form factor,
It's easy to play,
It doesn't sound "tinny" like some other 3/4 sized guitars, which already makes it a winner in its category.
Hear how this guitar sounds:
Pros:
Perfect for smaller players and kids, as well as for traveling
Lightweight and comfortable to play
Plugged-in sounds fantastic for its size and price
Built-in tuner(no need to buy tuner separately)
Cons:
Factory strings are pretty bad
Tuning pegs could be smoother to turn
---
Best Nylon-String Classical Guitar – Yamaha C40II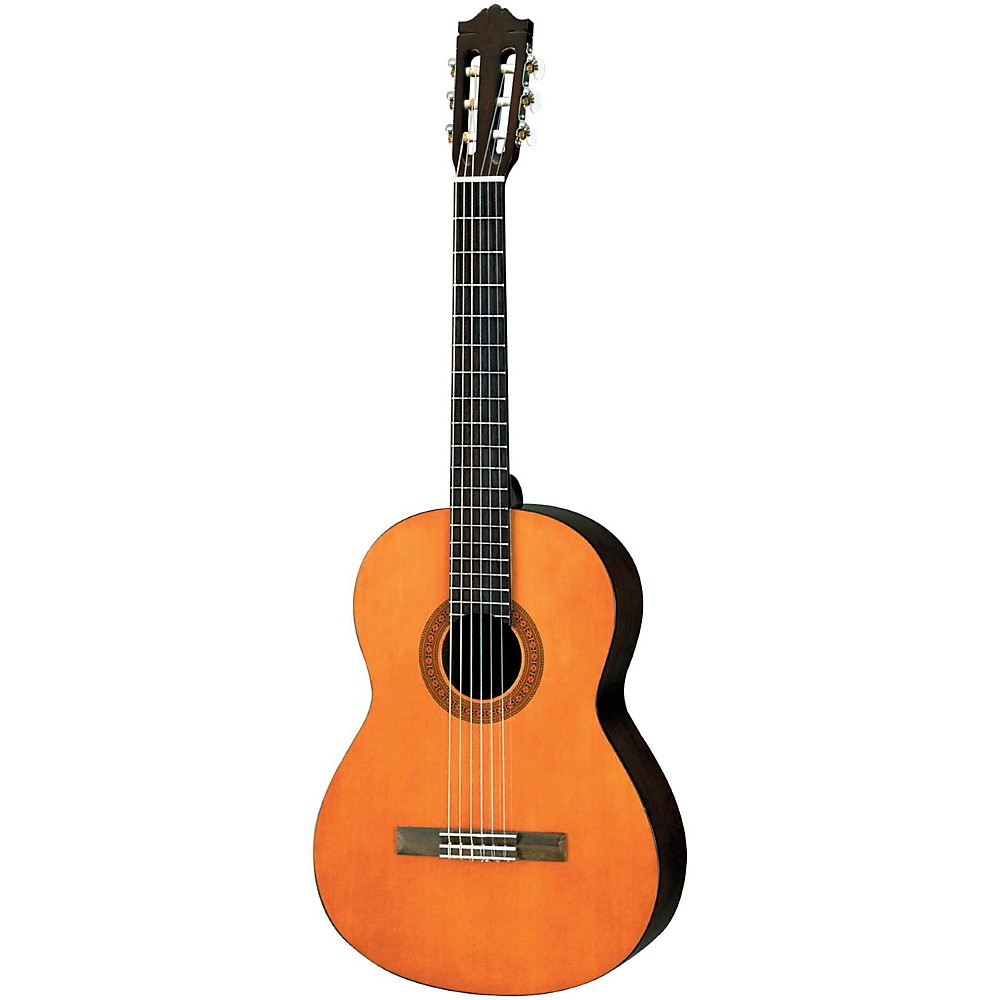 I wanted to put a classical guitar on this list, and what's a better starting point than the Yamaha C40II.
Probably the benchmark to beat when it comes to entry-level classical guitars, the C40II is a well-built and highly consistent instrument that never disappoints you. Anything cheaper than this is simply not worth it, and although spending a bit more might get you better sounding or easier to play instruments, the C40II will give them a good run for their money.
It's built like a traditional classical guitar, with a 2" wide nut, flat rosewood fretboard and a full 25.6" scale length, so nothing special neither in good or bad and for this price this is great to hear.
The laminate spruce top in conjugation with a meranti body produces an above-average sound, not very loud and bright, but miles better than anything else at this price range. You might be wondering how a classical guitar differs from the steel-string acoustics we discussed above…
Well, the differences are vast both stylistically and in application, but I'd go through what concerns most to you as a beginner.
Classical guitars come with nylon strings which are much softer and easier on your fingers than steel strings. This gentles the initial learning curve which can be very motivating for a beginner.
Traditional classical guitars have a wider neck (with larger string spacing) and a flat fingerboard. This helps if you're someone with fat fingers, and can also facilitate building fretting-hand dexterity. At the same time, it can make things trickier if you have small fingers.
In my opinion, steel-string acoustics are more versatile. A nylon string guitar is only suited for classical music, flamenco and a bit of jazz. On the other hand, steel-string guitars are perfect for jazz, acoustic blues/rock, folk, pop, bluegrass and percussive fingerstyle.
Find great acoustic guitars for blues here and great fingerstyle acoustic guitars here.
In the end, I would suggest you go with a classical guitar if you want to learn classical music and want to develop your classical technique from the get-go. And there's not a better bang for your buck option than the Yamaha C40II.
I have owned the Yamaha C40(C40II is a successor of this) for 10 years. And for the price, it has been amazing! Still sounds great, playability is solid and durability is something amazing!

Teemu Suomala Owner of the Guitaristnextdoor.com and Yamaha C40.
Hear how this guitar sounds:
Pros:
Very affordable full-sized classical guitar.
Nylon strings are much more forgiving for your fingers.
Responsive tone with decent articulation.
Surprisingly well-built for its price.
Cons:
Beginners may find the action to be too high in the upper register.
Does the C40 make the cut in our 5 Best Yamaha Classical Guitars post?
---
Verdict
I've already shortlisted the best products from different categories, which will help you make a sound decision based on your needs.
I'd say the Yamaha FG800 is your best bet for an all-around beginner acoustic guitar, and it's my personal favorite too. I love the classic Yamaha dreadnought look and the phenomenal solid top voice. It's very well-constructed and has the potential to be your primary instrument for years to come.
If you're really tight on budget, the F325D gives a terrific value for money
Yamaha APX 600 is a great acoustic-electric option, plus it's really easy to play with small hands
The Yamaha APXT2 only makes sense if you want a compact guitar, as it gets overshadowed by the full-fledged dreadnoughts at the same price.
Yamaha C40II is the beginner classical that will serve you for years and years
---
---
Buyer's Guide – How to Choose The Best Beginner Yamaha Acoustic Guitar for You?
What Makes a Great Beginner Acoustic Guitar?
I think that the most crucial factor in a beginner acoustic guitar is playability.
Sound is subjective, and most beginners won't even consider it to be a decisive factor.
Playing an instrument should be a comfortable and gratifying experience, not like fighting a battle against it. Whenever buying an acoustic guitar, look for the following things:
Low action – The gap between the strings and the fretboard. A high action means that the strings will be harder to press down and quickly cause pain and fatigue.
A smaller-sized guitar might be easier for musicians with a smaller physique, especially kids.
If you'd like to play higher notes on the neck, you'll need a guitar with a cutaway.
You may also consider a neck with wider string spacing – which is the separation between consecutive strings.
Another important thing to ask is how is the guitar setup out-of-the-box. This is a crucial thing as most beginners have no clue about guitar hardware setup.
I always suggest trying out the guitar before you make a deal. In case that's not possible such as when purchasing it from an online retailer, you need to inspect it on arrival carefully.
Gladly most online music stores offer free returns!
Keep an eye out for basic things like the string action on the 12th fret, rusty tuning pegs, lifting bridge, and damaged nut or saddle.
How Do I Pick the Right Yamaha Acoustic Guitar for me?
Whether it's Yamaha or any other guitar brand, the basics stay the same. However, with Yamaha, you get lots of different options at every price range and category, which can make it confusing.
Among the plethora of guitar ranges available, the most popular ones include
the FG/FGX/FS series,
APX series,
F/FX series
and L-series,
to name a few.
The company also offers GigMaker packages with the above guitars bundled with a set of accessories and gig bags.
I find the FG series to be the best balance between overall quality and affordability. Although I've listed the FG800 in this article, the upper models such as FG820, FG830, and FGX800C are equally impressive as well.
People looking for a travel/mini guitar should go with the APXT2 rather than the JR series.
Finally, we have the more "serious" mid-range guitars in the APX and the L series. These are all about delivering that pro-level performance for super-serious beginners or intermediate players.
Having said that, it's best if you can find a solid top in your budget.
Other important factors include the shape, size and quality of tonewoods. The difference between cedar and spruce is noticeable to a seasoned player.
But in my opinion, as long as you pick one from those reviewed above, you're good to go!
For more great Yamaha Acoustic guitar options, check these articles of ours: 5 Best Yamaha Acoustic Guitars Under $500 & 5 Best Yamaha Acoustic Guitars.
How Much is a Good Beginner Yamaha Acoustic Guitar?
You can get the Yamaha FG800 with the starter bundle for around $200 – $230, which is a perfect investment for a beginner acoustic guitar.
The F-series will save you some more bucks on top of that. Both of these are solid starter guitars in my opinion. A beginner doesn't have to go all out on their first guitar. I wouldn't advise spending more than $200 – $300 if you've never played the guitar before.
The best thing about Yamaha is that their budget guitars are easy to play and very consistent. I'm all about acoustic guitars, and I haven't seen a bad Yamaha during these seven years of my musical journey.
One more tip I'd like to leave you with
– When you get your Yamaha guitar, consider having a professional setup.
Just getting the basics checked like neck relief, putting fresh strings, action, etc. go a long way. It won't cost more than $40 – $70 to make your guitar sound and feel like a $500 one(amazing!)
Check our picks for the best acoustic guitars under $1000 here and for the best acoustic guitars under $500 here.

.
Conclusion on Best Yamaha Acoustic Guitar for Beginners
Those were the best Yamaha guitars for beginners in my opinion. My first guitar was a Yamaha, and it's been a wonderful companion through all these years. Out of all the products I reviewed, the best pick is the Yamaha FG800, while you can go for the C40II if it's a nylon-string guitar that you want. The general consensus is that these provide the best quality and reliability for beginners.
I hope this roundup has brought you a step closer to buying your first acoustic guitar. Being able to play the guitar is an enjoyable and rewarding hobby, but it won't be without the right instrument.
You might also like:
We are sorry that this post was not useful for you!
Let us improve this post!
Tell us how we can improve this post?