Last Updated on May 12, 2023 by Teemu Suomala
Best Overall Yamaha Acoustic Guitar Under $500 – Yamaha FG830
Sound
Playability
Overall Quality
Value for Money
Summary
Really Articulate tone and amazing value for money. Plays like a more expensive guitar.

Plus:
-Great machine heads: So you spend your time actually playing rather than tuning it.
-Bound neck: Better look and feel.
-Excellent action after being set up.
-A variety of colors to choose from.

The best Yamaha acoustic under $500 with affordable price but stunning quality.
How Yamaha FG830 sounds:
Check Today's Price on
*Consider all links in this post to be affiliate links. If you purchase, at no additional cost to you, we may earn a small commission. It helps us to keep the lights on, thanks! 🙂
---
The Next Best:
Compare
---
Compare The Tonewoods: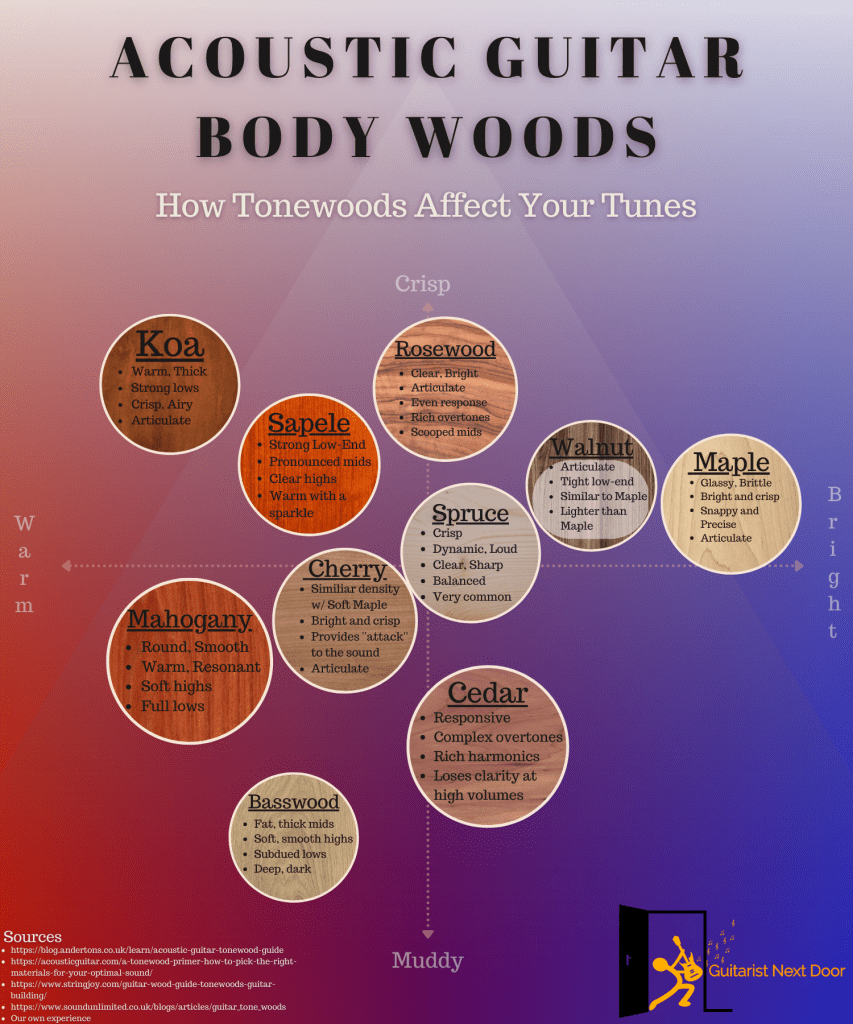 Top: Solid spruce
Back & Sides: Rosewood
Neck: Nato
Fretboard: Rosewood
The fretboard and neck don't affect the tone much.
Top: Mahogany
Back & Sides: Mahogany
Neck: Mahogany
Fretboard: Walnut
Top: Solid Engelmann Spruce with A.R.E. treatment
Back & Sides: Mahogany
Neck: 5-ply Mahogany/Rosewood
Fretboard: Rosewood
Top: Sitka Spruce (laminated)
Back & Sides: Tonewood (mix of woods)
Neck: Nato
Fretboard: Rosewood
Top: Spruce
Back & Sides: Nato
Neck: Nato
Fretboard: Walnut
For more cool info about tonewoods, check this acoustic guitar tonewoods article.
---
Yamaha is well-known for their entry-level acoustic guitars, but what happens when you've got a little more cash to spare? Well, we'll find that out in this article!
One of the most consistent brands in terms of quality and construction, Yamaha makes tons of different types of acoustics on the market. Having so many options only makes choosing the right one difficult. Until now!
We dug deep into our research and have curated your guide to the best Yamaha Acoustic Guitars for under $500. This roundup considers the following factors:
Tonewoods.
Body sizes.
Playability.
Cutaway.
Electronics, and more…
Most importantly, we've paid close attention to what specific needs each guitar serves the best.
Let's first look at these fine guitars, and at the end of the post, you can find the FAQ section that helps you to make the best choice possible.
Check our picks for the best overall avoustic guitars under $500 here.
Who crafted this post: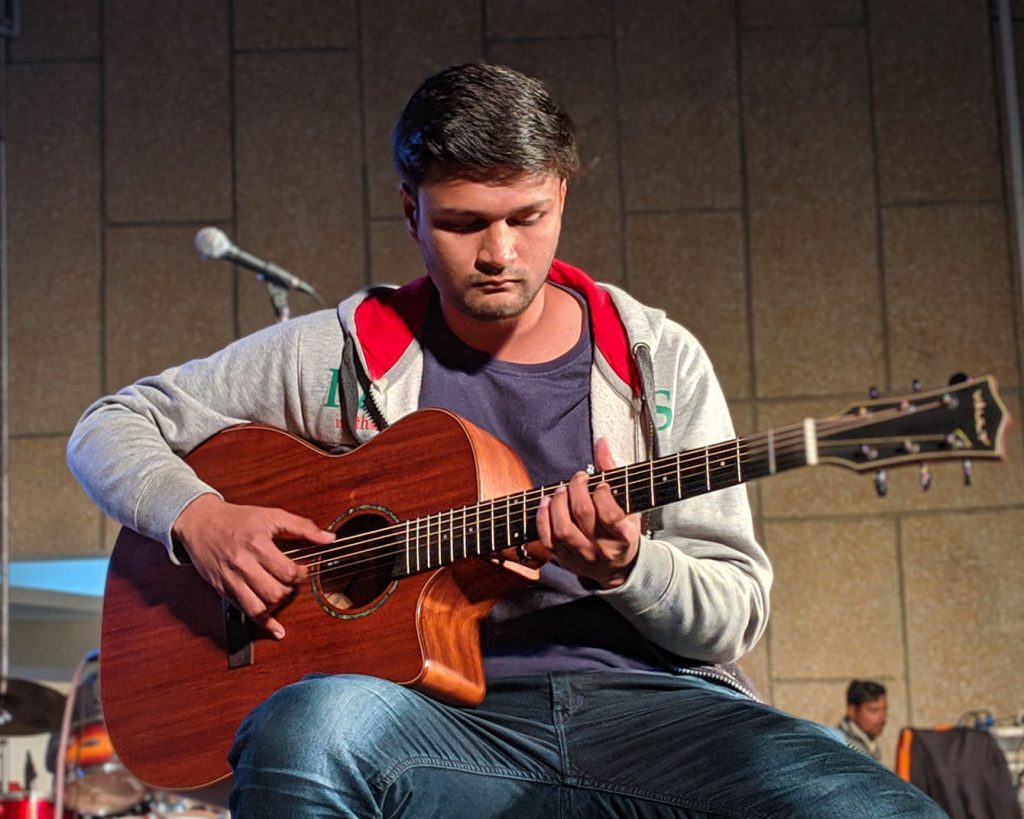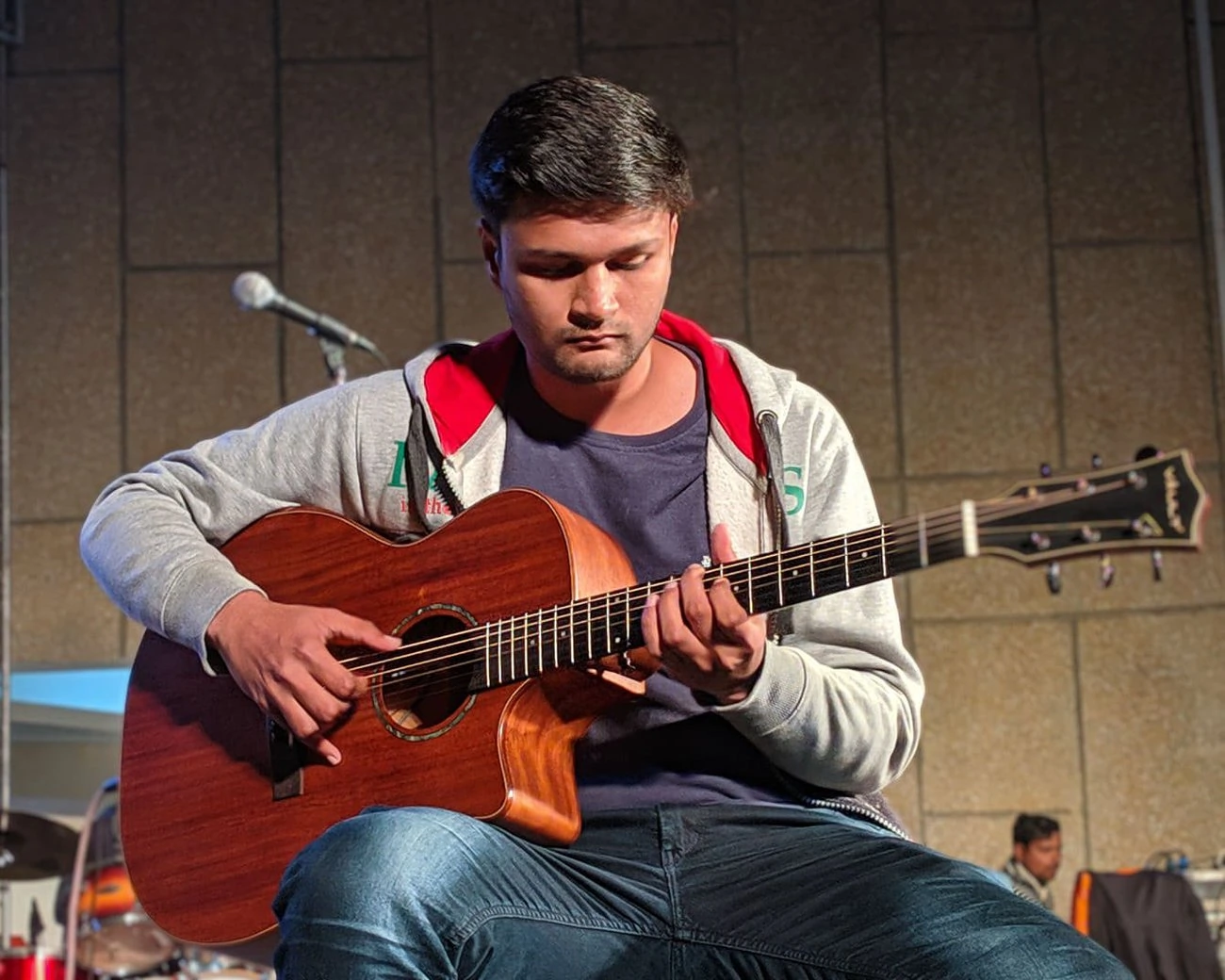 Author: Pranshu Nigam
Pranshu has been playing guitar since 2014, after having played the piano for 10 years.
He's all about acoustic & classical guitars and jamming around with unusual tunings. He mixes modern percussive fingerstyle technique and Flamenco music into his own playing. Pranshu also runs his own guitar website, Harmonyvine. Check Pranshu playing here!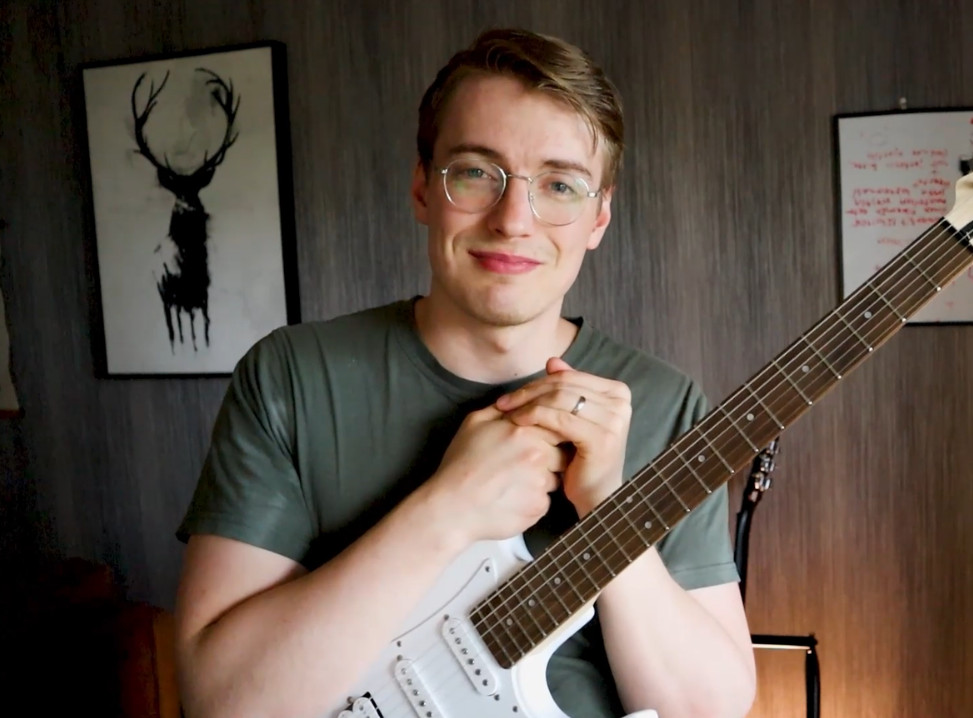 Editing & Research: Teemu Suomala
Playing guitar since 2009. Mainly focused on electric guitars, although jamming with acoustics too. Has played dozens and dozens of different guitars through different amps and pedals over the years. That's why he started this blog in January 2020 and started sharing his experience. Has produced content for several large guitar websites, such as Songsterr, Musicnotes, GuitarGuitar, and Ultimate Guitar.
Every one of these Yamaha's is here based on extensive research and decades of combined guitar experience of me (Pranshu) and Teemu.
---
Our Favorite Music Store in The World!
Why?
– Excellent Customer Service (4.7/5 Trustpilot Score)
– Fast & Free Shipping
– Gear is Inspected, Tested, & Ready to Play When it Arrives to You (We love this)
– Fair Prices
Visit Sweetwater:
---
Best Yamaha Acoustic Guitars Under $500
Best Overall Yamaha Acoustic Guitar Under $500 – Yamaha FG830
If you saw our article for the best beginner Yamaha guitars, you might remember that I put the Yamaha FG800 on top of that list.
Well, here's its elder cousin – the FG830 – following the suit. And no, this is not because of any personal bias.
These guitars are SO GOOD.
The entire FG line comes with a solid top and sturdy scalloped bracing. In the case of the FG830, it's Solid Sitka Spruce: Very resonant, projects well, and only gets better with time.
What sells me this guitar is that its back and sides are made of Rosewood – a little harder to work with but much richer and louder than Mahogany.
Rosewood provides an outstanding balance of bass, mids, and treble frequencies. It also offers a high response rate and richer overtones that create a lot of resonance and a sharp attack.
In short, Rosewood body and scalloped bracing give this instrument:
A luxurious glossy look.
Powerful sound with a lot more sustain.
Enhanced durability.
Another sound demo for you:
Apart from that, the guitar offers everything you'd expect from a mid-range Yamaha:
Great machine heads: So you spend your time actually playing rather than tuning it.
Bound neck: Better look and feel.
Excellent action after being set up.
A variety of colors to choose from.
This finally brings me to the thing I DO NOT like about this guitar: The nut, saddle, and bridge pins are all plastic, which kind of curbs the potential of this instrument.
It's like putting cheap tires on a Formula One car.
Luckily, there's an easy way to fix that. Replace them with bone or tusk, and VOILA! You just turned a $300 guitar into a $1000 acoustic beauty that can stand its ground against Martins and Taylors (With less than $50 worth of upgrades!). It just sounds so much more open and resonant that way.
After these upgrades, I would Rate the sound of this Yamaha (keeping the price in my mind) 5/5! Take my advice, and just get the Yamaha FG830 if this is your budget. You won't regret it!
Pros:
Terrific value for money.
Gorgeous rosewood body.
Solid Spruce top and scalloped bracing give it a really pronounced tone and great volume.
The construction and finish is right on the money.
Cons:
Nut, saddle, and bridge pins are all plastic.
No cutaway on the acoustic-only variant.
Check Price on:
---
Runner-up/Great for Students – Yamaha STORIA III
Yamaha's STORIA series is all about delivering unique aesthetics and maximal comfort to young guitar players. These guitars are unlike any traditional acoustic I've ever seen (in a good way). Although I put the STORIA III on this list, the STORIA I and II are very similar with differences mainly in the choice of tonewoods and other cosmetic touches.
The STORIA III features an all-mahogany concert-sized body with a sparkling gloss finish. This is complemented with a unique wine-red interior stain and a matching black & wine-red rosette.
Also adorning the instrument are brass bridge pins and champagne-gold tuners to complete the modern look.
This is one of those guitars you want to pick up every time you see it!
But wait!
Are looks everything the STORIA III has to offer?
Definitely not!
Its playability and sound get high marks from owners and seasoned guitarists alike.
The solid mahogany top gives it a nice round sound with decent low-end, clean and controlled highs and a focused mid-range that leans slightly towards the upper frequencies. This sound profile is ideal for articulate fingerpicking or light strumming.
As expected from any small body acoustic, there is some "acoustic congestion" when played aggressively (Don't worry! You can still really dig in on power chords).
Here's another noteworthy thing – the guitar comes with a passive undersaddle-mounted pickup, which is a great bonus in my opinion. Plugged-in, the sound is decent. The acoustics are well-translated through the pickup, although you'll need a preamp or some basic EQing to get the best amplified sound.
Hear how this guitar sounds:
All things considered, who is the STORIA III really for? If you ask me, this guitar is ideal for casual players who care about comfort and most importantly, aesthetics.
Although it might be on the pricier side for a starter guitar, it checks all the right boxes (sound, look, and feel) that make it a solid mid-range guitar. It's also versatile, as it can handle anything from acoustic blues to country to rock.
Pros:
Looks and feels much more expensive than it is.
Super comfortable to play due to the light body and short scale.
Comes with inbuilt passive pickup (Great for jamming or recording).
Cons:
Will want a preamp and basic EQing to sound great amplified.
No tone controls for the pickup.
Check Price on:
---
Premium Pick – Yamaha L-Series LS6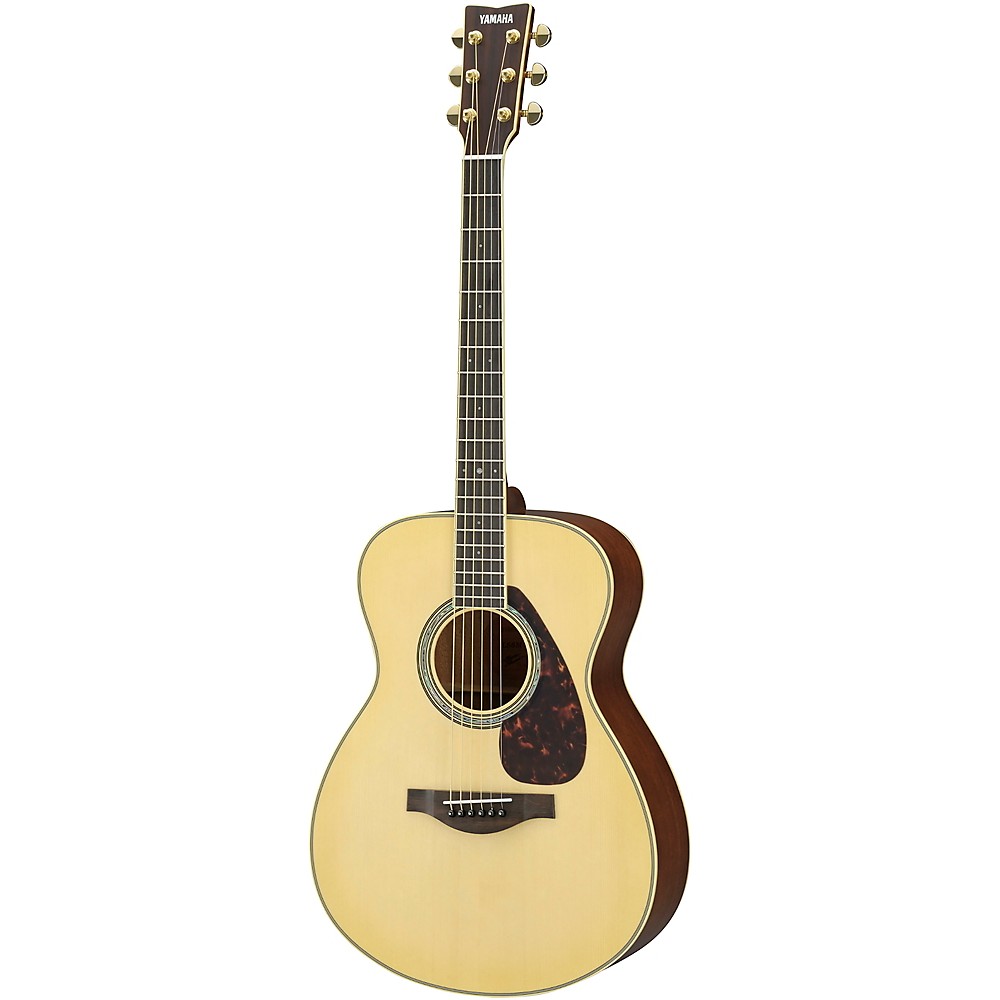 The L-Series is the perfect example of Yamaha's expert craftsmanship (The 'L' stands for 'Luxury'). Although these guitars have been around for decades, Yamaha revamped the entire series in 2014, and the lineup now boasts several innovative enhancements. These include:
Acoustic Resonance Enhancement (A.R.E.): You might have heard that aged solid wood sounds much better on acoustic instruments.
Well, through some "miracle" of Science, Yamaha has been able to develop its A.R.E. technology that accelerates the aging process of their wood (at least the solid Engelmann Spruce top).
As a result, a brand new L-series guitar will sound like one that's been aging for years.
5-ply Mahogany/Rosewood Neck: Yamaha upgraded the neck from 3-ply to 5-ply, making it a lot sturdier and stable.
This increased strength also enables the guitar to ship with a super low action from the factory.
You'll get a guitar that's very easy to play right out of the box!
SRT Zero Impact (Passive) Pickups: It's always nice to have the option of plugging in your guitar; however, you don't get tone controls or tuner on this one.
I like that the LS6 gives you the option to choose between a Mahogany and Rosewood body. The all Mahogany construction (LS6M) makes it "twangier" and very resonant. In contrast, the tone on the Rosewood is much more clear and warm.
But whatever body material you choose, the "real star" is the A.R.E treated premium Engelmann Spruce! If I had to describe the sound in a single word – It's Luxurious!
Hear how this guitar sounds:
The LS6 is the concert-sized brother of the LL6 (standard dreadnought size). This not only makes it more lightweight and comfortable but slightly cheaper as well.
Oh, and did I mention this is the best-looking guitar on this list? The cream binding all around the body, fingerboard and headstock, as well as the fancy gold-plated tuners give it that contemporary look without being overly flashy.
Pros:
A.R.E. treatment emulates the sound of aged wood.
Solid Engelmann Spruce provides a vibrant, crisp, and loud tone.
Excellent action (and thus, great playability) out of the box.
Tapered neck with smooth satin finish and bound fretboard makes it a breeze to play.
Looks beautiful! (cream + black binding, gold-plated tuners, abalone inlay, etc.)
Cons:
Plastic bridge pins, nut, and saddle.
A little expensive.
Check Price on:
---
Best Acoustic-Electric Option – Yamaha APX600
Just as we thought that the APX500 was as good as it can get for an entry-level acoustic-electric guitar, Yamaha drops its upgraded version – the APX600.
It's EVEN BETTER! Price-wise, it sits right next to the FG830, but there are quite a few differentiating factors between the two:
The APX600 has a thin-line cutaway form factor, as opposed to the traditional dread body on the latter.
This one comes with an inbuilt SRT piezo pickup and digital tuner.
You get a bunch of finish options on the APX600 (Black, Natural, Old Violin Sunburst, Oriental Blue Burst, and Vintage White).
Laminate top w/ X-bracing on the APX600 vs. Solid Spruce top w/ scalloped bracing on the FG830.
Having said that, it's not competing against the FG830. This one is more for an audience who demands an easier-to-play, smaller-bodied instrument and one which can be plugged into an amp.
The acoustics of this guitar see an improvement over the APX500. The tone is now fuller with enhanced lows and mids.
Loud and rich tone from an inexpensive thin-line acoustic, amazing isn't it?
The combination of Spruce and Mahogany produces a clear and warm sound, although it has that slight "boxiness" to it (Not a big deal though!).
Hear how this guitar sounds:
This brings me to this guitar's biggest selling point – COMFORT!
The slim-profile neck along with the buttery smooth Rosewood fretboard makes it a joy to play.
You'll be able to glide through the neck with ease and play the most difficult of chords without hurting your fingers. The shorter scale (25") and narrower string-spacing do help in that.
One small snag that I've heard from owners is that it may come with a (slightly) high action out-of-the-box. This is fixable, but you'll need to sand down the saddle/nut if the truss rod won't do the trick. If you're a beginner, I would suggest having a professional setup if you find the action too high.
All-in-all, the Yamaha APX600 is a very comfortable and pleasant-sounding acoustic-electric guitar.
It's the perfect instrument for jamming with your friends, recording in the studio, or even performing live in concerts or bands.
Pros:
You can choose from a variety of finishes.
Sounds surprisingly good for a thin-body cutaway design.
Great craftsmanship (flawless finish, perfectly crowned frets, sturdy machine heads, etc.)
Electronics do a great job transmitting the acoustics.
Cons:
Action out of the box is on the higher side.
Slightly boxy sound due to the small body.
Check Price on:
---
Best Nylon-String Guitar – Yamaha NTX1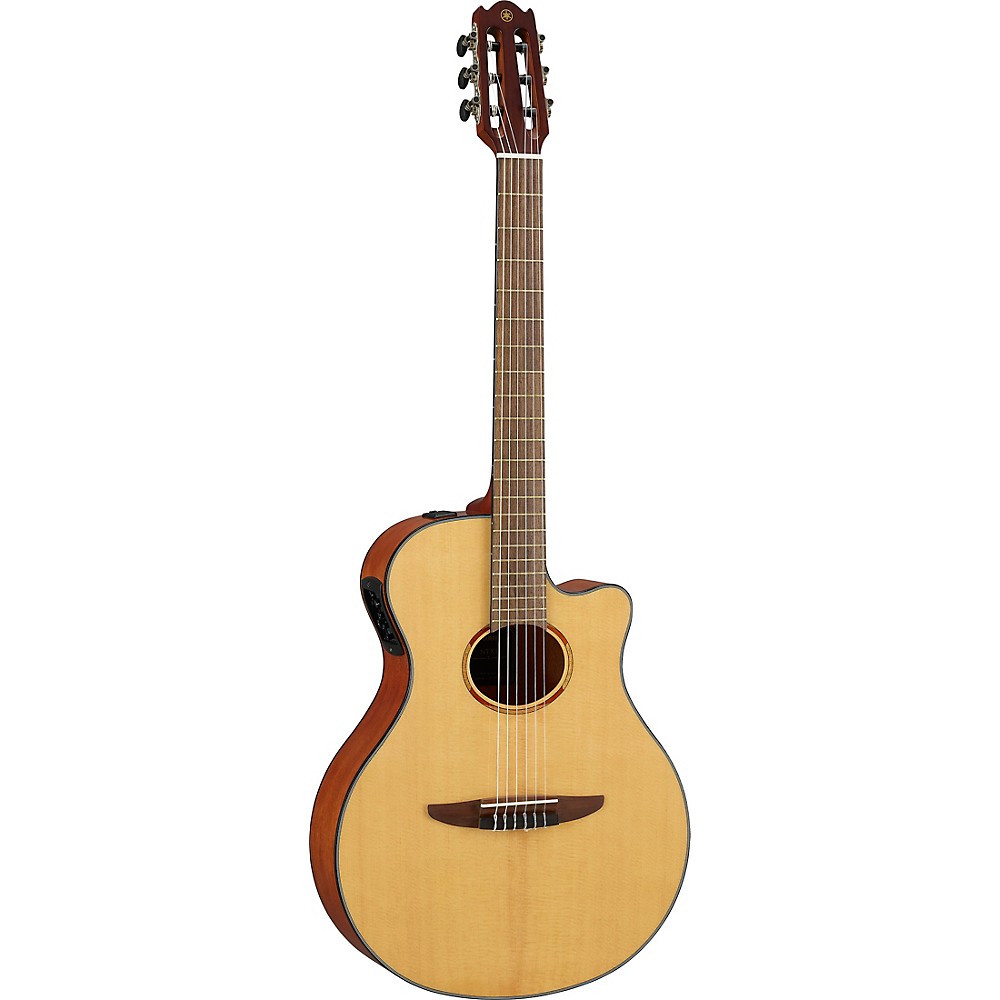 Our final recommendation is for all the Nylon-string aficionados out there.
Before I even begin, I want to clarify that the Yamaha NTX1 is NOT built like a traditional classical guitar. The NX series guitars from Yamaha are designed to offer a modern look and feel. So things like:
Slimmer body and neck (Very similar to the APX series)
Cutaway
Inbuilt pickup technology
are provided keeping a contemporary player's needs in mind:
Listen! You will not impress any Classical purist with a guitar like this, but it shouldn't matter right?
The guitar itself sounds fantastic! Yamaha uses Solid Sitka Spruce for the top and Nato for the back and sides. The result is a very expressive instrument that's never harsh. It's slightly less warm and resonant than a typical classical, but it makes up for that with a warm and balanced tone.
The best part is that the sound translates phenomenally through the undersaddle piezo pickup. It retains the excellent dynamic range but without the 'pluckiness' of the piezo.
Hear how this guitar sounds:
But why would you need a non-traditional classical guitar?
The answer is simple! It's much more comfortable for acoustic or electric players who don't want to devote several months developing their classical technique.
The 48mm nut width and narrower string spacing make it ideal for smaller players who might struggle with the wide nut width of a classical guitar.
Even if you are a purist, I still recommend the NTX1 as a more versatile and performance-oriented guitar to add to your repertoire.
Pros:
Steel-string acoustic and Electric players feel right at home with the "hybrid/transition design."
Great projection and volume for a compact guitar.
Sounds amazing when amplified.
Advanced preamp and pickup system with onboard tuner
Cons:
Not as warm and resonant as a traditional classical guitar.
This probably is nitpicking, but this guitar uses AA batteries, not 9v.
Check Price on:
---
Verdict
You have a great selection of guitars to choose from under $500, but when it comes to the most value for money, the Yamaha FG830 steals the deal! It leaves you with plenty of room for a professional setup and neat upgrades.
If you want a "lifestyle" guitar for your Instagram photos, look no further than the phenomenal STORIA III.
If your wallet is a little bit thicker, then the L-Series LS6 will surely give you some bragging rights (sounds good and plays well too).
For musicians who want the convenience of pickups without breaking the bank, the APX600 turns out to be a solid option.
---
Buying Guide/FAQs
Are Yamaha Acoustic Guitars any Good?
Absolutely!
Yamaha is renowned for its excellent quality control and reliable customer service. They make some of the best quality and value-for-money instruments at pretty much any budget range.
Usually, cheaper acoustic guitars are synonymous with cheap quality, but not in the case of Yamaha. Even their budget models (such as the F310 and C40) are a benchmark to beat in their respective categories.
For more great acoustic guitar options, check this main Yamaha article of ours: & 5 Best Yamaha Acoustic Guitars.
How do I Pick the Right Yamaha Acoustic Guitar for me?
The right acoustic guitar is always the one that feels the best to you.
Given most mid-range Yamaha acoustics have decent build quality, we need to look out for other factors to make a decision:
Guitar Size
The body size/shape is one of the most important factors when buying a guitar. It directly impacts the tone and how comfortable the instrument is while playing.
Nowadays, acoustic guitars come in a variety of shapes and sizes, but the most popular ones are:
Jumbo
Dreadnought
Auditorium
Concert
Classical
For beginners or smaller musicians, I'd suggest opting for a smaller-sized guitar, preferably a concert or auditorium. But this is not a stringent rule, and you will be totally fine with a dreadnought if you are comfortable with the larger size.
Top Wood
The wood used for tops has the most significant role in defining your guitar's sound and tonal characteristics. Spruce sets the standard, but you have a few options with Mahogany top as well. More important than the wood itself is the Laminate vs. Solid Top debate:
You should prefer a Solid top over a Laminate top any day (If it fits in your budget). The former resonates more and offers better volume and richer sound. Plus it ages better.
Laminate wood isn't as harmonically rich due to the multi-layered wood arrangement.
Pickup System
Finding a great-sounding acoustic guitar with decent electronics was a delusion a few years back.
Not anymore!
Several of the guitars we showed come with inbuilt pickups, some even with digital tuners. Granted, not everyone will need to plug in their guitars into an amplifier, but it's always nice to have (You never know when you will need it!).
Buy a guitar with a pickup if:
You want to record yourself.
You'd like to perform at gigs or open mics in the future.
You already have an amp at your home.
What Makes a Great Yamaha Acoustic Guitar under $500?
Ask yourself this – What makes a "Great Acoustic Guitar"?
Perfect-sized body.
Easy mobility around the neck.
Sound that inspires you to play more.
You have the answer! It's the same with Yamaha as with any other guitar brand.
The only thing to keep in mind is that the guitar fulfills all your needs and expectations.
What is the Easiest Yamaha Acoustic Guitar under $500 to Play?
Every player will find some guitars easier than others.
However, based upon my experiences, Yamaha's thin-line guitars are simply some of the easiest guitars to play for beginners and professionals alike.
Models like the APX600 and NTX1 are so easy to play, and they still sound great.
That is not to say the other models are bad. The FG series guitars come really close to the more expensive models, just that they require a bit of setup and tinkering to get them where you want to be.
---
Conclusion on The Best Yamaha Acoustic Guitars Under $500
In closing, I'd like to summarize the entire article and leave you with my advice for buying the best Yamaha Acoustic Guitar under $500.
If you don't want to spend all your budget on just the guitar itself, the Yamaha FG830 offers the most bang for the buck!
Whereas the APX600 is an equally capable acoustic-electric alternative around the same price.
Apart from that, I like the L-Series LS6 and STORIA III for their premium craftsmanship. They offer great sound, supreme comfort, and are eye candies on their own.
Classical enthusiasts can go for the NTX-series (or the NCX-series if you want a more traditional-like body). It's better suited for electric or acoustic players, but classical guitarists will surely enjoy the modern touches.
Now, the next step is simple: just choose one! If you have any questions, just leave a comment, we are here for you.
Keep rocking!
You might also like:
We are sorry that this post was not useful for you!
Let us improve this post!
Tell us how we can improve this post?