Last Updated on September 19, 2023 by Teemu Suomala
Best Overall Yamaha Acoustic – Yamaha FG-TA TransAcoustic Guitar
Sound
Playability
Overall Quality
Value for Money
Build
Summary
Pros:
-Immersive and natural effects without any external gear
-True-and-tested dreadnought design
-Classic, warm tones from the spruce-mahogany combo
-Narrow neck aids overall playability

Cons:
-The actuator module bumps up the cost quite a bit
-No onboard EQ provided

Who Is This For?
This is a unique instrument for unique needs. You need to hear it to truly appreciate its virtue!
If you want to take your creative potential to a new realm, and want to dial in inspiring effects without having to plug into anything, the Yamaha FG TransAcoustic is nothing less than a dream to own. The best Yamaha Acoustic guitar for most players.
How Yamaha FG-TA TransAcoustic sounds:
Check Today's Price on
*Consider all links in this post to be affiliate links. If you purchase, at no additional cost to you, we may earn a small commission. It helps us to keep the lights on, thanks! 🙂
---
The Next Best:
Compare Key Specs of The Top 5:
---
Compare The Tonewoods: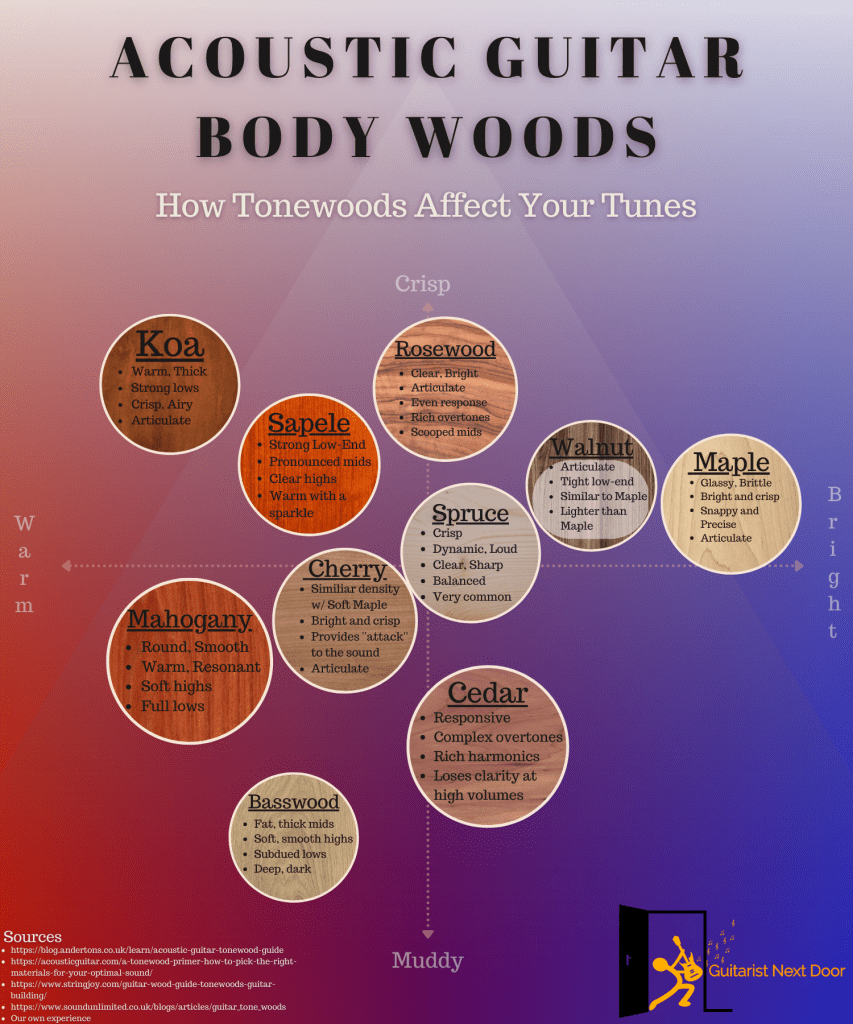 Yamaha FG-TA TransAcoustic
Top: Solid Sitka Spruce
Back & Sides: Mahogany
Neck: Nato
Fretboard: Rosewood
The fretboard and neck don't affect the tone much.
Top: Sitka Spruce (laminated)
Back & Sides: Tonewood (most likely a mix of woods)
Neck: Nato
Fretboard: Rosewood
Top: Solid Spruce
Back & Sides: Nato/okume
Neck: Nato
Fretboard: Rosewood
Top: Solid Sitka Spruce with A.R.E. treatment
Back & Sides: Solid Rosewood
Neck: African Mahogany
Fretboard: Ebony
Top: Solid Sitka Spruce
Back & Sides: Select Hardwood (most likely a mix of woods)
Neck: Nato
Fretboard: Walnut
For more cool info about tonewoods, check this acoustic guitar tonewoods article.
---
If you've decided to go with Yamaha for your next acoustic guitar, then you've already made a step in the right direction.
I've played Yamaha acoustic guitars ranging from entry-level $100 F-series models to their premium L-Series gems with A.R.E. treatment and whatnot! Trust me, I was blown away by every single one of them! Today, I've put up a roundup of the 5 best Yamaha acoustic guitars tested for quality, playability, features, and of course, sound.
There's something for everyone on this list – whether you're a day one beginner or a professional performer. I'm excited to talk about these guitars. Let's jump in!
Who crafted this post: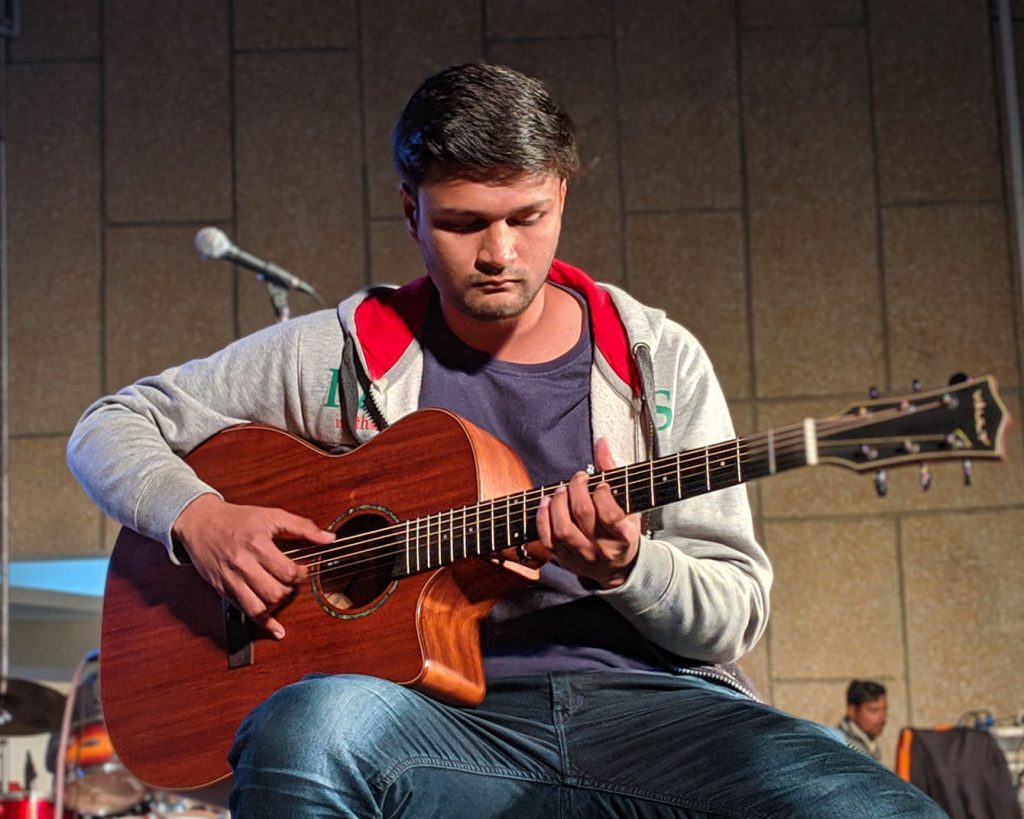 Author: Pranshu Nigam
Pranshu has been playing guitar since 2014, after having played the piano for 10 years.
He's all about acoustic & classical guitars and jamming around with unusual tunings. He mixes modern percussive fingerstyle technique and Flamenco music into his own playing. Pranshu also runs his own guitar website, Harmonyvine. Check Pranshu playing here!
Hide The Rambling▲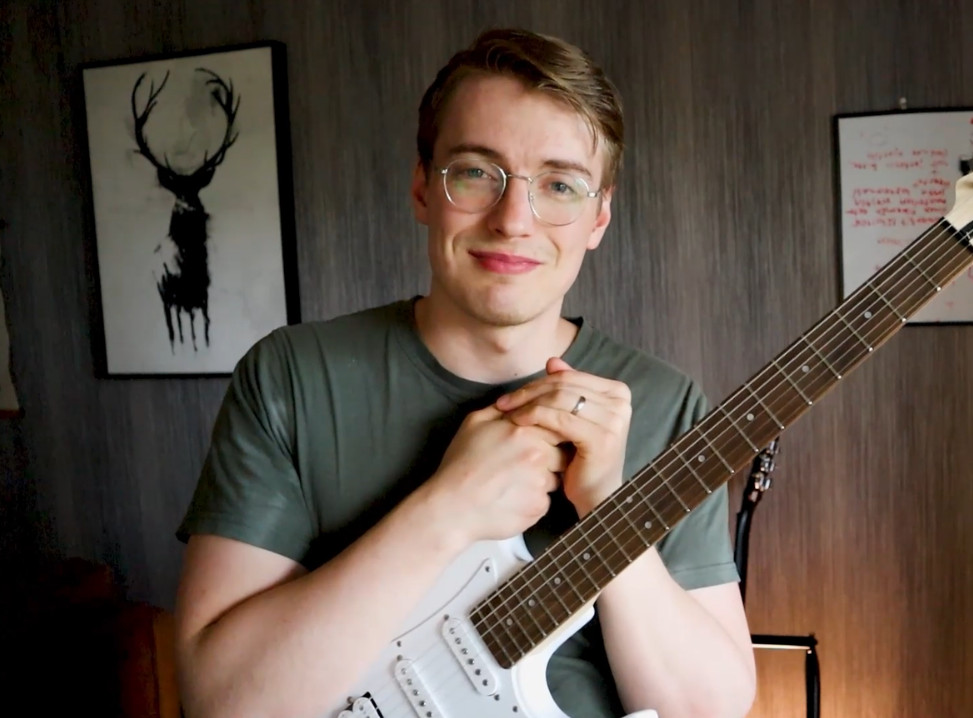 Editing & Research: Teemu Suomala
I first grabbed the guitar in 2009. I started this website in January 2020 because I couldn't do window installation anymore due to my health problems. I love guitars and have played dozens and dozens of different guitars through different amps and pedals over the years, and also, building a website interested me, so I decided to just go for it! I got lucky and managed to get awesome people to help me with my website.
I also got lucky because I have you visiting my website right now. Thank you. I do all this for you guys. If you have any recommendations, tips, or feedback, just leave a comment, I would love to chat with you. I have also been fortunate to produce content for several large guitar websites, such as Songsterr, Musicnotes, GuitarGuitar, and Ultimate Guitar.
I spend my spare time exercising and hanging out with my wife and crazy dog (I guess that went the right way…).
Hide The Rambling▲
---
Our Favorite Music Store in The World!
Why?
– Excellent Customer Service (4.7/5 Trustpilot Score)
– Fast & Free Shipping
– Gear is Inspected, Tested, & Ready to Play When it Arrives to You (We love this)
– Fair Prices
Visit Sweetwater:
Top 5 Best Yamaha Acoustic Guitars
3 Things To Keep In Mind When Buying A Yamaha Acoustic Guitar
Acoustic-only or Acoustic-Electric
Familiarize yourself with all the different shapes and series Yamaha offers, and then see which one suits your playing style and preferred musical genres.
Usually, you'll find acoustic-electric variants of all the regular guitars (for ex.: FGX800C for the FG800), but these will cost quite a bit more. You'd need to evaluate whether the extra cost justifies your needs before making a decision.
If you ever plan to spend more than $1000 on a Yamaha, test them out before buying.
Looking for the 5 Best Yamaha Classical Guitars?
Best Overall Yamaha Acoustic – Yamaha FG-TA TransAcoustic Guitar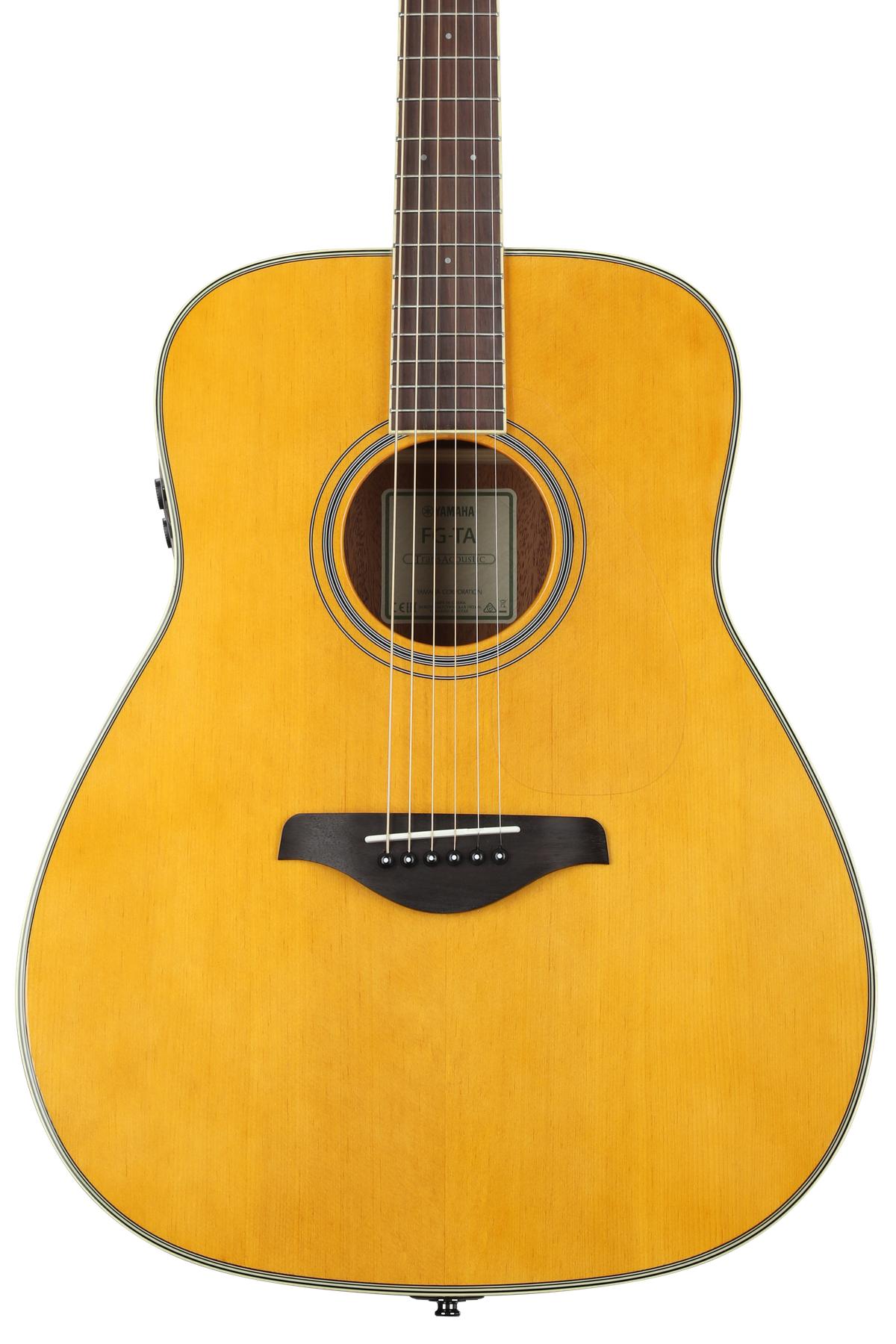 The Yamaha FG-TA TransAcoustic is more than a guitar. It's a technological innovation that's here to shake things up in the acoustic world!
Build/Construction
The essence of the TransAcoustic is simple. Take a perfectly traditional acoustic guitar and use software and circuits to vibrate the guitar's wood to create onboard effects. Don't worry if it doesn't make sense. I'll break it down for you.
Yamaha has installed a hidden device – an integrated actuator – which picks up vibrations from the strings and transmits them to the guitar body. This creates an unamplified, organic reverb and chorus effect. But more on this later!
Talking about the actual construction, the FG-TA uses mahogany back & sides coupled with a solid spruce top. Other hardware is synonymous with a typical mid-range acoustic guitar:
Scalloped bracing
Slim-tapered nato neck
Gorgeous bound rosewood fingerboard
SRT Piezo pickup
Pretty standard stuff. No fancy decorations, just an overall solidly built instrument.
Playability
While things are all nice and attractive in terms of technology, it's nothing new in the playability department. That is not to say it's bad, it's actually great!
Just that this is a typical Yamaha dreadnought besides the TA system. With a scale-length of 25.5" and a nut width of 1.69", it plays like a standard dread.
Although with Yamaha, the neck is usually a bit narrower than other dreadnought guitars. This means better access to the fretboard even if you have smaller hands.
With a silky-smooth rosewood fretboard, playing fast licks up and down the neck is a breeze. Plus, a C-shape neck profile is comfortable for most hand sizes. In short, it's nothing super special, but if you like Yamaha dreads, you'll like this one too!
Sound
Hear how this guitar sounds:
I must say that the TransAcoustic is anything but a gimmick!
With 3 knobs – one for reverb (room and hall), one for chorus, and a TA mode toggle, you're literally carrying a whole live performance setup with you. These are not just any digitally processed tiny-sounding effects. The sound is truly sublime and authentic to hear, especially when you play it for the first time.
Be prepared to get transported to new, creative dimensions. No amps, no PA, no effect pedals required!
And that doesn't ONLY apply to the effects.
At its core, the FG-TA is a great-sounding instrument. Classic, rich, and warm mahogany tones. And the SRT piezo pickup does its job well when connected to a preamp or PA. Overall, this is truly a special guitar for what it's worth. Unplugged, it still sounds great, but it's the TransAcoustic actuator that truly seals the deal.
Guitaristnextdoor.com's another acoustic expert Tommy Tompkins also crafted an in-depth review of this Yamaha FG-TA, you can check his opinion of this FG-TA here!
Overall
Pros:
Immersive and natural effects without any external gear
True-and-tested dreadnought design
Classic, warm tones from the spruce-mahogany combo
Narrow neck aids overall playability
Cons:
The actuator module bumps up the cost quite a bit
No onboard EQ provided
Who Is This For?
This is a unique instrument for unique needs. You need to hear it to truly appreciate its virtue!
If you want to take your creative potential to a new realm, and want to dial in inspiring effects without having to plug into anything, the Yamaha FG TransAcoustic is nothing less than a dream to own. The best Yamaha Acoustic guitar for most players.
---
Runner Up – Yamaha APX600 Acoustic-Electric Guitar
With its stunning looks and insane value for money, the APX600 is one guitar to show off your friends!
Build/Construction
Yamaha's APX series acoustic guitars have a thin-line form factor which is a compact and thinner body shape. These are designed to ensure optimal comfort to the player, but more on that in the 'Playability' section.
The APX600 comes with a new non-scalloped X-type bracing. This design ensures loud and rich tones even with the reduced size. Electronics are taken care of by the SRT piezo pickup and SYSTEM65 preamp.
One little problem I've noticed in quality is that a few users reported poor out-of-the-box setup when they received their unit. Don't be surprised (or worried) if you get the guitar with slightly high action. Although, this is easy to fix by yourself or at a local guitar shop.
You can get the APX600 in lots of colors – from your typical black and natural finishes to fancy vintage violin sunburst and creamy off-white goodness.
Playability
With proper setup, you could easily mistake this one for a $100's more expensive acoustic guitar! As the body is smaller than your typical dread, this guitar is much easier to handle, especially for kids or smaller players.
Its slim neck profile and smooth rosewood fretboard make fast playing effortless. Also, narrower nut width and shorter scale (25") aids playability even more, frets are easier to access and strings require less strength to press down.
If you have small hands or fingers then this is a dream to play!
So, if you want to finally play all those "this-is-too-hard-for-me" songs you couldn't play earlier, you know what guitar to buy. That being said, for large hands, this acoustic guitar is not the best option.
Check this article for more great budget Yamaha acoustic guitars.
Sound
Hear how this guitar sounds:
If you're worried whether the compact size would negatively affect the sound, stop worrying!
Sound-wise, Yamaha has done an incredible job considering the small body, cutaway, and all the holes they had to drill for the electronics!
The sound coming from the APX600 is surprisingly loud and full with lots of character. Expect a good amount of low-end, although not quite as much as the dreadnought models. Mids and highs are nicely balanced with the bass frequencies. However, when plugged in or playing with a pick, I found the high notes to be a little emphasized.
I'd definitely be inclined to use this acoustic guitar for fingerpicking or recording, but feel free to use it for power chords or heavy strumming.
Find more acoustic guitars with offset soundholes here.
Overall
Pros:
Looks very sleek
Excellent acoustic and plugged-in sound
Very comfortable due to small-sized body and thin neck
Built-in tuner and 3-band EQ
Cons:
Factory setup might not be perfect
A slight boxy sound may not suit some genres
Not very good for big hands
Who Is This For?
If you need a gorgeous-looking acoustic guitar with premium electronics and a comfortable design, the APX600 is ideal for you.
Also, if the FG TransAcoustic is a little out-of-budget for you, then you can go with this one for jamming, recording, or live performances. It's a great budget Yamaha acoustic-electric guitar.
---
Best Budget – Yamaha FG800 Dreadnought
The FG800 is the winner of my best Yamaha guitars for beginners roundup, which in itself explains why it sits on the "budget pick" spot for this list.
Build/Construction
Where the entry-level acoustic guitar segment is filled with rattling laminates, the FG800 uses solid spruce wood for the top. This alone makes it a steal!
The solid wood top not only adds volume and depth to the sound, but the tones get better as the wood ages.
The FG800 uses a nato neck with a smooth satin finish. Depending on your region you might find the rosewood or walnut fingerboard variant. Yamaha did some cost-cutting with the plastic nut, saddle, and bridge pins. But for just $200, that's what you'd expect.
Apart from that, no complaints about the quality!
Yamaha also provides an option for a starter bundle including a hard case, pick, digital tuner, guitar strap, and stand. In my opinion, this can be a superb investment for beginners.
Playability
Playability-wise, this is exactly what you'd expect from a well-built Yamaha. A smooth neck with a round but thin profile, plus a well-finished fingerboard makes it incredibly playable out of the box. It's surprisingly comfortable. Almost equivalent to more expensive guitars, and much better than any cheap knock-off guitar.
Although there's no cutaway on this model, you won't have trouble playing high up the neck ('high' being 12th fret for an acoustic).
I think most players will find it comfortable. Also, if you find the dreadnought body too big, you can always consider its smaller cousin – Yamaha FS800.
Sound
Hear how this guitar sounds:
This is where the solid top comes into play. The sound coming out of the FG800 is rich and full. You'll find all the characteristics of the classic dreadnought shape:
Rich articulation
Plenty of resonance
And a 'boomy' low-end.
It looks like the new scalloped bracing has contributed to excess volume, which is always a great thing.
Tonally, it sounds a bit warm and rounded. If you're looking for that extreme high-end sizzle found on some exotic instruments, you won't find that. But overall, this is a balanced sound that fits the classic dreadnought. FG800 also works well with acoustic blues.
If I were a beginner and had around $200 in cash, Yamaha FG800 is the one I'd get.
Find our picks for the best acoustic guitars for blues here.
Overall
Pros:
Solid spruce top
Classic dreadnought look and feel
Great tuning stability
Playability is decent for its price
Cons:
No cutaway
No electronics
Who Is This For?
The Yamaha FG800 is probably among the top choices for beginners on a budget.
But don't be fooled by the humble price tag. The FG800 packs enough punch for even intermediate or advanced guitarists who need a cheap but reliable backup acoustic.
---
Best Premium – Yamaha AC5R ARE Concert Guitar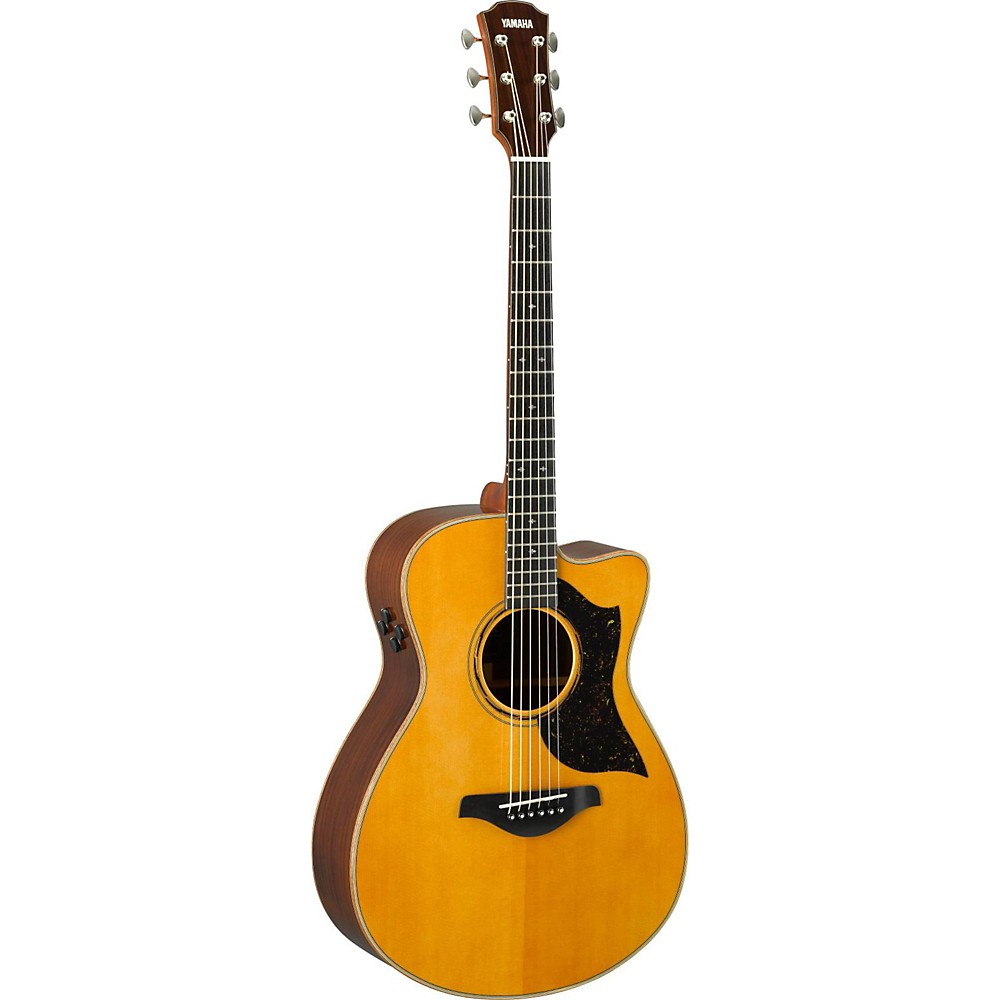 The top-end handcrafted Yamaha from Japan is here to compete with the likes of Martin, Gibson, and Taylor.
Build/Construction
At first glance, the Yamaha AC5R looks like your typical mid-range guitar – an all-solid rosewood body with a scalloped-braced solid sitka spruce top.
But there's a catch!
This isn't just any piece of spruce. It's hand-picked and then treated with Yamaha's A.R.E. (Acoustic Resonance Treatment) technology.
A.R.E. is Yamaha's patented wood-torrefaction process that seasons the wood and creates a vintage tone. Everything about this guitar screams high-end:
Ebony bridge and fingerboard
3-ply African mahogany neck
Tusq nut and saddle
ABS bridge pins and Gotoh Chrome tuners
The guitar looks neat and attractive with its chocolaty back and sides, glossy finish, and cleanly dressed frets.
Overall fit and finish are simply flawless. From the mahogany binding to every single joint on the body, Yamaha has paid amazing attention to detail here. Another thing I really liked is that the AC5R uses AA batteries instead of the 9V type. It's my personal preference because I think it makes it more convenient.
Playability
The stock setup is fairly decent. The action can be turned really low on this one, so electric guitar players should be able to handle this easily. A straight-taper neck and single cutaway makes soloing beyond the 12th fret effortless.
The smaller body makes playing a nice experience, whether sitting on a couch or standing on a stage. For reference, this AC shape is slightly smaller than an OM but a bit deeper.
The buttery smooth ebony fingerboard coupled with hand-rolled fret edges will allow you to play for hours on end without any signs of finger pain.
Check our picks for the best acoustic guitars under $1000.
Sound
Hear how this acoustic guitar sounds:
This is an all-rounder guitar you can blindly trust in any given situation. The AC5R is very responsive and has a fat, balanced tone. The low-end is strong but not overpowering. Meanwhile, the mids and highs nicely cut through with great sustain and clarity. Overall it sounds very versatile both with a pick or fingers.
Not only that, the SRT2 pickup translates the natural acoustics of the guitar really well. Plus, it's REALLY loud!
You can also blend the piezo signal with a preamp mic blend, giving complete control over your stage sound.
With that said, the AC5R concert model is certainly more suited to fingerstyle. This doesn't mean it can't take heavy-handed strumming, but Yamaha knows that and that's why you'll also find its dreadnought cousin in the market (Yamaha A5R).
What ARE means? It states for Acoustic Resonance Enhancement.
Overall
Pros:
Built strongly with quality woods and materials
A.R.E technology creates a vintage-like tone
Very loud for a concert acoustic electric guitar
SRT2 pickup produces a rich and authentic sound
Uses AA batteries
Cons:
Who Is This For?
The AC5R is one guitar that all acoustic guitarists will love, but it's primarily designed for gigging musicians and singer-songwriters.
With its all-solid construction, high-quality hardware, smooth-playing neck, and premium electronics, it's a worthy guitar if you need a deluxe acoustic without shelling out $3000 in cash. AC5R ARE Concert is one of the best acoustic guitars.
---
Best Nylon-String/Classical Option – Yamaha NCX1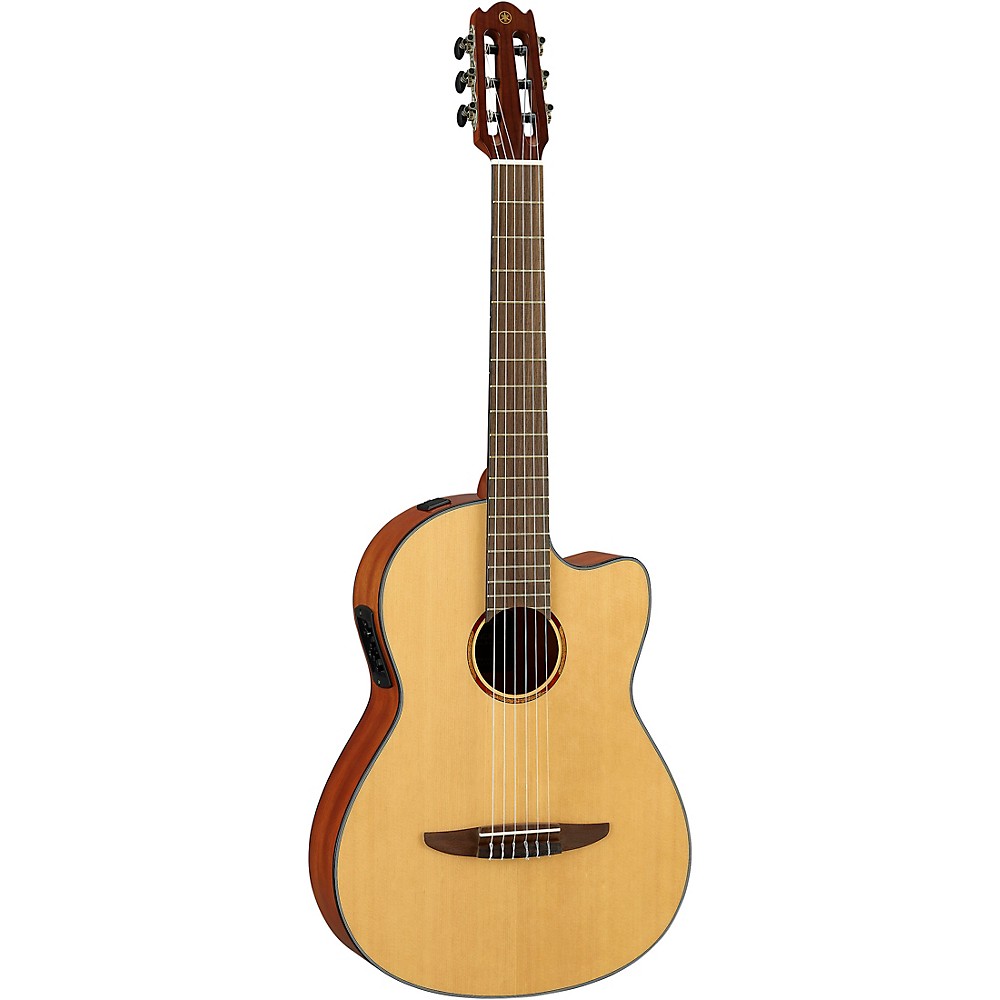 Yamaha produces a wide range of classical guitars, but the NX series is where all the fun's at!
Build/Construction
The Yamaha NCX1 is quite a bit different from the NTX1 model which I reviewed in this article. The latter had a thinner body and a narrower neck profile like what you'd find in steel-strings. The NCX series comes with a more traditional classical body and neck profile. The cutaway is still here, but it's still a familiar shape for classical players.
Yamaha chose to go with a combination of solid spruce top and nato body for this one. There's also a revamped NX bracing system that gives it a better low-end response and sustain.
Also, not sure whether classical purists will appreciate this feature, but the NX series comes with a truss rod. Personally, I find it extremely convenient when you have to do a quick neck adjustment.
Playability
Yamaha has most likely spent a nice portion of their marketing budget on advertising how playable these acoustic guitars are. But I think it's safe to say that I agree with their marketing.
A scale length of 25.5" paired with a single-cutaway gives you more freedom than a conventional nylon-string guitar. Electric guitar and steel-string converts will love that!
Nut width sits at 52mm which is similar to a traditional classical guitar, so you don't have to spend weeks adjusting your technique. Plus, the silky smooth walnut fretboard has a flat radius and ample string spacing (11.8mm), so you'll have a great time showing off your arpeggio and tremolo skills.
Whether you're an electric guitar player looking to try out the magic of nylon strings or a professional classical player, you'll feel confident playing the Yamaha NCX1.
Sound
Hear how this acoustic guitar sounds:
The solid Sitka spruce-nato combo produces a bit brighter but balanced tones than cedar classical guitars. The best part is that even though it has an enhanced bass response, the mids and highs are powerful enough to cut through easily.
In the electronics department, you'll find a 3-band EQ Preamp with Undersaddle Piezo Pickup and tuner. This adds nothing ground-breaking to the mix, like the more expensive NX series guitars with Atmosfeel pickup-preamp system, but for this price point, I can't complain.
In my opinion, this is as good as it gets with a budget nylon-string amplification!
Overall
Pros:
Great sound quality and projection
Electronics are excellent for a nylon-string guitar
Reliable tuners
Truss rod makes neck adjustment very convenient
Cons:
No option without a cutaway
Who Is This For?
If you're after a contemporary classical style but appreciate modern touches like cutaway, pickups, and a totally unique NX bracing system, Yamaha NCX1 is a great option.
---
The Verdict
If you want to have a memorable playing experience and push your creative potential to a new level, then the Yamaha TransAcoustic is going to be an asset for you. The unplugged reverb and chorus effects are not just inspiring, they allow you to carry a whole live performance set up anywhere you go.
If you don't care about the onboard effects, the thinline APX600 is almost as good of a performer. And if you need a traditional dreadnought without breaking the bank, the FG800 is a solid option.
---
Runner-Ups That Just Missed The Top 5
---
Buyer's Guide/FAQs
How to Choose The Best Yamaha Guitar For You?
Picking the right Yamaha guitar is no different than picking the right acoustic guitar in general. You've to look for all the basic indicators:
I'd say first decide what you primarily need from your acoustic guitar and then find the right series that suits your requirements. Price is usually not a worrying factor with Yamaha as pretty much most of their guitars are priced very reasonably.
Yamaha VS Other Brands
I'll make this one easy for you.
If I had less than $300 to spend on an acoustic, I'd blindly go with Yamaha over any other brand. I won't deny having a bit of personal bias here, but I think Yamaha provides the highest quality at the lowest prices.
Check our picks for the best acoustic guitars under $500 here.
However, things get a little tricky when you have a little more cash, say around $500-600. Yamaha still stands strong in this segment, especially with their notable TransAcoustic lineup. But other brands like Seagull, Takamine, Breedlove, etc. enter with some really amazing guitars. In short, I'd spend a bit more time on research and possibly try them out in person.
Read our full How Much Do Acoustic Guitars Cost? guide here.
Now, when you look at the higher end of the spectrum, Yamaha is overshadowed by premier brands like Martin and Taylor. That doesn't mean their high-end acoustic guitars are bad. I still think their L-Series, A-Series, and Red Label models can give guitars twice the cost a run for their money. But DO NOT make a decision without playing it at a guitar store.
Are Yamaha Guitars Worth The Money?
If we're talking about value for money then there are not many brands outperforming Yamaha, especially in the budget to mid-range segment.
Yamaha makes some of the most consistent mass-produced acoustic guitars out of any acoustic brand. Their guitars are usually built well, are easy to set up, and sound amazing.
Which Yamaha Guitar Is Best For Beginners?
The Yamaha FG series acoustic guitars are widely considered to be among the best for beginners. The reason being their reliable quality and insane price-to-performance value.

For classical, the Yamaha C40II is easily the first choice for most beginner guitar players, unless you up your budget.
Check this post for more info: 5 Best Yamaha Acoustic Guitars for Beginners
For best Yamaha Electric guitars, check these 3 reviews:

–Yamaha GigMaker Electric Guitar Pack Review
Where Are Yamaha Acoustic Guitars Made?
Based on 2022 research Guitaristnextdoor.com made, Yamaha acoustic guitars are made in 3 places:
-Indonesia (entry-level and budget guitars)
-China (mid-range acoustics)
-Japan (majority $1k+ acoustics, Red Label serie for example)
Check this article to learn more: Where Are Yamaha Guitars Made? – 2022 Update
---
Conclusion on Best Yamaha Acoustic Guitars
In my opinion, Yamaha is probably the easiest brand to pick the right instrument for your needs! They're extremely clear with the type of players each series caters to. You just have to know what is it that you want from your acoustic guitar. Of course, these five are my favorites, and I'm confident you won't regret it if you just pick one of them! The best of the best Yamaha acoustic guitars!
Feel free to leave a comment with further questions and keep rocking!
---
You might also like:
We are sorry that this post was not useful for you!
Let us improve this post!
Tell us how we can improve this post?