Last Updated on April 29, 2023 by Teemu Suomala
Blackstar Fly 3 is not for everyone…but at the same time, it's definitely the best amp for some players!
I bought this Blackstar amp and had a really fun time testing it. This in-depth Blackstar Fly 3 review reveals everything I experienced with it. It's a result of 10+ hours of research and me playing this little electric guitar amp.
So, let's find out if this Blackstar Fly 3 battery-powered amp is the best option for you!
Check my full under $100 amplifier test here.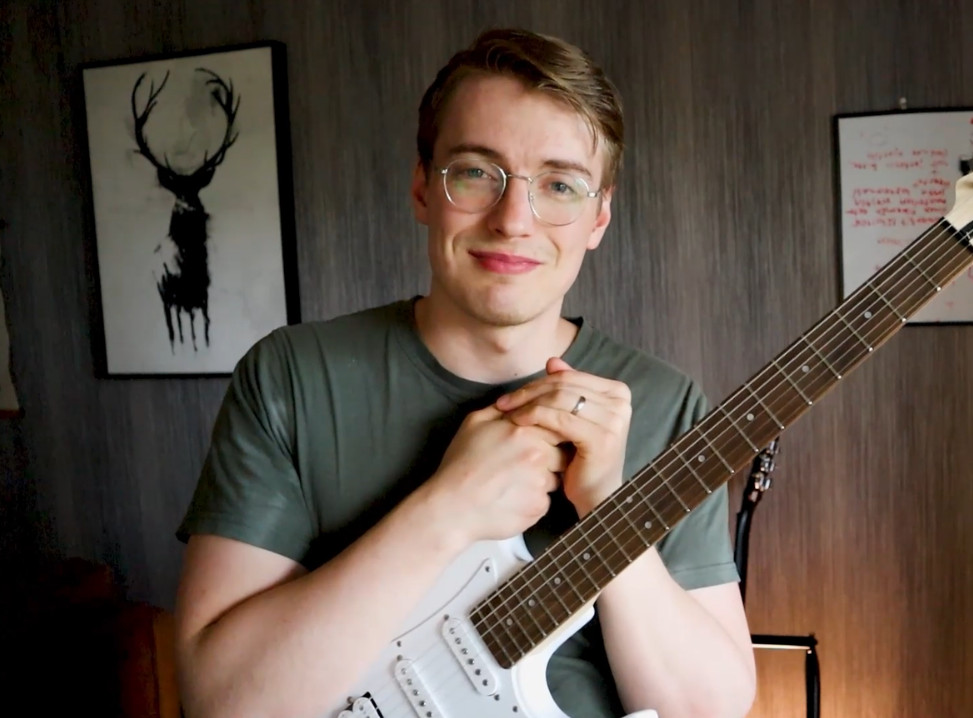 Author: Teemu Suomala
I first grabbed the guitar in 2009. I started this website in January 2020 because I couldn't do window installation anymore due to my health problems. I also noticed that most guitar websites don't do a really good job, so I decided to just go for it! I got lucky and managed to get awesome people to help me with my website. I also got lucky because I have you visiting my website right now. Thank you. I do all this for you guys. If you have any recommendations, tips, or feedback, just leave a comment, I would love to chat with you. I have been fortunate to produce content for several large guitar websites, such as Songsterr, Musicnotes, GuitarGuitar, and Ultimate Guitar. I spend my spare time exercising and hanging out with my wife and crazy dog(I guess that went the right way…).
---
Blackstar Fly 3 Review
Summary(If you are in a hurry)
Blackstar Fly 3 offers you
nice clean and crunch tones
more tone-shaping options than most amps at the same price.
you have delay-effect,
separate clean and overdrive channels,
and chance to increase and improve your tone with Blackstars Extension Speaker.
It's limited when it comes to distortion and has some bad design choices that make it easier to drop.
But still, if you are looking for great portable cleans and solid crunch under $100, in my opinion, there are no better options available.
If you are after metal tones or want more versatility, then there are better options available. (Check "Alternatives"-section).
Check Today's Price on:
*Consider all links in this post to be affiliate links. If you purchase, at no additional cost to you, we may earn a small commission. It helps us to keep the lights on, thanks! 🙂
---
You can watch my full in-depth video review of Blackstar Fly 3 too:
Our Favorite Music Store in The World!
Why?
– Excellent Customer Service (4.7/5 Trustpilot Score)
– Fast & Free Shipping
– Gear is Inspected, Tested, & Ready to Play When it Arrives to You (We love this)
– Fair Prices
Visit Sweetwater:
Blackstar Fly 3 Specs and Dimensions
Blackstar Fly 3 is designed to be a portable amplifier, which provides versatile tones for different situations.
| | |
| --- | --- |
| Power | 3 Watts |
| Amplifier-type | Analogue/Solid-state |
| Speaker | 3″ speaker |
| Channels | 2, Clean & Overdrive |
| Controls | Gain, Volume, Overdrive Switch, EQ (Tone)(ISF), Delay Level, Delay Time |
| Effects | Digital Tape Delay |
| Inputs | 1/4 Instrument Cable, 1/8 AUX-Cable, DC-Adaptor(6.5V) |
| Outputs | 1/8 Headphone jack, Blackstar Extension Speaker Emulated-output |
| Battery | 6xAA-batteries |
| Battery life | 15h(in home-practice use) |
| AC Adaptor Included | No (sold separately) |
| Weight | (I measured this): 1.98lbs (0.9kg) |
---
Overall Look, Feel, ad Quality
Watch the unboxing and overview of this little amp:
To be honest, in my opinion, Blackstar Fly 3 doesn't even try to offer you a high-quality feeling amp that makes your home instantly better looking. Does this mean that this feels like a worthless piece of plastic?
No.
Because this little amp doesn't make you wanna hide it either. Its quality is just what I would expect from an amp like this. Decent. And especially the frontside look of it is pretty nice.
And even when you are looking closer at this amp, it's really not too bad. Knobs don't feel too cheap, everything is well attached and works well.
But the surface of this otherwise nice-looking plastic is quite slippery. And when talking about portable-amp without any kind of handle, this is a small minus. I didn't drop this, but it's still a little bit too easy when you are moving this around, placing it onto the table, and into your backpack over and over again. In long-term use, it's really hard not to drop this amp. So be careful.
Another small con in the build is the decisions made with the little legs of this amp. In this kind of little box, it's really important that it's stable as possible when you place it on to table because an object this light is really easy to bump…
And here the use of only 2 rubber legs paired with two slippery plastic ones doesn't work well. Small con, I know, but if this amp would have 4 rubber legs, the chance of dropping it would be lower.
But overall, the looks, feel and quality of this amp are still solid.
Features
All you need. That's how I would shortly describe the features of this amp.
With the gain, you can adjust the signal strength at the start of the signal chain and add distortion to your tone. With volume, you adjust the strength of the processed signal aka. loudness. And about the loudness…
…this amp is not very loud. So especially if you are outside and it's windy or otherwise noisy, jamming with this amp would prove to be hard.
But for practicing and playing indoors, it's loud enough for most of us.
And you get 2 separate channels with this amp, Overdrive, and Clean. And for this price, this feels like a premium feature. Great move by the Blackstar.
But I would rather call the other channel Crunch instead of Overdrive, but more about this in the "Sound" section.
Blackstar uses their patented ISF (Infine Shape Feature) EQ in this little amp. It's breath of fresh air for me, and I really liked playing with it.
I think that the use of ISF-control only is the right decision from Blackstar with amp this small.
With this, you can shape your tone more than just with one "treble" or "middle"-knob. But for a larger amp, I would choose 2-band EQ over this one ISF-knob.
With ISF you can change values of the components of the amp and this makes differences in how the amp reacts to gain, volume, and delay adjustments.
Fully counterclockwise is the "American" setting and fully clockwise is the "British" setting.
American tones are sharper, brighter tones, a little bit like you would dial in more treble. British tones are the opposite, it's like you would increase the middle and bass and smoothen the treble.
But you don't get the best out of this ISF-EQ without 2- or 3-band EQ. With separate EQ-knobs this ISF knob is a real game-changer for some players, you have so many different options. But still, I'm satisfied with the ISF control of this amp. You can learn more about ISF from Blackstar's own article.
And then we have the Delay. And again, this is usually not found in good amps on this price-, and size range. You can spice up your playing a lot with the delay.
And also you can also dial in "reverb" like tones when you set the "Time-knob" to the 0, and the "Level-knob" to the 10. Plus you can plug in headphones for quiet practice or jam with your favorite songs with AUX-input. With headphones, this Blackstar offers solid sound quality.
Also, you have the option to buy an extension speaker by Blackstar to this amp, on the bundle, or separately later. This upgrades your sound to stereo. I have not used this amp with the extra speaker, but after checking out some Youtube-videos it sounds pretty good and might be worth the extra penny for some players.
Check this video out:
Especially busking guitarists will appreciate the extension cab.
All in all, this amp offers definitely enough features for its size and price.
Usability
This amp has more knobs than many others on its price, but still, the usability is at the top level. I have never heard that Gain and Volume knobs plus Overdrive/Clean-channel switch has ruined anybody's user experience.
But the ISF-knob can be a little bit confusing for first-time Blackstar -users, but the manual will definitely help you out with this.
Also if you have ever used the delay effect, you are probably fine with its
time(how much time is between your guitar signal and playback signal)
and level (how loud the playback is) knobs.
If not, again, the manual helps you out. Overall, this amp is still easy to use and the manual is surprisingly simple and thorough for its size. Taking advantage of every feature of this amp is relatively simple.
Sound
Check the sound demo above(I used Ibanez GRX70QA with this little amp)!
First the cleans.
I kind of fell in love with the nice variety of cleans that this amp can offer. I especially liked the clarity of the cleans. Nothing dull, boxed, and boring…
…Even tho that I was expecting something like that from an amp like this. But I was proven wrong, and I'm glad that happened.
You can dial everything from sharper, brighter American- to rounder and warmer British cleans.
Personally, I found myself using the rounder British cleans more with this amp.
Playing with the "Delay", you can add a nice ambiance and atmosphere to your tone. Especially clean leads with dealy sound really sweet to my ears. The only thing missing from the cleans is acoustic-like tones, but you can't really expect everything from an amp like this.
Then the crunch tones.
Great in my opinion. Classic rock, crispy blues, and rockabilly- tones will go just fine with this Blackstar. I played crunch tones quite a bit, both with the clean channel with full gain and the overdrive channel with low gain.
I enjoyed the crunch tones with the clean channel the most.
The tone was clear and crisp without being overly distorted or fuzzy in any way. But what about the distortion…?
Can Blackstar Fly 3 Handle Metal/Distortion?
When you hit this amp with some overdrive, it sounds good in my opinion, it handles the distortion well. Classic rock and rock will be a good fit for this.
But the problem is…distortion is pretty thin. It sounds good, but you can't get really heavy tones out of this Blackstar. There is no aggressive growl and it doesn't chug well in my opinion.
So if you want to play metal with this amp, it might disappoint you.
So if you are searching for portable metal tones, I think that you have to spend a little bit more and crab Boss Katana Mini or Roland Micro Cube GX.
But this amp handles rock and even some hard-rock quite well.
Value for Money
The stack:
Amp feels and looks like you would expect, and it's still really easy to use.
You get great cleans, good crunch, and somewhat limited metal tones with this amp.
You also get nice tone-shaping options with ISF-knob and you can spice up your playing the delay effect.
Plus, the extension speaker option is nice to have.
So, pretty amazing value for money in my opinion. 5/5.
Verdict
Pros
Affordable
Great value for money
Portable
Clean tones are amazing
Solid crunch tones
Quite simple usability
Extension speaker available
Clean and overdrive channel, plus delay effect
Cons
Distorted tones are really limited
2 Plastic legs ruin the stability (drops easily from the table)
Overall slippery surface (drops easily from hands
EQ-control can be confusing for first time Blackstar users
Cleans and crunch tones plus great features for the price and size. And then there's the great portability and price. These are the best things about this amp.
If you are looking for the best under $100 portable cleans and crunch this is the best option in my opinion. It's easy to drop, and it's pure plastic. Plus distorted tones sound more like crunch tones than real distortion.
But still, this amp definitely has a place on the market and it's my favorite option for portable clean lovers on a budget.
Check latest prices on:
---
FAQ
What type of batteries Blackstar Fly 3 use?
6 AA batteries. You can either use normal alkaline or rechargeable batteries.
Does Blackstar Fly 3 come with a power supply?
It depends on which set/bundle you choose. If you just buy the amp, then no. But there are several Blackstar Fly 3 bundles available and a power supply is usually included with those.
Can You Busk With Blackstar Fly 3?
I wouldn't say that the Blackstar Fly 3 is great for busking in general. Especially when used in crowded and noisy places, it's too quiet. But…
One of my Youtube viewers shared his experiences:
In tunnels or in a shopfront they are not so bad, particularly if using electro-acoustic.–

also pedestrianized streets and against the wall will give satisfactory results. But you are right, they are weak for "performance" so it's a tight gamble.

My Mockumentary
So you can do some busking with Blackstar Fly 3, but it's not the best option when it comes to busking in general.
(Big thanks to My Mockumentary for sharing user experiences!)
---
Alternatives
BOSS Katana Mini – Portable Metal Tones Under $100
If you want metal tones for around $100, Boss Katana-Mini is my favorite. Thick, full, and growling distorted tones of this little amp really surprised me. Also, this amp has 3-Band EQ(bass, middle, treble) and the Delay effect.
You can get better clean and crunch tones for even less money, but those not-so-heavy tones of this amp don't suck at all either.
Check the latest prices on:
---
VOX Pathfinder 10 – Even Better Cleans and Rock Tones
VOX Pathfinder 10 is my favorite guitar amp under $100 when it comes to clean and crunch tones. It looks, feels, and sounds like a more expensive amp in my opinion, but the heavily distorted tones of this fall short too. Missing AUX-input is another con with this amp.
But otherwise, the open-back, room-filling rock tones of this are hard to beat for the price. And yeah, I still own this amp, I like it so much.
Check the latest prices on:
---
Roland Micro Cube GX – The Best Portable Amp
For me, Micro Cube GX gives everything I need from a portable practice guitar amp. About 20 hours of battery life. Power supply out of the box. Tones from acoustic simulation to heavy distortion (7 different amp-types). Delay and reverb plus 5 other effects.
It's not the most beautiful amp, but the quality is still great.
It's more expensive than Boss Katana Mini or Blackstar Fly 3, but you definitely get value for your money.
Only if it's too big, expensive, or you just don't like the tones of it, it's a not good choice. Otherwise, it's definitely my favorite pick.
Check the latest prices on:
---
Conclusion on Blackstar Fly 3 Review
I had a great time testing this Blackstar Fly 3. I spent quite a while fingerpicking my Ibanez with its clear and bright cleans and also hammering some crispy crunch riffs with this amp.
Hopefully, you found this review helpful and if you have any questions, leave a comment here or go to my Youtube-channel and hit me with a comment.
I wish you all the best!
Teemu Suomala
You might also like:
We are sorry that this post was not useful for you!
Let us improve this post!
Tell us how we can improve this post?