Last Updated on April 29, 2023 by Teemu Suomala
If you think you can't get heavy metal tones on a budget amp, you need to read this Boss Katana Mini review!
The fan-favorite and ever-so-popular Boss Katana has a downsized cousin – the Katana Mini. It's small, until you plug your electric guitar in and hit the first chord through it. Then it's huge!
I was excited to see if this tiny amp retains more of the features of its big brothers. That's why I decided to test this amp myself and honestly, I'm impressed with the results. So, just how effective and useful is this mini package from Boss?
Check the results of my under $100 electric guitar amp test here.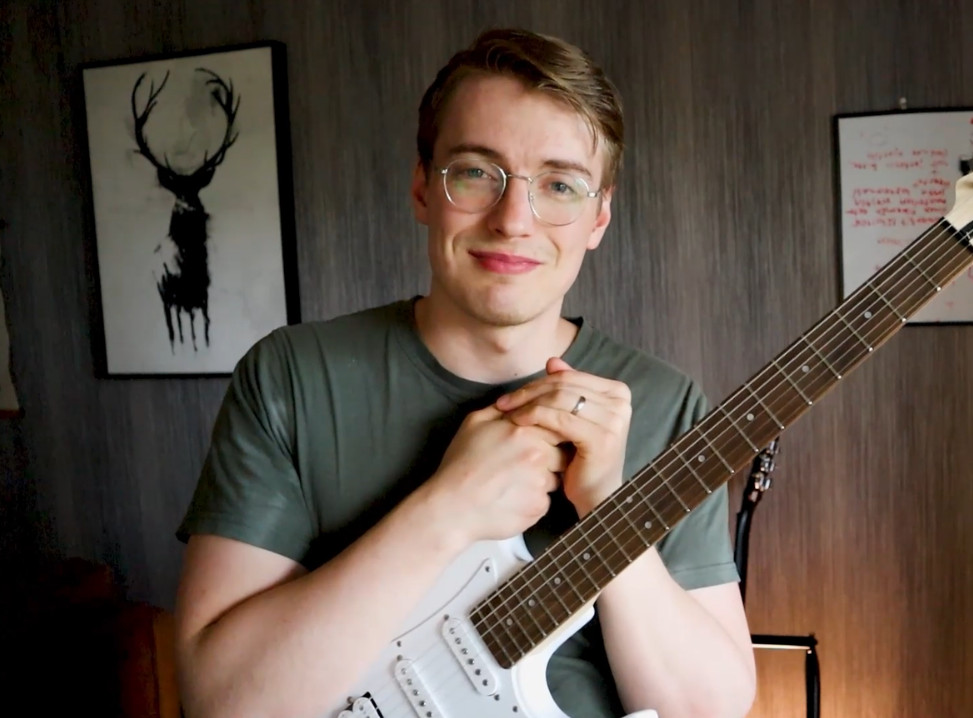 Author: Teemu Suomala
I first grabbed the guitar in 2009. I started this website in January 2020 because I couldn't do window installation anymore due to my health problems. I love guitars and have played dozens and dozens of different guitars through different amps and pedals over the years, and also, building a website interested me, so I decided to just go for it! I got lucky and managed to get awesome people to help me with my website.
I also got lucky because I have you visiting my website right now. Thank you. I do all this for you guys. If you have any recommendations, tips, or feedback, just leave a comment, I would love to chat with you. I have also been fortunate to produce content for several large guitar websites, such as Songsterr, Musicnotes, GuitarGuitar, and Ultimate Guitar.
I spend my spare time exercising and hanging out with my wife and crazy dog (I guess that went the right way…).
Hide The Rambling▲
---
Boss Katana Mini Review
Summary (If you are in a hurry)
The Boss Katana Mini is a phenomenal practice amp under $100 – Especially for metal, hard rock, and punk.
Boss has really got all the right boxes checked, including sound, portability, and of course, features.
The Katana Mini surprised me with its brown amp setting particularly, with thick, growling leads and heavy distortion that blows other amps on this category out of the water. Plus the delay effect is nice to have, and you can achieve a reverb-like effect with it using zero delay time and high level.
Overall, it's a solid option for:
Check Today's Price on
*Consider all links in this post to be affiliate links. If you purchase, at no additional cost to you, we may earn a small commission. It helps us to keep the lights on, thanks! 🙂
---
Watch the full review:
Our Favorite Music Store in The World!
Why?
– Excellent Customer Service (4.7/5 Trustpilot Score)
– Fast & Free Shipping
– Gear is Inspected, Tested, & Ready to Play When it Arrives to You (We love this)
– Fair Prices
Visit Sweetwater:
Boss Katana Mini Specs and Dimensions
| | |
| --- | --- |
| Power | 7 Watts |
| Amplifier-type | Solid-state |
| Speaker | 4″ Speaker |
| Channels | 1 |
| Amp Types | Clean, Crunch, Brown |
| Controls | Gain, Volume, 3-band EQ (Bass, Middle, Treble), Delay Time, Delay Level |
| Effects | Delay |
| Inputs | 1 x 1/8″ (aux in), 1 x 1/4″ (instrument), DC Adapter in |
| Outputs | 1 x 1/8″ (headphones/rec out) |
| Battery | 6xAA-batteries |
| Battery life | 6-8h(in home-practice use) |
| AC Adaptor Included | No (sold separately) |
| Weight | 2.52lbs (1.14kg) |
---
Look, Feel, and Build Quality
Anyone shopping for a sub-$100 amp isn't looking for the most marvelous piece of hardware.
And bar a few exceptions (looking at you VOX!), you can expect average build quality and feel at best. The same applies here, too.
This is a pretty barebones-looking amp – A simple black box that screams affordable.
It uses plastic everywhere without any fancy appointments. The only off-center addition being a couple of thin plastic strips and the "Boss" logo on the front.
Would I consider this a downside?
Absolutely not! It's what you can expect at this price. Besides that, the handle is large and firm enough. There is a minor con with this handle, which I'll talk about in the "Portability" section.
One thing I really liked about the design is the 4 rubber legs/pads at the base. The amp sits extremely stable on a desk. You won't have to worry about accidentally knocking or sliding it.
Well, I believe Boss knew that as well. This is not the amp you want to drop or leave it lying on the stage at your next gig.
But overall, I can say the construction, look, and feel are good enough for a $100 amplifier.
Features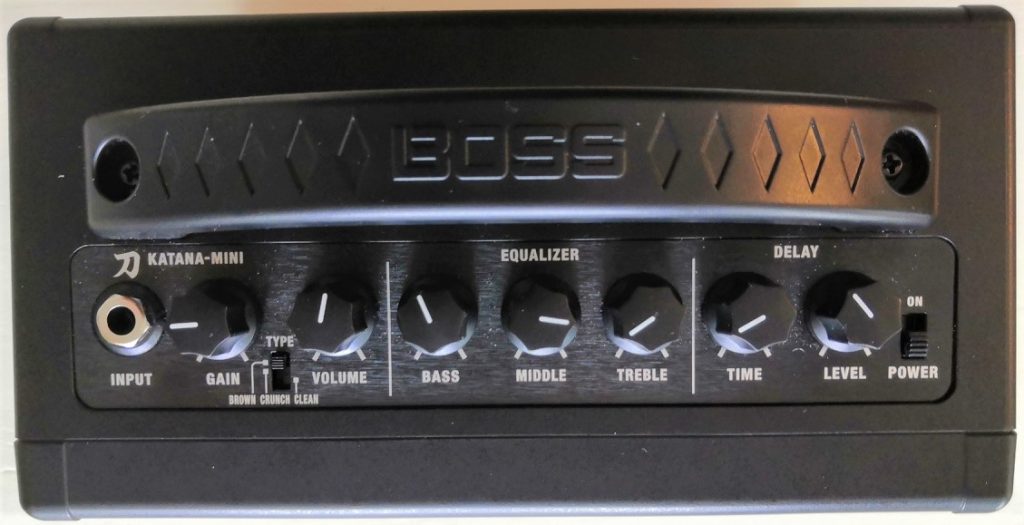 As far as the features are concerned, the Boss Katana Mini has got all the basics covered.
You're getting:
3 different amp types: Clean, Crunch, and Brown (read 'Distortion'). A single 3-way switch is provided to change between the amp settings.
A Gain knob for controlling the distortion.
Volume knob to adjust the signal level.
Here's my favorite one – a 3-band EQ (Bass, Middle, and Treble knobs) that really gives this amp extra tone shaping capabilities. A lot of the budget amps tend to skip this one!
The final two knobs: Time and Level control the only effect present on this amplifier – Delay.
No reverb you might ask?
Yes, reverb on its own would have been nice, but you have to be at peace with what we have here. But well, there is no dedicated reverb module, but you can get a reverb-like effect by dialing the delay knobs to certain values.
All you need to do is set the delay time to zero and crank the level to near-full. Technically, this is a rapid echo that goes on for a long time, but it sounds very similar to reverb.
Talking about the inputs, you again have everything you need in a practice amp:
A 1/4" instrument input jack.
Aux input so you can jam along with backing tracks.
Headphone in/Rec out
A DC power adapter input. Only problem being that the DC adapter is sold separately, as you'll be regularly draining batteries.
For its price and size, the Katana Mini offers more than enough. Overall, I'm happy with the features.
Anyone can nitpick at this price and come up with flaws – Only 1 effect, no tuner, no tap-tempo for the delay, etc. Not reasonable!
Usability
Usability is one thing I really like about this amp. It's simple and enables you to easily tap into every feature of the amp.
Again, the amp has that plastic feel, plus the amp-type selector is tiny, so fast accurate amp-type changes can be a bit tricky. But overall, usability satisfied me for sure.
---
Portability and Battery Life
The amp is feather-light at just around 2.52 lbs(this is my data). It can't get more portable than this. However, one thing that I found to be annoying is the handle they've provided.
Not that it's flimsy or anything, it's actually quite big and sturdy. But the problem is its positioning.
The handle is placed way too close to the knobs at the top, which leaves little room for your fingers to curl around. Your hand will almost always be fighting with those knobs for space – either your knuckles or fingers depending on the side you hold it.
While it's good enough for carrying it around your house, I'd say toss it into your backpack if you want to take it anywhere else.
Regarding the batteries, the Katana Mini uses 6 Alkaline AA batteries, and promises up to 7 hours of usage.
And in my testing, this info seemed to be accurate. Battery life was around 6-8 hours depending the use and settings that the amp is played.
This is not the best battery life I've seen in a portable amp. So, if you don't get the optional DC adapter, I'd suggest using rechargeable batteries. It's both cheaper and more efficient in the long run.
Sound
Check a sound demo:
During my testing, I found that the amp has massive potential in the distorted territories, but let's start with cleans first (save the best for the last, right?).
Clean
Clean tones are okay on the Katana Mini, but it's definitely NOT a strong suit of this amp.
Across the board, you'll notice a 'boxy' signature and a bit dull character in the sound. Cleans for me should be rich and sparkly, but here it's a different story.
Cranking up the gain or fiddling with the EQ settings doesn't help much either. This little amp likes to stay dry.
It's not very loud with the clean setting either, so don't expect your guitar to cut through a heavy jam session.
Well, it's not bad, but after reviewing amps like Blackstar Fly 3 and Roland Micro Cube, I expected more from the Mini.
But it's certainly usable, especially if you're okay with the boxiness, or maybe you like the sound. Setting all three EQ knobs to max definitely gives it some warmth and fullness, which I liked.
Crunch
The crunch tones kind of disappointed me to be honest.
At low gain, you can barely tell the difference between crunch and clean. And as soon as you kick in the gain, the boxiness and 'spanky' character of the sound become extremely noticeable.
If you ask me, I'd always prefer a low-gain brown setting rather than using the crunch on this one.
It might work for some 'crunchy' blues or classic rock styles, but it's not very versatile beyond that.
It's not a bad tone, but most other amps I've tested at this price offer way better crunch tones.
Brown(Distortion)
Honestly, I didn't expect much after listening to the other two settings.
But here I am, flattered by the utter delight this brown setting has given me!
I think the distorted tones on this amp are really powerful, with amazing sustain and clarity. Boss definitely borrowed the good bits from their more expensive Katana models.
I would NOT say it's a modern metal sound, but it's pretty darned good for some high-gain hard rock or classic metal. I think a boost or overdrive pedal can definitely take this amp to the next level, but I didn't test that.
It's seriously impressive for a budget metal amp, and I mean it!
Clean and crunch are nothing special, but not bad either. But with distortion, it's another story, this amp rocks.
And for leads, the amp shines with high gain and toned-down mids & treble. It's really versatile! In short, if you're looking for a budget practice amp with amazing distorted tones, look no further than this!
Sound demo with a budget metal guitar:
Here's a graph that reveals what this amp can handle in my opinion:
Value for Money
For just $100, you're getting:
Great portability
3 different amp types
Excellent distorted tones
Inbuilt delay effect with time and level controls
Beginner-friendly controls
3-band EQ
Ok clean and crunch tones
And of course, a "Boss" quality and trust!
It's hard to go wrong with this amp, especially if you're looking for a practice amp for metal and hard rock.
All things considered, the Boss Katana Mini is a terrific value for money.
Verdict
Pros
Great metal tones for the size and price
3-amp types add versatility and tone options
Portable
3-band EQ
Delay (you can also dial Reverb like effects w/ delay)
Surprisingly loud
Solid battery life
Quite easy to use
Cons
You can get better crunch and clean tones for less $ (Blackstar Fly 3 for example)
Cheap feel and look
When using the handle, the hand bounces against the knobs
The Boss Katana Mini is a tiny but power-packed practice amp!
Distorted tones are where this amp shines in my opinion. I don't think you can get better metal and hard rock tones in any other amp under $100.
The clean and crunch tones lack a bit of punch and sizzle. They are not bad, but not great either. For instance, the Blackstar Fly 3 has better cleans at an even lower price. But overall I liked this amp a lot and had real fun while testing it.
I'll wholeheartedly recommend it to anyone looking for a portable amp to add to their metal rig.
---
FAQ
Is Boss Katana Mini Worth It?
Based upon my testing, the Katana Mini is well worth it for anyone looking for a reliable practice amp under $100. It's easy-to-use for any beginner, is highly portable, and has great features for the price.
Metal enthusiasts will find an absolute delight in this amp's sound, and rock and blues players are not left far behind either.
Does Boss Katana Mini Have Effects?
The Boss Katana Mini only has a single effect – Delay, and it has two controls for the effect: Time and Level.
But you can achieve an effect similar to studio reverb with this delay module – just set the "time" to low and crank "level" up to full.
Does the Boss Katana Mini Take Pedals Well?
It depends on what you want to achieve out of the amp.
If you need good cleans as a foundation to then add grit, squeals, and all sorts of growls via pedals, the Katana Mini is not the best amp for that purpose. Its cleans are pretty boxy so you won't get the desired results.
On the other hand, if you need to boost the already overdriven sound coming out of it and take it to the modern metal territory, then pedals will definitely help.
How Long Do Batteries Last in Boss Katana Mini?
Boss claims that the battery on the Katana Mini lasts for about 7 hours. In my testing batteries lasted 6-8 hours.
It's nothing exceptional to boast about and you'll be better off if you purchase the separate DC adapter or at least rechargeable batteries. But for the price, battery life is not too bad.
---
Alternatives
Roland Micro Cube GX – Best Portable Amp Under $200
The Roland Micro Cube GX is one of my favorite budget amps of all.
For a little more money, you get:
7 amp types, making it super-versatile
Sturdy build quality
Thicker and fuller sound
More effects (chorus, reverb, phaser, octave, etc.)
Digital Tuner
It's clear that you're getting full worth of the extra investment over the Katana Mini.
The only place where the Boss Katana Mini wins is the 3-band EQ, where the Micro Cube has only 1 tone-shaping knob.
Other than that, I'd seriously suggest checking out the Roland Micro Cube GX if you need a durable all-around portable amp, and have just a little more cash to spare.
Check latest prices on:
---
Blackstar Fly 3 – Best Portable Cleans Under $100
I already praised the Blackstar Fly 3 a couple of times in the review, but let me put it here.
It has the best clean tones on a compact amp for under $100.
But wait – no handle! There goes the portability down the tubes. It's still very light and small so at least you can carry it around pretty easily.
Both the richness and clarity are very much there. And even though it's not as loud as some other amps, I still find it a better option when it comes to portability.
You won't get the mean distorted leads of the Katana Mini, but for clean and crunch tones, the Blackstar steals the deal.
So, if you need solid cleans for blues, rock, jazz, and great crunch tones for classic rock & blues, this is the best bang-for-the-buck option.
---
VOX Pathfinder 10 – Best Cleans & Classic Rock Tones Under $100
Again, an amazing budget amp with phenomenal clean and crunch tones.
And yet again, the high-gain distorted tones on this one fail to impress.
The VOX Pathfinder 10 is big and heavy, and thus, not very portable. But it's definitely the best-looking amp in its category.
But man that open-back design produces a sound that will fill an entire room. It also sounds richer, with deeper lows and crisp highs.
There's one little drawback you should know, there's no aux input, which is a very basic feature on all these amps.
---
Conclusion on Boss Katana Mini Review
So, this was my review of the Boss Katana Mini portable amp. I'm seriously impressed with how Boss managed to pack such thick and growling distorted tones on this little beast.
I like metal, and I like budget amps. So this is a no-brainer pick for me! If you can relate to any of that, it's probably a no-brainer for you as well.
Hope you enjoyed reading the article. If you have any questions, just leave a comment.
Have a great day and keep chugging!
You might also like:
We are sorry that this post was not useful for you!
Let us improve this post!
Tell us how we can improve this post?