Is it even possible? Because thick fingers hit the wrong strings so easily. Also playing fast and some chords feel impossible…
Relax. Take a cup of coffee or tea or something and go through this article. Just lay back…
But I have to warn you…if you do, you are going to feel super-motivated. You probably want to grab a guitar immediately and start jamming.
In this post, you will get 5 examples that prove that playing guitar with fat fingers is possible. And we will learn cool things about these players on the way, plus things that we can implement onto our own playing.
Quick answer:
Of course you can play guitar with fat fingers. If some people have mastered the guitar playing with their feet (keep reading if you want to see that guy), you can do the same with your fingers. When it comes to physical limitations and based on limb-loss statistics of the US alone, I would estimate that under 1% percent of the world's population have a physical limitation that stops them from playing the guitar at all.
But let's now look closer at the proof!
Note
Every guitarist on this list has developed noticeable skills. And the purpose of this post is to let those skills inspire people with fat fingers.
The guitarist on this post have 2 things:
-Serious guitar skills
-Thicker fingers than the most people
There is no intention to mock anyone with this post.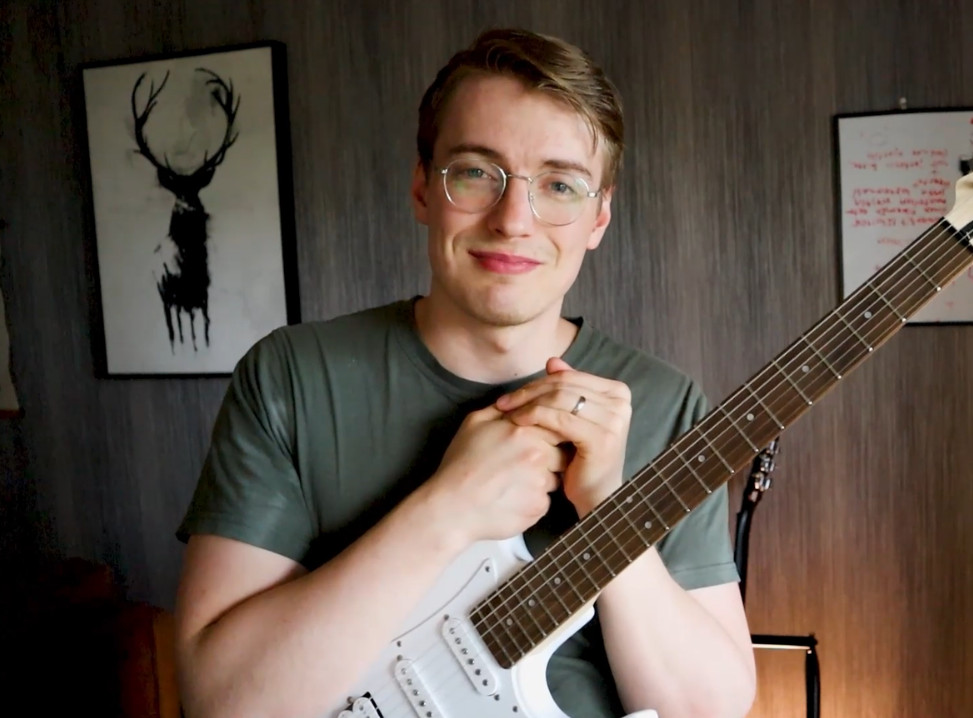 Author: Teemu Suomala
I first grabbed the guitar in 2009. I started this website in January 2020 because I couldn't do window installation anymore due to my health problems. I also noticed that most guitar websites don't do a really good job, so I decided to just go for it! I got lucky and managed to get awesome people to help me with my website. I also got lucky because I have you visiting my website right now. Thank you. I do all this for you guys. If you have any recommendations, tips, or feedback, just leave a comment, I would love to chat with you. I have been fortunate to produce content for several large guitar websites, such as Songsterr, Musicnotes, GuitarGuitar, and Ultimate Guitar. I spend my spare time exercising and hanging out with my wife and crazy dog(I guess that went the right way…).
---
Proof: You Can Play Guitar With Fat Fingers
Casefile 1: Mark Goffeney
Yep, Goffeney shreds with his toes. It's impressive and proves that you have to be really bad physical limitations to stop you from playing.
It's sad that Mark passed away in 2021, so we are not going to get any new stuff from him, but the memory remains.
And acoustic guitar was no problem to Goffeney either:
And it's most likely that there was no magic pill that Mark Goffeney took the gain this level of skill. He practiced consistently and maintained his motivation. And he probably kept the end goal in his mind to stay motivated. That's what's should learn from him.
I don't know about you, but after watching those 2 videos, I feel really motivated. And if Goffeney mastered the guitar with his feet, you can do the same with your hands for sure.
---
FREE Access for You! Secret Page Reveals 5 Must Learn Electric Guitar Riffs That Accelerate Your Learning (For All Beginners Who Love Rock and Metal)
(If you want to make progress fast, this is for you). Just tell me where I should send the link:
By entering your email address you agree to receive emails from Guitarist Next Door. We'll respect your privacy and you can unsubscribe at any time.
Casefile 2: Django Reinhardt
Did you notice something special from that video?
Correct! Django Reinhardt only uses 2 fingers. First and Second(Index) Fingers to be more specific.
Django Reinhard was badly injured in a fire at the age of 18, and his fret-hands pinky and ring finger almost completely stopped working.
But still, Django was the first big name in a Jazz-field coming from Europe and some still give him the title of the best all-time jazz artist coming from Europe. And Django did this with only 2 workable fingers. It's really impressive to me. Amazing musician.
I highly recommend you checking more of his songs out, especially if you are into jazz.
These first 2 amazing guitarists proved that you have to have really serious physical limitations to stop you from playing guitar. It really comes down to how much you want it?
Both Django and Mark wanted it badly. And they will be remembered because of their guitar skills for a long time.
Let's now move into guitarist who actually had fat/thick fingers as a limiting factor(it doesn't seem to limit them after all).
---
Casefile 3: Redd Volkaert
After watching a little bit too many Redd Volkaert videos(I should produce content after all), I can honestly say that he's is one of the most impressive Telecaster players out there. And definitely my favorite country guitarist. Hands down.
Just listen to those mid vocals licks from the video above. Just amazing. And after watching his guitar lesson videos, he seems to be a really nice guy too.
Also, Redd Volkaert has developed his own unique playing style. He can play fast with his fret hand, but his ability to use hybrid picking to compose amazing and also sometimes complex-sounding licks is what amazes me the most.
Check these licks for example:
That lick is something I have seen no one else doing. And it sounds sweet.
What we can learn from Redd is:
You can play fast with thick fingers
even with a Tele, which is known for relatively thin neck
you might have some limitations and while you continue working on those, you can also develop your strengths at the same time (Volkaert's hybrid picking skills for example).
So I recommend you go to Youtube and get lost with Redd Volkaert videos. After that, it's time to play guitar my friend!
---
Our Favorite Music Store in The World!
Why?
– Excellent Customer Service (4.7/5 Trustpilot Score)
– Fast & Free Shipping
– Gear is Inspected, Tested, & Ready to Play When it Arrives to You (We love this)
– Fair Prices
Visit Sweetwater:
Casefile 4: Johnny Hilland
First, according to Wikipedia, Johnny Hilland is legally blind…
And second, he has thick fingers.
But if you checked that video above, you noticed how his fingers literally fly all over the fretboard. So effortless, so smooth. And again, another Telecaster player.
Plus, we have another fellow who is not only an amazing guitarist but also seems to be a pretty flipping great guy!
Couple of things we can learn from Hilland:
he changes his thumb positionin a lot. This is important because thumb positioning usually determites the angle of your finger on the fretboard. (For example, if you need more reach, place your thumb at the middle of the neck).
Johnny was born with an eye disease (nystagmus), so he had an extra challenge when learning guitar. But look at him now, he is absolutely crushing it. So don't give up because of circumstances.
Johnny started playing guitar at the age of 2 (yeah 2), so consistent practice spread over a long period of time gets us the results.
Again, I recommend checking more Johnny's stuff out too. Amazing guitarist and super underrated in my opinion.
---
Casefile 5: Israel Kamakawiwo'ole
When the official video of your song has been watched over 1 billion times, you have done something right, that's for sure.
IZ's live performances are one of the most heart-warming ones I have ever seen, check this for example.
And, yes I know that he was a ukulele player, but we can still learn something from him.
first, if you invest time finding the right sized instrument for you, it can make playing a lot easier
also, a small body and thin neck can work really well. This way you have really good reach over the fretboard, and playing chords might require less effort.
Feel the music. Focus on the music. If you just think about how hard guitar playing is and what you can't do, things will be hard. IZ loved the music and clearly enjoyed playing.
Nothing could stop Israel from playing and singing. Nothing should stop you either.
---
Verdict – Can You Play Guitar With Fat Fingers?
Yes, you can. I have zero doubts about that.
We looked closer at the 5 amazing guitarists,
2 with other serious physical limitations
and 3 with fat fingers.
These guys are the proof. People with fat fingers can learn to play the guitar.
Still not sure yet? Here's a cool post for you, it reveals 17 famous guitarists with fat fingers.
And what was the secret behind these guitar heroes?
One of my favorite quotes which is from great writer Stephen King gives us the answer:
Talent is cheaper than table salt. What separates the talented individual from the successful one is a lot of hard work.

Stephen King
These guitarists didn't care if some things made playing hard.
They loved playing, they wanted to play, and they believed that they can play. And that's why te kept going. That's the secret.
These guys didn't care about talent. They cared about working hard.
And the best thing is: when you love guitar playing, practicing doesn't even feel like hard work most of the time!
Key Takeaways
1. You have to have really serious physical limitations to be able to say that you really can't learn to play guitar.
2. Consistent practice is the key. Practice even for a short period of time consistently, that adds up like crazy in a long run.
2. Pay attention to thumb positioning(place your thumb on the middle of the neck to achieve the best reach)
3. Play with the guitar that works best for you. There is no "one size fits all" guitar out there.
Couple Articles That Help You to Choose The Righ Guitar For Your Fat Fingers
If you are after guitars with wide necks, check these posts out:
If you are after thin necks, check these articles
If you want a small size electric, this article is worth a read:
Conclusion
Writing this post was a huge motivation booster for me. These guys just are/were so amazing guitarists. And watching that IZ's live performance brought tears to my eyes at the end.
I hope that this post motivated you to play the guitar. Don't give up. Keep practicing consistently, even for a short period of time every day. Because if you do, you will be pretty amazing too in the future!
I wish you all the best and stay safe!
---
Here's Our Favorite Gear Right Now!
Our Favorite Guitars:
Consider all links in this post to be affiliate links. If you purchase, at no additional cost to you, we may earn a small commission. It helps us to keep the lights on, thanks! 🙂
Electric guitars:
For beginners and tight-budget guitarists, Ibanez GRX70QA was the winner after hours of testing. If you are a metalhead, Jackson JS22 Dinky is our favorite.
If you have more room on your budget, Yamaha Pacifica 112V gives you a great bang for your buck, and Fender Player Telecaster HH will serve intermediate Players well.
Our favorite Electric guitar of 2021 was the PRS SE Custom 24-08. It gives so much versatility, comfort, and good tones that it's impossible to ignore.
Acoustic guitars:
For beginners, Yamaha FG800 is our go-to guitar. It offers more than any other guitar in the same price range.
For intermediate and beginners with bigger wallets, Gretsch G5024E Rancher offers so clear and detailed tones, plus easy playability that I had to include it here.
Seagull S6 Original is the best acoustic around the $500 mark. It has the construction, sound, and feel that many more expensive guitars don't achieve.
Our Favorite Amps:
For beginners, Fender Mustang LT25 offers the most. It's versatile, sounds good, and is simple to use.
For most home players, Boss Katana 50MKii is the amp that serves you in any situation. From country to metal.
If you are searching for a tube amp for home use, Blackstar HT-5R MKii is my go-to option because it sounds so good, and you can adjust the wattage(power).
When it comes to acoustic guitar amps, Fender Acoustasonic 40 will serve most people really well. But our favorite is Fishman Loudbox Mini BT. It offers a professional level tone and volume with a price most people can afford.