In 2021, I bought 5 cheap electric guitars for my testing. I was excited to see how these budget guitars sound and play. But to be honest, I was not expecting much… After all, each of these guitars cost less than $200.
The results? The guitars sounded and played better than I thought. And even to this day, I own 2 of these cheap axes. In this article, I will reveal what I found out when it comes to the sound of these cheap guitars and also share a couple of cool sound demos with you.
You can check the full article about best electric guitars under $200 guitars here.
Let's get started!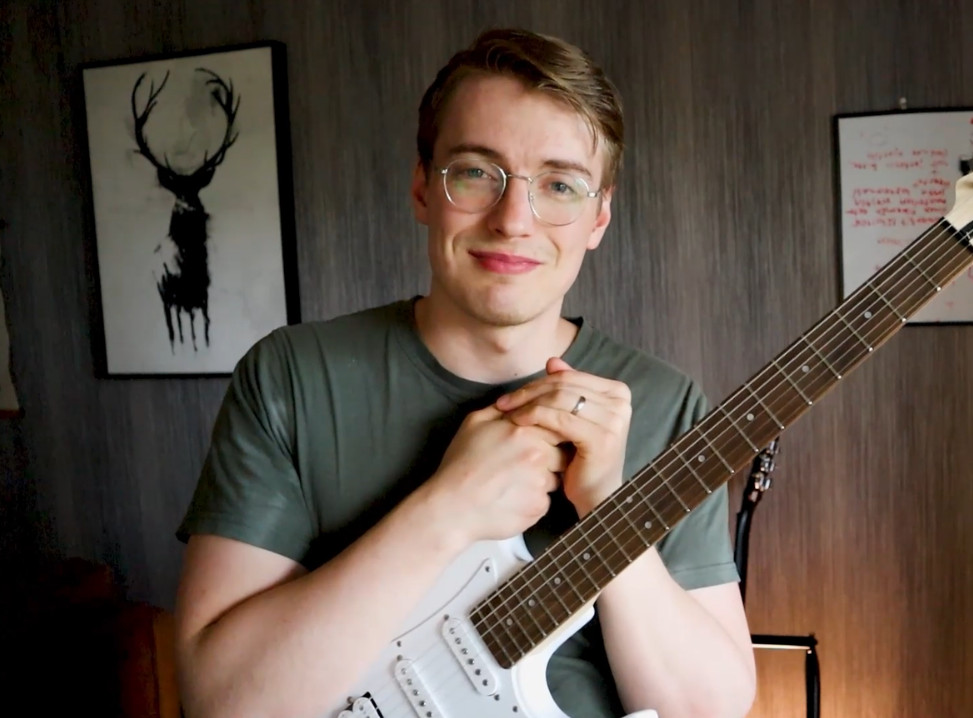 Author: Teemu Suomala
I first grabbed the guitar in 2009. I started this website in January 2020 because I couldn't do window installation anymore due to my health problems. I also noticed that most guitar websites don't do a really good job, so I decided to just go for it! I got lucky and managed to get awesome people to help me with my website. I also got lucky because I have you visiting my website right now. Thank you. I do all this for you guys. If you have any recommendations, tips, or feedback, just leave a comment, I would love to chat with you. I have been fortunate to produce content for several large guitar websites, such as Songsterr, Musicnotes, GuitarGuitar, and Ultimate Guitar. I spend my spare time exercising and hanging out with my wife and crazy dog(I guess that went the right way…).
---
Do Cheap Electric Guitars Sound Bad? – Tones of 5 Cheap Electric Guitars Compared!
Watch the sound comparison of 5 cheap guitars:
To me, these cheap guitars sound good. Not perfect, but good. But how do these compare to more expensive ones? I recently shot a video where I play my under $200 Epiphone Les Paul Special with passive stock humbuckers and around $700 ESP LTD MH-400 with active EMG's (not available anymore, but this over $3k Jackson has the same EMG pickups!)
More expensive active pickups sounded tighter and more balanced, but to me, the difference is not that big. This is awesome news for people looking for cheap guitars!
But of course, some cheap guitars might sound bad. I recommend choosing guitars that already have reviews and sound demos available online so you can listen to how each specific guitar sounds before actually buying. And if possible, go to the music store and test different cheap guitars out!
Our Favorite Music Store in The World!
Why?
– Excellent Customer Service (4.7/5 Trustpilot Score)
– Fast & Free Shipping
– Gear is Inspected, Tested, & Ready to Play When it Arrives to You (We love this)
– Fair Prices
Visit Sweetwater:
Verdict
I have tested dozens of different cheap guitars, and about 95% of them don't sound bad. They sound worse than more expensive guitars, but don't sound bad. Some budget guitars might be a bit limited with distorted tones, but the ones I tested were actually pretty good! And overall, the versatility was solid.
If you crave more budget guitar sound demos, check this video I made:
FAQ
Why Cheap Guitars Sound Worse Than Expensive Ones?
Pickups. That's the #1 thing affecting the tone of electric guitar. More expensive guitars usually have better pickups and this improves the sound quality. Do you think that tonewoods affect the sound? This video will change your mind:
Is it Okay to Start With A Cheap Guitar?
Absolutely. Most of the guitar players and even guitar heroes of ours have started with cheap guitars. It's way better to start with cheap guitar than not starting at all or waiting years to save money for a more expensive one. But it's still a good idea to buy the best guitar you can afford.
Can Cheap Guitar Sound Good?
Yes, they can. If you are good enough, you can make any guitar sound good. Also, the amp and strings you are using have a huge impact on your tone. So if you replace stock strings with better ones and choose a solid amp, you can sound really good with a cheap guitar.
Is it Worth Getting A Cheap Electric Guitar?
Definitely. I wouldn't save money when buying a guitar just for the sake of saving. But, if you have a tight budget, I would definitely consider getting a cheap guitar. It's important to get you playing as fast as possible and you can upgrade parts of the cheap guitar to better ones later. If you have a really tight budget, this guide will help you to choose the right cheap (around $150) guitar.
Conclusion
It's amazing that we can nowadays get great guitars for very little money. Back in the day, cheap guitars were terrible, but nowadays they are completely workable instruments. And yes, most of the time, cheap electric guitars sound really good. So if you have a tight budget, don't worry. You can find a great sounding instrument for you!
I hope that this post helped you out, if you have any questions, just leave a comment. I wish you all the best and keep rocking!
Teemu
---
Here's Our Favorite Gear Right Now!
Our Favorite Guitars:
Consider all links in this post to be affiliate links. If you purchase, at no additional cost to you, we may earn a small commission. It helps us to keep the lights on, thanks! 🙂
Electric guitars:
For beginners and tight-budget guitarists, Ibanez GRX70QA was the winner after hours of testing. If you are a metalhead, Jackson JS22 Dinky is our favorite.
If you have more room on your budget, Yamaha Pacifica 112V gives you a great bang for your buck, and Fender Player Telecaster HH will serve intermediate Players well.
Our favorite Electric guitar of 2021 was the PRS SE Custom 24-08. It gives so much versatility, comfort, and good tones that it's impossible to ignore.
Acoustic guitars:
For beginners, Yamaha FG800 is our go-to guitar. It offers more than any other guitar in the same price range.
For intermediate and beginners with bigger wallets, Gretsch G5024E Rancher offers so clear and detailed tones, plus easy playability that I had to include it here.
Seagull S6 Original is the best acoustic around the $500 mark. It has the construction, sound, and feel that many more expensive guitars don't achieve.
Our Favorite Amps:
For beginners, Fender Mustang LT25 offers the most. It's versatile, sounds good, and is simple to use.
For most home players, Boss Katana 50MKii is the amp that serves you in any situation. From country to metal.
If you are searching for a tube amp for home use, Blackstar HT-5R MKii is my go-to option because it sounds so good, and you can adjust the wattage(power).
When it comes to acoustic guitar amps, Fender Acoustasonic 40 will serve most people really well. But our favorite is Fishman Loudbox Mini BT. It offers a professional level tone and volume with a price most people can afford.