Last Updated on April 29, 2023 by Teemu Suomala
I can't deny it…I just love cheap guitars that are actually good. When you have bought a guitar and find out that it offers outstanding value for the money, it's a good feeling. You might have gotten even more than you paid for.
But are Donner guitars like this? Or are they just cheap Chinese-made axes that don't deserve any attention from us? Well, you're about to discover the truth.
I got approached by Donner's staff member Brandon, and he offered to send me products to test and review for free. I was flattered, but at first, I declined. I didn't want to become like the Youtubers who produce commercials for guitars and rarely disclaim that they got products for free or even got paid to produce content. But I started to have second thoughts…
What if I did things the right way? The transparent way. I first run a vote on Youtube, I asked if it was okay to receive products for free and then provide an honest review. Here are the results:
8% didn't care
90% said it's ok
2% said it's not ok
After this, I decided to go for it. And at first, I disclaim that I got Donner DST-152R for free. But I didn't receive any other payment for making this review. I'm going to reveal my honest opinion about this guitar, and I'm sure you'll notice I speak the truth and reveal all the cons I found too.
Now that we got that out of the way, let's get started!
Find more great under $200 electric guitars here.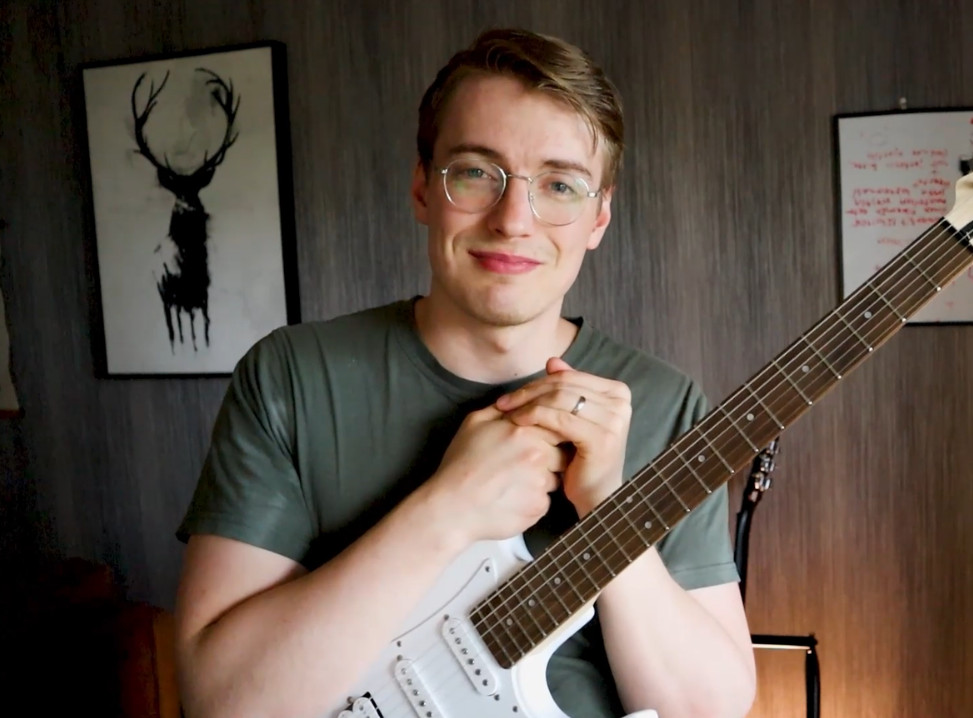 Author: Teemu Suomala
I first grabbed the guitar in 2009. I started this website in January 2020 because I couldn't do window installation anymore due to my health problems. I also noticed that most guitar websites don't do a really good job, so I decided to just go for it! I got lucky and managed to get awesome people to help me with my website. I also got lucky because I have you visiting my website right now. Thank you. I do all this for you guys. If you have any recommendations, tips, or feedback, just leave a comment, I would love to chat with you. I have been fortunate to produce content for several large guitar websites, such as Songsterr, Musicnotes, GuitarGuitar, and Ultimate Guitar. I spend my spare time exercising and hanging out with my wife and crazy dog(I guess that went the right way…).
---
Donner DST-152R Review
Summary (If you're in a hurry)
Donner DST-152 is a versatile guitar that overall sounds really good for the price. It offers easy and smooth playability and comes with all the accessories you need to get started.
But it's not perfect. Some fret edges were a bit rough below the 11th fret, tuners are not the best from this price range, and the body lacks shielding(usually this won't cause problems). But even with these cons, DST-152 is well worth the money, especially for beginners. And I would call it a great affordable guitar.
Check Today's Price on
---
Feel free to check my in-depth video review of this guitar:
---
Our Favorite Music Store in The World!
Why?
– Excellent Customer Service (4.7/5 Trustpilot Score)
– Fast & Free Shipping
– Gear is Inspected, Tested, & Ready to Play When it Arrives to You (We love this)
– Fair Prices
Visit Sweetwater:
Donner DST-152R Specs
| | |
| --- | --- |
| Body type: | Solidbody |
| Construction: | Bolt-On |
| Body wood: | Poplar |
| Neck wood: | Maple |
| Neck shape: | C-shape |
| Scale length: | 25.5" (648mm) |
| Nut width: | 1.65" (42mm) |
| Fretboard material: | Indian Laurel/Maple |
| Fretboard radius: | Info not available |
| Number of frets: | 22 |
| Pickups: | Bridge – Humbucker/Ceramic; Neck – Single-coil/Ceramic; Middle – Single-coil/Ceramic |
| Bridge: | 6-Saddle Synchronized Tremolo Bridge |
| Controls: | Volume, 2 x Tone, 5-Way Blade Pickup Switch, Coil-Split on The Bridge Humbucker |
| Tuners: | Vintage Styled Sealed Tuners |
| Weight: | 7.27lbs = 3.3kg |
---
Accessories
The following accessories came with my copy of Donner DST-152:
Gig bag
Donner Mini Guitar Amp
USB Charge cable for the amp
AUX cable
Guitar cable
Extra strings
Capo
Guitar Strap
Tuner
2 Hex keys' (allen wrench), 1 for adjusting the saddle and 1 for adjusting the truss rod
All of these accessories worked really well. They are not top-notch quality but get the job done. It also seems that some Donner DST 152's come with free online lessons, mine didn't.
---
Looks
I just love how this guitar looks, despite my wife saying it's colored like a nail polish. The small headstock with vintage-style tuners is especially one aspect I really value. I prefer this kind of headstock over some of Fender's shovel-sized headstocks.
Really smooth looking (and feeling) satin neck paired with a rosewood-colored fretboard and well-finished body, it's hard to complain when the guitar is from the under $200 price range. And if nail-polish colors are not your thing, there are other color options available too.
Unboxing:
---
Build and Finish
In this department, there are only couple things to complain about. First the good stuff, the neck and fretboard is flawless when it comes to coloring or scratches. The body had some really tiny scratches that I really needed to look for. So this Donner passes with flying grades, almost…
The fret edges below the 11th fret are rough. I have seen and felt rougher fret edges with cheap Epiphone and Ibanez guitars from this price range, but I also know that manufacturing guitars without rough fret edges is not impossible since Jackson and Squier guitars offered really smooth feel in that department.
The fret edges are not so sharp that they bothered me every time I played, but I noticed it once in a while.
So, the build and finish overall are really solid for this price range, but rough fret edges take a little out of the score.
Hardware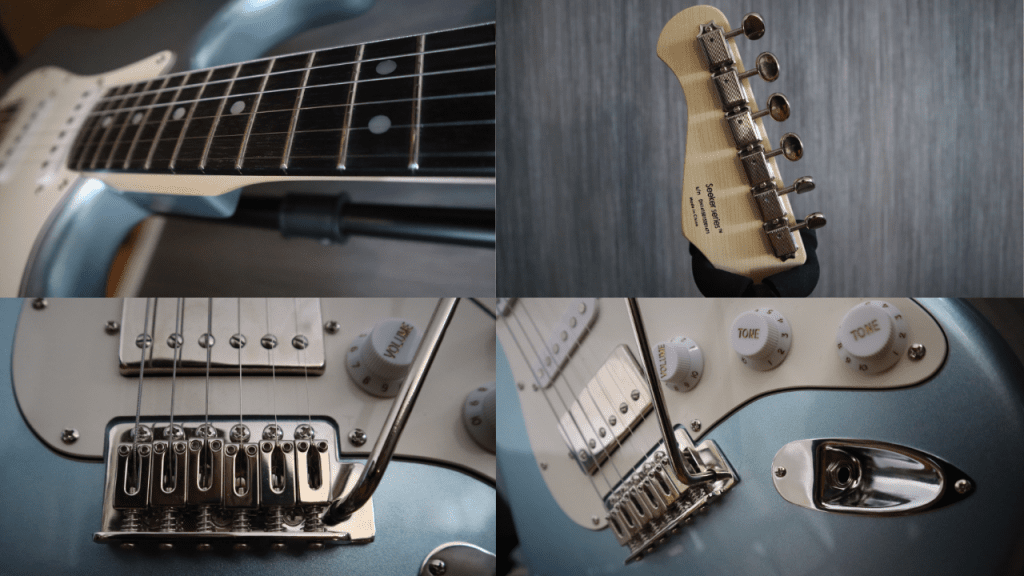 Tremolo arm and block, bridge, strap locks, all that, really good in quality. Everything works well.
I especially enjoyed how the tremolo arm "behaved". It's very smooth to use, and even though it has 3 springs under the backplate, it was not overly tight.
You probably noticed I left something out from that hardware list…the tuners.
Tuners look beautiful, but are a bit below the average when compare to other guitars from this price range. They are not terrible and applying graphite to nut helps a little bit, so the tuning instability was partially the fault of the nut. But still, fine-tuning and overall tuning stability is not the best, but definitely not terrible either.
Tuners didn't ruin my experience and otherwise hardware quality is great, so I'm still satisfied.
Electronics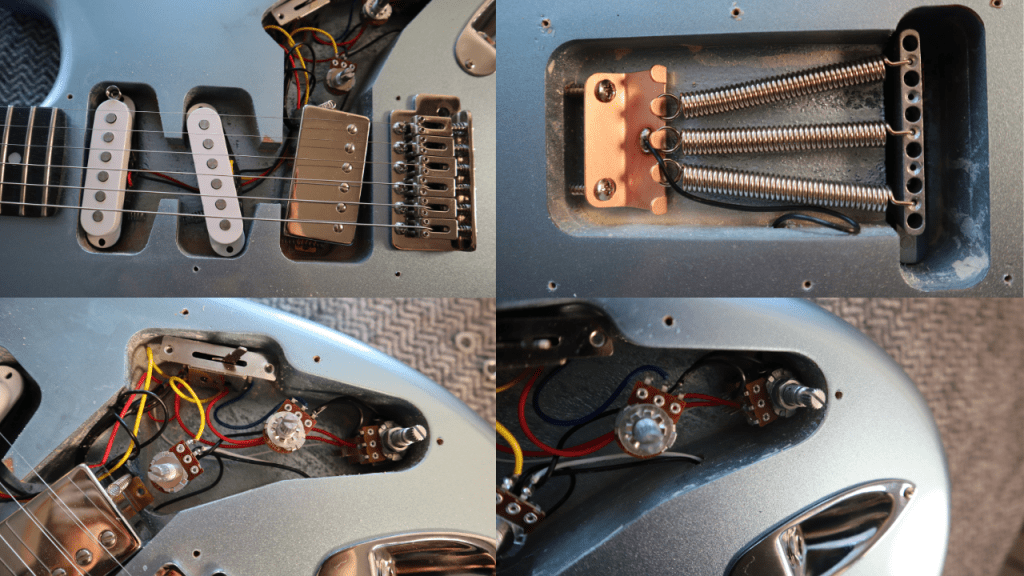 Coil-split in a under $200 electric guitar? This is the first time I have seen it. Does it work? Yes, it works great.
What about all the other stuff? Almost everything works and is assembled as should.
Every knob works (this axe has 250K pots)
Pickups give a steady sound
Pickup switch works
Solderings look good
The wires are well attached
So overall, everything with the electronics is great. But there are a couple of cons too…
First, the volume knob affects your sound only from 5-10. It turns to silent when you reach 4, so it doesn't give that good control over the volume. For me, this doesn't really matter since I mostly adjust the tone knobs and only sometimes turn the volume to around 8 instead of 10.
Secondly, the body of the guitar doesn't have shielding. This can cause especially single-coils to produce unwanted hum and buzz when there's radio- or electromagnetic interference present.
But in a normal environment, this doesn't usually matter. For example in my home office, I didn't experience any unwanted hum or buzz, but I did notice the pickup switch making little craking noises a couple of times, but the missing shielding was probably not the reason for this.
I mainly think missing shielding as a real con because most guitars from this price have had shielding on them, so this guitar missing the shielding makes it a bit below the average in the electronics department.
But still, everything else is working well and is well assembled, so that's why I won't complain more about these small flaws in a cheap guitar.
Playability
One of the most important things for me and my small hands is the playability of the guitar. And I was pleasantly surprised by the playability of this donner.
First, some of the bad stuff. The action was too low out of the box and that caused some fret buzz and a not-so-fun time playing this axe. So I had to do a little setup before the guitar was playable.
But after that, I've had a blast playing this guitar. The neck feels super smooth, I mean really smooth. And the C shape, once again, fits my hand really well.
One of the smoothest necks I have tested from this price range.
I should note that the neck is a bit thicker than with most Ibanez models for example, so for me and my tiny mitts, that's a small con. But the neck thickness is still something that you see with most of the guitars from this price range and it didn't really bother me, I just prefer even thinner necks. So you are not getting a baseball bat-style playability of the 50s Les Pauls with this Donner.
The nut width is 1.653" (42mm) which is the typical Strat neck width from the nut, and this fits me and most players really well. Familiar feel if you have ever played a Strat before.
As I already mentioned, this guitar had a really low action out of the box. After making it a bit higher to get rid of the fret buzz, handling this guitar and accessing all corners of the fretboard was really easy and smooth. Strings feel like the ones from the short-scale guitar(this donner has the regular scale of 25.5") because they were so easy to fret and bend.
I also have to mention that both contours, the one for your picking hand and one for your belly feel really nice. Keeping this guitar on my lap and playing for hours didn't cause any fatigue or hard time for me.
Finally, another con, a bit rough fret edges below the 11th fret I already mentioned in the "Hardware"-section. Again, this didn't bother me too much, but it's still something that needs to be pointed out and takes a bit out of the playability score too.
Overall, this Donner is a really comfortable, easy, and smooth playing guitar that should fit players from beginners to pros well.
Sound
Check the sound demo:
Versatile, well-balanced, and smooth. That's how I would shortly describe the sound of Donner DST-152. But let's dive a bit deeper…
Cleans
All the pickups provide a surprisingly stable and soft tone. Even the single coils were really soft and round sounding. Of course, if you dial more treble from the guitar amp and play with force, you get a more spanky tone. But the soft cleans (it's how I like them) were a breeze to this Donner.
I found myself mostly using the middle single-coil for clean rhythm and the bridge humbucker (both split-coil and not) for the clean leads. This way I hit my sweet spot for cleans. Really soft, gentle, but still articulate rhythm and leads that offer a bit more treble and brightness.
Crunch
With the crunch and classic rock tones, the neck single-coil was not a winner for me. The sound of it turned way too spanky and slinky too easily. But again, the middle single-coil and bridge humbucker served me well. And I was surprised to enjoy the coil-split lead tones with mild gain so much.
I had to admit that the crunch tones were the ones I least enjoyed with this Donner, but it doesn't mean this axe sounds bad with crunch, it just was just not my favorite use for this guitar. But crunch tones of this axe are still really good for the price.
Distortion
Again, the neck pickup was not a winner for me, but overall this guitar sounds surprisingly meaty and good with heavier distortion.
Especially the bridge humbucker was something I really enjoyed. It's not too treble-heavy, and both pickup covering and overall lower output only adds to this. This bridge humbucker is most likely my favorite bridge pup from all the electric guitars under $200 I have tested. And I have tested many of them.
Still, this Donner is not a metal guitar. If you are looking metal axe to tame, I would suggest you check out Jackson JS22 Dinky or ESP LTD EC-10.
But the overall versatility of this Donner really surprised me. It can handle music from soft country cleans to pretty meaty metal tones if the right amp is used (I recommend Fender Mustang LT25, Boss Katana 50 Mkii, or VOX Valvetronix 20). And this is why I think it's a great choice, especially for beginners.
And even with the Donner Mini Guitar amp that comes with the DST-152, you get a good sound. Metal is not something this amp can handle, but tones from clean to classic rock and even rock are solid for the price.
Value for Money
Let's stack the value:
Easy playing guitar
Good hardware and ok tuners
Versatile tones
Good sound
Coil-split
Mini guitar amp
All other stuff that you need to get started(tuner, strap, capo, cable, picks, extra strings, gig bag)
Usually it comes with free online lessons(mine didn't)
One thing is for sure, Donner DST-152 and its accessories offer outstanding value. Everything is not perfect, but there's no denying that the value for the money is there!
Final Verdict
I really enjoyed playing this Donner DST-152. It's not a perfect guitar, but its overall versatile and good sound, easy playability, and accessories make it well worth the money. It comes with everything you need to get started and that's why it's a great option for beginners. But it can serve more experienced budget players well too. At least I really like to jam with it.
Check Latest Price:
---
What Others Are Saying?
I always suggest taking the opinion of several people before purchasing your first instrument. That's why I share experiences of real players around the world along with my personal reviews.
And here's what the guitar community (on various online stores and forums) has to say about the DST-152R
Pros:
Many players love the smooth feel of the neck
Familiar C neck shape gets praise from players too
People love that this guitar comes with all that you need to get started
Guitar sounds good
Great for beginners
Really good value for the money
Easy to play
Cons:
Setup was needed before the guitar was playable
Sometimes lemons slip through (poor quality control)
Amp didn't sound good
Tuners are not very good
---
Alternatives & Compared to Similar Models
Ibanez GRX70QA – My Favorite Guitar Under $200
DST-152 does feature coil-split and top-notch sounding bridge humbucker, but the thin neck and awesome sounding neck humbucker of Ibanez GRX70QA just give the edges for the Ibanez here, that's my personal opinion though. But if you want a coil-split, HSS pickup configuration, and all the needed accessories in one package, Donner DST-152 is a great option.
Hear how the Ibanez GRX70QA sounds:
Check the latest prices of the Ibanez:
---
Yamaha Pacifica 012 – Better Out Of The Box Setup
Based on my experience, this doesn't mean that great setup always happens.
Yamaha Pacifica 012 offers really similar features. It lacks the coil-split, but offered a better out-of-the-box setup(at least my copy) and better sounding, less spanky neck single-coil. On the other hand, Donner has that coil-split, less treble-heavy humbucker(handles metal better too) and comes with the accessories. Personally, I think that either one you buy, you are going to get a versatile and easy to play instrument.
Hear how the Yamaha Pacifica 012 sounds:
Check the latest prices of the Yamaha:
---
Jackson JS22 Dinky – Best Metal Guitar Under $200
Jackson JS22 Dinky comes with double humbuckers that offer meaty and mean metal tones. JS22 Dinky can also handle more gentle stuff and has a compound radius which makes riffing near to neck and soloing closer to the body really smooth. It's my favorite cheap metal guitar. If you don't care much about metal, prefer single-coil tone options, and want accessories with your guitar, Donner DST 152 is a better option.
---
FAQs
Where is Donner DST-152R Made?
As you can see from the photo image above, the back of the headstock states that Donner DST-152 is made in China.
Are Donner Guitars Any Good?
Donner electric guitars are solid beginner and budget guitars. They offer great value, often come with accessories, are usually smooth playing, and sound good. Of course, sometimes Donner guitars suffer from budget guitar problems such as:
Bad setup
Flaws in finish
Rough fret edges
Bad tuners
In general, they are no worse than other cheap guitars but don't expect perfection either.
Are Donner Guitars Good for Beginners?
Donner guitars are ideal for beginners from the value standpoint. Guitars often come with accessories or even all that you need to get started. Donner guitars are also usually easy to play, versatile, and sound good.
A couple of things that are not great for beginners are the bad setup and poor quality control that can happen. 95% of these issues are really small or you can fix the issues by yourself if you watch couple Youtube tutorials, but when starting out, any extra hassle can be annoying.
---
Conclusion on Donner DST-152 Review
I really had a blast while testing this Donner and its accessories. It's a good guitar and really great option for beginners. It's also not perfect, but the flaws my copy had are so small that I can't complain too much.
I hope that this review helped you out, if you have any questions just leave a comment. I wish you all the best and keep rocking!
You might also like:
We are sorry that this post was not useful for you!
Let us improve this post!
Tell us how we can improve this post?