Last Updated on May 26, 2023 by Teemu Suomala
When starting out with the guitar, it's super important to find easy songs to learn from your favorite genre. And clearly, you are into hard rock…
The rhythm, scales, and chords vary between songs, but in general, all of these are pretty easy to play. Of course, some of these killer songs include some harder parts(solos), but in general, these are easy to play.
Let's first quickly look at how to use this post and then you can start learning some hard rock masterpieces.
How to use this post:
Songs are organized by release year.

Scroll down and select your favorites.
If you click:
the song name, you can listen to it on YouTube.

the ''chords'', you will be directed to the page where you can learn chords for that song.

the ''tab'', you will find tabs for that song (if you don't know how to read tabs,

check this guide

).

the "interactive tabs", you will be directed to the Songsterr or Ultimate Guitar interactive tab.
All the chords and tabs are provided through trusted "ultimate-guitar.com" or "songsterr.com". I also highlighted some songs, and included some extra info and a Youtube video about them.
Find more easy rock songs to learn on guitar here.
Let's get started!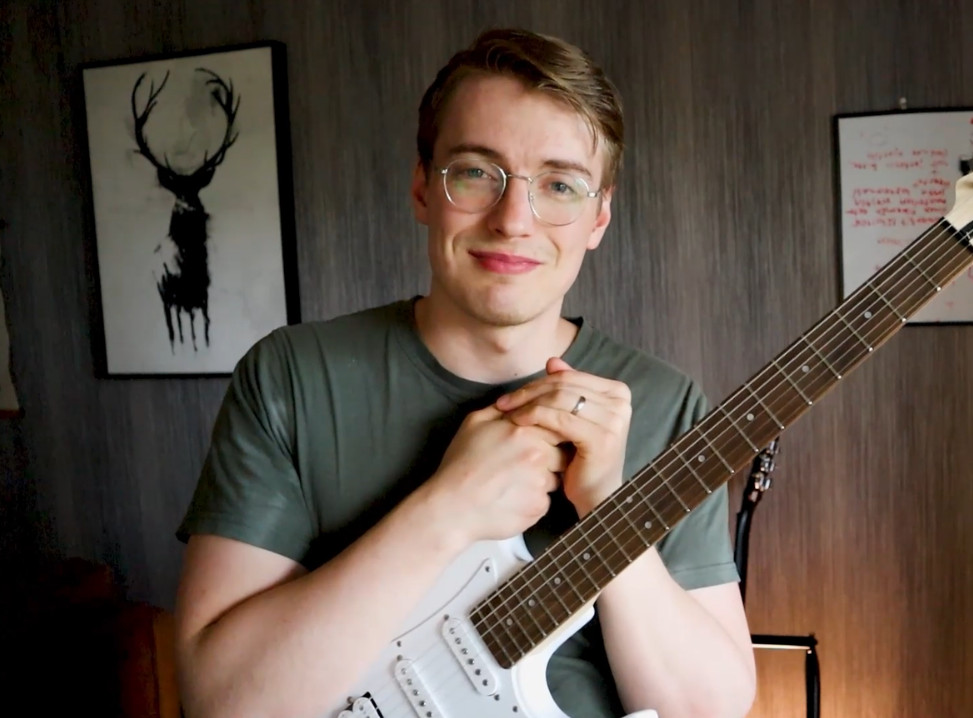 Author: Teemu Suomala
I first grabbed the guitar in 2009. I started this website in January 2020 because I couldn't do window installation anymore due to my health problems. I love guitars and have played dozens and dozens of different guitars through different amps and pedals over the years, and also, building a website interested me, so I decided to just go for it! I got lucky and managed to get awesome people to help me with my website.
I also got lucky because I have you visiting my website right now. Thank you. I do all this for you guys. If you have any recommendations, tips, or feedback, just leave a comment, I would love to chat with you. I have also been fortunate to produce content for several large guitar websites, such as Songsterr, Musicnotes, GuitarGuitar, and Ultimate Guitar.
I spend my spare time exercising and hanging out with my wife and crazy dog (I guess that went the right way…).
Hide The Rambling▲
---
27 Easy Hard Rock Songs on Guitar for Beginners
Dazed and Confused – Led Zeppelin (1968)
Learn how to read guitar chord charts here.
---
Whole Lotta Love – Led Zeppelin (1969)
Released in the late 1960s, Led Zeppelin's "Whole Lotta Love" was immensely heavy for the times. Its use of the open E string was crucial for the genre's development.
---
Other greats from the '70s:
---
Detroit Rock City – Kiss (1976)
This hard-rock classic written by Paul Stanley was released in 1976. This includes simple riffs and easy but melodic guitar solo. The tempo is not really high and shifts between notes are not too fast. Definitely a great song to master for hard-rock fans!
---
Other greats from the '70s and '80s:
---
Here I Go Again – Whitesnake (1982)
This song has catchy riffs, but what makes these riffs special are those melodic licks that are melted in by Whitesnake. These kind of riffs were really motivating to learn when I started. Simple, but still rewarding.
---
Other greats from the '80s and '90s:
---
Our Favorite Music Store in The World!
Why?
– Excellent Customer Service (4.7/5 Trustpilot Score)
– Fast & Free Shipping
– Gear is Inspected, Tested, & Ready to Play When it Arrives to You (We love this)
– Fair Prices
Visit Sweetwater:
Black Hole Sun – Soundgarden (1994)
A slow tempo is one of the reasons why this Hard-rock masterpiece that was written by Chris Cornell in pretty easy to master. Chris Cornell said about this song: ''I wrote it in my head driving home from Bear Creek Studio in Woodinville, a 35-40 minute drive from Seattle. It sparked from something a news anchor said on TV and I heard wrong''.
---
Great hard rocker from the 2000s:
---
How to Learn Hard Songs? – 3 Simple Steps
Although it's a good idea to learn some easy songs at first so that you can maintain your motivation…but it's an even better idea to always try to improve your skills. That's why you should learn some harder songs, riffs, and solos too!
The hardest parts for me are usually fast chord shifts and super fast and complex guitar solos. If I find myself struggling with some songs, I usually do this:
learn to play the song correctly at a very slow speed

speed up the playing with small steps

practice the hard parts more than others
These steps have helped me to learn many hard songs, riffs, and solos. The time period spent practicing varies, but eventually, songs start to sound right at the correct speed. That's how real skills are developed, with practice, practice, and practice. But the end goal is absolutely worth all the hard work.
I just couldn't resist giving you one a little bit harder hard-rock song to master(if you feel like you are ready for some challenge):
The #1 Guitar Practice Mistake When Learning Songs
Please, check this short video I crafted so that you can avoid the #1 practice mistake I made when I started playing:
---
Conclusion on Easy Hard Rock Songs on Guitar for Beginners
I hope that you find songs to master from this post!
However, it's always a good idea that you cover some basic things about the guitar ASAP. This post will help you with that: How to Play Guitar? Get Started Fast and Free!
Also, if you want more easy songs to master, check this post out: 70 Easy Guitar Songs for Beginners from Every Genre (With Tabs and Chords).
---
You might also like:
We are sorry that this post was not useful for you!
Let us improve this post!
Tell us how we can improve this post?