Last Updated on December 1, 2023 by Justin Thomas
It can be hard to find a good guitar for metal at a low cost, but guess what—the search is over!
If you're seeking an affordable axe with humbuckers that can provide heavy metal crunch, this ESP LTD EC-10 might be for you!
I recently spent a couple of weeks getting to know this guitar, checking out its build quality, wiring, and of course its tone and playability.
Like most budget electric guitars, this ESP wasn't perfect. There are some things I'd change about it, sure. For instance, although it has great hardware and strong metal tones, its overall sound isn't versatile enough to make it my main axe.
But out of the box, I think this is easily one of the best electric guitars under $200 for heavy metal.
Note: I also recommend that you check out my results after testing the 5 Best Electric Guitars under $200, this ESP is featured there too!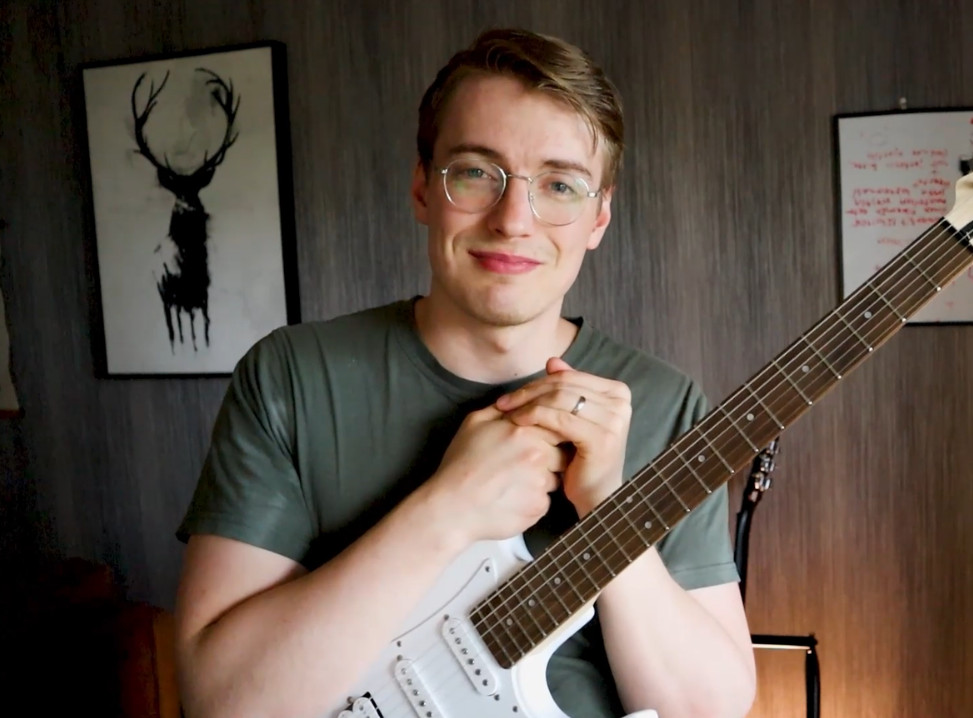 Author: Teemu Suomala
I first grabbed the guitar in 2009. I started this website in January 2020 because I couldn't do window installation anymore due to my health problems. I love guitars and have played dozens and dozens of different guitars through different amps and pedals over the years, and also, building a website interested me, so I decided to just go for it! I got lucky and managed to get awesome people to help me with my website.
I also got lucky because I have you visiting my website right now. Thank you. I do all this for you guys. If you have any recommendations, tips, or feedback, just leave a comment, I would love to chat with you. I have also been fortunate to produce content for several large guitar websites, such as Songsterr, Musicnotes, GuitarGuitar, and Ultimate Guitar.
I spend my spare time exercising and hanging out with my wife and crazy dog (I guess that went the right way…).
Hide The Rambling▲
---
The Review
Summary (if you are in a hurry)
Check Today's Price on:
*Consider all links in this post to be affiliate links. If you purchase, at no additional cost to you, we may earn a small commission. It helps us to keep the lights on, thanks! 🙂
---
You can watch my full in-depth video review of this Les Paul also!
About ESP
At first, ESP only made guitar replacement parts, but in the mid-80s they moved on to building custom instruments for artists like Bruce Kulick of KISS and Ronnie Wood of the Rolling Stones.
Nowadays, they're one of the most well-known names in metal guitars. They're endorsed by hundreds of artists in the heaviest genres, like Josh Travis of Emmure, Brian Eschbach of The Black Dahlia Murder, and even James Hetfield and Kirk Hammett of Metallica.
LTD is their affordable line of shred machines, kind of like what Squier is to Fender, or what Oscar Schmidt is to Washburn.
Unlike the more expensive handmade ESP models, LTDs are mass-produced in factories outside their main Japanese plants.
So, are these ESP LTD guitars any good? I certainly think so.
The EC-10 we're about to look at is part of their LTD Standard series, so I wasn't expecting anything mind-blowing. Still, I was impressed by how well it was put together. For such an affordable guitar, there were surprisingly few problems.
I can't say I would recommend this guitar to everyone, but if you're a fan of metal looking for fat humbucker grind, I think you'll really enjoy the ESP LTD EC 10.
Our Favorite Music Store in The World!
Why?
– Excellent Customer Service (4.7/5 Trustpilot Score)
– Fast & Free Shipping
– Gear is Inspected, Tested, & Ready to Play When it Arrives to You (We love this)
– Fair Prices
Visit Sweetwater:
ESP LTD EC-10 specs:
Body type
Solidbody
Body shape

LTD EC-10 Singlecut

Body wood

Basswood

Neck wood
Maple
Neck shape

Thin U

Scale length

24.75 inches

Nut width

1.65 inches (42mm)

Nut
Plastic
Fretboard material

Engineered Hardwood

Fretboard radius

13.77 inches (350mm)

Number of frets

24

Extra Jumbo Frets
Pickups

Neck pickup: ESP Designed LH-100N humbucker; Bridge pickup: ESP Designed LH-100B humbucker

Bridge

Tune-o-Matic bridge with Stopbar tailpiece

Controls
Volume and tone, 3-way switch
Tuners

LTD

Tuners
Accessories
Gig Bag
---
Things to Consider Before Buying an ESP LTD EC 10
For the cost, the EC-10 is no doubt a nice electric guitar. It hits most of my marks of quality:
Dependable construction

Easy to play

Reliable electronics

Strong tones

Nice looks

High value for the money
You only need to keep 1 question on your mind with this ESP.
Do you want and metal guitar, or do you seek really versatile guitar?
If metal is your thing, then I would choose between this ESP and Jackson JS22 Dinky.
If seeking versatility, this ESP is probably not the best pick for you…
Because…
This ESP sounds and plays great, but it's really built with metal music in mind.
Its clean tones are quite bland overall, and I think you could easily grow tired of them as you're learning basic guitar techniques.
Because its pickups can't produce really versatile sounds, you might be better off with a competitor like the Epiphone Les Paul Special VE.
With an electric like the Epi Les Paul, you can have a better-sounding time learning a wide range of music, rather than be stuck in the hardcore styles with the EC-10.
Of course, if you're a passionate metalhead, this LTD could be a great axe for you, especially if this isn't your first guitar.
I always recommend you buy the guitar that lets you play the music you love. That's what's kept me dedicated to playing for over a decade, and it's the best advice I can give you.
So now that you know its genre limitations, let's dive into the details of the ESP LTD EC-10.
Looks
I don't know about you, but I think you can't go wrong with a black axe. Solid black guitars are pretty much a guaranteed way to look cool, so I can get down with this EC-10's finish.
Now, I do usually prefer a less hi-gloss shine on my guitars, but this flaw is hardly worth mentioning.
The fretboard and headstock kinda give this away as a budget axe—at least in my opinion, they're rather cheap looking.
The lightness of the maple neck contrasts sharply with the EC-10's body, but again, it's not a big issue.
And the knobs, blah. They're not really my style, but at least they work.
Okay, so you can tell I don't love the looks of this guitar, but that's the least important thing in this review. They're not bad; they're just not for me. All in all, 3.5 stars.
Hardware
The hardware of budget guitars is often their fatal flaw, but this is actually where the EC-10 excels.
It's outfitted with a reliable Tune-o-Matic bridge and Stopbar tailpiece designed to keep your guitar in tune. They're really solid feeling for such a low-cost axe.
I was also impressed by the tuning machines. They're not Grovers or anything special, but these LTD tuners really keep your pitch in place.
It's a pain to have to pause to tune every few minutes, and that's no problem in the EC-10.
This guitar offers outstanding hardware!
Electronics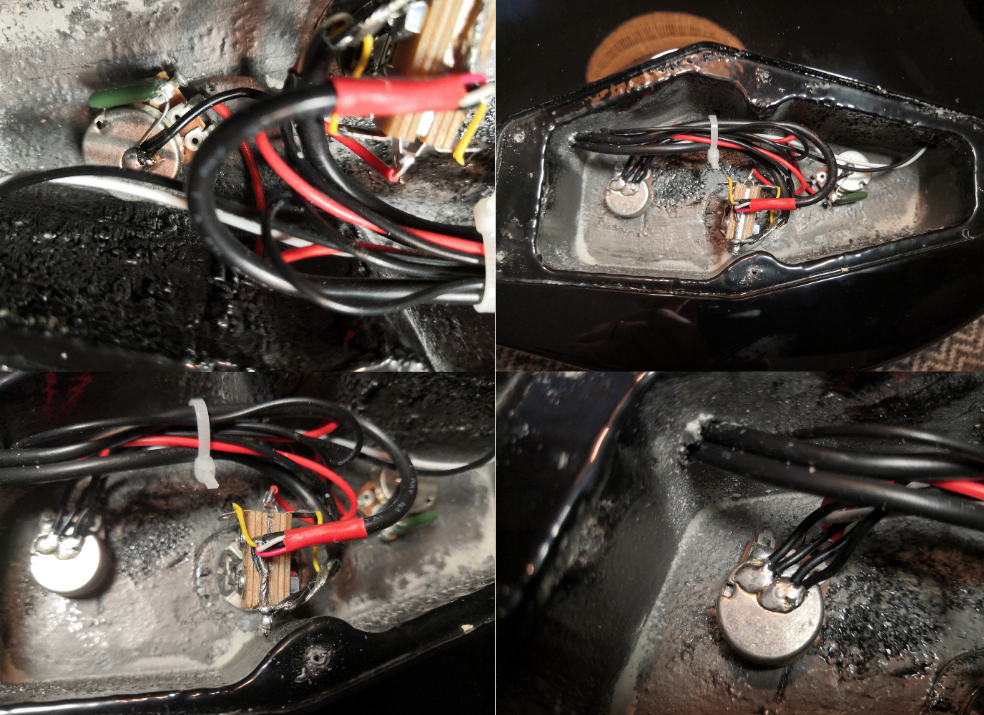 Pickups are definitely one of the major factors that make or break an electric guitar. In this under $200 price range, you really shouldn't expect anything absolutely breathtaking. But at the same time, you need to get a guitar that's going to perform, right?
The EC-10 kind of just makes that bottom line. It's equipped with dual humbuckers—ESP-designed LH-100s—that pump out just enough juice to roar.
You won't find these pickups in any higher-end ESPs, so it's pretty apparent that these are their bottom-of-the-barrel pups.
One thing that ESP did really well in this model is the wiring. The guts of this guitar are all in order, with clean soldering work done on all the connection points.
If I wanted to use the EC-10 as one of my main axes, I'd definitely have to upgrade the pickups, but the electronics otherwise are solid.
Build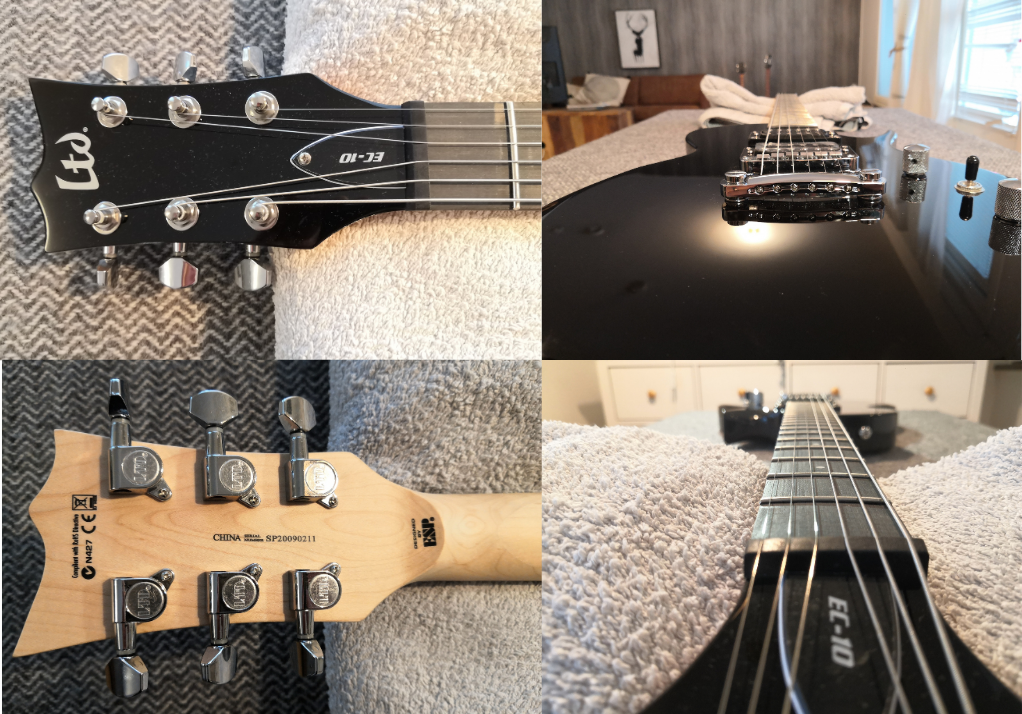 As far as the overall build quality of this LTD goes, I don't have too many major complaints.
Basswood is a common choice for beginner electric guitars, so I can't take issue with that. I'd much prefer a real wood fretboard over this "engineered hardwood" they use—I can't quite get over its cheap looks and feel.
The biggest problems in the EC-10's construction are in the frets. It's actually not a huge deal, but the frets are noticeably uneven.
It's only a handful of frets at the bottom and middle of the fingerboard, and the unevenness didn't cause me any buzz, so usually I could overlook this flaw.
But if you try to make action lover, these uneven frets could cause some fret buzz.
But unfortunately, the EC-10 does fall victim to that common cheap guitar problem of having sharp fret edges. They're a bit rougher than I'd like to deal with, so be aware that this can affect your playing experience.
Here you can watch the unboxing of this axe and how it looks out of the box!
Playability
Speaking of playing experience, I actually really enjoy the playability of this axe—even with its rough, uneven frets and engineered wood fretboard.
The contours of the body help the guitar sit snug against your lap, which is great when you want to pull it in close for hitting those highest frets.
Finding 24 frets on a starter guitar is pretty uncommon, and I like this a lot about the EC-10. Never underestimate the power of a few extra frets. This gives you added dimensions of shredability.
The cutaway in the EC-10's body is pretty spot-on. It's positioned in a way that gives you clear access up to the final fret. Really the whole fingerboard of this axe is accessible.
The extra-jumbo fret size is possibly the easiest for string bending while providing the best sustain. Maybe one downfall of these big frets is that there's less room between notes. So if you've got fat fingers, the EC-10 might be a bit harder to play.
There are lots of great guitars for fat fingers, so be sure to check out our recommendations here. And if you're plagued with the double problem of short and fat fingers, we've reviewed these great guitars.
The maple neck is really smooth, and with the Thin U-neck profile, it feels great to play on. Even with my short fingers, I thought tearing through licks was a breeze.
There's no issue with hand stickiness with the neck finish, so you can glide up and down the fretboard with ease. Combined with the short scale length lowering its string tension, it's easy to see why this axe is made for lightning-fast metal riffs.
The only things that keep this guitar from being super easy to play are the fretboard and fret edges.
Engineered wood for fretboard material is a really poor choice in my opinion. If this had a rosewood fretboard, it would be a much better guitar (but it would cost more too, of course).
Rough fret edges are one of my least favorite things about beginner guitars, and it's a shame that the EC-10 has them. They're not razor sharp, so you won't cut your fingers. But they definitely cause some snag that will slow down your playing.
But, you know, ESP was once known for making fast-playing necks for companies like Schecter and DiMarzio. Even with these few flaws, necks are something this company does right, and I rate the playability a strong 4.3 out of 5 stars.
Sound
Hear how this axe sounds:
Sadly, this is one of its weakest traits overall.
Let's start with the good though.
Since its pickup configuration is dual humbuckers, you really don't have to worry about any feedback. If you're practicing in a house with other people, your beginner days are going to sound rough regardless. At least with the EC-10, those starter riffs won't be filled with feedback squeals.
These LH-100 humbuckers give you the ability to crank up the gain on your amp and play with full distortion. They actually respond pretty well to this, especially considering the low cost of this axe.
It chugs like a metal guitar should when played in dropped tunings. The lows are chunky but stay articulate even at max overdrive. At the same time, high-end solos in that 24th-fret region cut with sharp definition.
The 3-way pickup selector switch and master tone and volume controls let you tweak your sound as you please, but it lacks the versatility of higher quality models.
Playing the EC-10 clean is—to put it kindly—not thrilling. I think it's the combination of the fundamental-focused basswood body with the non-resonant fretboard that results in a really boring, dull clean voice.
Of course, this is just my opinion. When our writer Tom listened to my sound demo, he thought the cleans sounded sweet and full, especially with the switch set to both humbuckers.
I would personally recommend this guitar mostly if you plan to play heavier genres.
Tones that pickups offer in my opinion:
Tones that tonewoods offer in my opinion:
Final Verdict
Pros
Performs really well with distortion
High-quality hardware and great tuners
No frett buzz or other major finish issues
Chunky sounding ESP humbuckers
24 frets with a great upper fret access
Cons
Budget pickups aren't versatile; clean and crunch tones fall short
Engineered wood fretboard feels somewhat like plastic
A few uneven frets
So, we've got a beginner electric guitar with great hardware, great playability, good build quality and electronics, and average budget axe sounds.
Would I recommend it? Yes! …and no.
ESP has really always been a brand for metalheads, and their LTD EC-10 is no exception. With its fast, easy playing feel and meaty humbuckers, I think it's definitely one of the best electric guitars for heavy metal under $200.
But if you're more of an easy-going, softer-music-loving player, I think you could do better. For example, the Epiphone Les Paul Special Vintage Edition gives a similar smooth playing feel but with much more versatile tones. It's not as good for metal, but you can do more with it.
As always, there's no way for me to say which guitar is best for you. So be sure to explore your options and choose a guitar that lets you play the music you love. And this guitar is clearly for metalheads.
Check Price on:
---
What Others Are Saying
In general, it seems that the ESP LTD EC-10 is a popular guitar for players with short fingers. As a short-fingered player I think that it's an ok guitar for short fingers, but there are way better options out there(Ibanez GRX70QA and Squier Bullet Strat for example).
Plus, many owners are happier with the clean tones than I am. Sound preferences are personal, after all.
It's surprising for guitars at this price point to not have many quality control issues, but no one really reports anything major. At least, not very often.
The only other problems I've seen people talk about are a couple of discolored fretboards, high action, and a warped neck or two.
For the most part, I'd say the EC-10 doesn't disappoint.
---
FAQ
What Does ESP LTD Stand For?
I wondered this for a long time before finding out that ESP stands for Electric Sound Products. That's the original name of the Tokyo shop founded by Hisatake Shibuya in 1975.
LTD stands for "limited". You might think this is like "Limited Edition", but it's actually taken from the type of company that ESP is (was?).
To be honest, I'm not the one to ask about explaining business terms. But if you're curious, you can read all about what a Ltd. company is in this article.
What's the Difference Between ESP and LTD?
Acronyms aside, ESP is the "mother-line" of guitars that LTD is a part of.
ESP models are higher-end guitars made almost exclusively in the Japanese factories.
LTD guitars, on the other hand, are made in Korea, China, and elsewhere in an assembly-line type of manufacturing process. They cost less due to their cheaper parts but are still solid performers in most ways.
Read here for more on the difference between the different ESP series.
How Does the ESP LTD EC-10 Compare to Similar Guitars?
ESP LTD EC 10 vs. ESP LTD EC-256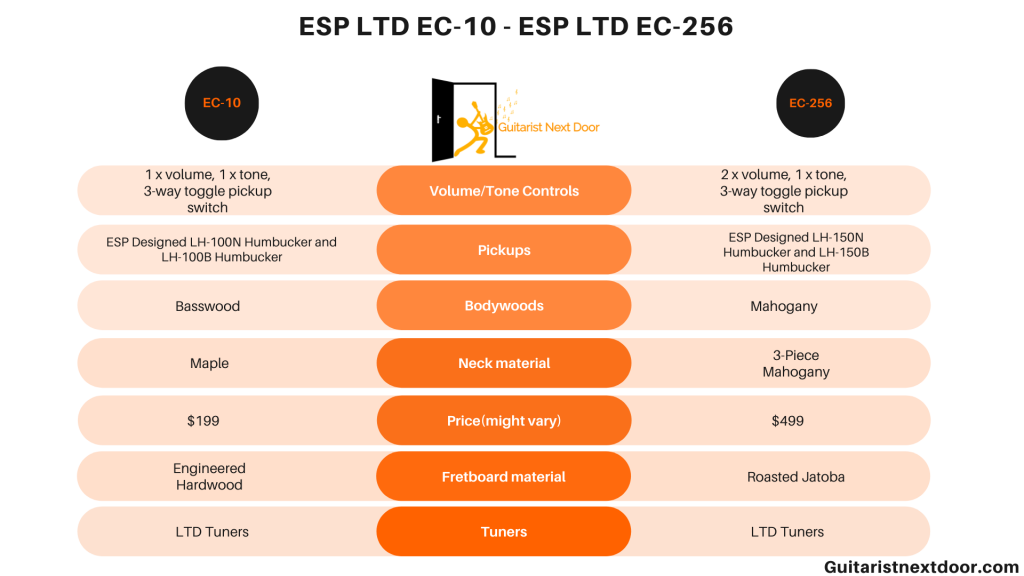 If you like the EC-10 but think a higher-grade guitar is more your fit, you might go for the ESP LTD EC-256.
This is another model that's great for metal, and it shares a lot of traits with the EC-10 that I like a lot, such as LTD tuners and the singlecut body shape.
Some upgrades you can expect from the EC-256 are a mahogany body instead of basswood for darker, richer tones. You'll also get a mahogany neck and a roasted jatoba fretboard.
The biggest difference would be the pickups—there's not much info about them online. But I can assume that they're more powerful considering the higher price you've got to pay for the EC-256.
If metal's your thing and you've got a bigger budget, the LTD EC-256 is a definite step up from the EC-10.
Check The Price of EC-256 on:
---
Who Plays ESP Guitars?
There are way more guitarists who swear by ESP than I can list here. Most of them are in the heavy metal or hard rock genres.
Artists like:
James Hetfield (Metallica)
Kirk Hammet (Metallica)
Gareth Murdock (Alestorm)
Chuck Garric (Alice Cooper)
Frank Bello (Anthrax)
But you might be surprised to hear that ESPs are also favored by artists like Charlie Bereal (guitarist for Kanye West), Missy Elliot, Jay Z, and many other hip hop artists.
Tons of big names play ESP guitars. If your curiosity is piqued, here's the full list of ESP artists.
Alternatives
Epiphone Les Paul Special VE
This ESP is only one of a few of the beginner guitars under $200 I've been testing lately. If you're not a huge fan of metal and want a guitar that will perform better in genres like jazz, funk, and blues, you should consider the Epiphone Les Paul Special VE.
Overall, I like the Les Paul Special VE more for the kind of music that I like to play. Although I do play some metal, I love playing fingerstyle with clean tones, and the EC-10 isn't great for that.
I do like the EC-10's fatter tone compared to the brighter voice from the Epiphone's poplar body. But the pickups of the Epiphone LP Special VE are much better than the EC-10's for playing in a wider variety of genres.
You'll find the Les Paul Special's pickups in higher-priced Epiphones too, while the LTD's pickups are the low-end models only used in ESP's starter guitars.
They both have various playability perks, but I'd take the rosewood fingerboard of the Les Paul over the ESP's engineered wood any day.
How this Epiphone sounds:
If this Epiphone sounds more like the guitar for you, be sure to see my full review of the Les Paul Special Vintage Edition.
Check Price on:
---
Jackson JS22 Dinky – Best Under $200 Guitar for Metal
The JS22 Dinky is my favorite metal guitar under $200. It can take a lot of crunch and is truly designed for playing heavy metal.
It has better hardware(tuners) and it's more comfortable to play, but the Les Paul VE is more versatile overall.
You can read my review of this axe here.
Check Price on:
---
Conclusion
I may not be the most major metalhead, but I still enjoyed shredding ESP's LTD EC-10.
If you want a low-cost axe for playing metal, this is one of the best electric guitars under $200 able to put out that kind of heavy distortion.
Be sure to check out your other options before you pull the trigger on this one, but if you do decide a heavy metal guitar is the way to go, I don't think you'll be let down by the EC-10.
Now is the time to check out our "5 Best ESP Guitars in 2023" guide.
You might also like:
We are sorry that this post was not useful for you!
Let us improve this post!
Tell us how we can improve this post?