Last Updated on April 29, 2023 by Teemu Suomala
Having fat fingers should not stop anyone from mastering the guitar. It's totally doable.
How I can be so sure?
Because so many players have already done that. And some even are not only mastered the guitar, but they have also become famous guitarists. Even though they have a lot thicker fingers than most people.
Note
Every guitarist on this list has developed noticeable skills. And the purpose of this post is to let those skills inspire people with fat fingers.
The guitarist on this post have 2 things:
-Serious guitar skills
-Thicker fingers than the most people
There is no intention to mock anyone with this post.
I mostly used Wikipedia as the source for the info about dates and bands these guitarist have been associated to.
Who crafted this post: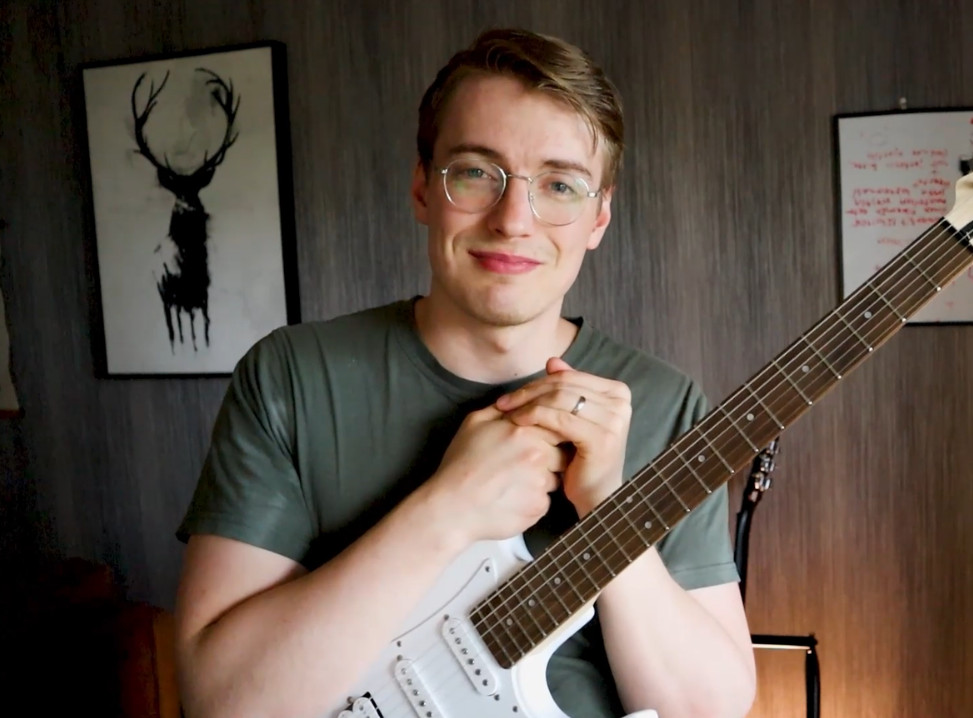 Author: Teemu Suomala
I first grabbed the guitar in 2009. I started this website in January 2020 because I couldn't do window installation anymore due to my health problems. I love guitars and have played dozens and dozens of different guitars through different amps and pedals over the years, and also, building a website interested me, so I decided to just go for it! I got lucky and managed to get awesome people to help me with my website.
I also got lucky because I have you visiting my website right now. Thank you. I do all this for you guys. If you have any recommendations, tips, or feedback, just leave a comment, I would love to chat with you. I have also been fortunate to produce content for several large guitar websites, such as Songsterr, Musicnotes, GuitarGuitar, and Ultimate Guitar.
I spend my spare time exercising and hanging out with my wife and crazy dog (I guess that went the right way…).
Hide The Rambling▲
---
17 Famous Guitarist With Fat Finger
Alexander Kuoppala
Associated Bands/Artists :
Children of Bodom
Keytoes
Timo Rautiainen
Valonkantajat
Thyrargo
Active as Guitarist: 1994-
Finnish-born guitarist who is best known as the second guitarist of Children of Bodom, but has also played in a disco/soul band called Keyotes. Kuoppala has developed a skill to make really fast shifts all over the fretboard and his shredding is noticeable smooth.
This is what happens when you consistently practice no matter your finger size.
---
BB King (Large hands overall)
Solo artist
Active as Guitarist: 1942–2014
Arguably the most influential guitarist when it comes to blues soloing. King stated that his blues journey took a real start from Beal Street (Memphis, Tennessee), where many other blues legends have also played (Louis Armstrong, Albert King, etc.).
Best known for his wide-neck, hollow-body Gibson ES-355. The guitar was named Lucille by the way…
---
Our Favorite Music Store in The World!
Why?
– Excellent Customer Service (4.7/5 Trustpilot Score)
– Fast & Free Shipping
– Gear is Inspected, Tested, & Ready to Play When it Arrives to You (We love this)
– Fair Prices
Visit Sweetwater:
Bernard Sumner
Associated Bands:
Joy Division
New Order
Electronic
Bad Lieutenant
Active as Guitarist: 1973-
Sumner is a skilled multi-instrumentalist but is best known for his vocals and guitar playing. He is living proof of a guitarist whose skills have not shimmered through the years. Barre chords and fast shifts still look smooth.
---
Cas Haley
Associated Bands/Artists:
Mike Love
Trevor Hall
Seth Walker
Jon Batiste
Active as Guitarist: 1998-
Haley breakthrough with his America's Got Talent performance in 2007 when his amazing voice and guitar skills were proofed for millions of people.
---
Cory Arford
Associated Bands:
Active as Guitarist: 2007-
Best known for heavy riffs and Ibanez's 7-string guitar. An well yeah, for his ability to effortlessly move his hand all over the fretboard.
---
Freddy King
Solo artist
Active as Guitarist: 1952–1976
Passed away in 1976
Freddy King got and headstart with the guitar at the age of 6. His blues licks and riffs are memorable, but his powerful voice is still the thing that impresses people the most.
One of "the three kings of the blues guitar".
---
Israel Kamakawiwo'ole
Solo artist
Active: 1976-1997
Passed away in 1997
Technically IZ was a Ukulele player, but it actually makes things even more impressive. Why? While Israel was a big guy he was still able to effortlessly play a super small instrument. Really inspiring musician.
---
John Lee Hooker (Large hands overall)
Solo artist
Active: 1942-2001
Passed away in 2001.
Hooker developed a completely new blues style mixing existing styles like talking blues and Hill country blues. He is best known for the guitar version of Delta blues, noticeable voice, and smooth guitar licks.
---
Johnny Hilland
Associated Bands/Artists :
Toby Keith
Albert Lee
Hank Williams III
Ricky Skaggs
Janie Frickie
Active: 1996-
Blind, has thick fingers but still…his country and rock licks are soo amazing! Starting with the guitar at the age of 2 has probably something to do with this. But again, limitations didn't stop this guy. He kept going. And you should too.
And Hilland also seems to be a really likable guy. I highly recommend checking his stuff out.
---
Jack Black
Associated Bands/Artists :
Tenacious D
Eagles of Death Metal
Queens of the Stone Age
Foo Fighter
Kyle Gass
Active: 1994-
Most entertaining guitarist on this list, but his guitar skills go unnoticed too often. Taught by Kyle Glass, Black has gained serious skills when it comes to crafting riffs and songs with chords and power chords.
---
Karl Sanders
Associated Bands:
Nile
Morriah
Morbid Angel
Active: Late 80's-
Best known as a vocalist and guitar player of Nile. Sanders has the ability to play really fast and also sing while doing it. Karl Mainly uses Dean's guitars.
---
Kyle Gass
Associated Bands/Artists :
Tenacious D
Kyle Gass Band
Train Wreck
Jack Black
Active: 1988-
Co-founder and lead guitarist of Tenacious D, and like Jack Black, a really entertaining man(in a little bit different way tho). Gass has the skills needed to compose really catch guitar riffs and chord progressions with acoustic guitar. He also taught Jack Black to play.
---
Michael Romeo
Associated Bands/Artists :
Symphony X
Ayreon
Phantom's Opera
Steve Walsh
Kotipelto
Active: 1994-
A huge fan of Star Wars and shredder that ever guitarist should know. Just watch the video above, check Symphony X's songs and you know exactly what I'm talking about.
---
Redd Volkaert
Associated Bands/Artists :
Merle Haggard
The Strangers
Active: Late 70's-
Probably the best country guitarist jamming with a Telecaster. Started playing guitar at the age of 10 and is best known as the lead guitarist for Merle Haggard's band The Strangers.
---
Shawn Lane
Associated Bands/Artists :
Jonas Hellborg/Jeff Sipe
Ringo Starr
Joe Walsh
Johnny Cash
Black Oak Arkansas
Active: 1977-2003
Passed away in 2003.
Lane started playing at the age of 10, and even though he suffered from health problems that limited his playing, Shawn still managed to shred till the end. It's really motivating to watch and listen a guitar player like Shawn Laine.
---
Timo Tolkki
Associated Bands/Artists :
Stratovarius
Revolution Renaissance
Avalon
Active: 1984-
Tolkki is featured in Guitar World's "The 50 fastest shred guitarists of all time"- list. Timo is best known as a lead guitarist of Stratovarius, but even after leaving the band, Tolkki has continued to shine with his shredding skills.
---
Warren Haynes
Associated Bands/Artists :
The Allman Brothers Band
Gov't Mule
Jack Casady
The Derek Druck Band
Davic Allan Coe
Active: 1982-
Hayes was a longtime guitarist of The Allman Brothers band and co-founder of the Gov't Mule. Warren is known for playing Gibson ES-335's and Les Pauls. But he has tamed the acoustic too, as you can see from the video above.
---
Things We Can Learn from These Guitarists
There are a couple of things I noticed.
First, these guitarists use all sorts of different guitars:
But also some of them used:
All this reveals that there is no single guitar type that fits all players with fat & thick fingers. You just have to test and choose which works the best for you.
If in search for an new guitar, check those articles I mentioned above, those include really valuable info for guitar player s with fat fingers.
Also, 1 thing was clear. Every single one of these guitar heroes invested a ton of time to practice. Some even started playing at the age of 2!
So, you can totally master the guitar, it will take some time for sure…but it's 100% worth it!
---
Conclusion on Famous Guitarist With Fat & Thick Finger
There is probably a good chunk of other famous guitar players with fat fingers out there, but these were the ones that came into my mind and which I found during the research.
I honor the skills of every single one of these guitarists has developed. And I'm also thankful that we can listen to the music they have been producing.
Hopefully this post motivated you to play and practice even more. I wish you all the best and stay safe!
---
You might also like:
We are sorry that this post was not useful for you!
Let us improve this post!
Tell us how we can improve this post?