"Semi-acoustic" or hollow-body electric guitars take us back to the 1930s, preceding the solid-body version of the instrument. Hollow-body guitars evolved, which is how the so-called semi-hollow-body guitars came to be, featuring smaller bodies and retaining resonant chambers and soundholes.
And even decades after the instrument's development, guitarists these days still play hollow-body guitars like Gibson's ES-175. Meanwhile, semi-hollow-body guitars are also widespread, with great examples like
Gibson ES-335,

Fender Thinline series,

and various series by Gretsch and Paul Reed Smith.
Making a smoother tone, hollow-body guitars have a huge following. This is why I decided to cover the topic and bring you the most famous hollow-body guitar players of all time. Let's get started!
Who crafted this article: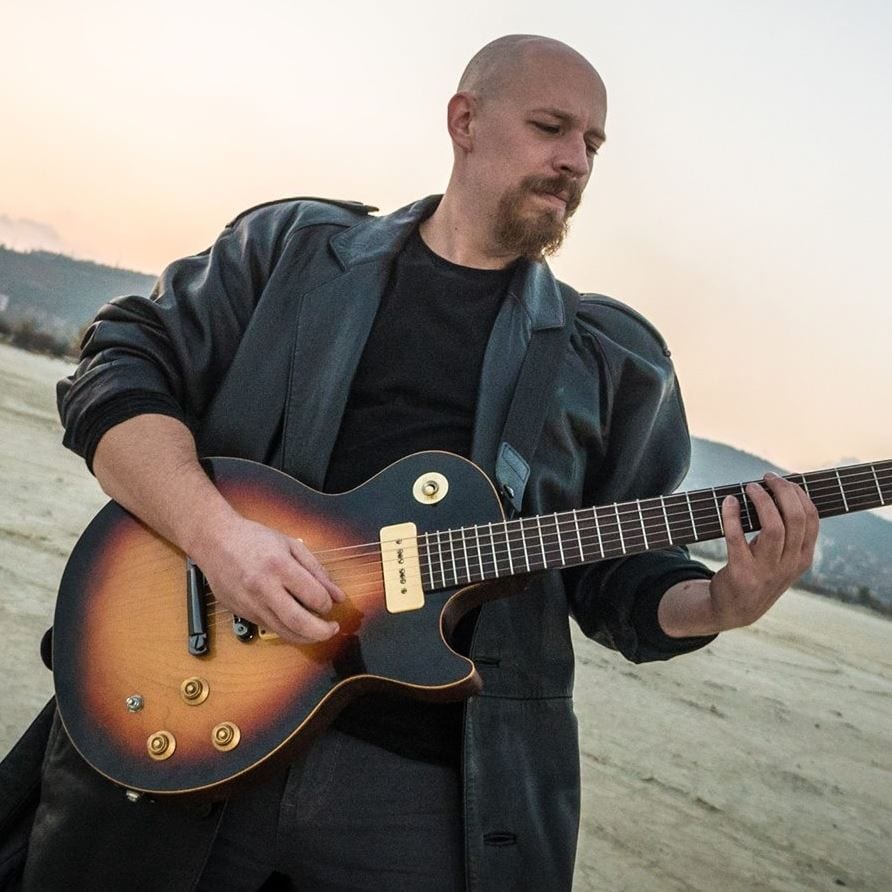 David Slavkovic
David has been playing guitar since 1998, his main focus back then was hard rock and metal. With years, his music tastes evolved and he eventually started appreciating all musical styles. Although officially an agricultural engineer, David began writing for Ultimate Guitar in 2017 where he's currently working as a senior editor.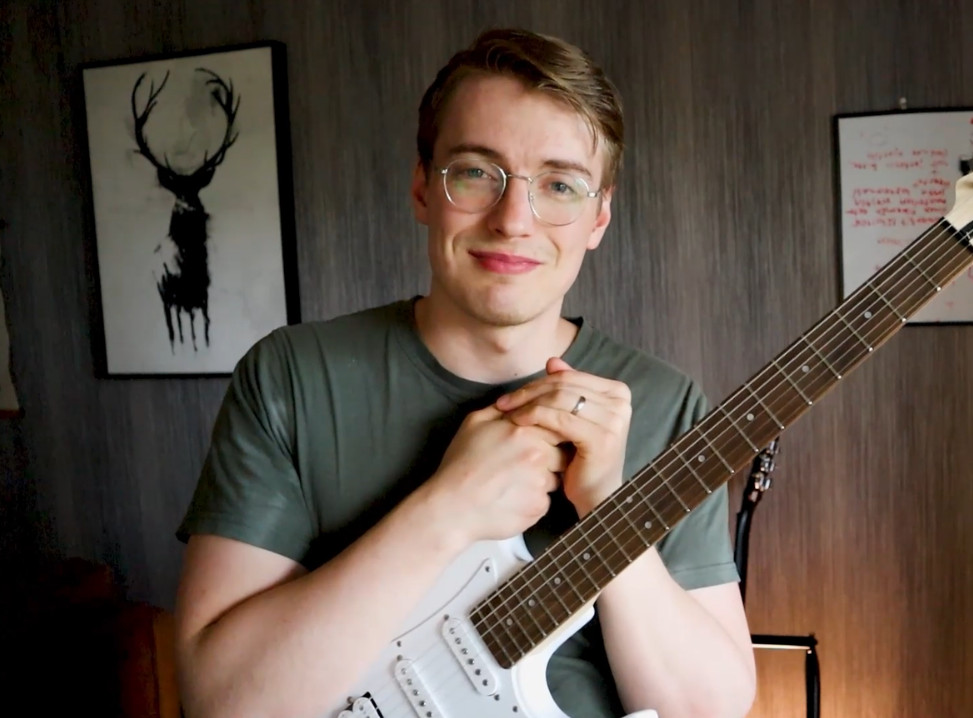 Editing & Research: Teemu Suomala
Playing guitar since 2009. Mainly focused on electric guitars, although jamming with acoustics too. Has played dozens and dozens of different guitars through different amps and pedals over the years. That's why he started this blog in January 2020 and started sharing his experience. Has produced content for several large guitar websites, such as Songsterr, Musicnotes, GuitarGuitar, and Ultimate Guitar.
---
Our Favorite Music Store in The World!
Why?
– Excellent Customer Service (4.7/5 Trustpilot Score)
– Fast & Free Shipping
– Gear is Inspected, Tested, & Ready to Play When it Arrives to You (We love this)
– Fair Prices
Visit Sweetwater:
Famous Hollow-Body Guitar Players
Chet Atkins
Chet Atkins started his career in the 1940s and has remained active until the mid-1990s. He fused country with rock 'n' roll, blues, jazz, and classical music, and remains as one of the most influential fingerpickers. He's one of the people who brought country into "pop" territories, earning him a nickname the "Country Gentleman."
Notable guitars: Gretsch 6120, Gibson Chet Atkins Country Gentleman
B.B. King
The blues legend needs no introduction. One of three kinds, he's the one responsible for further developing and popularizing blues. The story of his Gibson L-30 guitar that he saved from a fire changed the course of guitar history. Naming it "Lucille," this was the same name Gibson used for his signature guitars.
Notable guitars: Gibson L-30, Gibson, ES-335, Gibson B.B. King Lucille

Fun fact: B.B. King loved to use light-gauge strings and has convinced ZZ Top's Billy Gibbons to start doing the same.
George Benson
Master of jazz guitar, George Benson's influence is unprecedented. Being a child prodigy, he rose to fame in his 20s. During the 1970s, he also ventured into soul territories and accomplished himself as a vocalist. He's still active to this day.
Notable guitars: Ibanez LGB3000, Gibson L-5
Lee Ritenour
Another jazz champion, Lee Ritenour is known for his solo work, as well as collaborations with the likes of Aretha Franklin, Marcus Miller, Vinnie Colaiuta, George Duke, and even Art Garfunkel. Fusing jazz, blues, and funk, hollow-body guitars are a perfect choice for these genres.
Notable guitars: Gibson ES-335, Gibson L-5, Ibanez LR10
Grant Green
Rising to fame in the 1960s and the 1970s, Grant Green further pushed jazz music with his innovative guitar playing. His music mostly revolved around "less is more" concept, with Green using only a limited number of notes to send a message across.
Notable guitars: Gibson L-7, Gibson ES-330, Epiphone Emperor Regent
John Lennon
We're already familiar with how The Beatles changed the course of music history. One of the most influential musicians and artists of the 20th century, by far, is John Lennon. In his great arsenal of guitars, Epiphone Casino comes up as one of his most famous instruments. Epiphone even made a signature Lennon version.
Notable guitars: Epiphone Casino, Gretsch Country Gentleman
George Harrison
Of course, the other 6-string player in The Beatles was also fond of hollow-body instruments. In fact, he was even a more prominent hollow-body enthusiast compared to Lennon. He used them throughout his career, all the way from the late 1950s and until his passing in 2001.
Notable guitars: Rickenbacker 360/12, Epiphone Casino, Gibson ES-345, Guild Starfire, Gretsch Country Gentleman
Barney Kessel
Barney Kessel honed his craft in The Wrecking Crew – Los Angeles collective of session musicians during the 1960s. He was pretty well-known for his great arrangements, as well as the use of very innovative chord inversions, all of which solidified his place in the world of jazz music.
Notable guitars: Gibson ES-350
Wes Montgomery
John Leslie Montgomery, widely known as Wes Montgomery, was active for about two decades, from the late 1940s to the late 1960s. But although we lost him too soon, his music made a huge impact not only on jazz but on many other guitar-oriented genres as well.
Notable guitars: Gibson L-5, Gibson ES-175

Fun fact: Wes used a somewhat unusual technique where he would pick the strings with his thumb. Combined with his use of octaves, his playing has always been easily recognizable.
John Scofield
Although famous for his solo career, John Scoffield collaborated with other big names in jazz, including Billy Cobham, George Duke, and Miles Davis, just to name a few. He's one of the top masters of jazz fusion genre and is also famous for his great addition of soft distortion to lead sections, which he did since his career beginnings in the 1970s.
Notable guitars: Ibanez Artist AS-200, Ibanez Artist AM-205, Gibson ES-335, Gibson ES-330
Johnny Marr
Johnny Mar is one of the people who popularized hollow-body guitars in rock music. Although collaborating with many musicians over the years, and doing his solo stuff, Marr is still mostly known for his involvement with The Smiths. Active since the early '80s, he still loves hollow-body guitars.
Notable guitars: Rickenbacker 330, Rickenbacker 360/12, Gibson ES-335, Gibson ES-345, Gretsch 6120
Joe Pass
Even to this day, no one can do what Joe Pass did during his lengthy career, spanning from the 1940s to the 1990s. Although jazz is heavy on improvisation, he pushed it to a whole new level, recording entire albums semi-improvised in one take – just him and his guitar. He was well-known for his innovative arrangements and playing chords and melodies at the same time.
Notable guitars: Ibanez JP-20, Gibson ES-175, D'Aquisto Custom Archtop, Epiphone Joe Pass Emperor

Fun fact: Joe was a child prodigy and he started working professionally at the age of 14.
Dave Grohl
Foo Fighters frontman Dave Grohl pushed hollow-body guitars in hard rock territories. Which is somewhat "unconventional," although it seems to work well for him. Of course, he still uses solid-body guitars, but he's pretty famous for his signature semi-hollow-body Gibson.
Notable guitars: Gibson Trini Lopez Standard, Gibson DG-335, Gibson ES-335, Duesenberg Starplayer TV
Alvin Lee
Ten Years After founder Alvin Lee was one of the first virtuoso rock players. Active from the early 1960s to his death in 2013, he pushed the genre forward. One of his most famous works is "I'm Going Home."
Notable guitars: Gibson ES-335, Heritage 535
Noel Gallagher
Of course, the Oasis axeman also comes to mind in this talk. One of the most prominent songwriters in the genre, he's become very famous for his hollow-body guitars which he used throughout his entire career.
Notable guitars: Gibson ES-355, Gibson Silver Florentine, Epiphone Noel Gallagher Signature Supernova
Jack White
Although not a virtuoso in a classic sense, Jack White is one of the most innovative guitar players today. Looking into his unusual guitar collection, we can also find a number of great hollow-body guitars that he used in The White Stripes, The Raconteurs, and his solo career.
Notable guitars: Harmony Rocket, Crestwood Astral II, Kay K6533, Gretsch G6118T-LTV, Harmony Meteor H60
---
Conclusion
I hope that you find famous players that inspire you on your guitar journey.
Helpful posts for you:
If you have any questions, leave a comment down below and feel free to share this post too.
I wish you all the best and keep rocking!
---
Here's Our Favorite Gear Right Now!
Our Favorite Guitars:
Consider all links in this post to be affiliate links. If you purchase, at no additional cost to you, we may earn a small commission. It helps us to keep the lights on, thanks! 🙂
Electric guitars:
For beginners and tight-budget guitarists, Ibanez GRX70QA was the winner after hours of testing. If you are a metalhead, Jackson JS22 Dinky is our favorite.
If you have more room on your budget, Yamaha Pacifica 112V gives you a great bang for your buck, and Fender Player Telecaster HH will serve intermediate Players well.
Our favorite Electric guitar of 2021 was the PRS SE Custom 24-08. It gives so much versatility, comfort, and good tones that it's impossible to ignore.
Acoustic guitars:
For beginners, Yamaha FG800 is our go-to guitar. It offers more than any other guitar in the same price range.
For intermediate and beginners with bigger wallets, Gretsch G5024E Rancher offers so clear and detailed tones, plus easy playability that I had to include it here.
Seagull S6 Original is the best acoustic around the $500 mark. It has the construction, sound, and feel that many more expensive guitars don't achieve.
Our Favorite Amps:
For beginners, Fender Mustang LT25 offers the most. It's versatile, sounds good, and is simple to use.
For most home players, Boss Katana 50MKii is the amp that serves you in any situation. From country to metal.
If you are searching for a tube amp for home use, Blackstar HT-5R MKii is my go-to option because it sounds so good, and you can adjust the wattage(power).
When it comes to acoustic guitar amps, Fender Acoustasonic 40 will serve most people really well. But our favorite is Fishman Loudbox Mini BT. It offers a professional level tone and volume with a price most people can afford.