Last Updated on April 29, 2023 by Teemu Suomala
The price tag is the 1 thing that usually gives us guitar players the creeps!
I remember when I started with the guitar in 2009, finding a great amp for a budget price was almost impossible. But gladly, things are a little bit different nowadays.
Can you find the perfect amp for a super-affordable price? No
What about a decent amp? Absolutely.
But please do your research before buying, so that you don't waste your time or money. Because usually, budget amps have limitations and you want to make sure that you choose the right one for you.
And here, Fender Frontman 10G, little brother of Fender Champion can be a great option for some players, but not for all.
I spent a couple of weeks playing with this little amp, and this in-depth review gives you all my thoughts on how it sounds, plays, looks, and feels. And I will reveal who this amp is for in my opinion.
Let's get started!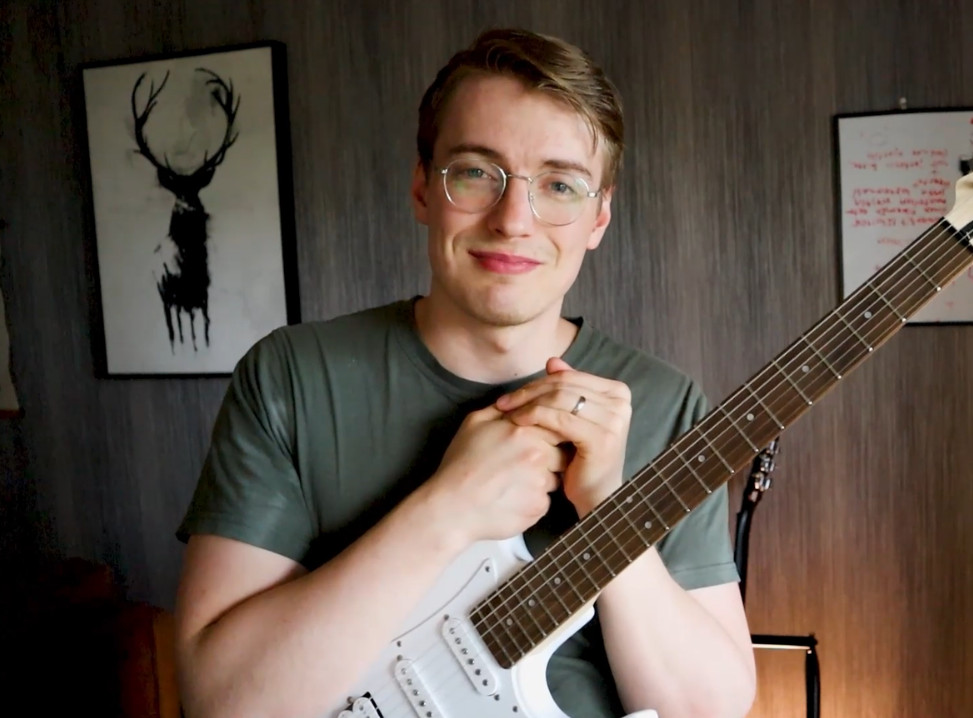 Author: Teemu Suomala
I first grabbed the guitar in 2009. I started this website in January 2020 because I couldn't do window installation anymore due to my health problems. I also noticed that most guitar websites don't do a really good job, so I decided to just go for it! I got lucky and managed to get awesome people to help me with my website. I also got lucky because I have you visiting my website right now. Thank you. I do all this for you guys. If you have any recommendations, tips, or feedback, just leave a comment, I would love to chat with you. I have been fortunate to produce content for several large guitar websites, such as Songsterr, Musicnotes, GuitarGuitar, and Ultimate Guitar. I spend my spare time exercising and hanging out with my wife and crazy dog(I guess that went the right way…).
---
Fender Frontman 10G Review
Summary(If you are in a hurry)
Fender Frontman 10G offers great Fender-cleans, good crunch tones, and is easy to use. But the distorted tones of it are really limited, plus with overdrive on, the amp gets too loud easily.
But overall you get nice quality and good value for money with this little amp. It's ideal for a Fender-clean lover, who is just getting started or searching for a small practice amp.
Check Today's Price on:
*Consider all links in this post to be affiliate links. If you purchase, at no additional cost to you, we may earn a small commission. It helps us to keep the lights on, thanks! 🙂
---
You can watch my full in-depth video review of Fender Frontman 10G too:
Our Favorite Music Store in The World!
Why?
– Excellent Customer Service (4.7/5 Trustpilot Score)
– Fast & Free Shipping
– Gear is Inspected, Tested, & Ready to Play When it Arrives to You (We love this)
– Fair Prices
Visit Sweetwater:
Fender Frontman 10G Specs and Dimensions
Fender Frontman is designed to be a small and affordable solid-state amplifier for beginners and practice use.
| | |
| --- | --- |
| Power: | 10 Watts |
| Amplifier-type: | Transistor/Solid-State |
| Speaker: | 6″ Fender Special Design speaker (4 ohms) |
| Channels: | 1 |
| Controls: | Gain, Overdrive Select Switch, Volume, Treble, Bass |
| Inputs: | 1/4 Instrument Cable, 1/8 AUX-Cable |
| Outputs: | 1/8 Headphone jack |
| Weight (I measured this): | 8.59lbs (3.9kg) |
Overall Look, Feel, ad Quality
Fender Frontman 10G feels and looks like a budget beginner amp. Does this mean that it's bad? No by any means…
But you can get higher-quality looking and feeling amps on this same price range(VOX Pathfinder 10).
Silver details of the amp fit a bit leather-looking vintage-black well and only the cheap-looking control knobs turned me down a little bit…but hey, this is a cheap amp, so how you could even expect more? Because some other models do things better.
Black Textured Vinyl covering the amp still looks and feels solid, and while this is not my favorite amp look and feel-wise, I wouldn't be ashamed to use this.
Iconic Fender logo and 70's look still give me great vibes when playing some sweet blues or classic rock licks with this little amp.
When manufacturers save money from looks to improve the sounds of these budget amps, I just love that! That's the right way to offer affordable amplifiers for players who want great tones first, and stunning looks second. But does this really happen with this Fender? Kind of…more about that in the Sound-section.
To wrap this the least important section up, I can say that for the price you get good-enough quality, looks, and feel with this amp. Not great, but definitely enough.
Watch the unboxing here:
Features
Again, basic beginner/budget amp features. For this price point, I'm not going to complain about these.
With "Gain" you can increase or lower the signal strength at the start of the signal-chain(start of the pre-amp section). This increases the loudness too, but mainly the gain is used to distort the signal.
I really liked how with the cleans of this amp, you can get some nice crispiness into your tone by increasing the gain.
You probably noticed the overdrive, button. According to Fender, this amp only has one channel, and with this simple O.D switch, you can Overdrive the signal and instantly get some extra punch into your tones.
With overdrive, tones get too fuzzy after going over the half-way with the gain-knob in my opinion, but mildly distorted tones with overdrive switch-on are solid for crispy blues or classic rock.
Volume is located at the end of the signal path, it determines how loud the audio gets after it's been processed. So simply, you control the loudness of this Fender Frontman with the Volume-knob.
2-Band EQ
2-EQ knobs, give you nice ways to shape your tone. With "Bass"-knob you can highlight or smoothen low-frequencies. You can get thick and full rhythm tones with "Bass" level high or aim for sharp leads when you turn the "Bass" down.
"Treble"-knob gives you the opposite. You can highlight or smoothen high-frequencies. When the "Treble" is at 10 and, "Bass" at the 1, you get really sharp tones full of attack. Ideal for super-sharp funk-cleans or fuzzy distortion.
I found myself mostly using "both knobs half-way"- setup for me. With that, you can cover a wide range of different riffs without playing with the knobs all the time. Only with leads, I highlighted the high-notest a little bit with the treble.
I rarely used "high-Bass", "low-treble" setup, or other "edgy" stuff, because in my opinion, this amp shines with balanced tones.
Usability
If "easy to use"- is in your checklist, Fender Frontman 10G is exactly that. With only 4 knobs and 1 overdrive-switch, it's hard to mess things up.
If you are a beginner and idea about learning the play the guitar and learning how to use an amplifier at the same time worries you, Fender Frontman is definitely one of the safest bets for you.
But for example, the delay effect is nice to have, because you can spice up your playing a lot with that, plus you can also dial in "reverb" like effects when playing with "delays" time and level knobs. But this amp doesn't give you that.
So, for folks who like to dial the settings for 30 minutes and play for 10minutes, this Fender doesn't give enough.
But keeping the price and who this is designed for in mind, this amp gives enough for sure.
One con with usability is the loudness. Especially with the overdrive on it's really hard to play quietly, so the late-night rock sessions without headphones can be hard with this Frontman.
Sound
Check the no talk sound demo:
Budget Fender cleans. That's where this amp is at its best. I especially enjoyed using my Ibanez'es middle-single-coil pickup and playing some, bright, crisp, and spanky riffs and leads with this amp.
So, if you are looking for Fender Cleans for under $100, I don't think that there are any better options available.
Can you get better cleans for under $100? Yes, in my opinion. But this comes down to our own taste. I just like the warm, thick, and full cleans of VOX Pathfinder 10, and also the clarity of Blackstar Fly 3's cleans. But if you love crispy, bright, and spanky Fender cleans more…Frontman 10G is a great option.
Also, the crunch and mildly distorted tones are solid. You can get nice tones from classic rock to punk with this amp. Tones have attack, attention, and fuzz, especially great for 70's and '80s mildly distorted stuff.
This amp is surprisingly loud, but its speaker doesn't handle this very well. Especially distorted tones start to sound way too sharp and fuzzy when you are trying to play loud. But you could in my opinion even perform with this and its cleans in small places.
Can Fender Frontman 10G Handle Distortion/Metal?
No. Only mildly distorted tones are solid.
When you try to get growling metal tones…this amp can't do that.
With gain all the way up, tones are very fuzzy and too dry at the same time, and the characteristics of thick and full metal tones just are not there. Maybe you could barely hit some stuff from AC/DC with this amp, but don't expect more when it comes to distortion.
You can check FAQ-sections "Can Fender Frontman 10G Take Pedals?"- question to find out if this amp can give you distorted tones with a pedal.
Value for Money
My testing with these under $100 amps has revealed that you can't find an amp that gives you great cleans, crunch, and metal tones, plus lots of features. It just doesn't happen for this price.
But most of the players can find an amp under $100 that will give them enough to get started or to just practice.
This Fender gives you good value for money, not the best, but still solid. You get a pretty loud amp, that gives you Fender cleans, AUX input to jam with your favorite tracks, ways to shape your tone and you can get some distortion out of it. That's definitely not too bad for this price.
Verdict
Pros
Affordable
Solid price:value ratio
Nice Fender cleans
Good crunch tones
Loud
Easy to use
Has all the features a beginner needs
Clean/overdrive switch
Good practice amp
Cons
Loud(hard to play quietly)
The distorted tone sounds fuzzy, muddy, and dry
More versatile options available for under $100
Handle is kind of useless for large hands (use with 1 finger)
Great cleans, solid crunch tones, and simplicity are the best things about this Fender Frontman 10G in my opinion. If those sound good, this might be a great option for you.
In my opinion, Fender could make this amp 10-20 bucks more expensive if that's needed to improve the distorted tones and then this would probably be the best amp under $100.
But now, there are better options available for this price in my opinion. But with Fender cleans, this is the best pick for under $100.
Check Price on:
---
FAQ
Can Fender Frontman 10G Take Pedals?
Yes, it can. And it sounds surprisingly good in my opinion. Check the video above for sound samples.
Especially with the reverb pedal, the cleans and crunch tones of this amp sound great in my opinion.
With distortion pedal, the tones improved for sure, but it doesn't chug. So due to my experience and research with this amp, this is not a good option for metal no matter if you have a pedal or not.
Is the Fender Frontman 10G a good amp?
For the price, it's a good practice and beginner amp for players who want Fender-cleans and solid crunch tones. But for distortion and different type of cleans, there are better options available (Check Alternatives).
Also if you can spend more, you get better tones and more versatility.
Is the Fender Frontman 10G a tube amp?
No. Fender Frontman 10G uses Solid-State/Transistor technology to amplify your electric guitar signal.
Alternatives
VOX Pathfinder 10 – Even Better Cleans and Rock Tones
VOX Pathfinder 10 is my favorite guitar amp under $100 when it comes to clean and crunch tones. It looks, feels, and sounds like a more expensive amp in my opinion, but the heavily distorted tones of this fall short too. Missing AUX-input is another con with this amp.
But otherwise, the open-back, room-filling rock tones of this are hard to beat for the price. And yeah, I still own this amp, I like it so much.
Check the price on:
---
BOSS Katana Mini – Metal Tones Under $100
If you want metal tones for around $100, Boss Katana-Mini is my favorite. Thick, full, and growling distorted tones of this little amp really surprised me. Also, this amp has 3-Band EQ(bass, middle, treble) and the Delay effect.
You can get better clean and crunch tones for even less money, but those not-so-heavy tones of this amp don't suck at all either.
Check the price on:
---
Fender Mustang LT25 – Best Beginner Amplifier
If you want extreme versatility out of your amp, and are not ready to pay over $200, Fender Mustang LT25 is my favorite choice. It's really easy to use, and with the number of features of this amp, this is a real accomplishment by Fender.
It gives you everything from Acoustic Simulation to Metal tones, and I don't want to sound over-hyping, but for beginners, this is definitely the best amp out there that I know of.
But if you want tube-tones modeled for under $200 VOX Valvetronix 20X takes the edge from this Fender.
Check the price on:
---
Conclusion on Fender Frontman 10G Review
I had so much fun when testing this Fender Frontman 10G. Great cleans and a good fit with single-coil pickups.
Hopefully, you found this review helpful and if you have any questions, go to my Youtube-channel and ask in the comments!
I wish you all the best!
Teemu Suomala
You might also like:
We are sorry that this post was not useful for you!
Let us improve this post!
Tell us how we can improve this post?