Last Updated on February 20, 2023 by Teemu Suomala
Fender Mustang P90 – My Favorite Guitar for Small Hands
Sound
Playability
Overall Quality
Value For Money
Versatility
Summary
Pros
-Narrow nut width (1.65″), C-neck shape, and 24″ scale length make this axe really easy to play
-Gnarly and hot P90 sound
-Good quality electronics
-The neck is really comfortable (especially good for short fingers and small hands)
-Offers versatile and unique tones
-Great axe for rock and punk music
-Classic looks
-I like how bent saddles feel against my picking hand (it's comfortable)

Cons
-Some action adjustments might be needed
-Synthetic bone nut
-Doesn't offer you either warm humbucker or spanky single-coil tones
-Not my favorite option for metal

If you want:
–a comfortable guitar
–want to blend bright and warm tones together
-start rocking with unique tones
–you just love rock and punk…
this guitar is a great option!
How Fender Mustang P90 sounds:
Check Today's Price on:
*Consider all links in this post to be affiliate links. If you purchase, at no additional cost to you, we may earn a small commission. It helps us to keep the lights on, thanks! 🙂
---
Fender Mustang 90 is definitely a classic with its unoriginal looks and P90 pickups, but is it worth your money? Let's find out!
Fender Mustang 90 specs:
Body type: Solidbody
Body wood: Alder
Neck wood: Maple
Neck shape: C
Scale length: 24"
Truss rod: Yes
Fretboard material: Pau Ferro and Maple options available
Fretboard radius: 9.5"
Number of frets: 22 Medium Jumbo
Nut width: 1.65 inches (42mm)
Pickups: 2 Mustang P90 single-coil pickups
Pickup switch: 3-way
Bridge: 6-Saddle Strings-through body Strat Hardtail(w/Bent Steel Saddles)
Who crafted this Review: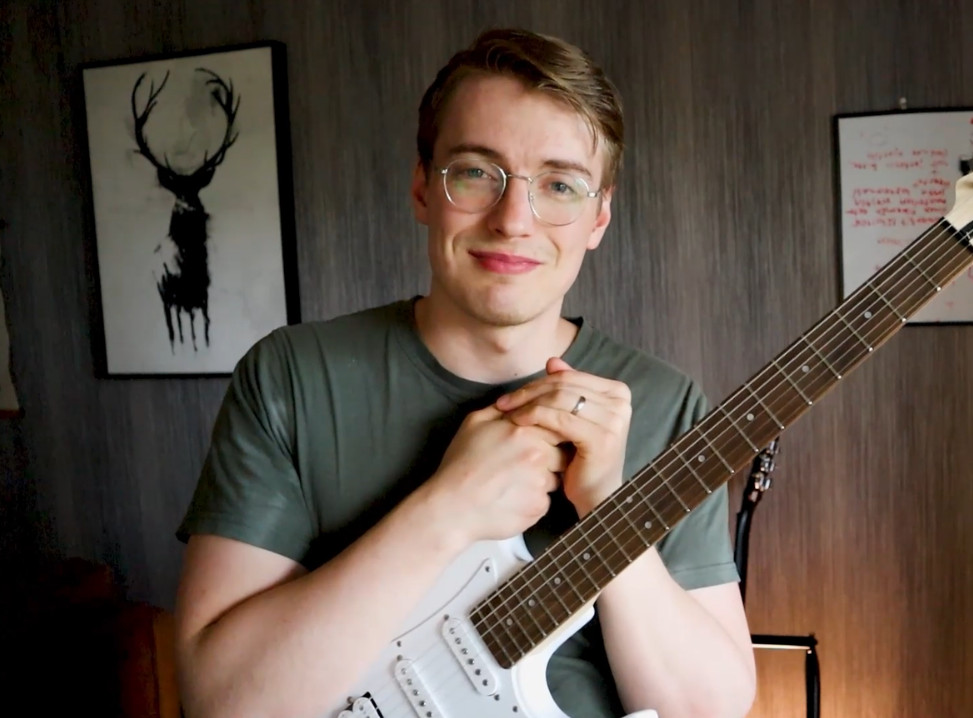 Author: Teemu Suomala
I first grabbed the guitar in 2009. I started this website in January 2020 because I couldn't do window installation anymore due to my health problems. I also noticed that most guitar websites don't do a really good job, so I decided to just go for it! I got lucky and managed to get awesome people to help me with my website. I also got lucky because I have you visiting my website right now. Thank you. I do all this for you guys. If you have any recommendations, tips, or feedback, just leave a comment, I would love to chat with you. I have been fortunate to produce content for several large guitar websites, such as Songsterr, Musicnotes, GuitarGuitar, and Ultimate Guitar. I spend my spare time exercising and hanging out with my wife and crazy dog(I guess that went the right way…).
---
Fender Mustang 90

Review
Sound
Another sound demo:
This guitar comes with 2 Mustang P90 single-coil pickups.
The tones of P90 pickups usually sit somewhere between the humbucker and regular single-coil pickups, and these are no exception.
So, these pickups offer you more warmth and less brightness than single-coils in general, and this makes these pickups quite a versatile choice. At the same time, you are not getting spanky and bright single-coil or thick and warm humbucker tones.
So P90's offer you something that other pickups don't.
Tones are quite thick and warm, but some of that single-coils brightness still shines through. In my opinion, if you can't decide between humbuckers and single-coils, a guitar with P90s is a solid option.
Dirty tones give you some of that "in your face"-characteristics needed in metal and rock.
If you are into a punk, or punk rock, this guitar is one of the best choices you can find. P90 tones offer you so much attitude tone-wise that it's hard to ignore a guitarist with these pickups.
For example, Billie Joe Armstrong (Green Day) and Johnny Thunders (New York Dolls) have been using P90s a lot during their careers. You can find many other punk guitarists to prefer P90 too.
What about clean tones?
Mustang 90 gives you sparkling cleans, but you can also dial some really gentle and warm clean tones if you want.
So, you can play some soft cleans to calm everybody, but you are also able to crunch some dirty riffs to wake everybody up.
I didn't feel that P90s limit my tones too much. But of course, when I want to play some heavy riffs or spanky cleans, tones are not exactly what I have been used to with Humbuckers or regular Single-coils.
If I was limited to one electric guitar for life, it probably wouldn't be this(it would be HSS Strat), but I would love to add this axe to my guitar collection at some point, and this is by no means a bad guitar, it just depends from what you are looking for.
Here's a little graph that highlights what this Fender can do: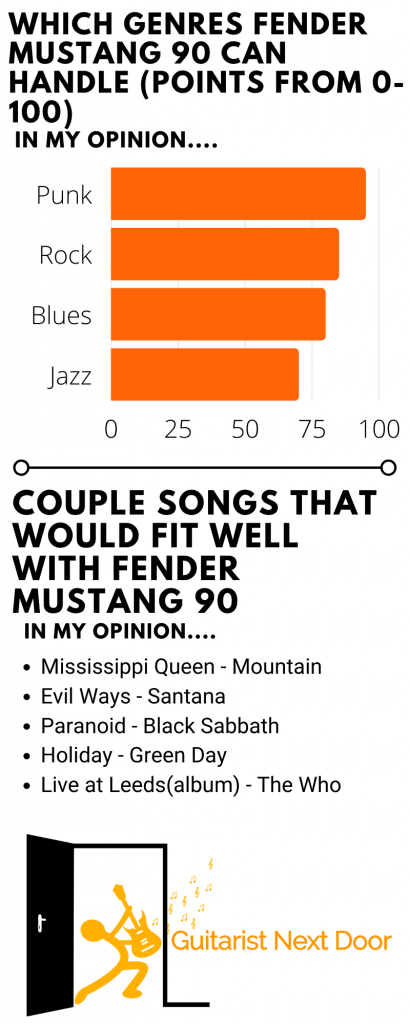 Playability
The fretboard radius is 9'5-inches, so there is some curve, but I don't feel that this limits playing too much. Maybe if you are into some serious shredding and sweep picking, a flatter fretboard will be a better option for you.
And this quite curved fretboard is paired with 22 Medium Jumbo frets. For me, medium and medium-jumbo-sized frets are the most comfortable to play with…
And when it comes to regular riffing and solo-licks, this fretboard feels great to me. Everything is easy to access.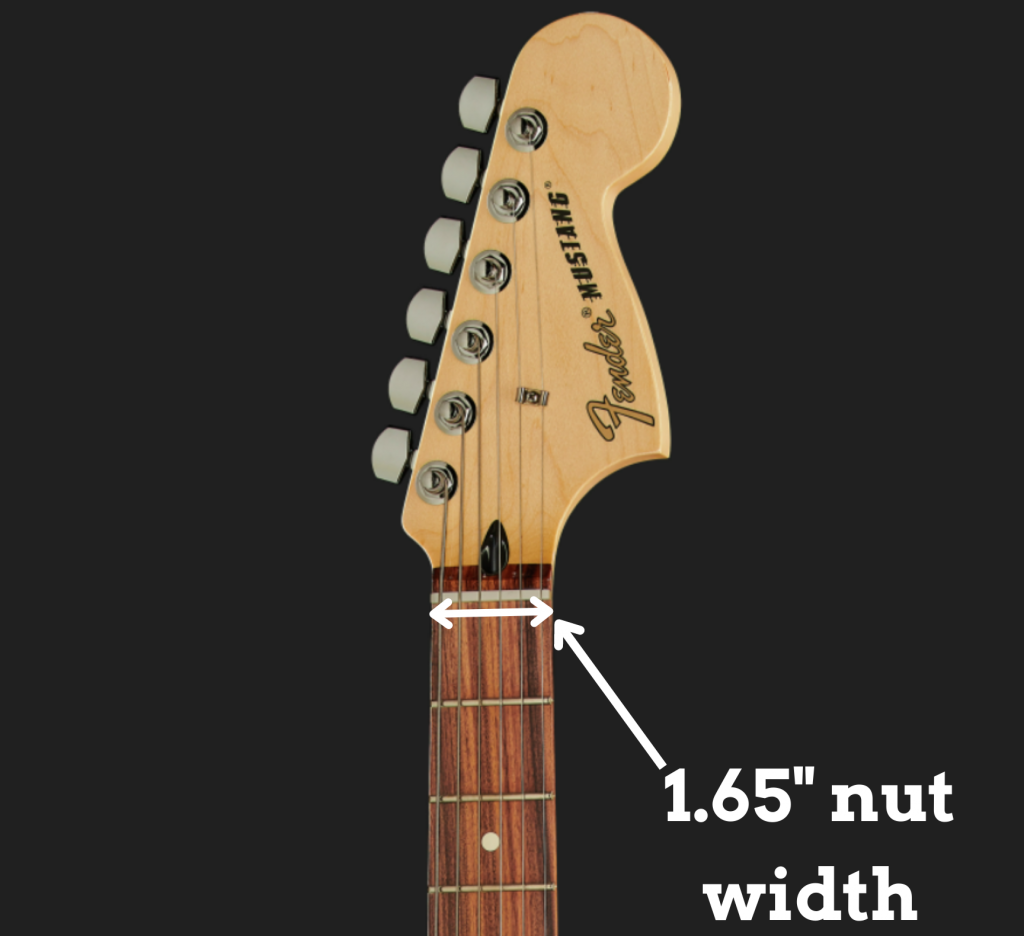 Nut width is 42mm(1.65inches). So it's pretty narrow and offers really close feel to original Strats with necks on the thinner side. This makes playing easy and all the frets easy to access. The neck is especially good for short fingers, small palms, or small hands in general.
Also, the 24 scale length makes this axe really smooth to play and beginner-friendly too. Jamming with this guitar doesn't require so much finger strength because of the less string tension that shorter scale causes.
The neck shape is C, and it's one of my favorites. Mainly because it just fits the hand of a human being. Nice grip, firm feel and it doesn't slow me down either.
This one might need some slight action adjustments. Not a major flaw because you can easily adjust the action to your liking with saddle and/or truss rod, but it's worth noting.
I own really small hands, and this has been holding me back when learning the guitar (especially when I started at the age of 14). But with Mustang, my small hands didn't really limit me at all.

Teemu Suomala
Quality
Some users have been saying great things about the electronics and the lack of hum in the sound. That's definitely nice to know.
My experiences with the quality of Fender guitars (Mexican or American made) have always been excellent, and these Mexican-made Mustangs are no exception.
Plus, due to my research and experience, these Mexican-made Mustangs with Sealed Standard Die-cast -tuners hold the tune well.
Looks
Most players probably mixed feelings about the looks of this guitar… not quite used to its "skinny" looks, but on the other hand, it's unique and some colors fit really well with this body shape(aged natural for example).
Personally…yeah it's different for sure, but I like it a lot, a beautiful guitar!
Our Favorite Music Store in The World!
Why?
– Excellent Customer Service (4.7/5 Trustpilot Score)
– Fast & Free Shipping
– Gear is Inspected, Tested, & Ready to Play When it Arrives to You (We love this)
– Fair Prices
Visit Sweetwater:
Summary
Pros
Spot-on nut width, C-neck shape, and 24 scale length make this one really easy to play

Good quality electronics

Gnarly and hot P90 sound

The neck is really comfortable (especially good for short fingers and small hands)

Offers versatile and different tones
Great axe for rock and punk music
Classic looks
I like how bent saddles feel against my picking hand (it's comfortable)
Cons
Some action adjustments might be needed

Synthetic bone nut
Doesn't offer you either warm humbucker or spanky single-coil tones
The Mustang 90 is really comfortable and fun guitar to play. A great electric guitar option for small hands. Sound-wise this is at the same time versatile and not. Best for punk-rock, rock, and funk. If you mostly want to play metal, this probably isn't the best option for you.
If you want a comfortable to play guitar for yourself, this mustang offers that. And if you also want to blend bright and warm tones together and start rocking with totally different tones, this guitar is worth the money in my opinion.
Check Price on:
---
Is the Fender Mustang a good guitar?
Based on my personal experience and research, I would say that the Fender Mustang is a good guitar. It's not for everybody, but for some folks, it's a great choice.
Fender Mustang offers you comfortable playability and high quality. Mustang usually comes with 2 regular single-coils or 2 P90 single-coils. Depending on what pickups you choose, you get either classic bright tones(regular-single coils) or a blend of a warm humbucker and bright regular single-coils tones (P90's).
Fender Mustang, in my opinion, handles rock and punk tones well, but is not so good with metal.
As always whether the Mustang is a good guitar for you, comes down to your own preference.
Who used a Fender Mustang?
Many famous guitar players have used Fender Mustangs, such as:
---
Alternatives
Single-Coil Option – Fender Player Stratocaster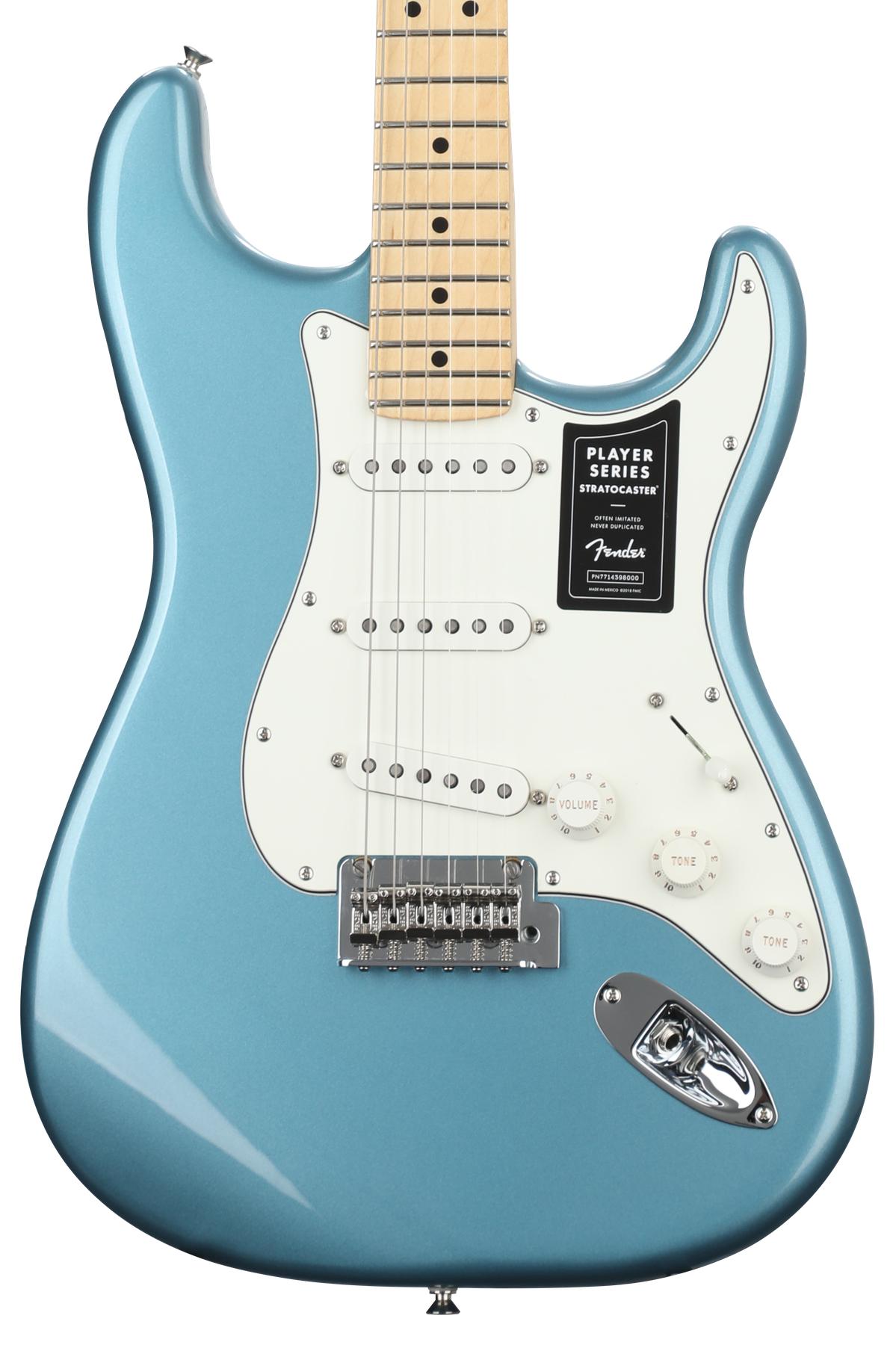 The Fender Player Stratocaster is a modern take with vintage appointments. A redesigned body hearkens back to some of the very first Stratocaster models, yet the neck is more modern with medium-jumbo frets for easy note bends.
This particular model has a surf rock-inspired finish (Tidepool) that will definitely get your audience's approval.
The electronics are specifically designed for the Fender Player Series and feature 3 Alnico single coils, 1 volume control, 2 tone controls, and a 5-way selector switch.
My friend Darren who also writes here at Guitaristnextdoor.com has played this Start more recently than me and also reviewed it, here's the pros and cons in his opinion:
Pros:
Medium-Jumbo frets allow for effortless note bending
Alnico V pickups give a great bluesy snap and smooth articulation
Neck radius has a comfortable, natural feel
Lightweight and incredibly balanced
Cons:
Highs can sound too harsh and can be challenging to tame
Synthetic bone nut is not slick enough
The synchronized floating tremolo causes a bit of tuning instability (classic Stratocaster bridge would be better)
Check Price on:
---
Great Budget All-Rounder –

Fender Player Telecaster HH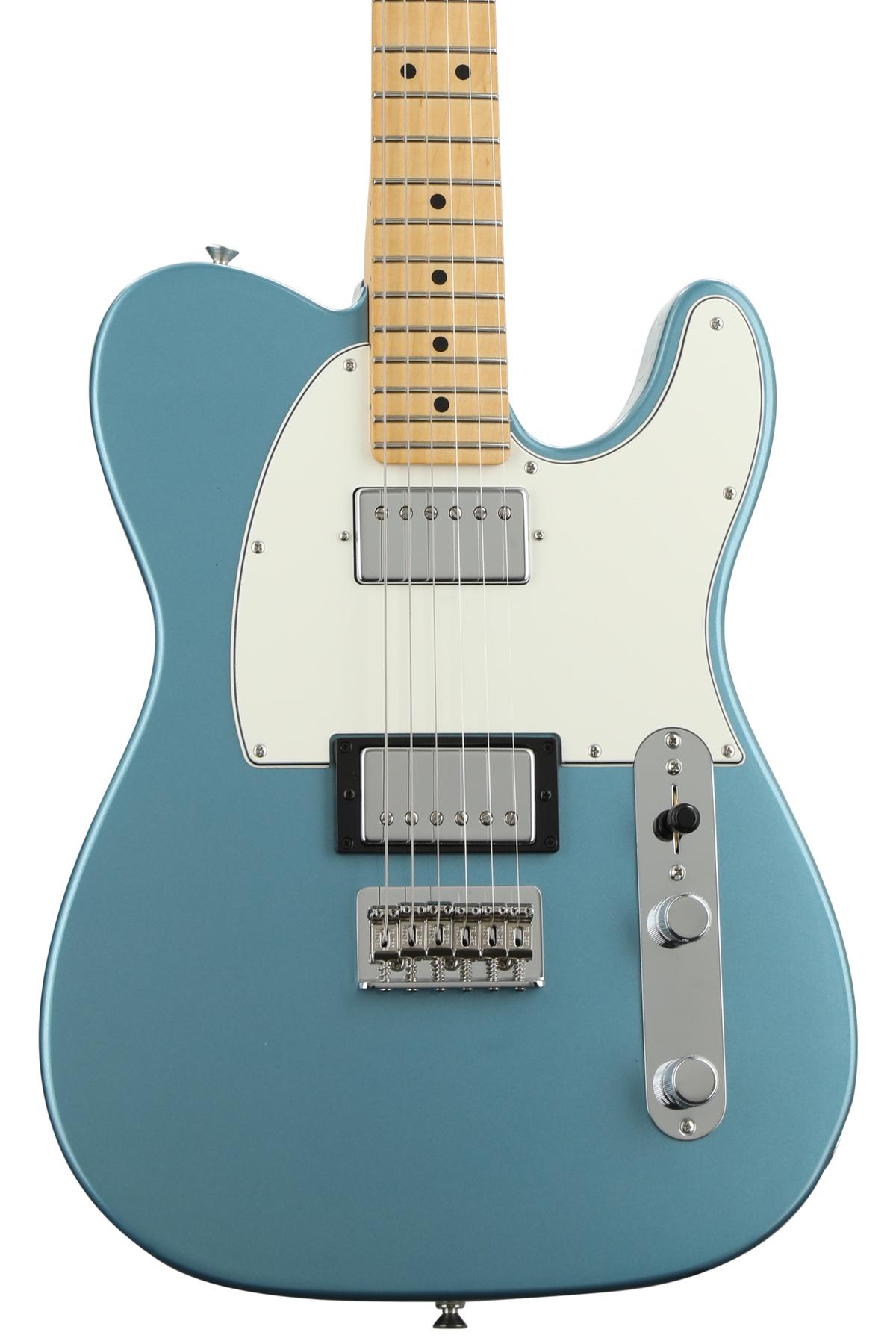 This one is an excellent all-rounder with one of the best split-coil tones I have heard. Modern C neck shape ensures easy playability, and the affordable price makes this guitar a really interesting choice.
I definitely recommend that you check this guitar out. Really high value for money.
You can read my full review of this guitar here: Fender Player Telecaster HH Review 2022 – Before You Buy.
Check Price on:
---
If You Want to Play Metal –

ESP LTD Deluxe EC-1000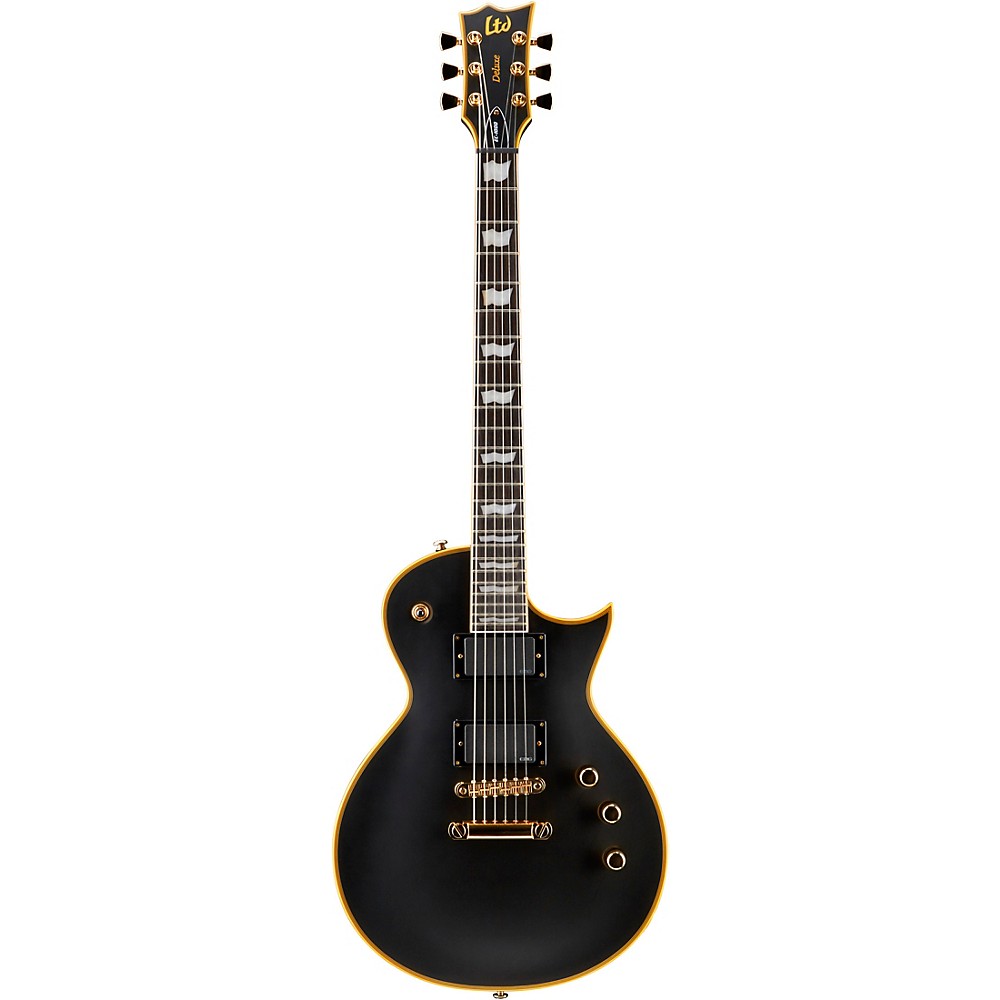 I tried this for the first time in a music store nearby, and it has been one of my favorite guitars since. This guitar is just gorgeous. It handles everything, but it's made for heavy riffing. A pleasure to play and listen. It offers great value for money with high quality and stunning tones.
This EC-1000 isn't as versatile as other guitars mentioned in this post, but when heavily distorted tones are needed, it is my go-to choice.
You can read my full review of this guitar here: ESP LTD Deluxe EC-1000 Review 2022 – Before You Buy.
Check Price on:
---
Conclusion on Fender Mustang 90 Review
Fender Mustang 90 is an excellent instrument in my opinion. It offers you different looks and tones, and that's why you either like it or don't.
Personally, I like it. A lot.
I hope that this review helped you out! I wish you all the best and keep rocking!