If looking for a good-sounding and versatile, but still easy-to-use amplifier, this article and Fender Mustang LT25 is absolutely worth your time!
I had Mustang LT25 on my testing and spent 20+hours playing and doing research about it.
This post goes through everything I found out and helps you to decide if this amp is worth your hard-earned money.
Before we even start, I want to say that this Fender-amp is a real swiss-army-knife of amps, plus you won't need to do a month's worth of extra work-hours to get one!
Author: Teemu Suomala
Playing guitar since 2009. Mainly focused on electric guitars, although plays acoustics too. Started this blog in January 2020.
Fender Mustang LT25 Review
Summary(If you are in a hurry)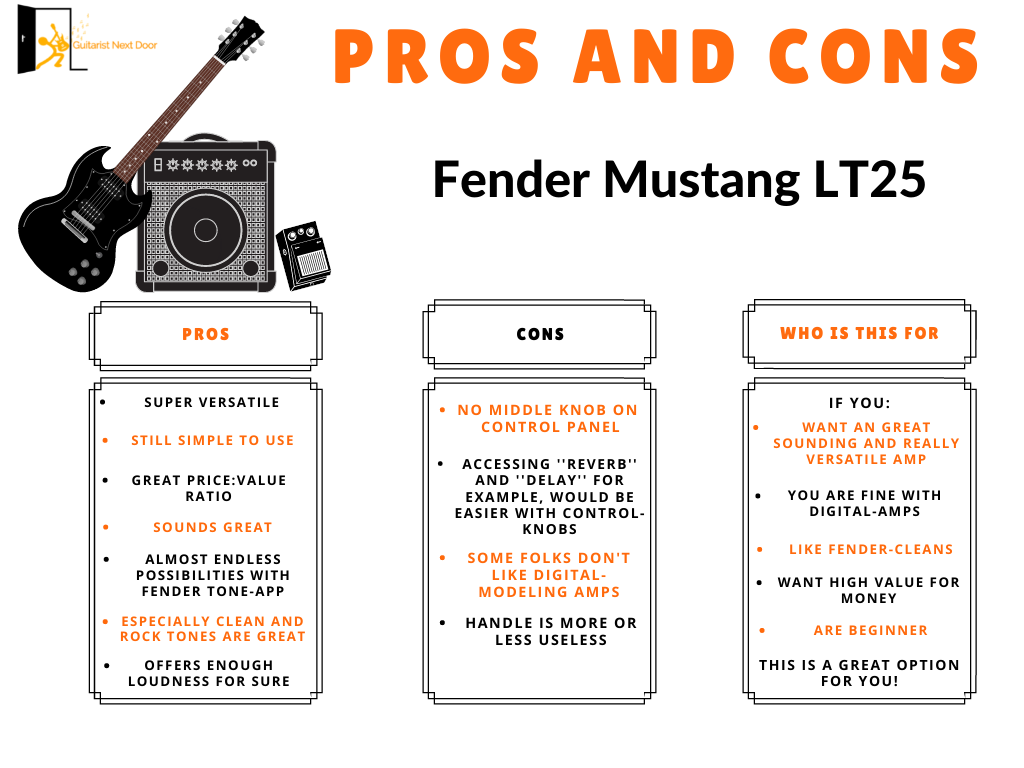 Fender Mustang LT 25 is a great practice/beginner amp if you are on a budget.
It's versatile, easy to use, and sounds good. You have a lot of tone options with the amp itself, plus if you use the Fender Tone app these tone options grow exponentially.
Personally I think that this amp is the best under $200 amp for most players.
Check latest prices on:
---
You can watch my full in-depth video review of Fender Mustang LT25 too:
FREE Access for You! Secret Page Reveals 5 Must Learn Electric Guitar Riffs That Accelerate Your Learning (For All Beginners Who Love Rock and Metal)
(If you want to make progress fast, this is for you). Just tell me where I should send the link:
By entering your email address you agree to receive emails from Guitarist Next Door. We'll respect your privacy and you can unsubscribe at any time.
Fender Mustang LT25 Specs and Dimensions
Power: 25Watts
Amplifier-type: Digital/Modeling
Speaker: 8″ Fender Special Design
Channels: 1
Tone-Presets: 30 out of the box, 20 easily accesible with downloading
Controls: Gain, Overdrive Select Switch, Volume, Treble, Bass
Effects: 25 effects (reverb, delay, chorus etc.)
Inputs: 1/4 Instrument Cable, 1/8 AUX-Cable
Outputs: 1/8 Headphone-output
Weight (I measured this): 8.59lbs (3.9kg)
Overall Look, Feel, ad Quality
Watch the unboxing of this amp:
I didn't wait ultra nice quality from this amp…
And I didn't get that.
Honestly, the feel, quality, and looks of this amp are really basic. Plastic knobs and plastic handle(that is not very handy).
I mean, you can move it around the home from this handle, but really carrying this amp(around the town or city etc.) is not very comfortable.
Not for me with my small hands, and if you have larger hands, I would imagine handle to be even less-handy for you.
But this is far-from being a deal-breaker.
Hardware:
Cabinet enclosure itself is wooden with a black finish
and amplifier is covered with black vinyl texture
Personally, I think that these features/materials look solid. But just the overall combo of some good aspects plus then plastic/cheap-looking knobs, dont' really make this amp shine in this category.
But this is just my opinion, and these things are far from the most important features of an amplifier.
Still, the Fender Mustang LT25 gives us OK looks in my opinion.
Features
I was a little whiny in the looks department…
But when talking about the features…
JUST AMAZING!
I'm going to share this "Features"- section onto 2 categories:
Out of the box-features
Features-with Fender Tone-app
Let's start with the:
Out of the box-features
When you first look at this, all looks pretty basic…
Gain
Volume
2-band EQ (Treble, Bass)
Master
All that you really need to play guitar for sure, but still pretty basic.
But of course this is not all, I wouldn't have said "JUST AMAZING!" otherwise…
Look at the right side of the settings-board, we have:
4 Buttons:
Back (go back duh :D)
Save (save your own presets and modifications you have done to presets)
Menu (in " Menu" you can access almost all the out-of-the-box features of this amp, effects, pedals, EQ, Volume, Gain etc.)
Tap (set the delay timing to your liking, plus by holding this "Tuner" will activate(btw. tuner is one of the best I have ever seen on an amp))
1 Knob (button in the middle)
With this you can dial in 30 done-for you presets.
What these do for you?
Let's look at the 3 situations where I have been:
If you want really bright Fender-type cleans, you just need to turn the amp on and there is 01-preset: "Fender Clean".
If you want to play punk, something like older stuff from Green Day…turn the knob and find the preset 07: "Skate Punk".
Looking for something heavier? Well, just find either "Metal Lead" or "Trash Overkill"-presets and start shredding.
And finding these presets is not hard. It's super simple. Just turn the knob.
And if some of these presets just quite ain't what you need. You can modify it.
Add gain or distortion
Add effects/pedals
Adjust different frequencies
So, you can see why I'm excited of this amp.
There preset for almost any situation ready for you. And selecting the right preset is easy.
This is why I said that features of this amp are JUST AMAZING!
Plus, there are 20 presets more easily accessible for downloading.
Only 1 feature is really missing...
Loop.
It would be cool to be able to record 30-60 seconds of your playing with the amp only and then jam with that. But I understand that for this price, you can't get everything.
But what about…
Features-with Fender Tone-app
Note: This LT25 doesn't work with the phone version of the Fender Tone-app. You need a computer to access Fender Tone-app with LT25.
I'm not going ot go through every feature of the LT25 with Fender Tone-app, because this artilce would be so long that this page would take more than 10seconds to load.
Instead I showcase couple of my favorite features.
Design Your Own Signal-Chain
I had a blast when designing my own signal chain and tones with the LT25 and Fender Tone-app.
It looks something like this: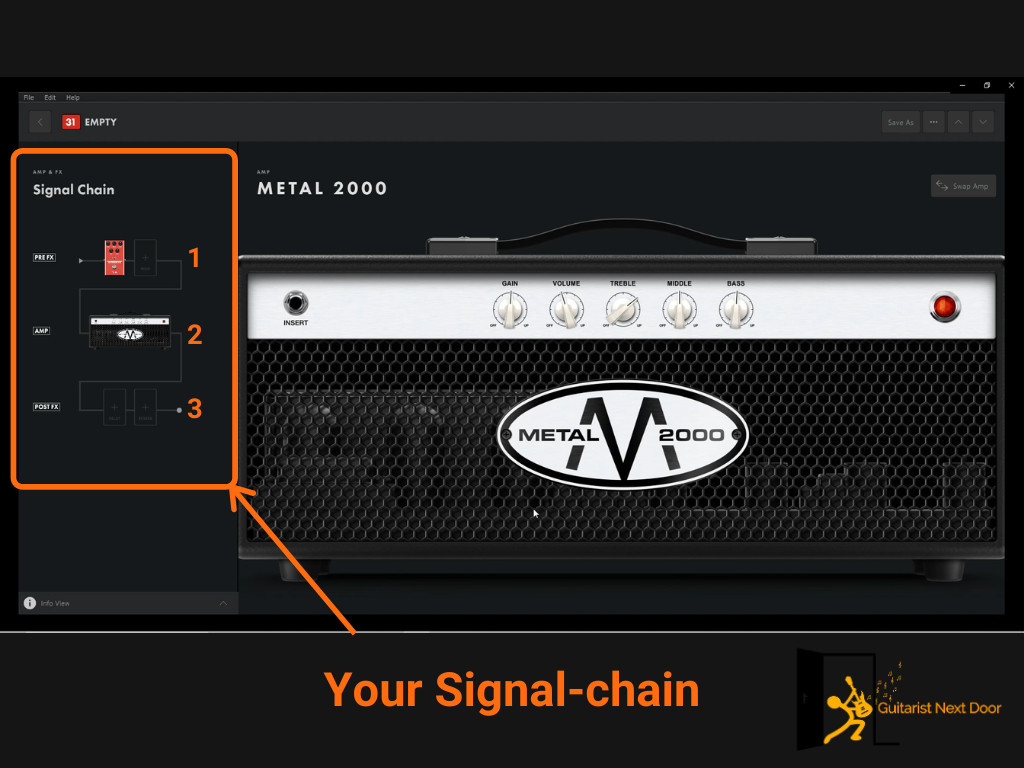 So you can select different
Before-amp pedals and effects
Different amps
After-amp pedals and effects
And there's A LOT of different pedals and amps to choose from. Here's an example of what kind of stompbox-pedals there is to choose from:
And you can literally turn the knobs of each amp and pedal with your mouse.
Here's an example on what you can press and turn on a Fuzz Pedal:
Turn the pedal on
Turn the knobs to set the tone you want
So there is REALLY almost endless possibilities available with this amplifier. That's the truth.
You can also record with this amp quite easily, that's a nice plus.
Usability
This is another category where Fender Mustang LT25 shines.
When you compare how many features you get with this amp and the usability of this amp. It's amazing. There is no single moment that I was confused with this amp.
This amp is harder to use than simple solid-states, but this doesn't mean that using the Fender Mustang LT25 is hard in any way.
I went through the features of this amp already, and on the "Features"-section you get a good idea about the features of this amp, and you can estimate how hard the usability looks.
For me, the usability has been simple & easy.
I also recommend that you watch my the full in dept review-video of this amp where you can see this amp used.
Sound
I'm not even going to try to explain every tone this amp has to you. Just watch this:
But I can give you some of my thoughts after playing this amp four hours and hours.
First..
You can play almost anything with this amp. Maybe some really edgy stuff, like some super-specific metal tones can be hard to achieve, but other than that, this can handle everything.
From acoustic sim to heavy thrash metal tones. From Fender cleans to punk-tones full of attitude.
So versatility is definitely not the problem with this amp.
Here's a little graph that reveals some good genres and songs to play with this amp:
So you got a some kind of a idea about what this amp can do tone-wise. But what about this:
Can Fender Mustang LT25 Handle Distortion/Metal?
It can.
It's not an metal-machine like some more expensive BOSS Katana-amps for example, but This small Mustang LT can do metal.
For example, ready presets like "Metal Lead" or "Trash Overkill" are really nice for metal heads.
And this amp can chug in my opinion.
This amp is not only a super versatile, but it's one of the best amps for metal under $200 in my opinion.
Value for Money
So let's recap…
You get:
30 out of the box tone-presets, plus 20 easily accessible (you can customize these presets too)
20 amp types
25 effects/pedals
Simple usability
Almost endless possibilities with Fender Tone-app
This amp actually sounds good
Keep these and the price of this little amp in my mind, I just can't say anything else than: This amp gives amazing value for money!
Verdict
Basically, there is NO WAY, that I could say that this amp is not good.
It has qualities like:
Endless tone possibilities
Great and versatile tones
Easy to use
Looks are not the best
Usually when the looks are the worst things of the amp, it's otherwise pretty great. And this Fender is no exception.
If:
the digital amp is not a problem for you
if you are looking for an amp under $200
if you are looking for a versatile amp
if you are looking for a practice or beginner amp
This is a great option for you!
Check latest prices on:
---
FAQ
Are Fender Mustang amps any good?
Due to my experience, Fender mustang amps offer A LOT of different tone options(versatile), are easy to use and actually sound good too!
If these qualities sound good to you, Fender Mustang amps might be a great options for you.
Does the Fender Mustang LT25 Have Bluetooth?
No.
You can't use mobile version of the Fender Tone app with Fender Mustang LT25.
Can you use pedals with Fender Mustang LT25?
I have not tested this, but I think that there is nothing stopping you(do all kinds of testing at you own risk). It should work.
At least I have used my BOSS ME-25 pedalboard with my Line6 Amplifi(digital modeling-amp). But I have sold that pedal already, so I can't test it with this Mustang.
But Fender Mustang LT25 has so many pedal options build in or in Fender Tone app, that I see almost no reason to use pedals with this amp.
I would want to use only 2 kinds of pedals with this Mustang
Loop pedal to jam with my own riffs
Footswitch(technically not a pedal even) to make effects more easily accessible
But for me, this Fender has all that I need already.
Fender Mustang LT25 vs Boss Katana 50
I have played these both. But I have owned Fender Mustang LT25 only.
What I would do: if I have budget for Boss Katana 50, I would go with that. It's easily better with metal tones, and sounds better overall.
Fender Mustang LT25 has that Fender Tone app and Fender cleans are better, plus it's cheaper, but other than that BOSS Katana 50 is better in my opinion.
Fender Mustang LT25 vs Champion 20
Fender Champion 20 gives you easier usability and it looks more like an vintage guitar amp(if you like that kind of looks).
And if you hate digital-amps and want an more traditional solid-state then Champion 20 is a better pick.
Otherwise, Fender Mustang LT25 takes the edge on every other category for me. It sounds equally good but is a lot more versatile.
Plus access to the Fender Tone app is great to have.
Alternatives
Great Modeled Tube Tones – Vox Valvetroix VT20X
VOX VT20X gives you:
Great modeled tube tones(Fender Mustang LT25 doesn't give you these)
Looks like an more expensive amp
Sounds great
Versatility
It doesn't give
Really easy usability
Fender Cleans
Can't record with this through USB(even tho this has USB-port for the VOX Toneroom app)
It's a great digital amp, if you are interested about tube amp-tones, and want a lot of versatility. Especially for beginners Fender Mustang LT25 is a better option because of the easier usability.
But I still own this amp and it's a great one. Really good value for the price and I can get to know those amazing modeled tube-tones.
Check latest prices on:
---
Best Portable Under $200 – Roland Micro Cube GX
Roland Micro Cube offers amazing versatility with 7-different amp types and great tones. It's durable and protable. Plus, it's loud enough for small performances and busking on calm/quiet places.
Fender Mustang LT25 and VOX VT20X offer more versatility and better clean & crunch tones, but with distortion, Micro Cube GX can compete with these bigger amps in my opinion.
I currently own this amp too. It's really easy to use and gives me everything I need when I practice.
This amp has only 1 con…
Micro cube only has 1 tone knob, this limits your tone shaping, but it's no deal-breaker for me.
Check latest prices on:
---
Great Solid-State Rock Amp – Orange Crush 20RT
This Orange shines with rock tones. It gives basic cleans and solid distorted tones.
So this is not as versatile as the other amps featured in this article, but this Orange is easier to use and has Orange-tones, which any of these other amps doesn't have.
If you:
love rock,
are interested in Orange-amps,
want easy usability,
and prefer solid states
this Orange Crush 20RT is a good option for you!
Check latest prices on:
---
Conclusion
I had a blast when testing this Fender Mustang LT25!
I wish that I would have amp like this when I started guitar playing(althrough my Ibanez Toneblaster X didn't suck at all).
I hope that this post helped you to decide if the Fender Mustang LT25 is the right guitar amplifier for you. If you have any questions, go to my Youtube-channel, and leave a comment! Feel free to share this post too.
I wish you all the best and keep rocking!