Gretsch G5420T Electromatic – Best Hollow-Body Under $1000
Sound
Playability
Overall Quality
Value for Money
Versatility
Summary
My favorite hollow body for 90% of the players out there…

The Tone?

This Electromatic is outfitted with powerful Black Top FilterTron humbuckers. These kick out a big tone that boosts your bottom end. Even with this low-end drive, you get a lot of treble definition thanks to the maple body. So the tone is not muddy and you can hear all the notes played clearly.

What about the playability?

It's got a standard "U"-shaped neck profile that adds to the vintage feel and medium jumbo frets perfect for gripping strong chords. With the right setup, playing is comfortable, and hitting the right strings and frets is effortless. But because it's big size (both neck & body), this Gretsch is not the best fit for really small hands.

And the looks…

Just beautiful. Plus there are several color options to choose from!
How G5420T Electromatic sounds:
Check Today's Price on
*Consider all links in this post to be affiliate links. If you purchase, at no additional cost to you, we may earn a small commission. It helps us to keep the lights on, thanks! 🙂
---
Gretsch was one of the first big names in hollow body guitars. They've carried their legacy well and continue to make great semi-acoustics with 1930's looks and sound.
Gretsch Electromatic G5420T is my favorite hollow-body choice under the 1000 price range, it's not perfect, but I still love it. Lemme tell you why…
If you want to see more great hollow-body guitars and reviews of alternative options, check this Buyer's Guide I made with Tommy: 5 Best Hollow Body Guitars Under $1000 – Buyer's Guide
Gretsch Electromatic G5420T specs:
Body type: Hollow Body
Body wood: 5-Ply Maple
Neck wood: Maple
Neck Shape: Standard "U"
Scale length: 24.6″ (625 mm)
Truss rod: Yes
Fretboard material: Rosewood
Fretboard radius: 12″ (305 mm)
Number of frets: 22 Medium frets
Nut material: Graph Tech NuBone
Nut width:1.6875″ (42.86 mm)
Pickups: 2 Black Top Filter'Tron™
Pickup switch: 3-Position Toggle
Bridge: Adjusto-Matic™
---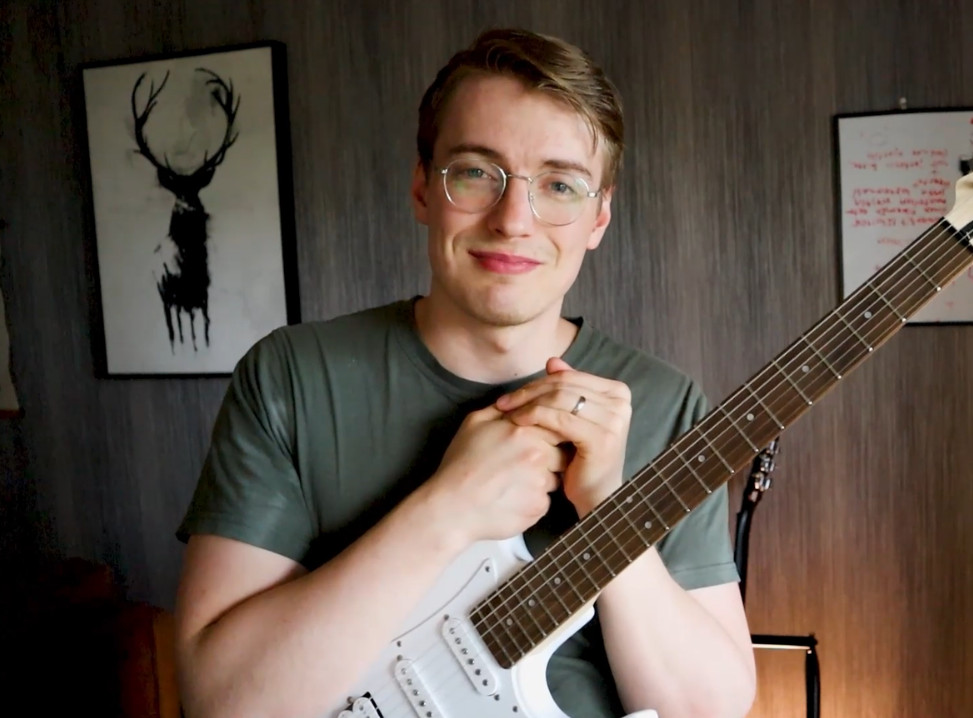 Author: Teemu Suomala
I first grabbed the guitar in 2009. I started this website in January 2020 because I couldn't do window installation anymore due to my health problems. I also noticed that most guitar websites don't do a really good job, so I decided to just go for it! I got lucky and managed to get awesome people to help me with my website. I also got lucky because I have you visiting my website right now. Thank you. I do all this for you guys. If you have any recommendations, tips, or feedback, just leave a comment, I would love to chat with you. I have been fortunate to produce content for several large guitar websites, such as Songsterr, Musicnotes, GuitarGuitar, and Ultimate Guitar. I spend my spare time exercising and hanging out with my wife and crazy dog(I guess that went the right way…).
---
FREE Access for You! Secret Page Reveals 5 Must Learn Electric Guitar Riffs That Accelerate Your Learning (For All Beginners Who Love Rock and Metal)
(If you want to make progress fast, this is for you). Just tell me where I should send the link:
By entering your email address you agree to receive emails from Guitarist Next Door. We'll respect your privacy and you can unsubscribe at any time.
Our Favorite Music Store in The World!
Why?
– Excellent Customer Service (4.7/5 Trustpilot Score)
– Fast & Free Shipping
– Gear is Inspected, Tested, & Ready to Play When it Arrives to You (We love this)
– Fair Prices
Visit Sweetwater:
Gretsch Electromatic G5420T

Review
Sound
Hear how this axe sounds:
This Gretsch comes with 2 Blacktop™ Filter'Tron™ humbuckers. These kick out big tone that boosts your bottom end. The sound is really gentle and warm(even without the amp). It handles clean tones really well, and the overall sound is really detailed. I really enjoy both playing and listening to this guitar.
Maple body adds nice punch and brightness into the tonality, so leads and catchy solos sound great with this axe. Also, this guitar handles low-gain tones really well too, classic rock songs are a great fit for this axe. But when you start to crank up the gain, you quickly notice why metal guitarists don't use hollow bodies with their headbangers.
It's an all-around smooth-sounding hollow body that takes you back in time to the first days of the electric guitar. In my opinion, the sound is where Gretsch G5420T Electromatic shines the most.
Playability
The neck shape is U, the fretboard has a slight curve with a 12-inch radius. It feels good to wrap your hand around it and start playing some classic riff or chords. Really comfortable neck, but a bit chunky. Medium jumbo frets are also great for gripping strong chords.
For me, medium and medium jumbo frets are the most comfortable to play with.
The neck of the G5420T is finished with gloss urethane. If you've got sweaty hands, this can feel a bit sticky at times, but in most circumstances, the neck doesn't feel too bad.
A 24.6-inch scale length makes the strings relatively easy to press down and improves overall playability. I have been favoring guitars with a shorter scale than 25.5 inches for a while now, these axes just are more enjoyable to play.
In my opinion, this neck is not the easiest to play, but it still manages to be really comfortable.
As usual with hollow-body guitars, the overall size of this guitar and especially the body are quite big. The body of the guitar is big and the depth of the guitar is deep. If you are used to playing a big acoustic or other big hollow-body guitars, this is not a problem for you. But people like me, who usually play normal-sized electric guitars, it can take some time to get used to Gretsch G5420T Electromatic.
So this axe might not be ideal for small players, but of course, you can learn to rock with this no matter how small you are.
Also, I would make the action slightly lower(easy with the saddle adjustments), but this guitar is usually really playable out of the box.
Quality
When I have played this one in music stores, the quality has been very good in my opinion.
No rough edges
flaws in paint-job
or anything else.
Body build quality is great, along with the construction of most other parts. Tuning seems to usually be one of the strongest aspects of this guitar quality-wise.
My personal experiences with Gretsch G5420T Electromatic have always been really pleasant, nothing to complain about the quality. But…
Users have reported that sometimes tuning machines have not been as durable you would wish when paying this much for a guitar. They generally hold stable but have been causing problems for some users in the long run. Users have said that sometimes tuning machines wear out after a few months and could stand to be replaced out the gate.
In some cases, there have also been some cracks in the paint job. In the neck and in the body. And some setup problems too… These are rare but possible. Of course, you can usually return the guitar for a refund if there are some flaws out of the box, but these quality issues definitely are a small minus.
Looks
About the looks…in my opinion, this guitar looks amazing and sophisticated at the same time. It has many different color options, and my favorite is the black one.
The finish of Gretsch guitars I have seen has always been spot on, and usually, you see heads turning when Gretsch Electromatic is in the room.
Summary
Pros:
Sounds beautiful
Looks great

Maple body adds snap to the tone

FilterTron pickups deliver powerful tones

Bigsby vibrato tailpiece so you can personalize your riffs

Comfortable neck
Does what it should do
Quality(most of the time)
Cons:
Not the easiest to play(U-neck feels thick and bigger body)
In some rare cases, there have been issues with the quality
It can take some time to get used to the big body

Unreliable tuning machines in some cases
When first I laid my hands on Gretsch G5420T Electromatic, I noticed how comfortably the neck is and how gentle the sound is. It's not the easiest guitar to handle because of the large body and chunky neck, but it's still comfortable.
Gretsch G5420T Electromatic does what it should do. If you are looking for a versatile, comfortable, and great-sounding hollowed-body electric guitar, this is a great option for you.
Check Prices:
---
Alternatives
Modern Runner-Up
–
PRS SE Hollowbody Standard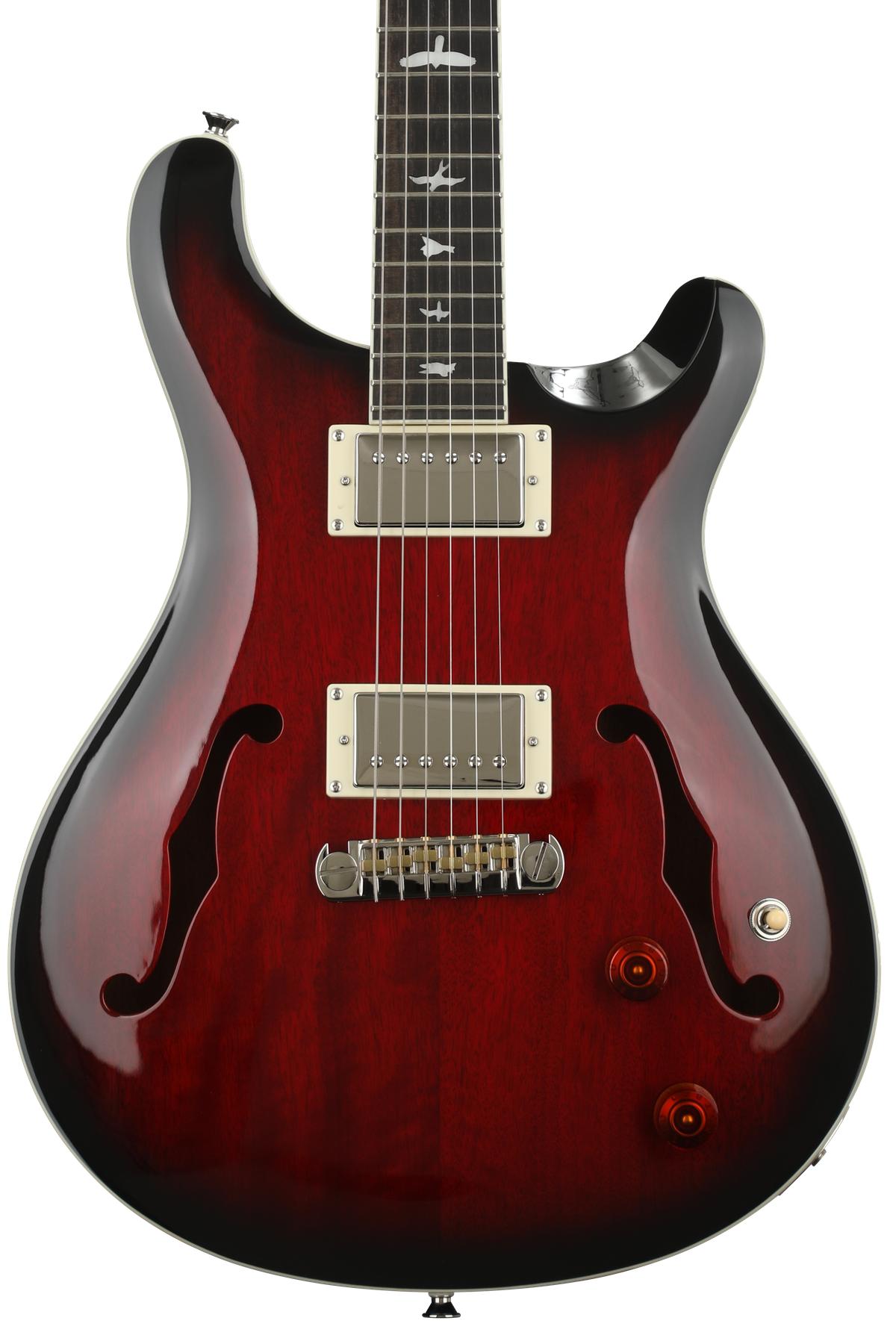 Pros
Warm and full tones
Really good with blues, country, and classic rock
Good grip and control because of chunky wide-fat neck
Medium frets and comfortable neck make playing really effortless with the right setup
Build and finish quality are spot-on
Stable and durable PRS bridge
Great Value for Money
Cons
If you want bright tones, not the best option
Big body and chunky neck not suitable for everyone
Setup is sometimes poor out of the box(easy to fix tho)
You can get better tuners for this price
It's a PRS SE, and it has the quality you would expect from one. It can't beat up Original PRS's, but for the price, it's a great pick.
It's one of the best options if you are looking for a chunky body and neck, but also want smooth playability and full tones.
Check Price on:
---
Best Budget (and for Distorted Genres) –
Ibanez Artcore Expressionist AG95QA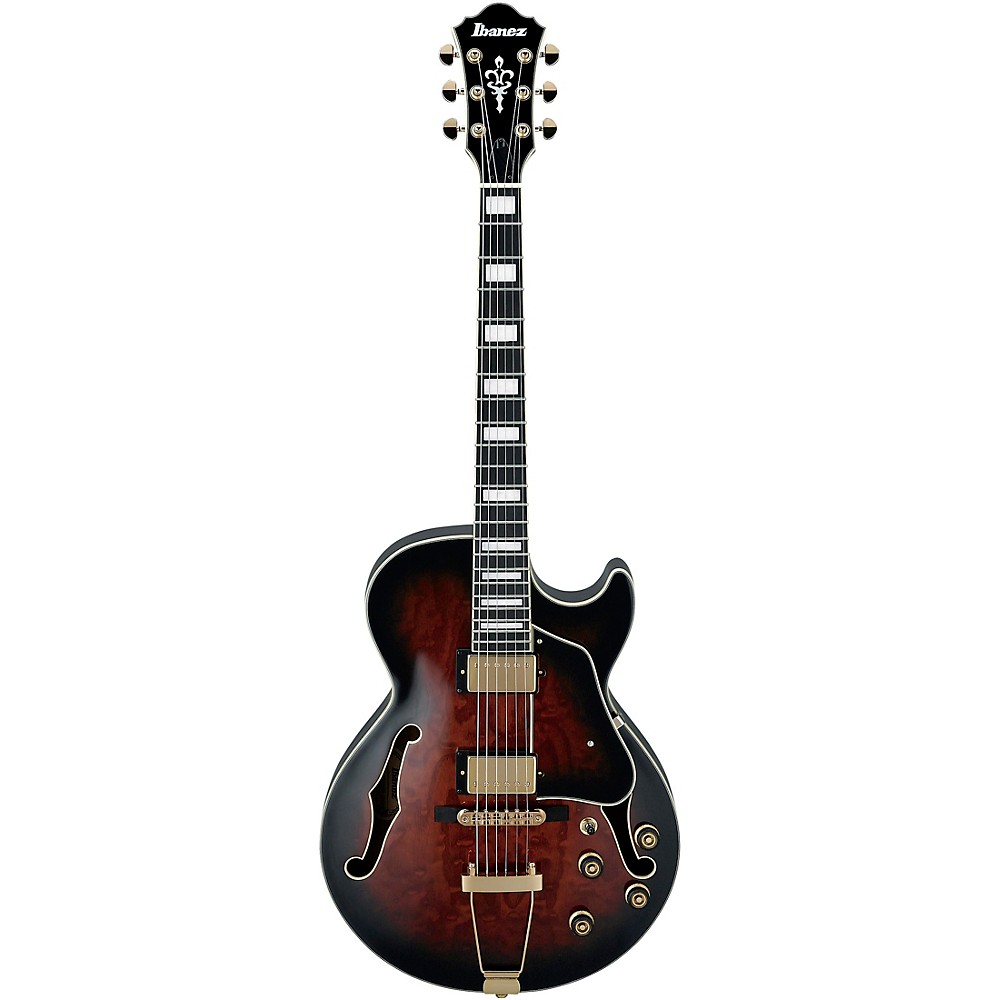 This is a lower-cost option and one of my favorite hollow body models. It's versatile and fun to play, but it's just a little bit cheaper in some of the finer construction details.
It's easier to play than most hollow-bodies and it offers versatile tones, that's why it's a great budget option.
Check Price on:
---
Best for Vintage Experience –
Gretsch G100CE Synchromatic Cutaway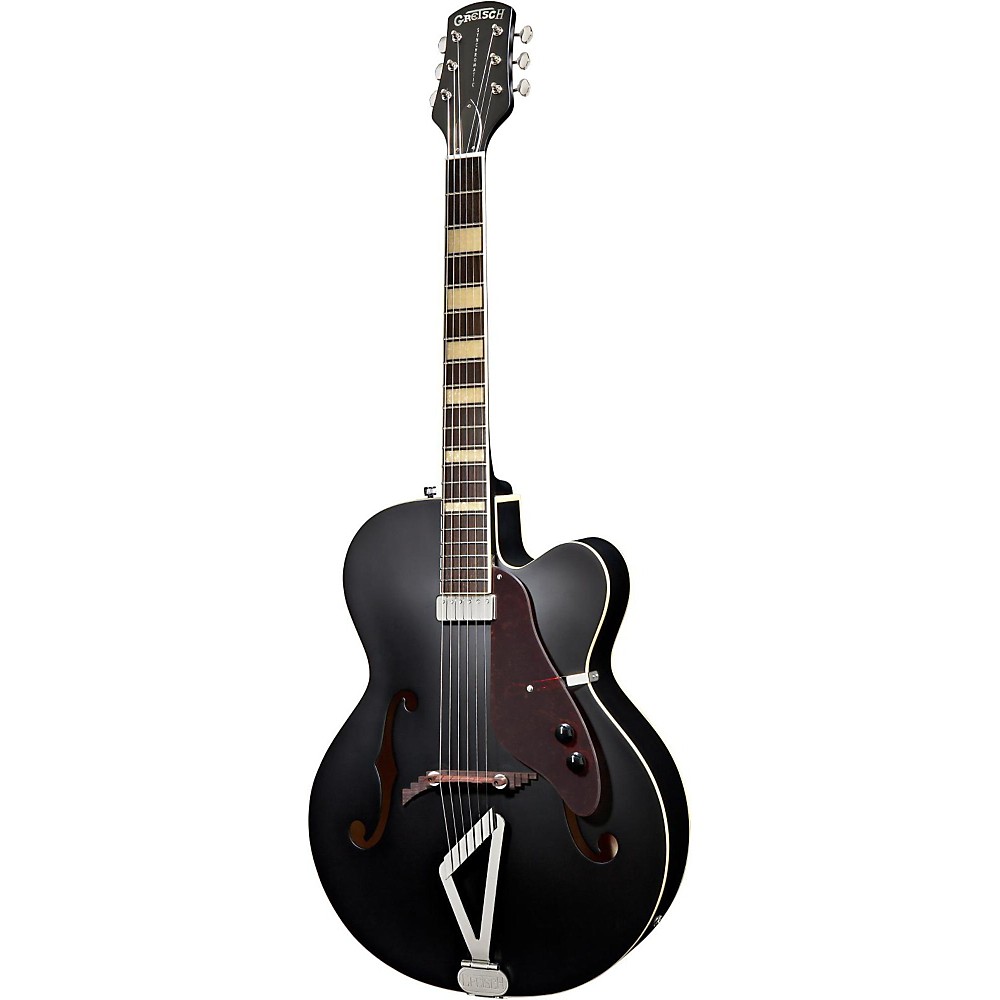 I've included this guitar simply because it gives you the closest experience you can get to old-timey hollow body musicianship. It plays like a true classic, but that's not exactly a perk. The guitar design has come a long way since the 1940s.
So, if you want a versatile, great-sounding hollow body, you can do better than this G100CE. But for folks looking for a vintage experience, this guitar is a great choice. And it looks amazing.
Check Price on:
---
FAQ
Are Gretsch Electromatic guitars good?
Gretsch Electromatic guitars usually offer you a great bang for your buck.
They're
versatile
good quality
comfortable to play instruments…
great for players looking for an axe with a classic vibe's.
I don't personally own one, but I have been playing Gretsch Electromatic several times in music stores and my friend also owns one. I personally have nothing to complain about.
But I have heard that some people have not been satisfied with Electromatics. Usually, there are no issues with sound and playability, but in some cases, the quality has not been there. To be more specific, there have been issues with a paint job and tuning machines. Of course, you could have these problems with any guitar, but at this price range, quality control should catch guitars with issues like these. This is definitely a minus.
But my own and about 97% of other players' experiences with Gretsch Electromatic have been so positive that I definitely feel comfortable recommending Electromatic for players who want to buy a high value for money hollow-body guitar.
Where are the Gretsch Electromatic g5420t guitars made?
The back of the headstock reveals that Gretsch Electromatic g5420t guitars are made in Korea.
Conclusion
If someone asks "what is the best hollow-body guitar under 1000"? Gretsch Electromatic G5420T is my answer. I just love the tone and the comfortable playability, plus the quality has always been good when I have laid my hands on Electromatic.
As I said, this is not a perfect guitar, it's bigger than most, not super-easy to play, and in some cases, bad apples seem to slip through the quality check. That's unfortunate and a minus for sure, but for me, these things don't stain the magic of Gretsch Electromatic G5420T.
If you need a case for this axe, this article includes great hollow-body guitar cases.
I hope that this review helped you out, if you have any questions, leave a comment down below. I wish you all the best and keep rocking!
Teemu Suomala