I know the feeling all too well. The excitement. The wonder. The absolute obsession.
When I started playing, I didn't have a "real" guitar. It was a small student model that was handed down to me when I was a child. I spent years abusing it instead of playing it, and by the time I was actually serious about learning to play, it was busted up rather badly.
I begged my dad for a guitar. He finally buckled once I learned how to play one of his favorite songs on my old, dilapidated starter guitar.
The problem that I immediately faced was that I had no idea what guitar I needed to get. I just knew that I wanted a new one and gave no thought about what kind I needed…
Back then, I didn't have guitaristnextdoor.com or internet at all to assist me with my decision. I had only my friends and a mail-order catalog that I had to "trust". The truth is companies like that were out to sell every guitar they listed to everyone that had the catalog.
After talking with a lot of my friends and comparing the features that the catalog listed, I finally got a brand-new Ibanez electric guitar.
But it took me months to settle on that one specific guitar.
So, let's look at some things that you should and shouldn't do when you're buying a guitar that would have made my decision a much less painful one.
This guide is a great resource for beginners, intermediate, and even advanced guitar players. It helps you to narrow down your choices with proven to work process.
Who crafted this post:
Author: DL Shepherd
Darren has been playing guitar for over 23 years. He fronted the metal band Suddenly Silence in the early 2000's, and also achieved recognition as an award-winning bluegrass guitarist.
A native of southwestern Virginia, and has shared the stage with many big-name acts from various genres. When he is not playing one of his many guitars, he can be found riding his Harley through the mountains of Virginia.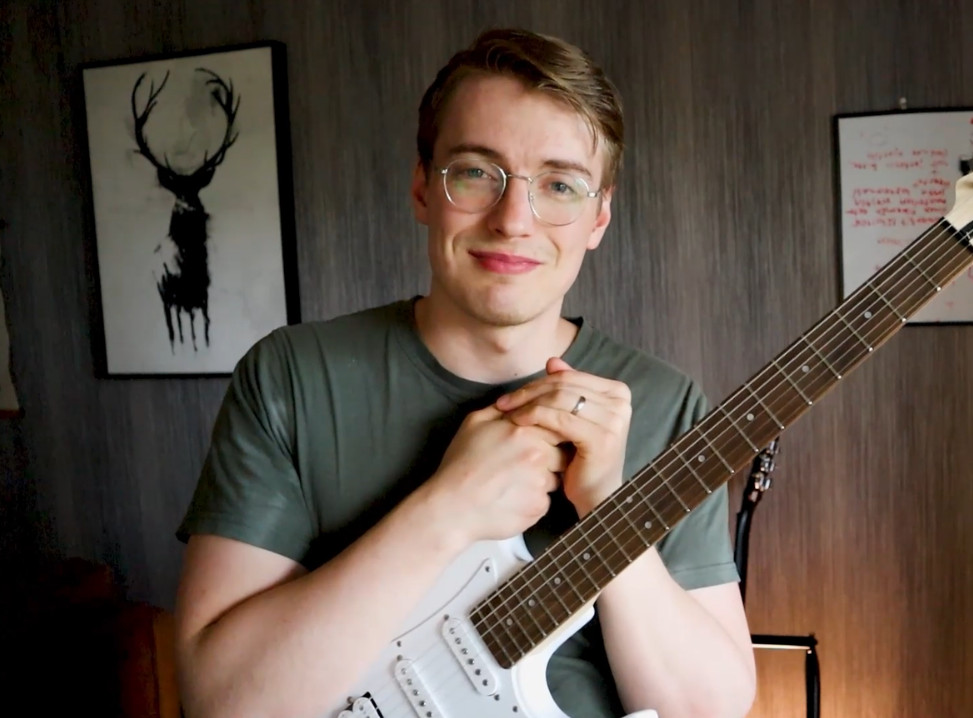 Editing & Research: Teemu Suomala
Playing guitar since 2009. Mainly focused on electric guitars, although jamming with acoustics too. Has played dozens and dozens of different guitars through different amps and pedals over the years. That's why he started this blog in January 2020 and started sharing his experience. Has produced content for several large guitar websites, such as Songsterr, Musicnotes, GuitarGuitar, and Ultimate Guitar.
---
Guitar Buying Guide – Save Money, Nail Your Choice, and Be A Happy Camper
1. Assess Your Needs vs. Wants
As guitarists, we are a dreamy bunch. I believe that all of us have that guitar that we will always dream about no matter what. Even if we obtain it, we will find something else that we just have to have.
It's a vicious cycle. I won't lie.
However, it is important to separate what you want from what you need.
This can be tricky. For example, you may feel like you need a guitar with a Floyd Rose-style bridge. But will you really use it?
You may want a guitar from a specific manufacturer, but do you need to have it just because of the name?
Questions like this come up when you're trying to create your needs vs. wants. I recommend writing down a list of features that you like. I've made an example list based on what I would personally write down.
List features that would be cool:
Now, let's look at the list after I cross some things off that I don't really need:
I'm now down to 6 things that I feel like I need instead of 13. I know that I want
a Strat-style guitar
with Seymour Duncan pickups,
a thin neck,
a H-S-H pickup configuration with a 5-way switch (because I like tonal versatility),
and I want it with a Blue Satin finish.
Let's take that a step further and figure out what I could stand to live without…
In other words, they are features that would be nice to have, but they won't be a complete deal breaker if I can't find them on something that suits my needs.
Bam! Down to 2 requirements: a Strat-style body with a thin neck. I don't necessarily need Seymour Duncan pickups. I would consider DiMarzio or EMG as well.
I don't need a H-S-H pickup configuration with a 5-way switch. I can get plenty of tonal versatility from a dual-humbucker setup and a 3-way selector switch.
I would really like it to have a blue satin finish, but I am open to other color and finish options as well.
When you drill down and find out what you're really looking for, you'll see that there are a lot of things that fall short of the "requirements" list. This allows you to uncover your true needs instead of spending months (or years) looking for a guitar that checks off every box you write down.
Pssst…. this saves you money too!
FREE Access for You! Secret Page Reveals 5 Must Learn Electric Guitar Riffs That Accelerate Your Learning (For All Beginners Who Love Rock and Metal)
(If you want to make progress fast, this is for you). Just tell me where I should send the link:
By entering your email address you agree to receive emails from Guitarist Next Door. We'll respect your privacy and you can unsubscribe at any time.
---
2. Don't Buy It Just Because Your Favorite Guitarist Plays It
This is really hard to do, and I am guilty of it myself. We love our favorite guitarists. They are who inspire us to play, and we typically want to learn to play how they play.
It's only natural to have guitar heroes. The riffs get stuck in our heads all day long and make us feel alive. I know all about it. I was the kid with a Dimebag Darrell poster on my wall and a closet full of Metallica, Slayer, and Megadeth t-shirts.
If there is one thing that I learned, however, it's that Dimebag Darrell and I had completely different tastes when it came to actually playing the guitar. We had different opinions on everything!
I remember the first time I played a Dimebag Signature Washburn in the early 2000's. I always thought they looked cool, and I figured that "if they're good enough for Dimebag, they're good enough for me".
WRONG! I remember playing it with the utmost disappointment. It was hard to play sitting down, and it was awkward and rather heavy to hold up. The headstock was really wide, and I could not milk a good sound from the pickups. I definitely did not sound like Dimebag in any way, shape, or form!
The fretboard felt a little too wide for my preferences, and the frets seemed a bit smaller than I had hoped for.
Needless to say, I do not own a Dimebag model of any kind. They obviously worked great for him, but they just aren't my cup of tea.
There are a few things to remember about professional guitarists:
Companies use their name to sell products. That's just the way business goes.
They are completely different people than you. They are built differently and have different preferences when it comes to instruments. We don't all wear the same shoe style or size, and guitars are the same way.
Many of the signature models are loosely based on the custom-shop models. There are exceptions, but let's face it: a Zakk Wylde model Gibson is not built the same as a Zakk Wylde model Epiphone (both great guitars in their own right). If given a choice, the pro is probably going to go for his custom-built axe instead of a cheap knock-off version with his name on it.
Professional guitarists work directly with manufacturers to create their instruments. They also have those instruments set up to their specifications by guitar technicians that are on their payroll.
There is more to their signature tones than a guitar. I can tell you based on experience that my Ibanez JEM Steve Vai signature does not make me play or sound like Steve Vai. A lot of tone comes from their amplification, studio setup/live setup, effects and effects routing, guitar strings, picks, cables…basically everything that's between them and the soundwaves. And most of all, their unque playing style adds a own spice to the mix too.
The great thing about music in general is that it brings about individuality. Be your own guitar hero and spend your money on what pleases you!
Disclaimer: No guitar heroes were harmed during the writing of this section.
---
Our Favorite Music Store in The World!
Why?
– Excellent Customer Service (4.7/5 Trustpilot Score)
– Fast & Free Shipping
– Gear is Inspected, Tested, & Ready to Play When it Arrives to You (We love this)
– Fair Prices
Visit Sweetwater:
3. Don't mistake "cheap" for "value"
There are an endless amount of guitars out there that cover every genre of music that you can think of (well, except maybe Mongolian throat singing…they have their own thing going). But one thing that we should never do is mistake "cheap" for "value".
Instead, you should be concentrating on the word "economical". Here are the differences in the definitions:
Cheap – charging or obtainable at a low price; of inferior quality or worth
Economical – marked by careful, efficient, and prudent use of resources; operating with little waste or at a saving
There's definitely a distinct difference between these two terms, especially when it comes to guitars.
We all have different budgets and the idea of what is "economical". The bottom line is that you get quality and value. Here is the Merriam-Webster definition of value:
Value – of, relating to, or being a brand of inexpensive products marketed as an alternative to other, more expensive brands; a fair return or equivalent in goods, services, or money for something exchanged
Value is how we perceive it. I was a professional salesman for many years and sold millions of dollars' worth of high-end products that demanded a premium price. Once I demonstrated the value of the product, the price was no longer a problem.
What I'm saying is that "cheap", "economical", and "value" are completely different terms with completely different definitions. If you want a great guitar, it doesn't have to cost you 3 months' rent.
It can instead cost you your daily trips to a fast-food restaurant, which most people seem to overlook as a major expenditure every month. Pack a sandwich and budget your money for a guitar that has value to you.
Expensive vs Value
You can buy the most expensive Martin or Gibson out there and be completely disappointed…(not saying that Gibsons and Martins are bad).
I've got over 20 guitars in my collection, and I can assure you that my favorites are actually the ones I purchased because I found them to be economical, thus being of value to me.
I had extra money left over to customize them to my specifications and thoroughly enjoy playing them more than my most expensive guitars.
As manufacturers look to stay in the game by using more environmentally friendly and sustainable materials, many high-end guitar manufacturers are able to produce guitars with amazing playability, tonal qualities, and very economical prices.
The main reason is because they do not have to pay expensive import taxes on many different tone woods that come from overseas (such as mahogany, sapele, ebony, and rosewood).
Manufacturers are also taking advantage of reducing their labor costs by outsourcing their labor overseas.
I've played really horrible American-made guitars, and I've played some absolutely incredible Chinese and Korean guitars. In the era of globalization, the country of origin really does not affect value (although it may affect resell value).
So, look at your budget, decide on what you want/need, and go for it! There is an amazing guitar out there for everyone no matter how tight your purse strings might be. Just look for the value!
---
4. Get a Guitar for the Future, Not Just for Today
Many guitarists get stuck in one genre, especially when starting out. There is nothing wrong with that. We all have our preferences. Variety is what makes music so amazing in the first place.
However, as a musician, and as a hobby guitarist too, you will probably grow and want to play things that are out of your traditional genre.
For example, it is very common for heavy metal guitarists to explore classical music and jazz theory in order to broaden their creative spectrum.
As a musician, I was mainly known as a heavy metal guitarist in my region. Many of my fans and closest friends did not realize that I was also an award-winning bluegrass guitarist as well as an accomplished fingerstyle blues player.
Needless to say, I had several guitars that were for specific purposes. What many do not realize is that I only owned 2 acoustic guitars at the time and used them both for bluegrass, blues, and heavy metal ballad tracks in the studio.
I bought an acoustic-electric guitar because I knew that the electronics would come in handy for me in multiple ways down the road. I looked at the overall value and saw the excellent Alvarez onboard preamp as a tool that I could utilize in many different scenarios.
I didn't just buy an acoustic-electric because it looked awesome (which it does), but I bought it because I knew how I would be using it. I could plug it up in the studio without worrying about a mic. I could plug it up onstage whenever the soundman was having a bad day, or if the wind was howling.
In other words, I realized the benefits of the electronics, and I knew they would be used. I didn't want to waste money on something that I was not going to use.
This is important to keep in mind when looking around for a guitar. Find something that you can see yourself using years down the road, not just for one or two songs that you're really into right now.
Sometimes we simply can't see that far down the road. That's when you start looking at your goals. If you're totally comfortable playing by yourself, then go for it. If you eventually want to play with other musicians and start a band, shoot for that.
Don't limit yourself or waste money. If you buy a guitar "just for today", then you'll grow tired of it rather quickly (again, I have over 20 guitars…I've done it at least once). If you establish a direction, then you'll be able to narrow down what you need and what you don't.
This rule really goes back to rule #1 when it comes to wants vs. needs, and it may sound a little contradictory. However, you can make yourself another checklist to drill down to what you really see yourself using.
Like this for example:
Pass on the extra goodies if they're just going to go unused. They're just costing you unnecessary money that you could be using to buy what you really need. However, try to have a general direction and get something that you can see yourself playing for years to come.
Just so you know, I bought my Alvarez FD60BL acoustic-electric around 2002. I have used it to record acoustic tracks for a solo album, acoustic rhythm tracks on heavy metal ballads, and have placed in several bluegrass competitions with it. I still play it every day and have for nearly 20 years! I definitely got my money's worth from it (I literally won enough from competitions to pay for it several times over).
---
5. Research, Research, Research!
The great part about this is that we here at guitaristnextdoor.com have already done a lot of that research for you. In fact, that's what we spend our money and time on: passing on useful information because we're your friends!
We want every guitarist to have access to resources that we never had as we were learning. I started my journey 7 years before YouTube even existed, and Google started up the same year I started playing (1998).
I had to learn the "hard way". I bought books. I watched and learned from other musicians. I learned how to play by ear in order to play the songs I wanted to play. I even had to buy VHS tapes with lessons on how to play certain things.
I'm showing my age here…
But what I really want to drive home is how fortunate guitarists are these days thanks to the likes of Google and Youtube. However, you have to wade through a TON of unnecessary and often incorrect information to get to what you really need.
Technology is not always great! I can't tell you how many horrible "how-to-play-guitar" articles I have read or how many insane videos I have watched that supposedly sucker people into "learn how to play guitar overnight!".
What is even worse is the amount of incorrect information that is available concerning guitars. These are often articles that are written by inexperienced players or players who have a strong bias against a particular guitar or brand.
This is where guitaristnextdoor.com steps in. We are dedicated to providing you with the facts, not the fat. We are your source for all things guitar related, and we have dedicated hours upon hours playing, reviewing, sourcing, and even purchasing guitars and accessories so you can make an informed decision based on the knowledge of true experts.
GND team: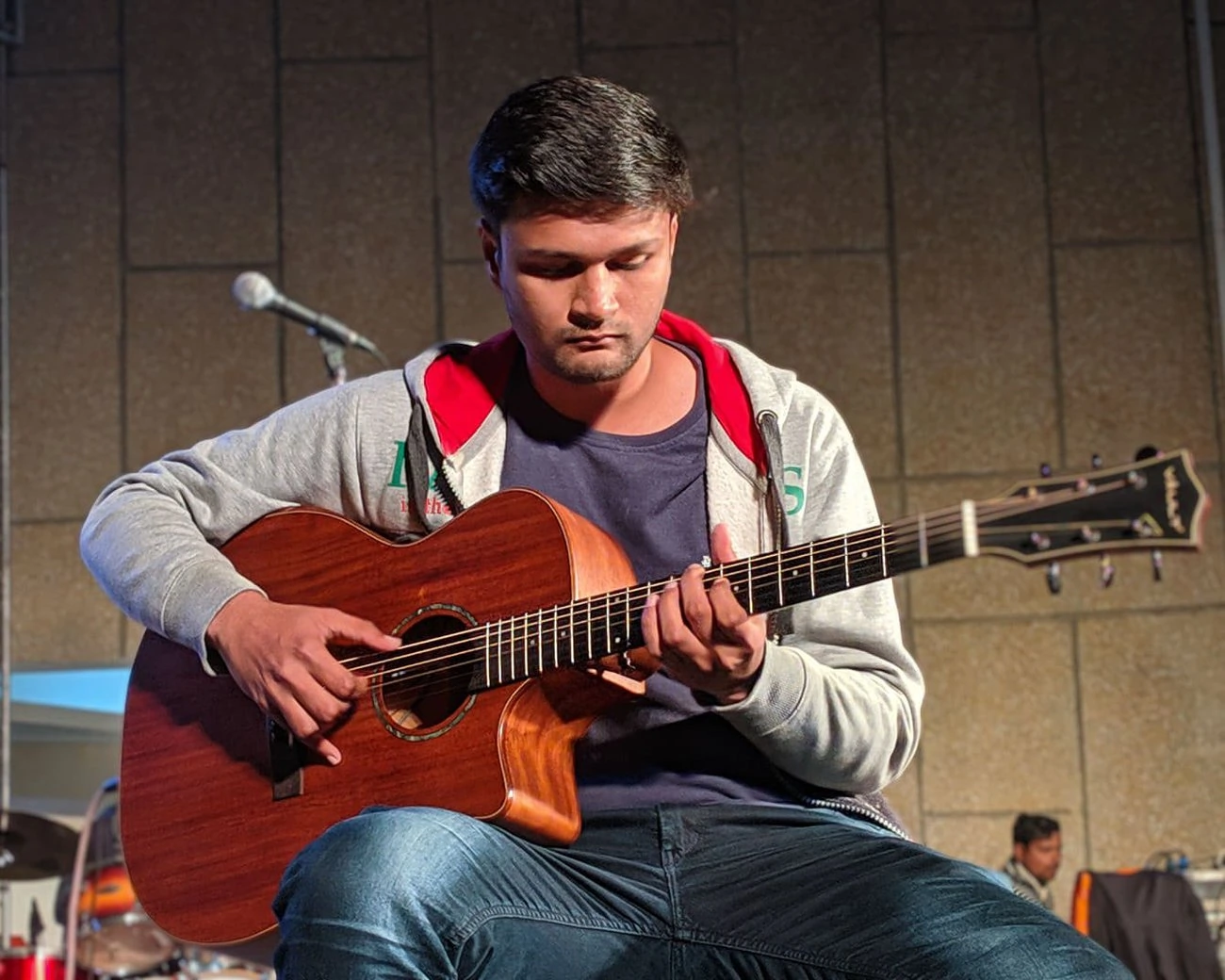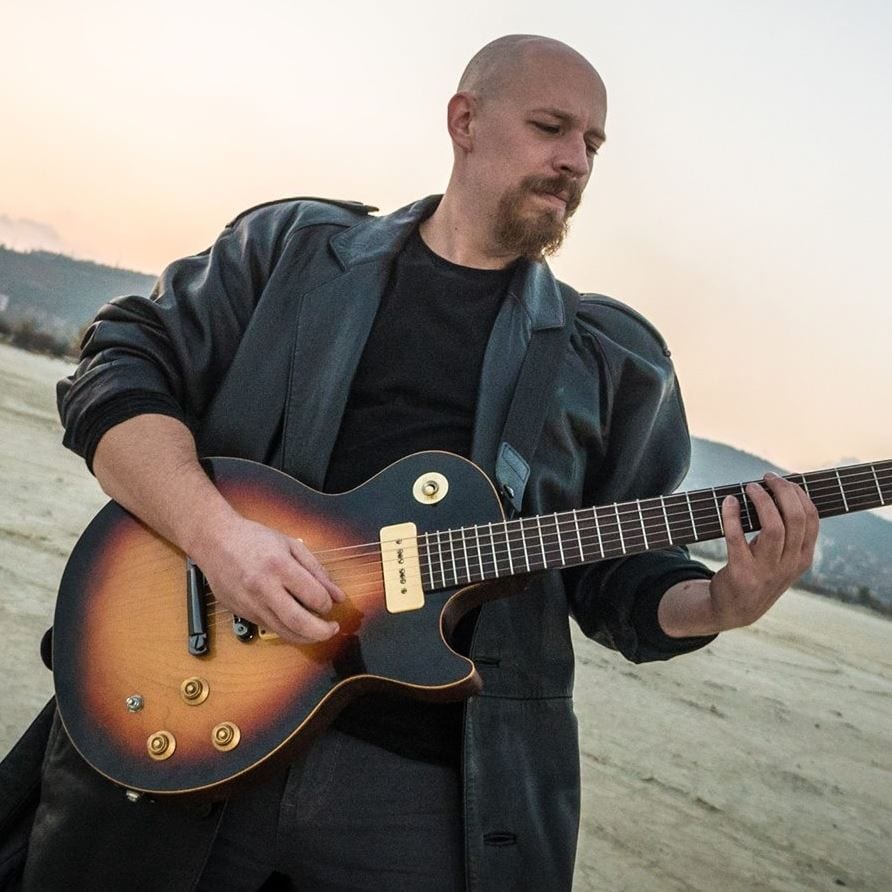 We're not guitar heroes (well, Teemu is because he's the boss (I have to say that for my own well-being)), but we have the knowledge due to our years of experience playing in virtually all situations.
I've got some really good touring stories, but I'll save those for another time.
---
Conclusion
I am honored to be a part of guitaristnextdoor.com, and I am excited to be able to share with you my own personal journey into what has become a permanent fixture in my life.
I do not get paid money to play the guitar, but it pays me back with a rewarding outlet for my creativity and a therapeutic value that simply cannot be beaten.
I encourage you to read all of the articles on this site that you can before purchasing a new guitar. We have made it easy by providing direct links to guitars and guitar accessories that we personally hand-pick and source.
This is what separates us from the other guitar sites. We're your next-door neighbor and friend that you can learn from and help guide you along your journey.
Come spend some time at our house, and I can guarantee you'll be glad that you did.
Stay safe!
---
Here's Our Favorite Gear Right Now!
Our Favorite Guitars:
Consider all links in this post to be affiliate links. If you purchase, at no additional cost to you, we may earn a small commission. It helps us to keep the lights on, thanks! 🙂
Electric guitars:
For beginners and tight-budget guitarists, Ibanez GRX70QA was the winner after hours of testing. If you are a metalhead, Jackson JS22 Dinky is our favorite.
If you have more room on your budget, Yamaha Pacifica 112V gives you a great bang for your buck, and Fender Player Telecaster HH will serve intermediate Players well.
Our favorite Electric guitar of 2021 was the PRS SE Custom 24-08. It gives so much versatility, comfort, and good tones that it's impossible to ignore.
Acoustic guitars:
For beginners, Yamaha FG800 is our go-to guitar. It offers more than any other guitar in the same price range.
For intermediate and beginners with bigger wallets, Gretsch G5024E Rancher offers so clear and detailed tones, plus easy playability that I had to include it here.
Seagull S6 Original is the best acoustic around the $500 mark. It has the construction, sound, and feel that many more expensive guitars don't achieve.
Our Favorite Amps:
For beginners, Fender Mustang LT25 offers the most. It's versatile, sounds good, and is simple to use.
For most home players, Boss Katana 50MKii is the amp that serves you in any situation. From country to metal.
If you are searching for a tube amp for home use, Blackstar HT-5R MKii is my go-to option because it sounds so good, and you can adjust the wattage(power).
When it comes to acoustic guitar amps, Fender Acoustasonic 40 will serve most people really well. But our favorite is Fishman Loudbox Mini BT. It offers a professional level tone and volume with a price most people can afford.