This is a list of commonly used terms that are in our articles. Many guitarists – especially beginners – may not know what they mean. It is very important to understand the terms when it comes to choosing a guitar for you.
We are dedicated to being your one-stop source for all things guitar-related! We strive to provide you with the most accurate information so that you can make a more informed decision when purchasing your next (or your first!) guitar.
We are constantly updating this guide!
Who crafted this post:
Author: DL Shepherd
Darren has been playing guitar for over 23 years. He fronted the metal band Suddenly Silence in the early 2000's, and also achieved recognition as an award-winning bluegrass guitarist.
A native of southwestern Virginia, and has shared the stage with many big-name acts from various genres. When he is not playing one of his many guitars, he can be found riding his Harley through the mountains of Virginia.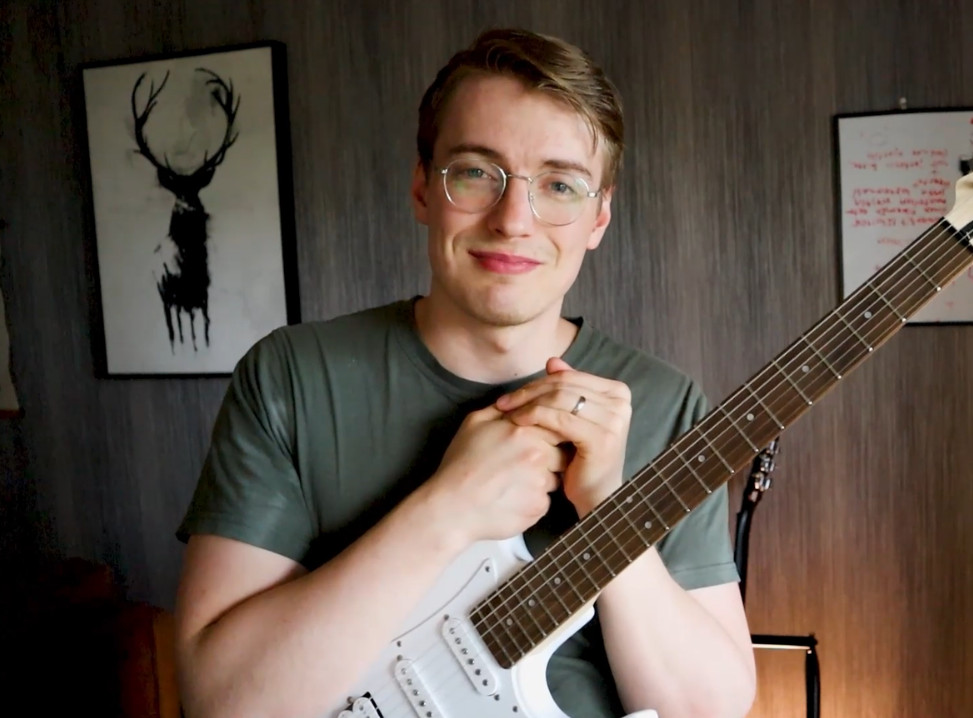 Editing & Research: Teemu Suomala
Playing guitar since 2009. Mainly focused on electric guitars, although jamming with acoustics too. Has played dozens and dozens of different guitars through different amps and pedals over the years. That's why he started this blog in January 2020 and started sharing his experience. Has produced content for several large guitar websites, such as Songsterr, Musicnotes, GuitarGuitar, and Ultimate Guitar.
---
General Terms
These terms are used with both acoustic and electric guitars.
Action
The distance between the strings and the frets. On a guitar with a close action, the strings are closer to the frets. On a guitar with high action, the strings are further away from the frets.
---
Our Favorite Music Store in The World!
Why?
– Excellent Customer Service (4.7/5 Trustpilot Score)
– Fast & Free Shipping
– Gear is Inspected, Tested, & Ready to Play When it Arrives to You (We love this)
– Fair Prices
Visit Sweetwater:
Attack
Used to describe the initial sound of the guitar. Ex: A pick adds more attack than a guitar plucked with bare fingers.
Bass
Used to describe the low sounds of a guitar. Also used to describe a bass guitar, which is tuned to lower octaves to provide low-end balance to a sound mix.
The overall volume and tone of multiple instruments played in unison. Ex: A band with a bassist, drummer, two guitarists, and a keyboard player will have a thicker mix than a band with only a drummer, bassist, and a single guitarist.
A piece of hardware located at the top of the neck that is usually made of bone, metal, or plastic. It helps transfer the vibration of the strings to the guitar as well as maintain a secure distance between strings when it comes to string spacing.
---
FREE Access for You! Secret Page Reveals 5 Must Learn Electric Guitar Riffs That Accelerate Your Learning (For All Beginners Who Love Rock and Metal)
(If you want to make progress fast, this is for you). Just tell me where I should send the link:
By entering your email address you agree to receive emails from Guitarist Next Door. We'll respect your privacy and you can unsubscribe at any time.
A hardware component generally made of wood (acoustic) or metal (electric) that supports the strings as they travel over the body of the guitar. It helps transfer vibration throughout the guitar body, and supports the saddle(s).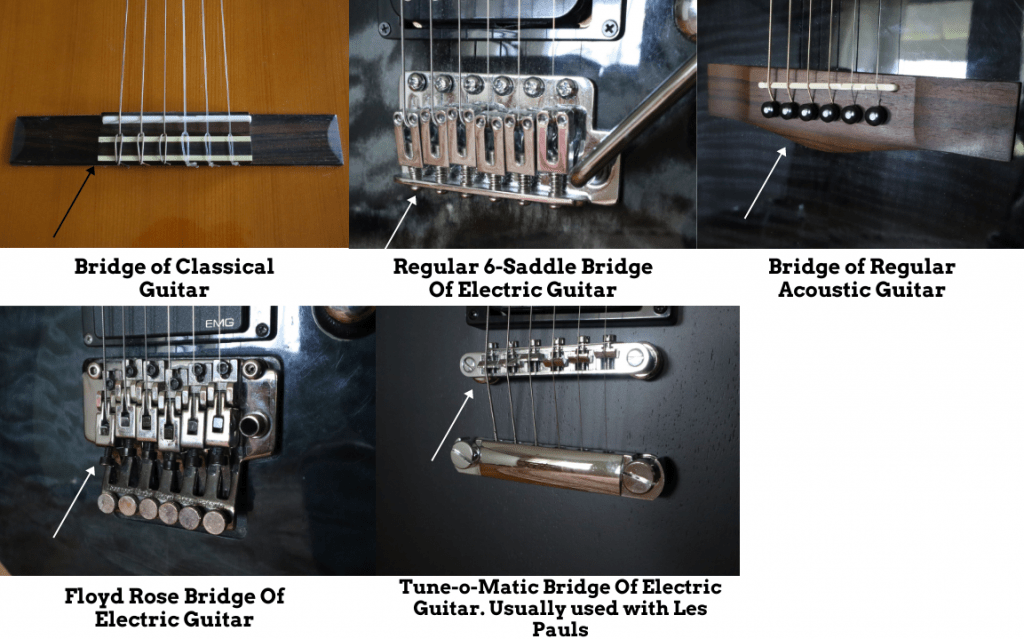 ---
The width of the neck at the nut. This is measured by the distance between the high E string and the low E string.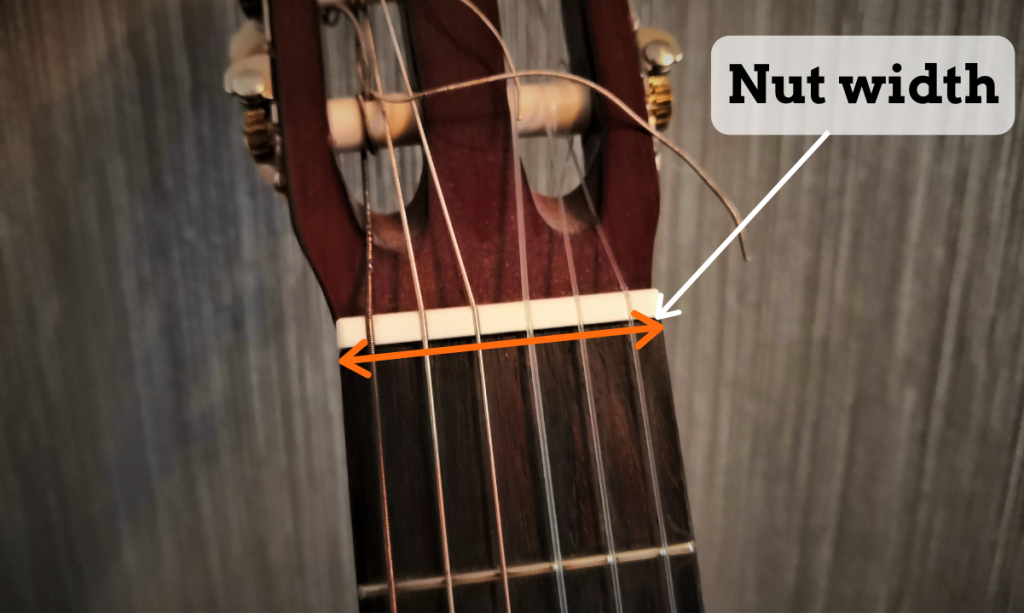 ---
A measurement taken either at the saddle or around the 14th fret that shows the distance of the string spread as it gets closer to the nut. It is measured by the distance of the low E string and high E string. The measurement depends on the manufacturer, and this information can usually be obtained via their website.
---
A piece of hardware and the first point of contact located on top of the bridge of a guitar. The saddle can be a single piece of bone or plastic on an acoustic or metal on an electric. The saddle has 2 specific functions: 1. Transfer the vibration of the string to the guitar body. 2. Keep strings spaced evenly and securely while playing.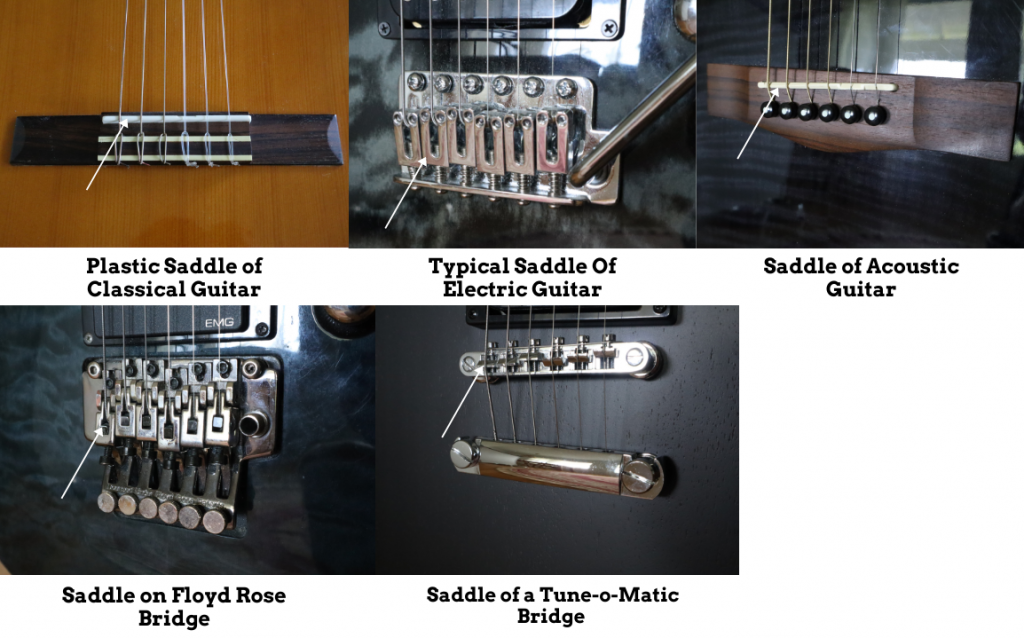 ---
Also known as fretboard radius; it is the measurement of the curvature of the fingerboard across the neck from low E to high E. It only takes into account the curvature of the fingerboard, not the back of the neck.
Determined by measuring from the nut to the 12th fret of the guitar and then multiplied by 2. Some also measure scale length by measuring the distance between a nut and brdige.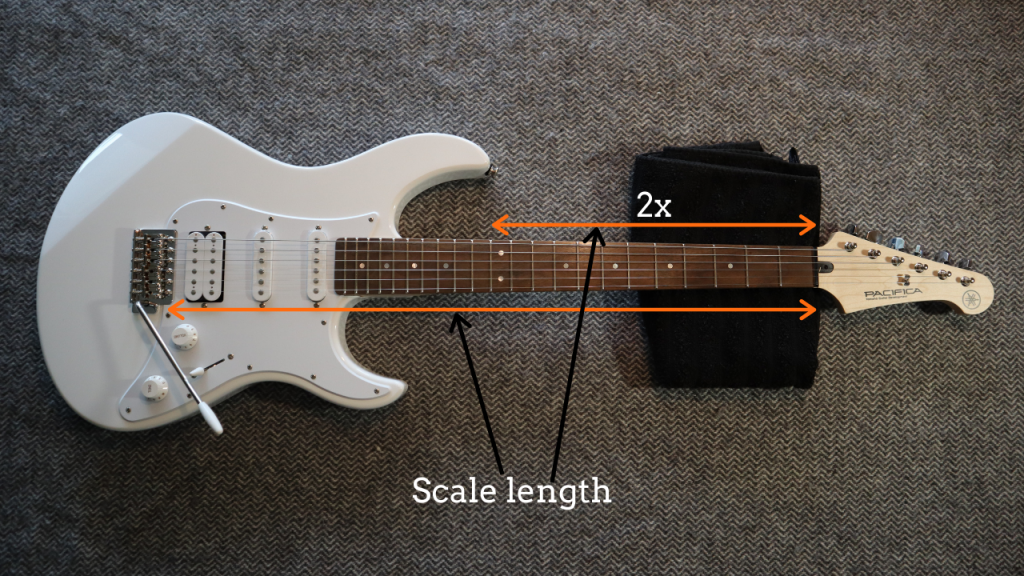 ---
Technically defined as "pitch accuracy"; in the world of guitars, this is the pitch of a note when fretted along the fretboard. Ex: a guitar with poor intonation will sound out of tune when chorded and strummed even if the open strings are in tune.
A metal rod that runs through the middle of the guitar neck to add support and keep the neck from bending under the pressure of the strings. Most modern guitars employ an adjustable truss rod to adjust the neck relief, while some older guitars have a truss rod that is not adjustable.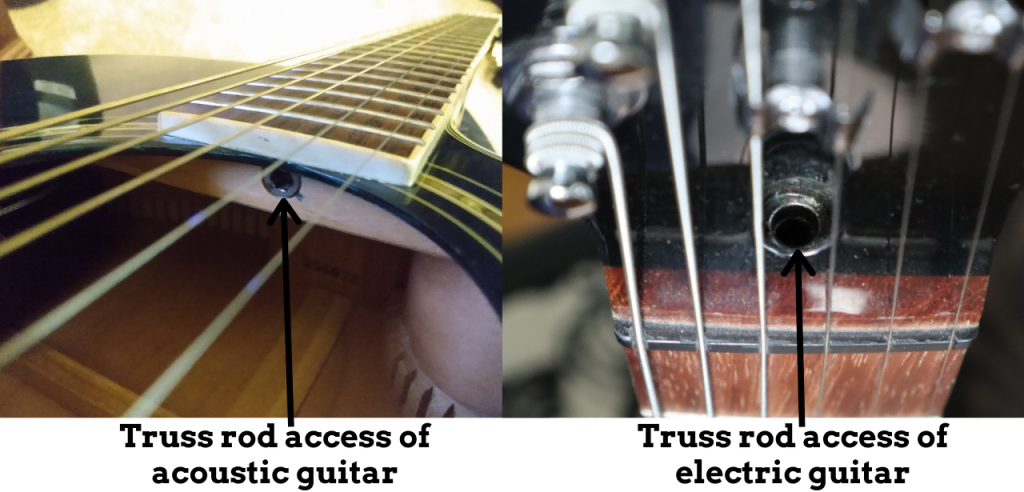 This video explains how to use a truss rod and different ways to access a truss rod:
---
The intentional concave curvature of the guitar neck, when set correctly, allows the strings to vibrate freely without buzzing against the frets. You can adjust neck relief with a truss rod (check the video above).
How long a note rings out after being plucked. A guitar with "good" sustain will allow a note to ring out longer while a guitar with "bad" or "short" sustain will allow the note to decay quickly into silence.
Strips of decorative wood, plastic, or other material that is added to the edge of the guitar where the top and back meet the sides. It can also be applied to the neck and headstock.
---
Used to describe the body of a guitar where the areas at the neck joint are "cut away" to allow access to higher frets. Cutaways are most common on electric guitars, but are also found on many modern acoustic guitars as well. May be referred to as a "single cutaway" (ex: Gibson Les Paul) or a "double cutaway" (ex: Fender Stratocaster).
---
Acoustic Guitar Terms
These terms generally apply only to acoustic guitars.
A body style developed by C.F. Martin & Company in 1916 that was characterized by a larger body size with a louder volume. This is the most common type of acoustic guitar body today that is copied by nearly every acoustic guitar manufacturer.
---
Referred to more commonly as the "top"; it is the piece of wood that makes up the top of an acoustic guitar body. This is the main part that resonates to create the sound of the guitar when a string is plucked or strummed.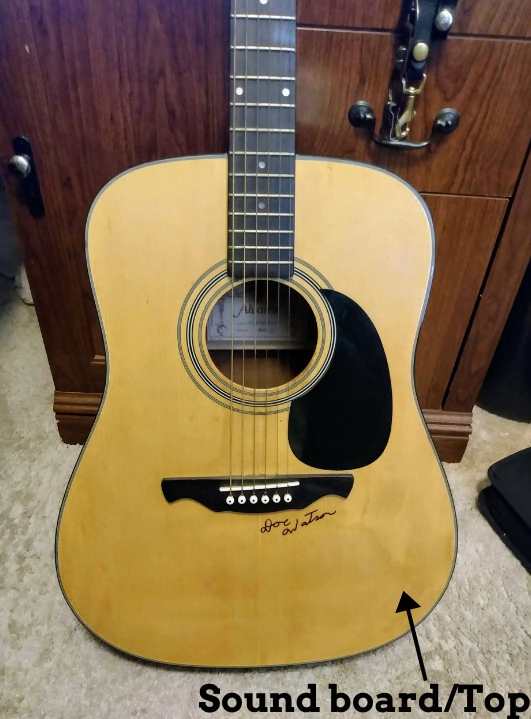 ---
Small, rounded pieces of plastic, bone, wood, or metal that are grooved on the bottom. Their function is to anchor the strings to the bridge to keep them in an exact position. Also responsible for helping transfer vibration to the bridge and soundboard of a guitar.
---
The opening on the surface of a soundboard to enhance volume and resonance. Acoustic guitar soundholes are usually near the neck joint, but can be any shape, size, or location on the top of the guitar (such as "F-holes").
---
Rosette
A decorative piece of plastic, wood, or other material that goes around the sound hole of a guitar. They also help add structural integrity to the instrument by acting as a sort of brace to prevent the wood around the sound hole from cracking.
---
A style of guitar playing where the player uses a flat pick to strum and pluck the strings of an acoustic guitar instead of the fingers. This term is typically associated with bluegrass and American folk music.
Here you can see and hear some Flatpicking:
---
Electric Guitar Terms
These terms generally apply only to electric guitars.
Short for "potentionmeter"; a rotating control that controls the volume, tone, or other additional function of an electric guitar by increasing or decreasing resistance within the circuit.
---
Magnetically wound coils that sense vibration of the guitar strings and convert it to electrical signals. Variations can be found on acoustic-electric guitars as well.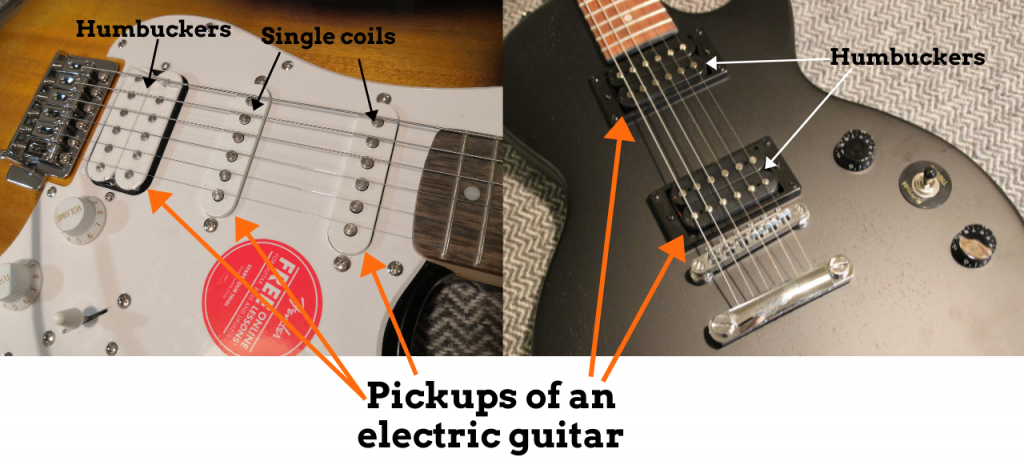 ---
A switch that is used to change the flow of electricity in an electric guitar's circuit. These switches typically allow players to isolate certain pickups in a guitar or even individual pickup coils (coil tapping). Toggle switches have a wide variety of applications on electric guitars.
---
Conclusion
We hope that this post helped you out! If you think that something should be added, just leave a comment.
We wish you all the best and keep rocking!
---
Here's Our Favorite Gear Right Now!
Our Favorite Guitars:
Consider all links in this post to be affiliate links. If you purchase, at no additional cost to you, we may earn a small commission. It helps us to keep the lights on, thanks! 🙂
Electric guitars:
For beginners and tight-budget guitarists, Ibanez GRX70QA was the winner after hours of testing. If you are a metalhead, Jackson JS22 Dinky is our favorite.
If you have more room on your budget, Yamaha Pacifica 112V gives you a great bang for your buck, and Fender Player Telecaster HH will serve intermediate Players well.
Our favorite Electric guitar of 2021 was the PRS SE Custom 24-08. It gives so much versatility, comfort, and good tones that it's impossible to ignore.
Acoustic guitars:
For beginners, Yamaha FG800 is our go-to guitar. It offers more than any other guitar in the same price range.
For intermediate and beginners with bigger wallets, Gretsch G5024E Rancher offers so clear and detailed tones, plus easy playability that I had to include it here.
Seagull S6 Original is the best acoustic around the $500 mark. It has the construction, sound, and feel that many more expensive guitars don't achieve.
Our Favorite Amps:
For beginners, Fender Mustang LT25 offers the most. It's versatile, sounds good, and is simple to use.
For most home players, Boss Katana 50MKii is the amp that serves you in any situation. From country to metal.
If you are searching for a tube amp for home use, Blackstar HT-5R MKii is my go-to option because it sounds so good, and you can adjust the wattage(power).
When it comes to acoustic guitar amps, Fender Acoustasonic 40 will serve most people really well. But our favorite is Fishman Loudbox Mini BT. It offers a professional level tone and volume with a price most people can afford.