Last Updated on January 26, 2023 by Teemu Suomala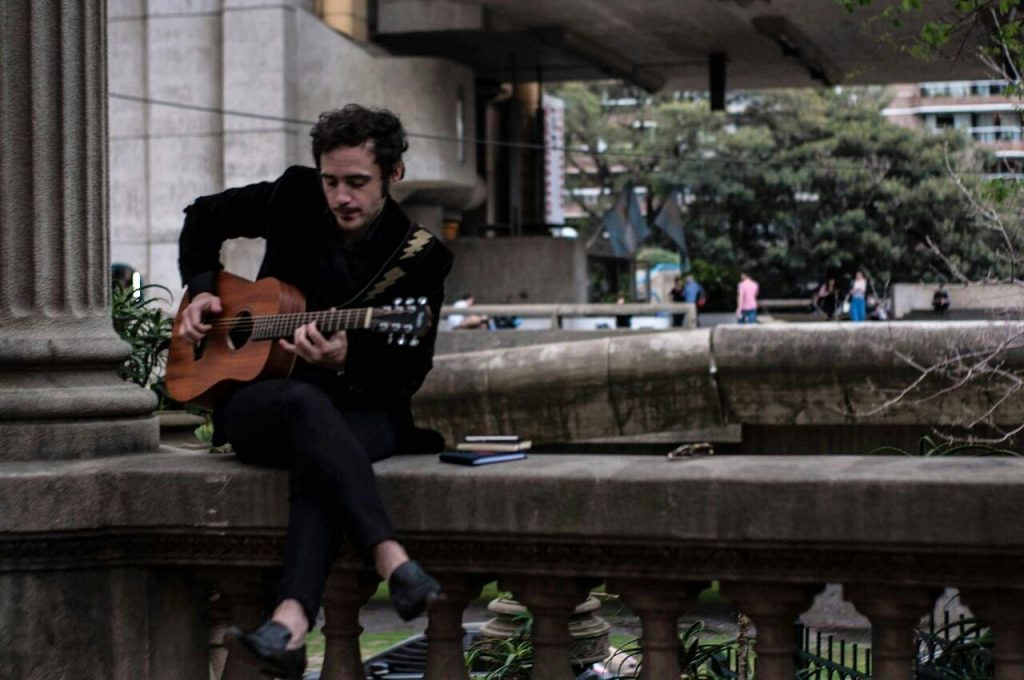 Author: Santiago Motto
Aka. Sandel. Telecasters and all-mahogany Martins lover.
Besides that, Sandel is a professional writer, guitar player, confessed guitar nerd, and all-things-guitar consumer. He has been playing for 25 years which makes him a nineties kid with serious low-tuning youngster years, and a pop palate for melodies, ballads, and world music.
Whenever Santiago is not pouring all that experience and love for the instrument into articles, you can find him playing live shows supporting his music and poetry books as "Sandel". If he's not doing either of those, you can also find him gigging with his band, "San Juan", writing, reading, or enjoying the Sun.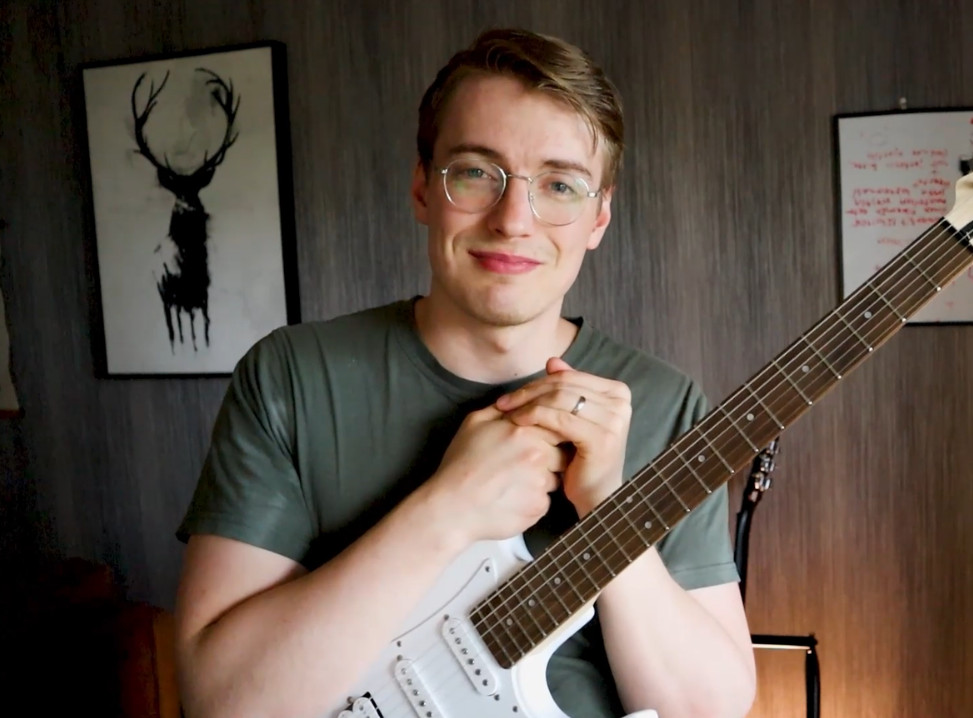 Editing & Research: Teemu Suomala
Playing guitar since 2009. Mainly focused on electric guitars, although jamming with acoustics too. Has played dozens and dozens of different guitars through different amps and pedals over the years. That's why he started this blog in January 2020 and started sharing his experience. Has produced content for several large guitar websites, such as Songsterr, Musicnotes, GuitarGuitar, and Ultimate Guitar.
The Beatles were, without argument, the biggest rock and roll band in history.
As such, their legacy in modern music is vast and incalculable. They left us with some of the best songs in history and created a new category, the category of the worldwide rockstar.
That being said, which were the tools the Fab Four used to conquer the world? Furthermore, how did their taste and sound develop through the years that they were active?
They changed music forever with these guitars and amps. Join me on this excursion to the heart and soul of The Beatles' iconic sound.
---
The Guitars of The Beatles
We're going to divide the guitars and basses for each of the members of the band. As you'll see, instruments The Beatles used to rotate quite a bit among them, so some of these guitars were played by more than one Beatle.
John Lennon's Iconic Guitars
1956 Gallotone Champion
John Lennon started playing guitar in 1957 with this instrument. It was an inexpensive acoustic parlor guitar ordered by mail from Gallotone, a South-African company.
As a fun fact, John's mother was a banjo player, and that was what he learned to play first. He was used to playing the banjo; therefore, he only used five strings on the guitar leaving one loose and hanging.
This instrument served John until he met Paul McCartney and formed the Quarrymen being 15 years old.
It was auctioned for $210,000 in 1999.
1958 Hofner Club 40
The Hofner Club 40 was John Lennon's first electric guitar in the Quarrymen era. He bought it in 1959. This time, it was aunt Mimi who paid the deposit of 17 pounds on August 29, 1959, so John could have this guitar. Later on, the guitar was sold in Hamburg and its whereabouts remain unknown.
1958 Rickenbacker 325 Capri in Mapleglo (natural) Finish
Check images of exact same model here.(not the same guitar)
This guitar, serial number V81 was a hollow-body electric and it was one of the 28 guitars of that model made that year. The word "Capri" means that it was a short-scale guitar, which made it perfect for rhythm.
John got it in Hamburg. The guitar had a natural finish with toaster knobs and a Kaufmann vibrato that he later swapped for a Bigsby after painting the guitar black and installing Hofner-like knobs on it.
Allegedly, the black paint was because Brian Epstein said they would look better on television that way. This is the guitar that John played for the Ed Sullivan Show in front of 100 million people.
The guitar was then stripped back to its natural finish and made its final appearance in the "Double Fantasy" album in 1980. The guitar is now considered priceless and is owned by Yoko Ono and Sean Lennon.
1962 Gibson J-160E
This is a guitar that John used in every Beatles record on, at least, one song. It is a strange instrument because we're talking about a sunburst flat-top Gibson with a magnetic pickup in the neck position and two Les-Paul-type knobs.
"Love Me Do" was the first piece Lennon used the guitar on before it was stolen in 1963 at a Christmas Show at the Astoria Theater in London. Consequently, he bought another one in 1964 after using George Harrison's during that gap.
In 1967, he moved the pickup from the neck to the other end of the sound hole and commissioned a Dutch painter to give it a psychedelic paint job. This was for the "All You Need is Love" satellite broadcast.
Finally, the guitar was stripped back down to wood and the pickup was placed where it originally was. You can see John playing it on the bed with Yoko featuring cartoons of John and Yoko drawn by him.
1964 Rickenbacker 325 Jetglo
Check full review of the 2020 reissue:
This Rickenbacker, serial number DB122, was a solid-top 325 and it was given to the band by Rickenbacker's president after a private meeting with Epstein and the band.
The new model, updated and better-sounding, was shipped to the band in Miami and immediately replaced the old Capri. It remained John's main ax until the late 1965 tour.
Lennon dropped the guitar during one of the band's Christmas shows and the headstock snapped off.
After that, it became a backup.
This guitar's first appearance in John's hands was for the "A Hard Day's Night" album and it made its final appearances for the Double Fantasy sessions.
Fun fact
During the meeting, the Rickenbacker Company offered Paul a 4001S which he passed on because it was right-handed.
1961 Fender Stratocaster
The Beatles were playing in the USA and were exposed to a lot of new music. Thus, the new sounds from the Motown records and the tones guitarists were recording on them became a huge influence.
In that scenario, by 1965, their original Rickenbacker-through-Vox formula wasn't doing it for them anymore. They sent Mal Evans, who was the Beatles' long-time roadie, to buy USA-made guitars, specifically, Fender Stratocasters.
He came back with identical custom-color finished Stratocasters in Sonic Blue for John and George. These were used in the Nowhere Man sessions.
1962 Gretsch G6120 Nashville
John bought this guitar in a dazzling orange finish in 1965. It is a double-cutaway hollow-body guitar and its serial number is 53940.
It was used for the "Paperback Writer" sessions and saw very little action after that.
Lennon eventually passed this guitar to his cousin and is now in the Rock n Roll Hall of Fame.
1965 Epiphone E230TD Casino
Although each of the Beatles owned an Epiphone Casino, John Lennon's is the most famous of them all.
He bought the guitar in Sunburst and stripped it down (sanded) to natural wood to improve the guitar's tone. It is, of course, the guitar he used for the rooftop concert.
John Lennon kept and played his Epiphone Casino until his tragic death in 1980. After his passing, the guitar was bequeathed to Yoko and has been in museums around the world.
This is, perhaps, one of the most iconic instruments in the history of rock and roll.
Fun Fact
Paul McCartney, who also owned and played one extensively (he does to this day), said that it is the perfect guitar and that if he was a castaway on a desert island, that was the only guitar he needed to take.
1965 Martin D-28
This spruce-top, acoustic guitar was given to John in 1967 and it gained a spot next to his beloved Gibson 160E. He took that guitar to Rishikesh and wrote material that was to become the White Album with it.
---
George Harrison's Iconic Guitars
1958 Hofner President
This was the guitar George was playing when he joined the Quarrymen's original formation. It was the most expensive instrument of the band costing twice as much as those held by his bandmates. He later traded it in to get an electric guitar.
Here you can see 1959 Hoffner President in action:
1958 Hofner Club 40 Model 244
The Quarrymen (the early name for The Beatles) were going electric and George Harrison needed to step up to the game. So, this was the first electric guitar George played in the Quarrymen after trading the Hofner President for it.
1958 Resonet Grazioso Futurama III
The Resonet Grazioso Futurama III might be the weirdest, far-off copy of a Stratocaster you'll ever see. It sported a maple neck, sunburst body, and three single-coil pickups. That was about it for the similarities.
Yes, it was made in Czechoslovakia and it was the closest they could get to owning a real strat. In George's words, it sounded and played awful.
This guitar choice could be explained because, at the time George bought this guitar, he was under Buddy Holly's influence (The Beatles allegedly got their name from Holly's touring band, The Crickets). Buddy Holly was a pioneer playing a '54 sunburst strat.
Historic Fact
Even if George could afford it, Fender Stratocasters couldn't be found in the UK because there was an embargo on the US between 1953 and 1959.
1957 Gretsch G6128 Duo Jet
This is one of the guitars people usually associate with George Harrison the most. Indeed, it was the first serious guitar George ever bought.
Although while living in Hamburg everybody wanted a Stratocaster, after the Futurama experience, George wanted a Duo Jet.
As he went back to Liverpool, he saw a newspaper ad for a 1957 Gretsch Duo Jet for sale. The original owner was a former merchant seaman, Ivan Hayward, who had bought it in the USA in 1957 and wanted to sell it to migrate back to the States.
George had savings and paid 75 pounds for it, which was a lot of money at the time.
He then gave the guitar to a good friend in Hamburg, Klaus Voormann (who also did the cover of the Revolver album) in 1963. He owned it for 20 years and gave it back to George who appears on the cover of Cloud Nine with it after a restoration process.
George played the Duo Jet on every Beatles recording and show in the early days and the magic of the early DeArmond pickups can be heard in the Please Please Me sessions, for example.
1962 Gibson J-160E
Together with bandmate and friend John Lennon, George went to Rushworth's guitar shop and they got a pair of identical sunburst Gibson J-160E guitars.
They were revolutionary acoustic instruments featuring a magnetic pickup and dual controls. John and George used them extensively plugged into Vox AC30s in the studio.
Check John Lennons 1962 Gibson J-160E section for photos.
1962 Gretsch G6122 Country Gentleman
This was another iconic guitar for George Harrison.
Harrison bought the Chet Atkins Country Gentleman in 1963 for the staggering amount of 264 pounds, which was insane money at the time. It is a high-end instrument (it is to this day) and it was among the first luxuries the Fab Four could enjoy with their newly-acquired success.
Unfortunately, the original one with the Filter'Trons and the gold hardware got destroyed in December 1965 in a car accident in Glasgow. He got another one from Sound City when he submitted his original for repairs and eventually ended up with an almost identical pair.
See the reissue in action:
1963 Rickenbacker 360/12c63
Although George owned several Ricks, the first one he got was from 1963 and is allegedly one of the first 12-string Ricks ever made.
His 1965 model, a rounder, friendlier version of the same guitar in the same color, was gifted to George by a music store in Minneapolis. They ordered it custom from the factory especially for him as a way to say thank you to the Beatles for what they did to the guitar market in the USA.
1961 Fender Stratocaster (Rocky)
The matching Stratocasters bought by Mal Evans for Harrison and Lennon didn't stay blue for long. Indeed, during the Magical Mystery Tour era, George had the idea to paint his guitar so it would match the vivid theme of the band.
Therefore, he took DayGlo paint and nail varnish from his wife and painted the guitar with a psychedelic-meets-rock-and-roll motif naming the guitar "Rocky".
He can be seen using that strat extensively during that era.
Fact
Paul Waller, Master Builder at the Fender Custom Shop took exhaustive measures of the guitar and Fender released a Custom Shop replica with all 17 different paint colors. You can see the process in this video.
1964 Gibson SG Standard
This vibrola-equipped SG standard was George's main guitar during the Revolver era.
According to experts, this was because of the huge influence Jeff Beck and Eric Clapton had on George. Yes, these guitar legends were rocking the original Gibson PAF pickups and sounding amazing.
Also, Rubber Soul marks a new era for The Beatles who wanted a darker, more powerful sound. In that sense, the mahogany body paired with the almighty humbuckers was a match made in heaven.
George used the SG extensively in the studio and on the road. By 1969, he gave the guitar as a gift to Pete Ham from Badfinger, who were signed to Apple Records.
Later on, Ham played on countless records for Apple Records artists and also played in George's solo album All Things Must Pass. He also played "Here Comes the Sun" next to Harrison in the Concert for Bangladesh.
Pete Ham hanged himself in 1975 and is part of "the 27 club".
1968 Gibson J-200
In 1969, Harrison bought a Gibson J-200 acoustic guitar with a flowery pickguard. According to rumors, it is the same guitar you can spot on Bob Dylan's "National Skyline" album cover.
Harrison used the J-200 for tracks such as "While my guitar gently weeps", "Here Comes the Sun", "Long, long, long" and others.
George also used a blonde Gibson J-200 for the sessions of the All Things Must Pass album.
1957 Gibson Les Paul Standard (Lucy):
Lucy started its life in 1957 as a Gold Top instrument.
In 1965, the owner (John Sebastian of The Lovin' Spoonful) traded it to John Derringer from the McCoys, a touring partner.
By 1966 the original gold top finish had worn out so much that he sent it back to the Gibson factory for a refinish in the, at the time super-modern, cherry finish used on SGs.
Derringer was unhappy with the results and consequently sold the guitar at Dan Armstrong's Guitar Shop in New York City. Only days after, Eric Clapton bought it.
Clapton already had a Les Paul he loved and consequently gifted the guitar to his good friend George Harrison who named it Lucy after the famous redhead comedian Lucille Ball.
It is the guitar that Eric Clapton used for the solo on "While My Guitar Gently Weeps" and it was extensively used by Harrison until he died in 2001.
Fact
Gibson offered the world an exact reissue of Lucy. You can check Eric Clapton playing it and talking about it in this video.
1968 Fender Rosewood Telecaster
This is one of the most iconic guitars George owned and it was designed especially for him by Roger Rossmeisl. The fun fact is that Rossmeisl had worked in Rickenbacker before moving to Fender and designed some of the Ricks the Beatles played and loved in the early sixties.
So, together with Fender craftsman Philip Kubicki they built two prototypes and sent the best-sounding one to George who received it at the Apple Records Studios in December 1968.
It is said that the guitar traveled on its own seat on the plane but it's not official.
George fell in love with the guitar's unique tone and used it extensively throughout that year and, of course, at the rooftop concert. Moreover, you can hear the guitar's uniqueness on the "Let It Be" lead lines, for example.
Fact I
The Fender Custom Shop measured the entire guitar and issued a replica of the exact instrument. You can see the process in this video and how it sounds in this video.
Fact II
Fender also made an all-rosewood Stratocaster that was thought for Jimi Hendrix but he passed away before being able to play it.
1963 Fender VI
Every gear manufacturer in the world wanted to endorse The Beatles. Furthermore, Fender tried for years to make the Fab Four play their amplifiers instead of Vox with whom The Beatles had an exclusive handshake deal.
In 1968, Don Randall from Fender was able to arrange a meeting with the band.
As a result of the meeting, any Beatle could get anything from Fender at any time, no questions asked.
Thus, the Fender VI, a long-scale 6-string bass with three pickups, tremolo, and Jaguar-like controls was used in recordings a lot. For example, you can hear it on the White Album's "Helter Skelter" (played by John) and you can also see it on the Let It Be sessions as well (played by George).
---
Paul McCartney's Iconic Guitars & Basses
1956 Zenith Model 17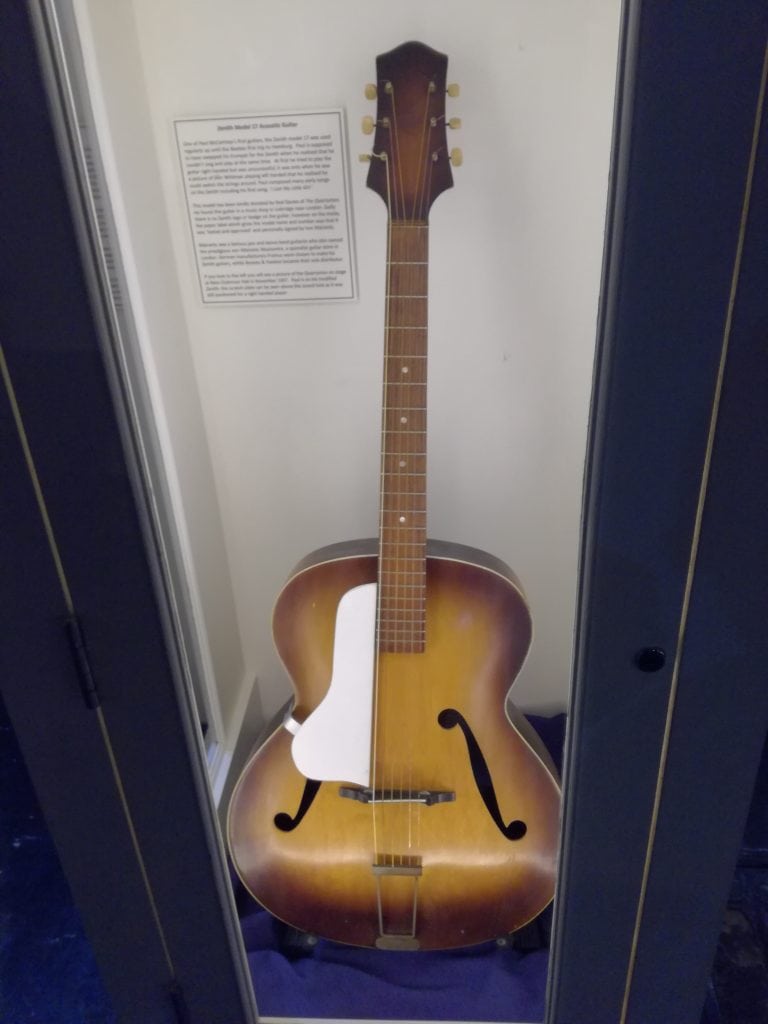 This was Paul's first guitar. He traded for the trumpet his family had given him at Frank Hessy LTD. in Liverpool.
1961 Hofner 500/1
Also known as "The Beatles bass" or "violin bass" Paul ordered his straight from the Steinway Company and it might be the first ever left-handed 500/1 in the world.
This bass was Paul's choice because it's a symmetrical instrument that looks great for left or right-handed players and also because it was very light and allowed him to move more on stage.
This first version was called "The Cavern Bass" and was stolen from Abbey Road Studios.
Later, it was replaced by several different versions of the same model.
1962 Epiphone E230TD Casino
Check images of exact same model here.(not the same guitar)
Paul was the first Beatle to be seduced by the Casino. It was bought in December 1964 while the Beatles were rehearsing for a Christmas show at the London Hammersmith Odeon. The Casino was a right-handed instrument with a Bigsby tremolo flipped and restrung for a left-handed player.
As a curiosity, this guitar had a smaller headstock than the one that can be seen in other Casinos.
According to Keith Smith, McCartney's technical manager, Gibson was in conversations with Paul to reissue this iconic guitar but they never settled and the project was never completed.
Fun Fact
According to an interview given by McCartney in 2020, it was his love for Jimi Hendrix's feedback management that made him buy the guitar. He recalls going into the store asking for a guitar that could generate feedback.
1964 Rickenbacker 4001/S
The Beatles wanted to explore new sonic horizons and just like George and John were getting new gear, Paul decided to try the Rickenbacker 4001.
Rickenbacker gave a left-handed one to Paul and invited him to visit the factory but, although he accepted the invitation, never went. He loved the instrument, though.
Years later, during the Sgt. Peppers era, it also got painted with psychedelic motifs but it was stripped back to wood for McCartney's extensive solo career and also for his performances with The Wings.
1967 Martin D-28
This was the guitar Paul wrote and recorded Blackbird with.
Paul took it with him to Rishikesh, India to work on the songs that were to become part of the self-titled White Album.
Check the same year Martin D-28 in action here:
1966 Fender Jazz Bass
Paul presumably still owns a left-handed jazz bass in sunburst with binding on the neck, block inlays, and a tortoiseshell pickguard.
You can hear this bass on "Yer Blues" "Glass Onion" "While My Guitar Gently Weeps" "Mean Mr. Mustard", and "Sun King".
---
Hey Jude, What about Amps? – Amplifiers of The Beatles
The Fab Four were a loud band. Loud bands need amplifiers. These are some of the most remarkable ones used throughout their career.
ELPICO AMP
Paul's first amp was a green amp called ELPICO. It was the cheapest in the market and Paul still has it. It was made for gramophones and boasted 55 watts feeding 3 inputs.
Here's a video of one in action:
Watkins Westminster
This was an amplifier that, according to Beatles biographers, Lennon borrowed from his former school. It boasted 10 watts feeding 2 inputs.
Here's a video of one in action:
Selmer Truvoice Stadium
George Harrison's first amplifier was a Selmer Truvoice Stadium bought at Hessy's Music Store in Liverpool. It boasted 14 watts feeding 3 inputs.
Later on, Paul replaced his ELPICO amp with this one. He ended up adding a 1×15″ enclosure disconnecting the amp's original one to get better lows. This enclosure received the name "coffin speaker".
Here's a video of one in action:
Gibson Les Paul GA40T
This amp was originally bought by Pete Best and then bought from him by George Harrison.
Here's a video of one in action:
Fender Vibrolux
John Lennon bought a new Fender amplifier in November 1960 in Hamburg. It was a narrow-panel, tweed Vibrolux. It boasted 10 watts through a single 10″ speaker.
As a fun fact, Lennon took the amplifier back to Liverpool strapped to his back. Together with his newly-acquired Rickenbacker as they were his most precious possessions at the time.
Here's a video of one in action:
The Brian Epstein Era and Vox
After Brian Epstein became The Beatles' manager, DECA (the recording company) decided the amps they had weren't good enough for recording. Plus, they had taken quite a beating after extensive hours of road use.
In July 1962, Epstein took Harrison and Lennon and bought two new Vox amplifiers in Hessy's Music. While Harrison got a 30-watt AC-30, Lennon got a 15-watt AC-15; Both were 2×12.
In early 1963 Epstein offered a deal to Vox through Jennings Music Shop in London. The deal was that they could use The Beatles' image as much as they wanted as long as they gave them amplifiers. Furthermore, they agreed that, as long as Epstein was their manager, the band wouldn't use anything but Vox amplifiers.
The owner of the Vox Company at the time said they were no philanthropists. Yet, the deal was done anyway with the store owner.
Epstein kept his word and he sent photos of the Beatles playing Vox for free until he passed away and the company gave the band Vox 8030 amps.
Paul, on the other hand, was left out of the deal because Vox didn't make any bass amps at the time. Epstein got Paul a Quad Amplifier from Andrew Barber (who had made Paul's coffin speaker cabinet).
By late March 1963, Vox released the T60, their first dedicated bass amp with a matching 2×15 speaker cabinet. It was a solid-state amp with only three knobs and they sent one to Paul right away.
Because of reliability issues with the transistor technology that was very new at the time, Vox replaced the T60 the same year with an AC30 head voiced especially for bass. Also, they got Paul a silver stand for the head.
By 1964, the fans were so loud that Vox made the AC-50 for the band to compete against the screaming voices. They were separated heads and 2×12 cabinets.
McCartney got an AC-100 head to match his 2×15 cabinet and it became his rig for at least two years.
By August 1964 fans were getting louder and venues bigger, so The Beatles received matching 4×12 speaker cabinets for their newly-acquired AC-100 heads. These were the backline for their famous Shea stadium gigs, for example.
Epstein's passing on August 1968 signaled the end of the gentlemen's agreement to play only Vox and opened the door for the band to try other sounds.
Fender, The Last Years
By 1965, Paul McCartney was using a cream Fender Bassman head with a 2×12 matching cabinet for studio material only. After hearing about this, the next year, Fender sent two Dual Showman amplifiers to Abbey Road Studios.
These were 85-watt two-channel amps featuring a vibrato channel. The cabinets had 2×15 JBL speakers.
By 1968 The Beatles received a blackface Fender Deluxe Amp and a silverface Deluxe Reverb. Moreover, for the Let It Be sessions, the band also received two brand-new Twin Reverb amps and a Fender Bassman with a 2×15 speaker cabinet for Paul.
Finally, the silverface twins were the amps the band used in their last-ever live performance on the rooftop.
---
FAQs
What guitars did the Beatles use on Abbey Road?
Although there is very little visual material from the Abbey Road sessions, the band's equipment included:
Lennon
Epiphone Casino
Martin D-28
Harrison
Gibson Les Paul (Lucy)
Fender Stratocaster (Rocky)
Fender Rosewood Telecaster
McCartney
1963 500/1 Hofner Bass
Epiphone Casino
Rickenbacker 4001S
Martin D-28
Allegedly, there was also a Fender Bass VI in the sessions.
Did the Beatles use Epiphone guitars?
Yes, George, Paul, and John owned Epiphone Casinos. Paul also owned a 1964 Epiphone FT-79 Texan.
What guitars did the Beatles use on Ticket to Ride?
This song by Lennon/McCartney featured:
John Lennon – 1961 Fender Stratocaster (rhythm guitar)
George Harrison – 1961 Sonic Blue Fender Stratocaster and 1963 Rickenbacker 360-12 Fire-Glo (lead and rhythm guitar)
Paul McCartney – 1963 Hofner 500/1 and 1962 Epiphone Casino ES-230TD
Who bought John Lennon's first guitar?
Lennon's first guitar was bought for him by his mother. Her only condition to spend those 5 pounds and 10 shillings was that the guitar was delivered to her house instead of Mimi's who she thought was unsupportive of John's musical aspirations.
It was auctioned and purchased by a telephone bidder in 1999 at Sotheby's London for $251,700.
Did The Beatles Use Expensive Guitars?
The Beatles, like most bands, started their career playing cheap instruments. Due to their uncanny success, they could afford (and were given) many expensive amplifiers, high-end acoustic guitars, luxurious electrics, and other exclusive instruments later on in their career.
---
Conclusion on The Guitars of The Beatles
The Beatles' influence on modern rock music can't be measured. They are part of our musical DNA and will continue to be for generations.
Above, we described some of the many tools that helped them build their sonic empire. Although they won't guarantee success, playing these instruments can help you be a step closer to their sound.
So, tidy up the bangs, crank the volume, and practice the Fab Four moves.
Happy playing!