Last Updated on April 29, 2023 by Teemu Suomala
Are you one of us who just can't stand constant tuning? I mean, I want to play my guitar a lot, not tune it a lot, haha…If you are like this and tuning stability and perfect pitch are high on your priority list, a guitar with Evertune is a great option.
I personally like this bridge type a lot, and it really does a good job of keeping the guitar in tune. That's why I was happy to put together a list of top-notch guitars with the Evertune bridge. I also reveal the 3 best guitars with Evertune. If you have any questions, check the FAQ section or leave a comment.
Let's get started!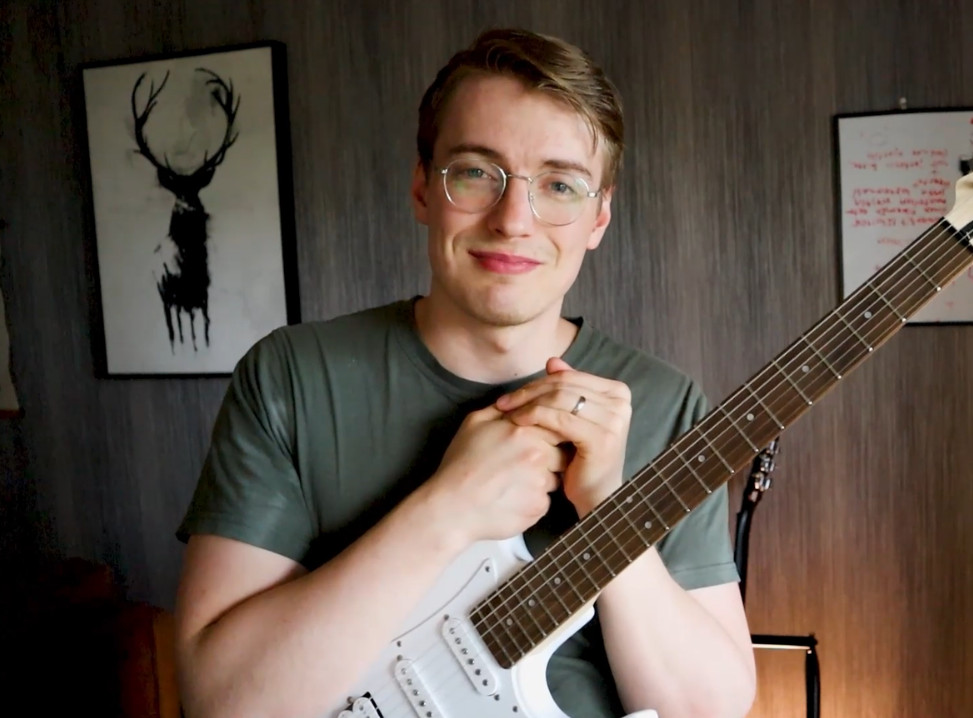 Author: Teemu Suomala
I first grabbed the guitar in 2009. I started this website in January 2020 because I couldn't do window installation anymore due to my health problems. I also noticed that most guitar websites don't do a really good job, so I decided to just go for it! I got lucky and managed to get awesome people to help me with my website. I also got lucky because I have you visiting my website right now. Thank you. I do all this for you guys. If you have any recommendations, tips, or feedback, just leave a comment, I would love to chat with you. I have been fortunate to produce content for several large guitar websites, such as Songsterr, Musicnotes, GuitarGuitar, and Ultimate Guitar. I spend my spare time exercising and hanging out with my wife and crazy dog(I guess that went the right way…).
---
Full List of 24 Top-Notch Guitars With Evertune Bridge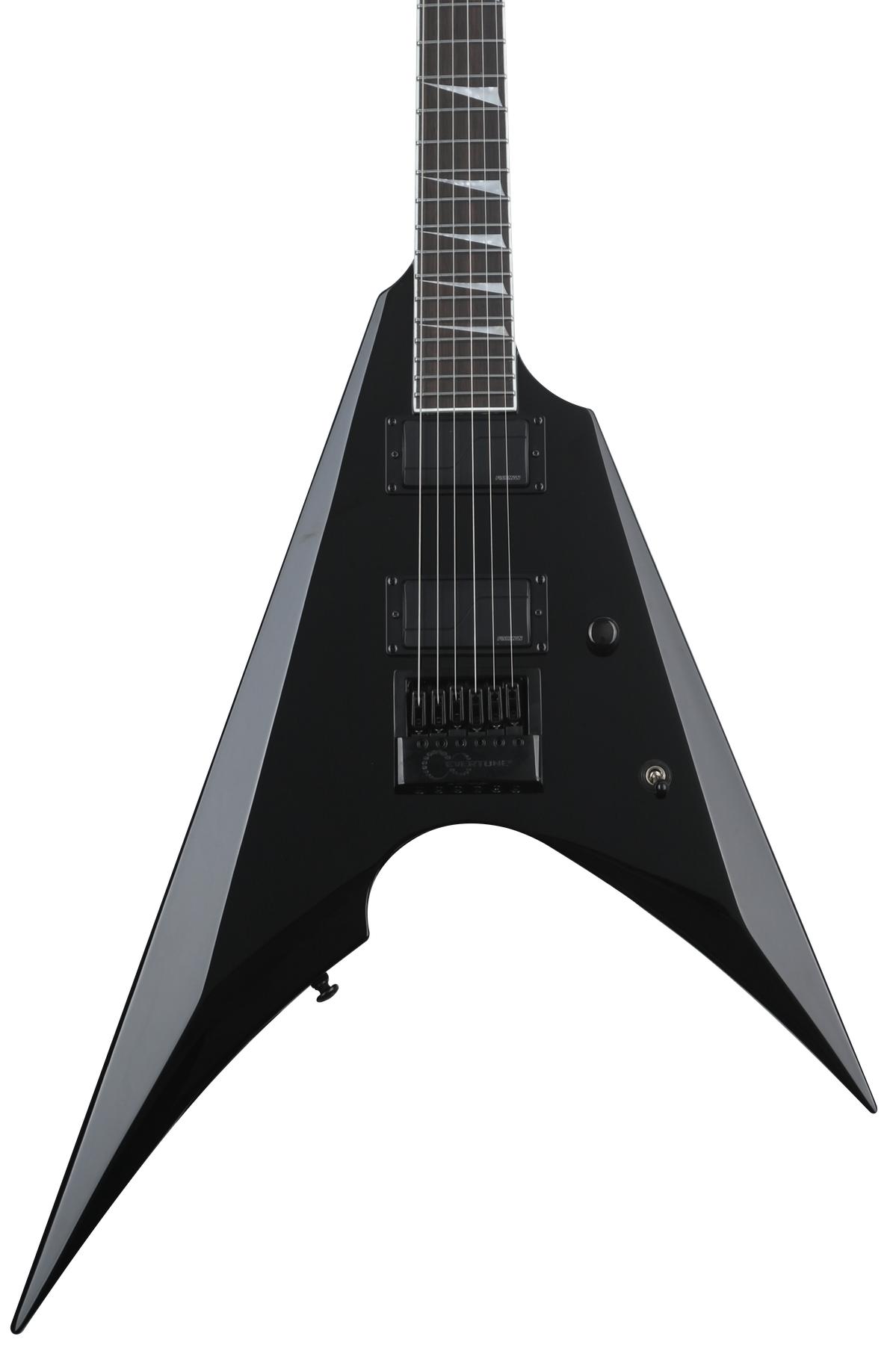 ESP LTD Arrow-1000 EverTune is an excellent V-shaped metal machine with a fair price.
Price Range Icon Meanings:
$= $1000-1400
$$= $1401-1799
$$$= $1800-2099
$$$$= $2100-2599
$$$$$= $2600-
*Consider all links in this post to be affiliate links. If you purchase, at no additional cost to you, we may earn a small commission. It helps us to keep the lights on, thanks! 🙂
Our Favorite Music Store in The World!
Why?
– Excellent Customer Service (4.7/5 Trustpilot Score)
– Fast & Free Shipping
– Gear is Inspected, Tested, & Ready to Play When it Arrives to You (We love this)
– Fair Prices
Visit Sweetwater:
---
3 Best Guitars With Evertune Bridge – My Favorites
Best Overall – ESP LTD EC-1000 Evertune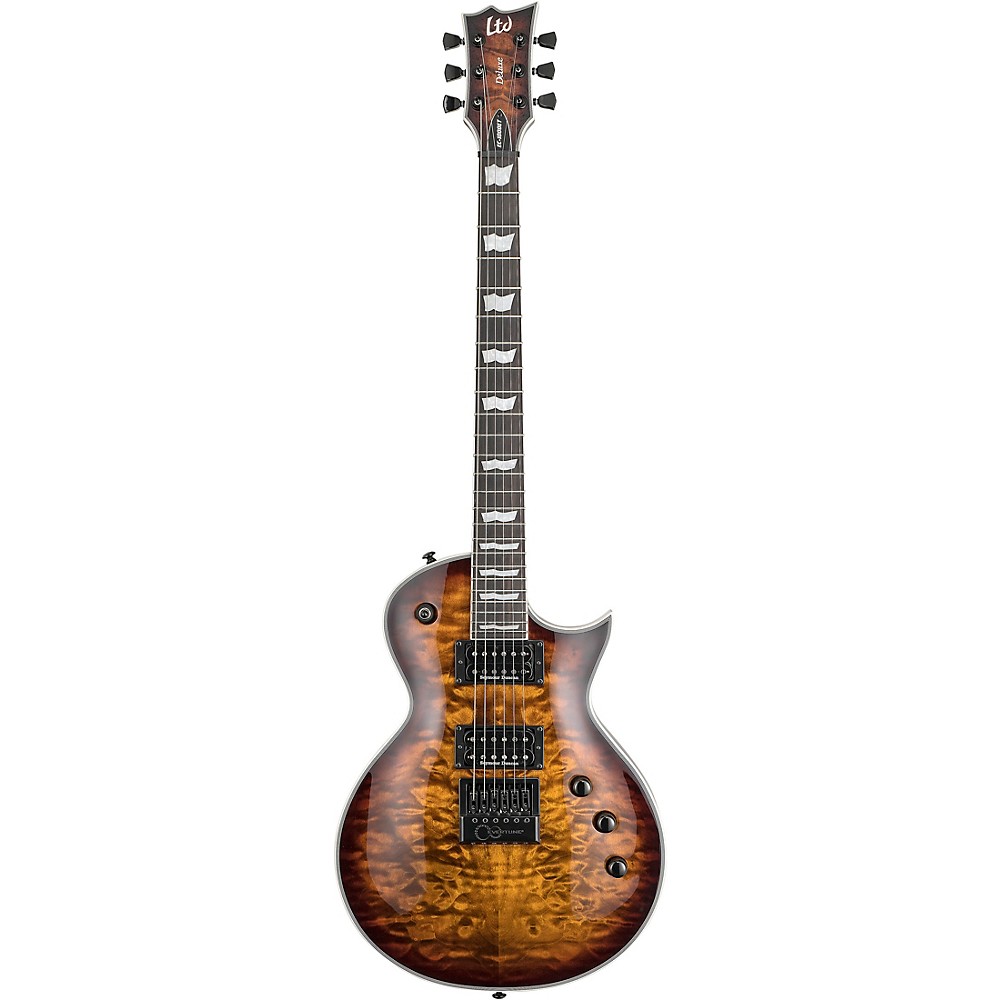 What I like
Super-versatile, a wide variety of different sounds
Great metal tones
Stunning looks
Spot on the action and smooth neck make this axe comfortable to play
Works well with small hands too
Versatile
High quality
Tons of different color options available
What I don't like
Upper fret access is not great
The use of plastic nut feels a bit cheap for this price
Who is it for?
If you are looking for a single-cut metal machine with comfortable playability and rock-solid hardware, ESP LTD EC-1000 with Evertune is one of the best options out there. It's not "just a metal guitar", it can handle anything. But of course, it is built metal in mind, so for metalheads it's a match made in heaven. All this and the overall great value for the money make it impossible to ignore when choosing the best overall guitar with Evertune bridge.
You can read my full review of ESP LTD EC-1000 here.
Check Today's Price on
---
Passive Pickups & Slim Neck – Schecter Banshee Mach-6 Evertune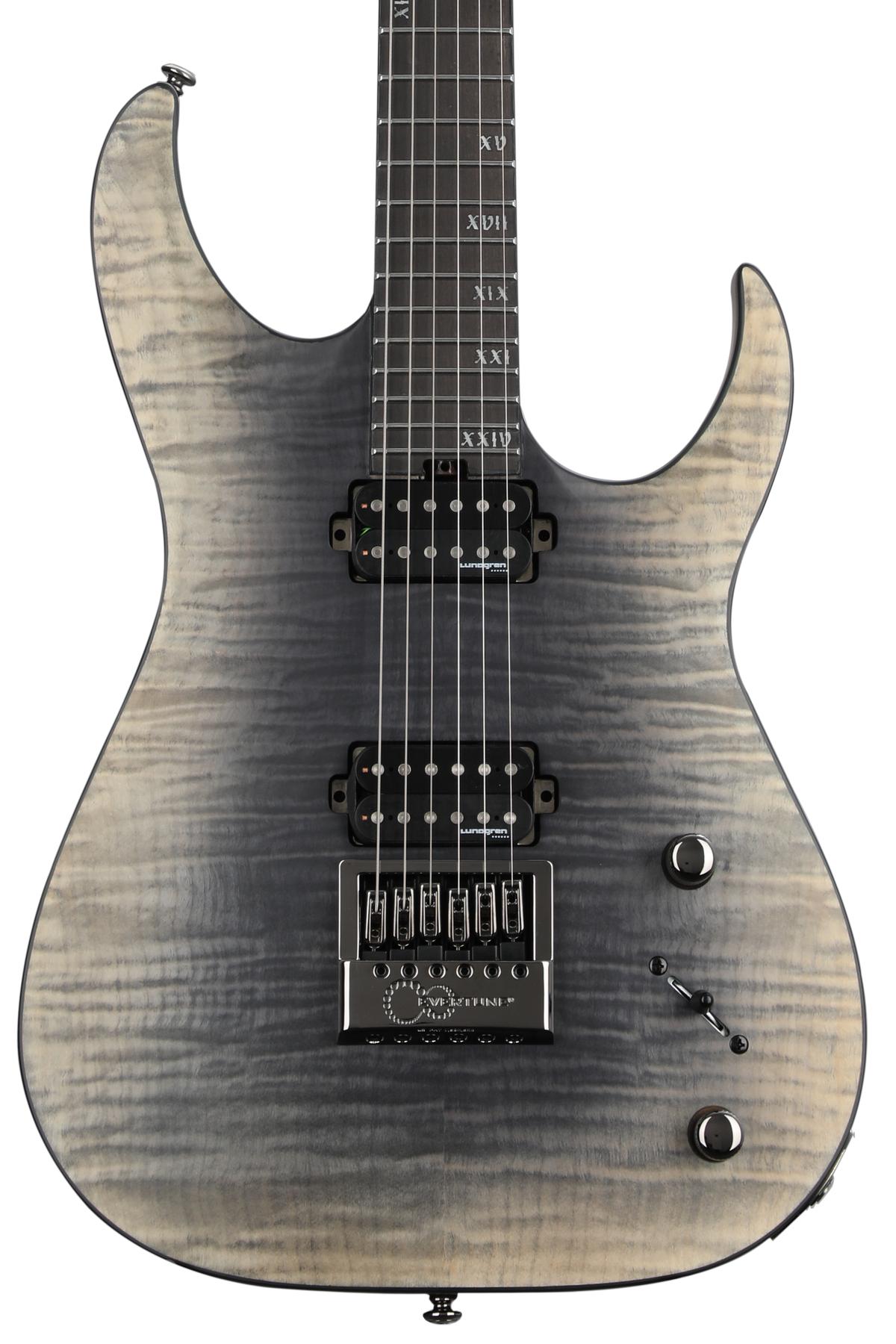 What I like
Mean-sounding Lundgren M6 passive humbuckers
Coil-split adds versatility
Ultra-thin U-neck shape feels super slim & smooth
12″-16″ compound radius makes riffing near the nut and soloing near the body easy
Narrow neck
Premium feel
What I don't like
Some find the neck too slim and thin (not me, I have tiny hands and I love slim necks)
Would be awesome if axe in this price range would come with a case
Who is it for?
If you are after Evertune guitar with a slim neck, smooth playability, and passive pickups, Schecter Banshee Mach-6 Extreme is one of the best options out there. It sounds mean, is comfortable to play, and has great overall quality and hardware. Some might find the neck to be too slim, but usually this is not the case.
Check Today's Price on
---
A Tad Smaller Body – Jackson Pro Series Dinky DK Modern EverTune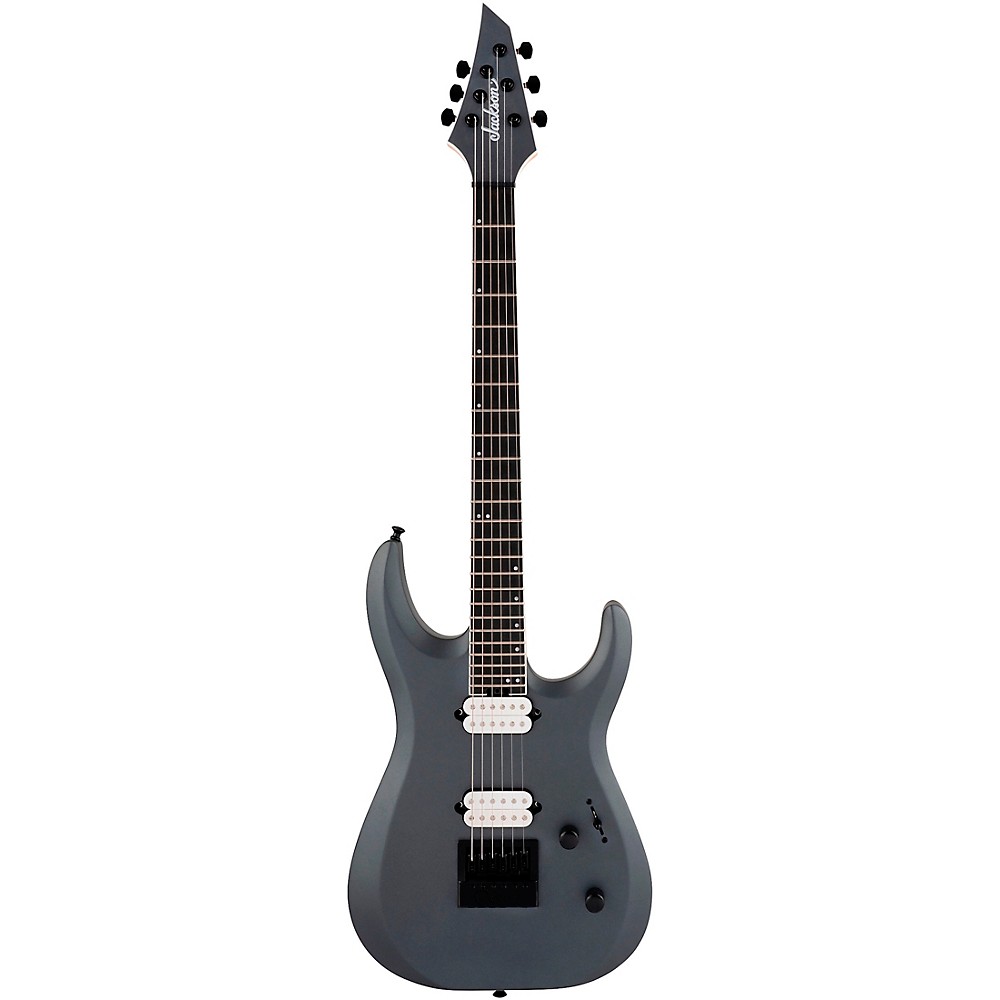 What I like
Effortless to play
A tad smaller Dinky body feels super comfy
12″-16″ compound radius makes riffing near the nut and soloing near the body easy
Active Fishman Fluence Open Core Humbuckers sound hot & heavy
Jackson's Speed-neck shape is indeed speedy
Locking tuners are always a plus
What I don't like
Would be awesome if axe in this price range would come with a case
Who is it for?
I and my tiny hands love Jackson's "Dinky" body style. It's a little bit smaller than regular electric guitar bodies (around 7/8 sized), and to me, it just feels so comfortable, even when playing for hours. I have played the Jackson Dinky series from the cheap JS22 to these premium guitars, and they all have been a pleasure to play. The neck is not as slim as with many Schecter or Ibanez guitars, but the smooth feel and fretboards response to your playing make that up for me. It's hard to not like a Jackson Dinky.
Check Today's Price on
---
FAQ
What is Evertune Bridge?
Evertune bridge has a spring and lever that maintain the wanted tensions/pitch of the string and this allows strings to stay in tune like magic. You can easily recognize the Evertune bridge from its logo.
What Are EverTune Guitars?
Evertune guitars are equipped with an Evertune bridge that maintains the wanted tension/pitch for the strings. This way, you almost never need to tune it.
Does EverTune Affect Tone?
The bridge can always affect the tone a little bit since it is in direct contact with the strings. But the impact is usually minimal and this applies to Evertune bridge too. I would not choose a bridge based on tone, since there's no real difference, but of course, do what works best for you.
Do You Need Locking Tuners with EverTune?
No. You can have both, but you don't NEED locking tuners with the Evertune bridge. Evertune already maintains the wanted pitch and tuning, so locking tuners are not necessarily needed with them.
Is EverTune Heavy?
It's not very heavy. An Evertune bridge weights 1.28pounds (0.58KG). Usually Floyd Rose bridges weigh more. But of course, regular hardtail and Tune-O-Matic bridges are lighter.
Can You Down Tune and Use Drop Tunings With EverTune?
Yes, you can down tune with Evertune bridge. On Evertune's website, they state that "Any tuning can be supported since each string is tuned by the player." This video shows you how to drop tuning with Evertune:
---
Conclusion on Guitars With Evertune Bridge
I love when there are new innovations on the guitar market that actually bring something new to the table. Usually guitar manufacturers are too lazy to come up with anything new and they just come up with something small and not helpful and just market it like crazy(this usually works for them). Evertune is an exception. It's actually a helpful invention, especially for gigging guitarists who want to always stay in tune.
I hope that this article helped you out, and maybe you even decided to get one of the guitars featured. If you have any questions just leave a comment, I and the GND team are here for you.
I wish you all the best and keep rocking!
You might also like:
We are sorry that this post was not useful for you!
Let us improve this post!
Tell us how we can improve this post?