Last Updated on April 29, 2023 by Teemu Suomala
Facing tuning issues? Or just want to be sure that your guitar tuning stability is as good as possible? Well, locking tuners might help…
That being said, locking turners are not needed with all guitars and tuners are not always the thing causing the tuning issues. This post will give you golden nugget info about locking tuners and also reveals 28 guitars with locking tuners available in 2022.
Let's get started!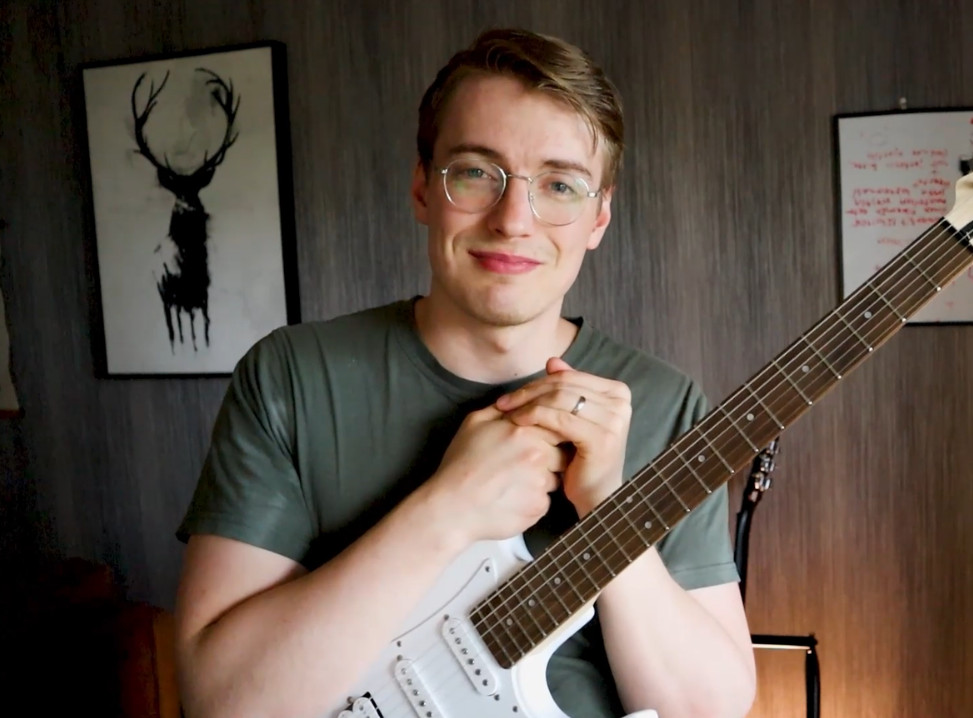 Author: Teemu Suomala
I first grabbed the guitar in 2009. I started this website in January 2020 because I couldn't do window installation anymore due to my health problems. I love guitars and have played dozens and dozens of different guitars through different amps and pedals over the years, and also, building a website interested me, so I decided to just go for it! I got lucky and managed to get awesome people to help me with my website.
I also got lucky because I have you visiting my website right now. Thank you. I do all this for you guys. If you have any recommendations, tips, or feedback, just leave a comment, I would love to chat with you. I have also been fortunate to produce content for several large guitar websites, such as Songsterr, Musicnotes, GuitarGuitar, and Ultimate Guitar.
I spend my spare time exercising and hanging out with my wife and crazy dog (I guess that went the right way…).
Hide The Rambling▲
---
What Are Locking Tuners?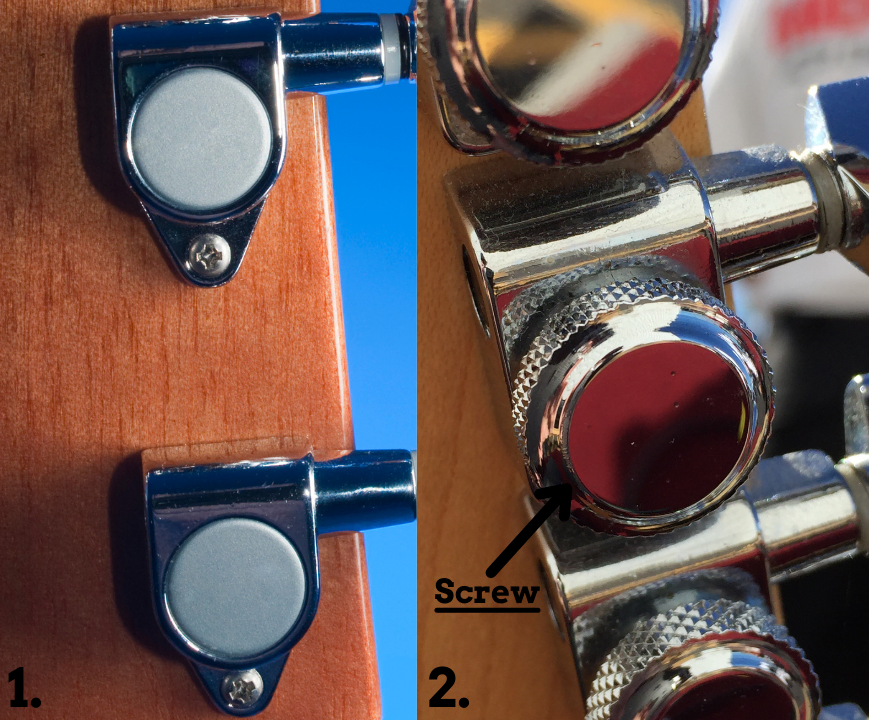 Locking tuners have a clamp inside of them and you can tighten the clamp by using the screw at the bottom of the tuning machine. This way you lock the string tightly in its place. This image explains all this:
There are also locking tuners that don't have a screw at the bottom. These locking tuners lock automatically when you place a string inside of the tuner's eye and start to turn the tuning peg. Between the looks of this kind of locking tuners and regulars tuners is not much difference.
Locking tuners have the biggest impact on guitars with whammy bar/tremolo arm. The use of the tremolo arm makes strings loosen and tighten in a fast phase, and all this can make the guitar out of tune. Locking tuners can stop this because they prevent strings from slipping from the tuners.
---
28 Guitars With Locking Tuners – Full List
Price symbol meaning:
$= 300-500 Dollars
$$= 501-1000 Dollars
$$$= 1001-1500 Dollars
$$$$= 1501-2000 Dollars
$$$$$= 2001- Dollars
If you love tuning stabilty, also check Guitars With Evertune bridge.
---
Our Favorite Music Store in The World!
Why?
– Excellent Customer Service (4.7/5 Trustpilot Score)
– Fast & Free Shipping
– Gear is Inspected, Tested, & Ready to Play When it Arrives to You (We love this)
– Fair Prices
Visit Sweetwater:
FAQ
Are Locking Tuners Worth it?
Tuners are 1 aspect that can affect your guitar's tuning stability. They can help, but alone, they don't necessarily make your guitar stay in tune all the time. Other things that can affect the tuning stability:
So it's not always the fault of the tuners. And if you change locking tuners to your guitar, but the real issue is the nut for example, locking tuners are not going to fix your tuning issues.
But that being said, locking tuners can help and they prevent the strings from slipping from the tuners. This especially helps when using a whammy bar/tremolo arm.
So when strings are locked with locking tuners, it increases the overall tuning stability. And if that's what you are after, they might be worth it. In general, you can find locking tuners in the $50-100 price range and you can find guitars that are equipped with locking tuners for under $1000. In my opinion, that's more expensive than playing with regular tuners, but still not unreasonable.
But keep in mind that if your guitar doesn't have a tremolo arm, locking tuners are most of the time not needed. They of course still increase your guitar's overall tuning stability a little bit.
Are Locking Tuners Better Than Regular Ones?
Locking tuners offer better tuning stability because they lock the strings with a clamp. But many hobbyists and professionals have been using regular tuners for years and have been happy with them. So regular tuners are not a bad option, but locking tuners can give your tuning stability a little extra bump!
Can You Put Locking Tuners on Any Guitar?
You can hit most electric and acoustic guitars with locking tuners. But installing locking tuners to classical guitars might turn out to be tricky.
But when we remember that locking tuners help the most with guitars that have a whammy bar/tremolo arm, it might not be worth it to install locking tuners to the guitar without one.
Can Your Drop Tuning With Locking Tuners?
Yes, you can. It works just like with guitars equipped with regular tuners. Of course, if you want to tune to Drop A for example, make sure that you don't cut your string too short.
Do Acoustic Guitars Need Locking Tuners?
You can install locking turners on most acoustic guitars, but there's usually no real need to do so. You are not going to perform crazy tremolo arm dive bombs with acoustics, so no need for locking tuners. Of course, locking tuners can increase your acoustics tuning stability a little bit.
How to Correctly Use Locking Tuners?
This video explains you how to correctly use locking tuners:
---
Conclusion on Guitars With Locking Tuners
To me, locking turners are a nice upgrade for guitars that have bad tuners and tremolo arm. They prevent strings from slipping and increase overall tuning stability, but they are not always needed.
It's also important to remember that other things affect the tuning stability too, so it's wise to at least lubricate your nut and test different strings before starting to install locking tuners.
Hopefully this article helped you out, if you have any questions just leave a comment.
I wish you all the best and keep rocking!
Teemu
More interesting articles:
You might also like:
We are sorry that this post was not useful for you!
Let us improve this post!
Tell us how we can improve this post?