Last Updated on November 25, 2022 by Teemu Suomala
We want to know how long something takes and we don't want to waste our time. There's nothing wrong with that(scroll down to see the Guitar Mastery Calculator!).
Regarding "How Long Does It Take To Learn The Guitar", I have a couple of cool things prepared for you that will lead you in the right direction.
But first, how long does it really take? It depends. But you can learn the basics pretty fast (in 30 hours if you practice wisely). But mastering the guitar will usually take years and thousands of hours.
Keep reading if you want to see cool graphs and the guitar mastery calculator I made for you…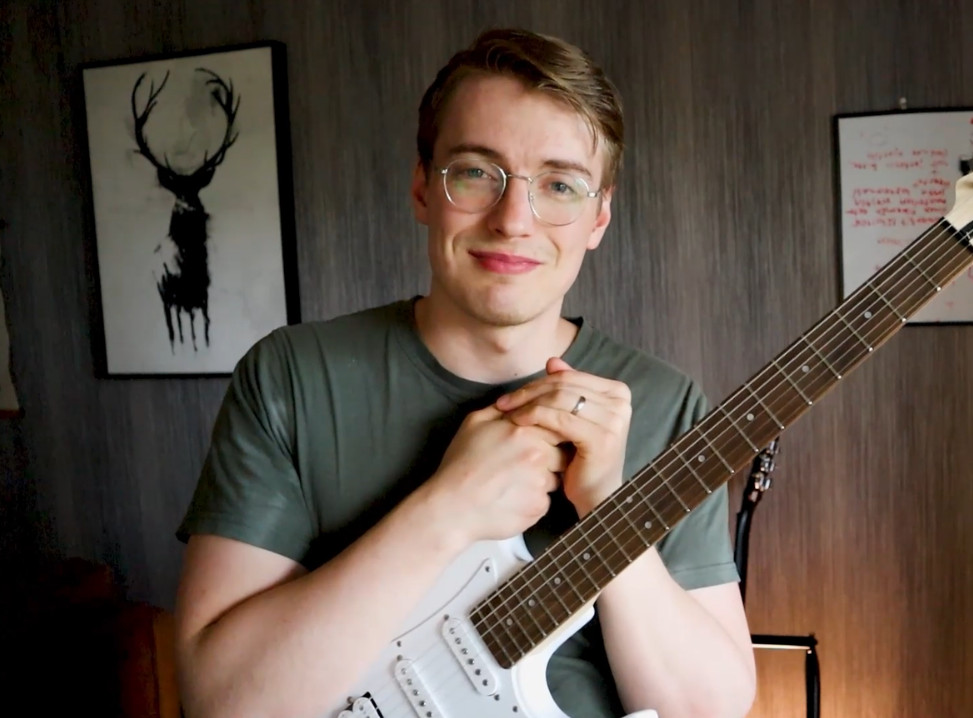 Author: Teemu Suomala
I first grabbed the guitar in 2009. I started this website in January 2020 because I couldn't do window installation anymore due to my health problems. I also noticed that most guitar websites don't do a really good job, so I decided to just go for it! I got lucky and managed to get awesome people to help me with my website. I also got lucky because I have you visiting my website right now. Thank you. I do all this for you guys. If you have any recommendations, tips, or feedback, just leave a comment, I would love to chat with you. I have been fortunate to produce content for several large guitar websites, such as Songsterr, Musicnotes, GuitarGuitar, and Ultimate Guitar. I spend my spare time exercising and hanging out with my wife and crazy dog(I guess that went the right way…).
---
Different Guitar Skill Levels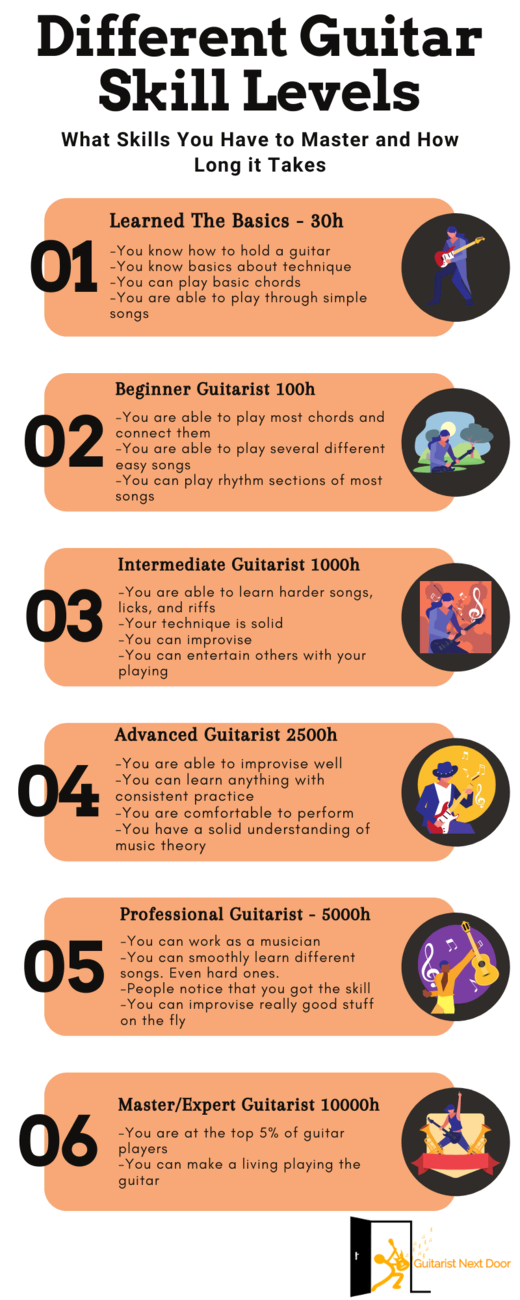 I followed the 10000-hour rule here. Idea is that you need 10000hours of practicing if you really want to master/be an expert at something.
10000-hour rule was made famous by Malcolm Gladwell and his book "Outliers"
And now I have something really cool for you…l have not seen anything like this before…
I made a guitar mastery calculator for you!
Guitar Mastery Calculator
With this tool, you can see how many months or years are required with different amounts of time per day practiced in order to reach different skill levels(check the graphic above or text below to see which skill level each hour amount represents).
Have fun with the calculator!
30h = Learned the Basics
100h Beginner
1000h Intermediate
2500h Advanced
5000h Professional
10000h Master
It's pretty cool…and it can give you pretty accurate estimates of how long it takes to reach a skill level you are after. But…
now we are going to touch on a really important topic…
Is 10000-Hour Rule Accurate?
Straight to the point. It's relatively accurate. Probably the best way to estimate how long mastering something usually takes. But it's definitely not an absolute truth.
You can quite easily crush the 10000-hour rule and master something a lot faster. Tim Ferriss for example states that he can get on to a very high level at almost anything in well under a year. He didn't specifically mention mastering something, but he mentioned being at the top 5% percent.
That's a wild claim, but I wouldn't say that is completely outlandish. People have pulled out much crazier stuff.
So, the 10000-hour rule is a solid method of giving us some estimates about the time needed to master something. It also highlights that mastering something takes serious effort. But it is not an absolute truth.
Our Favorite Music Store in The World!
Why?
– Excellent Customer Service (4.7/5 Trustpilot Score)
– Fast & Free Shipping
– Gear is Inspected, Tested, & Ready to Play When it Arrives to You (We love this)
– Fair Prices
Visit Sweetwater:
How Fast You Can Master The Guitar
My estimate would be that with great planning, smart practicing, teacher, and die-hard work ethic, you can master the guitar in 2 years. This is not for most people.
Only people who are ambitious, ready to build(and improve) learning systems, and are truly committed can pull off stuff like this. But I believe that it can be done.
But for normal people like me, mastering the guitar will take well over 10 years. And I still have to make it a goal and a priority in my life.
How to Learn The Guitar Fast
1. If you are a complete beginner, go through this post I made: How to Play Guitar? Get Started Fast and Free!
It walks you through all the basics. From guitar anatomy to 4-Magic Pop chords to song learning! It's "a shortcut I wish I had" when I started learning.
2. Practice every day. At least a little bit. This is a must if you want to learn fast. It trains your muscle memory and guarantees that your brain has something guitar-related to process each day.
3. If you are an intermediate or even an advanced player this practice routine can boost your progress:
If you want to discover more about this routine, check this article.
4. Lastly, investing in your learning will make progress faster. You can save time, make fewer mistakes, and learn faster if you do so.
These 4 things are the core of fast learning! If you start implementing all 4 one by one, you will make great progress with the guitar.
Sidenote: You can of course use a different practice routine or different starter guide if you want.
FAQ
How Long Should it Take to Learn A Song On Guitar?
It totally depends on your skill level and from the song you are learning. If it's a hard song and you are a beginner, learning a song can take months.
If you are an advanced player and the song is relatively easy you can learn it in one day!
How Long Does it Take to Learn to Solo on Guitar?
Same thing here. Hard solo can take really long time to master if you are a beginner. Several months. Even a year.
If you are really good at playing, you can learn solos much faster. Easy ones you can learn in well under an hour.
How Long Does it Take to Play Guitar by Ear?
Here your natural ability to detect which sounds right and which not can play a minor role. But learning by ear is a skill that everyone with normal capabilities can master(problems with hearing can slow the progress or even make it impossible).
But if you want to get good at it, the progress can take from 6 months to several years.
Can Anyone Learn to Play The Guitar?
Yes. Everyone can learn to play. Even the people missing hands:
Do You Need Talent for Learning The Guitar
Talent is cheaper than table salt. What separates the talented individual from the successful one is a lot of hard work.

Stephen King
Talent can help. It can make progress faster, especially when starting out. But you don't need the talent to learn the guitar.
And don't worry if you think that you don't have talent. It can be an advantage for you…because talent can make people lazy, talent has most likely ruined people's progress several times. You don't need talent, not one bit.
---
Conclusion on How Long Does It Take To Learn The Guitar
I surely hope that this post motivated and helped you out! And remember that there are no rules for learning the guitar. You can learn anything you want. You can skip the theory if you want(I recommend learning it at least a little bit).
But remember to play the music you love. That will keep you practicing and playing for years and years, and you will have a ton of fun doing so. Plus eventually, you probably reach true guitar mastery!
I wish you all the best and keep rocking!
A couple of our most popular articles:
---