Last Updated on April 29, 2023 by Teemu Suomala
Although it's open for discussion, the electric guitar has to be one of the most versatile instruments. It opens up a whole new world of possibilities when you combine it with amplifiers, pedals, and other devices that can help you change your tone.
But here's where it gets a little tricky – you need(want) all these devices if you want to sound really good, and that becomes a problem when you have to go outside of your home and perform. Even the smallest live show can be difficult if you want to take your entire rig with you.
Especially if you want to play outdoors and bring your gear with you…
Since you can't really play without an amp or at least some kind of a PA system, this particular issue becomes a bit tricky. After all, it's not like you can just find a power source in every corner of the street. With all this in mind, we've decided to look more into this matter and find ways how to power a guitar amp outdoors.
But let's dive deeper and first look at different amplifier options that might come in handy when playing outdoors!
Who crafted this post: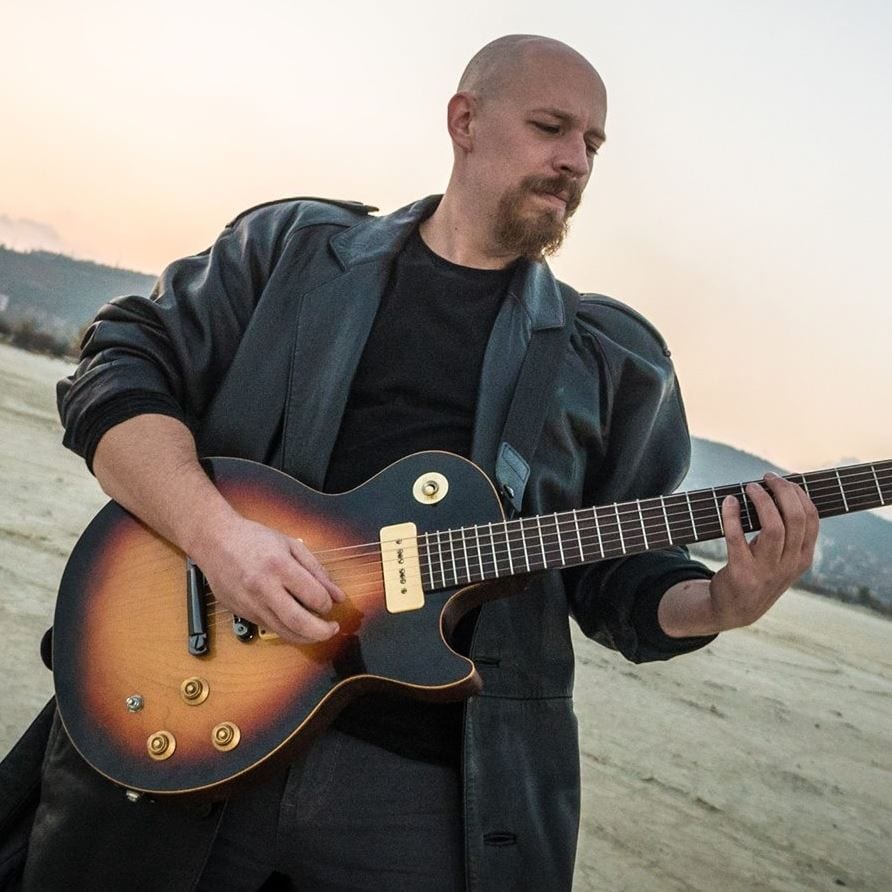 Author: David Slavkovic
David has been playing guitar since 1998, his main focus back then was hard rock and metal. With years, his music tastes evolved and he eventually started appreciating all musical styles. Although officially an agricultural engineer, David began writing for Ultimate Guitar in 2017 where he's currently working as a senior editor.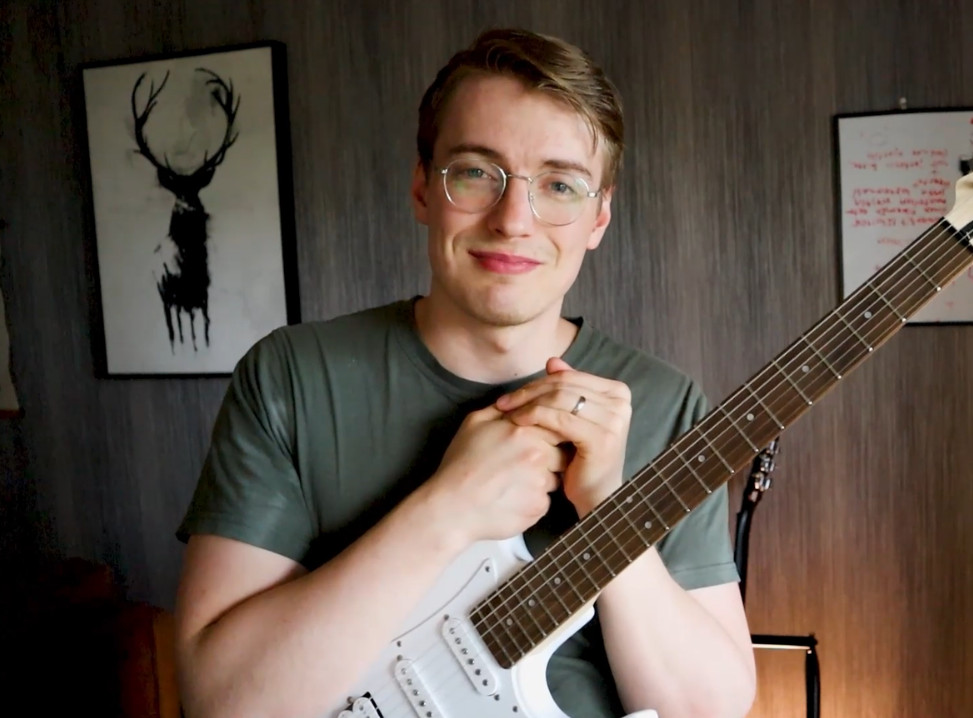 Editing & Research: Teemu Suomala
Playing guitar since 2009. Mainly focused on electric guitars, although jamming with acoustics too. Has played dozens and dozens of different guitars through different amps and pedals over the years. That's why he started this blog in January 2020 and started sharing his experience. Has produced content for several large guitar websites, such as Songsterr, Musicnotes, GuitarGuitar, and Ultimate Guitar.
---
How Can I Play My Electric Guitar Outside?
Now that you've made a decision to play your electric guitar outside, there are a few things that you'll need to have besides your instrument.
First, you'll either need a strap or a stool to sit on. Up next, as we explained, there should be an amplifier, PA system, or a powered speaker that you can take with you. In addition, there should be some kind of a power source involved, which is the main focus of this guide. But we'll get to it.
Regular Guitar Amps
It's not recommended to use amp heads and cabinets. A better choice is to go with combo amplifiers, preferably smaller solid-state amps as they're more durable and are easier to carry around.
It's not rare to see electric guitar players using amps from Roland's Cube series. There's even an amp specially made for playing outdoors called Roland Cube Street EX. It's a 50-watt amp that can be powered with batteries, it's made for busking.
Portable Amps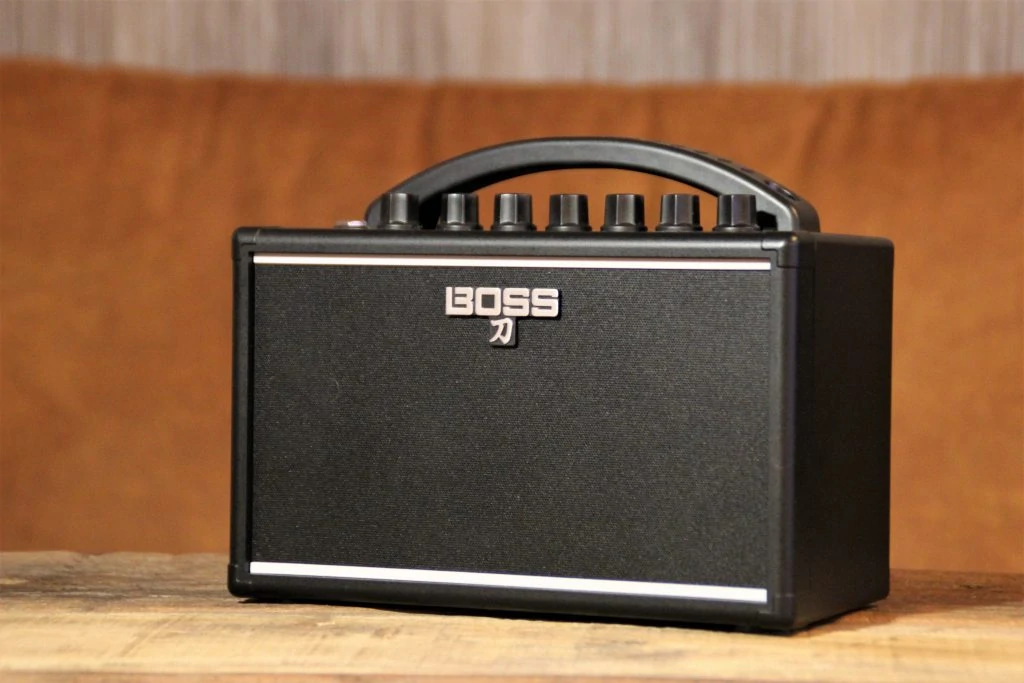 Portable amplifiers are easier to take on the go. A lot of them can even be strapped to a belt. The biggest advantage is that you can power them using batteries.
A great example is Yamaha THR5 which also comes with onboard effects.
Other solid portable amps:
Note: Fender Mini '65 Twin Amp is not loud. It's more of a practice amp, but still really portable.
Powered Speakers
A lot of the Bluetooth speakers with integrated rechargeable batteries these days also come with an aux input. Of course, you'll need to use 1/4-inch to 1/8-inch adapters for them. Whether bigger or smaller, you can use them combined with a small digital amp modeling unit. If you just plug your guitar directly into the speaker, you won't be able to get a good tone.
Can You Use An Amplifier Outside?
It's not uncommon to see electric guitar players performing outside, even with huge amps and complex pedalboards. It's far from an impossible task, but it still comes with its own set of challenges.
First, you'll need to think of a place where you can perform. Guitar amplifiers focus on the mid frequencies, which can often be ear-piercing. Make sure that you're not bothering anyone at the location where you're looking to perform.
Secondly, you'll need to find a way to transport your amp and keep it safe while performing. Most of the solid-state amps are pretty sturdy and can even withstand some rough handling.
In case you really want to go with a tube amp, make sure to keep it safe during the transport and your performance. As for transport, a simple trolley with a plastic container will do just fine.
And lastly, the biggest challenge comes with how you're going to power your amplifier.
---
Our Favorite Music Store in The World!
Why?
– Excellent Customer Service (4.7/5 Trustpilot Score)
– Fast & Free Shipping
– Gear is Inspected, Tested, & Ready to Play When it Arrives to You (We love this)
– Fair Prices
Visit Sweetwater:
How to Power a Guitar Amp Outdoors?
As we mentioned, there are some amps, even with substantial output power, that can be powered using batteries. However, if you don't have such an amp, you'll need to find a power source.
1. Look For Place to Plug Your Extension Cord
The simplest solution in the technical sense is to find any potential power source at the location where you're planning to perform.
No, we're not thinking about electricity theft. See if you can make an arrangement with any local business and plug your extension cord at their place. A kiosk, restaurant, pub, or your local town hall – you'd be surprised how open people might be in supporting local artists. This way, you'll be able to use your full setup and even a tube amplifier.
In some cases, they might charge a small fee for the electricity, but that's probably not much.
However, you won't always be able to do this. Especially if you're planning to play somewhere where a power outlet is out of reach.
2. Car Battery With Power Inverter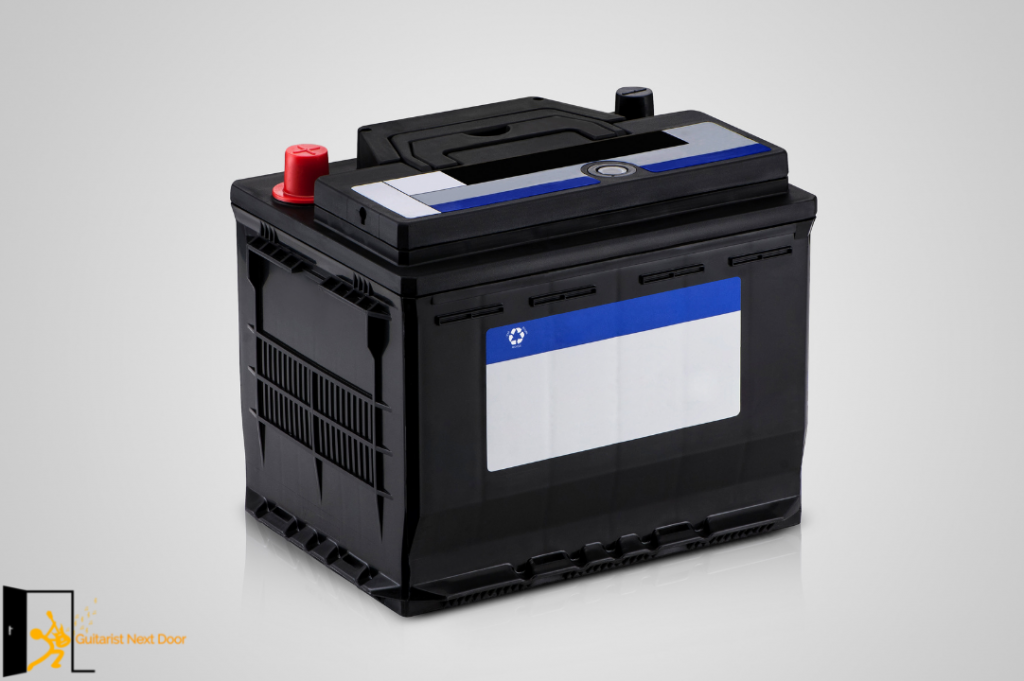 If regular batteries are not an option, you might need to look for alternatives. This is why many buskers who used electric or acoustic guitar amplifiers are using car batteries as a power source.
You can also use any other lead-acid deep-cycle batteries, like leisure batteries for campers, buggy batteries, golf cart batteries, or anything similar that can bring enough power to your amp. You can even use relatively smaller batteries, even those with 12 Ah.
However, you can't just connect your amp directly to a car (or any other) battery. For this, you'll also need a power inverter. More precisely, a pure sine wave inverter. They can easily be found through Amazon or eBay. And it's important that you get a pure sine power inverter, as other options won't be suitable, nor safe for a guitar amplifier.
I have not tested inverters, but after quick research and based on user reviews, I would recommend this:
I would advise you to make your own research about inventors too if you are interested in buying one.
Make sure that you buy power inverters that come with two clamps – one red and one black. You'll need to connect these clamps to your battery, with the red clamp going on the positive side and the black one on the negative side. Before connecting the clamps to the battery, just make sure that your inverter is off.
Power inverters have one or more electrical outlets. You can either power your amp directly from the inverter or use an extension cord and power multiple devices.
If you don't want to buy a power inverter, you could ask friends and neighbors if someone can borrow you one. If you are going to need an inverter several times, it's probably wise to buy one for yourself.
If you are not sure how to use a power inverter, here is a great video that shows you how to power your guitar setup with it:
---
How to Power Guitar Pedals Outdoors?
The guitar pedals are not much of a hassle if you're already powering your amp with a car battery. They don't take too much power, but you should find ways to daisy-chain them. The best way is to keep them all on the same pedalboard under one same power source.
Of course, you can power some pedals using 9-volt batteries. However, wahs, automatic wahs, and delays can drain your batteries in just a few hours of playing. As for distortion pedals, they can last for quite a while. But in the end, the most practical method is to have everything under one power source.
Can Cold or Warm Weather Hurt Your guitar and Amplifier?
Look, guitar amplifiers are usually designed to be used indoors or at least in heavily controlled conditions on outdoor stages. If you're playing outdoors, a change in temperature can be problematic in some cases.
Solid-state amps are not that sensitive unless it's extremely cold or hot outside. But a change in temperature can be an issue, mostly due to potential condensation.
Overall, it's always safer to use a solid-state instead of a tube amp outdoors. Tubes can be pretty sensitive to any extreme temperature or moisture. And you don't want to deal with having to repair or buy a new expensive piece of equipment.
As for guitars, you'll be fine as long as they're not getting wet. If you're living in extremely arid areas, we recommend that you get a guitar humidifier.
---
Conclusion on How to Power A Guitar Amp Outdoors
While we're mostly used to seeing buskers playing acoustic guitars with no amplification, there's a rise in electric and acoustic-electric guitar players outdoors. Battery-powered speakers with an auxiliary input or battery-powered amplifiers are a very practical choice.
However, many are using the setup with a car battery and a power inverter, especially those who are planning to play outdoors for more than just an hour or so.
But whatever your choice may be, it's always important to keep yourself and your equipment safe. If it's extremely hot or cold outside, we'd recommend that you skip that day and wait for another one. Also, if you use multiple guitars during the gig, don't store guitars in direct sunlight.
I hope that this helps you to figure out a way to power your amp and use your gear outdoors. If you have any questions, leave a comment down below. Feel free to share this post too.
I wish you all the best and keep rocking!
---
You might also like:
We are sorry that this post was not useful for you!
Let us improve this post!
Tell us how we can improve this post?