Last Updated on April 29, 2023 by Teemu Suomala
So, you are ready to record your masterpieces? But if you don't want to buy or use a microphone to do so…I got you covered.
In this post, I'll give you 2 different ways to record your guitar amp without buying a microphone. With these methods, you are going to be able to get decent audio quality out of your amp.
But, remember that these are not professional methods. If you really want high-quality audio, you have to use either an audio interface, a microphone, or both.
These methods are perfect for beginners, and these will get you started with guitar recording. And when you are sure that recording your playing or making guitar videos is your thing, you can invest in better equipment.
Of course, all these methods are not necessarily a good fit for you, maybe you think that the audio quality with some of these is just not good enough for you. You have to test these and make up your own mind. But that being said, I'm pretty sure that you find at least 1 audio recording method that gets you started.
Note: Using an audio interface isn't one of the methods that I'm going to reveal in this post, although I recommend the best audio interfaces to use at the end of this post. So check that section out if you are interested. Plugging electric guitar directly to interface is one way to record without a microphone.
Let's get going!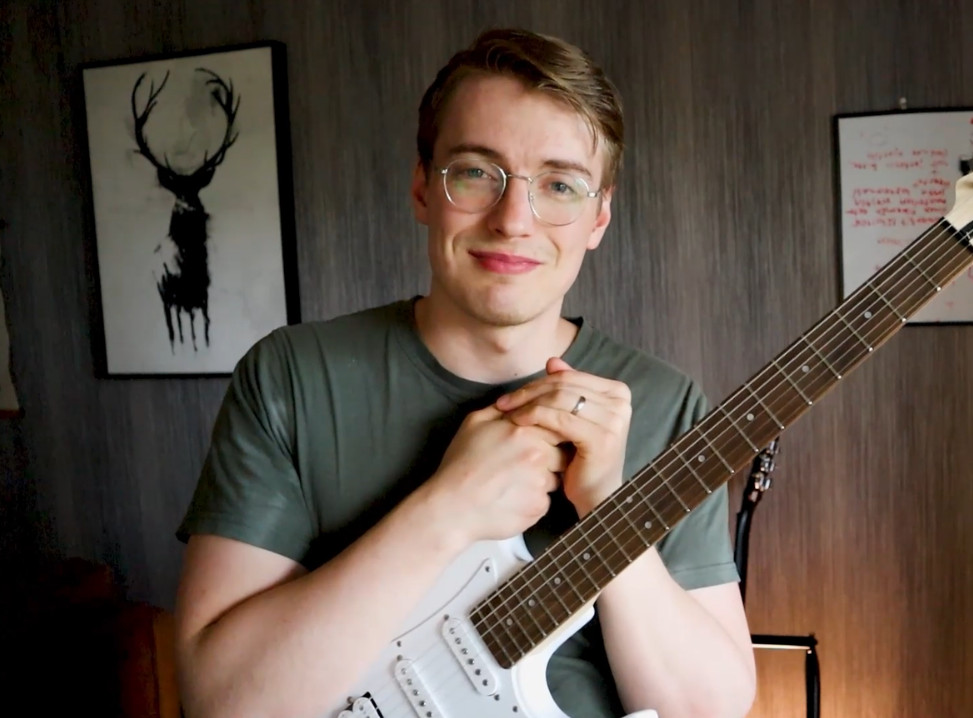 Author: Teemu Suomala
I first grabbed the guitar in 2009. I started this website in January 2020 because I couldn't do window installation anymore due to my health problems. I also noticed that most guitar websites don't do a really good job, so I decided to just go for it! I got lucky and managed to get awesome people to help me with my website. I also got lucky because I have you visiting my website right now. Thank you. I do all this for you guys. If you have any recommendations, tips, or feedback, just leave a comment, I would love to chat with you. I have been fortunate to produce content for several large guitar websites, such as Songsterr, Musicnotes, GuitarGuitar, and Ultimate Guitar. I spend my spare time exercising and hanging out with my wife and crazy dog(I guess that went the right way…).
---
How to Record Guitar Amp Without A Mic
1. Record Guitar Amp By Plugging it Directly to Computer Using Headphone Jack
You need a couple of things to do this.
Computer

Audacity(Free software). You can download it from here

:

https://www.audacityteam.org/

2 guitar cables (1 between guitar and amp, 1 between amp and computer.) Or 1 guitar and 1 aux cable.

If you use a guitar cable, you need a 6.35mm to 3.5mm adapter to plug the cable into the computer mic input. This is a solid choice*.

Guitar and amplifier
*Consider all links in this post to be affiliate links. If you purchase, at no additional cost to you, we may earn a small commission. It helps us to keep the lights on, thanks! 🙂
If you have all this stuff ready, just plug in the cables, dial your favorite tones from your amp, hit the red circle(record button) on Audacity, and start playing and recording.
If you are planning on making guitar videos, I'll reveal how to sync separate audio and video files later in this post.
2. Record Guitar Amp Using Phone
If you just want to record your guitar audio, this is really simple. Just get your phone, open audio recorder, and place your phone close to your amplifier like this:
Ta-da! You have a decent quality audio recording of your guitar playing!
If you want to see how this method sounds compared to Samson USB Condenser mic, check this video I made (video starts with dirty tones and clean tones are compared at 05:16):
If you are planning on making guitar videos this works with 2 phones too.
Usually, people have several phones to use. Maybe you have your old phone lying around, you can borrow a second phone from a friend or family member. The trick here is to record video and audio separately.
Place your other phone(audio) as shown above and the other phone (video) something like this:
I use a similar tripod to this to help with shooting videos.
How to Synchronize Separate Audio and Video
The not so simple part is synchronizing these 2 separate files into one file…But when you get used to it, it's pretty easy.
My favorite app for video editing with a phone is KineMaster. It has a solid free version that ables you to sync video and audio with your phone. But it's not always super accurate.
I recommend that you use a computer to edit your guitar videos. My absolute favorite is DavinciResolve video editor. It's so good that it being free feels unreal. I have edited all my Youtube videos with it.
You can either move audio and video files manually to sync, or use DaVinci Resolve's Sync feature(sometimes it doesn't sync so well).
A great trick that makes syncing easier is to klap your hands together at the start of the video. This makes finding the right sync benchmark easy.
Here's how you sync files in DaVinci Resolve:
Record Guitar Amp By Moving Amp Closer to The Phone (If You Want to Film Playing at The Same Time)
This is the easy way. You don't have to do any video and audio syncing. The audio quality is definitely not too bad with this method either.
The key here is to move your amp closer to the phone that you are using to capture the video. And this makes your guitar playing sound a lot better in the video than when the amp is somewhere in the corner.
If you want the best result, move your amp about 5 inches(13cm) away from the phone and make sure that the amp is facing the mic of the phone. It's usually located at the bottom of the phone.
Here's how I set my amp and phone when shooting video:
That's it! Again, the methods above will get you started, and you can buy more equipment later. But investing in better gear from the start is sometimes a good idea. If that's the case, I have a couple of microphones and audio interfaces to recommend for you.
---
Our Favorite Music Store in The World!
Why?
– Excellent Customer Service (4.7/5 Trustpilot Score)
– Fast & Free Shipping
– Gear is Inspected, Tested, & Ready to Play When it Arrives to You (We love this)
– Fair Prices
Visit Sweetwater:
Best Microphones for Guitar Recording
Usually, a solid mic will serve you for years to come. If you have really tight budget, I would advise you to save some money for a decent mic, because the cheapest mics(under $30) are usually not worth it.
Some folks say that a 24bit mic is a better option to the instrument and vocal recording than 16 bit. Does 24 bit technically sound better? Yes. Can we humans hear the difference? Probably not.
Most of my favorite USB mics are 16bit, but I included one 24bit mic for you too. But remember that for electric guitar, and especially when recording distorted riffs, an audio interface or XLR mic with an audio interface is always a better option. USB mics are not that good when recording with distortion, but they can work great for acoustic guitar and vocals.
Here are my favorite mics for guitar players:
Best Overall –

Blue Yeti
I wish that I would have bought this over my Samson C01U Pro. This is more versatile, offers more features, and is more durable. And most of all, the sound quality is the best of all USB mics in my opinion.
The only con is the portability. The Blue Yeti is not very handy to carry around, but it doesn't give you too hard a time either.
If you want the best USB mic possible and have the money for Blue Yeti, I recommend that you buy it. It's the best option out there.
---
Alternative –

Samson C01U Pro USB Studio Condenser Microphone
I have owned this mic for over a year now, and I have been satisfied, although I wish I had bought even a better mic(Blue Yeti). The quality of C01UPRO gets closer to professional levels and it's really easy to use. Plug and play.
Value for money is still high, and the feature that allows you to listen to yourself in real-time when speaking, playing, or singing is a nice plus.
During my use, the only con I have found is the stand that comes with the mic. It's a little bit too light for the mic and you have to be careful that the mic doesn't fall down.
And remember to place the mic the right way. At first, I accidentally had the mic on the wrong side facing me and wondered how this is so quiet.
I recommend this mic if you don't have money for the Blue Yeti and if you can find this one(C01UPRO) for under $100 bucks
---
Best Portable –

Samson Meteor Mic USB
If the Samson C01U Pro and Blue Yeti are a little bit too expensive for you and you also value portability, Samson Meteor is a great option.
Meteor offers the same features as C01U Pro, but it doesn't feel so high-quality and doesn't work so well in a studio environment. But if you want a portable and versatile USB mic with good audio-quality, Samson Meteor is a great choice.
---
Best 24bit –

USB Microphone Kit 192KHZ/24BIT MAONO
Some folks just want to make sure that their audio sounds as good as possible(24bit), even though people probably won't even notice it. There is nothing wrong with that.
If you want to capture more sound with your mic, this MAONO Microphone Kit is my favorite pick.
The kit includes all that you need and the price is definitely not bad. But in my opinion, even though the more expensive mics I mentioned are only 16bit mics, those sound better than this because it's not all about the bits.
But still, this mic will definitely serve you well and the price is more affordable than with Samson and Blue Yeti mics.
---
Best Budget Mic –

Marantz Pro M4U USB Condenser Microphone With Audio Interface
Oh boy, the value for money of this mic kit is high. It gives you all that you need with an affordable price tag.
Sound quality is great for the price, but it definitely loses to other mics mentioned in this post. Frequency Response is slightly worse and unwanted noise bothers some users too.
But overall, this mic is great for beginners who don't want to break the bank when buying their first USB mic.
---
Best Audio Interfaces for Guitar
Same thing here. I recommend that you buy and decent audio interface from to start because you might outgrow the cheap interface and find yourself wanting to buy a more expensive one pretty soon. And by doing this you just end up wasting your money.
Here's my favorite audio interfaces for guitar players:
Best Overall –

AXE I/O 2-channel audio interface
This one offers you all that you need from an audio interface. And for this price point, I can't accept anything else.
For example, you get the right input levels for guitars with passive or active pickups, this helps you to make sure that your recordings are the best quality possible with each specific pickup type.
You can also plug in all your devices, mics, line-level sources, guitars, and other instruments.
AXE I/O works well with AmpliTube-studio software, and if you are using it, you can be sure that recording and studio tasks will be easy with this interface.
With dedicated guitar input that it's built for guitar, you can be sure that your sound will be top-notch quality.
The only con that I found is the tuner. Some users say that it's a little bit inaccurate sometimes, so be ready for that. Otherwise, I can't find more cons from the AXE I/O. Really high-end and high-quality audio interface.
---
Best for Most Payers (I Own This Too) – Focusrite Scarlett 2i2 (3rd gen)
This is one of the best value for money interfaces. The value and money ratio is so high that literally no one else has been able to compete with Scarlett for years.
It offers you all that you need at a reasonable price. For example, high-quality sound, low noise, and lots of features that make studio tasks easy.
This interface is USB powered.
Scarlett is a great choice for most players due to the reasonable price point and high value for money. It's not the best audio interface out there, but it gives the most bang for your buck.
---
Best Budget and Portable – PreSonus AudioBox USB 96
This interface does everything that it should but offers fewer features than the others I mentioned.
One strong plus is portability. AudioBox is USB powered, so you can just plug it into your laptop and start recording. Really handy.
The sound quality is decent and recording is easy. The sound and overall quality stills fall short when compared to Scarlett and Axe I/O interfaces, but value for the money manages to still be good.
I would recommend this for folks who have a tight budget, and for those who want a portable interface. Otherwise, I would recommend that you save money for Focusrite Scarlett.
---
Do You Need An Amp to Record The Guitar?
No, you don't. You can record your electric guitar without an amp with audio interface or amplifier software.
If you want to record acoustic guitar, you can do so with a microphone. With an electric-acoustic guitar, you can use an audio interface or amplifier software.
---
Conclusion on How to Record Guitar Amp Without A Mic
Hopefully, you find the right way to record your guitar audio. I'm currently using Focusrite Scarlet 2i2 and Shure SM57 XLR mic to record my guitar audio. But you can absolutely get started for free or at least with a really tight budget when it comes to recording audio or filming guitar videos.
If I wouldn't own any recording gear and wouldn't have the cash to buy them, I probably would just use my phone and move my amp close to my phone's microphone. You get decent quality audio and no audio syncing with that method.
If you have any questions, leave a comment down below, and feel free to share this post too.
I wish you all the best and keep rocking!
Teemu Suomala
---
You might also like:
We are sorry that this post was not useful for you!
Let us improve this post!
Tell us how we can improve this post?